If you do NOT see the Table of Contents frame to the left of this page, then
Click here to open 'USArmyGermany' frameset
1st Infantry Division (Forward)
VII Corps
Looking for more information from military/civilian personnel assigned to or associated with the U.S. Army in Germany from 1945 to 1989. If you have any stories or thoughts on the subject, please contact me

.
---
---
1st Inf Div (Fwd)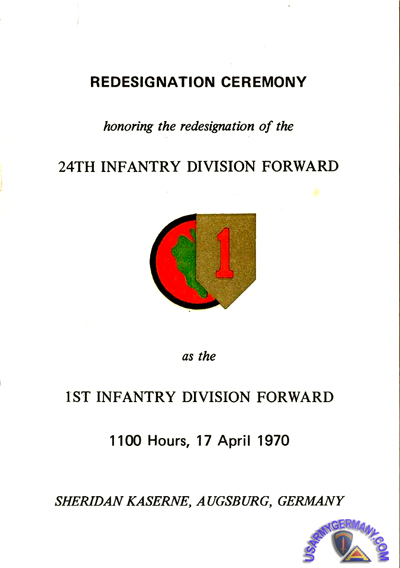 Cover of the special pamphlet issued for the redesignation
ceremony (Dave Prevost)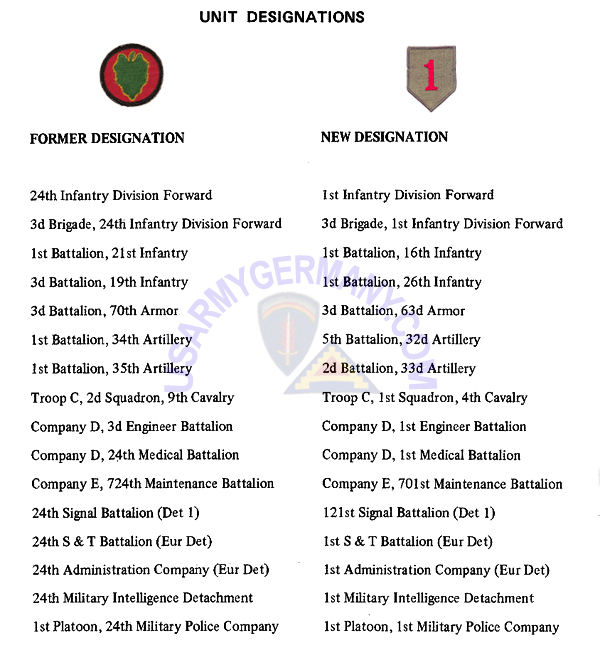 List of subordinate units with former and new designations (Dave Prevost)
1970
In a ceremony held on 17 April, 1970 at Sheridan Kaserne in Augsburg, 3rd Brigade (Forward), 24th Infantry Division was redesignated as 3rd Brigade (Forward), 1st Infantry Division.

During the ceremony all of the subordinate units of 3rd Bde (Fwd) also received new designations.



Web

master note:

As part of the redeployment of US Army forces from Vietnam started in 1969 (as the US involvement

in

Vietnam

began to wane under the "Vietnamization" concept), the Big Red One (1st Inf

antry

) divison returned to the US and replaced the 24th

Infantry Division at Fort Riley,

Kansas.

The 24th Infantry Division was inactivated on 15 April 1970. This necessitated the concurrent redesignation of the 24th's

forward deployed brigade in Germany.
---
1971
(Source: STARS & STRIPES, Dec 29, 1971)
Two maneuver battalions and one maintenance company of 1st Inf Div (Fwd), currently stationed in Augsburg, will move to Panzer Ksn, Böblingen early next year after headquarters VII COSCOM and several of its subordinate units have been moved out of Panzer to Nellingen (sometime between Jan - May 1972).
---
1972
(Source: STARS & STRIPES, Oct 12, 1972)
4th Bn, 73rd Arm has been activated at Boeblingen and joins the reinforced 1st Inf Div (FWD) brigade as a second armored battalion.

CO of the battalion is Lt Col Raymond J. Trouve..
---
1974
(Source: STARS & STRIPES, April 22, 1974)
5th Bn, 32nd Arty, an HONEST JOHN missile battalion of 1st Inf Div (Fwd), will be inactivated on May 21.

The 250-man unit is being inactivated as part of USAREUR's transition to the LANCE missile system. (The LANCE system is replacing the HONEST JOHN and SERGEANT missiles in Europe.)
---
1976
(Source: STATION LIST, 1 June 1976)
1st IDF ORGANIZATION (mid-1976):
| | | |
| --- | --- | --- |
| UNIT DESIGNATION | LOCATION | COMMENTS |
| Hq/Hq Co, 1st Inf Div (Fwd) | Goeppingen | .. |
| element, 1st S&T Bn | Boeblingen | .. |
| E Co (Fwd Spt), 701st Spt Bn | Boeblingen | .. |
| 1st Bn, 16th Inf (Mech) | Boeblingen | .. |
| 1st Bn, 26th Inf (Mech) | Goeppingen | .. |
| 3rd Bn, 63rd Arm | Augsburg | .... |
| 4th Bn, 73rd Arm | Boeblingen | .... |
| 2nd Bn, 33rd FA | Neu Ulm | .... |
| C Trp, 1st Sq, 4th Cav | Boeblingen | .. |
| D Co, 1st Engr Bn | Neu Ulm | .... |
| D Co, 1st Med Bn | Goeppingen | .... |
| 573rd S&S Co | Goeppingen | .... |
| 18th AG Admin Co | Goeppingen | .... |
---
1983
(Source: Traveler, July 31, 1983)
1 st IDF's Armor, Cavalry, equipped with new battle tanks

Story by C. E. Cancelliere

Not smoke or rain or fog nor dark of night shall keep the tank crews of the 2-37th Armor and C Trp, 1-4th Cavalry Regiment from achieving a higher percentage of first round hits now that they are equipped with M60A3 tanks outfitted with Tank Thermal Sight (TTS) systems.

These systems, which are also found in the M1 Abrams and M2 and M3 fighting vehicles, operate on the basis of infrared heat emitted by both live and inanimate objects, according to C Troop Commander, Capt. Kevin G. Bass, Jr., whose men were the first from Panzer Kaserne, Boeblingen, to complete transition training on the M60A3.

The M60A1 tanks, which were replaced in these two units by the M60A3, are equipped with M32 daylight bodies and M36E passive night sights which depend on Starlight or an indirect light source. The thermal sight, for both day and night fire, "is a 100 percent improvement because now there is no need for flare illumination, which gives away the tank's position," said Sp4 Robert Tinti, a gunner with C Co, 2-37th AR. TTS's can see through atmospheric conditions ranging from light rain to dust.

"They produce a more secure feeling in the crew," stated C Co Tank Commander, SSgt. Victor Jiminez, "by being able to detect more accurately what is around the tank's position."

"Also part of the TTS is a cant sensor which constantly keeps the sight level no matter what angle the tank is positioned at," revealed C Co, 2-37th AR Commander, Capt. Alan Pass. "On very rough terrain this is extremely important for accurate hits," he added.

The men of these units recently returned to Panzer from the Vilseck/Grafenwoehr MTA where they underwent classroom and step-by-step hands-on instruction, and live fire training on the new equipment. Some of the new tanks are hot off U.S. production lines in Michigan and others are rebuilt M60A1's from the Mainz Army Depot. The older models were stripped down to the hull and refurbished to the updated specifications.

"There is no significant advantage to having a brand new A3 rather than a rebuilt," said 2-37th AR Battalion Commander, Lt Col Dale B. McGarry. "The mechanics at Mainz are experts and the rebuilt A3's are just as good as the new tanks from the states," he emphasized.

Other modifications in the tank's fire control system include a more advanced solid state computer, a cross-wind sensor, altitude and temperature measurement, an improved gun stabilizer, a removable thermal gun tube shroud, and a more sophisticated range finder.
Sp5 Terry Musket, a gunner in A Co, feels that the more complex A3 computer system has changed his task from a sort of "guessing game" to "precision gunnery. " Besides computing the range of the target, which is quickly discerned through the refined range finder, it takes into consideration the number of rounds fired from the gun tube as well as wear on the equipment.

With the improved fire control system the crew's performance is accelerated. "The fire command time is cut by about 15 seconds," according to Jiminez.

The thermal shroud, another improvement over the old M60A1, is composed of fiber glass. It is designed to disperse the effects of the atmosphere evenly around the gun tube in order to prevent thermal bend when firing and increase accuracy, according to Bass.


On a whole, the switch from M60A1's to A3's was a positive accomplishment. "Transition went well and was a lot of fun for the tankers," stated McGarry. "If it were not for the outstanding support received from 701st personnel, and other support soldiers from the battalion and troop, transition would not have been as smooth or successful,' concluded McGarry.

---
299th Support Bn
1983 - 1991
The 299th Support Battalion was officially activated on October 20, 1983. Assigned to 1st Inf Div (Fwd).

The battalion was inactivated in Germany on August 15, 1991.
---
1984
(Source: Traveler, April 15, 1984)
Click on thumnail to view hi-res for reading

---
(Source: Traveler, Sept 17, 1985)
299th Support Battalion
Looking, out for IDF soldiers

Story by Tom Hager
Photos by Roy Garza

The 299th Support Battalion has got quite an assignment in the 1st Infantry Division (Forward); and like a mother mending clothes and preparing meals, the work from Support Battalion often goes unnoticed until it isn't there. They deploy, however, every place that Division goes and can be found to meet the demands of the field.

SFC Anthony A. Prodigo, S-1 NCOIC for 299th, has made some observations about the mission his unit accomplishes here in Division Forward compared with posts such as Ft. Riley, Kansas. Normally, support for a post would come from a Division Support Command (Div Sup Com), meaning that the post would operate a finance company, adjutant general (AG) company, supply and transportation battalion, medical battalion, maintenance battalion, Division Material and Management Center (DMMC) battalion, and Post Central Issue Facility (CIF).

Prodigo, however, sees 299th providing the same services to the men and women of IDF, if only on a smaller scale. Company B maintains the Division's equipment, Company A (transportation) moves the supplies, Company C serves as the medical support unit, Company D tends the AG services, and a section from HHC works in DMMC.

The only native element 299th does not supply is the finance section, and Prodigo states that the 198th Composite Team provides the financial management. He states, however, "That the battalion's mission and function are still the same." He adds, "During this field density, not all assets have been deployed to the field, but when all Division is committed, everything (in 299th) goes."

Many Services, Many Skills
If a support battalion has so many services, like those listed above, it must have personnel with a variety of skills. Some soldiers within 299th even have two or more skills.

Take Pvt. 2 Robert Emerick as an example. He was trained in two specialties: not only as a petroleum supply specialist (MOS 76W), but also as a truck driver (MOS 64C) to move the petroleum. In fact. Emerick is especially trained to handle the adverse driving conditions found in northern Europe as well as to know what evasive actions are appropriate to counter terrorist and enemy attack.

During this density, he and Pvt. 1 Michael J. Master are tasked to their maximum. They have to guard the fuel supply point and work on call to refuel vehicles at all hours of the day and night. Emerick says, however, that success comes in attitude and adds, "You got to have motivation to do your job."

There are also the experienced NCO's that have seen work in every driving condition and locale. Sgt. Donnie W. Allen, a truck driver for Company A, 299th, has traveled to Fulda, Augsburg, as well as other points in West Germany. He states, "We'll haul everything to any place."

The early morning light
The hours for Companies A and B, 299th don't always fit the 8-hour shift, especially during gunnery densities. Equipment fails to operate, ammunition runs low, food runs out, and equipment has to be moved. So, what happens when 30-hour days are needed to do a day's work? Somehow, the strength and time are found to accomplish the mission.

WO1 Ramiro Rodriguez, Jr. and SSgt. Dennis J. Schade have the task of coordinating the supply of ammunition to the firing units. To add to their labors, they are the senior unit at the ammunition holding area in Grafenwoehr and must make area checks of the other units to ensure compliance with safety and security regulations.

Schade states, however, that it has its advantages. "What we say goes here at the holding point."

Rodriguez states that his soldiers are working 24-hour shifts these first few days to get everyone into training. To illustrate how hectic it becomes, he adds, "You will see trucks from the line units bringing in excess ammunition from the line unit, then the trucks will come with ammunition from the issue point to add to the work. My people get so tired that they won't eat, just to get a little sleep."

He concludes by noting that there are a few days of lag time when the men and women can catch up on some rest --maybe. Usually, they no sooner have the ammunition broken down than they have to begin the turn-in process, but all this is their mission and purpose in support. They do it well.

The healers
Charlie medics (Co C., 299th) are in the cantonement area; they're in the field. They can work on a ill soldier in the morning and tend a sick track (M113) in the afternoon. Field medics have a full range of training experiences, with some they might rather not wish to experience; but as an element of 299th, they're there to support.

PFC Perry E. Turner enjoys his work but notes, "We could spend more time in our MOS training, and less breaking track." He admits, though, that such are the demands upon a medic in a field unit.

Sp5 Linda L. Winkleblack, states that field units might allow for some proficiency training as is found in a hospital assignment to add to the field experience. She states that the field experience is valuable, but to improve the training she suggests, "They might assign you six months in the field and six months in the hospital."

For the medics at the start of gunnery, work has been steady. Charlie Med admitted 5 soldiers with 1 evacuated for specific treatment. In the high danger zone of live-fire and gunnery qualification, it's reassuring to know they're there.

Working and training
As a final note, SFC Prodigo has a job in garrison and in the field, but he's observed a satisfying sense of mission in the field. He's noticed also that, when his battalion soldiers train in supporting the combat arms units, they are doing what they will be doing in combat: taking care of IDF.
---
1990
(Source: The American Traveler, Feb 12, 1990)

---
Related Links:
Society of the First Infantry Division - A wonderful site hosted by the official organization of veteran's who have served in the 1st Infantry Division (The Big Red One) of the U.S. Army.