If you do NOT see the Table of Contents frame to the left of this page, then
Click here to open 'USArmyGermany' frameset
51st Maintenance Battalion
21st Support Command
Looking for more information from military/civilian personnel assigned to or associated with the U.S. Army in Germany from 1945 to 1989. If you have any stories or thoughts on the subject, please email me (webmaster).
---
---
51st Maint Bn History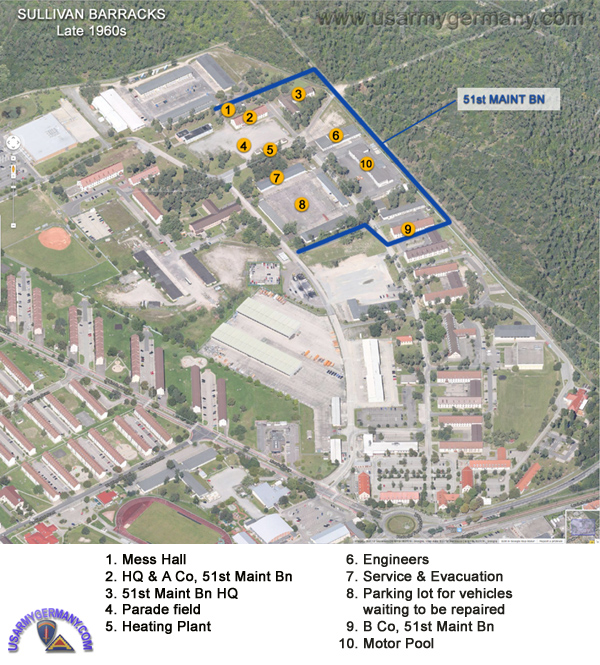 51st Maintenance area on Sullivan Barracks in the late 1960s (GOOGLE & usarmygermany.com)

(
click here
for an annotated Google Earth image of the area)
1945 - Present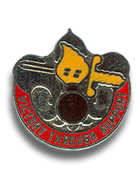 51st Maint Bn DI
(Source: 51st Maintenance Battalion History. Compiled by the 51st Maint Bn in the early 1980s)
NOTE: The first part of the Battalion's history is posted as the 51st Ordnance Group history on the 51st Ord Gp Page.

In August 1965, the 51st Ord Gp was reorganized and redesignated as the 51st Maintenance Battalion under the CO-STAR II concept. (Some information on the CO-STAR reorganizations will be posted in the near future on the Seventh Field Army Support Command (FASCOM) Page.) The Battalion was relocated to Coleman Barracks, Mannheim-Sandhofen, and attached to the 1st Support Brigade.

The year 1975 brought about many changes to the 51st Maintenance Battalion structure. In February, the Equipment Support Center, Mannheim, was reassigned from the 81st Maint Bn to the 51st Maint Bn. In May, the 546th Maint Co was reassigned from the 51st Maint Bn to the 66th Maint Bn. And, in July, the 81st Maint Bn relinquished the 77th Maint Co to the 51st. At the end of this eventful year, Headquarters Company, Allied Mobile Force (Land Component) was assigned to the 51st Maint Bn.

During June 1976, the 77th Maint Co was deactivated and reformed as the 8908th Civilian Support Group (General Support). In August 1976, the 1st Support Brigade was redesignated as the 21st Support Command.

Currently, the 51st Maintenance Battalion is subordinate to the 21st Support Command headquartered at Panzer Kaserne, Kaiserslautern. The Battalion consists of the following units:
Headquarters and Headquarters Detachment, Sullivan Barracks, Mannheim
Headquarters Comany, Allied Command Europe Mobile Force (Land Component), Sullivan Barracks, Mannheim
512th Maintenance Company, Sullivan Barracks, Mannheim
517th Maintenance Company, Gerszewski Barracks, Karlsruhe
574th Supply and Service Company, Spinelli Barracks, Mannheim
Equipment Support Center, Mannheim, Taylor Barracks, Mannheim
8908th Civilian Support Group, Taylor Barracks, Mannheim
The colors of the 51st Maintenance Battalion carry battle streamers inscribed:
Normandy, Northern France, France, Ardennes and Alsace, Rhineland and Central Europe.
---
1967
(Source: Email from Peter D. Hauck)
In Sep
19
67 I was assigned to
HQ & A Company
of 51st Maint. Bn. located in the 504 compound at the back right side of Sullivan Bks.

It was a Direct Support Maintenance Bn. (At that time we were part of 1st Support Brigade at Taylor Bks, and 81st Maint Bn was back to back with our unit.)

In May of 1968 I was reassigned to the 7th ICC building at Gerszewski Bks in Karlsruhe as part of the 7th Corps Support Command, Maintenance Management Det.
---
1971
(Source: STARS & STRIPES, July 22, 1971)
The 51st Maint Bn is responsible for providing direct support maintenance to US Army units located along the Rhine River Valley between Karlsruhe and Mainz. CO of the battalion is Lt Col Joe E. Land, Jr. The battalion also provides backup support to four maintenance battalions of the US Army Combat Equipment Group (provides the equipment for REFORGER units). (Webmaster Note: the four battalions are probably: 1st Maint Bn, Spinelli Bks, Feudenheim; 2nd Maint Bn, Neureut Ksn, Neureut (Karlsruhe); 3rd Maint Bn, Gerszewski Bks, Knielingen (Karlsruhe); and 7th Maint Bn, Germersheim Army Depot.)

The battalion Headquarters and A Company is located at Sullivan Barracks, Mannheim; (there appears to be no B Company;) C Company is also at Sullivan; D Company is located at Gerszewski Bks, Knielingen (Karlsruhe); and the attached 547th Ordnance Company (Automotive) is stationed at Germersheim Army Depot.

The battalion services 192 units within its area of responsibility -- in total, these operate over 16,500 pieces of rolling stock (wheeled and tracked vehicles and trailers); 474,000 pieces of individual equipment and tentage; 19,300 small arms; and 20,000 communications-electronic items.

The battalion operates many different repair shops for repairing vehicles; communications-electronic equipment; boots; canvas and clothing; engineer and pioneer equipment; armament; and office machines. All of these are transportable and can be moved to the field.

For several of the larger customer units the battalion attaches so-called "contact teams" to the unit. For example, a contact team of six men from C Company is attached to the 181st Trans Bn at Turley Bks, Mannheim.


---
Equipment Support Center, Mannheim

---
Allied Command Europe Mobile Force (Land)
(Source: NATO Press Release Number (2002) 098 - 12 August 2002)

Allied Command Europe Mobile Force Land Headquarters to be dissolved in Autumn 2002

On 19 July 2002, based upon the recommendation of NATO's Military Authorities, the Defence Planning Committee has approved the disbandment of Allied Command Europe Mobile Force Land (LAND) (AMF (L)). The decision reflects the progress made on the implementation of NATO's new force structure concept and its continuing adaptation to the strategic environment. The concept of rapid deployment and flexible multinational forces, which was characteristic for AMF, is being incorporated into NATO's new concept of graduated readiness forces. Therefore the command and control structure of AMF(L) can be dissolved; its earmarked forces, however, will remain available for NATO's restructured force pool.
The AMF(L) is an immediate reaction force available to the Supreme Allied Commander Europe (SACEUR). It was created in 1960 as a small multinational force that could be sent on short notice to any part of Allied Command Europe under threat. AMF(L)'s mission was to demonstrate the solidarity of the Alliance and its ability and determination to resist all forms of aggression against any member of the Alliance.
The AMF(L) is a multinational brigade-sized formation, consisting of a Headquarters at Heidelberg (Germany), combat, combat support and combat service support units assigned to it by 14 NATO nations. For over four decades AMF(L) has supported a wide variety of NATO exercises. Elements of the AMF(L) deployed to Albania in support of operation ALLIED HARBOR to assist in the relief of refugees from April 1999 till September 1999. Its aerial counterpart, ACE Mobile Force Air deployed some of its elements to Southeast Turkey during the Gulf War from January 1991 to March 1991.
A dissolution ceremony is scheduled at the AMF(L) Headquarters in Heidelberg on 30 October 2002.
---
AMF(L) UNIT PATCHES
| | | | | |
| --- | --- | --- | --- | --- |
| AMF(L) Patch | AMF(L) Variation | | | |
---
(Source: Email from Bill Gazdagh)
I was assigned to Sullivan Barracks from Oct 1975 to Oct 1978; in particular, I was the company clerk, MOS 75B, to the Hq Co (US), AMF(L).

I was at AMF(L) when it became a TO & E unit and assisted in ramping it up with appropriate staff levels, supplies, equipment, etc. i was involved in writing some of the narrative in the NATO SECRET OPLANs for the unit; the correct title was: Allied Command Europe (ACE) Mobile Forces (Land) or AMF(L) for short. Sometimes it was refered to as ACE Mobile Forces

There was an air component; we were the field headquarters company for the general staff that was located in Heidelberg; we were strategically "attached" to 51st Maint Bn to get dedicated maintenance support for our equipment; by the time I left, we were not "assigned" to 51st Maint Bn

I enjoyed reading your page; did not see anything about the 512th (Maint Co) though; I definitely remember a 512th Maint Co; the AMF(L) situation was an awkward one with the 51st (a nato infantry unit attached to a US maintenance battalion); once the funding was flowing, we were given new equipment, office equipment, field equipment, etc. of course. We went on 3 or 4 exercises a year and needed good stuff; I can remember a friend of mine who worked in the hq building saying he was jealous of us because we got to go out and play war games; frankly, we were tired of paying war games; LOL

Anyhow, I could probably come up some recollections about the 3 years I was there; it was a pivotal part of AMF(L)'s history. I can remember the commander's names, even some of the battalion officers; of course I guess it was happier times, looking back at it, than what we realized then; LOL.

Not sure exactly what happened to AMF(L) after I left, and I do believe it has since been disbanded; I recall they were involved in the Kosovo operation, but with the expansion of NATO, their legacy was incorporated into a larger rapid reaction force that's in use today.

Each nato country that participated in the exercises were responsible for certain duties; in the 3 years I was with them, we had exercises in England twice, Italy twice, Denmark, and Norway twice; shortly before I arrived (and shortly after I left), Turkey was on the menu.

Originally, the HQ Co (US) AMF(L) comprised of about 20 soldiers; primarily infantry; the CO and XO were infantry officers; the first sergeant was an infantry soldier, there were two clerks, a 75B & 71L, a Motor Pool Sgt, 3 or 4 mechanics, head cook, POL clerk, a supply sergeant and supply clerk, etc.

About 2 weeks before a scheduled exercise; normally in one or two days, over 100 soldiers (augmentees) would show up at our door for orientation and preparation for exercises; it was pretty much a mass of confusion; almost all of the augmentees did not want to be there, including augmented officers; so getting them and the equipment prepared for the exercise and departure was a challenge. remember, because we had to have so many people that weren't normally there, we still had to maintain large enough living quarters for them as if they were.

About a year or so before returned to the states, things got changed to where almost all the slots were converted to full-time instead of augmentees; mechanics, cooks, medics, infantry, etc. sometimes a slot would be double dutied, I remember a medic also worked as mail clerk.

Normally AMF(L) would use as many transportation components as possible. I remember one exercise to Sardinia, we used every transportation mode possible; we convoyed to Turley Barracks where all the equipment was put on a really long train which took us to Vicenza, italy; from Vicenza, some of the equipment was airlifted to Sardinia and some went via a ferry; so they used ground, air, land, and sea components to arrive at the destination; most of the air was courtesy of MAC (Military Airlift Command), now AMC (Air Mobility Command); however, some of the airlift was provided by the Luftwaffe.

The "host nation" would be resposible for supply logistics (provided food, fuel, etc.); so when we went to Norway, we had chances to eat whale meat (yuk). I heard Turkey offered camel (glad I never got to try that), etc. however, it was always interesting trying out different breads. I think I liked the norwegian bread best! England and Denmark were pretty good, too.

Normally, there was a certain amount of camaraderie with soldiers of other nations; I remember I made friends in Norway and Italy; and we kept in touch for several years afterward.

We were attached to the 51st Maint Battalion to get dedicated maintenance support; all of our trucks, jeeps, trailers, APCs, etc. had to have a different color scheme depending on the destination of the exercise; so the 51st was kept pretty busy painting camo on our equipment; different themes for England Denmark (mostly green), Italy (mostly sand or tan), Norway (white), etc. Some of our trucks were only a couple of years old and already had 8 coats of paint

An interesting thing about those early days was our funding; we had "unlimited" funds and zero accountability; needless to say the supply sergeant used these powers aggressively; there was jealousy in the 51st Maint Battalion offices because I had color coordinated furniture and fancy chairs; I think my office chair was slotted for an O-5 or above, LOL.

We had to put the best face of the U.S. for the NATO friends; the other AMF countries did not have the funding freedom that we did. I think the way things happened was by design; we would always get new field equipment, e.g., camo nets, tents, cots, field desks, sleeping bags, etc. we would take them to the field and use them; then before coming back to Sullivan Barracks, we would exchange the new stuff for the old World War II legacy stuff that the Brits, Germans, Norwegians, Italians, etc were using, then while we were in garrision, we would DX the old crap for new stuff again; after a couple of years, the US brought all the AMF equipment up to current status. Like I said, I don't think it was documented to happen that way, but I do believe it was designed to happen that way. Shortly before I left, accountability was becoming more of an issue, but those first couple of years, it was not.

Nearly every NATO nation (including Canada) participated in these excercises, except for France; there was some political issue at the time; the only events I remember happening in Germany was a 3-day trip to the Black Forrest to do some winter survival training things; and we did a 3-day exercise near Viernheim to demonstrate things for Alexander Haig, who was the SHAPE guy at the time.

A couple of times, AMF soldiers were sent to northern Canada for winter survival training. I went on one of these. After returning to Germany, we went to the Black Forrest to share some of our knowledge and skills with the guys who didn't go. This was in preparation for the Norway trip. I think our unit got to send 3 or 4 guys for this Canada trip. I remember our 1st sergeant went the first time, near Calgary. We would garrison at some canadian installation, get equipped, and a couple of days later, they took us way north in a helicopter, landed on a frozen over lake, and said get out; I think the primary lesson was to learn how to deal with the cold; first of all, how not to be afraid of it.

I guess looking back at it, things with AMF(L) were a lot more complex than they seemed at the time; in retrospect, it probably was more fun that we thought it was then.

---
Related Links
Maintenance Activity Mannheim - ESCM was redesignated as MAM on 13 October 1998