If you do NOT see the Table of Contents frame to the left of this page, then
Click here to open 'USArmyGermany' frameset
Combat Equipment Group, Europe
21st TAACOM
Looking for more information from military/civilian personnel assigned to or associated with the U.S. Army in Germany from 1945 to 1989. If you have any stories or thoughts on the subject, please email me (webmaster).
---
---
The Origin of the Prepositioning Concept
(Source: Study of the Prepositioning Concept Prior to BIG LIFT (U), by Ralph A. Hafner and Carl F. Blozan, Research Analysis Corp., April 1965)
The concept of prepositioning all organizational equipment of several divisions was originated in early October 1961 by USCINCEUR in conjunction with the JCS. The primary feature of this concept was rapid response — defined as the capability of moving large unequipped troop units from CONUS to Europe on short notice; after picking up their equipment on arrival at destination, the units would be ready for employment on a combat mission within a maximum period of 14 days after war had started.

The promise of a considerably lesser demand for transport aircraft to transport the unit equipment in a crucial situation made the concept appear very attractive and of substantial military value.

The upper limit of 14 days between the USCINCEUR movement request and deployment was established on the hypothesis that a time requirement greater than 14 days could be met equally well by sea transport.

Accordingly on 12 Oct 61 USAREUR was directed to preposition equipment for the 4th Infantry Division and 2nd Armored Division. By the end of November Liaison & Maintenance (L&M) detachments from 10 combat and combat-support units closed in home stations in USAREUR.

INITIAL IMPLEMENTATION

Site Selection
The correspondence between Department of the Army (DA) and USAREUR led to a survey of available sites, and a decision was made jointly to preposition equipment for the 4th Infantry Division at Spinelli Barracks in Mannheim and at Neureut Kaserne in Karlsruhe with "first priority" for acquisition of necessary TOE equipment for prepositioning.

CINCUSAREUR directed that equipment for the 2nd Armored Division and for 10 combat and combat-support units be dispersed and located far enough west of the Rhine for reasonable assurance that it "would not be overrun during the first 14 days of a war." Locations selected were installations in the vicinity of Kaiserslautern (Daenner Kaserne, Kleber Kaserne, Pulaski-Kapaun Kaserne, Rhine Ordnance Barracks, and later, Ramstein Cold Storage Area), Pirmasens (D'Isly Kaserne), Germersheim (Ordnance Depot), Karlsruhe (Gerzewski Barracks), and Chenevieres Air Base near Luneville in France. The last was abandoned as of the end of October 1963. and sites at Idar-Oberstein and Lorschwald have been opened.

Facilities at most of the locations consisted of hastily prepared parking areas and buildings in various degrees of disrepair. Areas were not always adequately drained, wash racks were rare, and shops had to be improvised in many cases. The tools used had to come from prepositioned equipment and were not always adequate. Quarters for troops ranged from poor to good, and most were overcrowded. The effect of all this was compounded by the fact that none of the subordinate units was self-supporting; all were "satellited" on other contiguous organizations for many administrative details.

Manning and Organization
In November 1961 L&M detachments from the 4th Infantry and 2nd Armored Divisions and the 10 combat and combat-support units arrived in the theater and were posted to the various locations. They were composed principally of organizational maintenance personnel who, because of a materiel-reception mission, apparently had limited opportunity to work in their primary MOS. A maximum of 3000 men was designated by DA to be dispersed at the selected locations and satellited on host units for billeting, messing, and security.

Early in 1962 it was determined that the manning and organization of the caretaker units had to be changed; three Table of Distribution (TD) maintenance groups were organized, assigned the custodial mission, and attached to Seventh Army Support Command. In August 1962 the TD units took over the work on a permanent basis. By September 1962 the TD units had relieved the L&M detachments; they have continued in operation up to the date of this report.

The TD units were manned by levy on Seventh Army and had a total strength of slightly under 2000. Details of the organization of these units as of June/July 1963 are given in the following table.
(Source: Study of the Prepositioning Concept Prior to BIG LIFT (U), April 1965 & STATION LIST, 31 July 1963)
ORGANIZATION (June/July 1963) 1):
| | | |
| --- | --- | --- |
| UNIT DESIGNATION | STATION | COMMENTS |
| Hq/Hq Det, Inf Maint Gp | Spinelli Bks, Feudenheim | |
| Det 1, Inf Maint Gp | Spinelli Bks, Feudenheim | |
| Det 2, Inf Maint Gp | Neureut Ksn, Neureut | |
| Hq/Hq Det, Armd Maint Gp | Kleber Ksn, Kaiserslautern | |
| Det 1, Armd Maint Gp | Daenner Ksn, Kaiserslautern | |
| Det 2, Armd Maint Gp | D'Isly Ksn, Pirmasens | |
| Det 3, Armd Maint Gp | De Gaulle Ksn, Germersheim | |
| Det 4, Armd Maint Gp | Chenevieres, France | moved later to Idar Oberstein, Germany |
| Hq/Hq Det, Cbt Spt Maint Gp | Chenevieres, France | moved later to Idar Oberstein, Germany |
| Det 1, Cbt Spt Maint Gp | Chenevieres, France | moved later to Pirmasens, Germany |
| Det 2, Cbt Spt Maint Gp | Gerszewski Bks, Karlsruhe | moved later to Mannheim, Germany |
| Det 3, Cbt Spt Maint Gp | Turley Bks, Mannheim | |
1) Before the end of 1963, two more maintenance detachments were added:
Det 3, IMG at Gerszewski Bks, Knielingen and Det 4, CSMG at Taukkunen Bks, Worms.
Several staff studies were made of the implementation of the prepositioning concept by Seventh Army, Seventh Army Support Command, and Packaging and Preservation (P&P) teams from CONUS prior to, or concurrently with, the inception of this study in February 1963.

The staff study prepared under the direction ol the G4 section of the Seventh Army Support Command in March 1963 revealed that (a) the equipment had been received in a very poor state of repair, (b) critical tool shortages existed, (c) facilities were for the most part entirely inadequate, (d) most of the personnel were low in morale and in level of skill, and (e) the maintenance procedure was viewed with a great deal of skepticism.

A portion of the equipment of the Infantry Maintenance Group (IMG) was put into operation for 6-month periods by LONG THRUST (LT) exercises (airlift from CONUS to Europe), rotating every 3 months, so that there were always two LT battle groups in the theater equipped with prepositioned materiel. Before temporary discontinuance of LT exercises in mid-1963, some 1100 wheeled vehicles had been operated. In the Armored Maintenance Group (AMG), 275 vehicles were taken for 100-mile road marches in small march units over a period of about 6 months.

---
7th Army Armored Maintenance Group History
1961
(Source: Report of Stewardship, Oct 1960 - April 1962)
CHAPTER 5 - LOGISITICS

SECTION V - PREPOSITIONING OF EQUIPMENT

General. General Clarke has regarded the prepositioning of the TOE equipment for an infantry division and an armored division as one of the most important actions in the buildup of USAREUR. The concept was to store this equipment in USAREUR in a combat operational configuration. Having the equipment in a "ready to roll" condition would ensure that the divisions could marry up with their equipment and be combat operational within a minimum specified time after receiving their deployment orders.

Requirement. On 12 October 1961, USAREUR received the directive on the prepositioning of the equipment. In accomplishing the objective, USAREUR was required to preposition approximately 125,000 short tons of equipment and supplies for approximately 43 different units in 9 different locations. USAREUR was to furnish some of the equipment from its own resources and to obtain some from the continental United States. The target date for completion of the project was 7 December 1961.

Time Import. Aggressive command and staff action and careful coordination were prerequisite to meeting the initial target date. The 56 days to the target date were approximately one-half of the normal number of days established for order and shipping time between USAREUR and the continental United States. Additionally, several subsidiary tasks had to be accomplished, some of them concurrently, in order to meet this date.

Tasks To Be Performed. USAREUR had to:


a. Determine immediately what equipment could be provided from its resources so that it could requisition the balance from the continental United States.


b. Select and prepare the equipment prepositioning sites.


c. Receive and position the division's Liaison and Maintenance Detachments on these sites.


d. Receive equipment arriving from the United States at the European ports.


e. Ship the equipment arriving from United States and equipment from USAREUR depots to the prepositioning sites.

Logistic Problems. The need to accomplish simultaneously some of the required actions created certain problems. At the time requisitions for equipment were placed on the continental United States, all the prepositioning sites had not yet been selected. Therefore, equipment was shipped from the continental United States to the divisions rather than directly to the units within the divisions. This situation created a major logistics operational problem because of the number of prepositioning sites involved.

Solution. As a result, special procedures were initiated throughout the USAREUR supply system to preposition this great quantity of equipment by the target date of 7 December. Approximately 85,000 short tons came from USAREUR resources and about 40,000 short tons were shipped from the continental United States. Break-bulk and redistribution points had to be established at the ports to segregate equipment for each unit before forward shipment to the unit prepositioning site. In many instances, to clear the ports, the equipment had to be shipped from the ports to depots where the task of determining final unit destination was accomplished. Use of these expedients, necessary though they were, retarded the movement of equipment and supplies through the USAREUR logistic system and created additional workload.

Prepositioning Sites. The Liaison and Maintenance Detachments of the divisions had arrived at their prepositioning sites by the middle of November and began receiving equipment immediately. By the end of November, the detachments were receiving equipment at the peak daily rate which continued at that level for several days.

Accomplishment of Objectives. By the target date of 7 December, USAREUR had accomplished the objective of having sufficient TOE equipment and supplies prepositioned to equip an infantry division and an armored division so that they could perform their assigned missions in the event that an operational emergency required their deployment. Certain interim solutions had been developed to offset the impact of the shortages of critical items which would have affected operational capabilities. Subsequently, the supply of the critical items has improved considerably.

Feasibility of Concept. Between 16 and 22 January 1962, the Exercise LONG THRUST II elements, principally the 4th Infantry Division's 1st Battle Group of the 22d Infantry, 2d Battle Group of the 39th Infantry, and 2d Battle Group of the 47th Infantry, arrived in USAREUR and married up with their equipment. The marrying-up operation was completed rapidly and effectively with no significant problems. The experiences of Exercise LONG THRUST II proved that the concept of prepositioning equipment for major tactical units is feasible.
---
1963
(Source: STARS & STRIPES, Oct 18, 1963)
Support Comd Maintains 2nd Armd Div's Hardware

Readying an entire armored division for battle is a tough job at any time.

But the 7th Army Support Comd's Armd Maintenance Gp has a division of equipment primed the year round.

These tanks, armored personnel carriers, howitzers, trucks and other equipment are waiting for the 2nd Armd Div to arrive Oct. 22 at the European end of Exercise Big Lift.

Some 14,500 men of the 2nd Armd, plus 1.500 support personnel will pack their pup tents, pick up their rifles and board 240 Military Air Transport Service aircraft bound for Germany.

Their trucks and tracks will be ready to roll when they get here, assured Col Seymour L. Goldberg, director of the Big Lift staging control office.

Large tents for company and hattalion headquarters, messes and aid stations have already been erected at five staging areas west of the Rhine River.

As the men arrive from the United States at Rhein-Main, Sembach and Ramstein Air Bases, they will be fed and then trucked to these staging areas where they will receive their equipment.

'Good Shape'
"We consider this division of equipment to be in as good shape as any in Europe," Goldberg declared.

His deputy, Col Frank J. Vidlak, CO of the Armd Maintenance Gp, agreed.

Vidlak's staff of some 1,200 men keep the entire inventory of the division's equipment combat-ready in pre-positioned storage areas the year around.

"The regular mission of the Armd Maintenance Gp is to keep this equipment ready," Goldberg explained.

In addition, he continued, special technical support is provided when necessary through temporary augmentation of specialists from other support command units.

He said teams from several support command units have been used during preparation for Big Lift. They include the 6th QM Gp, 7th Aviation Gp, 10th Transportation Cp (Truck), 11th Engineer Gp (Construction), 15th Chemical Gp, 49th Transportation Gp (Movements and Control unit), 57th Ordnance Gp, 62nd Medical Gp, 355th MP Bn, 505th Signal Gp, and 521st Engineer Gp (Supply and Maintenance).

Goldberg pointed out that the equipment will be the same as the 2nd Armd has at its home station, Ft. Hood, Tex.
---
(Source: STARS & STRIPES, Oct 19, 1963)
Maneuver Gear Sites Ready and Waiting

It won't be long now until troops of the 2nd Armd Div, from Ft. Hood, Tex., begin streaming into various pre-positioned equipment sites in Germany and France. They will marry-up with their equipment and move out for Exercise Big Lift.

The men of the 3rd Armd Maintenance Det. (a.k.a. - Det 3, Armd Maint Gp), 7th Army Support Comd, here at this pre-positioned site (Germersheim) are ready for them.

Under the command of Maj Thomas F. Sullivan, the detachment has fulfilled the requirements of the mission: to request, receive, store and maintain, ready for issue on short notice, major items of equipment, repair parts and associated supplies for a brigade headquarters, and three tank battalions of an armored division.

They have inspected, repaired, overhauled, tested - and finally approved as ready to go - tanks, armored personnel carriers, tank recovery vehicles, trucks and a host of other vehicles. They have inventoried, catalogued, and laid out for easy access thousands of separate items ranging from tool kits and field telephones to mess equipment, tentage. and administrative supplies.

Efficiency Insurance
All this and more has been done to insure that the men of the 2nd Armd Div who arrive at this pre-positioned equipment site to draw their equipment for Exercise Big Lift will get what they need quickly and efficiently and be on the way to the assembly area within hours after their arrival.

More than 80 tents have been set up to accommodate the men of the 2nd Armd Div who will shortly be arriving here. The tents were erected by men of the 78th Engineer En., 7th Army Support Comd.
---
(Source: STARS & STRIPES, Oct 21, 1963)
Pirmasens Unit Ready for 'Lift'

After weeks of hard work Pirmasens is ready to receive a brigade headquarters, two mechanized infantry battalions, a signal battalion and a battalion of engineers -- all converging here to participate in Exercise Big Lift.

The men of the 1st Provisional Armd Maintenance Det, commanded by Maj David W. Foreman, have prepared hundreds of vehicles and thousands of pieces of military equipment for troopers of the 2nd Armd Div who will begin arriving in Europe Tuesday.

Tons of Equipment
"It's hard to realize how much material a military outfit needs;" remarked Pfc Roger L. Bore, 22, of Defiance, Ohio, as he emerged from one of the tunnels of the old Siegfried Line, where hundreds of tons of tools and equipment have been laid out in long, neat rows, ready to be used during the maneuver.

If the arrival goes as scheduled, the first 2nd Armd Div trooper to be assigned equipment from the pre-positioned European stockpiles do so at Pirmasens sometime Tuesday evening.
---
(Source: STATION LIST, 31 Dec 1963)
ORGANIZATION (1963):
| | | |
| --- | --- | --- |
| UNIT DESIGNATION | STATION | COMMENTS |
| Det 1, Inf Maint Gp | Spinelli Bks, Feudenheim | |
| Det 2, Inf Maint Gp | Neureut Ksn, Neureut | |
| Det 3, Inf Maint Gp | Gerszewski Bks, Knielingen | |
| Det 1, Armd Maint Gp | Kleber Ksn, Kaiserslautern | |
| Det 2, Armd Maint Gp | D'Isly Ksn, Pirmasens | |
| Det 3, Armd Maint Gp | De Gaulle Ksn, Germersheim | |
| Det 4, Armd Maint Gp | Strassburg Ksn, Idar Oberstein | |
| Det 1, Cbt Spt Maint Gp | D'Isly Ksn, Pirmasens | |
| Det 2, Cbt Spt Maint Gp | Spinelli Bks, Feudenheim | |
| Det 3, Cbt Spt Maint Gp | Turley Bks, Mannheim | |
| Det 4, Cbt Spt Maint Gp | Taukkunen Bks, Worms | |
---
(Source: STARS & STRIPES, March 9, 1964)
CO of the Army Armored Maintenance Group at Kaiserslautern is Col Frank J. Vidlak.

---
7th Army Infantry Maintenance Group History
1962
(Source: Email from Rich Adams)
Transportation Company, 1st Infantry Maintenance Bn, 7th Army Support Command

I am interested in this unit. I was stationed with it in late 1962 until early 1964 -- first at Spinelli Barracks in Mannheim and then in Karlsruhe, Germany.


I remember the first Long Thrust. It was an Infantry Division from Fort Lewis, Wash. They lined up all the vehicles along a runway of an old Luftwaffe air base near Kaiserslautern. Most of the vehicles were deadlined. I was a 632.10 track vehicle mechanic. The tanks were M48 and the APC's were M59's.

Most of the men in the unit were sent to Germany in a build up because they had started to build the Berlin Wall. I went first to the 2nd Battle Group
4th Inf, Co B (3rd Inf Div) at Bamberg.

The 1st Inf Maint Bn was drawn from units all over Germany. We were sent to the Spinelli Barracks at Mannheim. It was a storage depot for World War Two surplus equipment. At the time the Army Infantry units were becoming more mobile with 113 APC's. So we got a lot of M59's.

The Tanks we got were M48's I believe the Armor units had M60's. The first Infantry Division that was sent over in the Long Thrust Operation was the 24th Inf Div out of Ft Lewis Wash.

I would like to hear from anyone who was in the 1st Inf Maint Bn at the same time I was.
---
(Source: Email from Sammy Campbell)
Following completion of Advanced Individual Training at Fort Gordon, Georgia sometime during the summer of 1962 I received orders assigning me to some outfit called the Signal Maintenance Company, 1st Armored Maintenance Battalion, US Army Armored Maintenance Group in Pirmasens, Germany.

A large group of us were loaded onto a troop train in Augusta, Georgia, bound for Fort Dix, New Jersey and then, after several days, to the Brooklyn Army Terminal, or was it Bayonne Army Terminal? Whichever it was, we boarded the USNS Patch and began our trans-Atlantic crossing to Bremerhaven. After once again setting foot on firm ground, we were separated into groups, determined by our location of assignment. It turned out there were only two of us, a Master Sergeant who, as it turned out, was to become my First Sergeant and myself, on the ship who were going to Primasens. So we were given tickets and taken to the local train station and sent on our way to Primasens.

We were met at the train station by a 3/4-ton truck driven by someone from the 142d Signal Battalion and taken to the unit Barracks -- I think the
Kaserne was D'Isley/Husterhohe and given a bunk in the attic for the night. The next day the Master Sergeant went to talk to someone and found out we were the first enlisted personnel assigned to the company to arrive. According to what the Master Sergeant told me, we were replacing a detachment of the 142d who were left behind, along with some of their equipment, following some exercise (not sure if it was called REFORGER at the time). Our job was to maintain what they had left plus what we could scrounge from the various depots in Germany and other equipment that would be shipped in from CONUS so it would be on hand and ready to use should a war breakout. The bunks in the attic were to remain our home for the next several weeks until the last of the 142d vacated their spaces and returned to Fort Hood, Texas.

Shortly before the last of the 142d left our 1st commanding officer (Captain Patellis, I think) arrived and we began establishing an orderly room. We were given a room, a typewriter, a filing cabinet and three desks to set up shop and the second floor of the barracks building. Our chain of command was the Battalion, on the first floor of the same building; the Armored Maintenance Group in Kaiserslautern, ComZ Europe in France and then USAREUR in Heidelberg. I also found out there was also an Infantry Maintenance Group but I'm not sure where it's headquarters was, I think it may have been in the Stuttgart area, but am not sure, which had the responsibility of maintaining the equipment for an infantry division.

The 1st Armored Maintenance Battalion consisted of the Signal Maintenance Company, and Engineer Maintenance Company and 2 other companies but don't really remember much about them because they were quartered on a different kaserne. There probably were no more than 35 enlisted assigned to the Signal Company at any one time during the time I was assigned to it (from 1962 to 1964). There were several name changes during this time as the Army went through the gyrations of trying to find the best organizational structure for the unit. For a while we would be a detachment, then a company, etc. When ComZ had to leave France, another battalion unit, I think it was the Medical Maintenance Company, was moved to Pirmasens and moved into the attic of our barracks.

I think it was in either 1963 or 1964 the decision was made to combine the Infantry and Armored Maintenance Groups into a single organization called
the 7th Army Augmentation Readiness Group, commanded by a COL Goldberg. COL Goldberg was the commanding officer of the Infantry Maintenance Group at the time of the consolidation. The headquarters of the new group was on Funari Barracks in Mannheim.

The 1st Armored Maintenance battalion became the 5th Augmentation Readiness Battalion with the Signal Maintenance Company once again becoming a detachment. Shortly after the new unit was formed I was transferred to the 1st Battalion on Spinelli Barracks, also in Mannheim.

There were several other name changes -- so many that I lost track of them all. I didn't know the name had finally settled down to the present name until I began my final tour of duty in the Army in 1978.

I left Germany during the summer of 1965, on board the USNS Geiger, on assignment to the USASTRATCOMFAC Phu Lam.

My 1st tour of duty in the Army was filled with long hours, hard work, frustration and agony, but I don't think I would change a bit of it (except for maybe not having all of those full field inspections every Saturday afternoon!)

---
7th Army Augmentation Readiness Group History
1964
(Source: Notes, March 1963)
2nd Inf Maintenance Battalion is located at Karlsruhe, Germany
---
(Source: STARS & STRIPES, May 13 1970)
The Seventh US Army Augmentation Readiness Group was established in the Spring of 1964 to eliminate the many organizational and logistical problems within Seventh Army Support Command created by the exisiting structure of infantry, armored and combat support maintenance units that supported the pre-positioned equipment in Germany.

In May 1965, the group was transferred to COMZEUR and renamed the USAREUR Augmentation Readiness Group (UARG).
---
(Source: STATION LIST, 31 Mar 1964)
ORGANIZATION (1964):
| | | |
| --- | --- | --- |
| UNIT DESIGNATION | STATION | COMMENTS |
| 7th USA Aug Rdy Gp 01 | Funari Bks, Mannheim | |
| 7th USA Aug Rdy Gp 02 | Spinelli Bks, Feudenheim | |
| 7th USA Aug Rdy Gp 03 | Spinelli Bks, Feudenheim | |
| 7th USA Aug Rdy Gp 01 | Neureut Ksn, Neureut | |
| 7th USA Aug Rdy Gp 02 | Gerszewski Bks, Knielingen | |
| 7th USA Aug Rdy Gp | Husterhoeh Ksn, Pirmasens | |
| 7th USA Aug Rdy Gp 01 | Daenner Ksn, Kaiserslautern | |
| 7th USA Aug Rdy Gp 02 | Rhein Ord Bks, Kaiserslautern | |
| 7th USA Aug Rdy Gp | Ord Depot, Germersheim | |
| 7th USA Aug Rdy Gp | Strassburg Ksn, Idar Oberstein | |
| 7th USA Aug Rdy Gp | Taukkunen Bks, Worms | |

---
USAREUR Augmentation Readiness Group History
1964
(Source: STARS & STRIPES, April 2, 1964)
Seventh Army has merged the former Infantry Maintenance and Armored Maintenance Groups to form one command, the 7th Army Augmentation Readiness Group with headquarters in Mannheim, Germany. CO of the new Group is COL Seymour L. Goldberg.

This action consolidates all 7th Army pre-positioned stocks and resources (intended to provide the necessary combat equipment for two complete divisions that would arrive via airlift from the States during an emergency), providing a more flexible command and better control.

One of the primary missions of the Group is to maintain in operational readiness the pre-positioned stocks which have been stored in Europe since the Berlin Crisis of 1961.
---
(Source: Email from Robert W. Murphy, 2nd Maint Bn, 1964-66)
I was stationed at 2nd Maint Bn, COMZ USAREUR, in Neureut Kaserne, Karlsruhe from Sept 1964-Sept 1966.
Do you have any information on this unit? It was part of about eight maintenance battalions spread around Germany. Our mission was to maintain pre-positioned equipment in the event troops were dispatched from the US. We had everything they needed. I think it came out of REFORGER early 60's.
As I recall, sometime in September 1964 while I was stationed at the 5th Transportation Company at Panzer Kaserne, Boebligen, myself and a few other mechanics were suddenly notified that we were being transferred to a newly formed unit. I was sent to the 2nd Arty Maint Bn at Neureut Kaserne, Karlsruhe. At the time we continued to wear the 7th Army "Seven Steps to Hell" patch, sometime later we started wearing the COMZ Europe patch. We were part of a Group of eight Maint Bn's spread throughout Germany.
Apparently after Operation Big Lift it was decided to pre-position the equipment needed to outfit some number of Divisions if they were sent to Germany during a war. We were told that we would drive the equipment to a pre-determined point and then they did not know what would become of us.
One distinct advantage that we had was being totally exempt from any KP, guard or field duties. We stayed on post and maintained the equipment. We did wear the Arty collar brass and several lifers had an Arty background. Of course this made no sense to me since I do not believe we had a gun tube anywhere.
We had a large fenced in motor park with rows of jeeps and trucks. I was in Detatchment "B", I think we had 4 or 5 detachments. In ours we had supply clerks, radio repair and plain old truck mechanics, 63B and some 63C track mechanics for the track vehicles.
My first assignment was the motor park, myself and a guy from California named "Bell" did nothing but jump start the vehicles and drive them into the maint area and return the completed ones. After several months I was moved to the Wheel and Brake Section. Day after day about 6 or 8 of us would attack the vehicle when it was brought in, pull the wheels, check and repair brakes, re-pack the bearings and put them all back then the vehicle moved to the next station. After about a year of that I moved to the Lubrication Section. It was horrible. The vehicle came in and I climbed into a pit and lubed it. Thankfully I was out of that fairly fast and put in the Chassis section. That was nice, with a handful of wrench's we just walked around and tightened bolts and messed with the canvas covers as needed.
Upon my promotion to SP/5 I was made a log book clerk and stayed in that until I rotated home.
All in all it was pretty decent duty, 5 1/2 days a week, training or inspections every Saturday 1/2 day. After my release a few of my pals stopped by to visit in NY on the way home. I did stay in contact and visit a very good friend from CT but after a few years that stopped.
I have absolutely no idea what happened to the whole unit and concept since I left.
We lived in old German barracks, two floors, open bays, gang showers and latrines. Upon promotion to SP/4 I moved upstairs to a 4 man room and when I made E-5 I became the barracks supervisor and got a private room on the first floor.
I do remember that LBJ announced a troop reduction and 50,000 troops returning to the US. Everyone in my unit that got sent back all went to Ft Lewis, Wash and about 6 months later the entire reactivated division was shipped to Viet Nam.
Well, enough of a trip down memory lane. I hope this little bit is informative and helps.
---
1968
(Source: Email from Michael D. Roberts, 8th Maint Bn, 1966-68)
Thank you for a thorough site detailing the ins and out of the Army in Germany. I had the honor to serve there twice. Once in 1966 - 68 and again in 1970-71.

I was a supply type and assigned to the USAREUR Augmentation Readiness Group's 8th Maintenance Battalion. The battalions were really augmented companies aligned as a GS Support Company. We set up the POMCUS material for the REFORGER units coming into Rhein Ordnance Barracks (ROB), Kaiserslautern. I don't remember the number of tin sheds we had but the last of the climate controlled buildings were going up as I arrived. The last of the obsolete artillery was being loaded onto railcars for shipment to Iran (rumor?) or other military aid countries.

I was there from May 1966 to May 1968. I left Aberdeen Proving Ground, Maryland after Ordnance Supply School and nearly our whole class was assigned to UARG. All inbound troops went from Rhein Main to Gutleut Kaserne, then by train to the individual units. I remember standing around in the rain for several hours while they cut orders and then we rode the train to Mannheim where we were loaded into deuce and a halfs for a ride to the barracks. That first night was in old SS barracks. The runes were gone but the ironwork remained.

My recollection was that we had one third of a division including DIVARTY, Medical BN, Maintenance BN, and all of the other supporting units along with two Armor Battalions. Signal was stored at Pirmasens. We also had three units in Mannheim and two in Karlsruhe. My recollection is that one of the Karlsruhe units was combining with us in K-Town. During the time this was going on, and the return from France was winding up, I was assigned for a short period to GDK to help process open requisitions for our unit PLL's. There were trays and trays of punch cards, all which had not been reconciled for two years. I was a newly minted SP5 and had a rookie PFC helping me. As I recall, there were in excess of 30,000 individual requisitions for the UARG. Once we got in the swing of it, we were knocking them out right and left. I'm sure that the debacle of material returning from France contributed to the confusion. I wonder if those buildings are still around and in use.

The UARG was a strange outfit. It was composed of Headquarters and 1st Battalion in Mannheim with the 4th Battalion. The 2nd and 3rd were located in Karlsruhe, the 7th in Germersheim; the 8th was in K-town along with the 6th, and the 9th was at Nahbollenbach Depot, Idar Oberstein. I seem to remember the 5th at Pirmasens with only the signal battalion (5th). Aviation was on Germersheim Army Airfield. They were more a detachment than anything else.

There was some consolidation occurring and the two Karlsruhe battalions consolidated as well as the Mannheim battalions. The other Kaiserslautern unit combined with ours. I seem to recall the plan was to consolidate everything into Climate Controlled Storage as it was completed. I arrived while material was flowing in the front door from units in the field, other UARG units and the depots. The MAAG-Iran material was leaving out the back door via the Rhein Ordnance Barracks railhead.

Our unit mission was unique in the Army. To define it is difficult. We were performing depot level storage and preservation but only unit level maintenance of material. Any maintenance that was DS or echelon above went to the local depot. We knew that whenever we sent a truck in for annual inspection that it was not returning. All the Tactical Wheeled Vehicles were so old that regardless of mileage it was code H (economically unrepairable due to age).

The unit mission was to gather divisional assets left behind from troop reductions and assemble them into "Ready to Issue Unit Sets". All the equipment was still marked with their original divisional markings. I recall 5ID and 3AD but might have the numbers incorrect. The vehicles had to be cleaned, serviced, and preserved for storage. On notice, the Battalions were to fill the batteries with acid, install the batteries, which were sitting on the floor or in some cases mounted in the vehicles, then move them to warehouses for load out. Some vans were loaded others required it.

Each unit was named a battalion, however strength was closer to an augmented company. My recollection is that the individual elements were called detachments. Each detachment could expand to company strength, with stateside augmentation. There was supply, motor pool, track, warehouse, communications and headquarters.

The Headquarters Detachment was responsible for day-to-day operation of the unit. They controlled Training, Orderly Room, Supply Room, CO, Exec and First Sergeant. We had a consolidated mess with the 57th Ordnance Brigade, so we only supplied cooks. Our barracks were relatively new, coming from somewhere in the mid or early 50's. I believe they were reparations payments.

Supply Detachment was responsible for the property books and PLL's for the POMCUS material. It was a great opportunity to exercise everything that supplies covers. There were property book officers for each "WODA" (WODA being the nickname for each battalion sized unit in the POMCUS sets.) Some were quite small, like the Military Intelligence Detachment. Others were huge like the Maintenance Battalion.

The Motor Pool was responsible for Maintenance on both organic and POMCUS material. They pulled the trucks from warehouse storage and performed PM on them. Seems silly to me. The vehicles were stored in Climate Controlled Storage and not moved, except to and from the motor pool. We used tactical vehicles from stored assets for heavy missions. One of those missions was hauling batteries and acid from depot to unit. IIRC, each truck could hold two pallets and each pallet of batteries weighed 2 tons. That is 4 tons in a "deuce." Those babies worked hard but got the job done. We had commercial sedan, stake bed truck and Econoline for unit missions.

The Track Detachment did the same thing for the tracks in the Battalion. We had APC's (M113), VTR's (Gasoline Powered M88's), Tracked Command Posts (XM577), and two types of SP Howitzers, 105's and 155's. Eventually, the 105's were replaced by 155's and some of the 155's were replaced by 8" SP's. Little of this was diesel powered. All tactical wheeled vehicles were gasoline powered.

The Communications Detachment was responsible for all the commo in the Battalion. They also ran the organic switchboard for local communications. The "commsec" equipment was in a safe somewhere. I did not know where and did not want to know where. We used to go to the commo shed and listen in on Russian communications along with radio stations from all over Europe. The American Forces Network had nothing going on compared to Radio Luxembourg or the Pirate Stations in the Channel.

The Warehouse Detachment worked with the supply detachment and warehoused the material that supply said we had. They did the inventory and preservation of the material in the warehouses. They prepared load lists for each vehicle and made sure it was all marked for association with the respective bumper numbers. There was a warehouse for each Property book. It was a simple matter for the REFORGER troops to go to the appropriate controlled storage facility, pick up their vehicle, proceed to the warehouse and help load up the material per the load outs in the truck and on the sets in the warehouse. Everything was here except personal equipment and personal weapons.

In 2000, using the internet, I managed to contact two people from K-Town. Both worked with me in Supply, and I still trade Christmas Cards with one of them. One of the best things about the UARG was that we had no dispersal area. If there was an alert, we got dressed, fell out for roll call then drew our weapons and masks. Most of the time we didn't draw them but fell back to our barracks for a nap. My favorites were those called around 5:30 AM. They were the least disruptive. We would wake up, fallout for roll and then it was time to proceed to our normal routine. Our Armorer hated full alerts. It meant he had to issue weapons to everyone and then check and clean them all. He charged $5 a month for the service.

Kaiserslautern was a great town. I understand that it has the largest concentration on US military outside the US. When I was there we had 32d AADCOM, Medical Depot Einsiedlerhof, Army Depot, Kaiserslautern, 3rd Cav (I think), 57th Ordnance Brigade, an MP company or two to keep us in line and the medical center at Landstuhl. Also the depot at Miesau, Kapaun Air Station, Ramstein Air Base, and some other air force stuff.

Right across the street from ROB was an Air Force Communications Squadron. We used to go to their EM club for great eats. There was also a seamy side of the town. There was an area called the Iron Triangle. It was in the center of town and contained all the GI bars. This was all the worst of that element. Watered drinks, fights, holdups and prostitution, all in a two block or so area. I went there once and left. It was the only place I can recall MP foot patrols. There were many other places to have a beer and communicate with the locals without putting yourself in danger.

The further you were from the center of town, the nicer the people were. The worse problem with the unit was that everything was changing. As I recall it now, the group was formed with open storage for everything and TDA staffing. Later, as the sheds were built, the units were consolidated and shrunk to fit actual experience. We did a staffing study while I was there. I was assigned the task to determine what work was being done. I was not a very popular SP5. Everyone looked on me as though I was going to take away their troops. Another Army SNAFU. None of the guides were applicable to our mission and no one in USAEUR could offer guidance. They recognized their error and promoted me to Training NCO and that matter went away.


Follow Up
My memory might have been faulty on the consolidation of Karlsruhe units. We were hauling material out of there to the 8th for several months. That might have been a consolidation of companies located elsewhere into battalion sets. I personally hauled several truck loads of tents, heaters and other material from there to the 8th.

I must say that I admire the logic behind DA's project. Having 2 heavy divisions prepositioned and ready to roll would save time and money. All you pay for is the storage costs, not for the forward positioned troops and the maneuver damage.

One problem I saw was the need for renewal of material. As I mentioned in my previous post, trucks would go for Annuals and not return. The service life of a deuce and a half was 15 years, regardless of mileage. More than 3/4 of our material was that old. Everything was gas powered. All new materiel went to RVN or active forward deployed units.

After perusing the station lists for 1965, 1966 and 1967, for various months, I discovered that there was indeed some consolidation of units. In 1965, there was a UARG unit stationed at Taukkunen Barracks, Worms. In the 1966 list it is still there but later lists they are missing. This is the same time that the French kicked us out of France.

Also, in 1967 there was a loss of one unit on Funari Barracks. This might be a simple consolidation of 1st Battalion and the HHD into HHD and 1st Battalion, UARG.

---
CEGE History
1970
Combat Equipment Group, Europe (CEGE) was established in April 1964 as the 7th U.S. Army Augmentation Readiness Group. It was renamed the U.S. Army Europe Augmentation Readiness Group in May 1965 and received its current name in October 1970.

The CEGE Headquarters were at Spinelli Barracks in the early 1980s.

CEGE's mission in those days was to store, maintain, and issue equipment to units from the continental United States (CONUS) deploying in support of the European General Defense Plan (GDP). This plan was tested annually during Return of Forces to Germany (REFORGER) exercises.

In NATO's central region, the Combat Equipment Group Europe (CEGE) was responsible for maintaining and storing what was called "pre-positioning of materiel configured to unit sets," or POMCUS. Rather than store 1,000 of this and 100 of that in a warehouse, as is common practice in depot storage, CEGE stored in one location all the equipment that a unit, such as an artillery battery, would need. That storage method made it easy for units from the United States to deploy to Europe and then draw their equipment. POMCUS was a key feature of the Reforger (return of forces to Germany) exercises. What was formerly war reserves and POMCUS stocks are now combined into AWR stocks.

In REFORGER, forces deployed from CONUS to CEGE sites, where they drew their forward-deployed equipment, called pre-positioned organizational materiel configured to unit sets (POMCUS). Units would train in their GDP locations or in other exercises and return the equipment to CEGE sites, called combat equipment companies, where the equipment was maintained and stored for the next REFORGER exercise or the next implementation of the GDP. U.S. Army Europe (USAREUR) and the 21st Support Command (now the 21st Theater Support Command) provided command and control of CEG-E and its POMCUS assets.

At the conclusion of the Cold War, CEGE's mission changed drastically as the Army transitioned to a primarily CONUS-based power projection strategy. Many of the POMCUS sets in CEGE were disassembled, and much of the equipment from inactivated units in USAREUR was sent to CEGE. POMCUS became known as Army Pre-positioned Stocks (APS). Excess equipment was upgraded to like-new condition for redistribution to APS sites worldwide. CEGE retained three generic brigade sets that no longer were aligned with specific units.
---
1973
(Source: STATION LIST, 31 March 1973)
ORGANIZATION (1973):
| | | |
| --- | --- | --- |
| UNIT DESIGNATION | STATION | COMMENTS |
| HHC, USA Combat Equip Gp | Funari Bks, Kaefertal | |
| Maint Bn A1 | Spinelli Bks, Feudenheim | became 1st CEC |
| Maint Bn A2 | Neureut Ksn, Neureut | became 2nd CEC |
| Maint Bn A3 | Gerszewski Bks, Knielingen | became 3rd CEC |
| Maint Bn A4 | Daenner Ksn, Kaiserslautern | |
| Maint Bn A5 | Husterhoeh Ksn, Pirmasens | 5th Maint Bn; later redesignated as 5th CEC |
| Maint Bn A6 | Wilson Bks, Landstuhl | |
| Maint Bn A7 | Army Acty, Germersheim | 7th Maint Bn redes 4th CEC, July 1973 |
| Maint Bn A8 | Rhein Ord Bks, Kaisersl. | |
| Maint Bn A9 | Strassburg Ksn, Idar Oberstein | |
(Source: Email from Bob Rhine)
CEBE ORGANIZATION (1980):
| | | |
| --- | --- | --- |
| UNIT DESIGNATION | STATION | COMMENTS |
| HHC, Cbt Equip Bn East | Mannheim | |
| 1st CEC | Spinelli Bks, Mannheim | 12 humidity-controlled warehouses |
| 3rd CEC | Gerszewski Bks, Karlsruhe | (1) |
| 4th CEC | Germersheim Army Depot | |
(1) In August 1975, two Combat Equipment Companies (the 2nd at Neureut Kaserne, Karlsruhe) and the 3rd at Gerszewski Barracks, Ettlingen, merged to form one company (the 3rd CEC) that supported two POMCUS sites - Site One, Gerszewski Barracks, and Site Two, Neureut Kaserne (Source: TOWN CRIER, May 26, 1989).
CEBW ORGANIZATION (1980):
| | | |
| --- | --- | --- |
| UNIT DESIGNATION | STATION | COMMENTS |
| HHC, Cbt Equip Bn West | Landstuhl Army Hosp | |
| 5th CEC | Husterhoeh Ksn, Pirmasens | 14 humidity-controlled warehouses |
| 6th CEC | Miesau Army Depot | 10 humidity-controlled warehouses; 3 more added later |
| 7th CEC | Nahbollenbach Army Depot | |
| 8th CEC | Rhein Ord Bks, Kaiserslautern | |
---
1981
(Source: Chapter 10, Department of the Army Historical Summary: FY 1981)
The Army has had three stockpiles of pre-positioned materiel configured to unit sets (POMCUS) in Europe for over ten years. In an emergency the troops of three divisions would fly to Europe and receive their equipment there. Changes in authorized as well as the severe Armywide equipment shortage has meant that the amount of equipment in the sets has never reached targeted levels. The decision by the Carter administration to fill the sets with equipment withdrawn from units in the United States in addition to the traditional method, purchase, produced a beneficial result in fiscal year 1981. The amount of equipment in place came closer to the goals than ever before. In addition, the repair parts program for POMCUS improved more than in any other year. Unfortunately, this policy reduced the flexibility of Army units in the continental United States, which could only deploy at full strength to Europe. Crises in other parts of the world would result in an expeditionary force either undermanned or under equipped. The policy also slowed training, particularly for the reserve components. Troops had to double-up on equipment, thus lengthening the training time and increasing maintenance expenditures at a time when spare parts were also in short supply. The Reagan administration reversed the policy shortly after taking office, but this still left the problem of filling the POMCUS to authorized supply levels and reequipping the CONUS units. Production lead-time was such that even if the Department of the Army requested the funds for replacing all the withdrawn equipment, valued at $107 million, in the fiscal 1982 budget which it did not-the new equipment would not reach the units until fiscal years 1984 and 1985.

The United States government had agreed to establish a fourth division set (DS) in Europe by the end of December 1980 and two more by the end of 1982 provided that NATO paid all construction costs and that the host nations supplied the sites. The warehouses for DS 4 were 96 percent complete by December 1980, but NATO did not expect the loading ramps and maintenance facilities to be done until December 1981. Substantial quantities of equipment began arriving at the Moenchengladbach site in November 1980 and were stored with little delay, because construction there was on time. Delays in completing the Herongen facilities, however, caused about 8 percent of all DS 4 equipment to be stored outside at the end of December 1980 and 12 percent by 1 April 1981. Completion of DS 5 and DS 6 is not scheduled until 1984, and the Army does not intend to ship equipment to them until all construction is finished. When fully implemented, POMCUS will consist of seven major packages: the six division sets and a package of combat support and combat service support (CS-CSS) units designed to supplement the inadequate number of CS and CSS units available to support the Army divisions and brigades already stationed in Central Europe. Reserve units deploying from CONUS will have to fill this gap and prepare the POMCUS equipment for distribution to the divisions flying in from the United States.

POMCUS makes sense only if the troops can deploy to Europe, receive their equipment, and move to their battle positions before hostilities begin. (The warehouses make tempting targets for a numerically superior Soviet Air Force.) The U.S. Air Force cannot move enough troops to Europe to man the equipment in the existing divisional sets within a "prudent" time following the start of mobilization. The lack of airlift at this time means that, in General Meyer's phrase, Army policy is "out of sync." Fast sealift will provide an interim solution, although once airlift is sufficient, sealift will simply increase the number of reinforcing divisions. During 1981 the Army began preparing for this long-term goal. DCSLOG issued a new authorization document which changed the composition of DS 2 and DS 3, previously designed to support heavy divisions. The Chief of Staff intends to use divisions from the West Coast and the Midwest for POMCUS, thus freeing units on the East and Gulf Coasts for redeployment using fast sealift.

Currently there are no Army aircraft included in POMCUS. In December 1980 General John W. Vessey, the Vice Chief of Staff, Army, approved a plan to test the feasibility of placing selected aircraft in POMCUS in humidity-controlled storage for

a certain period of time. DCSLOG planned to begin the test with fourteen fully modernized AH-1S Cobra TOW helicopters, two platoons with seven aircraft each. DARCOM, working in conjunction with the 21st Support Command, will place the aircraft in storage in January 1982. After six months they will remove one platoon and fly and test-fire the aircraft to establish the impact of storage on the time, man-hours, and resources needed to make them fully operational. DARCOM and the 21st Support Command will then return the aircraft to storage. They will keep the second platoon in storage for one year and then repeat the same procedure to establish the impact of long-term storage. The 21st Support Command will then issue the second platoon to a USAREUR unit. DARCOM will collect data on reliability, availability, and maintainability (RAM) for six months to further evaluate the total effect of this year-long storage. Upon completion of the DARCOM study, the Department of the Army will determine the feasibility of placing aircraft in POMCUS and the number and types that should be so deployed.
---
1987
(Source: Email from Douglas L. Tschopp, HHC, CEGE, 1987-88)
I was assigned to HHC, CEGE from 1987 to 1988. I worked as computer programmer on the DAS-4 System in COBOL

.

Both Maintenance and Supply programs

.

I worked on the REFORGER 87. We work 2 hours on and 2 hour off for week as set up the databases for 1st Cavalry Division, 2nd Armored Division and 4th Infantry Division

.

We went up North to hand off the databases to the units. We walked into a McDonalds in some town in Northern Germany and had many people come up to us

.



I also had a run in with a sergeant major from 1st Cavalry Division, I think, and wanted to know where my other canteen was. I quickly show him my 21st Support Patch and he calmed down.

I went to pick up a database from 1st Cavalry Division in the Netherlands in October 1987

.



We had the following people in my office: 3 US Civilian Programmers; 3 German Nationals Programmers; and 4 US Army Computers Programmers

.



We 4 Battalions at the time and I think 20 Companies

. W

e were just started putting medical supplies in England as I was leaving.
---
1989
---
(Source: Das USAREUR Echo (newspaper for the german-speaking employees of USAREUR & Seventh Army), April, 1989)
Die US-Kampfausrüstungsgruppe Europa feiert ihren 25. Jahrestag
(CEGE celebrates its 25th anniversary)

Originally written by Dorie Green, The CEGE Compass
Dorie's article was translated into German by Ms. Ulrike Feller, Das USAREUR Echo staff member; I have translating it back (very liberally) into English and have also adding some additional information. I take full responsibility for any inaccuracies.
Combat Equipment Group, Europe (CEGE) celebrated its 25th anniversary on April 1, 1989.

Initially, equipment that had been pre-positioned in Germany for use by CONUS divisions (the 2nd Armored Division and the 4th Infantry Division) (1) was maintained by elements of the divisional maintenance units and by other non-divisional units. Between December 1961 (Berlin Crisis) and June 1962, Liasion and Maintenance units (2) assumed responsibility for maintaining the equipment and supplies and coordinating their issue to incoming CONUS units during the LONG THRUST exercises.

Under the control of the Infantry L&M Det, infantry units flown in from the States took part in five successful LONG THRUST exercises. In Operation BIG LIFT (1963), the Armored L&M Detachment issued the entire unit set of equipment for an armored division to the 2nd Armored Division arriving from CONUS. An important factor in the success of these operations was the coordination and cooperation demonstrated between the widely dispersed Liaison and Maintenance detachments and the divisional maintenance units.

Despite these successes, Seventh Army Support Command proposed the formation of a larger, combined maintenance unit to overcome some of the fundamental problems identified in the organizational structure of the L&M detachments. On April 1 1964, the 7th Army Combined Arms Maintenance Group was formed, the true predecessor of CEGE. Soon thereafter, the organization was redesignated as the 7th Army Augmentation Readiness Group. Although the formation of a single maintenance group resolved many of the organizational issues, many logistical difficulties remained.

To resolve those the Group was reassigned to US Army Communications Zone, Europe on May 1 1965 and the name changed to US Army, Europe Augmentation Readiness Group (UARG). On October 15 1970, UARG was redesignated as the Combat Equipment Group, Europe.

Today, CEGE is subordinate to the 21st Support Command.

General Information
CEGE comprises four battalions, 17 depots in Germany, Belgium, and the Neterlands and the 6900th Civilian Support Center.

The Group is responsible for pre-positioned material in the value of $7.5 million which includes over 800,000 pieces of POMCUS (Prepositioning Of Material Configured to Unit Sets) equipment.

Current plans call for the addition of six new depots and the expansion of the existing ones to double the current storage capacity.

CEGE employs over 4,000 military and civilian personnel - roughly 2,500 in Germany, 1,200 in the Netherlands and 350 in Belgium. The annual budget of the Group exceeds $100 million.

The storgae of POMCUS material in Europe saves the Armt several million dollars. If USAREUR were to station in Europe all of the units earmarked for support of the NATO mission, its budget would be two-and-a-half times greater than it already is.

Historical Overview
- December 1961: The Berlin Crisis marked the beginning of an new era for strategic mobility. The new concept included the rapid deployment of CONUS-stationed units to meet US commitments to NATO. To support the new concept, the Army began to store wartime equipment for CONUS units in Germany.

- 1962: Liaison and Maintenance units issued equipment to CONUS units arriving in Europe as part of the LONG THRUST exercises. These exercises field tested the new rapid deployment readiness concept.

- 1963: 16,000 soldiers participated in Operation BIG LIFT. The participating units trained in the issue and drawing of pre-positioned equipment.

- 1 April 1964: Formation of the 7th Army Combined Arms Maintenance Group as the single unit responsible for the maintenance and issue of pre-positioned equipment. The Group consisted of nine battalions.

- 1 May 1965: Redesignation of the Group as the USAREUR Augmentation Readiness Group (UARG) and the assignment of the Group to US Army Communications Zone, Europe. (Previously it was under 7th Army.)

- 2 to 21 November 1968: The first CAR CREW Exercise was conducted. A division from Fort Hood, Texas, and four USARG battalions participated in this 19-day exercise.

- 17 January to 15 March 1969: REFORGER I, the second largest exercise (after BIG LIFT) with CONUS-based units, took place during this period. Over 12,000 soldiers participated.

- 15 October 1970: UARG was redesignated as Combat Equipment Group, Europe.

- 1973: UARG battalions are redesignated as Combat Equipment Companies and attached to two Combat Equipment Battalions east and west of the Rhine River.
(1) These divisions had been earmarked for early deployment to Europe to meet US commitments to NATO's security in case of an emergency.
(2) 2nd Armored Division L&M Detachment; 4th Infantry Division L&M Det.
---
(Source: Town Crier (Karlsruhe MILCOM newspaper), May 26, 1989)
CEGE celebrates silver anniversary

By Manuel Trevino
Adjutant, CEBE
Combat Equipment Group Europe (CEGE) recently celebrated its Silver Anniversary. CEGE marked numerous milestones as it evolved and grew over the years and is still growing and expanding. Initially though, prepositioned equipment in Europe was maintained by several liaison and maintenance detachments from the 2d Armored Division, 4th Infantry division and other non-divisional support units.

Because of inherent problems in organizational structure, the 7th U.S. Army Support Command directed each of the maintenance groups to submit proposals and recommended the creation of the larger maintenance group. This recommendation was approved and on April 1, 1964, the 7th U.S. Army Combined Arms Maintenance Group, CEGE's predecessor, was organized. Shortly thereafter, the name was changed to the 7th U.S. Army Augmentation Readiness Group. On October 15, 1970, this unit became known as Combat Equipment Group, Europe (CEGE).

Besides CEGE headquarters, the group consists of four battalions, 17 storage sites in Germany, Belgium and The Netherlands and the 6900th Civilian Support Center.

Included in those four battalions is Combat Equipment Battalion East (CEBE) headquartered right here in Gerszewski Barracks, Karlsruhe FRG. Combat Equipment Battalion East became known by that name in 1973 and consisted of four companies, the 1st Combat Equipment Company (CEC) in Mannheim, 2nd CEC in Neureut (Karlsruhe), 3rd CEC in Gerszewski, and the 4th CEC in Germersheim. The battalion was originally 90 percent military, but in 1975 a civilianization program took place converting many positions to Local National.

In August 1975, the two Combat Equipment Companies in Karlsruhe merged to form one company with two sites. The 3rd Combat Equipment Company retained its designation, and a consolidated headquarters at Gerszewski Barracks began supervision of operations at Site One (Gerszewski Barracks) and Site Two (Neureut Kaserne). This decision provided a unique distinction to the 3rd CEC because only two of the 15 CECs have dual site operationss. The 3rd CEC has participated to most of the REFORGER exercises, most recently during REFORGER 88 last September.

CEBE has another unique distinction, the longest continuous employed CEGE employee, Manfred Kohler, who is now a quality assurance inspector for Combat Equipment Battalion East. He has worked within CEGE since January 22, 1968. He was one of the first civilians hired and has spent many productive years with CEGE.

The 4th Combat Equipment Company (CEC) heritage dates back to the early 60s. Located in Germersheim, it was originally made up of remnants of the 2nd Armored Division's Liaison and Maintenance Detachment. In June 1963, it was redesignated the 3rd (Prov) Armored Maintenance Detachment for 'Operation BIG LIFT' which ended in November 1963. In July 1973, the 7th Maintenance Battalion became the 4th Combat Equipment Company under the command of Combat Equipment Battalion East. During the past 16 years, the 4th CEC has participated in 20 REFORGER exercises.

Combat Equipment Battalion East was first located at Smiley Barracks and is now located at Gerszewski Barracks, Karlsruhe. Since 1973, CEBE has had the following commanders:
LTC Robert A. Scofield 1973-1974
LTC Michael Hill 1974-1975
LTC Edward C. Weckel 1975-1976
LTC Duff G. Manges 1976-1978
LTC Gilbert M. F. Brauch Jr. 1978-1980
LTC Charles H. Perrine 1980-1983
MAJ S.R. Maness 1983 (Interim Cdr)
LTC Lee R. Gilmore 1983-1985
LTC John H. Flournoy 1985-1987
LTC Thomas A. Dunn 1987-Present
Since its designation as Combat Equipment Battalion East, the Battalion has participated in the following exercises:
REFORGER V, SEP 1973
PROJECT 9DD/9JJ, 1974
REFORGER 74, SEP 1974
BRIGADE 75, JAN 1975
REFORGER 75, SEP 1975
BRIGADE 76, MAR 1976
REFORGER 76, SEP 1976
REFORGER 77, SEP 1977
REFORGER 78, SEP 1978
REFORGER 79, JAN 1979
REFORGER 80, SEP 1980
REFORGER 81, SEP 1981
REFORGER 82 SEP 1982
REFORGER 83, SEP 1983
REFORGER 84, SEP 1984
REFORGER 85, JAN 1985
REFORGER 86, JAN 1986
REFORGER 87, SEP 1987
REFORGER 88, SEP 1988
Maintenance, storage and issue of combat ready Prepositioned Materiel Configured to Unit Sets (POMCUS) to deploying CONUS base units was and continues to be the primary mission of this organization.

---
Strategic Mobility
(Source: Chapter 9, Training to Maintain Combat Readiness. The United States Army in Europe, 1953-1963. By D.J. Hickman, Historical Sec, Ops Div, HQ USAREUR)

(U) A final concept of great importance, tested and proved in the early 1960's, was the concept of strategic mobility. From an intratheater standpoint this medium encompassed some of the tactics already discussed, such as moving troops rapidly by air to meet an emergency situation. But as Army planners used the term, it involved primarily the air movement of forces from the United States either to reinforce an oversea command or to meet the emergency need for U.S. forces at a trouble spot.

(U) In the fall of 1956 the Department of the Army seriously considered the establishment of a joint task force that could move to any part of the world at a moment's notice. The purpose of such a force would be to develop the flexibility and mobility of Army forces and to foster air-transportability training. An annual program of both intertheater and intratheater exercises was to be conducted, whereby forces of the Strategic Army Corps would be airlifted to an oversea area and oversea commanders would deploy forces by air to an exercise point within their areas. As a first practical test, a Seventh Army battle group was airlifted into Denmark in September 1957 during the course of Exercise BROWN JUG, but for various reasons the intertheater part of the program never got beyond the planning stage.

(U) The idea was set aside but never completely forgotten, and in September 1960 the Joint Chiefs of Staff proposed that a large-scale strategic mobility exercise be conducted in May 1961 by moving a force from the United States to West Germany. The exercise was postponed, however, because of the trouble in Laos.

(U) Meanwhile, Army planners had developed a second concept that would add greatly to the effectiveness of the strategic mobility idea. By prepositioning organic unit equipment in Europe, a battle group, regiment, or even a division from the United States could deploy much more rapidly than if it had to bring its own equipment. Thus, as will be described in detail later, in late 1961 USAREUR prepositioned the necessary equipment in Europe to field two complete divisions. On 16 January 1962, to test both concepts, three battle groups of the 4th Infantry Division from Fort Lewis, Washington, flew to Frankfurt, Germany, in Exercise LONG THRUST IIA. This exercise not only demonstrated the practicality of both the strategic mobility and the prepositioning concepts, but it showed friend and foe that the United States was capable of deploying combat-ready ground forces to Europe on short notice and of providing rapid wartime augmentation. Within six days, 5,290 men and about 440 tons of personal gear and small arms were moved to Germany. The smooth issue of equipment at the pre-stock sites in Germany had all three battle groups ready to move within two additional days, and it was obvious that the operation could have been conducted even faster. Certain deficiencies were observed, of course, but. subsequent LONG THRUST deployments in 1962 and 1963 proved to be routine rotational operations.

(U) In 1963, after eight LONG THRUST exercises had demonstrated the reliability of this type of operation as a means of reinforcing infantry units rapidly, plans were prepared for the deployment of an armored division. On 22 October the 2d Armored Division, several combat support units, and a composite airstrike force set in motion the largest peacetime strategic mobility exercise ever held -- Exercise BIG LIFT. In 63 hours and 5 minutes the Military Air Transport Service airlifted 14,893 troops and 115 tons of cargo from Fort Hood, Texas, to West Germany.

(U) As in LONG THRUST, the troops deployed in BIG LIFT were in battle dress, each individual carrying his weapon, web equipment, protective mask, and other personal baggage. Troops were fed at the arrival airfield and transported immediately to the pre-stock sites, where bivouac areas had been prepared. The turnover of equipment was prompt. The last divisional unit to arrive in Europe was operationally ready only 75 hours after the arrival of the first unit, and the entire division was equipped and ready two days ahead of schedule. Movement to the forward assembly area began on 25 October and was completed in 59 hours. The division trained in the assembly area until 30 October and then launched into a full-scale field exercise. The entire 2d Armored Division with support units, all of which had been in their home stations in Texas eight days before, was combat ready in Germany.

(U) There was much more to the operation, of course. The smoothness and rapidity with which BIG LIFT was executed was possible only because of meticulous planning and preparations both in the United States and Europe. High level planning had begun in July, and though the NATO authorities were informed in late August, details of the plan were withheld from the 2d Armored Division as long as possible in order to add realism to the operation. Naturally, unexpected problems arose as the exercise progressed; most of them concerned timing, negotiations with the NATO nations, and security precautions. There were also numerous artificialities normal to any exercise in Europe and to all maneuvers of that size and scope. But. in general, BIG LIFT was a complete success. Though the exercise in no way altered the necessity for maintaining combat-ready troops in Europe, it demonstrated that the United States was able to reinforce substantially the 5-division force already there. It was another of the many massive, difficult, and costly undertakings that were necessary to keep the U.S. Army ready for war in Europe.

---
The LONG THRUST Exercises

(Source: The Placement and Augmentation Systems in Europe (1945-1963). Historical Sec, Ops Div, HQ USAREUR, 1964; and other sources)

LONG THRUST. Conceived as a strategic mobility exercise on the battle group level, LONG THRUST became in fact an instrument of augmentation and unit rotation without dependents. Long after the implementation of the mobility and prepositioning of equipment concepts had proved to be feasible, exigencies of the international situation demanded that the exercises continue because an augmentation battle group was needed in Berlin.
1961
30 April
LONG THRUST scheduled for May is cancelled because of the crisis in Laos.
Three battle groups of the 101st Abn Div, Fort Campbell, KY, were scheduled to take part in the first Long Thrust exercise. This NATO exercise was meant to test the speed with which German, French and American forces could be augmented though strategic air mobility from the United States. (Source: STARS & STRIPES, May 2, 1961)
30 August
LONG THRUST rescheduled for September is again cancelled because of the Berlin crisis, but preparations are continued to permit short notice execution.
1962
13 January
LONG THRUST II-A, the first exercise in the LONG THRUST series, begins.
12-17 February
One of the three LONG THRUST II-A battle groups redeploys to the United States.
Following completion of Exercise LONG THRUST II in February, two of the three participating US Army battle groups airlifted from the United States will remain temporarily in Germany for additional training as elements of the strategic reserve of the Supreme Allied Commander Europe. The 1st Battle Group, 22nd Infantry; 2nd BG, 39th Inf; and the 2nd BG, 47th Inf were flown to Europe as part of the largest jet strategic airlift to date by Military Air Transport Service. Some 100 transports were used. (Source: Army Information Digest, Feb 1962).
On Feb 4 1962, 2nd BG, 47th Inf and 2nd BG, 39th Inf came under control of HQ USAREUR. The 2-47th was moved to Augsburg, the 2-39th stayed at Wildflecken. The two battle groups are scheduled to remain in USAREUR for about six months (Source: STARS & STRIPES, Feb 5 1962).
7 April
LONG THRUST III begins.
9 July
LONG THRUST IV begins.
2-5, 14-15 October
LONG THRUST V begins.
1963
16 January
LONG THRUST VI begins.
7 April
LONG THRUST VII begins.
17 May
Termination of LONG THRUST series upon completion of LONG THRUST VIII is envisaged.
19 July
LONG THRUST VIII begins.
Two battle groups were exchanged during LONG THRUST VIII this summer as part of air mobility exercises designed to test command and logistic capabilities for reinforcement of NATO defenses. The 2nd BG, 8th Inf, 1st Infantry Division, Fort Riley, was flown to Germany by Military Air Transport Service to replace another group that had been airlifted to Europe during a previous exercise. The replaced battle group was scheduled to be flown back to the United States. (Source: Army Information Digest, October 1963)
12 October
Continuation of LONG THRUST exercises is considered.
25-28 October
LONG THRUST VIII battle group redeploys without a counterpart unit rotating to Europe.
1964
10 January
LONG THRUST IX begins.
One battalion (2nd Bn, 9th Inf - 2nd Inf Div) will arrive from Fort Benning, GA on Jan 10 to replace a battle group (2nd BG, 26th Inf - 1st Inf Div) that arrived in October 1963 as part of a previous LONG THRUST. The 2-9th Inf will be attached to the 24th Inf Div in Germany. (Source: STARS & STRIPES, Jan 10 1964)

---
POMCUS Increments

(Source: Combat Equipment Group-Europe Facts, http://www.ioc.army.mil/rm/iocfact/cege.htm - dead link)
For many years, POMCUS was a key element in the United States strategy for blocking a Russian military threat to western Europe. POMCUS as part of the M + 10 Essential Force, was needed to meet the "10 divisions in 10 days" concept.

The POMCUS concept was launched in 1962, largely as a result of the preceding summer's Berlin Crisis. On August 13, 1961, East German troops closed off the border between East and West Berlin and the Berlin Wall was constructed. Before tensions simmered down, a sizable force of the U.S. National Guardsmen and Reservists had been mobilized to "prevent a war, not to fight one", in President Kennedy's stirring words, and a fully-armed U.S. Army battle group had been sent from West Germany into Berlin along the autobahn to reaffirm US. treaty rights.

That frightening experience made it starkly clear that combat-ready troops could not be sent from the U.S. quickly enough to influence the outcome of any confrontation if their equipment also had to be moved. Increasing the size of our forward-deployed force in Europe was an alternative, but it was impractical from both a political and an economic standpoint. Prepositioning equipment in advance was seized upon as the only palatable solution.

POMCUS' initial increment was the so-called two-plus-ten stockage: equipment for two divisions plus ten support units. In 1968, President Johnson ordered the 1st Infantry Division, 3rd Armored Cavalry Regiment, and other, non-divisional forces home to slow the U.S. gold outflow. Equipment was left behind and placed in POMCUS as a REFORGER increment, for the annual Return of Forces to Germany exercise. This established three combat divisions and associated non-divisional support units. (1)

Two more increments were added to POMCUS in 1974 and 1975. The first was a Minimum Requirements Logistical Augmentation, Europe (MR LOGAEUR) package which became necessary after France withdrew, from NATO's military structure, and the need to have the capability to open lines of communciation through the Benelux. The other added increment was a Medical Augmentation (MEDAUG) package, also required because of "lost" facilities in France.

A program to rebuild and expand POMCUS was launched under the Carter administration. It was prompted by the Long Term Defense Program (LTDP) adopted by NATO. In addition to upgrading the fill level and quality of the existing POMCUS equipment, the Carter-Brown defense team also agreed to preposition a three-division U.S. corps in the Northern Army Group (NORTHAG) section of the NATO line as an AFCENT reserve corps.

At its largest, CEGE was comprised of a Group Headquarters with over 300 personnel authorized, four battalion headquarters and 16 combat equipment companies (two of which were split sites), giving us 18 storage sites. Its work force totaled 4,126 personnel.
(1) Besides the 1st Infantry Division, the 2nd Armored Division and 4th Infantry Division were also earmarked for early rapid deployment to Europe in an emergency.

---
1st CEC / 1st Maint Bn (UARG)
1971
(Source: Email from Roger Horton)
ARG at Spinelli was my first assignment out of OCS and it was brutal. I was there 1971 to 1973, about 30 months.

I worked on Reforger III, IV and V, I believe. One of the most interesting things that happened was urgently loading trains with M109 Howitzers and other tracked vehicles bound for Israel. Protestors threatened to block the trains and the ships but all went well.

This was also the time of the Baader Meinhof gang (bombed a Enlisted club in Frankfurt?) and the disaster at the Munich Olympics.

I have two aerial photso of the site with 2,700 prepositioned wheels, over 300 tracks and twelve controlled humidity buildings.



1st CEC
Spinelli Bks, Feudenheim






1. Spinelli Bks (KB)

2. Spinelli Bks (KB)




---
1981
(Source: STARS & STRIPES, Aug 31, 1981)
The 1st Combat Equipment Co at Spinelli Bks, Mannheim, consists of some 260 military, labor service and other local national personnel.

The pre-positioned equipment that 1st CEC is responsible for consists primarily of equipment destined for artillery units. The equipment is stored in a dozen humidity-controlled warehouses or in large open-air vehicle parks.

---
3rd CEC / 3rd Maintenance Battalion (UARG)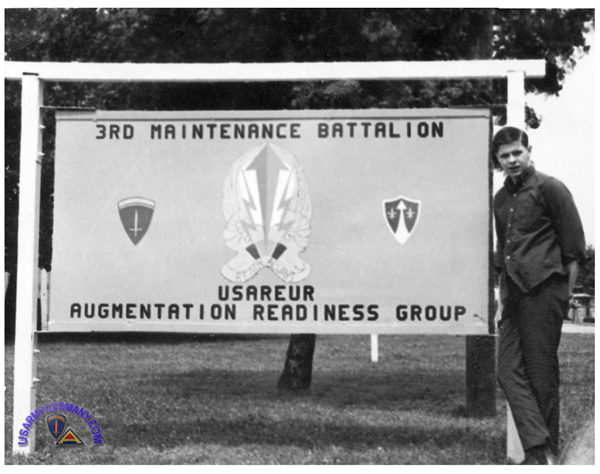 Sp/5 Michael Gossman stands next to unit sign, Gerszewski Barracks, c. 1966 (Paul Wolsko)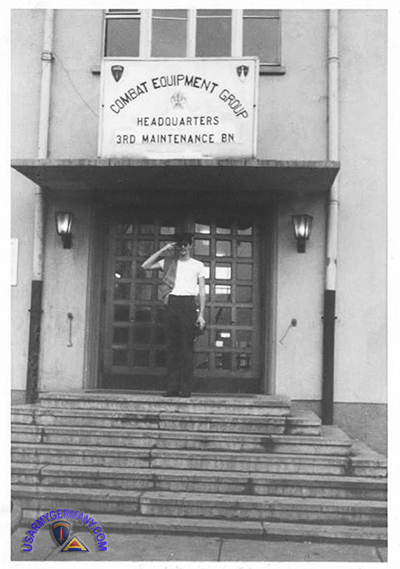 Bruce Christman in front of entrance to HQ 3rd Maint Bn
at Gerszewski Barracks, Knielingen (Rafael Nodal)
(Source: Gerszewski Barracks Yahoo Group)
3rd Maintenance Battalion at Gerszewski Barracks, mid-1960s

Based on some recent comments by former members of the battalion, it appears that the battalion was comprised as follows:


Tank "A"


Tank "B"


Mech "A"


Mech "B"


Armd Cav

I have to think there was also a Hqs Pltn or Section.

So, the question is: Did each one of these (sections) take care of the pre-positioned equipment of a battalion, e.g. Tank "A" supporting the equipment of a tank battalion?

---
6th CEC
1971
(Source: STARS & STRIPES, Jan 9, 1971)
US Army Materiel Command, Europe has announced that 400 pre-positioned (REFORGER) tracked and wheeled vehicles will be moved from (open-air) storage at Germersheim to Miesau Army Depot where they will be stored in newly erected humidity-controlled warehouses. (The vehicles were turned in at Germersheim depot by 1st Inf Div and other NATO-committed stateside units at the end of the most recent REFORGER exercise.) (Webmaster note: the article indicates that thses are the first POMCUS vehicles to be stored at Miesau. More are to be added as the warehouse project is completed. Eventually, there will be between 200 to 250 CEGE personnel stationed at Miesau.)

Each of the new warehouses contains 40,000 square feet of floor storage. The construction project, which includes 10 of the new warehouses, a maintenance building, and new aprons and hardstands, was initiated in August 1969 and will cost over $13 million. The project is expected to be completed this spring.
---
1980
(Source: Email from Bob Rhine, 1980-82)
6th Combat Equipment Company
SSG Robert Rhine

I was assigned to the 6th Combat Equipment Company (CEC) from May 1980 through February 1982 as the Engineer Equipment Inspector in the Quality Control (QC) Section.

At that time the 6th CEC was assigned to Combat Equipment Battalion West (CEBW), Combat Equipment Group Europe (CEGE), 21st Support Command.

Combat Equipment Battalion West consisted of five companies, HHC located with the Battalion Headquarters at Landstuhl Army Hospital, the 5th CEC, located at Pirmasens, the 6th CEC, located at Miesau, the 7th CEC located at Nahbollenbach, and the 8th CEC, located at Rhein Ordinance Barracks in Vogelweh (a sub-community of Kaiserslautern).

Combat Equipment Group Europe was located in Mannheim and when I was assigned to the 6th CEC, it consisted of Combat Equipment Battalion East and Combat Equipment Battalion West. Near the end of my assignment, the wheels were turning for creation of Combat Equipment Battalion North.

Combat Equipment Battalion East consisted of four companies, HHC, located with the Battalion Headquarters in Mannheim, 1st CEC, also located at Mannheim, and 3rd and 4th CEC, both located at Germersheim.

The 6th was located on Miesau Army Depot, Miesau, Germany. It was authorized about 50 uniformed Army personnel and 220 Civilians. However, during the time I was assigned there the number of assigned Army personnel never exceeded 30 personnel. The number of civilians was always close to the authorized strength. Most of the civilian employees were German, but there were several Americans (mostly military dependents) who also worked for 6th.

The 6th was commanded by a Major and at least four different Majors were in command during my time there. Our 1SG was 1SG Phelps whose hobby was restoring antique clocks. He and I had been drill sergeants together at Fort Leonard Missouri in the mid 1970s.

The company was divided into five sections: Company Headquarters, the Maintenance Section, the Storage Section, the Preservation Section, and the Quality Control Section.

Company Headquarters had a company clerk (GI), two admin clerks (German), motor sergeant (GI), mechanics (two GIs and one German), TAMMS clerk (German), and supply sergeant (GI).

The Maintenance Section was headed by a 1LT ordinance officer and an E7 maintenance NCO. The maintenance clerks were GIs but the mechanics were all Germans who worked under a "Meister." The Maintenance Section was divided into Tracked Vehicle, Wheeled Vehicle, Engineer Equipment, Commel, and Small Arms Maintenance sub-sections.

The Storage Section was headed by a 1LT quartermaster supply officer and an E7 supply NCO. The supply officer was signed for the equipment stored in the 13 100x200 feet controlled humidity warehouses and several outdoor storage lots. Each of the 13 warehouses had a German civilian warehouseman responsible for the equipment stored in each warehouse. Combat and wheeled vehicles were stored in unit sets in 11 of the warehouses. Small Generators, pumps, and other support items were stored in one warehouse. Tool Sets and tents were stored in the last warehouse. Engineer construction equipment, trailers, and AVLB bridges were stored outside in the lots.

The Quality Control Section was headed by a SFC and was divided into tracked vehicle inspectors with four inspectors (two Germans and two GIs), wheeled vehicle inspectors (two German and two GIs, engineer equipment inspector (one GI, myself), and TAMMS clerks (two Germans).

Each CEC company operated on an annual cycle that would begin each year with REFORGER which usually started Labor Day weekend in September. Upon arrival each battalion or separate company-sized unit would draw their equipment out of the warehouse, install batteries, fuel up the vehicle, load tentage and tools onto cargo trucks and trailers and convoy to their assembly area. A Battalion could draw their equipment in 24 hours and the separate Companies in 12 to 18 hours depending on the amount of equipment assigned. Active, Reserve, and Army National Guard units all were involved in drawing from the 6th CEC while I was assigned there.

Active Army units would arrive and draw their equipment first, followed by the Reserve and National Guard units. The units would deploy to the REFORGER maneuver box for the two week long exercise and then return to the CEC site to turn their equipment back in. Because of the limit to the amount of time they could spend on active duty, the Reserve and National Guard units would return first. Each unit had 72 hours to turn-in their equipment. The turn-in process consisted of a full technical inspection of each piece of equipment, correction of all the faults found, a final inspection, preservation of the equipment, and a return to storage. The turn-in days were long and ran from 0700 to 2300 (11PM for you civilians) seven day a week. Believe it or not, most units returned 90% of their equipment to storage in 72 hours.

Equipment stored in humidity controlled warehouses had to be pulled for maintenance every four years and equipment stored outdoors had to be maintained every two years. The equipment sets selected for issued were usually coming up on their 4th year (indoor) or 2nd year (outdoor) of storage, so about 75% of the equipment due for maintenance each year was completed as part of the REFORGER issue and turn-in process. If REFORGER started Labor Day, the last units finished turn-in by mid to late October and the CECs were finished with the REFORGER cycle by the first of November.

The mission of the CEC for the remainder of the year was to use the internal work force to draw the remainder of the equipment due for maintenance that year from storage and activate, inspect, maintain, QC, preserve, and return to storage. The remainder of the annual cycle was usually completed by the first week in August, at which time we would begin to prepare for the next REFORGER in September.

Other CEC missions was to replace equipment in the equipment sets that had become obsolete with new equipment and to keep the stored tool sets up to date by adding and deleting tools required by new issues of supply catalogs.

The best part of working there was that we soldiers got to observe both American and German holidays and many good friendships were made with the German workers.
---
1981
(Source: Email from Alan A. Barnsley)
Stationed at Miesau 1981~83 with
6th CEC
, 21st SUPPORT COMMAND, NOT TAACOM. Then later, 1983 -85, at
7th CEC
, Nahbollenbach... Remember SSG Rhine at 6th, He left a few months after I got there as a Buck Private E-1.
I worked in Small Arms Maintenance Subsection under SFC Judd White... With SPC then SGT Ron Bridgeman , Roland Bonn (German Civilan). Hung around with SGT Ron Strickland and SGT Tracy Mayo from the Track/Wheel Maintenance side of things.

Company Cdr Maj Berkowitz (1SGT was named Phelps) was an avid hunter as was I, so I got a German Hunting License and went hunting as often as I could squeeze into our BUSY schedule.. Never could hunt the Big Red Deer as the season was always around Reforger time... CW2 Geherer was Maint Officer. Saw him later in Alaska..
Had fun with many others on Post ... 164th MP Company, 4th Ordnance, Beer, Folks Marching... etc (164th MP Tower Rats Inactivated, and reactivated in Ft Richardson AK... Funny how that worked..)
Maj Berkowitz was replaced (and stationed to Ft Greely, AK as the IG, where I met him later :) ) by Maj Lyman Harrold ( a West Pointer, and Fairest, Finest Officer I ever served under)
We had Nuke protesters at Miesau, thanks to German Government security leaks... Red Army Faction was in High Gear.. And the Red Threat just over the Horizon...
After SFC Jud White transfered back to States in 1983, his replacement SSG Jimmy Phillips and I did not see Eye to Eye, so I requested a transfer...
I went to 7th CEC In Nahbollenbach... At the 7th I continued hunting, and the workload, (now with Winter Reforger Option..) was still intense... Facilities were quite run down (WWII German Army Horse Stables).
But we trooped on anyway.. The barracks was upgraded some during this period. Maj Breuckman was CO while I was there...
Army Europe at the time decided that all Battalion or Higher Change of Commands would include a Pass and Review .... This meant for a CEGE Company attending, a minimum of around 16 Personnel required to drive to Local Battalion HQ (within say, 200 Km) to perform it... This required 50% of the soldiers in the Company.....
I married a Local In Idar Oberstein, and ETS'ed 1 month later back to Alaska.(4 year tour with extension in Germany) Aug 8 1985 As I was dropped off at Rhein Main and Checked Bags at MAC Terminal , BIG BOOM, flying glass etc.. Terrorists had set a Car Bomb off in Parking Lot about 10 Ft from where I had been, 2 minutes before... http://www.3ad.com/history/cold.war/feature.pages/terrorism3.htm

I have pictures of Barracks, Company HQ, Tanks, Jeeps, Small Arms :) Maintenance Shop, Local Entertainment etc :)
Tell Me what you would like to post, and I can Dig them out as well as a few more names etc..

---
7th CEC
1984
(Source: COMMUNITY NEWS, July 27, 1984)
7th CEC keeps Reforger units well supplied

by Tom Larscheid

The men and women of 7th Combat Equipment Company, Nahbollenbach have a big, big job.

They maintain daily almost three brigades of combat ready equipment. That's over 11,000 different items from jeep antennas to M-60 tanks and everything in between.

According to 7th CEC Commander, Maj. James A. Brueckman, the maintenance cycle is an on going process. "We receive equipment, configure it (prepare it for issue with all combat essential items uploaded), store it and issue it. All vehicles are ready for whatever their mission requires, move, shoot or communicate."

7th CEC is part of the U.S. Army Combat Equipment Group, Europe (USACEGE) home of POMCUS - prepositioned materiel configured to unit sets.

This process involves the storage of equipment at sites in Europe for U.S. based units. The stocks are issued to reinforce NATO forces during exercises such as Reforger.

The Best Equipment
"The unit draws the same equipment based on their Table of Organization and Equipment (TOE) they use in the states," Brueckman said. After Reforger last year many of the soldiers complimented 7th CEC for excellent maintenance of the equipment. Some even expressed a desire to take it back with them. "We're like a candy store, we have top equipment in top condition."

The equipment doesn't just sit in the warehouse waiting for Reforger. lt is constantly checked and tested for readiness through a cyclic maintenance program which comprises a large part of 7 CEC's mission.

Surveillance
Equipment in humidity controlled warehouses is checked every four years while that located in conventional warehouses goes through the maintenance cycle every two years. All weapon systems are thoroughly checked every six months. To back up this system, the unit surveillance team spot checks equipment daily. Higher headquarters also conduct command surveillance to ensure equipment in storage is ready for issue. "Nothing goes into the warehouse deadlined," Brueckman said. "It must be combat ready or it stays in the maintenance flow until it is fully operational."

A local work force of almost 300 together with 39 military personnel keep the maintenance schedule on track. "The maintenance and supply specialists know the equipment inside and out. I can't say enough about these people," Brueckman added. "Their dedication to the mission is total. They work side-by-side with the soldiers until all the equipment is out. Together with the military personnel they form the backbone of this organization."

Good workers
Brueckman pointed to last year's Reforger as an example of this dedication. Within a seven hour period, 7th CEC issued simultaneously all the equipment required for two battalion sized units. "Every vehicle started and rolled to the assembly point with all the equipment on board. That says a lot for our people. The experience and continuity of the work force is amazing."

As Reforger units turn in their equipment, any complaints about it functioning properly in the field are noted and immediate corrective action is taken. The repair shop can make any vehicle or piece of equipment look and perform like new.

Everything is cleaned, derusted, painted and put 'back on the shelf' ready for issue again.

The maintenance cycle never ends. With almost 50 store buildings full of equipment, at least 5,000 items per year are scheduled to go through maintenance. As soon as Reforger is over, 7th CEC prepares for the next one while continuing their regular maintenance schedule.

Although a small military unit, 7th CEC plays a very big role in the defense of our NATO allies. "We don't use this equipment every day," concluded Brueckman, "but it's here and ready to go when needed."

---
8th CEC / 8th Maint Bn (UARG)
1971
(Source: Email from Fred Mills)
I was assigned to the 8th Maintenance Battalion, Rhein Ordnance Barracks, Kaiserslautern Germany from 1971-1973. At that time, we were one of several company-sized battalions that maintained equipment used in the Reforger Exercises.

I was in the Communications Section - we had 66,000 pieces of communications gear to maintain. Some (radios and other removeable components) were stored in large dehumidified warehouses, while non-removeable components were installed on the vehicles. Some of the vehicles were also housed in the warehouses, while some were stored in open-air wheel and track parks.

---
Combat Equipment Battalion North
1979
(Source: STARS & STRIPES, March 10 1979)
The US Army announced that the US has budgeted $85 million to build 60 warehouses in northern Germany to store the military equipment (more than 7,800 tracked and wheeled vehicles) necessary to outfit the entire 2nd Armored Division (Ft. Hood, TX) as well as elements of an Army corps (
Webmaster note:
III Corps, also in Texas). (See also comments from
Department of the Army Historical Summary: FY 1981
). Construction is scheduled to be completed by the end of 1980.
POMCUS contruction will occur at two sites:

South Park
(near Ayrshire Barracks, Moenchengladbach - a BAOR installation)(

)

Herongen
(northwest of Moenchengladbach)(

)
The Class V construction site will be at

Twisteden
(northwest of Moenchengladbach)(

)
The 14th Combat Equipment Company is being formed to operate the two POMCUS sites.
The Army will store the tanks for three armor battalions at South Park and those for four armor battalions at Herongen. The equipment for five mechanized infantry battalions and eight field artillery battalions will be stored between South Park and Herongen.
The first POMCUS equipment is expected to begin arriving in April. However, the first M60A1 tanks of the armor battalions won't start arriving until November.
Army officials state that these POMCUS sites will be the only ones that also store rations and medical supplies (two entire MUST hospitals).
Negotiations with NATO allies (
Webmaster note:
Belgium and the Netherlands) are underway to add POMCUS sites in those countries for storing equipment for two more US-based divisions that would deploy to Europe and be assigned to the US Army corps in northern Germany in the event of war.

---
14th CEC
1989
(Source: Traveler (Rheinberg MILCOM newspaper), May 1989)
CEBN, 14th CEC celebrate 10 years
In observance of both the Combat Equipment Battalion, North and the 14th Combat Equipment Company's 10th year anniversaries, there will be an open house at the 14th CEC on May 20.

Located at Moenchengladbach, the open house will be open to the general public, family members and local nationals from 11 a.m. to 6 p.m. The event will include static displays of equipment, refreshments, various forms of entertainment and tours of the site.

CEBN and the 14th CEC were activated jointly on Feb. 12, 1979.

CEBN
The battalion's mission is to receive, configure, store, maintain and issue Prepositioned Material Configured to Unit Sets (POMCUS) equipment. Its higher headquarters is the Combat Equipment Group, Europe (CEGE).

CEBN was the first POMCUS battalion established within NORTHAG and currently is the only battalion that has CECs located in two different countries. They are the 14th and 15th CECs in Germany and the 16th and 17th CECs in Belgium.

CEBN began participating in REFORGER exercises with the turn-in of an armor battalion's equipment to the 14th CEC during REFORGER 1980. A few years later, CEBN made history during REFORGER 1983 when they had the first full-scale issue and turn-in of POMCUS equipment in NORTHAG.

14th CEC
As the first company of CEBN, the 14th CEC began its existance with three military personnel in a decaying old office at Churchill Kaseme in Moenchengladbach.

Beginning with an assortment of three maintenance buildings and three general purpose warehouses, all dating back to the 1930s, the 14th CEC has grown to its present three modern maintenance areas, a Forward Support Agency and 24 controlled humidity warehouse equivalents. The unit currently stores and maintains over 2,700 wheeled vehicles, 1,200 tracked vehicles and 1,500 trailers.

---
Related Links
Article on CEG-E Today - Article appeared in ARMY LOGISTICIAN