If you do NOT see the Table of Contents frame to the left of this page, then
Click here to open 'USArmyGermany' frameset
3rd Aviation Battalion
3rd Infantry Division (Mech)
Looking for more information from military/civilian personnel assigned to or associated with the U.S. Army in Germany from 1945 to 1989. If you have any stories or thoughts on the subject, please contact me

.
---
---
3rd Aviation Company/Battalion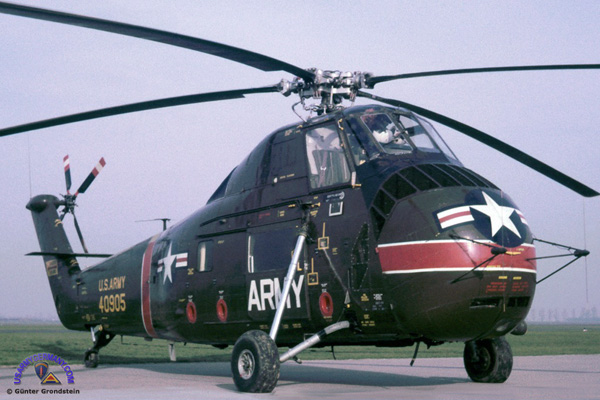 1. H-34A CHOCTAW of 3rd Avn Co, 1961 (Günter Grondstein)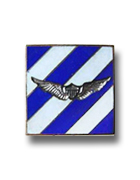 3rd Aviation Company DUI
1958
(Source: STARS & STRIPES, May 13, 1958)
3d Inf Air Unit Due on May 21

WUERZBURG, Germany (Special) - Air support for the 3d Inf Div will arrive in Germany May 21, 10 months after the air unit's activation at Ft. Denning, Ga.

The 3d Aviation Co, boasting more than 9,000 continuous hours of accident-free flight time, is under the command of Mai James Clark. The company has undergone rigorous training in the U.S.

The company has been organized to serve with the 3d Div's pentomic organization. It provides the division with aerial reconnaissance, resupply, transportation and other aerial missions. An additional mission is to fight as infantrymen if necessary.

Other Advances
Despite its stiff regular training schedules, the company has made advancements in the field of communications and helicopter landing.

Concentrating on battlefield condition improvement, members of the company developed a practical wire-laying device which will distribute communications lines at a phenomenal rate over inaccessible terrain.

Also lending to air improvement, Capt R. A. Michielson, operations officer, developed the Michielscope night-landing system for helicopters under battle conditions. The simple system employs special flashlights to guide the craft in safely without being detected by enemy observers.

Only four of the officers in the company have not received clearance on instrument qualification.

An additional training program conducted by the aviation company qualifies 3d Div line officers as competent aerial observers. The 110-hour school trains the men to be competent aerial observers in reconnaissance, surveillance, conduct of fire, photo and numerous other functions.
---
(Source: Email from Dan Ignotov, 3rd Avn Co, 1958-59)
I was a member of the 3rd Aviation Co., 3rd Inf Div, in 1958, 59, until my discharge in August of 1960.

I didn't see the troop transport ship that I sailed on listed in your notes. My transport ship was the William O. Darby for both trips across the Atlantic. I believe there were about 5000 troops on that ship.

Our unit gyroscoped from Ft. Benning through Savannah in May of 1958 as I recall. I took up residence in Kitzingen where I was one of the three tower operators for the airfield. I'm a little vague as to the proper name for our barracks there but I believe it was "Harvey Barracks."

The 3rd Aviation Company Headquarters and main base was located at Kitzingen. We also operated satellite bases at Wurzburg, Bamberg, Schweinfurt and Aschaffenburg. Our company had men and aircraft, both fixed wing and helicopters, stationed at each of these satellite airfields.

Dan Ignotov
| | | | |
| --- | --- | --- | --- |
| 1. 3rd Avn Co Hqs Bldg, Harvey Bks (113 KB) | 2. Barracks (94 KB) | 3. Operations and Control Tower (85 KB) | |
| 4. Airfield Control Tower (94 KB) | 5. Operations Bldg, Schweinfurt (93 KB) | 6. L-20 aircraft used for transportion of passengers and cargo (110 KB) | |
| 7. L-19 aircraft used for observation, liaison with the infantry, etc. (110 KB) | 8. H-13 used for observation and medevac (93 KB) | 9. H-19 helicopter used for transportation (95 KB) | |
---
1961
(Source: Email from Donald Swinson, DRONE Det, 3rd Avn Co, 1961-62)
I served in the Drone Detachment of 3rd Avn. Co, 3rd Inf. Div. at Harvey Barracks, Kitzingen, Ger. in 1961-62. I have found no mention of Drones at all in that unit. Just wondering if they still have a Drone detachment??

Having been at Ft. Bliss, Tx prior to going to Germany we flew the Drones as targets for the missiles being used there in the late 1950s (Ajax and then Hercules).

In Europe we flew the Drones for Reconnaissance and made topographical pictures used in map making. I was a launch crew member, then crew chief and got to do some flying (Aircraft controller of Drones). I even got to fly a UH-1B a very small amount in the latter part of my interrupted career.

Hope you get more from some of the people that served there and then. I have only had minimal contact with any of them since leaving active duty (a long time ago)
---
1966
(Source: Email from Tom Bogan)
I was in Kitzingen from March until June 1966.

I was originally trained in the maintenance of the drones. However they got rid of them just before we graduated at Ft. Huachuca in Arizona. They then trained us on the radar system which was used for the drones.

When I got to Kitzingen I really didn't have a job so for three months I went to the motor pool and painted trucks with a tiny paintbrush.

I heard that the tower operator at the airstrip at Leighton Barracks in Wurzburg was about to rotate so I volunteered for the job and got it. I spent the last 15 months of my tour at the tower in Wurzburg.

The tower was in the top floor of the fire station. Not much traffic other then a few flights a day, mostly the general's helicopter. Except when they had the air rallies, then we would have twenty or thirty flights of all kinds of aircraft - fixed wing and helicopters.

Major Marr was the aviation officer. He was a great guy. He would invite us to his house for dinner once in a while. A couple of times he had me drive his wife to Frankfurt to go shopping. One time we actually went into the officers club in Frankfurt for lunch. Great times.

I don't remember much about the airfield near Emery Barracks. I believe it was active in the late 60's. I had the impression that there were Air Force personnel there.

Was lucky to be in Germany at that time instead of Nam.

---
Detachment "C," 3rd S & T Battalion (1967-1978)
1968
(Source: Email from Louis Archuletta)
I was a member of this unit (Det C, 3rd S&T Bn) from July 1968- Jun 1971. I was a OH-13 Crew chief and later a UH-1 Crew chief.

We had 3 Beavers (L-20) and 4 OH-13 and 6 B model Hueys (UH-1) when I got there. Later we got rid of the B models and traded them for D models.

The entire Detachment was located at Kitzingen AAF. We had a LTC Harold Bristow that was our Detachment Commander. We didn't have many people only about 50 and most of them were officers. That is why the commander was a LTC. He outranked the 2nd Brigade (3rd Inf Div) commander of Harvey Barracks.

We supported the Command Staff of the 3rd Infantry Division. We flew them all over Germany. But mostly to Graf, Vilseck, Hohenfels and Wild Chicken (Wildfelcken).

It was fun back then. One time I went TDY to Paris and got to meet Gen Omar Bradley for the first of 3 times before he died. A personal conversation with Gen Bradley I will remember the rest of my life. Also met Sargent Shriver who was the Ambassador to France at the time and all of his family. We were there for 13 days in Paris. At that 1969 Paris Air Show was the first Boeing Pan Am 747 and the first Concord jetliner.

I was a Huey Crew chief then and later became the crew chief for the ADC Brig Gen Bert David. He was a fine man for his time. Gen. David swore me in when I reenlisted. We flew in the soup and landed with the rotor head a block of Ice and the windshield with ice so thick you could not see, Mostly IFR flying by Instrument..

Later in 1975 I became the crew Chief for the Commander of the 7th Army Training Center in Graf. His name was Gen Thomas Lynch. He was a man who made it through WWII Korea and Vietnam. He was a enlisted and was commissioned to a 2LT during WWII went all the way through the officer ranks and was a COL when he came to Graf. He got his first Star and when he left Graf was put in charge of Ft. Knox. That man was a tanker and many generals didn't like him because he never went to the War Collage. I watched him chew my Company Commander's ass for questioning me outside the Helicopter while we were at flight idle.

---
3rd Aviation Battalion (Cbt) (1963-1967; 1978-1985)
3rd Aviation Battalion -- 1963-1967
(Source: STARS & STRIPES, 1 August 1963)
Under the ROAD plan, the 59th Transportation Company (Light Helicopter) became Company "A," 3rd Aviation Battalion on 15 July 1963.

The 59th Trans Co served in Germany for almost five years. Its strength was 100 soldiers, among which were 28 pilots, 20 crew chiefs and 24 mechanics.
---
1963
(Source: Email from Craig W. Phillips, Hq Co, 3rd Avn Bn, 1963-64)
I was stationed at Harvey Barracks in Kitzingen, Germany, with Hq Co, 3rd Avn Bn, 3rd Inf Div. from May 1963 to July 1964, when I came home early after the death of one of my parents. I have great memories of my time in Germany and my wife and I have vowed to return to that beautiful country to see all I missed during my time there.

As I recall, my pay was less than $75.00 a month as a Spec 4, so money didnít stretch all that far, even with an exchange rate of 4 marks and some Pfennings per dollar. I distinctly remember the charming town of Kitzingen, with its tower with the leaning top. I also remember going to the Golden Gans Gasthaus for schnitzel and german potato salad with a litre of beer for about 3 marks (75 cents). I also remember the beautiful city of Würzburg with its magnificent bridge.

I had a free 9 day sail across the North Atlantic on the USS Rose; I will never forget that trip, it was so cold and nothing to do. The sight of the White Cliffs of Dover, our sail into Bremerhaven and the train ride south to Kitzingen are all etched into my memory. I can still recall my thoughts on the train of how green and beautiful this country was.

While at Harvey Barracks, our unit had, to the best of my memory, the following aircraft; L-20 Beaver fixed wing, L-19 Bird Dog fixed wing, H-13 helicopter, UH-1 (Huey helicopters), H-19 helicopters, and OV-1 (Grumman) Mohawk fixed wing.

While there I played on the company softball and basketball teams and we were barracks champions of both sports. I remember in the 1963 basketball season, we beat the Armor (forget their designation) for the championships. Their barracks were right next to us and both units were good friends, so both units were glad the playoffs came down to our two units. Some of the guys that played on the basketball and softball teams were, myself of Illinois, Doug Yankey of West Virginia, Rich Winslow of Illinois, Jerry Parrish of North Carolina, Doug Rentchler of California and more I cannot remember. I am amazed I remembered that many names after 40 years.
Craig Phillips
---
(Source: Email from Joe Boyle)
I arrived in Bremerhaven in mid-September, 1963, aboard the USNS Upshur after the usual nine-day crossing. My original orders were for an aviation company in Ansbach. At Bremerhaven I was reassigned to 3rd Avn in Wertheim. I sat in Wertheim for a few days and finally got sent to Kitzingen. I sat around again at Kitzingen. The problem was that they had too many aircraft mechanics and not enough slots. I heard that some mechanics were in the tower and radar at the airfield. I asked First Seargeant Trawick about the tower. He called the tower chief, Jack Kramer, who said send him up. So I spent the next two and a half years in the tower.

I worked with Jim Strenger, Bill Dorst, Wally Pfaff, Steve Irey, Charlie Ray Carter, in the tower, and Bob Rieth, Tom Revels, and a few others in the radar shack.

I had been touch off and on with Irey, Rieth, Tim Middleton, Bob Stenson, and Bill Jimerson. So I organized a mini-reunion in Indialantic, FL in June a year ago. Middleton and Jimerson missed it.

This year we will try again in Orofino, Idaho in September. Batallion Clerk Ted Meske lives near there.

I remember Doug Yankey and the Goldene Gans, both mentioned in other posts to this site.

I separated in February 1966.
---
1973
(Source: 3rd Infantry Division Yearbook 1973, USAMHI)
3rd Avn Co Pocket Patch

The Aviation Company, 3d Infantry Division has progressed through a variety of unit designations, missions, and aircraft since its beginning in the early 1960's. Until 1967, it was designated as the 3d Aviation Battalion and was composed of A, B, and Headquarters companies. Its mission at that time was combat support and assault, aerial surveillance, airfield operations, and aerial transportation for the Commanding General and his staff.

In early 1967, the battalion was redesignated Detachment "C" of the 3d S&T Battalion with the mission of airfield operations and providing aerial transportation for the Commanding General, his staff, and other missions directed by the Commanding General. The detachment was later designated Company "C" 3d S&T Battalion and in 1972 became the Aviation Company, 3d Infantry Division.

To date the unit has had no actual combat experience, but through its participation in many field training exercises throughout the years it has maintained a high degree of combat readiness. The professionalism of the company is evident in its attainment of an enviable safety record by having flown over 16,000 accident free hours since 1966.

The Aviation Company's major responsibility is to operate and maintain Kitzingen Army Airfield, the largest Army airfield in Europe and to control the division's tactical airfield during field exercises and actual combat.

The company has throughout the years and continues to offer a wide range of occupational specialties to include tower operators, flight enroute specialists, radar controllers, radar repairmen, aircraft maintenance men, avionics repairmen and many others.
---
3rd Aviation Battalion -- 1978-1985
MISCELLANEOUS UNIT INFORMATION

Source: FRONTLINE, February 7, 1984 (Vol.67, No. 3)
In June 1976, the 235th Avn Co was assigned to Giebelstadt. This unit was later redes as Co B, 3rd Avn Bn (Cbt). Co B was the first element of the 3rd ABC to occupy the airfield.

In April 1981, the HHC, 3rd ABC, along with Cos A and D, were relocated to Giebelstadt AAF from Kitzingen, concurrent with a similar move by elements of the 3rd Bn, 67th ADA which moved from Giebelstadt to Kitzingen.

On June 19 1982, the 121st Avn Co from Fort Benning, GA, equipped with the new UH-60A Blackhawk, deployed to the AAF, where it was subsequently redes as Co E, 3rd Avn Bn.

(Source: FRONTLINE, Sept 30, 1987)
Originally constituted as the 3rd Avn Bn (Cbt) on July 15, 1963. Inactivated in 1967 when personnel and equipment assets were diverted to support the US Army in South Vietnam. The 3rd Avn Bn was reactivated on May 21 1972 and reorganized and redesignated as the 3rd Avn Co. The battalion underwent five more changes until March 15 1985, when it was reactivated as the 3rd Attack Helicopter Battalion.

On Dec 16 1974, the 3rd Aviation Battalion was activated as a provisional unit to test a new concept of army aviation in Europe. On Oct 1 1977, the battalion was officially activated as the first USAREUR divisional aviation battalion.

In April 1981, the 3rd Avn Bn relocated from Kitzingen to Giebelstadt Army Airfield.

On Nov 16 1984, the battalion was inactivated and 4th Brigade was provisionally activated as the first CAB in a mechanized infantry division.

At some point (1979?), the 71st Avn. Co at Wertheim, Germany was inactivated and became E Company, 3rd Aviation Battalion (Combat), 3rd Infantry Division. (In 1974?, the 351st Avn Co, in Wertheim had been redesignated as the 71st Avn Co.)

---
A Company, 3rd Aviation Battalion
1964
(Source: Email from Lou Kolhorst, A Co, 3rd Avn Bn, Wertheim, 1964-66)
I have been looking for some info on my old unit, A Co, 3rd Avn Bn, 3rd Div. stationed in Wertheim, Germany from 5/1964-12/66.

From the information on your web page, I left right before they were sent to Viet Nam. We were supposed have Hueys then, but they were all diverted the other way, so we flew the CH-34s with the Orange stripe across the front. By the time I rotated back to the states, we had mothballed all of them and spent a lot of time on leaf detail and other important tasks.

I enjoyed my time there and saw a lot of country. We were billeted in Peden Barracks and B Co, 703rd Maintence was our support. Again, thank you for your website. I am really glad I found it. I have a few old pictures around if you are interested.
| | | | |
| --- | --- | --- | --- |
| 1. (KB) | 2. (KB) | 3. (KB) | |
| 4. (KB) | 5. (KB) | 6. (KB) | |
---
1981
(Source: Email from Mark D. Camus)
I would like to thank you for bringing back some of the fondest memories of my life. I spent my entire active duty tour in the 3rd ID.

I was stationed in the 3rd ID between January 1981 and December 1984.

I started my flying career in Kitzingen as a W-1 before "A" Company was moved to Giebelstadt.

I first flew Hueys in the GS (General Support) Platoon as co-pilot then as PIC after proving I was a proficient flyer.

I eventually wound up in the C & C Platoon flying "A" model 58's in support of the 2nd Brigade Commander who at the time was Col. Robert F. Foley (a living recipient of the Medal of Honor). I was also a "Border Pilot" and unit trainer for pilots who needed to get certified or remain current flying the East German Border in our sector that started at a very small town 10km north of Hassfurt and ended a few km east of Coburg.
The patch you display for the C & C platoon was my design. I am honored it has survived the years.

---
B Company, 3rd Aviation Battalion
1962
(Source: Email from Michael Rawe)
I was stationed with Co. B (General Support), 3rd Avn Bn in Kitzingen from Sept. 1962 till Feb. 1964. Our commanding officer was Major Lewis J. Neville. I have no idea when the unit was started but when I arrived in Sept. 1962 the airfield was filled with all kinds of aircraft.

I was a MPQ-29 Radar Operator. We had a portable radar set which we used to track both drones and fixed wing aircraft over various targets. We spent around 20 days each month out in the field attached to any unit that was playing war games. Some one from the unit was always out in the field in support of another unit.

When back in the barracks, we did maintenance etc, pulled guard duty, courtesy patrol (no KP). We had German civilians which we paid to to this. On weekends we would try to get off post. and sample the local beers an wine.

I played basketball with Craig Phillips during that time, but rotated home before they won the championship.

The thing I remember most about being stationed there was growing up!
---
1963
(Source: Email from Leonard Duarte)
I was stationed at B Company, 3rd Aviation Bn from April 1963 until Sept. 1965. Harvey Barracks was our home and enjoyed all of the times spent there.

I was a radio operator, but in spare time I played on our Softball and Basketball teams. We did very well playing other companies. Playing softball, basketball with guys like Craig Phillips, Doug Yankey, Rich Winslow, Don Sander and Capt. Max Siefried. Great guys and soldiers.
Capt. Siefried died in a training mission and I lost track of his family after I left Germany. I know that his children would be in their fifties now and his wife Peggy at the time would be in her late seventies or early eighties. Sure would be great if I was able to contact them as I have pictures taken of them while I was there.

The 15th Infantry was in the barracks next to us.

We had a few Huey helicopters, H13s, and a couple Mohawk aircraft, and some L19 and L20 fixed wings.

I was 20 years old when I arrived there and learned a lot about life and of course enjoyed the German Beer and Schnitzel dinners.

Met a lot of nice people while visiting the town of Kitzingen.

Fortunately I was discharged before Vietnam started up. My brother was drafted in April of 1966 and was sent there for 13 months. He came back okay, but I know that he had changed.

Anyway, would really like to contact the Siefried family and send them some pictures.
---
1964
(Source: STARS & STRIPES, March 24, 1964)
Company B was activated in July 1963 as part of the ROAD reorganization of the 3rd Infantry Division.

CO of Co B is Maj Lewis J. Neville.

The mission of the company is to provide aviation support for the 3rd Inf Div, including aerial surveillance. To carry out its mission, the company is comprised of three platoons:


Service Platoon


General Support Platoon


Aerial Surveillance and Target Acquisition Platoon

Service Platoon (Pltn commander is Capt Leonard J. Rodowick) -- provides maintenance for all company equipment, including ground vehicles and trailers; runs the crash rescue section, a refueling section and a supply activity.

The company has 26 fixed-wing and rotary aircraft of five different types: CH-34; UH-1B; OH-13; OV-1A; U-6A.

In Feb 1964, the company flew 632 hours and had 83 percent of the aircraft available.

General Support Platoon (Pltn commander and Company XO is Capt Steven Featherstone) -- operates the control tower and a GCA section and also provides general support to all units at Kitzingen AAF.

Aerial Surveillance & Target Acquisition Platoon (Pltn commander is Capt Robert Jenkins) -- operates OV-1A MOHAWK aircraft for aerial mapping and surveillance and has a Drone Section with 12 SD1 radar-controlled reconnaissance drones for aerial recon and intelligence missions.
---
1976
(Source: STARS & STRIPES, June 6, 1976)
The 235th Attack Helicopter Company arrived at Rhein-Main AB today from Ft. Rucker, Ala. The company will be equipped with approx. 20 AH-1Q TOW-Cobra helicopters (arrival scheduled for June) and be assigned to the provisional 3rd Combat Aviation Battalion. The company will be located at Giebelstadt Army Airfield.

Eventually, the company will permanently be assigned to the Cbt Avn Bn as "B" Company. The current "B" Co will be reassigned to the CAB of a different division in Germany.
---
1980
(Source: STARS & STRIPES, June 6, 1976)
B Co, 3rd AB(C) Pocket Patch

I was assigned to Giebelstadt Army Airfield from 1980 to 1984.

There is a pocket patch shown on your web page (on the left) with a skeleton hand holding a dagger which is penetrating a 1980's vintage Soviet tank. The patch is associated on your web page with the early 1960's and says 3rd Combat Aviation Battalion. (Webmaster note: correction has been made.)

Shortly after I left, the Aviation Brigade of the 3rd Infantry Division was formed. The two attack battalions at that time were designated the 3rd and the 13th. Shortly thereafter the Army was designating battalions by regimental affiliation and both of these were redesignated 1st and 2nd Battalions of the 3rd Aviation Regiment under the Army's regimental system.

I am certain that this patch was designed for the 3rd Battalion (Attack) (later 1st/3rd Aviation Regiment) which originally came from B Company (Attack) (Snakebite patch shown previously), 3rd Aviation Battalion (Combat). The skeleton patch was not 1960's vintage.
I hope this clears up the confusion.

If it still exists I can locate the factory southeast of Regensberg which made the patch. B Company, 3rd AB(C) enjoyed a long relationship with this factory and I flew there several times to pick up orders of "Snakebite" patches, mugs, coaster and decals.,

The 235th Aviation Company deployed from Fort Benning, GA to Giebelstadt Army Airfield in June 1976 followed by 20 AH1Q Cobra helicopters. The AH-1Q was a modification of the AH-1G into an armor attacking helicopter with the TOW missile to make up for the cancellation of the AH-56 Cheyenne. While fielded to Vietnam in 1973, the Q could not perform in the heat there.

The name, Company B, 3rd Aviation Battalion was taken from a more general support aviation company in Kitzingen which was later transferred to another division. The name was given to the 235th.

A Company (General Support OH-58 and UH-1H) and D Company (Maintenance) transferred to Giebelstadt in late 1980 and early 1981. C Company and the Division Cavalry stayed in Schweinfurt until part of C Company was transferred to Giebelstadt in 1984/58 with the remainder staying in the Cavalry.

I arrived in late 1980 and was assigned as platoon leader of 1st Platoon, Company B, 3rd Aviation Battalion (Combat) or 3rd AB(C). From then until I left Germany in April 1984, I was a platoon leader, company executive officer and the Deputy Installation Commander of Giebelstadt.

When I arrived the company had AH-1S(Mod) attack helicopters. The Q and the S(Mod) are and were very similar.

In 1982/83 Company E (UH-60 Blackhawk) arrived from Fort Benning.

During that time B Company's commanders were Major Mike Crews, Major Jack Schmidt and Major Craig Pearson. Battalion Commanders during that time were LTC James Sauer and LTC (then Colonel) Willie Tempton. LTC James Mowrey (who transitioned the units into a brigade) arrived after I left.

At that time, the Army was beginning to transition aviation organizations into newer types, and after I left the AH-1S(Mods) were replaced with AH-1S(MC) and attack companies were made smaller and were commanded by captains. What essentially was an attack helicopter company became an attack helicopter battalion (AHB) with a Lieutenant Colonel commanding.

Later the Cobras were replaced by AH-64 units, deployed with personnel, fully trained from Fort Hood, Texas.

My last year there as Deputy Installation Commander I was very familiar with the buildings and their uses and the planning for newer buildings so any questions would be welcome.

From 1984 to 1987 I was the AH-1 and AH-64 Material Requirements Officer for Aviation Branch Combat Developments and was involved in the attack fleet worldwide.

The AH-1 naming and numbering system broke pretty much every rule in the book. When the Marine Corps became involved with twin engine cobras they took the end of the alphabet. The AH-1G was used in Vietnam and attack training at Fort Rucker as late as 1980 included AH-1G and AH-1S qualification. Since the Cobra was to be a variation of the Huey with commonality of most parts the letter H at the end was used for the UH-1H. How the letters I, J, K, L, M, N, and O were used and when is still disputed today. Most AH-1S(Mod)s were converted from AH-1G, AH-1S(ECAS) (enhanced Cobra Armament System) were partial conversions and production, AH-1S(Prod)s were all production and AH-1S(MC) (Modernized Cobra or Fully Modernized) were mostly production. Listing all of the differences would challenge my memory and some may validly challenge what I have written so far.

I have found at least four of the seven Cobras in my platoon. One is in a museum, one is displayed in a small town in Texas, one is pictured on the internet and I am not sure if it still exists and the last, 006, I saw in a National Guard hanger in Rhode Island in 1994 and it became part of an off shore reef in the mid 1990's.

Hope this helps.staff.

---
C Company, 3rd Aviation Battalion
1983
(Source: Email from LTC Mark Evetts, C Co, 3rd Avn Bn (Cbt), Aug 1983 - Nov 1984)
I was assigned to C Co 3 AB(C) Aug 1983 until Nov 1984 as an attack helicopter platoon leader. C Co was located in Schweinfurt, Germany. We were the most forward deployed attack helicopter in the military at that time (approximately 40 km from the East German border). C 3AB(C) was OPCON to the German 12th Panzer Division in the event war with the East Germans broke out. Our sister attack helicopter battalion was B Co 3 AB(C) located in Giebelstadt. Both units were equipped with AH-1F model Cobras.

In Nov 1984, 3 AB(C) was reorganized as part of the J-Series TOE as the 3rd ID Aviation Brigade. Personnel and equipment assigned to C 3AB(C) were reassigned to either 3/7 Cav, 3rd ID which remained at Schweinfurt or reassigned to the 3rd ID Aviation Brigade at Giebelstadt.

Not only did C 3AB(C) reorganize into new TOE, the unit moved 60 KM and participated in Winter REFORGER 95 in the same month with outstanding results.

The newly created 3rd ID Aviation Brigade had two attack helicopter battalion (initial designations were 1st BN and 13th Attack Helicopter Battalion). I was in the 13th as an attack company commander and later as the HHC commander. Later the battalions were redesignated 1-3 and 3-3.

Later in 1996, I was the battalion XO of 1-3 attack helicopter battalion in the 3rd ID Aviation Brigade in Savannah, GA. (3rd ID was activated replacing the 24th in Spring of 1996).

ADDITIONAL INFORMATION
Your files are correct. In Nov 1984, the two Attack Battalions were initially designated the 3rd and the 13th.

B Co 3 AB(C) became 3rd Bn and elements of C Co 3 AB(C) moved from Schweinfurt to Giebelstadt and were redesignated the 13th AHB. B Co was already at Giebelstadt and redesignated in name only.

The remainder of C Co 3 AB(C) remained at Schweinfurt and became the nucleus of 2 Air Cav troops for the 3/7 Cav.

At some point, the 3rd became 1-3 and the 13th became 3-3. I was in the 13th Attack helicopter battalion between Nov 1984 and Jul 1986.

As I recall, when the 3rd ID stood up again in 1984, it was the first J - Series TOE Division in the Army with modernized equipment at the time (M-1's, Bradley Fighting Vehicles). The aviation brigade was still using AH-1F's and UH-60 Blackhawks as well as OH58A / C's.

---
D Company, 3rd Aviation Battalion / F Co, 703rd Maint Bn
1983
(Source: FRONTLINE, March 10, 1983)
Air support unit wins honors

By Gary E. Lindsley

Keeping the 'Wings of the Marne' aloft, won the USAREUR Outstanding Aviation Support Unit of 1982 honors for a 3d Infantry Division unit, it was recently announced.

Company D, 3d Aviation Battalion (Combat), located at Giebelstadt Army Airfield, was awarded the title by the European branch of the Army Aviation Association of America.

According to Company D's commander, Maj. Dennis W. Healy, the company was selected for the honor because of the unit's outstanding achievements in customer support, training and safety.

"The unit," said Healy, "suported over 26,000 division flight hours by completing in excess of 1,880 aircraft and component work orders, safely conducting nine aircraft recoveries, and processing over 15,000 repair parts requests."

He said Company D has also completed more aircraft recoveries than any other unit in USAREUR in at least four years during 1982. "So far this year, we have made eight recoveries," he said. "The most noteworthy factor about all the recoveries is that they have been made without further damage to the aircraft."

However, Healy feels what really enabled his company to win the honor was the fact that the whole company deployed to the field for last year's REFORGER exercise, Carbine Fortress.

According to the aviation commander, it was a first for the company. He said it was the first time the unit had deployed to and conducted operations from afield site.

"During this intensive 14-day exercise, the company's personnel lived and trained in a field environment while conducting aircraft and component maintenance at both the field site and the garrison hangar, which simulated a rear area for non-transportable aircraft," he explained. The major also pointed out that 94 percent of all major items of equipment were deployed to the field.

All nine of the allied shop's portable airmobile shelters (SPAMS) were transported to the site by Chinooks CH-47s.

During the exercise, the company's production control processed 93 aircraft and component work orders, and 154 avionics work orders at the field site. At the same time, the company's technical supply platoon handled 1,600 requests with a zero percent rejection rate by the next higher supply activity. The major said this proved that, "We can perform our mission in peacetime and during wartime."

The company's mission didn't stop with REFORGER, though. During the past year, the aviation unit has continually rotated mechanics and test pilots through the New Equipment Training (NET) program for the AH-1S (M) Modernized Cobra. The battalion began receiving the Modernized Cobra in March.

With the arrival of the UH-60 Blackhawk company last June, the 121st Aviation Support Company, now Company E, 3d Avn. Bn. (Combat), Company D's diversity of support was increased.

In preparation for the influx of the new aircraft, soldiers from the company had to undergo extensive training in order to familiarize themselves with the Blackhawk's sophisticated systems. Healy said numerous unique components of ground support equipment and special tools have been mastered by the company's mechanics.

Despite the company's increased parts lines and its increased workload, it has amassed some impressive statistics.

For the second year in a row, the company has a zero percent aviation mishap rate for all classes of mishaps," said Healy. "The company has also compiled 16 percent more flight hours than the previous year, most of which were higher risk test flights. Especially noteworthy is the fact that none of the mishaps which did occur within the battalion were maintenance related."

Healy said the battalion has benefited from Delta's performance in that the battalion has consistently flown more hours and maintained an equal or higher aircraft operational ready (OR) rate than that of any other aviation unit in USAREUR. He said it is due to the superior maintenance support received from his company.

That superior maintenance, according to Sp4 Paul B. Connolly, armament repairer for Company D, is what won the award for the company. "It was a company effort involving total team work," he said.

"Each section choreographed what they had to do with the others in order to enable them to accomplish their
mission. Our section supports the Cobra companies, B and C. If they are unable to perform any type of organizational maintenance function, we perform it.

Connolly also said his section has performed on job site maintenance for Company C. He said a typical job might include pulling the turret assembly out of the Cobra, repairing it, and reinstalling it.

Sgt. Phylester Jones, shop supervisor for the maintenance platoon, said his company won because of the amount of work it does. "We provide direct support to the other units in the battalion," Jones said. "We handle maintenance that the other units can't handle." He also said that if a particular helicopter would have to be sent back to the depot, his unit would get the authorization to go ahead and make the repairs.

Healy also said that his unit can do a lot more in-depth repairs than the other units. "Our soldiers do repair work in avionics, armament, component replacement and electrical support. Some of the repair work includes engine overhaul, as long as the frame is intact." The major said, if given the authorization, the company can rebuild an aircraft.

The company will be presented its award for being USAREUR's Outstanding Support Unit of the Year for 1982, March 19th at the USAREUR Quad AAAA Aviation convention at Garmisch.
---
1987
(Source: FRONTLINE, Special Issue, Sept 30, 1987)
On March 19, 1985, Company D, 3rd Aviation Battalion (Combat) was redesignated as the 63rd Transportation Aircraft Maintenance Company and assigned to the 3rd Inf Div. Support Command in Giebelstadt, Germany.

---
E Company, 3rd Aviation Battalion / 121st Assault Helicopter Company
1982
(Source: STARS & STRIPES, June 26, 1982)
The 121st Aviation Co will arrive soon in Germany (from Ft. Benning, Ga.) to be assigned to the 3rd Aviation Battalion as its new E Company.

The unit will be equipped with 15 UH-60 Blackhawk utility helicopters. These arrived on June 16 at Bremerhaven and were flown down to Giebelstadt AAF (the unit's new home station) on June 24. (The article is not clear on whether some or all of the 110 personnel of the new company arrived with the helicopters or will be flown in at a later date.)

The official changeover will occur later in the summer.

---
Task Force 23 / 7th Bn, 3rd Aviation Regiment
On 16 November 1984, the U.S. Army's first Combat Aviation Brigade (Combat Aviation Brigade, 3rd Inf Div (M)) in a Mechanized Infantry Division was provisionally established.

The brigade was officially activated on 15 March 1985 as 4th Brigade, 3rd Infantry Division.

The brigade consisted of two Attack Battalions (2-3 and 3-3 Atk), a General Support Battalion (Task Force 23), and a Divisional Cavalry Squadron (3rd Squadron, 7th Cavalry Regiment).
---
(Source: FRONTLINE, Special Issue, Sept 30, 1987)
Task Force 23
Task Force 23 is a divisional task organization consisting of the recently activated Companies "G" and "H" of the 3rd Avn Regt.

TF 23's primary mission is to provide general and combat aviation support to the 3rd Inf Div. The aviation support that is provided includes Communications-Electronics Warfare Intelligence (CEWI), divisional command and control, aerial observations and target acquisition, and aerial resupply and troop transport.

In order to accomplish such a diverse mission, the TF employs several different rotary wing aircraft: the EH-1H; UH-1H; OH-58D and the UH-60.

"G" Company, 3rd Avn Regt was orginally known as the 225th Avn Co -- activated on March 16 1986 as an aviation unit under 4th Brigade.

"H" Company, 3rd Avn Regt was originally the 121st Avn Co that was deployed to Germany in the early 1980s. The unit was redesignated as the 21st Avn Co on Nov 16 1984. At that time the unit became part of 4th Brigade.

---
Newspaper articles
(Source: FRONTLINE, November 24, 1989; 3rd Avn Bn patches are from Alfons Kraus)
Marne Legacy Series
"Wings of the Marne"

By SSgt Edgar A. Stitt
Staff Writer, FRONTLINE

He just can't believe it. Here he is, an officer in the army of the world's most powerful nation, and he's about to be overrun by World War II-vintage T-34 tanks driven by a drug lord's mercenaries.

The T-34 is obsolete. But if you don't have the weapons to destroy it, it's as capable of killing as an M1A1 tank. The M16A2 rifles are useless against tanks and the platoon's anti-tank weapons had been fired up. "Maybe we should strap landmines to our helmets and run out to headbutt the tanks," the lieutenant said grimly to himself.

As the tanks rolled toward his platoon, the lieutenant still can't believe it was meant to end this way. The radio man is talking to the command post.

"Those rear echelon guys don't care," the lieutenant thinks bitterly.

All hope is disappearing when the six tanks leading the assault suddenly explode in a bright ball of fire. The enemy infantrymen, who had been advancing so confidently a moment ago, hesitated.

Cobra attack helicopters circled, the whine of their engines and twirling blades drowned out all other sounds. "Fire 'em up!" the lieutenant screamed. His platoon responded, cutting down the now exposed enemy infantrymen.

"Sir, we got Blackhawks landing 'bout 50 meters to our rear," a squad leader jubilantly cried. "We can get outa here "

As the lieutenant watched his men quickly load up on the utility helicopters he thought, "I guess them guys in the rear do care - thank God for army aviation."

Army aviation can trace its legacy back to the First World War's air squadrons. When war swept the world a second time, ground commanders discovered the importance of having aviation assets directly in their support.

The Army Aviation Corps of World War II became the United States Air Force in 1947. As a result, the Army evaluated the development of its own aviation assets. The U.S. Army's aviation experiment came of age in 1957 when units were first designated as aviation.

One of these units was the 3rd Aviation Company, 3rd Infantry Division. This company was expanded into a battalion in 1963.

Vietnam's demands for men and equipment contributed to the deactivation of this battalion in 1967. However, in 1972 the 3rd Aviation Company was resurrected in West Germany and again assigned to the 3rd Inf. Div.

In 1974, this company was again reorganized into a battalion and designated the 3rd Combat Aviation Battalion (CAB). Its mission: "To conduct offensive and defensive operations against an enemy armored and motorized threat in a mid-intensity environment as part of the combined arms team and to provide command, control, and reconnaissance capability for the Division."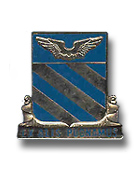 3rd Aviation Battalion DUI

The 3rd CAB spent 1975 serving as a test bed to prove the Army's aviation concept. Changes in their organization and combined arms and live fire exercises at major training areas put the finishing touches on the REFORGER exercise.
3rd Cbt Avn Bn A Company, 3rd Avn Bn
B Company, 3rd Avn Bn E Company, 3rd Avn Bn

The 3rd CAB's excellent showing during REFORGER contributed to the adoption of the aviation concept by the Army. The 3rd CAB became a "permanent party" unit in the 3rd Inf. Div.

In 1976, the 3rd CAB's choppers demonstrated the lethality of the TOW anti-tank missile to our NATO allies. An unexpected gain was the knowledge that the attack helicopter units could operate effectively in adverse weather conditions.

REFORGER 1977 was the next challenge awaiting the "Wings of the Marne." In one 24 hour period the battalion was credited with destroying more than half of the total number of opposing force vehicles and stopping a major enemy attack. REFORGER 1977 also saw the first airmobile operations in Europe.

The years 1978 and 1979, found the 3rd CAB continuing to grow. Training missions took them all over Europe to train with various NATO units.

The 3rd CAB blazed a new trail in designing aviation battalion combined arms operations in 1980. Another mission given to the 3rd CAB was to be capable of conducting air assault missions.

The battalion participated in many varied exercises in 1980 including the first no-notice gunnery to be held in USAREUR. During the VII Corps exercise "Certain Rampart" 3rd CAB aircraft flew 2,527 hours in a fourteen day period.

At the end of the year Company B, 3rd CAB was selected as having the best company-level partnership program in USAREUR.

The years 1981 and 1982, continued the training exercises and evaluations. The battalion received the new UH-60 Blackhawk utility helicopter in 1981.

In 1982 the 3rd CAB was finall consolidated with all all its units located at Giebelstadt Army Airfield. Now Giebelstadt is the "hub" of Army aviation in the 3rd Inf. Div.

The year 1983 saw the 3rd CAB continuing to design and implement army aviation doctrine. Additionally, they were tasked to support the 1983 REFORGER exercise.

The history of the 3rd CAB ended on Nov. 16, 1984 when the 4th Combat Aviation Brigade (Provisional) was activated and the 3rd CAB deactivated. REFORGER 1984 challenged this new brigade and they rose to the occasion.

Shortly after returning from successful participation in REFORGER, the brigade underwent a strenous division Command Inspection and passed with flying colors.

The activation of the 4th Bde. made it the first combat aviation brigade in USAREUR.

The 4th Bde. continued to organize and develop this new concept. In the many different exercises and inspections they have participated in, they have shown maneuver commanders how important close air support is.

The 4th Brigade is furthering the Marne Legacy in a new and different form. They have truly become the "Wings of the Mame."
C&C Pltn
A Co, 3rd CAB

Aero Scout Pltn
A Co, 3rd CAB

B Company, 3rd CAB




---
Related Links: