If you do NOT see the Table of Contents frame to the left of this page, then
Click here to open 'USArmyGermany' frameset
8th Transportation Group (Mov Con)
Seventh Army
Looking for more information from military/civilian personnel assigned to or associated with the U.S. Army in Germany from 1945 to 1989. If you have any stories or thoughts on the subject, please contact me

.
---
---
Group History
1949 - 1963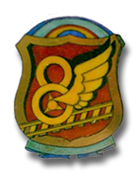 8th Trans Gp Insignia early 1950s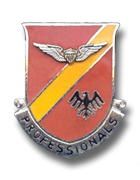 8th Trans Gp DI
The 8th Transportation Brigade was originally constituted on 9 December 1943 as the 8th Traffic Regulation Group. The unit was trained at Fort Lawton, Washington, prior to serving in the European Theater in World War II in the Northern France and Rhineland Campaigns. In June 1946, the unit was inactivated at Reims, France, and later reactivated at Frankfurt, Germany, in October 1949.

Allotted to the Regular Army on 27 March 1951, the designation 8th Transportation Group was given to the unit on 3 January 1955. The Group served in Germany until deactivation in December 1963.
If you have more information on the history or organization of the 8th Transportation Group, please contact me

.

---
MISCELLANEOUS UNIT INFORMATION

8th Trans Gp, Ludwigsburg, is Seventh Army's only aviation group.

Composition of the 8th Trans Gp in June 1958:
| | | |
| --- | --- | --- |
| UNIT DESIGNATION | DUTY STATION | COMMENTS |
| 2nd Avn Co (Army)(FWTT) | Illesheim | |
| 3rd Avn Co (Army)(FWTT) | Illesheim | |
| 11th Trans Co (Lt Hel) | Nellingen | |
| 41st Trans Bn (Army Acft Maint) | Mannheim-Sandhofen | |
| 205th Trans Bn (Army Acft Maint) | | |

---
2nd Aviation Company (Army)(Fixed Wing Tac Trans)
1958 - 19..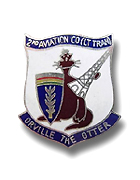 2nd Avn Co (Army)(FWTT) DUI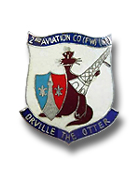 2nd Avn Co (Army)(FWTT) DUI
The 2nd Avn Co (Army)(FWTT) arrived in Europe in 1958, attached to the 8th TC Group (MC) and stationed at Illesheim, Germany.

The 2nd Aviation Company (FW) (LT) was stationed at Verdun, France. The unit left France in March and April of 1967 when Charles De Gaulle forced the Americans out. Some of the assets of the unit, eight Otters, the ground equipment and most of the personnel that remained were sent to a provisional aviation unit that was being formed to support COMZ Europe when it moved from Orleans, France to Germany.
At it's peak the 2nd had the headquarters, service and a fixed wing platoons in Verdun with a platoon in Orleans. A section of the Orleans platoon operated out of Poitiers. Operational missions covered all of Europe. From Spain, to England to Italy, to Scotland, Turkey, Greece, Belgium, France, and Sweden.
---
(Source: Army Aviation Battlefield Mobility, Army Information Digest, August 1958)
Fixed Wing Tactical Transportation Company - companies were equipped with 16 U-1A "Otter" fixed-wing aircraft.

These companies were capable of transporting approximately half of an infantry company for about 300 miles.

Webmaster Note: According to information found while doing research on the U-1A Otter, at least some if not all of the Otters flown by the 2nd Avn Co in France were transferred to the 56th Aviation Detachment, stationed at Coleman Barracks, Mannheim-Sandhofen. This unit was the last unit to fly Otters in Europe, until 1971. The Otters were eventually sold on the civilian market.
If you have more information on the history or organization of the 2nd Avn Co (Army)(FWTT), please contact me.
---
(Source: Hanno Englaender)
The only pure Otter units in Europe were the 2nd and 3rd Aviation Companies (FWTT). Both units were deployed to West Germany in April and May of 1957 (?) and were initially stationed at Illesheim Army Airfield, approximately 60 kilometers west of Nürnberg.

In July of 1959 the 2nd Avn Co was moved to France and split into three different locations. They were:


Headquarters and one platoon at Orleans


a platoon at Verdun


a platoon (-) at Poitiers

The 2nd was eventually disbanded in 1965 and the unit was redesignated and sent to Vietnam.
---
(Source: Email from Devon L Nooner)
Upon completion of Fixed Wing Qualification at Ft Rucker, Alabama, also known as Mother Rucker because it was the Home of US Army Aviation, I was assigned to the 3rd Trans Co (H-21). I was also assigned to the Executive Flight Detachment for duty as Pilot and Co-pilot status for transportation requirements for the President of the United States and his staff.

I received orders assigning me to the 4th Logistical Command (COMZ) located at Verdun, France with duty at Verdun Army Airfield. Reporting for duty on or about 10 July 1961. My immediate commander was Col Grothaus, who was later promoted to B/Gen and replaced by B/Gen F.J.Chesarek. The Transportation Officer for the 4th Log Cmd, who oversaw operations at Verdun Army Airfield, was Col Charles A. Leavitt.

The 4th Log Cmd had four (4) aircraft assigned and were stationed at Verdun Army Airfield -- H-13G, L-19A, L-20A and a U-8D. The other 2 units that were stationed at VAAF were the 2d Aviation Company (Fixed Wing Light Transport, U1A) and the 26th Aviation Company (Light Helicopter, H-34).

Upon reporting for duty to the Airfield Commander, Major Leslie H. Gilbert, I was informed that I would also be given a check-out in the L-20A Beaver and also be given an instrument rating. Most of my instruction and qualification would come from other officer's assigned to the 4th Log Cmd and on occassions I would serve as Co-pilot on missions assigned to the 2d Avn Co.

Upon completion of getting a check-out in the L-20A Beaver and receiving an instrument rating qualification, I was assigned to the 2d Aviation Company (FWLT) in the spring of 1963. Upon reporting for duty to the Commanding Officer, Capt Cromwell, I was introduced to the other pilots of the 2d Avn Co.

Since I was not qualified in the Otter, U1A, I was immediately assigned an Instructor Pilot, CW4 Lenord G Sims, who would also give me further instructions on Instrument Flight Conditions associated with the U1A Otter.

Approximately 6 weeks later I was signed off as fully qualified in the U1A Otter and performed missions to all parts of France, England, Spain, Germany and Italy as Pilot in Command.

I have kept all orders of assigned personnel to the 2d Avn Co to including Enlisted Personnel at the 3 Platoons stationed in France till July 1965. My assignment after departing the 2d Avn Co was to Vietnam.

I have had numerous close calls in both VFR (Visual Flight Rules) and IFR (Instrument Flight Rules) in the reliable Otter but due to the forgiveness of the mighty Otter I recovered without any damage to either myself or the Otter. What a reliable aircraft I had the fortune of flying for over 1000 plus hours with some of the finest pilots in Army Aviation.
---
1961
(Sourrce: Email from RC Neeb Jr)
Air Courier Service

2nd Avn Co Section at Poitiers was attached to the 19th Avn Detachment for quarters, rations & admin, hence the heading on the Flt Schedule (see document on left).

2nd Avn U1-A's did the flying. Special request missions were in addition and flown all over -- from Turkey in the east to Ireland in the west.

The Section at Orleans (Saran) & the remainder of the unit at Verdun (Rosalier) had their own Schedules but I have no info on them.
| | | | |
| --- | --- | --- | --- |
| | | | |
| 1. Flight line, Saran Airfield (KB) | 2. Hangars at Verdun (KB) | 3. Flight line at Poitiers (KB) | |
| 4. Hangars at Poitiers, 2002 (KB) | | | |
---
(Source: Email from George Shannon, 56th Avn Det, 1964-67)
I was assigned to the 2nd Avn Co when the company was stationed at Saran Army Airfield, Orleans France. I was actually assigned to the 2nd from about late 1960 until 1961.

Sometime in 1961, I think it was, I was transferred to the 56th Aviation Detachment, Saran Army Airfield. The 56th was attached to the 2nd Avn Co. The two outfits shared the same company area and worked, lived, and played together. It was like one organization, except the 2nd Avn personnel worked on U-1A Otters and the 56th personnel worked on U-6, U-8 D & F (old designation L-23), H-13, and later on CH-34 and UH-1.

The 56th Aviation Detachment provided support to Communication Zone Europe VIPs and to aviators in the area assigned to ground duty. The 4 each U-8s, 2 each CH-34s, & one each UH-1 aircraft all were equipped with VIP packages. Sometime around 1964 the 2nd Aviation Company was transferred to Verdun, France and the 56th Avn Det became a stand-alone Avn Detachment continuing to provide the same support.

I served in the 56th as a U-8 crew chief as an SP-5, then was chief of quality as a SSgt, then sometime about 1965 I was promoted to SFC and took over as Chief of Maintenance. I rotated back to the States in April 1966. At that time, the 56th was still in France at the Saran Army Airfield.

I understand that not to long after that the 56th Aviation Detachment was transferred to Germany. I have include some Pics of my days in the 56th. One is when I was crewing a U-8, one is receiving the Army Commendation Award from MG Webster Anderson, COMZEUR Cdr, and one is when I was leaving France saying good bye to Maj Charles Alison, 56th Detachment Cdr.
| | | | |
| --- | --- | --- | --- |
| | | | |
| 1. U-8 (KB) | 2. MG Webster Anderson (KB) | 3. Maj Charles Allison (KB) | |
| | | | |
| 1. March 1966 (KB) | 2. (KB) | 3. (KB) | |
---
1964
(Source: Email from Gary Edwards, 2nd Avn Co, 1964-67)
I was stationed with the 2nd Avn Co in Verdun in Mar. 1964 and left in 1967. I was a crew chief on the Otter for two years and was the last soldier to leave with the last Otter. We were sent to Germany and I stayed until my enlistment was up in July 1967. In Germany I was with the 56th Aviation Detachment at Coleman Barracks. I can probably tell you many stories about the time I spent crewing an Otter out of Verdun. In fact I married a girl from Verdun and went back and lived there for 27 years.

I stayed in Verdun until April 1st with Major Green and made sure everything was cleaned out and transferred to Germany where I joined the 56th Avn Co at Coleman Barracks until my tour was over. Major Green rotated back to the States for reassignment. I flew some more missions while in Germany, but it was mostly training missions.
All of our aircraft were transfered to the 56th and I don't know what happened after I left. When I was with the 2nd Avn, we flew missions all over Europe. It took quite a few hours flying, but I have seen a lot of Europe. We flew a lot of missions to Greece and Turkey, and a lot of support missions to Scotland and England. Those were the good old days.

While I was living in France I was in the Army Reserve and did a two week tour each year. I was assigned to the 207th Avn Co in Heidleberg and stayed with them for 13 years. This was a company that was in charge of transporting all the VIPs that came to Germany. We had mostly all Beach Craft, Hueys and later on Blackhawks. At first we did all the maintenance on the Beech Craft and later on the Army bought the aircraft with maintenance contracts.
---
1966
(Source: STARS & STRIPES, March 20, 1966)
Sturdy Orville May Never Make Major

By James Gunter
Staff Writer

Capt. Orville the Otter is ready to mark his 10th birthday anniversary April 2 with a double celebration in France. The dependable little fellow has traveled more than a million miles on missions for the US Army.

Orville, a curious broad-tailed animal who wears a beret and carries the Eiffel Tower tucked under one arm, is the emblem of the Army's 2nd Aviation Co which operates its sturdy planes from three fields in France.

The unit, second of its type ever formed in the Army, flies 10 Model U-1A Otters to transport troops, light cargo and to evacuate medical cases. Most of the planes it uses have been with the company since it was activated at Ft. Riley, Kans., April 2, 1956.

The planes, built by the DeHavilland Aircraft Co of Canada for rugged "bush pilot" operations in the far north, are the largest single-engine airplanes in the Army with a wing span of 58 feet. Each will carry 10 combat equipped troops or four litter cases and three ambulatory patients. Maximum payload is 3,000 pounds.

Pilots who operate from the company headquarters at Rozelier Field near Verdun, from Saran Field near Orleans or from Biard Field near Poitiers, cruise them at 105 knots for a six-hour range to deliver high priority cargo and personnel, drop paratroopers, and supply isolated units.

Saran Field sends a courier plane to Heidelberg, operating between Com Z Hq and USAREUR Hq, five days a week. Other planes are frequently sent to the Hebrides Islands to haul units from Germany to missile-firing sites.

Some of the planes fly regularly to Istanbul and Athens to transport technical personnel needed for the calibration of equipment. In the Otter, the trip involves 36 hours of flying and takes seven days. Medical cases are delivered to hospitals in Orleans or Landstuhl, Germany. One sad duty is to deliver the remains of dead servicemen to Chateauroux, France, for transport to the United States.

Orville's picture decorates the hubcaps of all of the company's planes. The bewiskered water animal holds the rank of honorary admiral of the fleet and also has been given officer status in the Army. Through regular promotions signed by "Orville Right" he has reached the rank of captain, but he may not go any higher. Many feel that it would not be seemly for his rank to equal that of the company commander, Maj. Russell N. Pitts.

The unit has taken part in numerous training exercises. In 1963, it dropped 5,300 paratroopers in 222 flying hours within a space of 10 days in Germany.

Capt. William Bloemsma, the platoon leader of the 2nd Platoon at Saran near Orleans, said pilots are trained at Ft. Rucker, Ala., but don't fly the Otter until they reach the unit. Then they are checked out in the Otter by instructor pilots like CWO Aaron Shellenberg of Los Angeles.

About 100 members of the company and their dependents from Saran and Poitiers are gathering April 2 for a lake-side picnic at Cardon, France. Another observance in eastern France is planned by the Verdun contingent.

The Otter frequently lands in snow or on rugged makeshift airstrips in the field, but it seldom has a crackup. The company's last accident involving damage to a plane was in September 1964, and it has never had a fatal accident or had a pilot abandon his craft by parachute.

---
3rd Aviation Company (Army)(Fixed Wing Tac Trans)
1957 - 1959
(Source: Hanno Englaender; photo by John Riccardi)
The 3rd Avn Co deployed to West Germany in May of 1957 (?) and was stationed at Illesheim Army Airfield.

In July of 1959 the 2nd Avn Co was redeployed to France. A month later, the 3rd Avn Co was split up into separate small operating units that were stationed at various locations within West Germany.

Besides the two Otter companies, several other units in Germany flew Otters, such as the 67th Avn Co out of Stuttgart (55-3316), the 11th Abn Div aviation company and the 504th Avn Co.
---
(Source: STARS & STRIPES, July 29, 1957)
3rd Army Avn Co and its 21 U-1A OTTER aircraft arrived in Bremerhaven in July 1957 on board the aircraft carrier Tripoli. CO of the 3rd is Maj Ralph Q. Bennett. After the Tripoli was docked at Bremerhaven, the U-1A's were unloaded and towed to the Staging Area.

Strength of the company is 45 pilots, 1 warrant officer and 61 enlisted men.
---
(Source: My notes while doing research years ago; original source unknown)
The Company was inactivated in November 1959.

---
11th Transportation Company (Lt Hel)
328th Transportation Company (Hel)

USS Tripoli, docked at Bremerhaven, delivers the H-19's of the 328th Trans Co, April 1954
1954 - 1956
(Source: STARS & STRIPES, Feb 10, 1955)
The 328th Transportation Company arrived in Germany in April 1954. With a complement of 34 officers and 94 enlisted men and 21 Sikorsky H-19 helicopters, the unit was transported on the aircraft carrier, USS Tripoli, from the US to Bremerhaven. After docking at the German port, the helicopters were flown off the carrier to the unit's new home station at Nellingen.

Since arriving in Germany, the 328th has been kept busy combat support and logistics tasks as well as mercy missions for 7th Army. Since April of last year, the company has participated in 15 field training exercises, hauled over 165,000 pounds of cargo and transported over 3,400 troops.

The company with its 21 H-19 helicopters, has a capacity of transporting 168 troops and 15½-tons of cargo for a range of 25 miles.

During field exercises, the unit has demonstrated that the H-19 is very effective in such operations as laying field wire, delivering emergency supplies, providing speedy transportation for assembling troops, and providing a mobile conference room for a commander and his staff while traveling to units in the field. During one field execise, WEST WIND in Oct 1954, the 328th carried out five helicopter emergency evacuations (on one occasion even saving the life of a soldier who suffered from extreme shock after a traffic accident), four major airlifts of larger troop contingents and unusually long range patrols behind enemy lines at night.

Currently, several helicopters of the 328th are visiting 7th Army artillery units to demonstrate the helicopter's ability a 105-mm howitzer in a tactical situation.

During serious flooding in the Passau area of Bavaria in July 1954, the unit was involved in rescue operations. The company rescued 132 persons in addition to delivering sandbags, water and food to isolated areas.

The unit is supported by the 138th Trans Det (Cargo Hcptr Field Maint) which is also located at Nellingen.
---
(Source: Information submitted by Richard Johnson and originally sent to Hanno Englaender)
I arrived at Nellingen in February 1955 and was stationed there until November 1957. It was only a few years after the war and around the Stuttgart area there were still reminders of the war in the form of damaged buildings etc. I understand that Nellingen had been a fighter base during the war. The unit (328th Trans Co (Hcptr)?) I was assigned to had Sikorsky H-19 helicopters, later these were exchanged for the H-34. There was also a small medical detachment that had Bell H-13's with external litter pods for medical evacuation. The one thousand foot runway was designated as a heliport. The hangar was heated by steam from an old Russian steam engine boiler. The fuel was coal. This was converted later to an oil system.

In the early Spring of 1962 I was stationed again at Nellingen with a Medical Evac unit (421st Med Co (AA)?). It had some of the old H-19's which later were exchanged for the Bell UH-1. I was the Technical Inspector for the unit. My tour lasted until the Summer of 1965.

Again, in 1967 I was assigned to the 4th Aviation Company which had the big Sikorsky CH-37. This was my third assignment to Nellingen. There was not much growth at the base from my first tour to the last except for the surrounding civilian communities. The Stuttgart area had changed from the war torn city to a beautiful metropolis.
| | | | |
| --- | --- | --- | --- |
| | | | |
| 1. Army Pictorial Service shoots a training film (62 KB) | 2. H-19Ds in front of hangar (61 KB) | 3. Inside main hangar (67 KB) | |
| 4. H-19 hauls a sling load (52 KB) | 5. Briefing room (52 KB) | 6. Control tower (48 KB) | |
| 7. South gate (57 KB) | | | |
| | | | |
| 1. Organization Day celebration 1956 (61 KB) | 2. H-34A on Nellingen ramp (55 KB) | | |
---
(Source: Email from Jordan Heiberger, 328th Trans Co)
Jordan Heiberger and company sign

I also was a member of 'BLAF' - Browns Little Air Force. I don't remember Richard Johnson by name, but I could probably recognize his picture.

I arrived at Nelligen the same time as Johnson. I was amazed to find a web site, with pictures no less.
| | | | |
| --- | --- | --- | --- |
| | | | |
| 1. Rotating stateside (KB) | 2. Mechanics (KB) | 3. Heading for the field (KB) | |
| 4. H-19 on the apron (KB) | 5. #27612 at the landing pad(KB) | 6. Men from the 328th (KB) | |
| 7. Making an external hookup (KB) | 8. Horsing around (KB) | | |

---
11th Transportation Company (Lt Hel)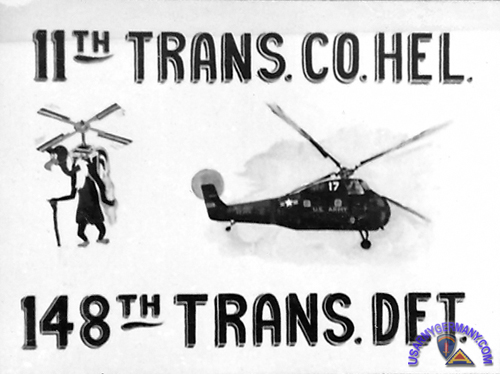 Sign at entrance to unit barracks (Jerry Pastine)
1956 - 1966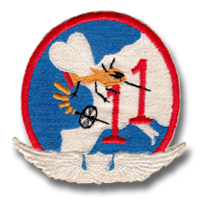 11th Trans Co (Lt Hel) pocket patch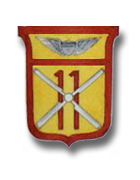 11th Trans Co (Lt Hel) crest
(Source: Hanno Englaender)
History
The 328th Transportation Company (Hcptr) was activated at Fort Riley on 21 August 1953. Being the first Transportation Cargo Helicopter Company in USAREUR, the 328th crossed the Atlantic in May of 1954 to settle down at Nellingen, Germany. The mission was to furnish direct support to Seventh Army and NATO.

On 18 May 1956, the unit was redesignated as the 11th Transportation Company (Hcptr). In keeping with the Army's constant role of training and readiness, the 11th has performed a host of diversified tasks in Europe. These activities have kept the company's big, versatile H-19s ranging over Europe from Scandinavia to the Alps. In addition to the continuous cycles of unit training which the company has maintained, they have flown VIP "load" missions, emergency rescue flights for all of Seventh Army's major units. Operating over water and all kinds of terrain, in all extremes of weather, the 11th Transportation Company (Helicopter) demonstrated in Europe the vital role of rotary-wing aircraft in the modern army although the year 1955 claimed the loss of six when two Chickasaws had an accident during a night flying exercise.

During 1956, the H-19s were exchanged for the bigger and more powerful H-34A Choctaw helicopters. The later redesignation as 11th Transportation Company (Light Helicopter) reflected this change. The type was flown for about ten years before the unit was disbanded at Nellingen on June 10th 1966.
---
(Source: Email from Boyd M. Silver)
I was the one who designed the pocket patch for the 11th TC and I still have the original sketches. The patch I designed was for a company contest in late 1965. By the time I was assigned to the 11th it was no longer the 328th. My time was Jan 1964 to Jul 1966.

I doubt anyone knows what type of "bug" that is on the patch. I do.

The "bug" is a hornito (half hornet half mosquito with a rotor and stinger at each end. The red stripe is indicative of the red stripes that were on the clamshell doors to the engine and around the tail fuselage. The background is Europe. One part of the 11 is pointing to Genoa, Italy. That is where a friend lives. He was a foreign exchange student in 1962 in Utah. I also cut out the stencils for painting the logo on the helicopters. It took awhile to paint all of the colors.

One of the crew chiefs, Montez, came up with the hornito name.

I still have some slides of the CH-34s with the patch painted on the side of the cowling. (Most of my pictures are on slides and haven't been converted for easy viewing.)


Attached is the original patch.
---
(Source: 7th Corps Support Group web site)
On 3 July 1953, the 328th Transportation Service Company became a helicopter unit and was redesignated as the 328th Transportation Company (Helicopter). The unit was officially activated on 15 July 1953 at Fort Riley, Kansas.

On 18 May 1956, the unit was redesignated as the 11th Transportation Company (Helicopter). On 10 June 1966, it was inactivated in Europe.

On 16 April 1986, the unit reactivated as the 11th Heavy Equipment Transportation Company at Panzer Kaserne, Stuttgart, FRG.

From December 1990 through 20 May 1991, the unit deployed to Saudi Arabia in allied cooperation of the liberation of Kuwait.

On 21 June 1991, the 11th Transportation Company was reassigned to the 181st Transportation Battalion of 3rd COSCOM, V Corps.

In February 1992, 11th HET moved to Johnson Barracks, Furth, Germany.

On 26 August 1994, 11th was reassigned to the 71st Corps Support Battalion.

Effective 15 June 1995, the 11th was inactive once again.

On 16 August 1998, the unit was activated once again as the 11th Heavy Equipment Transportation Company in Mannheim, Germany, and assigned to the 181st Transportation Battalion of 3rd COSCOM, V Corps.
---
(Source: STARS & STRIPES, April 3, 1957)
The 11th Trans Co took part in the recent Lion Noir CPX, a seven-day, nine-nation NATO command post exercise.

With its main site collocated with Rear Command Post, 7th Army, the company's helicopters were dispersed across much of Europe. The 11th provided rotary-wing support (flying-truck and taxi servcie) to all higher levels of command, from the 34th AAA Brigade up to HQ SHAPE. Missions included troop and cargo hauls night and day.
---
(Source: Email from James E. Hooker, 7th Army Avn Det)
In October 1960 I was assigned to the 7th Army Aviation Detachment at Echterdingen (Stuttgart) as an instructor pilot and instrument examiner.

The 11th Helicopter Company had the mission of supporting the aviation training center's mission of training pilots in instrument flight. The 11th Helicopter Company furnished at least 4 CH 34 Helicopters daily for that mission that was flown by Instructors and examiners.

I left that assignment for Infantry Ground Duty in February 1962 in Munich.

I do not see that particular aspect of the unit mission mentioned and it may well be beyond the scope of desired information. If so, please disregard.

As an aside, we did a lot of instrument flying/training in and around a non-directional beacon (Herrenberg) just West of the Stuttgart airport. We made instrument approaches to imaginary airports and acted as our own air traffic control (without the knowledge of Stuttgart ATC). There was no radar at Stuttgart at that time.

I realize that this diatribe has little to do with the actual history of the unit but thought that you might like to have it anyway.

---
Related Links:
Army Otter - Caribou Association - great web page dedicated to the pilots and mechanics who flew and supported the Army's DeHavilland Otter and Caribou aircraft.
245th TC (AAHM&S) Reunion & Info - website was created and is maintained by Johnny Broussard - great photos of the 245th in the mid 1950s and Coleman Barracks (Mannheim-Sandhofen) a few years ago during a visit to the post