If you do NOT see the Table of Contents frame to the left of this page, then
Click here to open 'USArmyGermany' frameset
Army Aviation in the European Theater
(Page 4 - Aviation Maintenance & Supply Organizations)
US Army, Europe
Looking for more information from military/civilian personnel assigned to or associated with the U.S. Army in Germany from 1945 to 1989. If you have any stories or thoughts on the subject, please contact me

.
---
---
Army Aircraft Supply Center, Sandhofen, Germany
(Source: STARS & STRIPES, Jan 23, 1956)
CO of the Army Aircraft Supply Center is Lt Col Austin J. McDermott.
---
(Source: STARS & STRIPES, June 30, 1961)
The

Army Aircraft Supply Center

at Sandhofen was established on July 1, 1955.



Until 1959, the US Air Force was responsible for providing depot-level supply and maintenance support to Army aircraft throughout Europe.

In Oct 1959, the depot-level responsiblity was transferred to the Army, with that responsibility then falling under the Chief of Transportation, (HQ USAREUR).

Since 1955, the transportation depot at Sandhofen has grown from a small direct support maintenance unit to an organization capable of supporting all Army aircraft this side of the Atlantic.

---
Army Aviation Maintenance Center, Sandhofen, Germany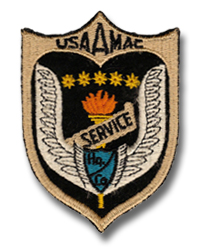 US Army Aviation Maintenance Center Patch
1963
(Source: STARS & STRIPES, May 22 1963)
The

Army Aviation Maintenance Center

at Sandhofen provides depot-level maintenance and repair of all types of Army Aviation aircraft for units in Germany, France, Italy and MAAG's in Greece, Turkey, Iran, Pakistan, India, Ethiopia and the Congo Republic.

Established in 1955 as the Army Aircraft Supply Center, the organization started out as a direct support unit providing third-echelon maintenance and supply support to Army Aviation units in the field.

Since then it has grown into an organization capable of providing support to all Army aircraft in Europe and surrounding areas. All maintenance functions are performed in the maintenance hangars at Coleman Army Airfield and at the Army Avn Maint Acty (AAMA) at Brienne-le-Chateau in France.

MAINTENANCE DIVISION
Some of the shops that support the Center's mission:


Machine Shop


Engine Shop


Sheet Metal Shop


Electrical Shop


Flaw Detection Shop


Propeller Shop


Electro-plating Shop



IROAN Program

- Inspect and Repair Only As Necessary
The IROAN Program is a major part of the Center's activities. Two types of aircraft are currently rebuilt under this program at the Sandhofen facility:


OH-13 (Sioux) helicopter


OV-1 (Mohawk) fixed-wing aircraft

At the Brienne Activity, the U-1A (Otter) fixed wing aircraft is overhauled under the IROAN Program.

Other aircraft such as the U-8 (Seminole) fixed-wing and CH-34 (Choctaw) helicopter are IROAN'ed at other Western European manufacturers contracted by the Center.

SUPPLY DIVISION
Another major aspect of the Center's mission is performed by the Supply Division. More than 13,000 different items (from aircraft engines to rotor blades to packets of nuts and bolts) are stored in the warehouse for issue to the Center and to contract sites.

MOVEMENT CONTROL SECTION
This section handles incoming and outgoing shipments of parts and equipment.

---
Army Aviation Maintenance Acty, Brienne-le-Chateau, France
(Source: Email from Jack Jakubik, Avionics Div, Aircraft FM & Avionics Cen, Eur)
Brienne Le Chateau AAF (APO 325), France
Located 105 miles east southeast of Paris, on route D960,

Brienne Le Chateau

was officially activated on 8 October 1958. Having been planned as a main Air Force base, NATO and USAF had invested about $17 million by the summer of 1959. Unfortunately, it was deactivated that same year, with the Air Force dismantling one hanger at the north side of the runway, leaving two hangers on the south side, with marguerites providing parking for 32 aircraft



At the time, its 10,000-foot main runway was the longest in France.

Five large concrete POL pump-fill hydrant stations, holding 100,000 gallons each had been built south of the control tower.

It was to be the "Cold War" refueling station for B-52's heading east.

With all that in place, the Air Force packed up and moved out to Chaumont Air Base, 35 miles to the southeast.
U.S. Army Aircraft Field Maintenance and Avionics Center - Europe
The Army moved into Brienne in September 1961, and remained until June 1965. The Army put it to good use, establishing the only major Army aircraft avionics modification center in Europe for their fleet of over 750 helicopters and fixed wing aircraft, as well as certain classified aircraft brought in from the Middle East and Asia. The center was dedicated to avionics rework and testing of aircraft. It upgraded communications, radar, autopilot, and reconnaissance sensors systems in their fleet.

The base handled every type of aircraft including: H-13 Sioux, H-19 Chickasaw, H-21 Shawnee, H-34 Choctaw, H-37 Mojave, L-19 Bird Dog, L-20 Beaver, L-23 Seminole, OV-1 Mohawk, U-1A Otter, UH-1A Huey.
| | | |
| --- | --- | --- |
| Avionics Div, AFMAC Patch | | A retrofit program was required because some aircraft were over 10 years old. The Avionics Detachment handled rewiring, classified avionics installation, repair and troubleshooting along with ground and in-flight inspections and testing, at the west hanger. The 582nd Transportation Co (Army Aircraft Heavy Maintenance & Supply) handled complete airframe rework, sheet metal, rotor and engine repairs, at the east hanger. |


The base's buildings differed from the standard NATO design; the exteriors had tile roofs, multi-pane windows, more trim, and a mustard colored stucco finish. There were 3 barracks, each able to house 240 personnel. The western most barracks housed Officers and Civil Service Employees, as well as some Non-Commissioned Officers. The middle barracks housed the Avionics Detachment, 256th Signal Support Group, Headquarters and Military Police enlisted personnel. The eastern most barracks housed the 582nd Transportation Co. enlisted personnel. Each room had 3 wall closets and a sink. A toilet and shower was shared between each 2 rooms. Each barracks had a day room, with a pool table. There was no American radio or television. The base theater was a small room in the H.Q. building, with a pull down screen and metal folding chairs. There was a small PX, snack bar and barbershop run by French personnel. The base only had a Medic Station for sick call. The Mess Hall was normally open, and offered the best chow of any base anywhere. Although isolated, the troops did eat well. There were 40 units located southeast of the base, used as off-base housing, for both Officers and Enlisted personnel and their families.
The Army returned Brienne to France on 24 June 1965. The airport was purchased by the Brienne Chamber of Commerce and later sold for private development. It has been an airport for sports aviation, sky diving and soaring. Two hangers and several flight line buildings have been used for an aviation museum. The hangers and several buildings still exist today. Brienne airfield was considered as the site for a super air cargo airport, but the local residents objected loudly, so the developers moved on to Chalons which is now being developed as the largest air cargo terminal in Europe.
I visited Brienne Le Chateau in October 2002. The old Avionics hanger is still in use as a small museum and flight school. An Industrial Park occupies the old barracks. Most of the other buildings such as the Mess Hall, PX-Snack Bar, H.Q. Building, Officers Club, Enlisted Men's Club and Tower (Base Operations) look as though a bomb had hit them and should be demolished. The marguerites are all grown over and the runway looks pretty shabby. But it still handles take-offs and landings. The town is all grown up and boasts a population of 3,500 inhabitants. The Chateau itself, which overlooks the town, is an imposing building of the latter half of the 18th century. A statue of Napoleon commemorates his sojourn at Brienne from 1779 to 1784, when he was studying at the Military School. The Center Bar and Hotel is still there, and has not changed a bit over the years. Le Pinchonett Bar, down on the river Aube is still standing and the proprietor is the son of the original owner. A drive through the old French countryside is like stepping back into the pages of history.
---
(Source: Email from Michael von Ascheberg)
I was stationed to Coleman Barracks (Mannheim-Sandhofen, Germany) from December 20, 1962 until February 14, 1963. In February, being originally from Paris France, I volunteered to go to Brienne where I remained until the closing of the base in June 1965.

From Brienne I was sent back to Coleman Barracks and finally left for Fort Leonard Wood Missouri in November 1966.

During my time in Europe I photographed quite a bit using slide film.

In addition, there are three photos I took in 1963 when we flew from Brienne le Chateau to Chateauroux Air Base.



Brienne AAF


Brienne-le-Chateau






1. Final approach (KB)


2. The airfield with facilities (KB)


3. Brienne airfield (KB)




4. Close up of tower (KB)


5. Control tower (KB)

6. Inside the control tower (KB)


7. Facilities at Brienne (KB)


8. More facilities (KB)




9. Open House (KB)


10. Open House (KB)


11. Fire station and crew (KB)




Chateauroux AB, 1963


France






1. Air base tower (KB)

2. Chateauroux (KB)

3. Hangars (KB)

---
(Army Aviation Maintenance Acty

?

), Nordenham, Germany
1964
(Source:
STARS & STRIPES
, January 4 1964)
DEPOT LEVEL MAINTENANCE

The Nordenham Helicopter Repair Station is operated by the Weser Aircraft Plant at the mouth of the Weser River in northern Germany near Bremerhaven. The facility is responsible for (depot-level) helicopter maintenance, repair and modifications under contract to the US Army. The plant handles between 12 to 20 helicopters at any given time.

The plant overhauls Army helicopters after every three years or 1,000 flying hours -- which ever comes first. After a complete disassembly of the helicopter, a 100-percent inspection of each part is performed, the parts are repainted, electric wiring is carefully checked, the helicopter is reassembled and then tested completey. The facility also performs modifications on the H-34A Choctaws used by USAREUR, converting the "A" model to CH-34C's (installation of automatic stabilization and new radio equipment).

Besides four Americans (Army personnel), there are 18 German inspectors and 45 German workmen employed at the plant.

There are similar plants in Belgium, France, Spain and Holland. Similar work is also performed at the Army Transportation Depot at Mannheim (Sandhofen).

---
Related Links: