If you do NOT see the Table of Contents frame to the left of this page, then
Click here to open 'USArmyGermany' frameset
Headquarters, Communications Zone
Communications Zone
Looking for more information from military/civilian personnel assigned to or associated with the U.S. Army in Germany from 1945 to 1989. If you have any stories or thoughts on the subject, please contact me

.
---
---
Headquarters, Communications Zone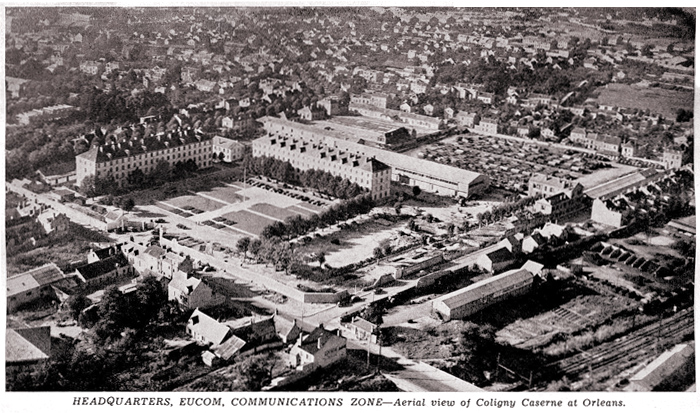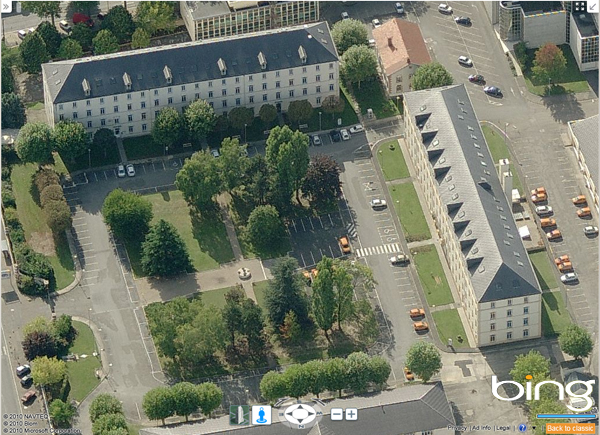 Bird's Eye View of former Coligny Caserne (Bing)
---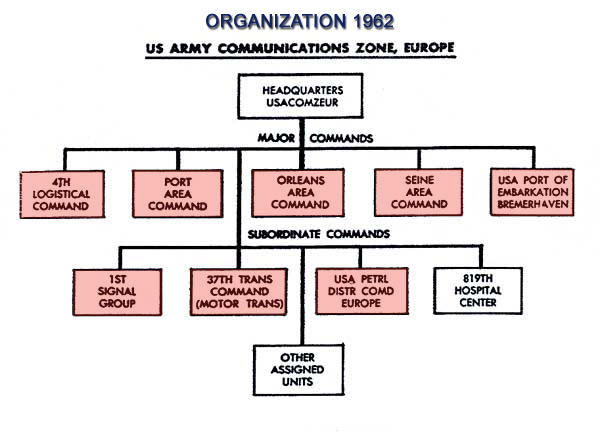 Click on colored box to open corresponding command page
---
COM Z ORGANIZATION:
(Source: USAREUR Annual Historical Report, 1953-54)
(Source: FRELOC, Volume I, Final Report )

---
Orleans Area Command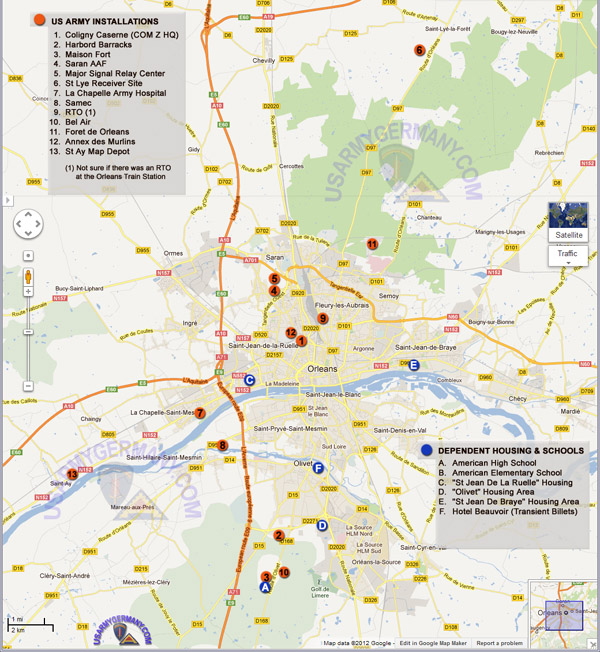 US Army installations in Orleans (Google Maps/Walter Elkins)
for additions and corrections, please contact the webmaster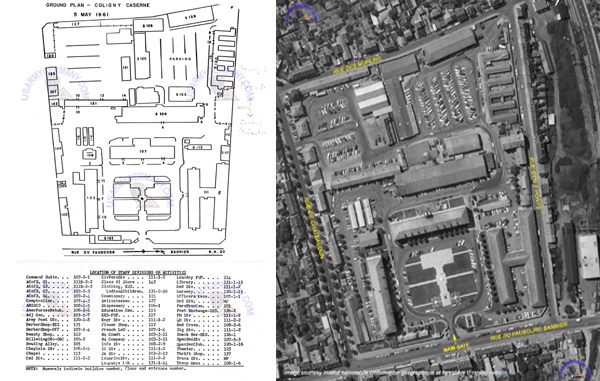 US Army installation: Coligny Caserne (Photo: IGN website, France)

(click on image to view map and photo in larger format)
Saran Army Airfield, Orleans Maison Fort , Orleans

Here are a couple of maps for you from a French lady we have been emailing. She sends us pics from now and we send her ones from 50 years ago. Nothing military. Funny thing she works in the Caserne Coligny where we worked those 50 years. The city of Orleans has taken it over for their government buildings.

The B&W topo map shows where the 7784 had moved from Saran. That Maison Fort is still being used by the French army. Themap on the leftshows where I was stationed at Saran. It would be nice to get the northern part of the B&W topo one.
Millard


Click on thumbnails for larger version of map.
Click here for an annotated version of the topo map above.

---
63rd Army Postal Unit
(Source: Email from George E. Riep, 63rd APU, 1960-1963)
As a career soldier from 1960-1980, I spent 3 years (1960-63) in Orleans, France (63rd Army Postal Unit), 2 years (1969-71) in Germany (1st year with the 228th AG Postal Company working in the Aschaffenburg postal unit & the 2nd year as a Military Postal Inspector with the US Army Postal Group, Europe in Worms). In Aschaffenburg, we were the postal support for the 3rd Bde, 3 Inf Div.

On arrival at the 228th, the commander informed me I was going to Aschaffenburg and the current officer and NCOIC there were both leaving and I was placed in charge. That was an outstanding year with a great bunch of Army personnel assigned to the unit. As a Sergeant 1st Class, the assigned troops made me look good: they knew the job and we crossed-trained so they new all the different jobs in the post office.

I will never forget learning after the fact that my troops used our 2½-ton Shop Van to attend a concert somewhere in Germany (It was an American band). Kinda crazy but they did not get caught.

While there we had a visit from the Director, Army Postal Directorate, HQ TAGCEN, Wash, DC who was accompanied by a US Postal Service Inspector, and Retired LTC Harbert (USAREUR Postal Directorate) on staff as a DOD Civilian in Wash DC. Found out later that the Inspector had relatives in Aschaffenburg was how we got picked for the visit.

Three "Excellent" ratings in a row during the tri-annual inspections got me assigned as an Army Postal Inspector out of Worms, Germany. I am looking forward to being contacted by old buddies from the service.

I am still working - US Postal Service - 50-years Government Service (20 Army: 30 US Postal Service)


63rd Army Postal Unit
Main unit was at Fortet d'Orleans (spelling is bad) located in the Northeast area. We had window units at Harbord Barracks, Maison Fort, Hospital compex (but I cannot remember the name), and Saran Army Air Field.

I was located for work at the HQ COMZ complex (Coligny Casern), and HQ Company billets two of us working there. The main unit's billets were in the same building as the MP's in Foret d'Orleans as we called it. Our support unit's Commander at one time was Captain Coffey. Same Coffey -- as a full bull -- who was on White House Staff negotiating in Germany (Bavaria) with the Russians (Salt Treaty I believe). Ran into him there when I was an Army Postal Inspector doing the inspection in Munich. We were in Berchtesgaden when I saw him. Introduced myself and we enjoyed a short conversation about Orleans and his new job on the White House Staff. A down to earth type of individual.

(At Orleans) We got mail via truck (Air Force) from Paris as the truck headed South (Air Force officer was inspecting the truck operations, got the guard's gun and killed himself. Not sure of the exact date on this either right now.

We had a mail run leave Orleans around 4 p.m. to Paris, they stayed overnight at the Air Force Airmail Terminal barracks. We would first drive to the rail station to catch our Military Train car heading for Heidelberg, Germany with what we called the Command Pouch (HQ COMZ to USAREUR HQ). Then stay overnight at Air Force billets. Next morning we would drive to the airport, get incoming mail and head for Orleans. This was a one man job and I did it my last month in country.

We also had a civilian train going South before midnight with a military car with Air Force peresonnel out of Paris and it would return about 4:30 a.m. and we would get mail from Southern France APO's.

Mail Processing was a 24 hour operation. Stamp sales, package mailing, and money orders from - if I remember correctly - approximately 5 locations where we had small postal finance windows.

Postal Unit Commander was Maj Childress most of my time there.
---
7784 Signal Service Company
1953
(Source: Email from Bob Shakour)
I was assigned to the
7784 Sig Svc Co
from 27 Feb 1953 to 3 July 1955. The company was located in Saran.
We provided commo for the Orleans area. We ran the switchboard located in the building to the rear of "B" building. We also ran a field switchboard for Maison Fort in the old chateau there. The only occupants of the chateau. Also the switchboard in the hospital. We provided commo for the MP company, Ration breakdown warehouse, CIC detachment Chateau. BOQ Chateau CG's Quarters. St Lye Receiver site and had two field transmitters at Saran. In 1954 a Signal Construction Battalion from Germany installed cables to these sites so the AN/TRC-1 and Carrier equipment was removed.

We also provided commo for the emergency evacuation sites (NEO) at Mont Lucon and Avords in south central France. Most of the time the evacuation exercises just consisted of sending messages back to Orleans but in November 1954 an actual evacuation exercise was run with truck convoys from Germany.. It's best described as a fiasco. It was called off after four days but we were out there for five more days rounding up strays.

The best job I had was maintaining the intercom and buzzer systems for the Com Z CG. I also played football for the Ramblers in 1953. I still have clippings from the COM Z Cadence.
We used to parade every Saturday. The company marched as part of the 64th Medical Battalion along with the 479th Transport Gp and an Ordnance outfit so we didn't carry any weapons. It looked strange to have one battalion with four different colored braids on their caps. I still remember Saran but only up until I left in July '55.

---
Seine Area Command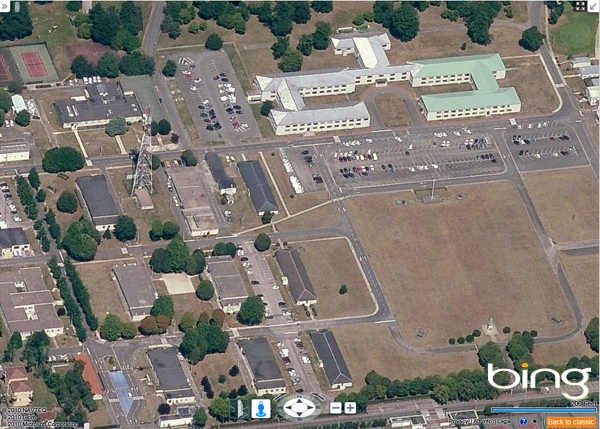 Bird's Eye View of former Camp des Loges (Bing)
---
---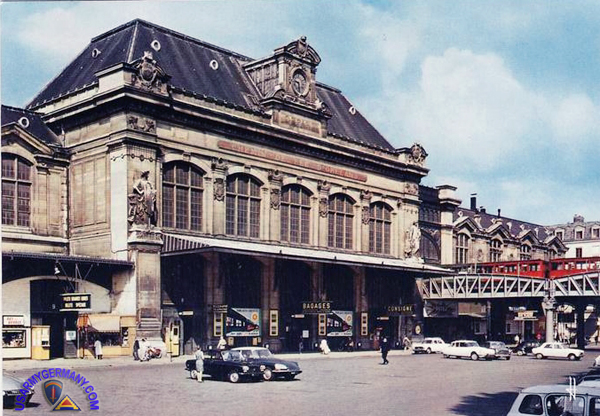 The Gare d'Austerlitz, Paris (French postcard)
(Source: STARS & STRIPES, Feb 17 1952)
New RTO opened at Gare d'Austerlitz (train station)

EUCOM announced the recent opening of a US rail ticket office at the train station in the southeastern part of Paris.

Located in the hallway on the arrival side of the station, the RTO handles passenger rail transportation, baggage, mail, and less-than-carload-lot freight shipments. It also provides crosstown bus service for transfers between stations.

The departure point for military rail travel to Germany is the Gare d'Est, located in the center of Paris.
---
(Source: Author's private collection)
---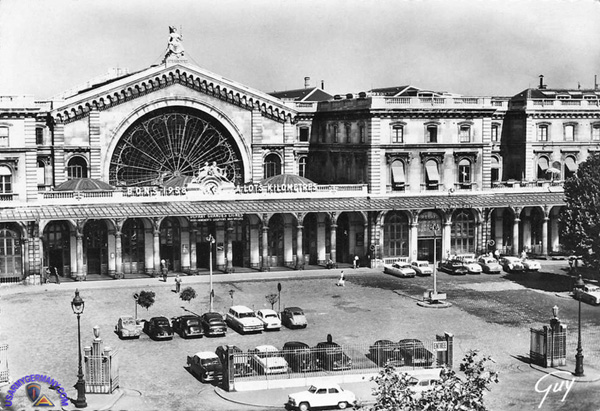 Gare de l'Est, Paris train station, late 1950s (French postcard)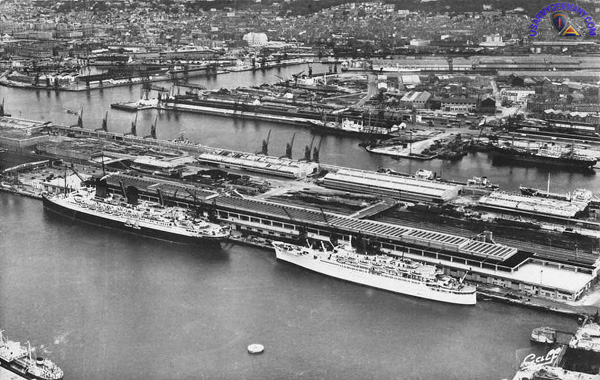 Port of Le Havre, 1950s (French postcard)
(Source: STARS & STRIPES, February 11, 1960)
RTO Escort Service

The RTO Escort Service in Paris provides American service families arriving at or departing from the French port of Le Havre with aid and advice. The small group movement team, consisting of Maj Inman E. Mallard (chief of the Passenger and Freight Branch, Transportation Division, Seine Area Command) and two military personnel (Sp5 Jasper L. Hill and Sp5 James Smith) from the Army's Rail Transportation Office at the Gare de l'Est (train station) rides the "boat trains" between Paris and the French coast to meet incoming and to aid outgoing service families in getting safely aboard ship, processing passengers, their baggage, their cars and, sometimes, even their pets.

For newcomers arriving at Le Havre with duty stations in France or Germany, the group provides advice and comfort, meeting them as they debark from the liners S.S. United States or S.S. America (1) for which the US Army has transportation contracts. Maj Mallard and his team make approximately eight trips to Le Havre every month. They arrive the evening before a ship is scheduled to arrive and stay at a hotel near the port. A U.S. Lines bus picks them up in the morning and takes them to the port. After boarding the ship, the team reviews passports, customs declarations and other documents of the arriving service families while answering a multitude of questions that the families have as they prepare to debark. Once the families are through customs, the team then escorts the families to the boat train, unless they are driving to their next destination.

Once they arrive back in Paris at the Gare St. Lazare (the boat train terminal) with the newcomers, the team continues to provide its services. Except for those arriving families (with duty station in or around Paris) who are met by their sponsors at the train terminal, the team assists those who need to make train connections (at one of the other five train stations in Paris). For those who cannot make same-day connections, the Paris RTO provides cross-town transportation, recommends hotels, money changing agencies, eating places and amusements. (While Maj Mallar and his team manage the escort service, the Paris RTO takes care of other passenger movements and the shipment of houshold goods, baggage and freight.)

(1) From May to October, families bound to or from Germany posts and traveling on the S.S. United States or S.S. America, pass through Le Havre and Paris. This is because United States Lines stops the Bremerhaven run during peak tourist season and only operates on the main transatlantic route to the French port. (For more on the United States Lines, see Wikipedia.)
---
(Source: STARS & STRIPES, December 20, 1962)
HQ Seine Area Command is located in Rue Marbeuf (prob #32).

---
Related Links:
| | | | |
| --- | --- | --- | --- |
| | | Orleans APO 58 - a new site started by Thomas Lindenberg that will cover all of the U.S. Army casernes that were located in or near Orleans, France (Caligny, Harbord Barracks, La Chapelle, Maison Fort & Saran Airfield). | |
| | | 34th General Hospital - website for former members of the 34th GH in La Chapelle, Orleans, France. (Other veterans who served at anyone of the US Army installations in or around Orleans are also welcome.) | |
| | | | |
| | | | |