If you do NOT see the Table of Contents frame to the left of this page, then
Click here to open 'USArmyGermany' frameset
498th Engineer Battalion
540th Engineer Group
Looking for more information from military/civilian personnel assigned to or associated with the U.S. Army in Germany from 1945 to 1989. If you have any stories or thoughts on the subject, please contact me

.
---
---
498th Engineer Bn History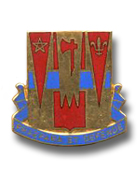 498th Engineer Bn (Cbt) DUI
In early 1957, the 498th Engr Bn CBT arrived in Leipheim, Germany to take the place of the 54th Engr Bn as part of Operation Gyroscope.
---
1956
(Source: Email from Timothy Hoffman)
I was an SP4 assigned to the headquarters unit (498th Engr Bn) from 1956-58 (along with another architect - Milton Scheuermann.

I was fortunate to have my wife (Phyllis) join me in Günsburg where we rented a room from a German family and lived in their house during our time in Germany.

Along with my assignment at headquarters, I played in the military band (drums) and Phyllis sang in the church choir. We made the strip maps that were used for all the vehicles when "alerts" were activated. Also, designed a carpet golf course that was installed.

I was drafted after college and went to Fort Jackson for a week and then to Fort Benning for basic ... married in December after basic only to be sent to Fort Ord for additional "trainfire" basic training... then gyroed to Leipheim after a seasick week on the ocean with the 498th and the rest is history...

Time is growing short for us all but your photos brought back memories … Thank you!
---
(Source: Email from Robert Liljenwall, Co "B" 498th Engr Bn, 1956- )
I was in the 498th Engineering Battalion, Company B, Supply clerk....later joining the gyro unit on June 6, 1956 after boot camp in Ft. Lewis...and then linked up with 498th at Ft. Order in September....shipped overseas (however I was on the advance party and flew over).

Jim Shypertt and I were close friends for some of the time there...I played in the Jim Hayden Quintet with Gray Cathrall (piano), Jerry Clay (drums), Jim Hayden (lead guitar), Dana ? (guitar), and Bob Liljenwall (bass). I also organized a Kaserne choir which gave concerts in local area.

Participated in all of those bridge crossings....they were tough testsl , long days...and were dangerous. Colonel Pearse had a driving ambition to be the best in Europe, and we were! However, in the field, I was in charge of supplies and getting beer at the local brewery. I was assisted by a German national, Adalbert Naujoks, who was drafted in the US Army after graduating from U. of California--Berkeley, and later Thunderbird International (Phoenix)....'Bert's' father was a four-star general in the Germany Army then...and they shipped Bert to NATO headquarters where he served as interpreter to the NATO Commander.

I attended University of Maryland Extension....getting 24 units of straight As -- all classes held at the Kaserne, which enabled me to get back into college (BA, San Jose State, 1961)....later getting my MBA, Pepperdine University (1980). I teach at UCLA...am consultant and live near Newport Beach, CA...married with three kids (one in Afghanistan now, 6-06 thru 5-07)....and three grand kids.

Enlisting in the US Army changed my life -- all for the better. Jim Shypertt, Gray Cathrall, Alan Brice, and Jerry Clay were all very close friends in 2 1/2 years....had many wonderful times together (some tough times, though, because of the first sergeant we had in our company -- truly one of the more horrible individuals I've ever known in my life -- yeah post this!).

The Jim Hayden Quintet played over the Christmas Holidays, 1958, at the General Walker Hotel, Berchtesgaden, (Bavaria)...where we played to the officers and families staying there from 12/26 thru 1/3.

Leipheim was a sleepy village...not much there in this farming region...but Guenzburg, a much larger town, was nearby and Ulm was just not far away by train. I joined the Ulm tennis club...and learned to play on clay. And Leipheim, because of its central location in Europe, was a great jumping off point to see/visit all of the Continent.

You could see the Danube River from my corner room....had the best view in the Battalion....
If you have more information on the history or organization of the 498th Engr Bn, please contact me

.
---
1957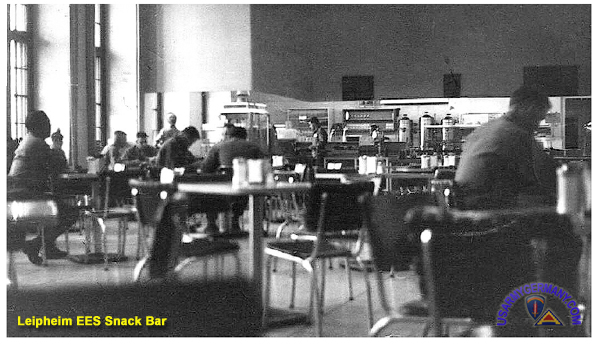 Inside the Leipheim Snack Bar
| | | | |
| --- | --- | --- | --- |
| | | | |
| 1. Armed Forces Day '57 | 2. Armed Forces Day '57 | 3. Armed Forces Day '57 | |
| 4. Armed Forces Day '57 | 5. Armed Forces Day '57 | 6. Armed Forces Day '57 | |
| 7. Armed Forces Day '57 | 8. Armed Forces Day '57 | | |
---
| | | | |
| --- | --- | --- | --- |
| | | | |
| 1. Celebrating a successful bridging exercise | 2. 8594th Labor Service pontoons | | |
---
1958
(Source: Email from Jim Shypertt)
This past year we have had meetings of a group of men that served in the 498th Combat Engineers. We were stationed in Leipheim under the leadership of Col. John J. Pearse during the battalion's glory years of bridge building, 1958 - 1959.
Because of the Internet we have been able to located more of our former colleagues.
---
1959
(Source: THE MILITARY ENGINEER, Mar-Apr 1959)
Rhine River Bridging

By Lt Col John J. Pearse, CO of the 498th Engr Cbt Bn

In the amazingly short time of 2 hours and 4 minutes the 498th Engineer Battalion (Combat) constructed 780 feet of Class 60 Floating Bridge (see figure below) on the Rhine River at Speyer, Germany, on October 12, 1958. This broke the battalion's own previous record of 2 hours and 28 minutes. The organization of equipment and construction crews, and the maximum utilization of the available construction space were the key to success of this operation.
Since this unit began its bridge training at Fort Ord, California, in preparation for the move to Germany, individual tasks in construction of the bridge have been timed and recorded with stop-watch accuracy. With these exact times established, plans were made to begin all phases of bridging simultaneously, so that as certain phases were completed on time, crews could be released to assist with construction not yet finished. As an example of this, the float inflation crews upon finishing their primary task, went to the center line to help with the connection. Jobs were assigned to individuals in such detail that each knew exactly how much he was to do, thereby establishing a basis for competition between crews.

A problem arose when it was found that the existing construction area could accommodate only six float construction sites. Neither space nor time could be wasted in this area to unload all powerboats or send out farshore anchorage crews. Plans were then altered to strike the river in three separate locations from the initial point (IP) in the city of Speyer, 3 kilometers from the construction sites. (See map at left)

Men and equipment going to the construction site were made up into six packets, each consisting of a jeep carrying the construction commander, a crane, a 27-foot powerboat, an air compressor, the construction crew, and two bridge trucks, in that order. When these packets hit the site they were ready to bridge and were not dependent upon other elements of the convoy for equipment with which to begin work.

All eight 19-foot powerboats were sent from the IP to an unused ferry-slip and launched in 16 minutes. This effected the greatest relief of congestion at the construction site.

Center and high-line crews were sent over a third route that reached the river at the bridge center-line. These crews were so well trained and organized that 14 minutes after arrival at the site the high-line was out of the water and waiting for bridge sections.
Boat crews completed the operation by moving 6-float rafts from the Alt Rhine into the Rhine where predesignated pusher boats were waiting to speed them on their way to the bridge center-line, a distance of 1,300 meters.

Bridge connection crews were so well organized that not one raft had to wait on another before it could become part of the bridge. This entire bridging mission was set up not as a drill or a race to the construction site but as a well-planned operation.

Company C of this battalion, using these same construction methods of detailed planning and timing, crossed the Danube River in 62 minutes.
---
(Source: Email from Bob Staffaroni)
The unit that was the gyro partner with the 54th Engr's was the 498th Engineer Battalion (Combat), the 54th gyroed back to the states (Fort Knox), in April 1957 as your history indicates. The unit that replaced the 54th at Fliegerhorst Kaserne in Leipheim am/Donau in April 1957 was the 498th Engineer Battalion (Combat). The 498th came from Fort Ord, CA. (Hunter Liggett).

The 498th Engr Bn was garrisoned at Leipheim from April 1957 until January 1959. The battalion was part of the 540th Engineer Group. The unit was disolved in January 1959 when the army went to the pentomic concept (5 companies per battalion).

Companies A and B of the 498th were transferred to the 168th Engineer Battalion (C) at Nellingen Kaserne, Kr. Esslingen. Co A, 498th became Co D of the 168th Engr's, Co. B, 498th became Co. E of the 168th Engrs. The other two 498th Companies, Co C and HHC, were transferred to the 237th Engineer Battalion (C) at Heilbronn.

The post at Leipheim was turned over to the German Luftwaffe, however the family quarters area remained there. Leipheim is about half way between Ulm and Augsburg. The 498th Engr's were "the bridging champions of the NATO forces." They held records for the class 60 pontoon bridges on the Rhine at Speyer, Gunzburg, Ingolstadt and Regensburg. Also records for the M4T6 Bulk bridge at Ingolstadt and the Bailey panel bridge of various configuration at various sites. The battalion commander during this time frame was LTC John J. Pearse. The APO for Leipheim Kaserene was 35. Bob Staffaroni

---
Related Links: