If you do NOT see the Table of Contents frame to the left of this page, then
Click here to open 'USArmyGermany' frameset
70th Engineer Battalion (Cbt)(Army)
540th Engineer Group
Looking for more information from military/civilian personnel assigned to or associated with the U.S. Army in Germany from 1945 to 1989. If you have any stories or thoughts on the subject, please contact me

.
---
---
Battalion History
1955 - 1957
(Source: Email from Joseph E. King, 70th EBC Historian; SERVICE: 70th Engineer Battalion (C)(A) Austria 1954-55, Germany 1955-57, Fort Campbell, KY 1957)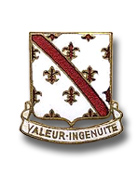 70th Engineer Bn (C)(Army) DUI

The 70th Engineer Battalion (Combat)(Army) came from Camp Saalfelden, Austria and was assigned to the U.S. 7th Army (USAREUR)(VII Corps) and stationed at Nellingen Kaserne, Nellingen, Germany from 18 August 1955 until it gyroscoped to Fort Campbell, KY on 21 March 1957. The 168th Engineer Battalion (Combat) replaced the 70th in Germany.

Representative 70th Engineer Accomplishments and Presence in Germany:
- In 1956, the 70th Engineer Battalion (C)(A) constructed a major section of the Ring Road at Hohenfels Training Area (That portion joining the "Tank Trails" at the North and South ends.)

- Construction of a 820-foot span Class 60 Floating Pontoon Bridge across the Rhine River at Speier in the record time of 3 hours-48 minutes, Summer 1956.

- Fall of 1956, the 70th was awarded the highest rating ever by the U.S. 7th Army Inspector General.

- Russian invasion of Hungry in Oct-Nov 1956. 70th was afield at battle station(s) in combat readiness to re-enter Austria as a blocking and holding force, if necessary, as prescribed by Command Order of Battle.

The 70th Engineer Battalion (Combat) (formed on 1 April 1949 in Austria) was part of USFA's (United States Forces Austria) Tactical Command. With the finalization of Austria's Peace Treaty Ratification, all occupying forces were to be out of the country by 25 October 1955. The Battalion was officially assigned to USAREUR-7th U.S. Army upon the 70th's advance party reaching Nellingen Kaserne, Germany on 18 Aug 1955 after having left Saalfelden earlier that day. The Battalion main, excluding A Company, did not leave Saalfelden and arrive at Nellingen until 15 September 1955.

A note of interest: Company A, was TDY to Camp Roeder (Salzburg, Austria) to help close down remaining USFA facilities and was the very last combat unit to leave Austria; that was during the third week in October '55.

A final notation regarding the 70th Engineers. After gyroscoping from Germany in 1957, they remained at Fort Campbell, KY, assigned to the 937 Engr. Group, until 3 August 1965 when they deployed to Vietnam. The Battalion served as a support unit at An Khe, Pleiku and Ban Me Thuot until 28 Nov 1969. They left that date for Fort Lewis, WA, stepped dawn and the unit was inactivated at 1000 HR on 1 Dec 69 and remained inactive for twenty-two years. On 1 Jun 1991, they were reactivated at Fort Riley, Kansas and remain there to this date as the 70th Engineer Battalion (Combat).

Joseph E. King,
70th EBC Historian
If you have more information on the history or organization of the 70th Engr Bn, please contact me

or Joe King.

---
Related Links: