If you do NOT see the Table of Contents frame to the left of this page, then
Click here to open 'USArmyGermany' frameset
36th Field Artillery Group
V Corps Artillery
Looking for more information from military/civilian personnel assigned to or associated with the U.S. Army in Germany from 1945 to 1989. If you have any stories or thoughts on the subject, please contact me

.
---
---
Group History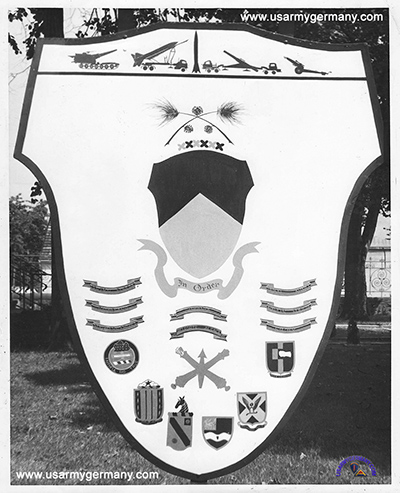 Sign in front of 36th Group headquarters building,
Babenhausen (Stanley Bailin)
1951 - 1972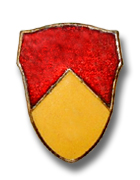 36th FA Group DI
(Sources: 36th Field Artillery Group, 1953)
36th FA Group
Pocket Patch

Reactivation in Germany
As a result of a Department of the Army action taken on 6 February 1951, implemented by Seventh Army on 21 March, Headquarters and Headquarters Battery, 36th Field Artillery Group, was reactivated on 1 April 1951 at Sonthofen, Germany. Col Paul R. Weyrauch, commander of the concurrently disbanded 7732 Field Artillery Group (US Constabulary), became the new group commander.

Personnel for the new group were drawn from the 7732 Group; the 70th, 74th, 517th and 519th Field Artillery Battalions (1); the 2nd Armored Cavalry Regiment; and the 2nd Recoiless Rifle Group. Equipment for the battery was drawn from the disbanded headquarters and headquarters battery and the 2nd Recoiless Rifle Group, with additional supplies from EUCOM stocks.

Upon activation, the Group was assigned to Seventh Army and remains so assigned at this writing. Following movement to its present home station at Babenhausen, Germany, on 16 May 1951, the Group was attached to 1st Constabulary Brigade, but was relieved from its attachment on 1 July. It was attached to V Corps on 10 September 1951 and on Corps order was further attached to V Corps Artillery. This attachment is still in effect at this time.
Original Battalions Attached
As of 1 April 1951, this Group had four battalions attached, with stations in Germany, as follows:
70th Field Artillery Battalion, Füssen
74th Field Artillery Battalion, Landshut
517th Armored Field Artillery Battalion, Wetzlar
519th Field Artillery Battalion, Babenhausen

Changes
Effective 16 May 1951, the 70th and 74th FA Battalions were relieved from attachment to this headquarters and shortly thereafter, the 443rd Antiaircraft Artillery Battalion (AW)(SP), located at Mainz, was attached to the Group. On 6 August 1951, the 18th Field Artillery Battalion and the 631st Armored Field Artillery Battalion, with stations at Babenhausen and Hammelburg, respectively, came under group attachment, and on 25 November, the Group lost the attached AAA battalion.

Additional attachments to this headquarters during 1952 raised to six the total number of battalions attached to the Group. On 12 March 1952, the 597th Armored Field Artillery Battalion, with ultimate home station at Hanau, was attached. At about the same time, the 593rd Field Artillery Battalion, stationed at Nellingen, joined this headquarters. The 593rd moved to its permanent home station at Babenhausen on 30 July, placing three battalions in the same kaserne with Group headquarters.

Current Battalions Attached
The latest change made was that, effective 23 January 1953, the 631st Armd FA Bn was detached from the 36th Group (it was subsequently attached to the 142nd FA Group) and was replaced by the 594th Field Artillery Battalion, stationed at Sandhofen (Mannheim).

As of this writing, therefore, 36th FA Group has the following attached units, with stations as shown:
18th Field Artillery Battalion, Babenhausen
517th Armored Field Artillery Battalion, Büdingen
519th Field Artillery Battalion, Babenhausen
593rd Field Artillery Battalion, Babenhausen
594th Field Artillery Battalion, Sandhofen (NOTE: later moved to Giessen)
596th Armored Field Artillery Battalion, Hanau

Commanding Officer
Following the departure of Col Paul R. Weyrauch, Lt Col Cornelius A. Murphy assumed temporary command of the Group on 14 April 1952. Seven days later command was assumed by Col Robert N. Tyson who retains command at the present time.

Training
In training exercises conducted in the US Zone of Germany during the past few years, the 36th Field Artillery Group has acquired am excellent reputation. The high professional standards of training and operation evidenced by the group and its attached units has drawn many favorable comments from Senior Commanders. It appears that the group motto, "In Order" has guided the unit in its actions and that it is the goal of all personnel to maintain all things "in order" at all times.
(1) The 517th FA Battalion was activated on 20 May 1949 at Sonthofen, Germany. On 10 September 1951, the Bn was reorganized and redesignated as the 517th Armored Field Artillery Battalion. On 4 April 1955, the Bn was inactivated at Büdingen, Germany.
The 519th FA Battalion was activated on 20 May 1949 at Sonthofen, Germany. On 25 June 1958, the Bn was inactivated at Fort Lewis, Washington.
If you have more information on the history or organization of the 36th FA Group (or any of the subordinate units), please contact me

.
---
(Sources: 36th Field Artillery Group, 1954)
36th FA Gp Yearbook 1954

By coincidence, the 36th FA Group occupies a kaserne once utilized by a unit of the German Army's 36th Field Artillery Regiment. Actually, Babenhausen Kaserne, home of the 36th, is more than 50 years old and has had a varied role in the history of Germany and Europe. Since its completion in 1901, it has been, progressively, an army hospital, a veterinary hospital, a French military post, a German police unit, civilian living quarters, a riding and driving school, a prisoner of war center and a DP center.

Following the designation of this kaserne as a semi-permanent US military post, complete reconstruction of the buildings and grounds was begun. When the last dependents' housing is completed in January 1955, a total of 264 families, approximately 700 dependents, will be housed in Babenhausen.

Present commanding officer of the 36th is Colonel William R. Calhoun, who assumed command on 20 August 1953.
As of June 1954, the 36th FA Group has the following attached units, with stations as shown:
18th Field Artillery Battalion, Babenhausen
517th Armored Field Artillery Battalion, Büdingen
519th Field Artillery Battalion, Babenhausen
593rd Field Artillery Battalion, Babenhausen
594th Field Artillery Battalion, Giessen
597th Armored Field Artillery Battalion, Hanau
465th Field Artillery Battalion, Darmstadt
816th Field Artillery Battalion, Darmstadt

---
(Source: Email from Denise Campbell-Wicker, daughter of Sgt Steward G. Campbell)
My father was a field wire foreman stationed in Germany from about 1950 to 1952 when he was honorably discharged. My father passed away on November 28, 1981.

I am not sure of his unit . . . He does have a field ration card for 2d CON Rifle Trp, APO 178. This was signed by Theodore Hughes Jr, Captain Infantry. I will send some pictures. I thought perhaps the men in the pictures, or their families, would like to see them.

Can anybody provide details on the picture on the left or any of the personnel shown below?
| | | | |
| --- | --- | --- | --- |
| 3. Bob Weese | 4. Soldier ID'd only as "Buck" | | |
---
(Source: Email from James Gray, HQ Co, 36th FA Gp, Aschaffenburg)
I was with the 36th FA Group Hdqs Co. in Aschaffenburg, Germany. We were not stationed in Babenhausen. I am in the Group picture, third from the right, fourth row standing. I was Radio Repair and we had to maintain two separate radio nets.

I arrived in July, 1951 and left in November 1952. Also, the 18th Battalion and the 519th were stationed in Aschaffenburg with us, not in Babenhausen.

I have a picture of me by the Company Directory listing the the locations of the afore-mentioned Battalions. (See photo series below)
James Gray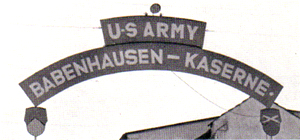 Sign over main gate, Babenhausen Ksn, 1954

---
(Source: Email from Wayne E. Dixon, 7732 FA Gp and 36th FA Gp)
HHB, 36th FA Gp, 1952
Click here for a roster

I was a direct assignment to the US Constabulary. When I enlisted in the service at the age of 16, I signed up for the Constabulary. Having completed basic training at Fort Knox, we were shipped over to Germany. Upon arrival in the port of Bremerhaven, they sent us to Marburg, where we were finally loaded on trains and sent south to Sonthofen, from the top of Germany to the bottom. My first assignment was with the 94th Field Artillery, part of the 7732 FA Group. The trip on the train was one rough and cold ride.

I served as a radio operator for the forward observer in A Battery, 94th Field Artillery Battalion. I believe it was in 1950 that we were re-designated as the 517th Field Artillery Battalion. We were moved from Sonthofen to Wetzlar up above Frankfurt. During my stay in Sonthofen up on the Burg, at that time there were the 91st and 94th Field Artillery, under the command of the 7732 FA Group Headquarters.
I was a very impressionable person having been so young and the first time really away from home. I loved the mountains and the country around the station. I was told that the German Army had used the burg as the German West Point before we had taken over the post. The Constabulary had closed their School and quite a few of the troops were assigned into the Artillery units there.

I was returned back down to Sonthofen from Wetzlar, and assigned to Group Headquarters. The 7732 Field Artillery Group was re-designated as the 36th FA Group and moved to the town of Babenhausen south of Frankfurt, between Darmstadt and Aschaffenburg.

While assigned to the 36th, I worked in the S-2/3, and assigned as the Colonel's driver. After my re-enlistement I was sent to Murnau to attend Surveying School. We were re-assigned from the Constabulary and assigned to 7th Army. I remained with Group Headquarters till I volunteered for Korea in 1953 and was transferred to the 28th Infantry Division for advanced refresher before shipping over to Korea.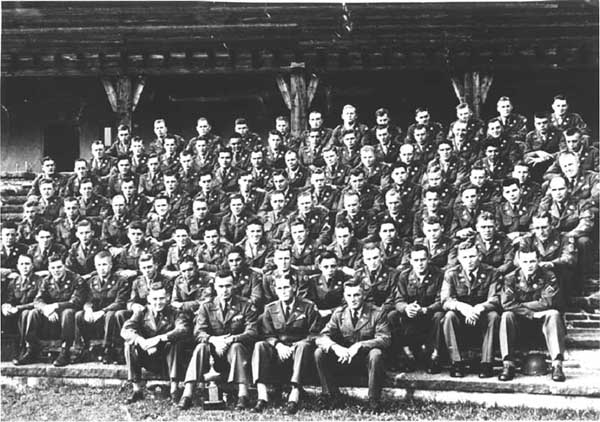 Group photo of "A" Battery, 94th Field Artillery Battalion (US CON), Sonthofen

---
Commanding Officers of the 36th FA Group, Babenhausen, Germany
(Source: Information was submitted by Walter Duke who is a member of the Babenhausen Veterans & Friends. The group is an association of former members of the US Army who served there between 1950 - 1972. It also includes members of the teachers and the Civilian Technical reps.)
| | | |
| --- | --- | --- |
| Colonel Paul R. Weyrauch | | 30 August 1950 - 13 April 1952 |
| Colonel Robert N. Tyson | | 21 April 1952 - 21 April 1953 |
| Colonel William R. Calhoun | | 20 August 1953 - 20 August 1954 |
| Colonel Clyde L. Jones | | 21 August 1954 - 20 September 1955 |
| Colonel William H. Allen, Jr. | | 21 September 1955 - 31 January 1957 |
| Colonel George C. O'Connor | | 1 February 1957 - 19 May 1958 |
| Colonel Lyman H. Ripley | | 19 May 1958 - 6 July 1959 |
| Colonel John F. Freund | | 6 July 1959 - 13 July 1960 |
| Colonel Thomas St. John Arnold | | 13 July 1960 - 10 Feb 1962 |
| Colonel George P. Curtin | | 10 February 1962 - 1 June 1963 |
| LTC Robert E. Cleveland | | 1 June 1963 - 8 Aug 1963 |
| Colonel Albert E. Hunter | | 9 Aug 1963 - 15 Aug 1964 |
| Colonel Thurman Irving | | 15 Aug 1964 - Aug. 1965 |
| Colonel Jelks H. Cabaniss, Jr. | | Aug. 1965 - 1966 |
| Colonel Leslie B. Hardy | | 1966 - 1968 |
| (unknown) | | 1968 - 1969; who can provide information on the CO during this timeframe? |
| Colonel Donald R. Keith | | Jan. 1969 - Jul 1970 |
| Colonel Morgan J. Cronin | | Jul 1970 - 1971 |
| Colonel Moore | | ?1971 - 15 Mar 1972 (the 36th FA Group was replaced by the 41st FA Gp on 15 March 1972) |
| Colonel Homer Kiefer | | 1972 |
---
Commanders of the 36th FA Group and subordinate units - Summer 1954
(Source: 36th Field Artillery Group, Germany, 1954 Yearbook; information was submitted to me by Carl Dunn, who was in one or another of the battalions in the 36th FA Group from its activation in Apr 1951 until he left in Aug 1954 (517th FA Bn and then 597th FA Bn)
36th FA Grp
-
Col William R Calhoon
18th FA Bn
-
Lt Col Delbert L Jellum who succeeded
Lt Col James B Green
517th FA Bn
-
Lt Col Norman M Graves who succeeded
Lt Col James O Millott - 1952
Maj Raymond G Jones - 1951
Lt Col George S Eckhardt -1950 (later Maj Gen)
Lt Col William H. Nelson, Jr. - 1949
519th FA Bn
-
Lt Col Ernest B Wilder
593rd FA Bn
-
Lt Col Paul J Bidle who succeeded
Lt Col Clifford C Hines
594th FA Bn
-
Lt Col Thea L Lipscomb
597th FA Bn
-
Lt Col Donald A Christensen who succeeded
Lt Col James G Kalergis (later Lt Gen)
465th FA Bn
-
Lt Col Millard Shaw
816th FA Bn
-
Lt Col Fred F White
---
(Source: Author's private collection)
---
PENTOMIC Changes - 1957/58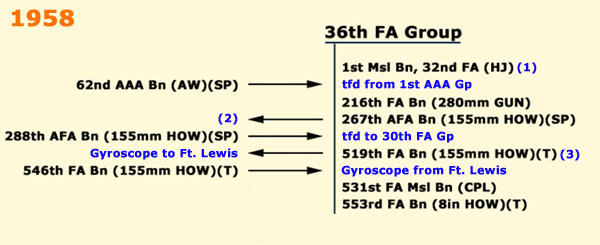 (1) Effective 1 July, 1957 - USAREUR's four FA Rkt Batteries were reorganized as battalions; 7th FA Rkt Btry reorganized and redesignated as 1st Msl Bn, 32nd FA (HJ)?
(2) 267th AFA Bn inactivated in Germany on 1 Dec 1957; probably replaced at the same time by the 288th AFA Bn
(3) 519th FA Bn and 546th FA Bn switched places under Operation Gyroscope.
ORGANIZATION (30 June 1958):
| | | |
| --- | --- | --- |
| UNIT DESIGNATION | LOCATION | COMMENTS |
| 1st Msl Bn, 32nd FA (HJ) | Hanau [1] | |
| 62nd AAA Bn (AW)(SP) | Käfertal [1] | |
| 216th FA Bn (280mm) | Darmstadt [1] | |
| 288th AFA Bn (155mm How)(SP) | Hanau [1] | |
| 531st FA Msl Bn (Cpl) | Babenhausen [1] | |
| 546th FA Bn (155mm How)(T) | Babenhausen [1] | |
| 553rd FA Bn (8in How)(T) | Darmstadt [1] | |
[1] STATION LIST, 30 June 1958
---
1958
(Source STARS & STRIPES, February 9, 1958)
The 62nd AAA Bn, the oldest combat unit in USAREUR, has been transferred to 36th FA Group. The battalion was previously with V Corps Artillery.
---
(Source: Email from Meredith Hull (Bailin). daughter of Stanley Bailin, Army photographer for the 36th FA Group, 1959-1961)
My father, Stanley Bailin, was just showing me some of his photos from when he served in the HQ Battery, 36th Field Artillery Group from ~1959 – 1961.

He was the group's main photographer during his time there, and though the photos he took belong to the Army and not to him (therefore, we don't have many of the images he shot, unfortunately), we do have some shots OF him and his friends.

Thank you for putting together this website. It is a fantastic thing when people preserve history through the web and can connect the stories of many people and sources.
---
1960
(Source: Email from George Vanover, HQ 36th Arty Gp, 1959-60)
I was stationed there from Feb 1959 to Aug 1960. Col Fruend was in command at that time. I had my basic at Ft. Knox, then Ft. Dix, NJ, and then shipped out to Germany -- arriving Babenhausen in Feb 1959. Some of my friends where in for four years and stayed in Babenhausen the entire time.

My wife and I visited the Babenhausen Kaserne in 2000 and several changes had been made. However, I recently received an e-mail from one of my Army friends who lives in Bamberg, Germany and he tells me that the Kaserne is no longer used by the US Military.
---
1962
(Source: Email from Walt Leon, HHB 36th FA Gp, 1962-64)
(Also see Walt's photos of the Predient Kennedy visit at Fliegerhorst Kaserne, June 1963.)

I love your web site, but (in your history of the 36th FA Gp) you jump from 1958 to 1964. To me the most important years were 1962 - 64 when I spent two years in Babenhausen Kaserne.
I have a bunch of pictures of the Kaserne and other stuff. Near as I can tell, the pictures of what everyone is calling the barracks is where the HQ Administration building was, S-1, S-2, S-3, S-4 and Communications. I was the Kaserne commander's clerk (who was also known as the group commander, 36 FA Gp) - he was a bird colonel and senior office on the kaserne. When I first arrived it was Col. George P. Curtin followed by Albert E. Hunter and then Thurman Irving.

I have a lot of stories from our move to Fulda during the Cuban Missile Crisis and how flexible an Arty Group really is as it relates to various battalions moving from place to place. It was also during my time when the 3rd of the 82nd 280 mm "Atomic Cannon" was inactivated as the last in Europe and maybe the last one in the Army. Got to see that bad boy fire one time.

I am going to try to give a different perspective of serving that the average hard working gunner, infantryman or wireman etc. never knew. I really respect and honor the guys on the front line that did the real work and just want to let them see what maybe some of their buddy's doing my type of work did. As small as my role was, I was proud to serve as my father and his father did before me in two world wars.
I must confess that most of the pictures (I am sending) are from the right side (northwestern corner) of the Kaserne near the main gate. I seldom got to the other end of the place. A few months before my discharge I made Spec 5 so I got over as far as the NCO club; I was in the officer's club a few times to deliver messages from the colonel; and once I was invited to dinner by the S-4 Sergeant in the family living quarters. I first arrived in Germany at Frankfurt. We all thought were were going to be in V Corps. I spent a couple of days there and was further assigned to HQ Company, Special Troops, Heidelberg. I actually interviewed for the steno job with General Paul L. Freeman Jr. who was the Commanding General of United States Army, Europe. Obviously I wasn't selected. I was then assigned to the P&A Division of HQ USAREUR.Heidelberg is probably the best city in Germany to be stationed. German national KPs; an EM club that has entertainment such as Sam Cook (60's you remember?) and other like him; a city rich in history and not touched by allied bombs during WWII because it was allied HQ then. When I got orders to go to Babenhausen only after 30 days I was crushed. I guess someone didn't like me there. I arrived at Babenhausen in Aug of 1962. I found that I would be the S-1 clerk, which was also the personal clerk to the group commander a.k.a. Kaserne Coordinator since he was the highest-ranking officer on the Kaserne. Without question I was blessed with privilege in that the Adjutant, Sergeant Major, XO and Commander wanted me there constantly. As a result I was exempt from guard duty and KP. This wasn't something I asked for and every time we got a new Battery CO or first sergeant I found my name on both rosters. Not once did I ever complain or report this to the sergeant major. I simply reported for duty. In most occasions the battery CO was called and was told to get my but back to the office that correspondence was piling up and I was needed to take the never ending barrage of phone calls. Although this was none of my doing it generated a lot of dislike for me.Every day the colonel's orderly of the guard was sent to the sergeant major's office, which I also shared. We instructed him to first report to the colonel and introduce himself and n how to make coffee and to periodically check on the colonel to see if he wanted any. Other than that the colonel's order had a great, do nothing day but occasionally was used for gofer chores.When we got a new battery commander I noticed my name on the guard roster. I never told or complained to anyone at the HQ building. The night before I spent hours spit shining my boots and when I reported for duty I was standing tall. Staff Sergeant Ira Walton was the supply sergeant and made sure I got my M-14 in plenty of time to get it spotless. Guess what! I was selected as colonel's orderly. When I reported to the good old Sergeant Major Megahee he broke out in hysterical laughter because he tried to get me off the roster and since the adjutant was off that day, the battery CO over-ruled him. After he finished laughing he told me to sit my ass down and get to work.When I first arrived at Babenhausen, Colonel George P. Curtin was the commander. He was a John Wayne type; weathered face, soft spoken and respected by all. When he left Colonel Albert E. Hunter replaced him. Colonel Hunter while an Artillery officer was a real "Officer and a Gentleman" type. He was frequently condescending and loved to wear his dress uniform. Never once did I see Colonel Curtin in his greens or blues. Colonel Hunter loved his picture taken by our PIO specialist. Hunter frequently held the formal military dinners known as "Dine-ins." We had a couple of reams of Special 36th Arty Group stationery with the crest etc. I would have to type individual letters to all the officers invited to these dine-ins on the special paper. In the body of the letter he would inform the recipients who the president was (always him) and who Mr. Vice was. Mr. Vice was generally a junior officer who according to protocol had to say certain things and other various duties? The tradition is ancient and I am sure they had fun - dah? Look up the protocol for a formal "dine-in."Colonel Hunter was also a "resume" guy. At the time the "Army Commendation Medal" was (and I am quoting from the Army description) "The medal is awarded to any member of the Armed Forces of the United States who distinguishes himself or herself by meritorious achievement or service. The degree of meritorious service must be the same as that required for the Bronze Star or Air Medal, but does not involve military operations against an armed enemy. (ANF) In that I typed all recommendations for awards I know that this award was a necessary item for an upcoming officer's resume. Colonel Hunter seemed to recommend every battalion commander and or above average battery commander in his group and at times we had as many as 5 battalions under our command. I know of none that were not eventually approved. In my 28 months I only saw one enlisted man that received the Army Commendation Medal.

One battalion commander that I knew very well was the CO of the 2nd of the 5th, Roscoe Cartwright. I always said to myself that this guy is going to be a general one-day. Low and behold I looked his name up on the Internet and yes I found "Brigadier General Roscoe Cartwright" He was a very tough battalion commander and had a crack, combat ready unit that I was glad that was on my side. Those old 155 towed howitzers were immaculate and well manned. Those guys worked hard and also played hard. He was still in command when they started getting their 175 mm self-propelled units.My desk was right next to the Sergeant Majors. While I was there I worked for only two sergeants major. Sergeant Major Buford V. Megahee and Sergeant Major Powell. I conveniently forgot Powell's first name. Sergeant Major Megahee was one of my favorite people in the Army as was the Adjutant Major Joe R. McCray. When I describe old Buford I am using terms of endearment not disrespect. He was a vet of WWII and the Korean War. I only saw him a few times in his dress greens. He had hash marks up to the bend in his elbow and a chest full of medals. To say the least an impressive picture. I can best describe him this way. He would be the man I would love to lead me in battle. He was a seasoned artilleryman. He was a good old redneck from either Georgia or South Carolina. He was cantankerous. He spared no one with his screaming. He was an average size guy with a weathered face and jowls and always spoke with a gruff voice. One of his duties was publishing the Staff Duty Officer roster. He asked all HQ officers to keep him informed of when they were on leave or had officer of the day or officer of the guard duty, but they never did. Thus there were always conflicts. They would call him at the last minute and inform him that they could not serve that particular day. He would scream at them and many were very intimidated, but I loved the man. To compound matters, he would then have to notify another officer and tell them they had duty that day! When he departed (I think he retired) he was replaced by a battalion Sergeant Major named Powell. From the day of his assignment to the 36th Group HQ to the day I left, my life changed. Sergeant Major Powell resented my authority as a lowly specialist and the fact that I typed all officers' efficiency reports, that no one saw but me just killed him. This also made me very popular with many of the officers and he hated it just as the officer's hated him.Our office received an enormous volume of correspondence mostly directed to the Adjutant. Captain then later Major Joe R. McCray filled that spot. He was another seasoned vet and an absolutely super guy. He had so much trust in me that I literally wrote and typed a great deal of his correspondence. I would lay a 3 inch stack of correspondence on his desk with signature tabs and he would sign them. He did read them before he signed them however. Courts and boards was another of my duties and was really interesting. I had nothing to do with Article 15's or Summary Courts Martial. They were handled by the battery/company. I was recorder for all of the Special Courts Martial and board hearings, 208, 209 and special investigations. Special courts did not require verbatim accounts but rather a detail summation of the proceedings. This is what my MOS was qualified for. My MOS did not permit me to do board hearings or General Courts but I was directed to record all of the board hearings within our domain. Our communications officer, Major Americo Gonzales Garcia was the senior Major on the staff. He was always selected as the president of special courts martial. We became very close and got to a point where I would correct his pronunciation of certain words. He took it in stride but never changed. When he told me that I had to record a 208 board I informed him that I was not qualified within my MOS to do it. It mandated a verbatim account just like a civil court. Well I was not qualified to record data that fast. It was all done in short hand. He didn't care and I actually did 6 different board hearings often times with the help of his personal tape recorder, which was absolutely illegal. He took to me a general court martial in Frankfurt in which he was selected as one of the board members involving an accidental shooting by a soldier who was on guard duty and shot his XO who was "playing" intruder to see his soldiers reaction. Well his reaction after saying halt 6 or 7 times fired a shot into the brush and yes it hit the lieutenant right between the eyes. Fortunately V Corps new the regulations and had a qualified reporter with one of those Dictaphone type gadgets that you put over your mouth and literally repeat everything that is said. I was however permitted to sit in on the entire proceedings. Major Gonzales had an expression before every special court martial. Yes he was just jesting but in today's world his words would be a basis of a big lawsuit. As we were ready to proceed and call in the accused he would say, "OK I am ready bring in the guilty bastard." We all knew he was joking and actually he was a very fair and wise president. I recorded 1 NCO and 1 EM club investigation involving theft and fraud. It just so happened that I was the president of the EM club board of governors and was aware of all activities that were a part of managing a club. Sadly some of the managers and Master at Arms took advantage of the system and were punished. I would feel so bad for some of the old NCOs that were a part of the fraud but I guess the old adage flies "Don't do the crime if you don't want to serve the time."The unit had a military reporter or Public Info guy. He took pictures of training activities and participated in special events such as German/American day etc. He had an office and dark room on the 4th floor. As far as I know this was the only thing on the 4th floor. I was only up there twice and I wish I had his photos. He had tons pictures of the Honest John Unit, Corporal unit, many of the 280 mm gun units that once belonged to our group. Not to mention pictures of the 2/92nd, 3/79th, 2/38th. His filing system was boxes. If only scanner technology was available then. In the admin building which it seems from early pictures of Babenhausen used to be barracks there were 5 floors. I was only on the 4th floor a few times and never on the 5th? Don't have a clue what was up there.The first floor was personnel and S-4; 2nd floor S-2 and S-3, 3rd Floor consisted of a latrine, small recruiters office, small storage room that we called the coffee room. A small room where the mimeograph machine was and also served as the courier mailroom. I believe a Spec 4 Fred Terry was the boss of this room. Then there was a small office for the Adjutant and next to it was the office of the Sergeant Major and S-1 Clerk. Next to it was the XO's office followed by the Commanders office. At the end of the hall was a conference room where I spend many hours recording court martial and board hearings.An artillery group is not easy to define. Battalions come and go and believe me I saw it. I have a vague memory of an Honest John missile unit, a Corporal missile unit and two different 280 mm gun units. I saw the 2nd How Bn, 5th Artillery convert from a 155 mm howitzer to a 175 mm self propelled unit. I saw two of the initial Sergeant missile battalions assigned. The Artillery is the heavy foot of the Army and I was proud to be a little part of it.Walt, when I arrived in Babenhausen in 1962 I was aware of what readiness tests were. They could be called by 7th Army, V Corps, V Corps Artillery and the biggies by USAREUR. In October just two months later, I think on the 14th, we had what we all thought was a readiness test, i.e. monthly alert. I remember our HQ convoy going somewhere that was a bit far and I recall seeing pumpkins or bunkers as they were called. Not till after we arrived at Fulda, Germany did I know what they were. They were the nuclear warheads for (I am not sure), but I don't think we had the 5th Missile, 77th Artillery in our unit yet. So I deducted they were for our Corporal Missile battalion?

That scared the hell out of this 18-year-old Pittsburgh Catholic whose grade school nuns constantly spoke of the end of the world. I asked an old veteran NCO how big are those things compared to Hiroshima. His reply really shook the heck out me. He said Hiroshima put out a blast equivalent to maybe 12 kt. These warheads were 20 kt. The colonel's driver a very good buddy of mine was Conrad Gasper. He was from Milwaukee, Wisconsin. Not too long before he was drafted he was a left hand pitcher with on of the LA Dodger's farm teams. He ended up with elbow surgery and his potential career was ended. As a little leaguer I was a catcher and talked him into throwing me some smoke. I always wondered what it would be like to catch a big leaguer. We got out the gloves and he took his time warming up. When he started firing them he damn near knocked me over. I ended up telling him that I had enough. Conrad was always on call for whomever. I loved when good old Sergeant Major Megahee called for him in that loud southern accent. He would yell at the top of lungs "Jaspah get your ass in hea." Conrad acquired a nickname after that. We all call called him Jaspah. Keep in mind his name was Gasper (hard G). Fond memories.Another dear friend was Dave McKibben. He was already on his second enlistment and was a personnel specialist. He was from Albion, Illinois, and could have easily have been the personnel sergeant. He made Spec 5 and probably made staff sergeant shortly after my departure. I was never able to contact him.Another great story of a personal friend was Charles P. Marshall of Charleston, S.C. he arrived in Babenhausen about 1 year after me. This is a true story of human determination and the will to not be defeated. He was assigned as the S-4 clerk. He appeared to be a shy guy that kept to himself. I soon became a great friend and we had a lot of fun. One time in Graf we had to put our shelter halves together and share the infamous tent. No level ground was available and we put it together on a steep hill. Both of our air mattresses had a hole in them and didn't inflate. It was very cold and pouring rain and the water was pouring down the hill. Needless to say we both got soaked and were miserable. He told me that he was in his 4th year as a cadet at the Citadel. He went on to say he was drummed out for an indiscretion. I don't know what the indiscretion was, but I do know it wasn't cheating. I learned from my cousin who was at the time a cadet at VMI that indiscretions might seem minor to most people, but if they were a violation of the schools code of conduct there was zero tolerance. Charlie never disputed the code of conduct and took it like a man. He joined the Army as an enlisted man. In many of our conversations he would tell me that someday he would get his diploma from the Citadel.

Sometime in the 1970's I got a phone call. It was Charlie. He said "Hey, I am at the Pittsburgh Hyatt sitting next to your District Attorney and that he was a principal of a middle school in S.C and was in Pittsburgh for a Principal's convention. I picked him up and we spent all evening at my home talking about our days at Babenhausen. He then proudly told me: "I got my diploma from the Citadel as I said I would." Well Walt since I rambled and hopped all around in my narrative I will close. I suppose I could have rambled on for pages more, but I will not plague you with anymore. Oh, almost forgot. I have included a bunch of pictures that were taken by Bob Butterly at Fliegerhorst Kaserne. They are not in the power point presentation. They were part of a display for the JFK visit in June of 1963. The equipment represents all types of units that were based in Germany. I used to have a group of color 35 mm slides of Kennedy that I bought at the PX but lost them?

ADDITIONAL INFORMATION
Just wanted to let you know that the building on the bottom right next to HQ Btry barracks (see map below) was the home of the 14th Quartermaster Battalion. We would eat in their mess hall and vice versa when it was time to spray the mess halls with insecticide.
I noticed the new list of past commanders of the 36th Group that you recently added. I had forgotten about little old LTC Robert E. Cleveland. He served as CO until Col Hunter came on board and then served as XO during most of my tour. He was replaced sometime in 1964 by a LTC Kusick (sp?) as XO.

He was a neat little guy, actually shorter than my 5' 6" frame. Salt and pepper flat top hair and had a great sense of humor. He had a hair cut thing. As I drew closer to my discharge date I was trying to let my hair grow out a bit. One day he sent me back to the barber twice to get more cut off. After the first one he gave me the 50 cents out of his pocket. I think that's what a hair cut cost then?



HHB, 36th FA Gp
Babenhausen Ksn



| | | | |
| --- | --- | --- | --- |
| 3. Bird's eye view of Sergeant | 4. (KB) | 5. Looking west | |
| 6. Front and rear view (KB) | 7. Bird's eye view | 8. Unidentified soldiers | |
| 9. Walt Leon | 10. 175mm gun being maneuvered through a parking lot | 11. Unidentified soldiers | |
| 12. A 280mm gun in action | | | |
| 13. (KB) | 14. (KB) | 15. (KB) | |
| 16. (KB) | 17. Park with flag pole | 18. PX? and Old Water Tower | |
| 19. EM Club in background | 20. Dave McKibben | 21. HHB sign | |
| 22. Babenhausen airfield | 23. Ron Ashby, Bob Butterly and unknown | 24. Radio truck | |
| 25. KP area | 26. Last day | 27. Bob Butterly | |
| 28. Who can ID exact location of pic? | 29. (KB) | 30. (KB) | |

---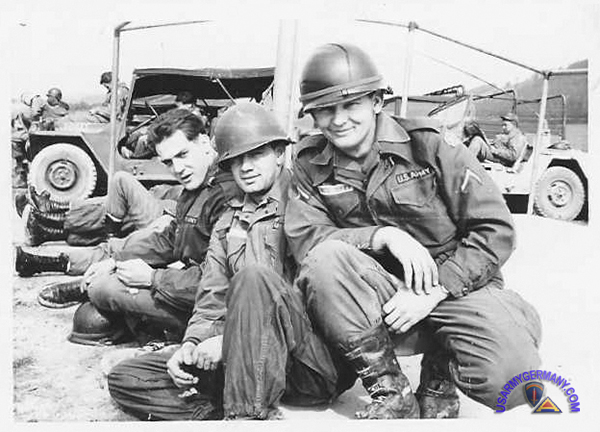 Chester Wright (middle), during a rest stop on the way to Graf with A Btry, 1st TAB, 26th Arty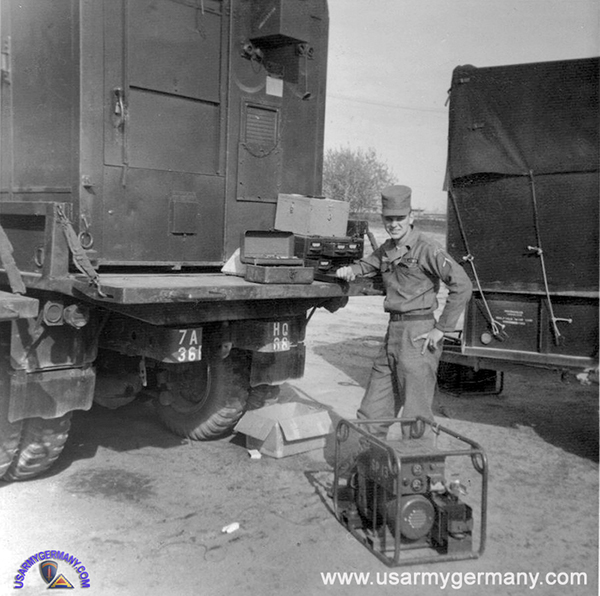 Unnamed 36th Gp radio repairman stands next to 26D RATT rig (Chester Wright)
1964
(Source: Email from Chester Wright, HHB 36th FA Gp and A Btry, 1st TAB, 26th Arty, 1962-65)
On your site which I recently discovered, I was looking for info on 36th FA GP and A Btry 1st TAB 26th Arty. I found both, but it does not match info that I know for a fact. Unless of course I am misinterpreting the reference in your info.
I was with
A Btry 1st TAB 26th Arty
until Aug 29th, 1965, and it was in Aschaffenburg, Fiori Barracks at that time, NOT Darmstadt, but as I recall the unit had been there for only a short time before I arrived. Prior to A Btry 1st TAB 26th Arty, I was with the 36th FA GP, HQ & HQ Btry in Babenhausen.
I have learned from reading on different sites similar to yours that there were other 1st TAB 26th Arty Btrys, e.g. B, C. I arrived in Germany about August 1962 and was with the 36th FA GP, HQ & HQ Btry until I went to 1st TAB 26th Arty A Btry in late 1964 or early 1965. Actually I have been trying to find out exactly when I was transferred. I have no paperwork that refers to that move.
So other than the apparent error of location of A Btry 1st TAB 26th Arty, as much as my memory serves me, the rest of the info that you show in the 1965 Order of Battle for Non-Divisional Artillery in 7th Army (see
Overview Page
, Field Artillery) is correct.
When I was at 36th Arty GP, the units listed, other than the 26th were all assigned to 36th FA GP. Plus a few others that came and went during my tour of duty. Others such as 2nd Bn 92nd FA, 2nd Bn 38th Arty, or possibly 1st Bn 38th Arty. I think they had a 280mm that was hauled by two rigs, one on each end.
Thanks for your website.
(
Webmaster note:
I checked a copy of the USAREUR Station List for 30 June 1964 - shows A Btry at Fiori Barracks, Aschaffenburg APO 162 (the whole battalion is there at that time - HHC, A, B, & C Batteries). The next SL I have is for 31 March 1965: it shows no HHC (prob inactivated); A Btry at Ludwig Ksn, Darmstadt, APO 175; B Btry at Francois Ksn, Hanau, APO 165; and C Btry at Fiori Bks, Aschaffenburg, APO 162. And the SL for 30 June 1965 shows no C Btry (prob inactivated); A Btry at Ludwig Ksn, Darmstadt and B Btry at Francois Ksn, Hanau.)
---
1968-69
(Source: General Donald R. Keith - Oral History Transcript, USAMHI)
The 36th FA Group was comprised of a 175mm gun battalion, an 8" howitzer battalion, an Honest John battalion, two Sergeant battalions, and two target acquisition batteries. Col. Keith was the Group commander.
(Source: STATION LIST, 30 June 1968)
ORGANIZATION (1968)
UNIT

STATION
COMMENTS
HHB, 36th FA Group
Babenhausen
2nd Bn, 5th FA (175mm)
Babenhausen
4th Bn, 18th FA (155mm)
Hanau
1st Bn, 32nd FA (HJ)
Hanau
2nd Bn, 75th FA (8in) Hanau
5th Bn, 77th FA (SGT) Babenhausen
3rd Bn, 80th FA (SGT) Darmstadt
B Btry, 1st TA Bn, 26th FAHanau
C Btry, 1st TA Bn, 26th FA
Darmstadt
---
(Source: Email from Robert Austin (2nd Bn, 5th FA) via Walter Duke, Babenhausen Veterans & Friends)
In 1971, we cross-trained with the British 20th Regiment, Royal Artillery. Unit was from vicinity of Halle (Northern Germany}. Really a once in a lifetime experience. Unit was 107 equipped. We were co-located and billeted together.

They really knew how to go to the field. Brought their own NAFE (Px) tents. Had two large circus like tents for Officer and EM clubs. They even brought their trophies and portable bars. Unit was very well trained. In fact, the SGM stated that it was a regular army regiment and some of the personnel would spend their entire military service in the same unit. Youngest member of the regiment had been there over 6 years.

Another surprise was the unit was able to perform 3d echelon maintenance internally. Additionally, when moving from FP to FP they did not convoy. Instead, they moved one piece forward and when it was ready to fire, moved each piece forward individually and the FDC track was last track to move. Troops enjoyed the off time and the British beat us in cricket and we won the soft ball and Horse shoes.
Top photo - LTC Peter Ferry, (CO British 20th Arty Regiment), CSM Robert Austin,(2nd Bn, 5th Arty) Bottom photo - BG Catrona V Corps,COL Cronin(36th Gp),LTC Peter Ferry 20th(Bn CO), LTC Knight (2/5 CO) and Maj Furno.



2nd Bn, 5th FA
Babenhausen Ksn






1.

2.





---
216th FA Bn (280mm Gun) - 2nd Gun Bn, 38th Arty
See more on the 216th FA Bn/2nd Gun Bn, 38th FA on the 212th FA Group Page
(Source: Email from Marion R. Skaggs, B Btry, 216th FA Bn)
I was a T-10 driver for B Btry 216 FA Bn in Germany. One time, I don't remember the date, we were driving down one of the small hard surface roads to a firing location. When we were going up a hill, a small car decided to try passing, another car topped the hill going in the other direction. All of a sudden, the little passing car disappeared. Once the car that came over the hill got by, the little car came out from under the gun and made his pass. It scared the hell out of the B Unit driver because the little car was there and all of a sudden it was gone.

I came over with the 216th from Ft Sill, OK and left the Organization in Aug of 1956 for civilian life. It was a great Outfit and incidentally, was the only Outfit I ever shed a few tears over because I left all of my "brother's" there. In addition, after we arrived at Ernst Ludwig Kaserne, at Darmstadt, we had a "small" problem. I was moving my A Unit and my "walker" told me there was a rattling sound coming from my left rear tires. The motor pool Sargeant was notified and he inspecyed the tires. One of them had to be removed and tore down. We removed a 10" nail that one of the German Nationals had put in the tire at the "Depot" before we picked up the guns. Lucky, yes , it could have been a disaster if the tire had blown or gone flat at Autobahn speeds.

I absolutely loved the Personnel of B Btry 216 FA Bn and would enjoy hearing from anyone who wants to write.That gun was one hell of a piece of machinery and I don't understand anybody that says it was "cumbersome". Sure it was heavy and bulky, but we never had any problems putting it where our C. O. Captain Richard Edwards wanted it to be. He always asked us T-10 drivers if we could put it where he wanted it and we would discuss the situation and tell him , yes or no. He would then tell us in plain english: "You sink my gun and I'll have your a-s". Then he would grin.
ADDITIONAL INFORMATION

I found a 1955 216th Thanksgiving Menu that had most of the unit commanders listed. If you want them, here they are. Bear in mind that these would be effective when the 216th arrived at Ernst Ludwig Karserne, Darmstadt, Germany in 1955.

Our Batallion Co was Lt Col Ralph L. Todd; B Btry Co was Capt Richard R. Edwards; B Btry Exec Off. was 1st Lt. Otto N. Riley, First Sgt was SFC Robert A. White, Mess Sgt was SFC John T. Bottoms (an excellent cook by the way).

Fire Direction Sect. Chief: SFC Frank B Hastie Jr; Inst & Survey Sect. Officer: 2nd Lt Donald E. Netzel, Recon Off.; SP3 Lawrence J Bergen, Chief of Sect. Radar Section; 2nd Lt Thomas C Linstrom, Radar Officer; S/Sgt Jack V Witt , Chief of Sect.& Cpl William Gregory, Asst Chief of Section; Wire Section (Communications) Sgt Charles K. Davis, Chief of Section.; 1st Gun Section Platoon Comdr. 2nd Lt Albert B. West, Sgt Clinton W. Primus, Chief of Section; 2nd Gun Section Platoon Comdr. 2nd Lt Herald K. Clizer, Sgt Ernest Little, Chief of Section; Motor Vehicle Chief of Section SFC Vernon E. Bishop; and Chief of Supply Section SFC Paul M. Hooper.
---
(Source: Photo album submitted by the Commander, St Louis MEPS)



216th FA Bn
Ernst Ludwig Ksn






1. Btry "B"

2. 2nd Gun Sec, Btry "A"

3. Atomic Power exhibition




4. 1st Gun Sec, Btry "A"

5. Farewell parade

6. Btry "B" passes in review




7. Reviewing officers

8. Sp4 Charles Jones, Btry "A"

9. 280mm Gun in action at night firing at Graf
---
(Source: Email from Greg Mahler, 2nd Gun Bn, 38th Arty (1959-62) and HHB, 36th FA Gp (1966))
My name is Gregory Mahler, CW3, US Army retired. My history with the 36th Arty Group goes all the way back to 1959 when as a SP4 I was assigned to HHB 2nd Bn 38th Arty located at Ernest Ludwig Kaserne, Darmstadt Germany. I was assigned to the Personnel Section and when I left in Nov 1962 I was a SGT E5 Personnel Sgt.

At one time our unit was also assigned to Hqs 212th Arty Gp and also the 42nd Arty Gp but most of the time was with the 36th Arty Gp stationed in Babenhausen, Germany.

During my time at the 2nd Bn 38th Arty we had as Battalion Commanders, LTC Wilcox,LTC Murphy and LTC Miller.

Again in 1966 as a SSG E6 I was assigned to the 5th Bn 77th Arty Babenhuasen Germany under command of Hqs 36th Arty Gp. A few months after being assigned there to the 5/77 I was trf up the Group Hqs as Group Personnel Sgt.

The Group Commander at that time was Col. Cabanas (spelled wrong), the adjutant was Major Tracy W. Griffin. After Col. Cabanas left for USAREUR Hqs, Col. Leslie Hardy became the Group Commander. I was assigned there until shortly after making SFC E7 I came down on orders for RVN.

I would be really anxious to see any photos of the Kaserne during that period and hear from anyone that was stationed with the Group during that period
---
(Source: Email from Frank Boyd)
The two years I served with the 2nd Gun Bn, 38th Field Artillery, was in 1962 & 1963. We went to Grafenwoehr & Vilseck twice a year: March and Sept. We also did border patrol at Fulda. That was up on a hill looking down on the East Germans in their tanks going by. Had good memories and was proud to be a member of the "Atomic Cannon."
I was in B Battery 1st gun section. Ammo. I also have a picture of the gun firing near Vilseck. If you want too put that in the 280mm section.

---
531st FAM Bn (CPL) - 1st Msl Bn (Cpl), 38th Arty
531st Field Artillery Missile Battalion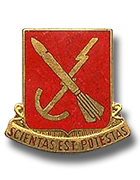 531st FA Missile Battalion DUI
1956
(Source: Email from Ralph Parris)
I was a member of the 531st FAM BN (CPL). We trained at Fort Bliss and then moved by ship to Germany in Jan 1956. We were stationed in Babenhausen. This is not what is shown on your site.

I left in Nov 1956 to be discharged. I have a copy of our unit's "Yearbook" which shows the history of our unit and a list of men. I tried to organize a 50th Reuinion of these men last year, but even though I was able to contact a large number of them, I was unable to get a consensus to meet.
I am pleased to find that there is a place on the web that at least mentions our existance. I am proud of my service in that unit.
---
1st Missile Battalion, 38th Artillery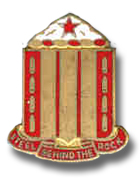 1st MSL Bn. 38th Artillery DUI
(Source: Webmaster's collection)
In the early months of 1956, the 1st Missile Battalion, 38th Artillery, formerly the 531st Field Artillery Missile Battalion, was sent overseas. With it came the CORPORAL Type II missile making it the first unit so equipped.

The battalion was assigned to Seventh Army with the tactical mission of furnishing support to V Corps Artillery.

Since its arrival in Europe as part of the NATO team, the battalion has been undergoing continued and extensive training both in the field and in garrison. The men and equipment of the "Steel behind the Rock" have presented demonstration of the CORPORAL missile to members of the NATO Alliance -- England, France, Germany, Italy, Turkey and The Netherlands. Displays have also been staged for the Seventh Army Commander's Conference, the NATO War College, and for students of several Target Analysis courses.

On July 21, 1958 the 531st Field Artillery Battalion was deactivated and immediately reactivated as the 1st Missile Battalion of the 38th Artillery.

---
1960
(Source: Email from Art Bracher)
I stumbled onto your website while looking for information on the various units to which I have been assigned. I service two tours with the Seventh Army.

The first (1957-59) with the Seventh Army NCO Academy in Munich, and participated in the relocation to Bad Tölz.

The second (1960-63) with the 1st Missile Bn (Corporal), 38th Artillery in Babenhausen, between Darmstadt and Aschaffensburg. We deactivated the 1/38 in 1962 (or early 63) and most of us moved on to 2nd Missile Bn (Corporal) 84th Artillery in Mainz/Gonsenheim.

I was disappointed that neither of these battalions was included in your coverage of Field Artillery units in the 1950's and 1960's.
---
1961
(Source: Email from Neil P. Albaugh)
One thing, Walter. Corporal missile units traditionally returned to the US for their missile firing practice. They went to Ft. Bliss and used the existing support vehicles and equipment there to fire a few missiles at the Ft. Bliss range and then returned to their post in Germany.

As an experiment, this was changed one year (perhaps more than one year- I wasn't there later) so the 1/38th Artillery and my 157th Ordnance Detachment were sent to a British missile range in the Outer Hebrides off the NW coast of Scotland. All of our equipment, including a radar van, Doppler radar van, computer van, and support vehicles together with all personnel were loaded into large USAF cargo planes in Rhein-Main USAFB and flown to the Benbecula Aerodrome where we landed. Landing was exciting - brakes, reversed props, and still we used all the available runway. We were billeted in the British barracks at the Royal Artillery Guided Weapons Range on South Uist. We ate in the British mess hall, mutton for breakfast, mutton for lunch, and mutton for dinner. I wouldn't have survived if there had not been a tiny NAAFI store that sold Cadbury chocolate bars.

We set up our equipment, ran a checkout, and fired a Corporal Type IIB out into the Atlantic at a designated point as a target. There was a British radar station on the tiny isolated island of St. Kitts that determined the missile accuracy and scored our launch as a hit. Our second launch a day or two later looked successful but as the missile reached a high altitude it exploded. We were very disappointed but later learned that a British Range Safety Officer had accidentally destroyed it. His "Destruct" switch was ON when he turned on his control but, as it was a vacuum tube circuit, it took some time to warm up and when it did it sent out a radio "destruct" command. Since that missile was on a correct trajectory, we were given credit for a hit.

I should note that there was a Soviet "fishing trawler" out in the range impact area at the time but we were given orders to go ahead and fire anyway.

Our last launch ran into problems. Ever wonder what happens after "5..4..3..2..1..FIRE"? and nothing happens? Its "A..B..C..D.." when that count reached "J" the launch was aborted. Normally at launch, valves release the fuel (analine with a shot of furfuryl alcohol for starting) and oxidizer (red fuming nitric acid) from pressurized tanks inside the missile through burst diaphragms into the rocket motor combustion chamber, immediately starting to burn. Unfortunately, the fuel line burst diaphragm was defective and did not burst which allowed only the red fuming nitric acid (RFNA) to spray into the rocket motor. Not combusting, it simply sprayed out the nozzle on to the launcher and tail of the missile. Decontamination crews came in and rendered the site safe after a time and the 1/38 Artillery crew found that the RFNA had done major damage to the rear fins, where the servo mechanisms are located which steer the missile on its flight. Although this was far more serious damage than an Ordnance Direct Support unit would be normally called on to repair, my men worked through the whole night to fix the damage. In the morning we launched that "ruptured duck" with fingers crossed and probably a few prayers and it was also successful! We returned to Germany with upturned brooms tied to our vehicles as WW II submarines had done, signifying a "clean sweep. I was immensely proud of the job that we had done to contribute to our overall success.

So much for "war stories". Smile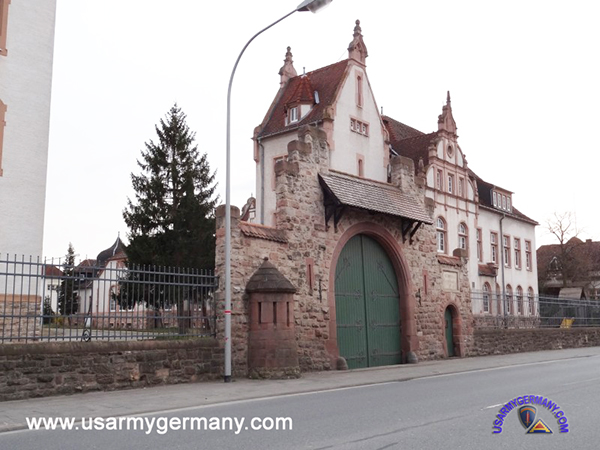 Babenhausen Kaserne, 2013 (Neil Albaugh)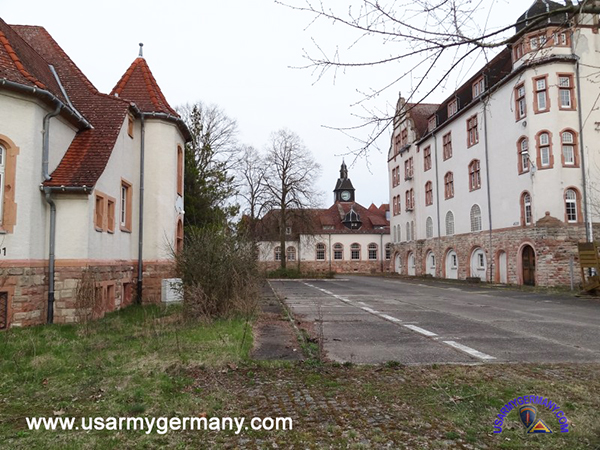 Babenhausen Kaserne, 2013 (Neil Albaugh)
My wife and I travelled to Germany a few years ago (2013) and one of he places we visited was my old Kaserne at Babenhausen.

I had been stationed there from 1961 to 1963 with the 157th Ordnance Detachment, supporting the 1st Missile Battalion 38th Artillery, a Corporal IIB missile unit.

The Kaserne had been closed so I did not get to enter, only take some pictures from outside the fence.

Interestingly, I spoke to the lone guard inside the fence and it turned out that he was a former East German officer!

Neil Albaugh



---
553rd FA Bn (8in How)(SP) - 3rd How Bn, 18th Arty
553rd Field Artillery Battalion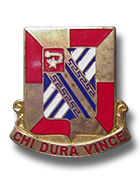 553rd Field Artillery Bn crest
(Source: HISTORY OF THE 553d FIELD ARTILLERY, written by Harold L Holland, 2000)
Under Operation Gyroscope, the 553rd Field Artillery Battalion, Ft. Sill, OK, was ordered on January 19, 1956 to prepare for a unit transfer to Darmstadt, Germany. The advance party was to arrive by May 15, 1956 and the main body by July 12, 1956. Travel was accomplished aboard the USS General Alexander M. Patch. The unit to be replaced at Darmstadt was the 18th Field Artillery Bn.

Once in Germany and under the command of the 36th Artillery Group (Babenhausen), the mission of the 553rd was to provide direct support to V Corps units and to maintain a constant state of combat readiness to protect the interest of NATO and 7th Army.

In September of 1957 about 300 of the original men of the 553rd FA Bn were replaced by a packet of that same amount from Ft. Sill.
---
1958
(Source: Email from Richard Thornton)
I was stationed at Ft Sill in 1957 with the 553rd FA. We were a Gyro unit that had been in basic training at Fort Leonard Wood in Missouri. Upon our completion of the 2nd eight at Ft Sill we went by Troop Train to the Brooklyn Terminal in NY. Departed from NY Oct 1958 on the U.S.S. Darby.

Landed in Bremerhaven Germany, from there by Bus to Darmstadt were we replaced the 18th F. A. Battalion.

We were the 553 F.A, Battalion. The Honest John and Corporal missiles were assigned at the Ernest Ludwig Kaserne along with the 280 mm Cannon.

I was with the HQ Battery of the 553rd. No mention anywhere of the 553 rd. The Battalion crest read Chi Dura Vinci he who endures conquers. Obviously we were all part of the 7th Army.
---
3rd Howitzer Battalion, 18th Artillery
1960
(Source: Email from George R. Hanselman)
Just finished viewing your web page on USAREUR artillery. I was with the 3-18th Artillery in Darmstadt, Germany 1960-1963. We were an 8inch towed howitzer unit with nuclear capabilities. Also on our kaserne was the 28th artillery, an Honest John unit and the 38th artillery, the 280mm Atomic Cannon. I found the information on your site very interesting. Brought back memories from so long ago. Never had the privilege of seeing either the 280mm or the Honest John being fired.

Spent quite a lot of time in Grafenwohr however. The 3rd of the 18th had a terrible accident at Graf on the 2nd or 3rd of Sept 1960. It fired a long round and several lives were lost.

---
594th FA Battalion (8in How)(SP) - 2nd How Bn, 92nd Arty
594th Field Artillery Battalion
(Source: Unit History compiled in 2004 by Robert Shook and other former members of the 594th FA Bn)
Robert has completed a project that involved finding and contacting many former members of the 594th Field Artillery Battalion, a 155mm SP unit that served in Germany from 1952-1958.

The personal recollections and great photos included in this unit history relate the story of the outfit from its formation at Camp Polk, LA in 1950 as an all-black artillery outfit; its arrival in Mannheim in late 1952 and subsequent move to Rivers Barracks, Giessen; its attachment to the 36th Field Artillery Group; the integration process; and its final inactivation in Germany in 1958.

The great efforts of Robert and the other contributors has resulted in a fascinating unit history that should serve as an inspiration for others who want to see their units' accomplishments and their personal experiences recorded and passed on to future generations.


---
(Source: Email from Jim Janowicz)
Correction
As I was doing a bit of research on artillery units in Germany during the 50's, I have found that in a number of places in the history the WRONG weapon being listed for the 594th Heavy Field Artillery unit in Giessen.

From 1952 thru 1958 the CORRECT WEAPON SHOULD BE ----- 155mm Long Tom Gun SP ---- NOT a 155mm (HOW) SP.

I was in the FIRE DIRECTION CENTER 1953 THRU 1956.

Plus in 1955-56 our unit fired the highest score ever fired by a 7th Army Unit. We were even written up in the Stars & Stripes.
---
(Source: Email from Joseph Diggs, 594th FA Bn)
The 594th FA Bn was reactivated in Octover 1950 at what was then Camp Polk, LA as an all-Black unit while the Armed Forces were still segregated. The battalion's first commander was Lt. Col. Harry A. Randle.

The unit had five batteries:


Hq Battery


"A" Battery


"B" Battery


"C" Battery


Svc Battery

The armament was the 155mm gun. There were four guns in each firing battery.

In February 1952, the battalion was deployed to Germany and was stationed at what was then known as Y-79 (and today is called Coleman Barracks) in Mannheim, Germany. Shortly thereafter, the unit was moved to Rivers Barracks in Giessen.

It was still at Rivers when I left in October 1953.
---
(Sources: 142nd Field Artillery Group, Germany, 1954 and 36th Field Artillery Group, 1953)
Upon the battalion's arrival in Germany in February 1952, the 594th was initially attached to the 142nd Field Artillery Group (stationed in Baumholder).

In January 1953, the 142nd FA Group was moved to Wertheim. Effective 23 January 1953, a swap between the 142nd and 36th FA groups was effected. The 594th was relieved of attachment to the 142nd and attached to the 36th FA Group. Concurrently, the 631st Armd FA Bn was relieved of attachment to the 36th and attached to the 142nd FA Group. The new assignment necessitated the move of the 594th from Mannheim-Sandhofen to Giessen to be closer to the units it supported.
---
2nd Howitzer Battalion, 92nd Artillery
2nd How Bn, 92nd Arty
(Source: Letter from Joseph Mondzak, 2nd How Bn, 92nd Arty; HHC 4th Logistical Cmd; 1st Bn, 94th Arty)
As a very young First Lieutenant of Artillery I joined the 594th FA Bn in July 1958 at about the same time it was redesignated as the 2d Battalion, 92d Artillery. I remained with the 2/92 at Rivers Barracks until July 1961.

The battalion was equipped with the M55 8-inch Howitzer, Self-Propelled. We did have a nuclear capability. I spent an enormous amount of time at Grafenwoehr either taking a DASA, DAIG, USAREUR, V Corps or ATT with my unit ... or serving as an inspector while a sister battalion was being tested.

I remember vividly the horrible artillery accident at Grafenwohr on 2 September 1960 that killed 16 members of the 12th Cavalry and wounded 26 others. We were in a firing position less than one-half mile from the unit that fired the fatal round.

I have some photographs from my tour with the 2/92 and would be happy to share them Some are poor quality and not suitable for scanning and emailing. Each is identified as to time and place.

Enjoyed the web site very much. Good job.



2nd How Bn, 92nd Arty
Giessen






1. Pass in Review (KB)

2. HHB 1961 (KB)

3. (KB) Front -- Back



| | |
| --- | --- |
| | US Army Housing Area, Giessen. |
| | US Army Housing Lincolnstrasse, Giessen. |

---
7th Field Artillery Battery (762mm Rocket)
1953
(Source: Letter from Bob Graziano, 7th FA Btry (Rkt), 1953-1955)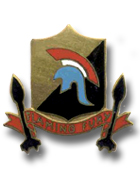 7th FA Battery (Rocket) DUI
I served with the 7th FA Rkt Btry from its inception at Fort Sill, Okla. and deployed with it to Germany in Oct 1954. I rotated back to the States in Oct 1955. I was a chief of section of a radio crew. We were stationed in the Ernst Ludwig Kaserne.

We were a "Bastard" outfit attached for finances to the 216th FA Bn. We were a 762mm Honest John Rocket Battery. This was a free-flight rocket capable of going 20 miles. We trained along with the Atomic Cannon and the standard 155mm guns. If I remember correctly we were part of V Corp Artillery. Has anyone ever heard of us?

Currently, in front of an Armory in Wildwood NJ, sits an old Honest John Rocket and Launcher. I asked at the armory for a history of the weapon, but no one can give me one. Our outfit fired the first one of these weapons, outside of those fired at White Sands Proving Grounds. In fact I painted the name of the rocked before it was fired. Myself and another guy by the name of Charlie Mendez. Under the name on the rocket, we signed it with the name Menziano, incorporating both our names. I also designed the Unit Crest that appears on your Web page.

Mr. Herbst was correct, the 7th had the honor of firing the first one.

Last week I was able to contact another good buddy that I haven't spoken to in 50 years. Will get to see him in May. Understand now the Ernst Ludwig Kaserne in Darmstadt has been closed. Went back on a trip in 1987 and actually toured the post with my wife. A part of history is now gone. Thanks for keeping it alive.
Bob Graziano
---
(Source: Letter from Henry E. Herbst, 7th FA Btry (Rkt), March 1954-Sept 1956)
Individual History
I was sworn in on Oct 5 1953 at Pittsburgh, PA. At that time I was 17 years old and fresh out of high school. I was sent to Ft. Meade, Maryland, then to Aberdeen Proving Grounds for eight weeks of basic training. Then to Camp Chafee, Arkansas, for 8 weeks of FDC training for 105mm howitzers, Battery D-95. In early March of 1954 I was assigned to the 7th FA Rkt Btry at Fort Sill, Oklahoma. I Served with this outfit until late September 1956. Seperated Oct 4, 1956 at Fort Dix, NJ.

7th Battery History (from my perspective)
In early March 1954, many members of Training Battery D-95 were assigned to the 7th FA Rkt Btry of the 1st Rocket Battalion (Provisional). Other batteries included the 1st, 5th and 84th.

As the troops began arriving they were told a new type of weapon was being introduced in the next few weeks and equipment would be arriving. In the coming weeks we received field gear and personal weapons. Gradually, the launchers, cranes, cargo trucks, trailers, 2½-ton and ¾-ton vehicles and jeeps arrived.

Men were selected for specialized training. A group was sent down to Main Post for Radio CW training; I was incldued in that group.

By the beginning of summer we were going on field exercises among the buffalo herds on the ranges of Ft. Sill. We had to deal with heat, rattlesnakes and chiggers.

I do believe we launched the first rocket outside of White Sands, New Mexico, in the summer of 1954. We trained constantly and by late fall were informed that the unit was being sent to Germany.

After weeks of packing and preparing vehicles and equipment for overseas movement we departed Ft. Sill by train in late November 1954 for Camp Kilmer, NJ. Soon we were bound for Bremerhaven, Germnay, on the (troop ship) USS Buckner. We arrived mid-December and were sent by train to Darmstadt. We were billeted at Ernst Ludwig Kaserne.

After the vehicles and equipment caught up with us we spent several months showcasing the Honest John for military brass from all services and NATO countries. We then settled in to field problems, alerts and NATO maneuvers with trips to Grafenwoehr. We participated in NATO Operation "Cordon Blue" with the French and English. The 7th was on its way to a field exercise when my orders arrived to go home in late September 1956.

Over time I have lost track of old Army buddies. I hope with the posting of this history a connection may be made again.
List of some Personnel with the 7th FA Btry
| | |
| --- | --- |
| Btry Commander | CPT Arthur J.E. Yonkers |
| Btry Exec | 1st LT James King |
| Junior Officers | LT James Kelly; LT Oliver Brockman; LT Leo Hergenroter; LT James Huffner; LT Stenson; LT Noel; LT Lamerinex (sp ?) |
| 1st Sgts | Benjamin Couch; C. Thomson; Less Walker; Charles Hudnall |
| Btry Clerks | CPL Willis Brinker; then PFC Thomas Hughes |
| Mess Sgt | SFC Schurny (sp ?) |
| | | | |
| --- | --- | --- | --- |
| | | | |
| 1. Henry Herbst with a 5-ton wrecker | 2. Two HJ launchers | 3. 7th FA Btry motor pool | |
| 4. HJ Rocket storage area | | | |

---
5th Missile Battalion, 77th Artillery (SGT)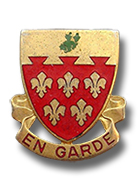 5th MSL Bn, 77th Arty crest
(Source: Email from Edward Guffey)
I was a crewman on the Sergeant Missile, A Btry, 5th Bn, 77th Arty. We were deployed to Babenhausen, Germany in Jan 1963. Our Bn commander was Lt Col Edwin Burr.

We fired the first Sergeant missile on Crete Island in 1964.

As a crew we had a lot of interesting times in the two years we were there. The most exciting was when we went to Nuremburg for the visit of President Kennedy. Everything had to be in tip top shape. We had the missile and the cannon cockers had their guns set up along the street. If you had anything that could be in view of the president it had to be painted. The crew that was close to us was the atomic cannon. They would put a light charge in it and fire it just showing off.

The day before the president arrived we had finished lunch I went back to the missile I noticed the gun crew were giggling and laughing. I watched them put in a White charge then a Red charge they closed the breech and they covered their ears. They fired it and woke everybody up. Then we heard a crashing sound. There was probably a thousand window panes in the old Library we were in front of. Ninety percent of them fell out.

My most memorable time was when General Abrams, our V Corps commander, wanted to see us build the missile. We were in the field waiting on him when Major General Truman came and told us the General wouldn't be there so he would watch us assembly it. One of my duties was to connect the cables inside the warhead. I climbed in and was connecting them I felt an arm on my shoulder. I thought it was General Truman. He asked if they were tight. I said: "Yes Sir." He reached up to check them. All I could see were the four stars on his collar. I have never been that nervous. I wish I could have talked to him about General Patton when Patton went in and relieved the men at Bastone. Colonel Abrams was on the first tank that went into the town.
---
(Source: Email from Philip St.John)
The 5th Bn 77th Arty(SGT) was deployed to USAEUR and was stationed at Babenhausen, Germany in October 1962. Some of the units vehicles were damaged at the Ft.Sill railhead during preparation for overseas deployment. The unit was giving vehicles drawn from other organizations to meet the deployment date.

The 5/77 shared the Babenhausen post with a HAWK antiaircraft unit and a Military Police detachment during the early months. This was the first Sergeant Missile Battalion that was deployed to Germany. The unit was assigned to 36th Field Artillery Group under V Corps which in turn was assigned to 7th Army.

I left the about August of 1963 on a MEDIVAC to CONUS.

---
3rd Missile Battalion, 79th Artillery (HJ)
1960s
(Source: Letter from Jack M. Pollin, 3rd Bn, 79th Arty, 1960s)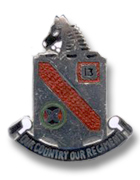 3rd Bn, 79th Arty DUI

I served in USAREUR from 1960 to 1969. I was in the Operations Division of the staff for the first 18 months and for the last 18, I commanded an Honest John Battalion.

My battalion was the 3rd Bn. 79th Arty. We were stationed in Giessen, attached to the 36th Arty. Group. We supported the 3rd German Corps that was headquartered in Koblenz.
---
(Source: Email from Claude Barker, 3rd Bn, 79th Arty, 1962-64)
I was in the 3rd Bn, 79th Arty in Giessen, Germany. LTC Pollin was my Battalion Commander. I served with him from Jan 1962 to Jan 1964.

We spent more time in the woods then any other outfit in Germany. We trained, trained, and trained some more. I remember some of the wives went back home (States) because we were always in the field. We were either getting ready for a inspection or going to the field. When in the field we ran fire missions night and day. Always looking for the chow truck, the cooks could never keep up with us. Sometimes we would eat 1 or 2 times a day; sometimes none. We were always cold and wet, because the weather was always bad. He slept in a tent, we slept in the open whenever we got to sleep. When we got back from the field, we worked every weekend always getting ready the IG, or some kind of "show and tell" inspection.

After 2 years in the 79th I was a very happy camper when they said I could go home.

---
3rd Battalion, 80th Artillery (Sergeant)
1960s
(Source: Letter from Paul ..., 3rd Bn, 80th Arty, early 1960s)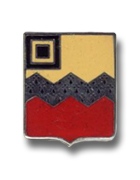 3rd Bn, 80th Arty DUI

3rd Bn, 80th Arty (Sergeant) was assigned to Ernst Ludwig Kaserne, Darmstadt. H&HB was in the second bldg. on the left of the main gate with the firing batteries in the next bldg. I can say that to be true from at least late 1965 to late 1967.

At that time the 1/26 TAB was in the first bldg. on the left and attached to the 3/80. In '66 or '67, a Hawk Bn. moved onto the Kaserne into the bldg's. directly across the parade field from the 3/80th. I cannot remember the unit designation. One funny note is that the Hawk unit had a St. Bernard as a mascot who would come over to our unit and walk guard with our guys.

BTW, the 3/80th had the best morale of the Sergeant Bn's then in Germany and the best firing record for the period noted above if my memory serves me correctly.

The 3/80th was directly assigned to 7th Army and firing orders were only from HQ 7th Army.

BTW, here is something of possible interest from the 1960-63 period of Ernst Ludwig Kaserne:
http://www.3-18artillery.com/wooley.html
Paul
---
(Source: Email from Daniel Hatton, 3rd Bn, 80th Arty, 1964-66)
Periodically, I surf to your website to see if there are any updates to information. I'm not sure how I can help or what you might be interested in receiving.

I served with both the 1/26th (about 2 months) and then the 3/80th FA on ELK (Ernst Ludwig Kaserne), Darmstadt, Germany from Spring 1964 until Summer 1966 (then assigned to a Hawk Missile unit in Key West, FL) until 1967.

After Basic Training at Ft. Ord, CA and Field Artillery School, Ft. Sill I was shipped on the USNS Darby to Bremerhaven, then traveled by train to Darmstadt, and finally by bus to ELK. While in the 1/26th I was sent to a short course in Army Finance & Accounting in Frankfurt, then spent the remainder of my time as a finance clerk (HHC 3/80th). However, I pulled my fair share of KP, guard duty (POL storage across the street), and field duty. I loved it, the unit, and the people. I was 19 years old at the time.

During my tour, I met Gerda (from born in Darmstadt & raised in Griesheim) and we were married in downtown Darmstadt 3 June 1966 (Courthouse as required by German Law), then in the Cambrai Kaserne Chapel on 4 June 1966. We have a daughter who was also married in the Cambrai Kaserne military chapel in 1995. Gerda & I are happily married (42 years as of this email) and reside in San Diego, CA.I purchased my first 35 mm camera in Darmstadt in 1964. We have a couple of hundred slides I am converting to electronic media. These include a major Change of Command ceremony on ELK as well. Don't know if there might be interest in them after I put them in e-media. Gerda & I have traveled frequently to Darmstadt & Griesheim over the past 42 years & have many pictures (to include ELK as it went through changes). Gerda is the first female pilot (hobby) from Griesheim where Germany aviation was actually born and a major part of the Darmstadt & Griesheim newspapers were devoted to her accomplishments a few years ago.I had a break in military active duty between 1967 and 1974 (was in the reserves for 3 of those years). I returned to Active Duty (Direct Commission in the Army Medical Service Corps) in July 1974 and retired August 1998 (30+ yrs of service) as a Colonel. We were stationed in Germany several times over the years. In fact, I was a member of the Medical & Signal Teams that closed Berlin and many military hospitals during the downsizings that took place between 1993 & 1995 in Germany. As a side note, I helped my German In-Laws essentially rebuild their Griesheim home (second story up) between 1964 and 1973 brick by brick. An allied bomb went through the roof in 1944, didn't explode, but demolished the dwelling. It's still standing and is now Gerda's and her brothers. My father-in-law is still well and living – another story. My father-in-law Gerhard Gotter was originally from E. Germany, served in the German Navy during WWII. He was also an a POW (in British & American camps) at the end of the war. Educated as an electrician before WWII, he worked at Rhein Main AFB for several years after WWII, then went to Merck Darmstadt for the remainder of his career. My mother and father-in-law accepted me with open arms, traveled to the USA frequently over a 40 year period – to include traveling with us on military moves. It all began with me being stationed at ELK in Spring of 1964.

Gerda and I are now semi-retired, boat a lot here in San Diego, travel frequently, and still work part-time, but mostly life has been good & there's no end in sight just yet!

---
Related Links:

Babenhausen Kaserne
- Lars Hagen has started a nice web site that covers Babenhausen Kaserne and the 36th FA Group in the 1960s.
The Red Scarf Club
- This web
site is dedicated to veterans, dependents and others associated with the 553rd Field Artillery Battalion at Darmstadt between 1956-1958
)