If you do NOT see the Table of Contents frame to the left of this page, then
Click here to open 'USArmyGermany' frameset
USAH Bad Cannstatt
7th Medical Command
Looking for more information from military/civilian personnel assigned to or associated with the U.S. Army in Germany from 1945 to 1989. If you have any stories or thoughts on the subject, please contact me

.
---
---
Research Request
1. Aerial & ground photos of the hospital, all eras
Requester: Webmaster
Subject: Looking for period photos of the US Army Hospital at Bad Cannstatt as well as outlying medical dispensaries and dental clinics administered by the Army hospital or Bad Cannstatt MEDDAC from 1945 to 1990s.
Contact: webmaster
USAH Bad Cannstatt History
Hospital Units Operating at Bad Cannstatt
| | | |
| --- | --- | --- |
| Aug 1945 - Oct 1945 | | 216th General Hospital |
| Oct 1945 - Oct 1949 | | 387th Station Hospital |
| Oct 1949 - Aug 1951 | | 11th Field Hospital |
| Aug 1951 - Sep 1958 | | 5th General Hospital |
| Sep 1958 - Jun 1962 | | 75th Station Hospital |
| Jun 1962 - Jul 1992 | | 5th General Hospital |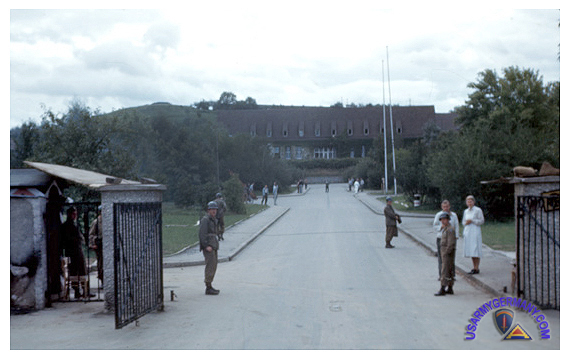 Entrance to the 216th General Hospital, Bad Cannstatt, 1945 (www.med-dept.com)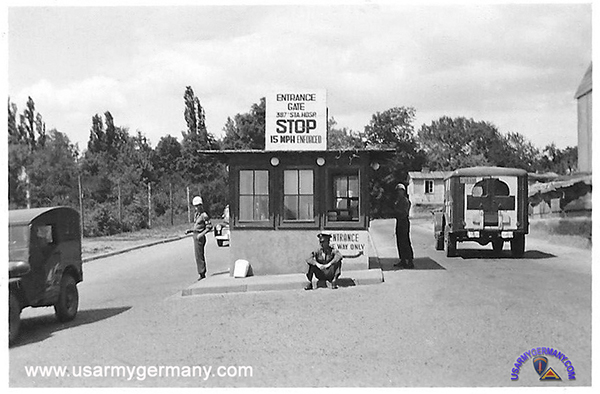 Main gate to the 387th Station Hospital, Bad Cannstatt, 1946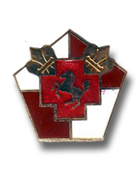 5th General Hospital DUI
1955
(Source: USAREUR Medical Bulletin, July 1955, Vol. 12, No. 7)
Comprising a total of 44 buildings, 10 of which have been erected by the U. S. Army since World War II, is the U. S. Army Hospital at Bad Cannstatt, a suburb of Stuttgart once visited by Caesar's Roman legions because of its healthful waters and later a meeting place for Europe's nobility.

Located not far from the Neckar River, original construction of the hospital began in 1879. Two years later six buildings had been completed and the Municipal Hospital of Stuttgart was established with a bed capacity of 80. More buildings were added in 1908, 1923, 1926 and 1933.

Work on the hospital's largest building was begun in 1937 and completed by the U. S. Army following the war.

The facility has been operated by the 5th General Hospital unit since August 20, 1951.

Having a present bed authorization of 375, its commanding officer is Colonel Emmett M. Smith, MC.
---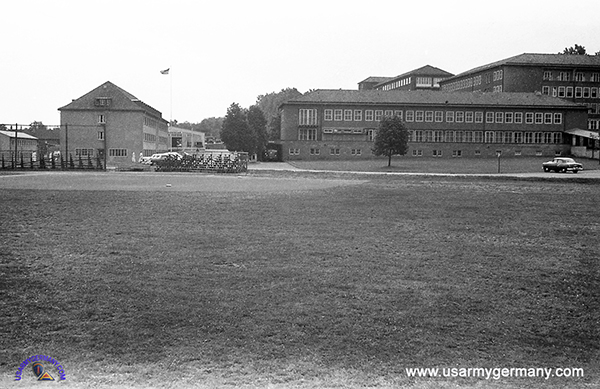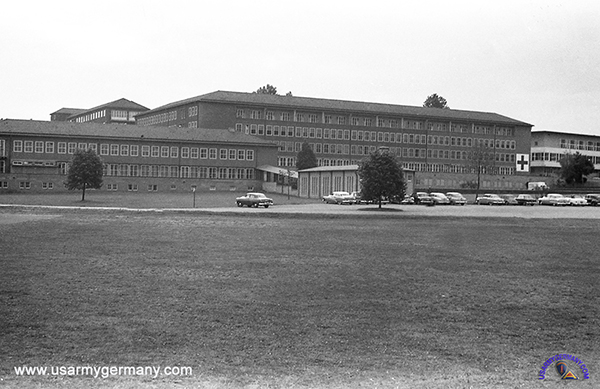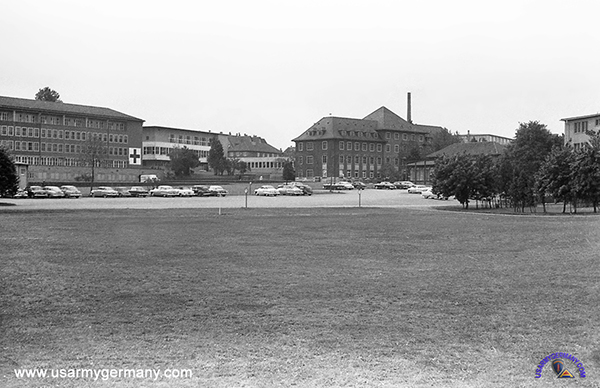 1955
(Source: Emil from Lauren Espinoza, daughter of Ausdille Travis Hamilton who served with AMEDS Detachment, 5th Gen Hosp))
I found your website while doing some family history research. I have recently scanned hundreds of slides my father took while stationed in Germany with the U.S. Army from May 1955-October 1956. His orders show that he was stationed at US Army Hospital, Bad Cannstatt, APO 154.

If anyone can provide details and/or identify any of the buildings, please contact the webmaster (email link at top of page).



5th Gen Hospl
Bad Cannstatt






1. Mess hall?

2. Enlisted barracks

3. Fire Department



4. 5th Gen Hosp




---
1961
(Source: USAREUR Medical Bulletin, May 1961, Vol. 18, No. 5)
Situated in the picturesque spa city of Bad Cannstatt, a thriving community even in the days of the Roman Empire, is the US Army Hospital, Bad Cannstatt operated by the 75th Station Hospital. This facility acts as a community hospital affording medical and dental care to several thousand military personnel and their dependents.

The Bad Cannstatt Hospital is also the operating agency for the Stuttgart Medical Service Area, an area which is approximately the size of Stuttgart Post. In the area, in addition to the hospital at Cannstatt, are eight medical clinics, eleven dental clinics, a veterinary food inspection unit and a preventive medicine unit. All of those facilities are coordinated by the hospital. Approximately 450 officers and enlisted men and women operate these medical facilities.

The hospital is located almost in Stuttgart but actually in the city of Bad Cannstatt. Bad Cannstatt is much older than Stuttgart and is separated from Stuttgart by the Neckar River. In Bad Cannstatt are located twenty-two mineral springs which yield 20,000 liters of water a day and are known as one of the greatest mineral springs in Europe. Also located on the banks of the Neckar is the area of an "Oktoberfest" which is the second largest fest of its kind in Germany.

The hospital building is a municipal hospital plant of the city of Stuttgart. It is four miles from downtown Stuttgart in the direction of Nurnberg. There are 38 acres of permanent masonry type buildings connected by a series of tunnels. The tunnel system allows ambulatory patients greater recreational freedom in that they can visit the exchange, snack bar, barber shop, post office, and theater without being exposed to the weather. The tunnels also provide passageways for food carts, library carts, and the movement of patients from various areas.

For aerial movement of patients, the hospital has a frequently used lighted heliport on the grounds.

The hospital features several recreational facilities which are available to both patients and duty personnel. Included are a modern movie theater, swimming pool, enlisted men's club, softball diamond, special service library, and a Red Cross recreation room. Red Cross personnel have been outstanding in their efforts to provide for all personnel and bed patients in particular. The ladie's clubs in the area have also contributed much to make the patient's stay in the hospital more enjoyable.

The hospital has its own Chapel and a smaller Chapel within the hospital. A new bowling alley has just been completed and a new administration building is about ready for use. A new ten story building houses the WAC Detachment.

The hospital prides itself on its many achievements in community relations. German physicians are regular guests at the monthly evening professional conferences and the German civilians in nearby communities are invited to open houses. Each year the hospital trains approximately thirty German corpsmen as medical specialists.

The 75th Station Hospital, operating unit of the Bad Cannstatt Hospital, was formerly designated the 5th General Hospital. It was first organized in February 1916 as Base Hospital No. 5 at Harvard University, Boston, Massachusetts. The hospital went to France in June 1917 and performed an outstanding service to the sick and wounded and contributed much to military medicine. Two of the outstanding contributions were in the field of brain surgery and in the introduction of blood grouping to allied units. The hospital was demobilized 2 May 1919 and reactivated several times; the last time being on 20 August 1951.

Colonel Raymond Maret, MC, is the Commanding Officer of the hospital and the Stuttgart Medical Service Area. A former Washington, D.C. physician, Colonel Maret started his Army service in 1942. He was assigned to Bad Cannstatt following a tour as Chief of Professional Services in the First Army Surgeons Office.

Key members of the staff include Colonel Christian Gronbeck, Jr., Chief of Medical and Professional Services; Colonel Charles K. Reger, Chief of Dental Service; Lieutenant Colonel Jewell Derryberry, ANC, Chief Nurse; and Lieutenant Colonel Chris D. Hoover, MSC, Executive Officer.

---
1969
(Source: USAREUR Medical Bulletin, Feb 1969)
The United States Army Hospital, Bad Cannstatt is operated by the 5th General Hospital. Located on a site which has often been used by the medical profession, the facility has a long and colorful history.

The first hospital to be established on the grounds was build in 1881. New buildings were added on a regular basis until 1937, when the German military services took over the Municipal Hospital Bad Cannstatt. Suffering only minor damage during the war, the buildings were used by the French, then by a series of American medical units including the 216th General Hospital, the 387th Station Hospital and the 11th Field Hospital.

Today, the 29-acre site is the major medical facility of the Stuttgart Medical Service Area, which parallels the US Forces Support District Baden-Wuerttemberg, and is responsible for eight separate medical dispensaries, 11 dental clinics, one veterinary food inspection unit and a small animal clinic.

The primary mission of the Stuttgart MSA is to provide medical, dental, and veterinary care to military personnel, Department of the Army civilians, and their dependents, as well as providing hospitalization for all authorized personnel in the Medical Service Area.

The 5th General Hospital is commanded by COL Ellsworth L. Miller, MC, who also serves as District Surgeon for the US Forces Support District of Baden-Wuerttemberg.
---
1969
(Source: USAREUR Medical Bulletin, Vol. 40, No. 2/3, Feb/Mar 1983)
Situated amidst the countryside landscape of the Black Forest to the west and the Swabian Alp to the south, the 5th General Hospital serves as Headquarters for the United States Army Medical Department Activity, Bad Cannstatt.

Operating in the state of Baden-Wuerttemberg, the third largest state in the Federal Republic of Germany, the Bad Cannstatt MEDDAC treatment facilities provide health care for more than 54,000 service members, Department of the Army civilians, dependents, and other personnel authorized medical care at US military medical facilities. Those serviced by the Bad Cannstatt MEDDAC are located throughout an area equal in size to the states of Maryland, Delaware, and the District of Columbia combined.

The facility presently occupied by the 5th General Hospital was first inaugurated as the municipal hospital of Bad Cannstatt in 1881. While no structures have survived from that time, several foundations currently support newer constructions. During World War I, the hospital continued as a civilian institution, but during World War II, the facility was largely taken over by the German military. During the night of April 14, 1943, the facility was bombed by the Royal Air Force destroying several buildings including the original headquarters. This was, however, the only damage done to the hospital during the extensive World War II bombings of Stuttgart.

On April 21 and 22, 1945, Stuttgart was occupied by the Allied Forces and the French moved into the hospital at Bad Cannstatt. In July, the faciIity was occupied by the American Forces and several medical units operated from this site until the 5th General Hospital moved to the Bad Cannstatt location in 1951.

Until mid-1961, the 5th General Hospital was a 700-bed hospital on 46 acres of land, but with the cutback of authorized beds in the command, a portion of the hospital, consisting mainly of newer buildings, was returned to the German Government. Currently, the hospital, which is authorized 175 beds, occupied a five-story main building and several two- and four-story buildings, all interconnected by tunnel passageways. On these premises are two medical­surgical wards, a medical-surgical intensive care unit, an obstetrics suite, an alcoholism treatment facility, an emergency room, and a number of specialty clinics.

Because of the large area of responsibility, the Bad Cannstatt MEDDAC operates medical clinics in Heilbronn, Schwaebisch-Hall, Schwaebisch-Gmuend, and Goeppingen in addition to three medical clinics and one troop medical clinic in the Greater Stuttgart area.

The Activity is tasked with providing medical and veterinary care along with emergency treatment and hospitalization for all authorized personnel. Emergency treatment is also provided to local and third country nationals as outlined in Army Regulation 40-3. The 5th General Hospital maintains an average of 125 beds occupied with an average of 18 admissions and 2.5 live births daily. An average of 850 patients are treated daily on an outpatient basis in the MEDDAC's faciIities.

The 5th General Hospital has most specialty capabiIities with a spectrum ranging from general and internal medicine to psychiatry, psychology and social work services. Other specialties include anesthesiology, general surgery, urology, ophthalmology, otolarhngology, pathology, obstetrics and gynecology, and pediatrics. Care is provided by the MEDDAC's 45 military and 30 civilian physicians, 38 military and 50 civilian nurses, two veterinary officers, 33 administrative and allied services officers, 515 enlisted personnel and 336 civilian employees.

Along with providing medical support, various activities including preventive medicine and many other specialties also conduct community education and preventive medicine programs in numerous medically related fields. The community dietician also provides invaluable community services throughout the MEDDAC with nutrition education, diet clinics, and weight control programs for soldiers, dependents, dining facilities, and health clinics.

Although the Bad Cannstatt MEDDAC takes pride in every area of health care offered - from well-equipped laboratory to the Central Materiel Section and administrative and other support activities - it is especially proud of its alcoholism treatment program.

Opened on the grounds of the 5th General Hospital on January 16, 1978, the USAREUR Alcohol Treatment Facility is a pilot Army program geared to combat the alcohol problem in the older, career-oriented service member, DA civilians, and dependents in the command. This new energetic program is conducted in a 50-bed treatment facility and consists of an intensive six-week treatment program. It includes extensive group therapy and education with lectures and guest speakers from all areas to include police, legal, and medical advisors, chaplains, dieticians, and other recovered alcoholics. In addition, assertiveness training is given when necessary along with alternative education, stressing other interests to replace alcohol use. Alcoholics Anonymous, ALANON, and ALA­TEEN meetings play a major role as well as a demanding physical fitness program which includes a daily two mile run, mandatory for both patients and staff.

Although the 5th General Hospital does not have the advantage of new, modern buildings, continual efforts have been made to ensure that the facilities remain on a level expected of a first-class hospital. A major building updating project is due to begin in late 1982.

Personnel assigned to the facility can boast about the quality of medical care provided. "We at the 5th General Hospital and throughout the Bad Cannstatt Medical Department Activity care!"
---
1992
Official Farewell Ceremony for the 5th General Hospital was held on 6 May 1992 at Bad Cannstatt, Germany.
If you have more information on the history or organization of the 5th Gen Hosp/USAH Bad Cannstatt, please contact me

.

---
Outlying Clinics
732nd Medical Detachment
1979
(Source: Email from K. Hankins)
I was assigned to 732nd Med Det. from 1979 to 1981 at Patch Barracks as a PA.

As far as I know, the 732nd Med Det was part of the Bad Cannstatt MEDDAC. The MEDDAC operated outlying clinics at Heilbronn, Schwäbisch Hall, Schwäbisch Gmünd, Göppingen, Nellingen, Robinson Barracks (Möhringen), Ludwigsburg and Patch.

---
Related Links: