If you do NOT see the Table of Contents frame to the left of this page, then
Click here to open 'USArmyGermany' frameset
62nd MP (Highway Patrol) Company
USAREUR Provost Marshal's Division
Looking for more information from military/civilian personnel assigned to or associated with the U.S. Army in Germany from 1945 to 1989. If you have any stories or thoughts on the subject, please contact me

.
---
---
History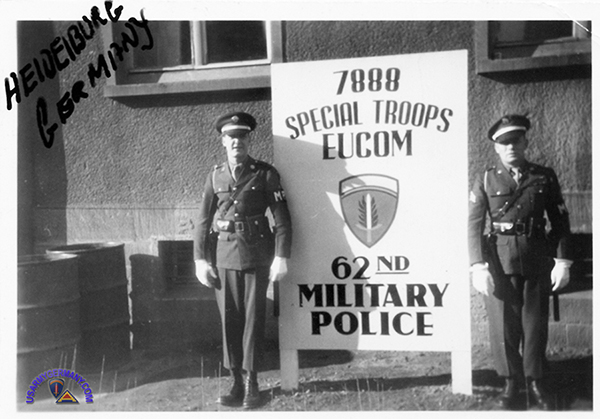 The company sign at Heidelberg, ca. 1950 (Webmaster's collection)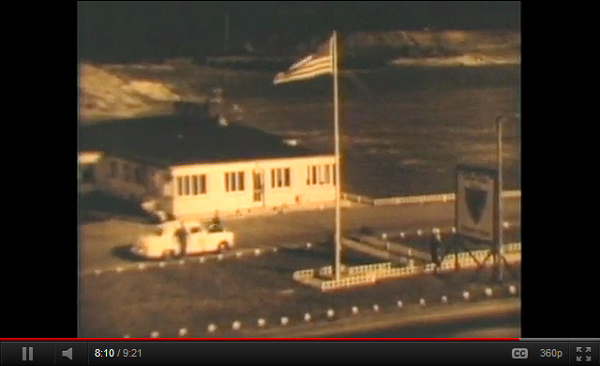 DoD Video: MP Highway Patrol in Germany, early 1950s (YouTube, link)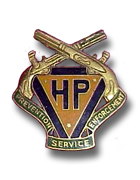 62nd Highway Patrol Company DI
EUCOM Highway Patrol
1948
(Source: OCCUPATION FORCES IN EUROPE, Third Year, Fourth Quarter, Vol III)
Post Highway Patrols
A significant change in highway traffic control was the establishment of a highway patrol at each of the military posts, except Berlin and Garmisch. The objective was to assure safety on highways and law enforcement in rural areas, as well as to provide assistance to motorists.
Units were provided with white motor vehicles prominently displaying the organization's insignia, and with radio equipment for intercommunication between stations and patrol cars.

---
(Source: OCCUPATION FORCES IN EUROPE, Fourth Year (1 July - 31 Dec 1948), Vol V )
---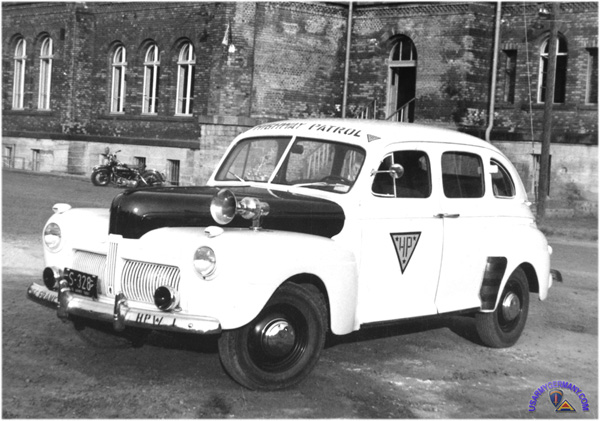 Highway Patrol sedan at Gutleut Kaserne, Frankfurt Military Post, August 1951
---
1951
(Source: STARS & STRIPES, March 4, 1951)
508th MP Bn Patrol car, early 1950s


The EUCOM Highway Patrol, with headquarters in Heidelberg, consists of 270 troopers and 11 officers. The unit operates a fleet of 131 vehicles -- 69 white patrol cars, 24 jeeps and 38 motorcycles. Personnel of the Highway Patrol are stationed at 25 patrol stations within the US Zone of Occupation.

Each HP patrol car carries extra gasoline, chains, extra shovels, tow chains, a jack capable of lifting ten tons, and wire cutters. The car also carries such equipment as flares, red warning flags, fire extinguishers and special repair and first-aid kits.

Each car is manned by an experienced, trained driver and a car commander. Frequently, a German state policeman (wachtmeister) accompanies the pair. They are there to aid in the enforcement of the law on Germans.
The first patrol was conducted in November 1948. Founder of the Highway Patrol was Brig Gen H. Norman Schwarzkopf (who designed the unit based on his experience with the New Jersey State Highway Police).

The Highway Patrol is one of several law enforcement agencies that fall under the EUCOM Provost Marshal. Chief of the Highway Patrol Section, Provost Marshal Division, Lt Col Andrew Eaken is also know as the chief of highway patrols.

Between October and April, the Highway Patrol maintains a road and weather condition service. These 24-hour reports are issued to the STARS & STRIPES and AFN or can be obtained by individuals by calling their local patrol station.

---
62nd MP Highway Patrol Company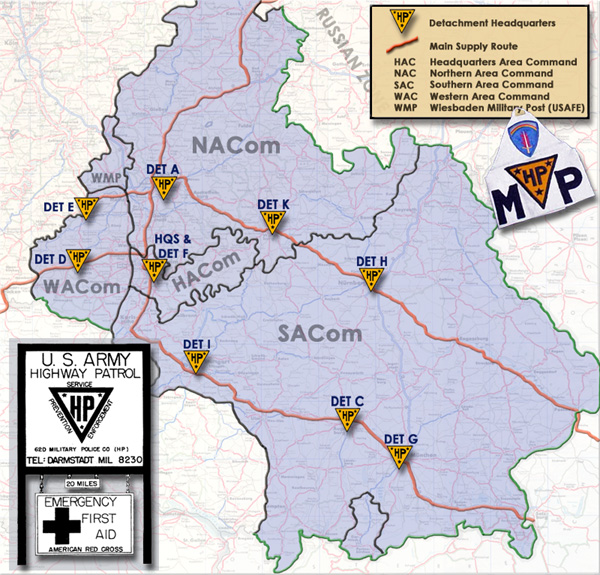 ---
1954
(Source: STARS & STRIPES, Dec 4, 1954)
1954 Ford Mainline Patrol car at the Seckenheim HP station


Early December 1954, STARS & STRIPES ran an article on the new white patrol cars that were being issued to the 62nd MP Highway Patrol.

The cars were 1954 Ford Mainline sedan models that had been specially equipped for highway patrol duties.

Special equipment included:
-- blue emergency lights mounted on the front of the sedans;
-- beacon ray warning light mounted on top;
-- siren under the hood;
-- heavy duty generator and electrical system;
-- oversized tires for better traction;
-- heavy duty springs and shock absorbers;
-- trunk modifications for radio equipment; and
-- racks for emergency equipment (including fire extinguishers; pioneer tools; first-aid equipment; blankets; portable lights; fuses; and extra gasoline).

---
Detachment "L" - Landstuhl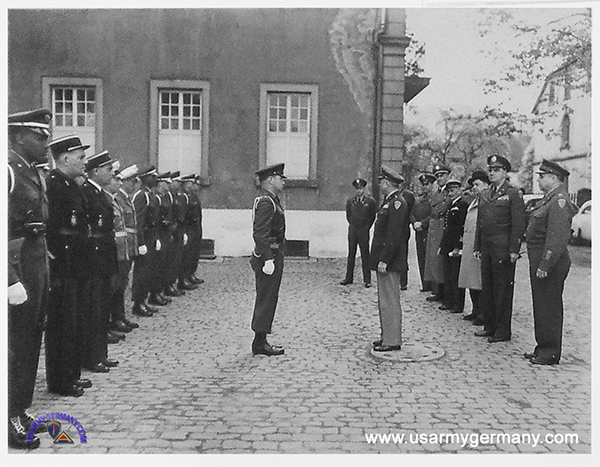 Brig Gen Oliver W. Hughes, Commanding General, RMP, speaks to new Highway Patrol
Detachment on its activation in Landstuhl, April 1952.
1952
(Source: Command Report of the Western Area Command, 1952)
62nd MP Highway Patrol, Detachment "L"



The patrol station of the 62nd MP Highway Patrol was located on the main highway in Landstuhl, which is approximately 20 kilometers from Kaiserslautern, Germany.

The mission of the Highway Patrol Detachment was chiefly to supervise traffic in the area command, with the explicit mission of preventing accidents where possible.

Accompanied by representatives from the French Gendarmerie and the German Land Polizei, the highway patrol, operating on a twenty-four hour basis, checked all major highways within Western Area Command.

The Patrol's vehicles consisted of a fleet of a radio equipped sedans, painted black and white and carrying emergency equipment for assisting stranded motorists of any nationality. The men of the patrol were qualified first-aid men who gave emergency assistance to accident victims.

In addition to aiding motorists and anyone in trouble along the highway and roads in the Rhineland-Palatinate, the unit augmented those of Western Area Command Military Police in the enforcement of law and order, safeguarding property, and investigation of accidents. The unit also furnished weather and road status information and provided escorts for very important persons visiting Western Area Command.

As Western Area Command is in the French Zone, certain problems peculiar to this area were presented; however, relations with French authorities and with German civilian police were all established and exceptionally amicable.

This command did not have a military police battalion; the Military Police companies were attached or assigned to this command from battalions in other areas. This situation caused a shortage of technical personnel normally found in Battalion Headquarters, such as motor mechanics and technical communications personnel, thus placing a heavy burden on company personnel. Whenever possible, post signal amd motor pool personnel were used to the fullest extend to maintain signal and vehicular equipment.

Tactical units made excellent use of courtesy patrols throughout the command. Such activities were coordinated with provost marshals.

Unit Commanders were furnished consolidated reports of state of discipline of their units on a monthly basis. This was an excellent feature, and was partially responsible for the fine spirit of cooperation existing between provost marshals and units commanders.

On 15 April 1952, Western Area Command's

Detachment L, 62nd MP Highway Patrol

was activated at Landstuhl, Germany.

To mark the establishment of the Highway Patrol in Western Area Command, American, German and French Officials took part in a ceremony at 1330 hours, on 23 April 1952, at Landstuhl, where Western Area Command's Detachment L, 62nd MP Highway Patrol was stationed, and from which it patrolled the Rhineland-Palatinate in the French Northern Zone of Germany. Brigadier General W. H. Maglin, Provost Marshal General of USAREUR, presented the brassard of the Highway Patrol to Brigadier General O. W. Hughes, Commanding General, Western Area Command.

General Hughes turned the brassard over to the Commanding Officer of the Highway Patrol Unit, 1st Lt Henry M. Houghtaling. Following the presentation Lt Colonel L. D. Erwin, Provost Marshal, Western Area Command conducted the group on an inspection of the Highway Patrol, its vehicles and equipment.

In the official party were: General Maglin; General Hughes; Colonel S. F. Jarrell, Chief Operations Branch, PM General Division, USAREUR; M. Jean DiJon, French Delege, Kaiserslautern; M. Clerouin, Chef de Escadron; Buergermeister Schlichting, Landstuhl; and German Police Chief Hauptmann Otto Schreibner.

Detachment L, 62nd MP Highway Patrol Company operated on a 24 hour a day schedule, employing five (5) patrols per day, eight (8) hours for each, to patrol the roads of Western Area Command. One (1) motorcycle patrol was conducted when weather and road conditions permitted.

For administration and operation, the Detachment required one (1) Commanding Officer, twenty-seven (27) enlisted men and five (5) German employees.

The number of vehicles used in operations, as of 31 December 1952, stood as follows:




9-Sedans, 4x2, Chevrolet, 1949



4-Trucks, ¼-ton



1-Motorcylce

The Detachment operated one (1) fifty (50) watt

AN/TRC-33

base station with call sign "SIX SUGAR KING ABLE", and thirteen (13)

AN/VRC-2

vehicular radios.

In 8½ months of operation, from 15 April 1952, the date of activation of the Highway Patrol at Rhine Military Post (WACom), until 31 December 1952, the type and volume of services rendered is shown in the following breakdown:

| | | |
| --- | --- | --- |
| | Total Patrols | 1,608 |
| | Total Patrol Miles | 216,187 |
| | Total Patrol Hours | 13,627 |
| | | |
| | Accidents | 270 |
| | Fatalities thru accidents | 7 |
| | | |
| | Traffic Apprehensions: | 3,589 |
| | Military | 578 |
| | Civilian | 37 |
| | German/Others | 2,974 |
| | | |
| | Hours spent on Investigation | |
| | of Traffic Accidents | 280 |
| | | |
| | Warning Tickets Issued: | 1,595 |
| | (To US Personnel and | |
| | German Employees) | |
| | | |
| | Interviews with motorists | 19,538 |
| | and Travelers | |

---
Related Links: