If you do NOT see the Table of Contents frame to the left of this page, then
Click here to open 'USArmyGermany' frameset
576th US Army Artillery Group
Special Ammunition Support Command
Looking for more information from military/civilian personnel assigned to or associated with the U.S. Army in Germany from 1945 to 1989. If you have any stories or thoughts on the subject, please contact me

.
---
| | | | | | | |
| --- | --- | --- | --- | --- | --- | --- |
| CUSTODIAL DET | SUPPORTED UNIT | CTRY | | CUSTODIAL DET | SUPPORTED UNIT | CTRY |
| HHD, 576th | II FR Corps | FR | | 15th MSL Det | (French) Div Arty | FR |
| ??th Ord Co | II FR Corps | FR | | 16th MSL Det | II FR Corps | FR |
| 6th MSL Det | (French) Div Arty | FR | | | 4th ATAF | FR |
| | II FR Corps | FR | | | | |
---
History
(Source: Annual History .... HQ USAREUR, 1967)
576th US Army Artillery Group
Operation FAST DRAW
Under a 1960 agreement USAREUR had supported French nuclear delivery units with 100 Honest John and Nike Hercules warheads positioned at 6 sites in the Federal Republic of Germany. The French sites involved were:
| | | |
| --- | --- | --- |
| | Saarlouis | 16th US Army Msl Det (Whd Spt) - Honest John |
| | Trier | 6th US Army Msl Det (Whd Spt) - Honest John |
| | Villingen | 15th US Army Msl Det (Whd Spt) - Honest John |
| | Radolfzell | 9th US Army Msl Det (Whd Spt) - Honest John |
| | Böttingen | 357th US Army Arty Det (Whd Spt) - Nike Hercules |
| | Inneringen | ???? |
These French units had been within the NATO command structure, and when the French decided to withdraw from NATO, USCINCEUR prepared a plan for withdrawing nuclear support.

USCINCEUR's OPLAN 4343 (FAST DRAW) provided for two possible courses of US action. Option 1 would require the immediate evacuation of all weapons, while Option 2 would withdraw support but leave the weapons in their sites. On 29 June USCINCEUR alerted CINCUSAREUR to prepare for the execution of FAST DRAW on 1 July. The following day the US Ambassador at Paris notified the French Government of the withdrawal, and USCINCEUR ordered the execution of Option 1.

USAREUR immediately assembled the necessary personnel and equipment. In accordance with USCINCEUR's plan, USAREUR had prepared messages formally notifying the French delivery units of the withdrawal. Upon receipt of the execution order, the commanders of the US support units delivered these messages, and on 1 July they began the withdrawal with the full support of the French units. By 5 July USAREUR had completed its assigned tasks without incident.

USAREUR used the personnel and equipment of the 576th Artillery Group (with headquarters in Karlsruhe), which had supported the French delivery units, to fill other nuclear weapons support requirements. By mid-September SASCOM had accomplished the reassignment of personnel and redistribution of equipment, and USAREUR inactivated the 576th Artillery Group and its subordinate detachments.
---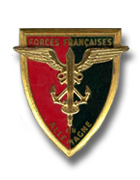 Forces Françaises en Allemagne (French Forces in Germany)

Webmaster notes: preliminary information would indicate that the warhead detachments supported the following French units:
II (FR) Corps -


(Honest John), Villingen - 15th Msl Det


68ème Régiment d'Artillerie (Honest John), Trier - 6th Msl Det


302ème Groupe d'Artillerie (Honest John), Radolfzell - 9th Msl Det


303ème Groupe d'Artillerie de Marine (Honest John), Saarlouis - 16th Msl Det



301ème Groupe d'Artillerie
| | | |
| --- | --- | --- |
| 1. French Honest John on trailer | 2. Rocket is placed on launcher | 3. The final preparations before the shoot |
---
1963
(Source: Email from Ray Zugel)
I just came across your article on SASCOM and was pleasantly surprised to find mention of the 576th USAAG in which I served for nearly three years.

I served in the 15th, the 9th, and the 6th Detachments in that sequence. When I arrived in Germany in January of 1963, the 15th and 9th were collocated in Villingen, Germany. I was initially assigned as what I believe was called an Assembly Team Leader but quickly found that my major job was Detachment Security Officer.

When the 9th Detachment moved to Radolfzell I was reassigned to that unit and moved to Radolfzell for about a year.

I was then reassigned as Security Officer for the 6th Detachment in Trier.

Each of these assignments was apparently driven by security problems that existed before my arrival in the units. I left the 6th when I decided that I needed some traditional field artillery experience with a howitzer unit and obtained a reassignment to the 24th Inf Div Artillery in Munich, Germany where I served for a year prior to being assigned to Vietnam.

One note on your website: in the discussion of the 576th where you list the subordinate units, the link associated with the 15th Detachment takes me to the detachment in the 570th Group..
---
1965
(Source: Email from Don Berry)
I ran across this website while looking for articles on the 576th Arty Group. I was assigned to HHD, 576th from Apr 1965 to Aug 1966 as a personnel clerk. I still have my mug from Karlsruhe that each member of HHD got when we broke up.

I joined the Army is June 1964 with basic training at Fort Ord, CA. My AIT was at Ft Bliss, TX in the Nike-Herc missile maintenance program. About a third of the way thru, the Army discovered that I could type and reclassified me to clerk-typist. Considering that this was early Sep and it was hot as heck I thought it was a good move.

I left for Germany in March of 1965 aboard the troop ship Darby. Going across the north atlantic at that time of year was quite a ride. After arriving in Bremerhaven and an overnight troop train ride I arrived in Karlsruhe with assignment to the 576th. I did not realize it but I was beginning the best 20 months of my life.

I was assigned to HHD as a young PFC personnel clerk working in Chief Brantley's office. He was a stickler for detail and insured you knew your trade but he also had some great "furniture" moving parties. Translated meaning The Chief had his people over for drinks.

HHD 576th was billeted at Pagezy Kaserne with support from the French. The troops were given rooms in the barracks with French equipment and support. Which meant that in the winter time the heat was turned off at night and the windows frosted up on the inside. We had four man rooms, huge wall lockers, and wooden floors which needed constant care. Our mess hall, PX, Chapel, etc was located at Smiley Barracks (a couple of miles away) and the French provided us with a green bus and driver.

HHD 576th was the only place (other than Vietnam) where I pulled any kind of staff duty with a sidearm. As an E3 I was put on flag detail which meant that a couple times a week we stood parade with the French and raised and lowered the colors.

When I got promoted to Sp4 I was blessed with pulling CQ which was always fun and people would think up of great ways to try to stay awake. The French guarded the main gate to the Kaserne and the US personnel were supposed to enter and exit the kaserne by using this gate. However, being interprising young men we just hopped over the fence next to the barracks and headed off down the street.

Even though we were assigned to HHD we still had to maintain a certain amount of staff for recall in case we had a drill or EAM to contend with. The enlisted men's club was suppose to be on limits for us at Smiley barracks, but we talked the 1SG into letting us have a local guest house (Zum Bloucher) or Blondies as we called it placed on limits. We had many a going away party there and I have some great pictures to keep my memories current.

I don't know much about the various units assigned to the outlying detachments except some of them were in some great spots in Germany. We use to play softball against the units from Villingen and Radolfzell in the summer, which usually meant overnight visits and great beer busts afterward. However, Karlsruhe was one of the nicest cities I have ever been assigned in or around. Nice people, great places to see and generally just a fun place.

One of the guys that I was stationed with was Johnny Stapleton from Three Rivers Texas, who went with me to Turkey and I lost touch with him. I learned a lot from Stap which I carry to this day. My time in Karlsruhe and the 576th ended in August 1966 when I was shipped over to Turkey because of the French leaving NATO. I will always carry a fond memory for the 576th as it was a great place to be a soldier in. I can see and remember some of the faces that were part of the unit, but the names and places escape me.
---
The French NIKE related information has been moved to the 357th Arty Det section on the 5th USAAG Page.

I know that the 357th never reported to the 5th USAAG, but it is easier to consolidate all the AD missile custodial units on one page.

---
9th Missile Detachment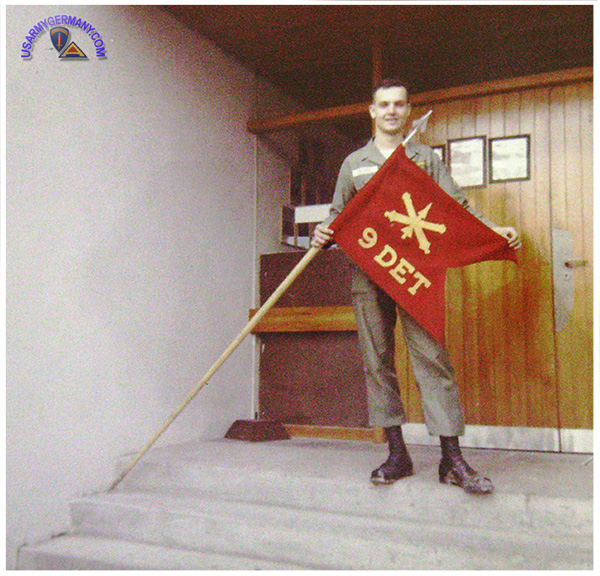 Frank DeLis holding the unit's guidon in front of 9th MSL Det (Frank DeLise)
(Source: Email from Frank DeLise, 9th MSL Det)
I came across your web site, and the e-mail from Lt. Zugel. Flashback 50 years.

I spent the year 1964 at the 9th Missile Detachment, in Radolfzell. I remember serving with Lt. Zugel. The commanding officer at the time was Capt. Williamson, and I also remember Lt. Englund. The 9th provided Honest John warheads only during my tenure.

We were not billeted in any of the caserne's buildings, but rather in a facility within the caserne constructed specifically for the detachment. We had all of our own facilities. Attached is a photo of that building, and our Dining Room. No Mess Hall for us!!!!!! There is also a photo of myself at the front entrance holding our Guidon.

This was one of the greatest years of my life. Served with great enlisted men and officers, learned a lot of responsibility which helped me later in life, and made lots of great trips.

One of the assignments I had was making the supply run a couple of times a week to Stuttgart. I used to get into the back of a truck driven by two French soldiers from the 302nd French Artillery. Once we cleared the gate of Caserne Vauban I would climb up front with the drivers (a rule violation), but the ride to Stuttgart was a lot more comfortable. I loved that job. After picking up supplies we would head back down Highway 27, and stop at a little Gasthaus along the way for Goulash soup and black bread, with a stein of home brew.

If my memory serves me correctly, we used to visit the 15th Detachment (at Villingen) to get Cigs and other personal items, since they had a small PX.

We also served guard duty for the Special Weapons, since the 9th Detachment was not yet fully operational.

Also, I actually remember being up on the rail with Lt. Zugel for part of a technical proficiency inspection. If possible please forward this to Lt. Ray Zugel (Cemetery 5 this is Cemetery 60 60 over -- Cemetery Six Zero was the call sign for the 9th Detachment, and Cemetery Five was headquarters.) It would be great to hear from him.

Please feel free to post my comments on the website. They may help bring someone else on board.

---
Related Links: