If you do NOT see the Table of Contents frame to the left of this page, then
Click here to open 'USArmyGermany' frameset
72nd Ordnance Battalion
59th Ordnance Brigade
Looking for more information from military/civilian personnel assigned to or associated with the U.S. Army in Germany from 1945 to 1989. If you have any stories or thoughts on the subject, please contact me

.
---
---
72nd Ordnance Battalion
Communications Zone - Verdun
1956
(Source: STARS & STRIPES, Feb 3, 1956)
HHD, 72nd Ordnance Bn (Maint & Sup) is located at Gribeauval Caserne in Verdun. The battalion with its subordinate ordnance units provides complete ordnance support for all ADSEC units, including approx. 4,000 vehicles (this includes Air Force vehicles in the Verdun area). In addition to the vehicles, the battalion repairs all weapons and ammunition.

ORGANIZATION (1966):
| | | |
| --- | --- | --- |
| UNIT DESIGNATION | DUTY STATION | COMMENTS |
| HHD, 72nd Ord Bn (M&S) | Gribeauval Cas., Verdun | |
| 39th Ord Co (Fld Maint) | Gribeauval Cas., Verdun | |
| 565th Ord Co (Fld Maint) | Nancy Ord Depot | |
The battalion also operates detachments at Vassincourt Sub-Depot; Toul Engr Depot; and Metz QM Depot.
One of the largest customers that the battalion supports is the modern day "Red Ball Express," a fleet of trucks that moves cargo and supplies along the main supply line from the ports in western France to the 7th Army in southern Germany.

(Webmaster note: I have some information that the 39th Ord Co also operated out of the Chicago Area, east of Gribeauval Cas. Can anybody provide some details?)
---
Advanced Weapons Support Command - 59th Ordnance Brigade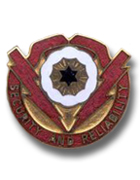 72nd Ordnance Battalion DI
(Source: A Look Back ... at the 59th Ordnance Brigade. Final issue of the 59th COURIER, the command newspaper, published in 1992.)

Headquarters and Headquarters Company, 72nd Ordnance Battalion was constituted in the regular Army as Headquarters and Headquarters Company, 36th Quartermaster Regiment (Light Maintenance) in May 1936.

In June 1940 it was redesignated as Headquarters and Headquarters Detachment, 72nd Quartermaster Battalion (Light Maintenance). The battalion was activated at Camp Hulen, Texas in March 1942.

During World War II, the battalion received credit for participation in one campaign. Following the cessation of hostilities, the 72nd Ordnance Battalion was inactivated in France in November 1945.

The battalion was redesignated as Headquarters and Headquarters Detachment, 72nd Ordnance Battalion (Maintenance and Supply) in March 1954. The unit was activated in May 1954 at Verdun, France and assigned to the U.S. Army Communications Zone, Europe.

In 1972, the 72nd Ordnance Battalion was activated under the control of the 59th Ordnance Brigade.

After a few years in Kaiserslautern, the 72nd Ordnance Battalion was moved to the Miesau Army Depot. To be closer to its subordinate units, the battalion headquarters was moved to Muenster-Dieburg in June 1990.

The 72nd Ordnance Battalion had, at the time of its inactivation, seven subordinate units. It was inactivated in June 1992.

6th MP Company
The 6th Military Police Company was constituted in the national Army in November 1917 as the 6th Training Headquarters and Military Police, an element of the 6th Division. The unit was organized at Camp McClellan, Ala. in February 1918.

The unit deployed to Europe and received credit for participation during World War I, the only brigade unit to do so.

During World War II the unit was deployed to the Asiatic-Pacific, participated in two campaigns, and was awarded a Meritorious Unit Commendation and a Philippine Presidential Unit Citation. The unit was inactivated in Korea in January 1949.

The 6th Military Police Company was activated at Muenster-Dieburg, Germany in September 1977 from elements of the 545th Ordnance Company and the 9th Military Police Detachment which was inactivated. The company was assigned to the 72nd Ordnance Battalion, 59th Ordnance Group. The 6th was inactivated in June 1992.

525th Ordnance Company
The 525th Ordnance Company was constituted in the regular Army in May 1936 as Company K, 58th Quartermaster Regiment. The unit was converted and redesignated in August 1942 as Company K, 3rd Battalion, 58th Ordnance Heavy Maintenance Regiment. In September 1942, it was redesignated as the 911th Ordnance Heavy Maintenance Company. The company was activated at Atlanta, Ga. in February 1943.

The unit was redesignated in February 1947 as the 525th Ordnance Heavy Automotive Maintenance Company and again in June 1959 as the 525th Ordnance Company.

In May 1961, the 525th was assigned to the 82nd Ordnance Battalion of the Advanced Weapons Support Command. With the inactivation of the 82nd Ordnance Battalion in July 1965, the company was assigned directly under AWSCOM. In November 1972, the 525th was assigned to the newly activated 197th Ordnance Battalion.

The 525th was assigned to the 72nd Ordnance Battalion in October 1990. The company was located in Siegelsbach, Germany. The 525th was inactivated in June 1992.

545th Ordnance Company
The 545th Ordnance Company was activated in September 1942 at Camp Atterbury, Ind. as Company M, 56th Quartermaster Regiment. The unit was converted and redesignated as Company M, 56th Ordnance Heavy Maintenance Regiment in August 1942. In October 1942, it was reorganized and redesignated as the 895th Ordnance Heavy Maintenance Company and in May 1943 as the 895th Ordnance Heavy Automotive Maintenance company.

In March 1950 the company was redesignated as the 545th Ordnance Co. and activated in Yokohama, Japan. It received credit for participating in ten campaigns and was awarded two Meritorious Unit Commendations.

From June 1957 through July 1958, the company was active in Germany. Finally, in June 1959 the 545th was activated in Muenster-Dieburg, Germany from what had been Company C, 15th Ordnance Battalion. The 545th was assigned to the 15th Ordnance Battalion. In February 1977, the 545th Ordnance Company was reassigned to the 72nd Ordnance Battalion. The company was inactivated in June 1992.

556th MP Company
The 556th Military Police Company was constituted in the U.S. Army in June 1945 as the 556th Military Police Escort Guard Company and was activated at Fort Custer, Mich. The unit was deployed to Europe and received credit for participation in four campaigns during World War II and was awarded a Meritorious Unit Commendation. The unit was inactivated in France in 1946.

The company was activated in Siegelsbach, Germany in May 1962 as a result of a physical security force reorganization that detached the security platoon from the 525th Ordnance Company. The company was assigned to the 82nd Ordnance Battalion of the Advanced Weapons Support Command.

In July 1962, the 556th was reassigned to the 193rd Ordnance Battalion and then was assigned back to the 82nd in June 1964. In July 1965, the company was assigned directly under AWSCOM as a result of the plan to inactivate the 82nd Ordnance Battalion. Finally, in November 1972, the 556th was assigned to the 197th Ordnance Battalion.

In October 1990 the 556th MP Company was assigned to the 72nd Ordnance Battalion. The company was located at Siegelsbach, Germany and inactivated in June 1992.

558th MP Company
The 558th Military Police Company was constituted in the U.S. Army as the 558th Military Police Escort Guard Company and activated at Fort Custer, Mich. in June 1943. The company was inactivated in March 1945 at Como, Miss., but was reactivated in the Philippines in April 1945.

The unit received credit for participation in two World War II campaigns and was awarded a Philippines Presidential Unit Citation. Following several activations and inactivations, the unit was allotted to the regular Army in October 1951.

The unit was deployed to Korea and was credited with participation in nine campaigns and awarded three Meritorious Unit Commendations and two Republic of Korea Presidential Unit Citations.

In March 1962, the company was activated in Germany as the 558th Military Police Company and assigned to the 72nd Ordnance Battalion of the Advanced Weapons Support Command with duty at the U.S. Army Special Depot, Kriegsfeld, Germany.

The 558th was inactivated on Nov. 1, 1991, at Kriegsfeld.

If you have more information on the history or organization of the 72nd Ord Bn, please contact me

.

---
4th Ordnance Company
1967
(Source: Email from Walt Horning, 4th Ord Co, 1967-1969)
I was stationed there from about March 1967 to August 1969 (2.5 years).

I was in the 4th Ordnance Company that worked on Hawk missile systems maintenance. It was an interesting time there, including the time that some Red communist group derailed a high speed train by mistake at the siding switch of the main line.

The 4th Ord provided 3rd echelon maintenance for HAWK and NIKE air defense missile systems. There was a Hawk Platoon and a Nike Platoon within the company. There was also an administrative and motor pool platoon in the 4th Ord.

The exact number of staff I do not remember, perhaps a total of about 100-200 in the 4th Ord.

There were a few US contractors who were manufacturers' representatives that worked there (SOP). The local nationals were not involved in any missile systems' repair activities.

As far as I know, the 4th Ord did not do "house calls," that is go on site to do repairs. Most field repairs consisted of module replacements by field operators and techs.



4th Ord Co
Miesau, Germany






1. Labor Service unit barracks

2. Sign at main gate

3. Motor Pol and Admin section signs


4. Orderly Room sign

5. HAWK Platoon

---
9th Ordnance Company
1972
(Source: Email from John Niles, 9th Ord Co, 1972-74)
I was stationed at Miesau Army Depot, assigned to the 9th Ordnance Company, from about July 1972 to November 1974. I was a Specialist 5. If my memory serves me correctly, my original reporting command was AWSCOM. At some point, we were transferred to TASCOM, and prior to my departure, we were assigned through 72d Ordnance Battalion (eventually), through 59th Ordnance Group to USAREUR. So during my 28 months, I changed organization patches three times, including on arrival.
The times were difficult for the Army. The Army was slowly withdrawing from Southeast Asia. The Army was attempting, painfully, to transition to an all volunteer service, and some MOS's were subject to critical shortages, especially mine, 55G. One of 9th Ordnance's problems was that most of the unit required security clearances. At this point in society, including the Army, drug use was more common than expected. As a result, 9th Ordnance was chronically short of cleared personnel. For a time, I was on a PAL-B roster with only one other individual. Since this was a 24 hour duty, I spent I lot of time on duty. I also had to perform the usual NCO duties, including COQ, with made scheduling complicated for the First Sergeant and annoying for me.
Due to increasing security threats, the unit had to assemble an ad hoc rapid response team, another duty as assigned. Unfortunately, we only had time to qualify with our rifles once a year, and most of us did not have much infantry training, so we were grateful that no real threat ever materialized. Eventually, we were assigned an infantry company on a rotating basis to fulfill this requirement.
The unit was, unofficially, the "depot" unit for special ammunition in Europe. As a result, in addition to our maintenance duties, we also had to conduct frequent ground convoy missions to and from the nearby airhead at Ramstein Air Base. We were the only unit in USAREUR authorized to perform ground transport of special ammunition. This further loaded our mission requirements.
A few notable remembrances for me:
- A few weeks after arrival, I lost one of my men to a car accident. I still remember Private Guajardo. For the limited time I knew him, he was a good soldier. May God rest his soul.

- We still had a Polish Labor Battalion, located in the barracks down the road. I remember this artifact of World War II and the cold war. They went out each day and did their assigned mission, maintaining conventional ammunition. I felt a sense of sadness in these individuals who never returned to their homeland.

- The 1972 Arab - Israeli War. As a result of the Arab oil boycott after the war, Germany banned driving on Sundays. I remember crossing a nearby bridge over the autobann, seeing absolutely no cars. Our transport was limited to one duty vehicle for general purposes. Note that pizza parlors were allowed to deliver pizzas as an integral part of their business.

- The Audio Clubs. I remember they brought state of the art stereo technology to the troops at very affordable prices. The closest one to Miesau was at Ramstein. It was a great place. I guess the PX system finally caught on to what they were doing and eventually drove them out of business, but while they were in operation, they were a fun institution.

- The SALT 1 agreement limiting "strategic" arms. As a result, our unit stockpiled many special weapons outside of our bunkers, due to sheer amount. This required a heavily reinforced 24 hour guard assignment. The day we sent a super convoy to Ramstein, virtually every NATO air force repeatedly overflew our airspace, checking things out. We conducted an extremely large convoy that day.

- The wurst stand outside the gate. I only had curry wurst once (until this year). It was delicious.

- The annual Reforger exercise. Miesau maintained a lot of the equipment for Reforger. Things really heated up during these times.

- Transporting classified system components to and from ordnance companies in Germany in a deuce and a half. This mission required a Staff Sergeant, but with critical shortages of cleared personnel, we had a waiver to E-5 for this (we had a number of other waivers from HQ USAREUR for our operations). Since these components were classified, I was routinely authorized to use deadly force to protect these assets. I carried my M-16 and one hundred rounds of ball for these missions. It was just myself and the driver.

The time I had in USAREUR was not my best of times, but I will never forget it. It greatly matured me.

---
164th Military Police Company
1965
(Source: Email from Jim Boyd, 164th MP Co, 1965-1966)
I found your website while searching for information on the USNS Buckner, a troop ship that I had the pleasure of hitching a ride from NYC to
Bremerhaven
in May 1965. After basic training at
Fort Jackson
,
SC
I was assigned to the Military Police School in
Fort Gordon
,
GA.
Upon graduating from MP School we were flown to NYC and then bused to somewhere on the docks of NY City. Coming from the Coal Regions of Northeast Pennsylvania, this was my first trip to the big city, any big city and also the first time I had ever seen a ship. The USNS Buckner was immense, or so it seemed to a young kid fresh from hills. We boarded the ship and were shown to our bunks. They said we had 18" of space between our bunk and the bunk above us but I believe they were using a short ruler.
After five horrible days in a stormy sea we finally had fair sailing for the final four days and I was on deck when we went through the
English Channel
. Upon arriving at
Bremerhaven
we had to stay another day on the ship while at dock. The next day we boarded a train that took us to
Kaiserslautern
where we were separated into smaller groups and loaded into 2½-ton trucks for our wild ride to Pirmasens Signal Depot (PSD). We completed some paperwork and were further divided into even smaller groups and put into ¾-ton trucks for our final destination, Miesau Depot. I was assigned to the
164th Military Police
unit and I was very excited to get started in my new police career.

However, I was in for a very rude awakening.

The 164th MP Unit was a security unit assigned to guard underground storage units in a secure area. I became a "Humper".





Having been born and raised at the "Gateway to the
Pocono Mountains
" in
Summit Hill
,
PA
near famous Jim Thorpe, I thought I knew what cold was. "Humping" a beat meant walking on a three foot wide wooden sidewalk about 30 feet long in full combat gear for 8 hours unprotected from the wind, rain or COLD. I couldn't believe the cold. It was a wet, damp, bitter cold. I never could get used to that cold.




I did that for about I year until they discovered that I could type and had a business education background. I was quickly transferred from the field to Operations as the Operations Clerk. I had that job until I shipped back to the

US

in November of 1966.

My Company Commander was Leon Ledbetter. The First Sgt. was Sgt Rodriquez. I had a SFC Frank Fink from

Carlisle

,

PA

and Buck Sgt Billy Wagner from

Mechanicsburg

,

PA

in my Platoon.



Also at Miesau at that time was both the 9th and 4th Ordnance Companies. Operations for the 164th MP Company were billeted at the 9th Ord.



In 1965 the French kicked NATO out of
France
. Part of my job was to schedule and coordinate convoys that transferred hundreds of truckloads of US Military equipment to other bases spread throughout the rest of NATO.

Somewhere in that time period the 189th MP Company arrived at Miesau and also provided personnel to accompany the convoys.




Recently, while doing some research, I discovered that the USNS Buckner was de-commissioned and scrapped.

The 164th MP Company was transferred to
Alaska
. I guess I got out just in time.
---
1977
(Source: Email from James Bartlett)
I was researching military web sites one stormy day when I came across usarmygermany.com and the entries about the 59th Ord Bn. I saw your entry and wanted to send an email to you.

I was in the 164th MP Company in Miesau from 8/1977 until 2/1980.

We were very busy during that time. We did ground convoys, air convoys, and site security. I did tower duty, item escort duty, and intruder detection alarm operator duty.

I was there when the old wooden towers were still in use and still there when they were torn down and the new ones were constructed. I actually have a picture of "old" Tower #8. The photo was authorized to be taken just prior to the towers being torn down and I managed to get a copy. I also have a photo of the MP barracks circa 1979.

---
181st Ordnance Detachment
1960
(Source: Email from Richard A. Weinberg, 181st Ord Det, Dec 1960-1963)
Re: Email from Dan Evans, 367th Ord Det, May 1959-Jun 1961

A few clarifications are in order. I was CO of the 181st Ordnance Detachment from deployment in Dec 1960 until I rotated in late 1963. The 181st was barracked and messed with the 4th Ord Co on Miesau Ammunition Depot during the entire time I was there, three years. We were a separate organization reporting, for most of the time, to CO, AWSCOM.

4th Ord Co CO was Capt William (Bill) Gallagos (sp?). AWSCOM CO was Col (06) John B. Deane. I owe a large measure of my successful career to both these men. They were great mentors, who, along with an E7 Riley, took me under wing and guided my path, though often times pretty rough, and sometimes funny, when the HAWK deployed in Europe.

The 4th was stationed on Miesau and was responsible for Corporal and Nike general support until the Corporal was phased out. As I recall, they picked up Pershing Missile GS when Pershing phased into the theater. The 181st was responsible for HAWK general support and receipt and inspection of incoming HAWK theater missile assets, which were stored in the ammo bunkers on Miesau until issued to the deployed HAWK Battalions. The depot commander was an 06 named Guy A. Orsino. GS for Lacrosse, before it too was phased out, was an Ordnance Detachment in Pirmasens, name of CO and number escapes me. The other unit on the Depot was the 9th Ordnance Company
responsible for special weapons maintenance and storage. When I think of the 4th's CO, I'll amend this note.

For a very short time during 1962, as I recall, the 181st was attached to the 4th Ord Co. We're going back 50+ years so it might have been early 1963. At any rate, for reasons that were above my pay grade, we were assigned to the 4th and then shortly thereafter reassigned back to AWSCOM. As an after thought and as I rack my brains, I seem to remember a maintenance battalion between the 181st and AWSCOM. CO's name might have been LTC Ken Steen. (Webmaster note: Kenneth J. Steen, a West Point grad (Class of 1946), was CO of the 72nd Ord Bn in the 1962-63 time frame - http://www.west-point.org/users/usma1946/15446/)

I did all my business directly with AWSCOM staff and it's CO so I always considered that I was assigned to AWSCOM. Suffice that my chewings always came from AWSCOM. I suspect that we were reassigned to bypass the middle man (4th Ord Co) when the push was on to field the missiles. Enormous pressures. In retrospect that assignment set me up for the Advanced Course early, then graduate school and enough successful assignments to retire as an LTC after 20. Not to shabby for a reserve officer who never went RA, but that's a different story. My Top, an E7 named James Wigmore always took credit for our re-reassignment because of his relationship with the AWSCOM Sgt Major. At any rate, it all worked out for the best. As I recall, we never lost our flag, just assigned as a unit to the 4th.

The names of the senior 181st cadre are coming back. I would like to include them since they had such an enormous part of making the 181st a success. CWO2 Joseph Caffrey; 1st Sgt James Wigmore; Company clerk E4 Haskel; NCO's Henderson, Miles, Smith and Massey; Supply Sgt Davis. Later, probably in '63, we had a WO1 Rose assigned. Wish I could remember the names of the technical specialists. They deserve the same, if not more, credit.

Activating the HAWK Missile System in Europe before the Berlin Wall and all that was going on with the Cold War at that time was a real challenge. There were three HAWK Battalions assigned to the Divisions in Europe during the early 60's (1). I remember one in Stuttgart, the other two escape me though as CO of the General Support unit I supported the DS's assigned to the Bn's (2) and traveled to their locations regularly. As a side note, we all activated the maintenance units about the same time in Redstone Arsenal, AL, so we all knew one another, as did the Warrants, NCO's and EM's.

The Artillery Bn's had all their equipment when they shipped from the states but no missiles. Radars humming and tracking and launcher rotating and all that stuff. But no missiles and that upset the command structure in Europe. There were none in CONUS ready to be deployed and Europe was in competition with Korea and Panama who also had deployed HAWK Battalions. As a show of strength three beat up old training missiles from either Redstone or Ft. Bliss were sent to us as a show of readiness. They were hollow shells with torn up harnesses, holes in the radomes and little else. But we put on a show and treated them as live rounds, patched them up with white paint and duct tape (I kid you not), stenciled them with theater markings and sent them on their way to one of the Battalions with a full complement of MP's and security and the like. Big Show. We never knew who from the other side was watching us. Hard to keep from laughing now but it was serious business then.

When the real missiles arrived in theater, we, the 181st, had to make them ready for issue to the Air Defense battalions. The original HAWK missiles had nominal resisters and capacitors in their platters (chassis) instead of variable r's and c's which meant that if a chassis was out of alignment, and most of them were, a fixed capacitor or resister had to be physically removed and a corrected value part soldered into place. The maintenance units had all sorts of large test variable resistors and capacitors to identify the right value. That was the easy part. Take one out, put is a test variable r or c and replace it with a fixed component. BUT, the spare parts push packages that we, and the DS units, received had no mil spec nominal resistor or capacitor spare parts so the real missiles were beginning to stack up in the Miesau depot awaiting repair. The electronics were very touchy and susceptible to all kinds of aberrations. None of them worked after the transit from the States. This was not a very healthy situation for a Lt who had every 06, 07 and one or two 08's in the theater breathing down his neck to fix the d-d-f'g missiles.

I was a 2nd or 1st LT; the 32nd Artillery Brigade Maintenance Officer was a major who aspired to greater rank. I had no money but he had a cash kitty. We, he who aspired and I, who at that time only had two or three years left in the service, bought commercial capacitors and resistors from a mail order catalog house in the States. He knew it, I knew it, my maintenance Warrant, WO2 Joe Caffrey, knew it and my guidance maintenance troops knew it. The parts arrived at my residence in unmarked packages, the troops fixed the platters; my mechanical maintenance troops assembled the missiles and off they went. We were heroes. Of course when they got to the Arty Bn's, the DS troops saw what we had done and we had to supply them with the "non-standard" "mil spec" parts from the forerunner of Radio Shack. Suffice that the political situation at the time put enormous pressure on all the maintenance units to keep up the highest state of readiness. And the missiles were terrible maintenance nightmares. Raytheon later change the design so that the missiles were more reliable and actually had no individual replaceable parts. That was after my tour.

I have more "funny" and some serious stories about the missiles and radars for another time. Suffice that we, all of us in the theater, really improvised to keep them "hot."

This discussion has brought back fond memories of a very rewarding assignment. Raytheon placed a Tech Rep in each of the maintenance units and one in Maison Fort outside of Paris. That's before DeGaulle threw us out of France. My guy knew what we were doing with the commercial parts and never said a word, as did the other three tech reps. In retrospect, were it not for the pressures to field the missiles, we all could have spent our next tour in Levenworth. But what we did worked. A HAWK missile was never fired in anger.

The Google Maps aerial image of Miesau today just amazes me. It's a bustling metropolis both within and surrounding the depot. There were only five or six buildings on the depot admin area in the early 60's. As I recall you came into the main gate and on the immediate right were the three barracks/Co HQ buildings. First was the 9th Ordnance, then the 4th Ordnance which housed the 181st, and then the Headquarters barracks/billets. Each had it's own mess hall. Immediately on the left as you entered the depot was the All Ranks Club We used to eat lunch there and, of course, the bar was open. One day, the depot CO, Col. Orsino called a special mandatory officers call. Tension was high with the Berlin Wall and the Cold War at its height so we all thought the worse. Col Orsino was a gruff old timer, WW II, Korea Ordnance Officer who told it like it was. On that day the subject was "drinking at lunch." He didn't forbid it but did forbid drinking Vodka and didn't mince words. I'll never forget the admonition: "No Vodka at lunch because I want to be able to smell the booze on your breath when you f..k up!" That was it. Dismissed. Suffice that Vodka was never again available at lunch. But he didn't say we couldn't have a beer.

The 181st shops were originally on the 4th's shop's parking lot. HAWK maintenance units were issued shelters complete with one each 400 cycle generator per so we were considered self contained and didn't have "need" to be inside. Corporal maintenance was also housed in trailers. Only Nike had the privilege of cover. Eventually we were given 1/2 of one of six or eight storage buildings that paralleled the billets further down the main road. And it wasn't long before the consoles were removed from the shelters and the troops were inside, except for the mechanical van. The move generated all kinds of interest among the Germans working on the Depot. We had to make a solid door separating our half of the building but then had to open it to get a radar inside because the only ramp into the building was in the German half. And gawk they did. We covered some of the equipment when the doors were open.

The 400 cycle generators were finicky and down most of the time. They were in short supply in the theater so in the beginning when we were in the shelters we would hook up a running generator to whichever van had the highest priority workload. The Theater replacement priority went to the Arty Bn's. and we were low on the totem pole. T'was a hassle to say the least. We swapped AC units like generators. When we finally got into the building the AC and 400 cycle power problem was solved for the most part because we could hook up more than one console to a running generator, and we didn't need the AC units in the building. As with the HAWK system itself, spare parts for the shelter air conditioners and 400 cycle generators were non existent. If we moved one of the shelters or consoles we had to call Calibration in to re calibrate the test equipment it was so touchy. And because we were so close to the 9th who had a nuclear storage mission, we dare not use a test piece out of calibration, which we wouldn't have anyway. The problem was never that something was out of calibration, it was always the uncertainty of the accuracy of the test equipment because it was so touchy.

It was an interesting time for an Ordnance General Support unit. In the beginning we supported the DS units directly with unserviceables sent directly to us and returned to the appropriate DS unit. When spare chassis' became more abundant we slowly evolved from supporting the DS units to supporting the Kaiserslautern Depot which, according to Ordnance doctrine at that time, was the way it was supposed to work. We did continue to support the DS's if they were overloaded.

When we got into the building we set the shop up IAW with FM 3-4 (4-3?) with the status board and all that good stuff I was taught in Aberdeen. We had started it by using the empty supply trailer as a shop office. The tracking system worked because we had the time to run the shop IAW the FM. Interestingly enough, during a subsequent assignment in '66 and '67 I ran the 27th Maintenance HQ/Main Support Battalion direct support shops for the 1st Cav Div in Viet Nam. We were initially in tents in a rice patty. The FM system didn't work until we finally got a makeshift building for the shop office. And then it was only partially effective. When a trooper needed his thing fixed he needed it right now because he was in line to go back into the field right now. Half the time the troops by-passed the shop office and went directly to the repair section, that included the troops from the Bn and Bgde motor pools. "First come, first served" only worked if you you were there to be first. Only if you left it did it get fixed in order received. In retrospect, following the book slowed down the process and had marginal effectiveness in an active combat theater. Time was of the essence and the bureaucratic first in - first out just got in the way of servicing the troops, which was our mission. I did insist that 2407 work orders be completed because of their historical value to the commodity commands. We routinely sent back bundles to each command.

Back to Miesau. A little past the warehouses was the dispensary, a two room building manned by a single corps man perhaps from Landstul. I remember one day we all had a mandatory formation of all US troops outside the dispensary. We were lined up and given shots of something, just in case we were called to deploy to Lebanon (I think). Suffice we never went. There was also a company of MP's but I don't recall where they were billeted. Probably in the HQ barracks.

Further down the main road were the ammunition storage igloos. We didn't have much to do with that part of the Depot mission until the missiles arrived. We moved half the missile repair section and the mechanical section into the igloos to expedite preparing the birds for issue. They were all out of tolerance so the platters were either swapped out there like a DS operation or sent back to the shop on the main part of the depot for repair. But we had no parts until we got them from the forerunner of Radio Shack so the backlog kept mounting along with the Command pressures. We complied with the quantity distance tables and manning levels in the igloos, that I do remember.

The more I think about those years this weekend, the more that comes back. As I recall, when we first arrived in '61 (advanced party arrived in Dec '60, main body in Jan and Feb '61 and our equipment arrived about three months later) we were assigned to HQ, AWSCOM. Sometime after that, maybe in late '61 or early '62 the 72nd Ordnance Bn was activated and all missile general support and ordnance special ammunition units were assigned to it, including the 181st. Sometime later, maybe six months, we were detached from the Bn and assigned to the 4th. That lasted only a few months and we were reassigned back to Bn. It may have been even a shorter time because I don't recall Capt Gallagos, CO 4th Ord, writing an efficiency report on me when we transferred back to Bn HQ.

Looking at the Google maps, the first long building with the yellow markers surrounding it would have been the 9th, the second building with the parking lot on the left would have been the 4th and the next in front of the track would have been the HQ building. Track? We didn't have a track. Any time we did PT we ran along the main road or used a makeshift field. The barrack buildings on Miesau were new and not left over from the German Army which was unusual at the time. Immediately to the left of the gate would have been the club. I can't identify where the dispensary was or the igloos we worked in.

To my knowledge no one has ever set down the history of the 181st. So here goes.

We were activated on Redstone Arsenal, Alabama in mid 1960 along with several other HAWK DS units (we were the only GS). I don't know the prior history of the 181st Ordnance Detachment, if there was one. Three DS's went to Germany with the 7th Army Division's, one to Panama and one to Korea. I was a 2nd Lt just out of a 20 week Officer Missile Maintenance School. The units were subordinate to the Unit Training Command on Redstone, part of the Missile School. As the troops completed their advanced technical training, they were randomly assigned to each of the Detachments and we began training as a unit and at the same time we slowly received our technical and tactical TOE equipment as it became available from Raytheon. The unit had assigned one W-2 Warrant, one E-7 First Sargent, one E-4 company clerk, four or five E-6 technical NCO's or Spec's, one E-5 Supply Sargent, one E-4 general mechanic and the rest technical E-3s and Spec 4's for a total TOE cadre of 32, including me. We had one M38 Jeep (before the 151) with trailer, one 2 1/2 cargo truck for each shelter, a trailer for supplies with 2 1/2 tractor to pull it, and a 2 1/2 ton wrecker, to put the shelters onto the trucks. We had one 400 cycle generator per shelter. I don't remember a 60 cycle generator. Assorted shovels, weapons, tents and the like to fill out a typical TOE. No spare parts. We received the push package well after we deployed, for what it was worth. The 181st received the highest grade ever given by the Unit Training Command when we completed the Final Readiness Evaluations.

Quite a feat for a group of raw soldiers just out of school, most of them E-3s. I was fortunate because I had an outstanding Warrant who drew the best of the NCO cadre at Redstone. Great assignment. It set me up for the rest of my career.

NOTES:
(1) From the STATION LIST for 30 JUNE 1961:



3rd MSL Bn, 7th Arty Schweinfurt



6th MSL Bn, 52nd Arty Würzburg



4th MSL Bn, 57th Arty Ansbach
(2) From the STATION LIST for 30 JUNE 1961:



183rd Ord Det Schweinfurt



218th Ord Det Würzburg



173rd Ord Det Ansbach

---
367th Ordnance Detachment
1959
(Source: Email from Dan Evans, 367th Ord Det, May 1959-Jun 1961)
367TH ORDNANCE DETACHMENT
Evans, Daniel J., RA19616577, Sp5, 367th Ord. Plt./Det. at Mainz Ord. Depot May 1959-June 1961. MOS 244.10.

I enlisted in the Army in June 1958, and was sent to Ft. Ord, CA for basic training; then to Ft. Monmouth, NJ for basic electronic training; and to Redstone Arsenal, AL for training on the Corporal missle. I became an MOS 244.10 (Guided Missile, Internal Guidance Repairman (Corporal)). In April 1959, I was flown to Frankfurt to report to the 367th Ordnance Platoon at Lee Barracks (Kathen Kaserne), Mainz, arriving mid May 1959.

Shortly after my arrival I was told that the unit had become the 367th Ordnance Detachment. We wore the "COMZ" patch, the red-white-blue one.We were part of the 4th Ordnance Company in Pirmasens, under the command of a short Hispanic Captain whose name I can't remember. We hardly ever saw him, though we went down to Pirmasens once a year for a joke field event. Our platoon had originally been a part of 4th Ordnance Co., the Corporal platoon. We had been sent to Mainz for some reason, and eventually became a Detachment when we grew to about 60-70 men. We performed 5th Echelon maintainence for the Corporal misslie, and we were the only unit in Europe doing that level of maintenance - if we couldn't fix it, it was shipped back to Motorola for factory rebuild.

I was shipped back to the USA in June 1961. During all that time it was my understanding that we were part of 4th Ordnance Company. (During that period) 4th Ord. was always at Pirmasens, not at Miesau as your articles suggest. We went to Pirmasens once a year to get together with 4th Ord. I don't think I had ever heard of the Battalions and Groups about which you write. By 1961 the Corporal missile was quite obsolete, and I can well believe that the unit was terminated shortly thereafter, as there was no effort made to train others to take my place after I left.

Some years ago I spent some time acquiring copies of the Daily Reports of the 367th in 1959 and 1961, listing names, ranks and serial numbers of members of the unit. Incidentally, I should state that our CO for most of the time was 1st Lt. Kenneth K. Kebble, Triple K. He lived for the day he would make Captain, and he actually had a Captain's uniform in his locker. You have heard of people like this, and they really existed. He eventually did make Captain and was shipped out shortly before I left.

---
Related Links: