If you do NOT see the Table of Contents frame to the left of this page, then
Click here to open 'USArmyGermany' frameset
82nd Ordnance Battalion
57th Ordnance Group
Looking for more information from military/civilian personnel assigned to or associated with the U.S. Army in Germany from 1945 to 1989. If you have any stories or thoughts on the subject, please contact me

.
---
---
82nd Ordnance Battalion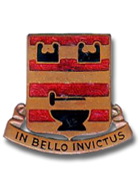 82nd Ordnance Bn (Ammo) DUI
1956
ORGANIZATION (30 June 1956):
| | | |
| --- | --- | --- |
| UNIT DESIGNATION | DUTY STATION | COMMENTS |
| HHD, 82nd Ord Bn | Miesau | |
| 46th Lbr Supv District | | |
| 50th Ord Co | Miesau | |
| 7418th Lbr Svc Ord Ammo Co | | |
| 8903rd Lbr Svc Ord Pltn | | |
---
See
71st Ord Gp Page
for an email from Joe Phillips, 82nd Ord Bn and 541st Sig Co, 1958-1960, in which he describes the
AWASP Detachment
at Massweiler, part of the 82nd Ord Bn at that time.
If you have more information on the history or organization of the 82nd Ord Bn, please contact me

.

---
50th Ordnance Company (Ammo)
1958
(Source: Email from Dick Adams, 50th Ord Bn, 1958-60)
I noticed the 50th Ordnance Company links was not active. I can add some information that maybe of interest to visitors that may visit your site.

In November 1958, I was assigned to the 50th Ordnance Company in Kaiserslautern, Germany. Our company commander was Captain Fred B Myatt. The 50th was primarily an ammo company, but did have a missile fuel detachment unit. I was assigned to that unit. The name of unit was the 50th Ordnance Augmentation Unit.

Our assignment was to test the liquid propellants for the "Honest John" and "Corporal Missiles." We would visit 6 - 8 ammo dumps located through out Germany and take samples of the fuels to determine if they were sustaining their strength. We also checked the missile storage containers for moisture, or dirt contamination. We were also responsible for the storage of the missiles and the fuels containers.

The liquid fuels that were used at that time were "Acid" and "Analin". The Acid propellant was stored in alloy spheres and the Analin was stored in drums.

I spent a lot of time "TDY" since most of the storage facilities were scattered and some locations contained more fuel than others and could not be tested in one day. My MOS was 414.10. The definition was a "Guided Missile Propellant Specialist."

I rotated back to the States in November 1960 to Fort Riley, Kansas, then I was assigned to a MAAG unit and sent to Vietnam for 6 months. Although I am from Massachusetts, I have always felt that Vietnam was Kennedy's war and not Johnson's. Seeing the writing on the wall, I bailed out.

SFC. Samuel Ricks
SP5. Harland Johnson
SP5. Robert Stedman
SP4. Richard Adams
PFC. Thomas Black
PFC. Raymond Winters
---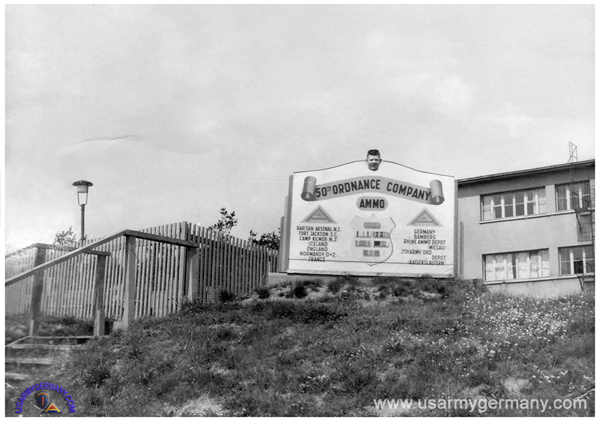 (Source: Email from Jerry Corbin, 50th Ord Bn, 1959-62)
I was at Rhine Ordnance barracks, 50th Ordnance Company in Kaiserslautern 1959-1962 (held extra six months from fears during building of Berlin Wall) and have forgotten names of ammo dumps there.

I did not work Miesau but several others in the general area. Recently I have regained an interest and searched for any of the dumps (I worked at) using Google Earth, finding none.

I did read Dick Adams e-mail posted here and do recall Captain Fred B Myatt. I do not recognize names he listed but do remember a Byron J. Vosika. If you have information from that time era and contacts I would surely appreciate.

I have attached two pictures.

(Webmaster note: can anyone provide a list of ammunition storage sites that were operated by the 50th Ord Ammo Company in the 1950s and 1960s?)
---
(Source: Email from Rachel Fish, granddaughter of Raymonde J. Breaux, 50th Ord Ammo Co)
Hello,
My name is Rachel and I am hoping that maybe you can help me.

My grandfather was a SFC in the Army from 1947-1968. His name was Raymond Joseph Breaux.

I am trying to find out any info I can about the unit he was in. The only thing I have is an old military photograph that has information typed on the back. It says "50th Ordnance Company" Kaiserslautern, Northern Area Command, Germany and was taken on June 29th 1959.

(Webmaster note: Based on information gleaned from the official captions of the two photos taken by the 69th Signal Photo Co, SFC Breaux was the company's Operations NCO in the S-3 section. If you remember SFC Breaux, please contact the webmaster.)
---
1966
(Source: Email from Gary Rector)
I was with the 50th Ord Co from Jan of 1966 to July of 1968. We were located at Dolan Barracks, Schwaebisch Hall Germany.

Our mission was SA (special ammunition) support nuclear.

We were part of the 101st Ordnance Battalion, 57th Ordnance Brigade.

My original CO was Capt. Grimm followed by Cpt. Barry Daniels (he transfered in from the Air Force) and Capt. Claire Goodridge. 1st Lt. Poncavage took the unit to Ft. Carson CO in August of 1968.

I understand Schwaebisch Hall Dolan Barracks now is the home for the 101st Ord. Battalion. I would be interested in the current status of the 50th. I believe they no longer exist.

First Sgt. Renteria
SFC Boggs
SSG Holler
SP5 Whitney
SP4 Sunday
CW3 Pendergast
SGT Chalmers
SP4 Butler
SP5 Billingsley
SP4 Schuster
SP4 Sobecke
SP4 Wright
PFC Wozniak
SP4 Fullbright
SP4 Gehle
SP4 Williams W.
SP4 Wigglesworth
SP4 Johnaon J.

---
Related Links: