If you do NOT see the Table of Contents frame to the left of this page, then
Click here to open 'USArmyGermany' frameset
Leghorn Port of Embarkation
8th Logistical Command
Looking for more information from military/civilian personnel assigned to or associated with the U.S. Army in Germany from 1945 to 1989. If you have any stories or thoughts on the subject, please contact me

.
---
---
9th Medium Port (USFA)
1951
(Source: STARTS & STRIPES, June 29, 1951)
On Jan 29 1951, the Italian government formerly announced the signing of an agreement giving the US use of the port of Leghorn (Livorno) as a supply base for US occupation forces in Central Europe.

The agreement was made under the mutual assistance and collective security provisions of the North Atlantic Defense Treaty.
---
(Source: STARTS & STRIPES, August 11, 1951)
The US military transport GENERAL R. E. CALLAN is scheduled to arrive on Aug 12 at the port of Leghorn with US 1,300 troops, the first contingent to land at this American supply port. Some of the troops will be sent to Germany and Austria to replace occupation. The others will remain in Leghorn to help build it up into a supply base.

American facilities at Leghorn are commanded by Col Norman H. Vissering.
---
| | | | |
| --- | --- | --- | --- |
| 1. Rail sidings at Leghorn Port | 2. CALLAN nearing dock | 3. Rebuilding the sea wall | |
---
1952
(Source: STARS & STRIPES, Aug 3, 1952)
A brief article announcing the arrival of Col Frederick W. Hyde at Livorno where he will take over command of the 9th Transportation Medium Port, also stated that the port facility was operating as a part of the 4th Logistical Command.

Col Hyde replaced Lt Col George M. McClintic. MClintic was previously wearing two hats: as 9th Port commander and as logistical command transportation officer.

The 9th Medium Port, in conjunction with the Navy's Military Sea Transportation Service (MSTS), is responsible for all cargo and personnel embarking and debarking activities at the Port of Leghorn.
---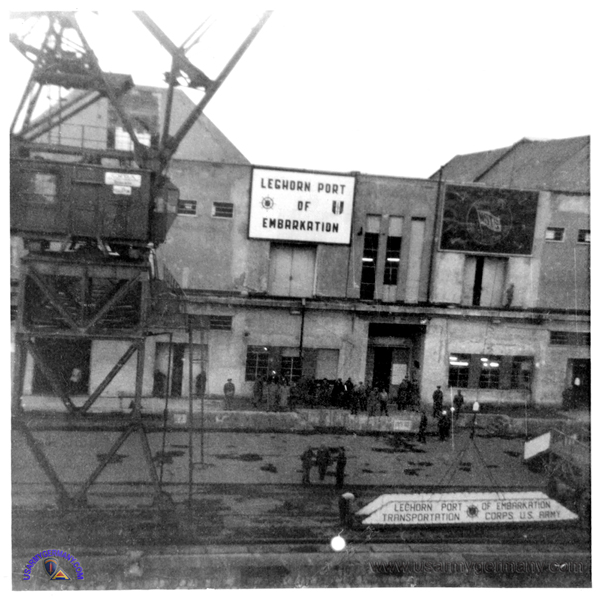 Leghorn Port of Embarkation dock & warehouse, 1951 (Webmaster's collection)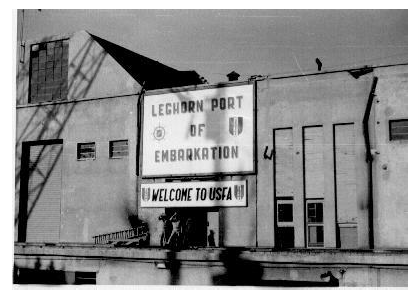 Leghorn Port of Embarkation warehouse (Wes Montgomery)
1953
(Source: STARS & STRIPES, March 22, 1953)
Port activity for USFA at Livorno (Leghorn) started in 1951. Warehouses, docks, storage areas, offices and living quarters had to be constructed from the ground up. (Construction activities are still ongoing.) Engineers had to clear the channel to allow two cargo ships to dock at the port at the same time.

Port operations started with 25 stevedores and 200 carabinieri as guards.

The command that operates the Leghorn Port of Embarkation is the 9th Medium Port. It is charged with receiving by ocean freight both materiel and personnel. COL Frederick W. Hyde is the CO.

The Transportation Section (which is part of 7617th USFA Post) consists of a Rail Branch and a Highway Branch.


Rail Branch: this branch coordinates movement between Italy and Austria and between Leghorn and Rome in connection with the vehicle rebuild program, and also coordinates all special travel of troops and dependents arriving at or departing from the Leghorn POE. In addition, the Rail Branch operates RTOs (Rail Transportation Offices) at the Brenner (border crossing) and Verona, Calambrone, Livorno, Centrale (?), Tombolo, Pistoia, Florence and Rome and controls the operation of the Leghorn-Salzburg sleeper and the weekly Leghorn-Salzburg baggage car. Chief of the Rail Branch is Maj Robert J. Yunker.



Highway Branch: this branch coordinates all motor transportation activities. Chief of the branch is Maj Michael S. DeAngelis. Since the opening of the port, more than 346,170 tons of material have been moved from the port to Austria. Each month, 375 vehicles and 250 cargo trailers travel an average of 365,000 miles in motor convoys between Austria and Italy. Convoys also move daily (work days) between Pistoia and Florence transporting WWII-era jeeps, tanks and trucks for the vehicle rebuild program.

The 8th Trans Heavy Truck Co operates the consolidated motor pool.

The 640th Trans Heavy Truck Co performs special missions and operates convoys between Austria and Italy.

Troop replacements from the US arriving on troop ships at the port are loaded onto trains and sent to USFA (Austria) directly since there is no staging area at Leghorn.

New troop billets are under construction at Camp Tombolo.

Ten warehouses have been completed at the General Depot and 70,000 items have been moved to the new buildings.
---
1954
(Source: USFA SENTINEL, Sept 17, 1954)
In June, 1951, when USFA first used the Leghorn Port facilities, the project of reconstructing warehouses, docks, railway sidings and offices seemed an almost hopeless task. Originally built during Mussolini's regime, Allied bombings in World War II and an effective demolition program by the retreating Germans completely destroyed the Porto Nuovo, now, USFA's Support Command port area.

Today, the Leghorn Port, commanded by Lt Col Harlow E. Allen, is a beehive of activity with millions of dollars' worth of goods going through its warehouses. Language barriers and basic differences in work habits of Italian labor have been nullified by the assignment of Italian-speaking American administrators. Tons of supplies are distributed daily from the port to units stationed in Austria. Its arrival and departure points have handled thousands of American personnel. Since then use of its facilities by USFA, Leghorn has recaptured its place among sea ports of world importance.

Troops arriving at Leghorn from the States learn about their destination in USFA at Camp Darby. American currency, however, is converted into MPCs, lire or schillings prior to the ship's docking. Also handled aboard ship are the checking of immunization records and dependent's passports. All incoming and outgoing private vehicles are processed by a special section which operates in the port area.
---

---
Leghorn Port of Embarkation (SETAF)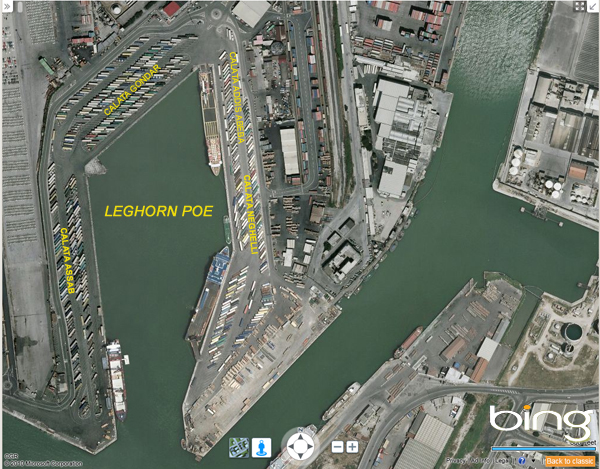 Satellite view of former Leghorn POE section of the Port of Leghorn (Bing)
1955
(Source: STARS & STRIPES, November 16, 1955)
Harbor Craft Branch, Leghorn POE
The Harbor Craft Branch, a Transportation Corps operation, is commanded by Capt Harry F. Prock and comprises 10 US enlisted men and 40 Italian civilians, including marine engineers, electricians and mechanics.
The marine equipment of the section includes:


a 100-ton floating crane



6 mechanized landing craft (LCMs)



1 sea going tug (ST tug?)



1 cargo passenger boat (T-boat?)



1 small passenger patrol boat (J-boat?)
The workhorse of the section is the 100-ton floating carne. It is used in operations that range from loading house trailers for Air Force personnel in North Africa, to righting a 60-ton Italian crane.
The smaller craft in the fleet are used for shuttling personnel and equipment to and from naval units which put into the port; unloading operations; and assisting in docking.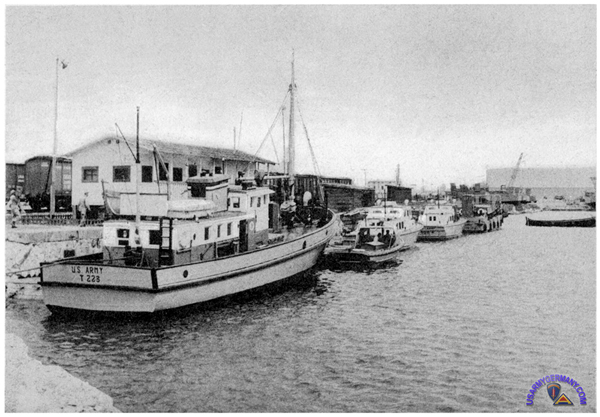 Vessels of the Harbor Craft Branch at Leghorn in 1954
---
1956
(Source: STARS & STRIPES, August 21, 1956)
The Leghorn Port of Embarkation (LPOE) is located in Livorno, Italy. The pier used by the American military at Leghorn (Livorno) is called "Calata Assab" and is adjacent to the commercial port of Livorno. The port was destroyed by German troops towards the end of WWII and the US Army engineers rebuilt 1,150 feet of it when Americans occupied the port and began operations under the Peninsular Base Section (PBS) in 1945.

The "Calata Assab" pier is used exclusively by SETAF. With a basin of 1,320,000 square feet and a depth of 28 feet, it is used for loading and unloading military sponsored personnel and cargo. MSTS vessels use the port primarily, bringing troops and equipment, and then returning personnel back to the US after their tours have ended.

A masonry seawall, the wharf is 1,180 feet long with a width of 65 feet. It can be served by rail, motor vehicles or commercial barge. Besides a 100-ton floating crane (see bellow) the POE uses a 25-ton capacity rail crane as well as Cantry-type and overhead whirling cranes.

The port has rail trackage of 3½-miles -- team tracks, warehouse tracks and storage tracks. A 25-ton diesel-electric locomotive is assigned to the port (see some additional information on Army locomotives in Europe on the Page dedicated to the US Army Railway Maintenance Activity at Rheinau, Germany).

The port's intransit-warehouse is 47,318 square feet in size. The loading platform has a capacity for 26 trucks or 9 rail cars. Open storage space consists of 1,629,000 sq feet (about 228,000 of which is unimproved surface and only useable during dry weather).

Port Supply and the (Leghorn) Post Engineer Packing and Crating Section are located in the Butler Hangar, a metal pre-fabricated building located just north of the terminal area. Also located near the peir are a marine equipment and repair shop and a fire department (one engine with a crew of 12 men).

Among the floating equipment used at the port are a 100-ton floating crane, "J-boats," an LCM landing craft, a "T-boat," and a tug.

| | | | |
| --- | --- | --- | --- |
| | | The floating crane is 140 feet long, has a beam of 70 feet and a depth of 12½-feet. It takes a crew of 14 to operate it. | |
| | | The "J-boats" are small utility boats with a crew of two. It is 26 feet in length and has a cargo capacity of 3,000 pounds or 15 passengers. | |
| | | The LCM landing craft has a length of 56 feet and a capacity of 30 tons of cargo; it can carry 120 personnel. It has a speed of 8 knots and a crew of 4. | |
| | | The "T-boat," 65 feet long, is a freight & supply vessel, has a cargo capacity of 24 tons and carries a crew of five. | |
| | | The tug is 74 feet long with a 20 foot beam. It has a diesel engine, with speed of 10 knots and a range of 3,000 miles. The tug carries a crew of nine men. | |
The floating equipment shown below is "possibly" the same as the equipment mentioned in the S&S article. Source of the information is ST 55-178 from October 1959, published by the Transportation Corps School at Fort Eustis, VA.

Would love to hear from anyone who served at one of the major ports in Europe during that period or who can provide more details on port operations and floating equipment.
---
---
1966
(Source: STARS & STRIPES, Dec 1, 1966)
The port of Leghorn (Livorno) serves as the US Army's supply gateway to the Southern European Task Force in Italy and to US Forces in southern Germany.
Leghorn POE
is the only completely US Army-controlled port in Europe. It is about a quarter mile from the commercial port of Leghorn and handles an average of 20 vessel operations a month.
The LPOE comes under the 8th Logistical Command and its Directorate of Services. Current commander of the 8th Logistical Comd is Col Charles E. Kunkel.
Some of the US Army officers and NCOs in charge of port activities include:

1st Lt William L. Staniger, port operations officer

2nd Lt Robert J. Whiting, terminal operations officer

2nd Lt Daniel P. Broderick, cargo operations officer

M.Sgt Alexander Vidales is the NCOIC of the Harbor Craft Section

S.Sgt Herbert Harris, NCOIC of the cargo operations branch

S.Sgt Lucky Hinds, NCOIC of the passenger/POV branch
Use of the port (porto nuovo section), originally constructed 30 years ago by Mussolini to support his Ethiopean campaign, was granted to the US Army in 1951. Since then it has been equipped with a $1 million US Army 100-ton floating crane, two LCM's, and a command J-boat.
The port's average monthly tonnage-handled quota has increased to 6,000 long tons a month.
The LPOE's annual budget is more than $1 million. It performs all of the functions of a shipper service and a military ocean terminal.
LPOE's activities include passenger operations on (commercial) liners out of Genoa. An average of 100 passengers per month are processed, embarked and debarked on an average of three ships a month.
Outport operations are also conducted at Brindisi and Taranto.
---
1970
(Source: STARS & STRIPES, July 22, 1970)
US Army Leghorn Port has been an exclusive operation for US forces in the port of Leghorn since 1951. Efforts have been underway since 1971 to return the American section of the port to Italian authorities.
In 1969 there were two operational piers (
Calata Assab
and
Calata Neghelli
) and two non-operational piers (
Webmaster note:
I am guessing these were the adjoing Calata Gondar and Calata Addis Abeba.
Can anyone confirm or provide additional details?
). The return to Italy of the American portion of the port was decided on because of the increasing needs of the Livorno commerical port and the decrease in US requirements. (The Calata Neghelli pier was returned to Italian authorities in the summer of 1969.)
In addition to the piers, the Army will hand over associated port items such as a $1 million 100-ton crane and a large refrigertion plant (constructed in 1958). The plant has not been in use for storing frozen foods since these items are now shipped directly to the Army's Cold Storage Depot at Kaiserslautern, Germany.

---
Related Links