If you do NOT see the Table of Contents frame to the left of this page, then
Click here to open 'USArmyGermany' frameset
63rd Signal Battalion
Area Command
Looking for more information from military/civilian personnel assigned to or associated with the
U.S. Forces, Austria
from 1945 to 1955. If you have any stories or thoughts on the subject, please
contact me

.
---
---
63rd Signal Battalion History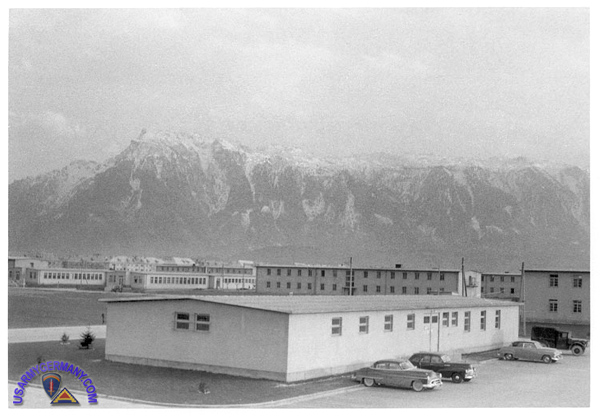 Headquarters building, 63rd Sig Bn, Camp Roeder
63rd Signal Bn DI
1947-48
(Source: "History of the 63rd Signal Operations Battalion" and "Battalion History" supplied by Wilbert G. Shipe, Jr. and the 63rd Signal Battalion web site "http://www.gordon.army.mil/63sig/webpage/battalion/default.html")
The 63rd Signal Battalion was activated 1 June 1941, at Camp Claiborne, Louisiana. On 1 August 1941, the strength was 24 officers and 456 enlisted men. Training was conducted until 22 October 1941, when the entire Battalion left Camp Claiborne by motor convoy for Chester, South Carolina, to participate in the Carolina Maneuvers with IV Corps, returning to Camp Claiborne on 26 December 1941.

On 31 December 1941, the Battalion was alerted for movement to an unknown overseas station. The Battalion landed in North Ireland on 15 January 1942, and operated communications for V Corps; however, training was the main objective. On 10 August 1942, the T/O was changed and the strength was increased from 23 officers and 503 enlisted men to 33 officers and 898 enlisted men. In addition, Company "C" was activated at this time. The Battalion now consisted of Headquarters, "A", "B", and "C" Companies.

On 26 September 1942, the Battalion moved in three echelons to Shrivenham, England. While at Shrivenham emphasis was again placed on training and at the same time the Battalion was packing for an unknown area.

Detachments of the Battalion left Shrivenham to prepare for the invasion of North Africa at Algiers on 9 November 1942. The remainder of the Battalion, minus Company "C", left Shrivenham and arrived in Algiers on 26 November 1942. While in Algiers the 63rd Signal Battalion installed, operated, and maintained signal communications for Allied Forces Headquarters in Algiers; while the detachments, operating in the forward areas, maintained open wire lines, radio stations, and message centers.

On 20 May 1943, the Battalion was relieved from Allied Forces Headquarters and assigned to the Fifth Army and promptly moved to Mostaganen, Algiers, where they were joined on 30 July 1943, by "C" Company. During the stay in Mostaganen, the Battalion operated for the Fifth Army and prepared for the invasion of Italy.

The 63rd Signal Battalion landed in Italy on 11 September 1943. The Battalion was responsible for the installation, operation and maintenance of signal communications for Fifth Army Command Post (Forward to II Corps) until August 1945. This mission remained the same throughout the Italian Campaign.

Towards the end of World War II, the Battalion was reorganized and redesignated as the 63rd Signal Operations Battalion on 1 March 1945. Members of the Battalion were credited with battle participation as follows:
| | |
| --- | --- |
| Naples - Foggia Campaign | WD GO #96, 1945 |
| Rome - Arno Campaign | WD GO #99, 1945 |
| North Appenines Campaign | WD GO #94, 1945 |
| Po Valley Campaign | WD GO #93, 1945 |
In addition, two companies were credited with battle participation:
Company "A"
Algeria-French Morroco Campaign
WD GO #59, 1945
Company "C"
Tunisia Campaign
WD GO #59, 1945
From 15 December 1942, the first time a member of the Battalion was wounded, until 10 February 1945, there had been 56 officers and enlisted men who were wounded and received the Purple Heart, and 5 killed by enemy action during the same period. The Battalion also received three Legion of Merits, one Soldiers Medal and one Bronze Star.

The Battalion received the Fifth Army Plaque for the month of May 1944 and in June 1944 a bar was added to the Plaque symbolizing the outstanding service of the Battalion during the rugged advance on Rome.

From the period August 1945 to inactivation, 20 June 1948 (and redesignation as 7663 Signal Battalion), the 63rd Signal Battalion was responsible for furnishing fixed communications facilities for Headquarters, Zone Command Austria.

The Battalion was reactivated on 1 April 1950, (under GO #15, Hq USFA) with the same mission as when it was the 7663 Signal Battalion. The primary mission of the 63rd Signal Operations Battalion was to provide tactical communications for USFA Headquarters in the field with the secondary mission of handling fixed communications for Headquarters, United States Forcs in Austria.

The Battalion was redesignated on 1 October 1952 as the 63rd Signal Battalion. The Battalion was inactivated once again on 10 September 1955.

Headquarters and Headquarters Company, 63rd Signal Battalion, was reactivated on 24 July 1967, at Fort Riley, Kansas, and saw service in the Republic of Vietnam. The unit was inactivated on 15 February 1972, at Fort Lewis, Washington.

Redesignated as Headquarters and Headquarers Detachment, 63rd Signal Battalion, the unit was activated on 1 July 1975 in Germany, where it remained until inactivation on 1 September 1977.

The Battalion next entered Active service on 01 October 1984 when it was reorganized and redesignated as Headquarters and Headquarters Company, 63rd Signal Battalion, and was activated in Massweiler, Germany. Alpha and Bravo Companies were concurrently activated. On 15 April 1989, the battalion was redesignated and reorganized as an Army Area Signal Battalion. On 15 April 1990, "E" Company, 67th Signal Battalion and "F" Company, 16th Signal Battalion were redesignated as "C" Company and "D" Company, 63rd Signal Battalion, respectively.

In December 1990, the Battalion deployed to Southwest Asia in support of Operation Desert Shield/Destert Storm and returned to Germany in April 1991.

After serving in Desert Shield and Desert Storm, the restationing of the 63rd Signal Battalion from the 7th Signal Brigade in Europe to a new home station at Fort Gordon, Georgia, was announced on 12 November 1991. The battalion was reassigned to the 11th Signal Brigade (Fort Huachuca, AZ) effective 16 March 1992. The 63rd rotated companies through Somalia in support of US elements in that country in 1992 and 1993. Concurrently, the 11th Signal Brigade and all subordinate units fell under command of the newly reorganized Army Signal Command (part of FORSCOM).

Effective 19 February 1998, the 63rd Signal Battalion was reassigned to 93rd Signal Brigade at Fort Gordon, Georgia. Joining her sister units, the 67th Signal Battalion (Fort Gordon), the 56th Signal Battalion (Panama), and the Signal Activity (Miami), the 63rd takes on a new focus of supporting operations for US Forces Southern Command (SOUTHCOM). The 63rd Signal Battalion will continue providing Signal Support well into the 21st Century.
---
1947
(Source: Guestbook entry by H.D. Faulkenberry)
I was in the Linz area from March 1947 through January 1950.

First at LUAAC Det, Co A,. 63rd Sig Bn. Then with the 541st Sig Co and finally with the 516th Sig Co.

When I first arrived there (1947), we were stationed at Ebelsberg (probably at the former SS-Kaserne) outside of Linz. Later we moved to Camp McCauley. For a short time I also worked at the message center in Wels.
---
1950
(Source: Email from Thomas Warren, 63rd Sig bn, Camp Riedenburg and Camp Rum, 1950-55)
I was with the 63rd Signal Operations Bn in Camp Riedenburg, Truscott, then detached to Camp Rum near Innsbruck during those years.

I had recently finished 8 months of the High Speed Radio Operations Course at the Southeastern Signal School at Camp (now Fort) Gordon, Georgia, and was scheduled to go on to Intercept School at Carlisle Barracks, Pennsylvania. My colleagues went on, but my TS clearance had not yet come through, so the powers that were there at Camp Gordon said they only could only offer me the options of continuing to do menial duties (pull KP and police the grounds) and wait for the clearance to come through, or go overseas unassigned. I opted for the latter, and the straw pulled out of the hat said that I was assigned to the 63d. (My classmates who went on to the next stage of intercept training were cut short and sent directly to Korea).

Upon arrival via troopship at Bremmerhaven in June 1950, and boarding a train for Austria, we were immediately informed that we were at war in Korea, and they didn't what our final destination might be. It indeed was USFA, as a PFC, by then the destination was USFA School of Standards in Zell am Zee. Since USFA differed from the occupation forces in Germany, we were being taught how to get along with the people in a "liberated" country, and also they taught us a bit of the language and customs of the country.

At that time, occupation forces in Germany were required to wear the uniform and were not allowed to fraternize. None of that applied to USFA. The School of Standards lasted for about a month, then we were sent on to our units. My next stop was Radio Operations Company of the 63d Signal Operations Battalion at Riedenberg Kasserne in the heart of Salzburg, only a few blocks from the birthplace of Mozart. Who could ask for anything more?

As you will see on your website under Team D at Camp Rum personnel roster, I was one of three sergeants in that unit. Initially, when the 63d decided to deploy a radio team into the French Zone, the purpose was to ensure that USFA would have communications continuity covering the supply route between the Livorno (Leghorn) Italy port and units forward in USFA. In early 1952 about two dozen volunteers (knowing nothing about the plan, except that we were to go out somewhere and set up a HF CW (Morse Code) radio site somewhere) under the command of a captain, were loaded onto a train coach at the Salzburg train station with sealed orders, which were to be opened by the captain a couple of hours after the train departed. We had no idea even of the direction we would eventually head.

The first destination was at a small French army supply camp in Landeck, Tyrol, where we unloaded our gear and set up a radio site. We had a barracks and another small headquarters and operations building turned over to us by the French, and and set up the radio site in HO-17 shelter dismounted from a 2-1/2 ton truck with the power unit still on the trailer. Our CW call sign was AED24L, and we established contact with Vienna (AED), Salzburg (AED2) and USAREUR Heidelberg (AEA) with which we made several radio checks each day.

After several months at that site, we packed up and moved the operation to Camp Rum (AED24), where we moved in with the 25th Transportation Battalion which already had a well established supply depot there. I will continue this saga later, hopefully with some pictures and other stuff from that time.
---
1951
(Source: Email from Dan Ryan)
I was shipped to USFA in September 1951, - from Camp Kilmer to Bremerhaven to Linz and, after a few days assigned to the 63rd Sig Bn in Salzburg at Camp Truscott.

In February, 1952, I was assigned to Vienna Station where I worked in the comcenter for the next year.

Early in 1953, I was sent back to Salzburg and assigned to Team C at Camp Reidenburg (later we moved to Roeder).

In early 1954, it was time to go "stateside" and I left Livorno for another restful sea voyage back to Kilmer and a return to the rigors of civilian life. Enjoyed very much my tour of duty in USFA - lots of good guys, interesting and quite beautiful country - mostly nice people.

I've returned to Austria many times in the past 25 years and I always enjoy my trips "down memory lane".
---
1954
(Source: SIGNAL, Journal of the Armed Forces Communications Association, May-June 1954)
Article describes in some detail a field exercise, Project GAMS, conducted by the 63rd Signal Battalion in the fall of 1953 near Lofer.

Page 15
Page 16
Page 17

---







1. Another view of HQ building


2. Hq/Hq Co barracks


3. "A" Company barracks


4. Another view of "A" Co barracks


5. Hq/Hq Co mess hall


6. Another view of the mess hall


7. Jim and buddy relax in front of Bn Mail Room (68 KB)


8. Sam Dye, mail clerk, is ready to defend official mail (73 KB)






In the field
Wels and Ried, Austria






1. Battalion CP tent during a field exercise (90 KB)


2. 63rd's Exec Officer, Major Jackson, in his jeep with his driver, Jim Wright, inspecting the trailer (120 KB)


3. The Bn Exec's jeep parked in the woods (114 KB)




4. Bn's vehicles dispersed in the woods during an exercise (57 KB)


5. Bn HQ's operations van camouflaged with nets to avoid detection from the air (53 KB)


3. Jim Wright (left) and Sam Dye eating breakfast next to the water trailer near Wels (82 KB)



---
(Source: USFA Sentinel, December 3, 1954)
Ringing Phones, Exploding Bulbs Mark 63d's Job
Ringing telephones, exploding flash bulbs and clacking teletype machines at installations throughout the command all point to the 63rd Sig Bn, which operates and maintains fixed communication facilities. Photography, radio, teletype and telephone are the battalion's main business. Relay stations, maintained by the unit, are located in Salzburg, Linz, Innsbruck and Vienna.
The battalion is divided into four companies, and has three attached units. Hq/Hq Co, A, B and C Cos, 258th Sig Co, 7644th STIT and 541st Sig Depot have personnel spread throughout the command as radio operators, linemen, telephone operators, telephone repairmen and teletype operators.
Under the direction of Mr Samuel Fisch, Sig Photo Section Chief, the 63rd's lensmen provide photographic coverage, still and motion, ground and aerial, for USFA Hqs, Area Cmd and Tac Cmd. They also supply aerial and motion picture coverage for Vienna and Spt Cmds.
Recently a film on Tac Cmd's Mountain Training Center called "USFA Troops Learn Their A B Skills," was used by NBC and Universal News. Other films sent Stateside for processing and possible release to television and newsreel companies covered Vienna guard changeover ceremonies and various honor guards in the command.
---
1955
(Source: STARS & STRIPES, Jan 13, 1955)
All fixed communication facilities in USFA - such as telephone, radio and teletype - fall under the jusrisdiction of the 63rd Sig Bn.

The battalion also operates radio relay stations at Salzburg, Linz, Innsbruck and Vienna.

In addition, the 63rd provides official photographic coverage for USFA Headquarters and supplies tactical communications when HQ USFA moves into the field.

The battalion is divided into four companies and has three signal units attached.

ORGANIZATION (Jan 1955):
| | | |
| --- | --- | --- |
| UNIT DESIGNATION | DUTY STATION | COMMENTS |
| HHD, 63rd Sig Ops Bn | Salzburg | |
| A Company | Salzburg | |
| B Company | Salzburg | |
| C Company | Salzburg | |
| 258th Sig Co (Cons) | Salzburg | |
| 7644th Sig Tech Intel Team | Salzburg | |
| 541st Sig Depot Co | Salzburg | |
The photographic section of the 63rd provides photographic coverage for HQ USFA, Area Command and Tactical Command. The section also provides aerial and motion picture coverage for Vienna and Support Commands.

---
"C" Company
(Source: Email from John W. Pritchett)
For additional information on John's tour, see his two entries in the USFA Guestbook, dated March 1, 2002.
I was assigned to Company "C" of the 63rd Sig. Bn. My duty station in Salzburg was behind the Winkler Hotel. There was a small building there that received both radio and land line signals. The fixed station transmitter station and a very large antenna field was located near Camp Roeder.

The Camp at Castenova di Verona (Webmaster: Castelnuovo del Garda?) was about 16 miles outside of Verona and on the way to Lake Garda. It was a German Army base and storage point during the Second World War. A lot of the buildings had war damage and had not been repaired.

When I was assigned I believe they were using transmitters with a nomenclature of 64B. I understand the transmitters we installed were large Naval Units off a battleship. The idea was to skip VHF/UHF off the ionosphere (over the Brenner Pass). We were told there was another test sight in Alaska near Mt. McKinley.

We also built and installed four towers and a long line antenna system. We were just a small unit; two officers and five Sgts. Out of 25 to 30 enlisted about 15 of us were with the 63rd.

When I left Verona in 1955, the system was working very well.

---
258th Signal Construction Company
1952
(Source: Email from Roger Damon, 258th Sig Co, 1952-54)
I was in the 258th Construction Co (Signal); 1LT 1952-1954. Brought platoon from Ft Benning GA in Jan 1952, then joined 63rd Signal BN. The company remained attached to the 63rd SIG Bn during the entire time I was in .

The 258th was an all-black outfit w/Caucasian officers. When I joined the outfit as a platoon leader @ Ft. Benning in Dec 1951, I was surprised to learn it was headed east to Europe, not west to Korea. The 258th was integrated in 1953. My platoon — really good men — was the last to be integrated w/Caucasian replacements. I believe it was the last all-black unit in USFA. I'd taken them from Benning to Salzburg without incident. I came out color-blind.

We were stationed initially in the city of Salzburg (Camp Riedenberg).

The 63rd didn't go to Wien, as far as I know. There was another SigCenter there, mostly radio – PW15, PW 40 equipment. Fed our rhombics.

We built rhombic antennas on Salzburg's Gaisberg and at the SigCenter at Camp Roeder, where construction began in 1951. We constantly practiced (pretended WWIII basis) quick cable installation (Spiral 4) following the road networks between 63rd main, adv, and rear CP sites mostly thru Upper Austria as well as Land Salzburg and the Tirol as well as into southern Germany. These followed the probable axes of withdrawal of US Forces in the event WWIII happened.

The 350th Inf Regiment, the significant combat force in USFA, likely would have been devoured by the Russians – at least that was the fear. G2 likely never recognized that Russia was devoid of manpower.

63rd's CO was Maj. Hugh F. Foster Jr, a Point graduate. He got his silver oak leaves in 1956. Worth googling him. A brilliant officer. He conceived the knife edge diffraction theory which overcame the need to install carrier equipment high in the mountains to obviate signal blocking by aiming our antenna arrays (dipole, director, reflector) at the ridge lines in the direction we were going, and getting good signals by doing the same thing several valleys away.

After we had both retired, he and his wife visited us here in Vermont twice. Wish I could have gotten a job on his staff when he made BG. He passed away three years ago.

Among several weird assignments in Austria (Bn Ski School CO, rock climbing escapades in line of duty – I was a skier/climber in college)— I've a zillion stories. Oldest daughter was born in Salzburg – just today sent a birthday card to her that featured the main gate at Camp Truscott. She was born at the 109th Field Hospital, through the gate and down to the right.

The rhomobic antennas were used for High Frequency communications. As I recall, one comm site was near what was then the beginning of Camp Roeder, the other was on the large flat summit of the Gaisberg, east of the city of Salzburg. The rhombics were driven by PW-15 and PW-40 transmitters. (What amazed me was that our ordinary 1KW BC-610 transmitters (which were the primary transmitters for our carrier equipment in the 63d's Radio Co) were used as modulators for the PW (stands for Press Wireless) series. I thought that was a remarkable use for the SCR 399 which was a mainstay of "long range" radios during WWII. (As a newly minted 2LT in 1951, we'd had extensive courses on all the current SCR's in use, as part of Officer Basic at Ft Monmouth.) We were given precise (i.e., 2 decimal places) magnetic headings to establish the orientation – pretty much WNW – for the long axis of the rhombics. (Later, when I completed pilot training, I understood the Great Circle concept.)

I arranged procurement for the very long and heavy wood poles from the Salzburg Postamt, as the issue standards at the signal depot (in Groedig) were for conventional telephone outside plant stuff. We guyed each pole four ways, as the horizontal forces would be significant. The feed end of the antenna faced The East (as we referred to the other side of the border) and, being curious, I was assured "that not very much" radiation would go in that direction. I remembered some of these details after looking through the link I quoted above.

1/LT Jimmy Rose, CO of Radio Co., delighted in taking a spare 4' fluorescent tube and waving it around the outside of his HO17 (on the bed of a 6x6) when his equipment was on the air. It lit up at full brilliance in his hands.

I also remember 1/LT (might have been CPT) Warren Hunsucker's chagrin at the outcome of ordering a sergeant to take a specific route. He was in the cab of a 6x6 with a new model HO with the newest carrier equipment that had just arrived. It was to be demonstrated to USFA's Chief Signal Officer in downtown Salzburg. Hunsucker said, "Turn right here, Sergeant." The sergeant said, "But, Sir . . " Hunsucker, running late and feeling very pressed for time, said, "Are you disobeying a direct order, Sergeant? I said turn right, here. Now."

"Yes, SIR." Crunch, @ 30 Kmh.

The sergeant suspected that the new model HO17, on the new 6x6 with its high flotation tires, was about a foot higher than the older WWII 6x6 the 63d still had. (The 258 Sig Co had the new vehicles w/high flotation tires, which were near-useless off-road.) The multiple-track railroad underpass, not too far from the Bahnhof, didn't even quiver. Fortunately for the sergeant there was another EM in the cab that testified as to the conversation. I'd like to think that Hunsucker didn't draw anywhere near full pay for quite a long time . . .

Stayed in for 30. Was COL for last 5-6 years. Retired 1981.

Wife & family have returned to Salzburg several times.

Love VT, still skiing.

---
541st Signal Depot Company
(Source: STARS & STRIPES, November 15, 1948)
The 541st Signal Service Company operates the Wels Signal Depot which supplies signal equipment for all of Austria.
---
1952
(Source: Email from Leland "Lee" Irvin, 541st Sig Co)
I was assigned to the Maintenance Shop (Wels Signal Depot) under CWO Martin. We had one long building that was once part of a leather tanning/production operation during WWII and quite possibly before. (Detachment A and the Hq 541st were created after we moved our installation in ca. 1952 to Leghorn and Groedig.)

My job as a PFC then later SGT, was as a Field Radio Repairman, MOS 648. USFA "requisitioned" a 3-story villa, Volksgartenstrasse 14, which served, as an exception I might add, to the normal GI billeting and messing arrangements anywhere in the world. We had but a short one block walk to work each day and were but 2 blocks from the Service Club and Snack Bar where we also enjoyed our own 2 court tennis facility. I have heard comments that we were the envy of all troops stationed in USFA.



The 541st was also involved with a once a year "percentage check" of communications equipment that we, and other Army elements had "stashed" in an old mine/cave near Innsbruck....Camp Rum. This equipment was placed on the evacuation route out of Austria in the event that the Cold War ever got hot.

A couple of us from the 541st were also on temporary duty periodically with the CIC in Linz running direction finding equipment to pinpoint clandestine Communist CW Radio stations that were operating the in the US Zone. We found several but the CIC never let us in on the "killl".


We also provided mobile repair vans to Vienna units needing communications repair. We were always in for a hassle by the Soviets at the Enns Bridge near Linz and at the end of the only road through the Soviet sector when we reached the outskirts of Vienna. We billeted with the 63rd Signal Bn. in their spacious, multi-story building on Mariahilferstrasse in downtown Vienna.




I helped with the installation of facilities at Groedig for about 4 months then I was transferred to the Hq unit in Leghorn to finalize the Depot/Maintenance Facility we established in the Port area. I remained in Livorno (Leghorn) until redeployment to the ZI in December 1952.

My nest assignment was with the South Western Signal School in San Luis Obispo, California.
---
(Source: Email from Leo R. West)
I was a member of the 541st from June of 1952 until August of 1953 and was part of the Mobile Teletype Repair team with monthly trips to Brenner and Innsbruck's Camp Rum.

Captain (the Lt.) Greville was our commander and led a convoy to Leghorn, Italy to replace WWII vehicles which were pretty well worn to. I was part of this trip also.

We moved the depot from Wels to Groedig in June of 1952.

Many memories of times in the attic of the 63rd Signal at Camp Truscott before the move to Roeder, about a month before I was shipped out.

I also served as Pfc.I.C. of Troop I&E. as I had a degree in education.
---
1954
(Source: USFA Sentinel, September 10, 1954)
USFA Signal Supply Point
"Mobile" and "independent" are the labels which best describe the USFA Signal Supply Point at Grödig. When a teletype machine at Brenner Pass starts printing garbled messages, a team is dispatched almost immediately to make the necessary repairs. The organization also maintains similar emergency service for units using radio, radar and other electronic equipment. Military personnel working at Grödig are members of the 541st Sig Co (Depot). They are commanded by Capt. Martin R. Preville, who is also in charge of all supply point operations.
The men are billeted and mess at Camp Roeder, but the orderly room and all other company facilities are at Grödig. The unit maintains its own motor pool there. When it moved from Wels two and a half years ago, it found that its assets amounted to only two large buildings. Members of the company went to work putting in partitions, making offices, painting signs and setting up electrical circuits.
With the exception of the Signal Depot at Leghorn, the 541st is the highest echelon of signal supply and maintenance in the command. The only camera and movie projector repair point in USFA is at Grödig. The projector section conducts 36 classes a year throughout the Austrian command.
Captain Preville estimates that 15 of his men are traveling continually. Some are making service calls throughout USFA. Others are conducting projectionists schools. Three or four men are inspecting signal equipment throughout the command. Passes are issued by MOS because men from each section must be on call 24 hours a day. When the mobile teams are not on the road, they service their own equipment and replenish the supply drawers of the trucks. Preville uses the inspection team to check his own company. "We don't want anybody to find us guilty of the very same things we criticize elsewhere in the command," he says.

---
Related Links: