If you do NOT see the Table of Contents frame to the left of this page, then
Click here to open 'USArmyGermany' frameset
| | | |
| --- | --- | --- |
| | | |
| BREMEN BARRACKS | | |
| BREMEN ARMY HOSP | | NAVAL ADVANCED BASE |
| | | NORDENHAM PORT |
| | DRANGSTEDT KASERNE | SOEGEL |
| | | |
| | FLENSBURG | TERMINAL COMD HQ |
For additions, corrections, or suggestions please contact the webmaster
| | |
| --- | --- |
| MAPS | |
Installation Maps
| | | | |
| --- | --- | --- | --- |
| 1. Carl Schurz Kaserne, about 1980 | 2. Staging Area (CSK), about 1965 | 3. Bremerhaven US facilities, about 1965 | 4. Lucius D. Clay Kaserne, Garlstedt |
---
1989

Map of the Carl Schurz Kaserne. This map was prepared in 1989 as part of an Installation Design Guide presented to the Military Community Commander in 1990. The map divides the installation into four (functional) zones - Administration/Barracks; Community Facilities; Industrial; and Undeveloped.

Click on the thumbnail to view a larger format of the same map.

---
TELEPHONE DIRECTORIES
| | | | |
| --- | --- | --- | --- |
| 1. Bremen Telephone Directory, 1 July 1945 | 2. Bremerhaven POE Tel Directory, 10 May 1957 | | |
---
COMMAND AND COMMUNITY NEWSPAPERS
NOTE: I plan to post extracts from the command, unit and community newspapers sometime in the near future - if I see that there is any interest.
Click on thumbnail of newspaper to read the front page.
The Port Reporter - Some of the issues published while in Germany
| | | | |
| --- | --- | --- | --- |
| 1. The Port Reporter, 25 Apr 1958 | | 3. The Port Reporter, 18 Mar 1960 (Pages 1, 6) | |
| 4. The Port Reporter, Dec 1992 | 5. Final Issue - 47 years of memories 1, 2, 3, 4, 5 | | |
---
PHOTOS
Click on thumbnail to view larger image
Staging Area
Carl Schurz Ksn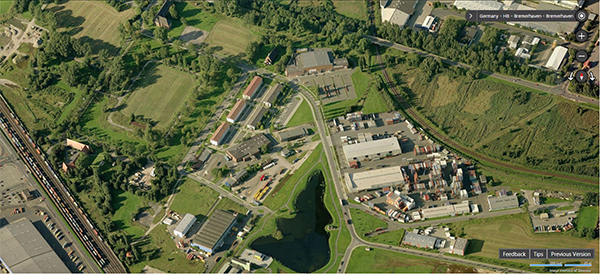 Former Carl Schurz Kaserne, Bremerhaven (BING)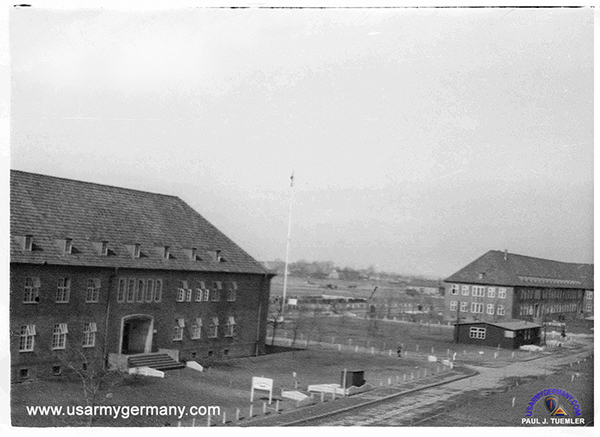 Barracks buildings 8 (left) and 7 (far right), 1946 (Paul Tuemler)
| | | | |
| --- | --- | --- | --- |
| 1. Bldg 2 | 2. Bldg 2 | 3. Bldg 2 | 4. Road connecting main gate with dock gate |
| 5. Road to the main gate | 6. Looking towards the main gate | 7. Quadrangle | 8. Warehouse area |
| 9. Post chapel sign above entrance | 10. Southeastern corner of the Staging Area | 11. ? | 12. Walking along the dike towards the port area |
| | | | |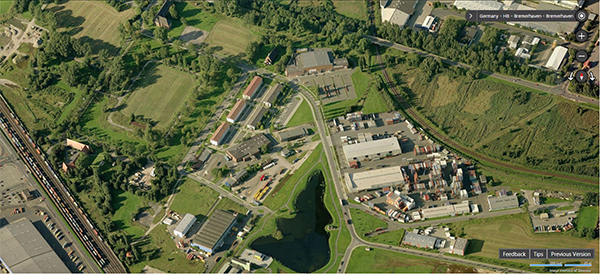 Former Carl Schurz Kaserne, Bremerhaven (BING)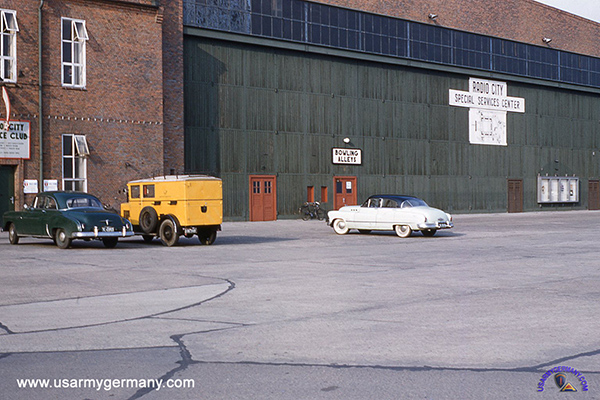 Radio City Special Services building at the Statging Area, 1953 (Webmaster's collection)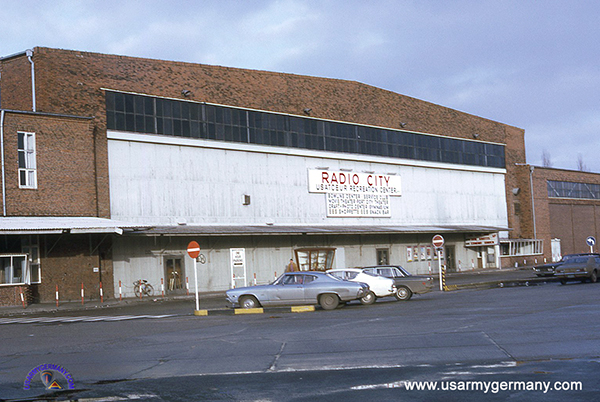 Radio City Recreation Center building, late 1960s (Webmaster's collection) 1)
1) USATCEUR stands for 'US Army Terminal Command, Europe' - USATCEUR existed from May 1964 until June 1969. BTW, the movie being shown at the theater is the 1969 feature film "The Love God" with Don Knotts and Edmond O'Brien.
| | | | |
| --- | --- | --- | --- |
| 13. View of Main Gate, Carl Schurz Kaserne, about 1980 | 14. View of USAH Bremerhaven, about 1980 | 15. Bremerhaven Staging Area, 1950 | 16. Bremerhaven Staging Area, 1950 |
| 17. Bremerhaven Staging Area, 1950 | 18. Bremerhaven Staging Area view of dike, 1950 | 19. 97th Trans Port Co soldiers in front of Bldg 13, Bremerhaven Staging Area, 1950 | 20. CSK as seen from the 581st Sig Co radio relay tower, 1980 |
| 21. Staging Area, prob. late 1950s | 22. Main Gate, Staging Area, prob. 1949/50 | 23. Casual EM Billets, Staging Area, prob. 1949/50 | 24. AFN building |
| 25. Bldg 6, MP Station | 26. Back of Bldg 6 | 27. North Carolina Street, looking west | 28. North Carolina Street, looking east |
| 29. Bldg 102 | 30. Bldg 108 | 31. Former hangar on southeast side of post | 32. Bldg 105 - Radio City |
| 33. Front of Bldg 105 | 34. Now home of local basketball team | 35. Back of Bldg 105 | 36. |
| 37. Former Air Force barracks | 38. Former Navy Barracks | 39. Post Chapel | 40. Post Chapel |
| | | | |
| --- | --- | --- | --- |
| 41 . Mess Hall on left | 42. Mess Hall | 43. Quadrangle | 44 . Casuals redeploying |
| | | | |
| | | | |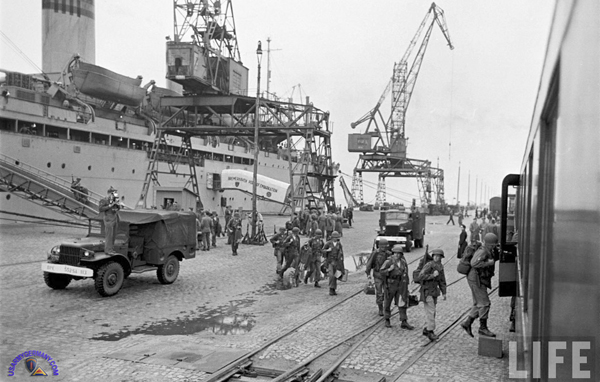 4th Inf Div arrives in Bremerhaven to augment 7th Army, 1951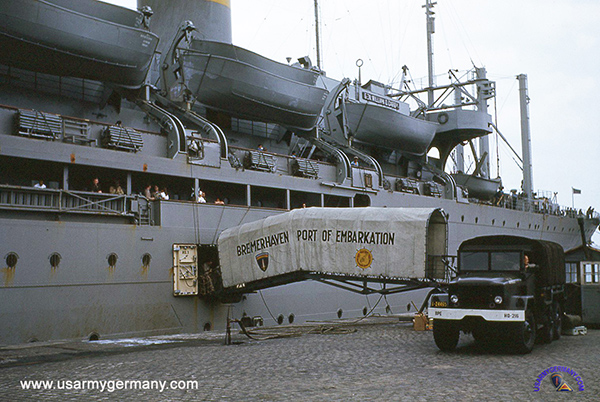 The General William O. Darby, pierside at Bremerhaven in 1957 (Webmaster's collection)

1. Bremerhaven POE, 1951


2. Large mobile crane at BPOE used for loading equipment and supplies, 1951


3. Ship pulls away from dock, 1951


4. Farewell, mid 1950s

5. Bremerhaven, 1950s
Click here to supersize

6. Columbus Quay, prob. 1960s


7. Military personnel and civilians at the dock as the USNS Darby arrives in late summer of 1961


8.

9.

10.



11. Back to the Land of the Big PX


12. USNS Randall, July 1956


13. USNS Randall, July 1956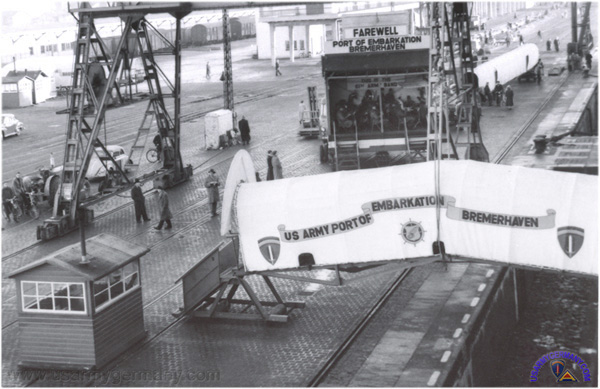 A Gyroscope troopship is about to leave Bremerhaven for the US, 1957.
Farewell and Auf Wiedersehen!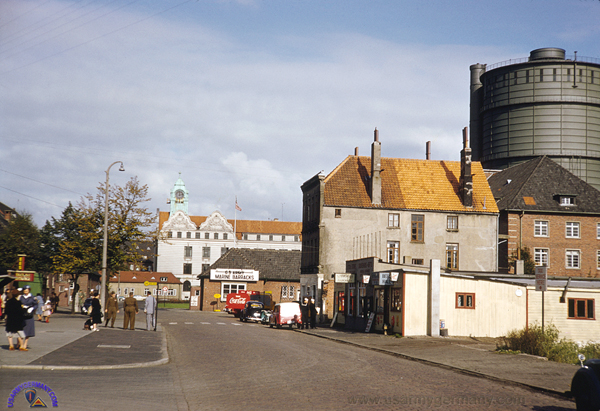 Access road to the Army gate (center) of Marine Barracks, 1950s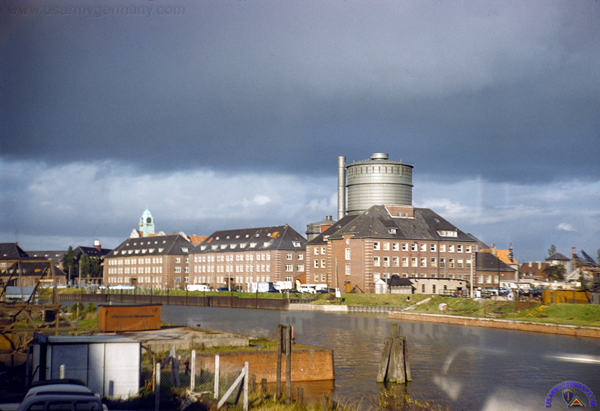 View of Marine Barracks from the Ludwigstrasse bridge, 1950s
| | | | |
| --- | --- | --- | --- |
| 1. Marine Barracks | 2. Marine Barracks main gate, 1951 | 3. Aerial view of Marine Barracks main gate area, 1954 | |
| | | | |
| --- | --- | --- | --- |
| 4. Marine Barracks | 5. Marine Barracks | 6. Marine Barracks | 7. Marine Barracks |
| 8. Marine Barracks | | | |
| | | | |
| | | | |
| --- | --- | --- | --- |
| 9. Administration building | 10. Fire demonstration | 11. Building #4 | |
| | | | |
| | | | |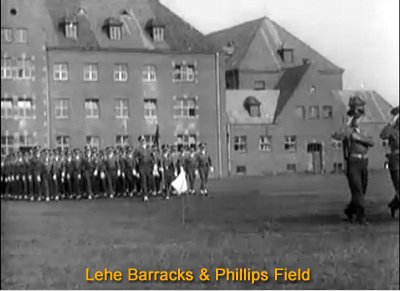 Gen Wade H Haislip inspecting 421st Army Band &
Honor Guard, 1948 (movie clip on USHMM website)

(Bremerhaven segment starts at 4:28 min into clip)
| | | | |
| --- | --- | --- | --- |
| 1. Phillips Field | 2. Phillips Field | | |
| | | | |
| | | | |
| | | | |
| --- | --- | --- | --- |
| 1. Capitol Movie Theater and Spot Club | | | |
| | | | |
| | | | |
| | | | |
| A. Grohn Kaserne | B. Grohn Kaserne | C. Grohn Kaserne | D. Grohn Kaserne |
| | | | |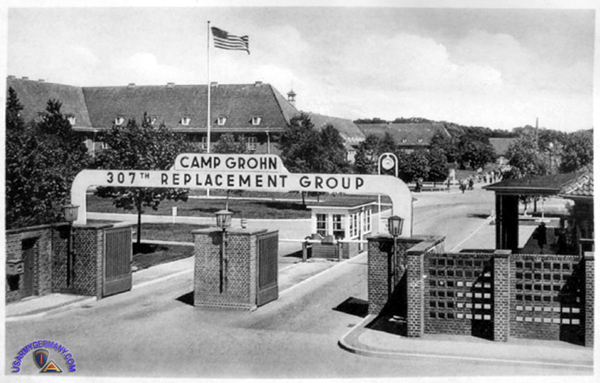 Main Gate, Camp Grohn, early 1950s
| | | | |
| --- | --- | --- | --- |
| 1. 307th Repl Depot, 1952 | 2. Transient EM Club, 1952 | 3. Post Chapel, 1952 | |
| 4. 307th Repl Depot, 1951 | | | |
| | | | |
| | | | |
---
USMCA Norddeutschland / 543rd ASG (APO 09069) - Histories, Misc. Information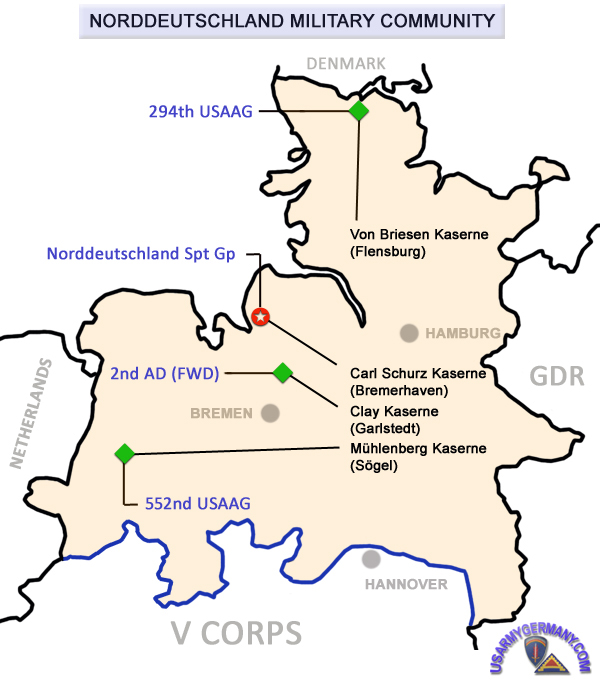 Map of Norddeutschland Military Community, early 1980s
---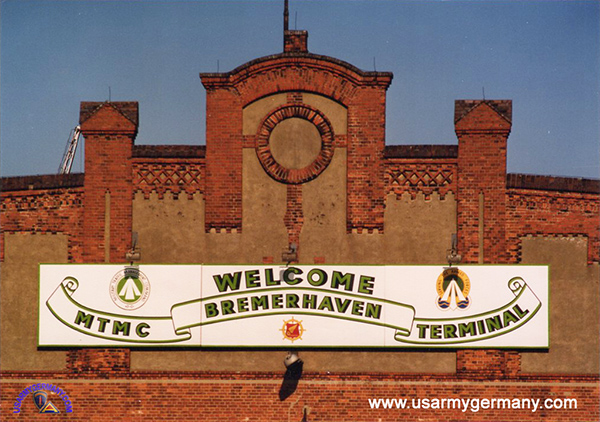 MTMC Terminal sign on Warehouse "A," Bremerhaven Dock Area (Uli Urban)
1974
(Source: Email from Ulrich "Uli" Urban, 1974-1993)
I was hired in July 1974 to work as a graphic artist and illustrator by the Bremerhaven Terminal at Carl Schurz Kaserne. My job was to create installation maps of Carl Schurz Kaserne and the Bremerhaven Dock Area for use by the Terminal commander and staff.

In 1982, I changed positions and started working as the graphic artist and illustrator for the TASC (Training & Audiovisual Support Center). In this job I produced various graphical materials from conception, design and layout, to final artwork and printing. The products I worked on included posters, charts, flyers, signs, brochures, documents and certificates as well as templates for newspapers and newsletters. I also prepared technical drawings of ships, aircraft, military vehicles, as well as military logos, symbols and maps that were used for slides and overhead transparencies needed for command briefings.

In preparation for annual maneuvers in the command's area of responsibilty, I had to prepare special charts and singage for units in Flensburg, Helmstedt, Sögel, Basdahl and Garlstedt.

The TASC Office was located in Bldg #251 because there was no room for us in the Headquarters building.

The MTMC offices were located in Bldgs #227 and #228 (first floor).

Webmaster note: Additional information provided by Uli can be found on the Bremerhaven POE Page.

You can read more about Uli on his website.
| | | | |
| --- | --- | --- | --- |
| 1. Status board - MILCOM Energy Savings Program | 2. Inc drawing for Bremerhaven Terminal | 3. Certificate for years of service | 4. Chart prepared for a briefing |
---
HISTORY & MISC. INFORMATION
Research Request
Information is being compiled for a history of the U.S. Army installations in the Bremerhaven, Bremen, Flensburg and Soegel areas, 1945 to 1990s.

Help keep the memories alive!
1. Historical information on installations and units
Requester: Webmaster
Subject: Looking for historical information on units and military activities including base support in the Bremerhaven, Bremen, Flensburg and Soegel areas between 1945 and the 1990s.
Contact: webmaster

2. Aerial & ground photos of kasernes & housing areas
Requester: Webmaster
Subject: Looking for period photos of the US Army installations (including dependent housing areas, schools, shopping centers, service (gas) stations & miscellaneous storage or maintenance facilities used by EES/AAFES, Quartermaster, Ordnance, Signal and Transportation units/activities) in and around Bremerhaven, Bremen, Flensburg and Soegel from 1945 to the 1990s.
Contact: webmaster

3. Installation maps
Requester: Webmaster
Subject: Looking for facility/post engineer maps of the various installations, activities and housing areas in the Bremerhaven, Bremen, Flensburg and Soegel areas from 1945 to 1990s.
Contact: webmaster

4. Military Community map
Requester: Webmaster
Subject: Looking for a map that shows in detail the Norddeutschland military community boundaries for the period 1974-1990.
Contact: webmaster
A new book (in German) on the US military presence in Bremerhaven is now available:

Bremerhaven und die Amerikaner
Stationierung der U.S. Army, 1945-1993
by Horst-Eberhard Friedrichs

Very many interesting and historical B&W photos (a few in color) - a good number of them from the 1945-1970 period.

Covers - in a broad manner - topics such as AFN-Bremerhaven; the 61st Army Band; family housing; Dependents Hotel; Military Police and Shore Patrol; port operations; to name just a few.

I have seen a lot of books that cover the various historical and cultural aspects of the US Army stationing in Germany after WWII in a regional perspective - this is one of the better ones.

I purchased my copy through Amazon.de.
---
A new book (in German & English) on the US military presence in Bremerhaven is now available:

16 Years 16 Lives: Americans in Bremerhaven
by Marco Butzkus

The author has taken a different approach in documenting the history of the US military presence in the port city of Bremerhaven in northern Germany. The long and very close relationship between the German and American population (1945 - 1993) of Bremerhaven and surrounding areas is told through sixteen stories. These stories represent the experiences of Americans who came to Bremerhaven as part of the US military mission in Germany and decided to stay and make Bremerhaven their home and of Bremerhaven citizens - both men and women - whose lives have been influenced in a positive way by that military presence.

This book takes you on a trip through nearly 50 years of German-American reltionships in a city that calls itself the "suburb of New York," where you can find the "American School" and the "American Quarter" as well as have a drink or a meal at the "last pub before New York."

There is now a simple and cost-effective way to purchase the book from the USA. The Schuenemann-Verlag has set up in its online shop an English page for the book, where the steps to order it are explained as simple as possible. The book and costs for shipping are converted using the daily exchange rate. The higher price of the book is related to the unfortunately quite high shipping costs.

ORDER IN ENGLISH:
http://www.schuenemann-verlag.de/buchverlag/16years/

ORDER IN GERMAN:
http://www.schuenemann-verlag.de/buchverlag/geliebter-norden/16-jahre-16-leben.html
---
---
Bremen Enclave
1946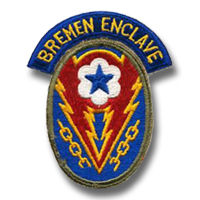 Bremen Enclave Patch
(Source: Email from Bernie Powell)
Was armored car gunner 1946 in Bremen Enclave, District Constabulary (DC). Cannot find any decent maps of the "Enclave" or little else that I recall.

I was in service in the Bremen Enclave from maybe December 1945 till the following year, as I recall. I am now 77 years old - but still hale and hearty considering my "cohort" as the Social Scientists term one's peers...*grin*. I never thought much back on my Service days or told anyone much about them - but a chance discovery recently of the Tamiya kit stirred old memories and by the time I was done making it, I began to wonder if there was any info anywhere at all about the "Bremen Enclave" - and the 'old days' that is how I found your websites earlier (which you forwarded below).
| | | |
| --- | --- | --- |
| | | I find I can remember a great many things - but some things have "gone blank." Maybe it would be useful data for your project (?). I remember lots of details of our daily patrols in the Enclave (in the M-8's and jeeps) and the many adventures we all had there. You are right: I was in the 78th Division as an infantryman (replacement). And I had forgotten till you wrote "Cannon Company" that is what our company was called. But many things I have read or seen on the web about those times and places are not quite as I recall them: "we" (this isolated Cannon Company in Bremerhaven) were "selected out" on some obscure process (in WWII this usually meant they discovered you had gone to highschool which put you in the group of "elites" ...grin) while yet down at Marburg just after we had crossed France and Belgium in open boxcars and got to Germany. |
We were "detached" (they said) from the Infantry and sent north to this Cannon Company. Someone said we were in the Cavalry... and others said Armored... and rumors flew and these designations changed every few days in a bureaucratic confusion. But we kept our same unifom and the blue piping of the Infantry. We were told we were going to be "trained" for a new kind of Police Force or something called the "Constabulary." We were to be "allowed" then to wear jazzy uniforms and jump boots as I recall, and a (coveted) yellow scarf and special (gaudy) helmet liner and we were to be the cat's meow among the Occupying Troops.

And if you read some of the Web histories, they seem to say that is what happened. But what really happened is that this highly visible uniformed "Constabulary" only emerged down in Occupied Austria and other of the large American sectors - never in the Bremen Enclave! We wore fatigues, cast off tanker stuff - and mainly the plain garrison uniforms of infantrymen. No jump boots, and (especially!) no yellow scarf! LOL! Many guys seized on this and complained all the time, but somehow we were "different" from the other American Constabulary. I have often wondered if this was maybe because we were basically in the British Sector and for whatever reason they maybe did not want such heightened visibility, etc. Who knows?

The only concession ever made to us was a small yellow "DC" painted right in front of our helmet liners - that is all. No encircling stripe or anything. And the same yellow "DC" (for District Constabulary ...which is what we were called, by distinction to the forces in the American Zones with their multi-stripe liners, and a big sort of medallion thing I have seen in front, etc. etc....) was painted on the turrets of our M-8's. And that was it.

We never received the "special training" at all: we were largely basic infantry replacements with minimum motorized skills and a few old combat-hardened sargeants, etc. We patched together a sort of ragtag setup whereby we got the armored cars running and made patrols every day: a preferred method being to go out with an armed jeep in front, the M-8 following, and a jeep in the rear. As time went by this kind of broke up into each vehicle going its own route over its own choice of roads... I was assigned as gunner in an M-8 and rode there for the better part of the year. It was cold and rainy and open in the turrets: we had big reversable parkas we mostly wore there. And our jeeps always had the ragtops up. Summer is short in that area...

Our job was to secure signed (and stamped!) papers from the Burgomeisters in all the little dorfs and villages throughout the Enclave - each day - and they were to say on them "Alles ist in Ordnung" (All is in Order) - or if they were having trouble with displaced persons ("DP's") or renegade military people or whatever - we had to look into it and raid their barns and houses, etc. Search for contraband, guns, etc. Eventually, we were all assigned to a bastard Infantry Regiment (no Division) - and I seem to recall this was the 29th Infantry Regiment (the histories here seem to emphasize the 29th Infantry Division here as the main occupying force in the Enclave - but strangely I do not remember any 29th Division guys or outfits around at all....????). We were just a detached bunch of sort of "orphans" who were stationed alone up at Bremerhaven in an old Flak and Gunnery School - but I cannot remember the (German) name now: it was right on the canals... The 29th Infantry Regiment lapel "pins" were large gaudy sort of "crests" - that from a distance the device on them looked kind of like a plate with a knife and spoon on each side... You can imagine the hoorah's we got in the messhalls when we showed up with these "markers" on us...grin. I had mine made into cuff links after the War - but they seem to have disappeared somewhere. Perhaps you know of this Regiment?

I have a few old black-and-white photos of these highjinks if you would ever want to see them - and notes and all of those days - and of raids we made, and dumps we blew up, and of sites on the Weser just like the better known ones at Peenemunde where the infamous buzz-bombs were launched against the Brits during the Battle of Britain, and all... they were just lying all over in the woods there where the Germans had run away and left them and no one even knew what they were! (We thought they were torpedoes of some kind for the German subs!...grin) - and even copies (still) of some of the "Alles ist in Ordnung" papers, etc. etc. I would be glad to share them with you and answer any questions or provide any info I could.

FOLLOW UP:
I think what happened was that the main body stayed down at Grohn and this was "our" main headquarters in the Enclave. And yes, this was the home or base of "Cannon Company."

But a platoon or so of us were sent north for permanent station in Bremerhaven. (We occasionally had to make forays all the way back down to Grohn as best I can remember and maybe stay overnight sometimes I can't remember really... for lectures and what not) but mainly we were in and around Bremerhaven and the surrounding area to the north all the time it seems to me. I probably never made it down to Bremen proper more than maybe 3 or 4 times the whole year I was there. l remember the big "Doppelganger" Cathedral there, and a huge statue of Roland von Bremen (who was said to buried in the cellar there preserved by lead salts from groundwater and what not - but never got to see it (him!) or his crypt myself...). There was a "famous" beer hall or bierstube there too, but we (our Bremerhaven patrols) were always "travelling through" and sticking together ourselves pretty much and our "orders" were always to get back to Bremerhaven all the time and not be roaming around all over this far south out of our domain (at least as best I can recall now).

I believe also there was one other "detached" platoon or group out of Grohn, too - and it may have been assigned somewhere over on the west side of the Weser maybe but I don't know where they operated out of, or were stationed really or anything. I don't believe we ever ran into their patrols on the road... But you are right: the main headquarters were down at Grohn and these headquarter people patrolled themselves out of there - I imagine they were in and around Bremen itself much of the time...

I seem to remember also that the Grohn patrols had M-20's more than the M-8's (these are armored cars without the turrets). We had only the M-8's (maybe four or five of them and maybe a dozen jeeps). That is all. We had a corner of this Flak and Gunnery School "kaserne" (fortress) as you refer to it - but again - this was right on the canals at Bremerhaven, not Grohn. There were some other US troops there but I don't remember what they were: support troops or something... medics, a band, what? I do remember there was a quite large contingent of British troops in the other end of the "quad" of this barracks - and on Sundays they would march out there and their band would play music and we would all go watch...

You say the 29th was the "occupying" force and I believe you! Now that I think on it - I do recall guys with that ying-and-yang emblem on their sleeves - but somehow they were not right around us or we did not "interface" (as they say nowadays) or "fraternize" (LOL!) with them much (?). I remember there were a number of troops with a squarish patch of squiggly lines or something (I could look it up maybe: you might know it) - but they had all been in "Hertzogovinia" as they called it, to quell some kind of post-war uprising or something - and this is part of Yugoslovia or something and they had been transferred back to this part of Northern Germany. I don't know what their assignment was - we often drank with them in the 'stubes...

We were always being referred to as part of some new group or other - but our shabby uniforms stayed the same throughout and we never were issued patches or insignia or anything of our "latest" assignments - save that one time I told you when we got lapel crests for our Ike jackets and these were big ungainly sort of regimental crest affairs, for what I recall as "...the 29th Infantry Regiment" further identified as a "bastard" regiment assigned to no larger group (?).

Perhaps Bremerhaven was sort of an "orphan asylum" (LOL!) for bits and pieces of all kinds of outfits in these very earliest days of the Occupation. (???). I know we were ourselves pretty conscioius of being a "lone" type of group up there...

I might also add that one time we were said to be (temporarily!) "assigned" to the 7th Cavalry - and someone said that that was Custer's historic outfit, etc. (I only mention because much later in life I became very interested in Western History and all so knew about Custer, etc.).

Hopefully, some day before long I can get to my photographs and send copies to you: they show this barracks I am referring to - and our patrols and all drawn up in front of them. And I have other photos showing me and The Burgomeisters and lots of little kids in wooden shoes, with the storks on the houses, and the windmills, etc. that might interest you. As you know, this part of Germany is very much like The Netherlands. I will never forget the time it first dawned on me that we were all lower than sea level here...

We were zooming along the countryside outside Bremerhaven somewhere and there was a long grassy ridge maybe 20 or 30 feet high stretching along the horizon in the distance. Our driver followed a dirt track through the fields and he zoomed right up the bank to a roadway on the top and my heart almost stopped! There was the ocean as far as you could see and it was right up almost to the top of the bank on the ocean side! LOL! That is when I first understood why all the canals and ditches and the constant pumping of the windmills everywhere to keep it all drained, etc.

Did I tell you I was "Sailing Master" of our Infantry platoon? LOL! I was the only one in the outfit who "knew boats" and how to sail. One time I "discovered" an unknown German Yacht Club down on the Weser, and its boats were still intact! I induced Lt. George who was our commander, to let me take him sailing one time. He went bonkers for it - and wanted to go all the time thereafter! LOL. So he made me "Sailing Master" of the outfit and I was so-carried on the duty roster for a while - always being on "detached" duty for the day (to take Lt. George sailing!). We used to sail on the Weser and anchor at night among the herring fleets as they knew where the minefields were - and we did not!...

There were maybe dozens (it seemed) of scuttled German U-boats on the sandy flats near the mouth (munde) of the Weser: we often "explored" them at low tide. Helgoland was off further up to the north - with great red sandstone cliffs and one day the Brits or somebody blew the whole damn island to smithereens! Like a mushroom cloud it was and because someone said that Helgoland had been an arsenal for explosives and what not for two World Wars for the Germans, and they just blew it to smithereens so it would never be used again!

I remember some (but not all) of the names of some of the group...Lt. George was in command (he must have been all of 25 years old!). From St. Louis he was. Sgt Chandler was 1st Sgt. - a tough old combat sarge he was, and drinker from Amarillo, TX...he was almost never sober. My driver was mostly a guy named Acton from Indiana. Hall was another driver. If I think on it, I might come up with the names of the radio operators. Your map brought back memories: I recall the names Vegesack, Blumenthal, Nordenholtz (I think there was an airbase there or near there...?) and Grohn itself, of course, being places we had to check all the time...

The first, last, and only "Division" I believe l was ever actually in and whose patch I wore and where my records were and what I got discharged under was the 78th, or "Lightning" Division. I just cannot recall somehow the relation here to your "29th" - but this is not too important: there was a lot of mixing and shuffling of troops and assignments back then, etc...
---
Photo #4 (see article on left and photo below) shows the Headquarters Building, Bremen Post Command on Richtweg, downtown Bremen. Prior to the end of the war, this building was known as "Haus des Reiches." The location is identified is Object #7 in the

Bremen 1946 map

(also displayed below).

BPC Headquarters Bldg

Photo #1 (see article on left) shows Hangar #103 of the Fliegerhorst Bremen-Neuenlandde Feld that was taken over by the US Army in 1945. This airfield was used by US Armed Forces until 1949. (

Some information on this airfield

in German can be found on the Relikte.com website - includes a map and several photos.)

Hangar #103

might be the same as

Halle E

shown on the Relikte.com website.
Map issued by the BPC Visitors Bureau, in 1946, provides some details on US facilities operated in the Bremen area.

Click on map to view larger resolution map (Large: 326 KB)

Click here for legend
| | | |
| --- | --- | --- |
| Bremen, "GI Paradise," 1946 | | Booklet issued by the Bremen Port Command in February 1946, lists the facilities operated by the Special Services Section, American Red Cross, Army Exchange Service and the Denmark Leave Center in the Bremen Enclave area. |
---
Wesermünde Military Community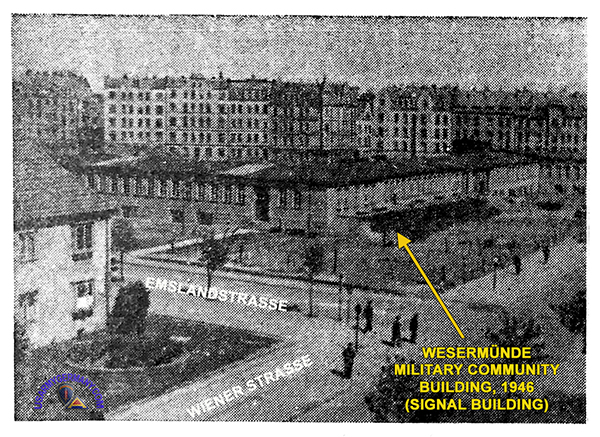 Headquarters of the Wesermünde Military Community was established
in the Signal Building on Wiener Strasse in Bremerhaven (17th REPORTER)
1946
(Source: 17th REPORTER newspaper, May 24, 1946)
154 Families Expected Here For Community Before August 15
As plans were readied to welcome the first large contingent of dependents to the Bremen Enclave, due to arrive here aboard the U.S.A.T. ''E. B. Alexander'' next Thursday, officials of the Wesermuende Military Community disclosed that an additional 15 applications this week had now raised the total of expected families to 154, all of whom are expected to arrive in Bremerhaven before August 15.

Wives now residing in the community were special guests at the official opening of the Community Cafe on Wienerstrasse last Wednesday evening, when the first meal was served. The dining room, which will be used by all dependents in the Wesermuende Community pending the completion of Cafe Roux in Burger Park on July 1, was completely renovated and constructed for the specific purpose of catering to famllles of military and civilian personnel in this area.

Cafe Roux will be used by those families living in Burger Park, where as dependents housed in the Preussenstrasse area will continue to dine at the Community Cafe.

Assignment of quarters neared completion this week, according to a statement by Lt. Col. Carleton E. Fisher, Deputy Community Commander, who announced that furnishings for the homes were being installed, including electric ranges, as soon as they arrived from supply depots in southern Germany.

The Wesermuende-Bremerhaven community, which is composed of two separate areas, located in Burger Park and in the Preussenstrasse sector, is expected to be larger than the combined totals of the other threer communities in the Enclave.

Work on the combined post exchange and commissary continued this week in the Signal Building and engineers expressed the belief that the center would be ready for an official opening on June 15. Included in the Signal Building also will be a barber shop and Western Union facilities, as well as community headquarters.

Lt. Thomas H. Murray, utilities officer for the community, stated this week that construction work on the installation of cables (that) will assure electrical service in the Burger Park area, was making good progress though he declined to specify a date when the service would be available. Operational installation of gas service in both areas, though, Lt Murray indicated that such action would soon take place.

Newly-arrived families will be oriented at a special one-hour session to be held in the I & E building, 24 hours following their debarkation. A special information booklet is to be distributed upon their arrival, which will contain specific data and explanations on the provisions available in the community.

Recreational activities for the famillies were assured by special service officials this week, who stated that all present club centers, theatres and other amusement areas in Bremerhaven would be open to all dependents of military personnel.

In addition, plans have been made to offer civil service employment to those dependents desiring work while overseas. Opening for trained teachers were announced by the 17th Major Port I & E officer this week.

The 25th General Dispensary, as well as the facilities of the 121st General Hospital will be available to all families, and spcial equipment, including infant and childrens suppiies, have been installed by both units.
---
Staging Area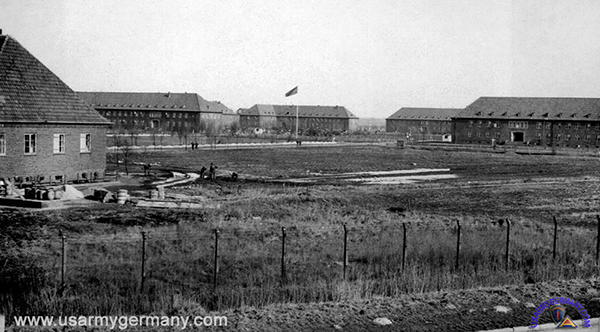 Early post-war photo (1946) of the former German kaserne that became the Staging Area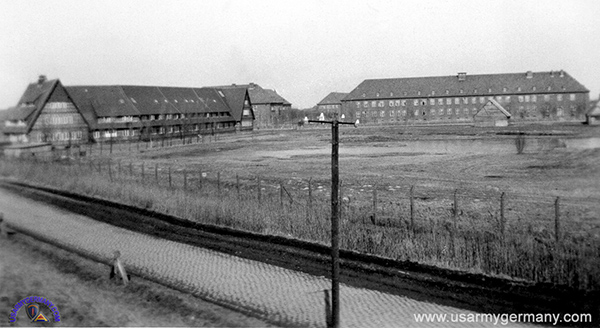 Staging Area, 1946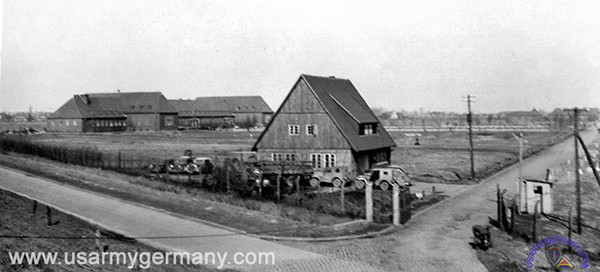 Dock Gate of the Staging Area, 1946
1945
(Source: Email from Leon Kline, 17th Major Port, WWII)
Three Army Officers and two EM drivers were dispatched from Ghent, Belgium, to make an estimate of the situation in Bremerhaven and report to Col Conner, CO of the 17th Major Port. I was one of those O's along with Lt Cols Morrison and Kranz, arriving B/Haven May 5 or 6 (my memory is somewhat hazy on THIS point), however, it was before the German surrender. We met in Bremen and were attached to a Navy GP of Seabees whose mission was to clear the harbor of any mines, POSSIBLY, placed by our enemy. The Navy was in charge of this mission.

Upon arriving BH, we were met by a German, who spoke English very well, and a Navy O. We asked where we were to be quartered for the nite. The German advised that the originally planned bldg was presently being occupied by widows/children of deceased German Navy personnel.

Now, the Navy man, speaking in such magnificently German ...I was standing right near this incident and understood EVERY word of his German..said: "It is with a grieving heavy heart and with my most sympathy, but you made an agreement, I ask you to keep your promise."

GERMAN: "What shall I do?"

"That is for you to decide, but you did promise this bldg to us and please clear the area."

Whilst the building was being cleared, we three toured the BH facility. Rail lines were in good order..no broken lines, in/out of area. Cranes along piers, all in good order. Warehouse blgds, good order.

We noted the EUROPA along side, LOADED with German personnel all looking down at the three of us..They had retreated as far back to the North Sea and with the EUROPA the ONLY place to find a sleep area, took it.

Col Morrison said: "DO NOT LOOK UP AT THEM" ... I was ready to go aboard and examine THAT facility

Spent the nite in the designated building. Next day or two the Navy cleared the harbor..found no mines

Went to examine Turning Basin and discovered the it had been burnt to the water line. Bremen, set afire on a Sunday afternoon by a NON NAZI; the fire was set with deliberation and was too much to extinguish and destroyed the Bremen.

I don't know when this happened but was a Dredge Outfit also there. CO was Capt Pine and he was with us. He had been ordered to clear the Turning Basin to 29 feet .. EUROPA was at 28 feet; the E was to be used as a troopship for returning troops. A General O came down to visit us and spoke with Pine about how slow he was proceeding and accused Capt Pine of clearing the silt from the Turning basin to 30 feet

Pine broke out with a big grin and said to the General, "Sir, if the bottom of the EUROPA is damaged, will it be your problem OR mine?" General took his cap and left

Soon three Liberty ships came in .. as a test of the facilities. Everything worked out well. When the 3 Liberty's came in and I saw OUR flag .. I became emotional and cried with joy.

Of 110 O's (in the 17th Major Port) only 5 still survive (as of July 2005).
Leon Kline
---
1946
(Source: THE 17TH REPORTER, August 16, 1946)
3rd Replacement Depot
"Bremerhaven, the Gateway to Europe and Home" - that watchword has taken on new meaning to all men in the process of going back to the United States and to those who are coming over (to Europe), since the moving of the Third Replacement Depot to the Bremerhaven Staging Area. 1)

With the establishment of the depot here in Bremerhaven, the first step (in) setting up a system which makes it necessary for all men either returning to, or coming from the "States" to go through to go this staging area, has been taken.

The merging of the Second Depot, which has come up to Bremerhaven from Namur, Belgium and the Third Depot which at one time was located in Marburg, Germany is one way of grasping the scale which this depot plans to operate on. Accomodations for handling 14,000 men at one time are being arranged. Four air hangars, each capable of billeting 2,500 men at one time will handle the brunt of the incoming troops. There are other buildings in the Staging Area which will handle the remainder of the men if necessary. Between 18,000 and 20,000 men are expected each month.

The responsibility for the smooth operation of the depot falls on the shoulders of Colonel James Pirtle, commanding officer of the depot. It is his responsibility to see that all personnel in the depot are given the necessary attention to get them where they are going in the shortest possible time. The officers and men working under and with Colonel Pirtle are a trained group, each acquainted with his own duties and each helping speed up the process in every way he can.

1) On VE-Day, the Third Replacement Depot was located at Tannenberg Kaserne in Marburg. The article is incorrect in that the 3rd Depot did not move to Bremerhaven, it remained at Marburg. In May 1946 the replacement depots remaining in the ETO (2nd, 3rd & 17th) were realigned, with the 2nd Replacement Depot in Namur, Belgium moving to the Staging Area in Wesermünde (Bremerhaven) and merging with the 3rd Depot at Marburg. The replacement operation in the Staging Area became known as the 3rd Replacement Depot (Forward). The 3rd Depot at Marburg would eventually be redesignated as the 7720th EUCOM Replacement Depot in May 1947 without any change in location or functions.
---
1961
(Source: YouTube video created by David Mayberry, submitted by Leon Kline)
---
Dependent Staging Area
---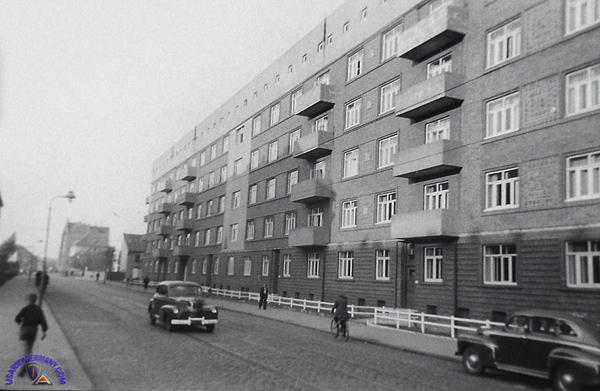 Dependents' Hotel on Bürgermeister-Smidt-Strasse, 1940s
---
Early US Gas Stations in the Enclave
Service Station on Highway 6 (B6), Elbestrasse, Bremerhaven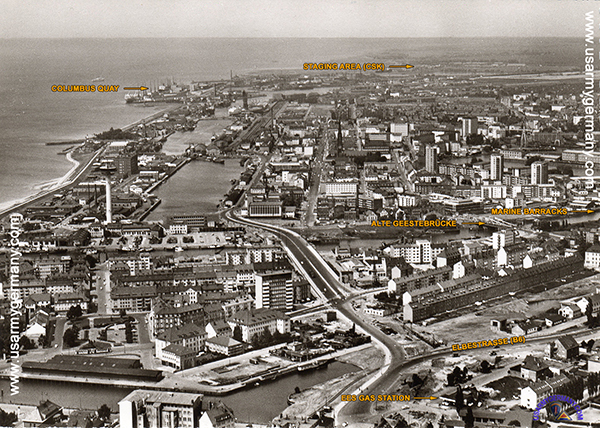 Location of the QM Service Station, Elbestrasse (Webmaster's collection)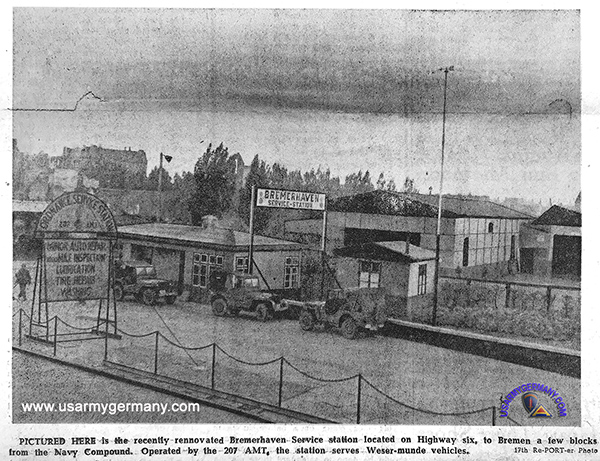 Renovated QM Service Station, 1946 (Webmaster's collection)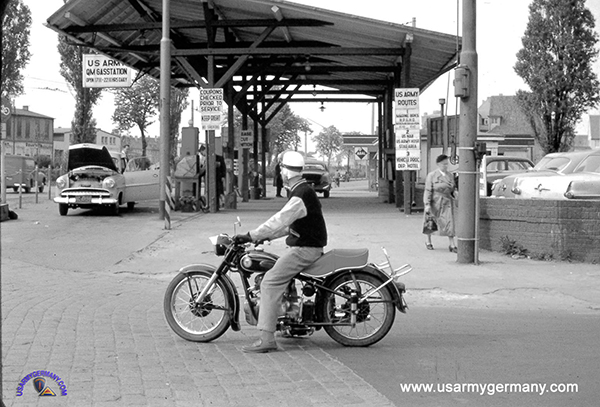 Service Station in the 1950s (Webmaster's collection)
AES Service Station at intersection Lloydstrasse/Hafenstrasse, Bremerhaven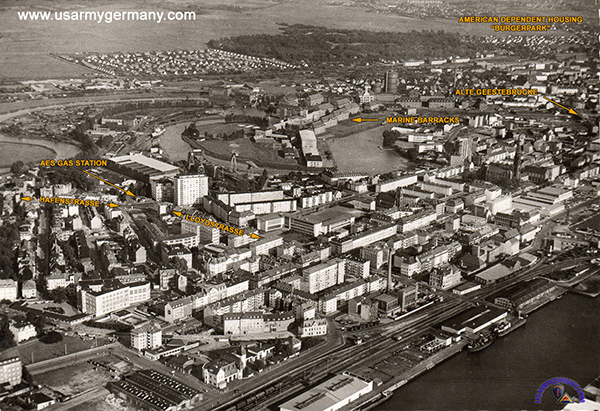 Quartermaster Service Station, Hafenstr./Lloydstr. (Webmaster's collection)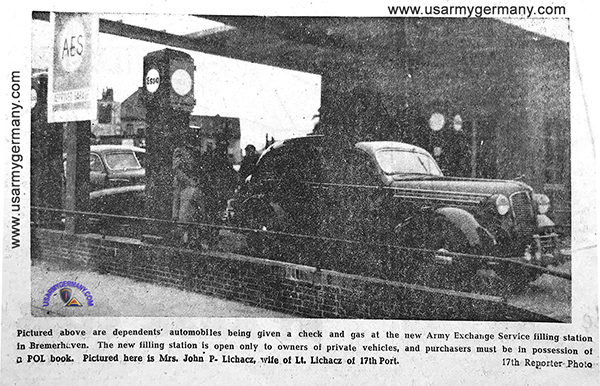 AES Service Station, Hafenstr./Lloydstr., 1946 (Webmaster's collection)
1946
(Source: THE 17th REPORTER, newspaper of the 17th Major Port, Bremerhaven, August 2, 1946)
Inviting with its bright red paint and large AES sign, the new civilian gas station at the corner of Lloydstrasse and Hafenstrasse, opened Thursday, August 1st, 1946.

It is to serve as an up-to-date state-side gas station, with all the facilities for the care of vehicles. Car washing, greasing, auto repairs, painting, and everthing pertaining to cars is open to customers. A wrecker service in the garage is available 24 hours a day.

Operating under the command of Colonel Ashe and Lt. Eichler, the new station run by Murray L. Rosen, Hq 17th Post Co, will be open daily, exept Sunday, from 8:30 to 11:30 in the morning, and from 1 to 5:30 in the afternoon. Wednesday hours are from 8:30 to 11:30 only.

All civilian cars and civilian jeeps may obtain service here upon presentation of a POL book of coupons, which may be obtained at the PX.

The first load of cars to call at the new station were 46 new Plymouths, enroute to Frankurt. Although still in a state of incompletion, the new station is already open for business.)
---
1940s
Dependents' Hotel, Bremerhaven
Until March 1957, the pick-up and turn-in point for the Vehicle Processing Center was located across the block from the Dependents' Hotel. It was moved to the troop Staging Area in late March to allow the Army to return the previous location to its German owner, as well as to provide a more spacious location and to put it closer to the QM service station and the EES repair and parts facility on base.

Personnel arriving at the Bremerhaven train station from Army posts in southern Germany, can reach the vehicle proceesing center in the Staging Area by catching an Army shuttle bus that operates between the Hauptbahnhof, the Dependents' Hotel and the Staging Area on a 30-minute schedule.
---
(Source: STARS & STRIPES, January 6, 1948)
Dependent Housing in Bremerhaven

Dependents live in three areas of Bremerhaven: Speckenbüttel (near the Staging Area), Lehe (near the Army hospital) and Bürger Park (near the Bremerhaven train station).
---
1953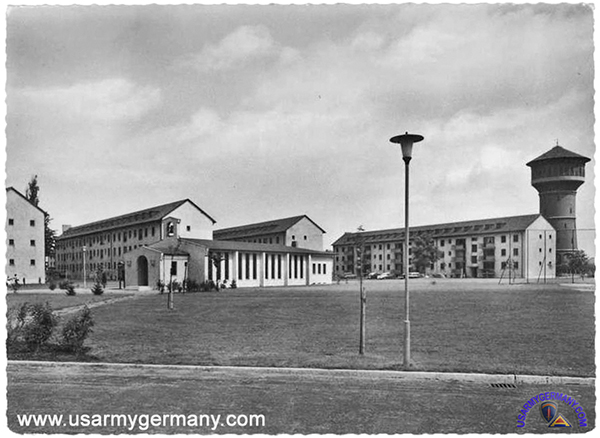 Am Blink Dependent Housing in Bremerhaven, 1950s (German postcard)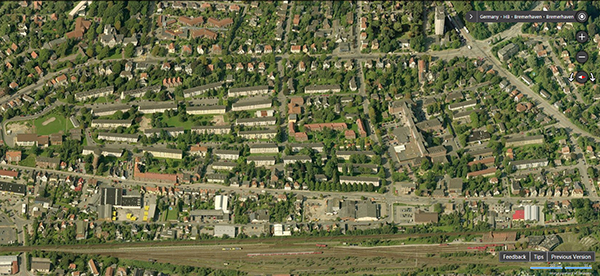 Blink Housing Area and US Army Hospital (BING)
(Source: USMCA Norddeutschland Installation Design Guide, 1990)
Blink Family Housing is located in a predominately single family German residential area, 2.5 miles southeast of Carl Schurz Kaserne.

The installation covers two general areas, one north of and south of the Bremerhaven Army Hospital.

The housing includes single family, two family and multi-family units, most of which were built in 1953.
---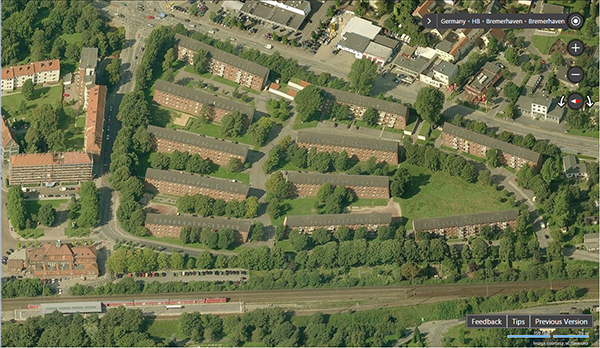 Engemoor Housing Area (BING)
---
1985
(Source: US Navy and Marine Corps Bases, Overseas, by Paolo E. Coletta, 1985)
US Naval Advanced Base, Bremerhaven

BREMERHAVEN, GERMANY, U.S. NAVAL ADVANCE BASE, 1945 - Germany surrendered unconditionally on 7 May 1945. On I June, Drew 4 and Drew 6 (Drews were units ready to establish overseas harbor facilities) were decommissioned and then recommissioned as Naval Advanced Base Bremerhaven and NAB Bremen, respectively. The activity at Bremerhaven consisted of an advance base, a salvage group, a Construction Battalion Unit, and a fifty-bed dispensary.

On 1 July 1945 the following change in the organization of U.S. Forces Europe became effective: Commander Naval Forces Germany assumed operational command of all U.S. naval forces in the European Theater of Operations (ETO), and reported and became responsible to the Supreme Commander Allied Expeditionary Force; and on 11 November NAB Bremerhaven and NAB Bremen were redesignated as NAB Weser River, TF 124.2. Naval personnel on board approximated 256 officers and 1,495 men, and headquarters was moved to Bremerhaven.

On 1 November 1946 the USN Port Director, Bremerhaven, was disestablished and port control was transferred to the Office of the Military Government (OMG).

As of I January 1948, the mission of the naval forces command, through the OMG for Germany, was to care for former enemy naval vessels until they were disposed of; to dispose of certain former German merchant vessels assigned to the United States; to dispose of enemy captured war materials; to support and assist U.S. shipping; and to furnish logistic support to Commander Naval Forces Germany (COMNAVFORGER), Commander in Chief, Naval Forces Eastern Atlantic and Mediterranean (CINCNELM) in London and, as required, to fleet units visiting the Enclave (foreign unit on German soil) and European waters.

In 1950 Headquarters COMNAVFORGER was moved to Heidelberg.

On 11 November of that year the Chief of Naval Operations directed the disestablishment of NAB Bremerhaven and the establishment of Naval Activities Bremen Enclave, effective 1 July 1951, with military control vested in COMNAVFORGER and management control under the CNO. A new mission issued at this time directed that the activity be prepared, organized, trained, and equipped for combat operations incident to the establishment and conduct of port operations in any port on the continent of Europe. In addition it would train officers and men to perform military demolition, radiological safety, and artificer duties. Last, it would provide logistic support to other naval activities in Europe. Among the last were the staff of COMNAVFORGER in Heidelberg; a Naval Technical Unit in Berlin; CINCNELM in London; fleet units visiting the Enclave about Germany and European waters; and Communications Unit 8, which would serve U.S. naval activities in Germany, naval forces in the Eastern Atlantic, and the MSTS at Bremerhaven. Authorized personnel complement was 20 officers, 199 men, and 186 German civilians, the last paid for out of the costs of occupation.

On 24 March 1950 there was also established a Rhine River Patrol Unit. A separate command with its own commanding officer, the 12 officers, 193 men, and 57 German civilians would conduct training in boat handling, river navigation, and demolition, and patrol between Bergen and Karlsruhe.

As of March 1952 the Bremerhaven Enclave had on board the U.S. Naval Advance Base; Communication Unit 8 and Communication Unit 32 (half team); Minesweeping Readiness Unit; Weser River Patrol and Security Unit; Ship Maintenance and Repair Facility; Special Projects (the USS Northwind and USS Westwind); and a combined MSTS/NCSO.

BIBLIOGRAPHY
A. "Monograph Histories of U.S. Naval Overseas Bases. Vol. 1. Atlantic Area. 22 December 1953" (Washington: Naval Historical Center, Operational Archives Branch).
---
Stevedore School, POE Bremerhaven
(Source: Pvt G.A. Butcher Photo Album, 97th Trans Port Co, 1950)
---
Camp Grohn, Grohn
(Source: STARS & STRIPES, Dec 28, 1952)
IRO Camp Now Depot

CAMP GROHN, Dec. 27 (Special) This Bremen Enclave post, once a German artillery casern and later an International Refugee Organization camp, now is operating as a busy replacement depot.

The 307th Replacement Depot, represented by the 320th Replacement Bn here, is responsible for the processing and assignment of personnel arriving in Europe. It is the first Army post the newcomer to Europe sees in Germany.

The newly arrived men are billeted, assigned, and begin processing. After receiving a partial payment and six hours of orientation on all aspects of an assignment in Europe, a thorough classification and assignment interview is given each man by experienced personnel specialists to determine his job qualifications preferences. Approximately four days later, the soldier is sent to his permanent duty station in Europe.

Alien Enlistee Section
Camp Grohn also is the site of the Alien Enlistee Section of the 307th Replacement Depot. In this section, aliens are enlisted in the Army under provisions of the Alien Enlistment Program. Foreign nationals from nations not in the NATO structure or receiving Marshall Plan aid are accepted into the Army and receive their initial processing before proceeding to the U.S. for basic training.

Camp Grohn' s location in the Bremen Enclave puts it close to the Bremerhaven Port of Embarkation and enables men to be assigned to stations throughout Europe with a minimum of wasted time.

Under the supervision of Lt Col Frank J. Viola, battalion CO, Camp Grohn is being expanded and improved to permit the efficient and rapid processing of replacements for duty throughout Europe.
---
Lucius D. Clay Kaserne, Garlstedt
(Source: 2AD Dispatch, Final Issue, June 12, 1992)
LDCK provided the comforts of home

By Staff Sgt. John Brooks
Assistant editor

Lucius D. Clay Kaserne is the only kaserne in Germany built specifically for U.S. Army troops. Construction began in 1977 and was completed in 1979. The German government spent more than 170 million Deutsch Marks, while the United States added more than 98 million DMs in building costs.

The governments of Germany and the United States decided to locate the kaserne in the area of Osterholz county in northern Germany to add an American presence to the Northern Army Group. The 2nd Armored Division (Forward) was assigned to LDCK upon the kaserne's completion.

The kaserne's construction called for modern, well built housing for single soldiers to be located on post. There were no quarters available either on post or in the local community for military family members, so several complete housing areas were needed.

German contractors built over 1,000 sets of quarters for U.S. families in Osterholz-Scharmbeck and the surrounding communities.
Before the drawdown process began, 2AD, which had been redesignated 2AD (-), had 4,400 soldiers and 4,200 family members and civilian workers residing in the local area. At that time, LDCK offered a wide variety of services and activities for soldiers, family members, and civilian employees, all packed inside a 2.5 mile perimeter.

The Patton Combined Club on Clay Kaserne is one of the few clubs in Europe capable of servicing the enlisted, NCO, and officers lounges from one central kitchen facility.

The Applegate Recreation Center, named after Staff Sgt. Tony Applegate, Co. B, 3rd Battalion, 66th Armor Regiment, who died during the war with Iraq, is one of nine facilities and locations on post, dedicated to men who gave their lives. The Rec Center houses a ceramics shop, wood shop, game rooms, a photography shop with a photo lab, theater production facilities, outdoor recreation rental, and offers other entertainment such as games and television.
The Talley Library, which is now closed, contained over 11,000 books aswell as video tapes and compact discs available for checkout.

The Crumby Bowling Center is a 12-lane facility with a pro shop and snack bar.

The Post Exchange complex contains a theater, hot dog and popcorn stand, class six store, burger bar, banking facility, shopette, barber shop, beauty shop, flower shop and Stars and Stripes bookstore in addition to the main store.

There is a Burger King on post as well which adds a touch of home.

Prior to drawdown, the 2AD Education Center served 400 people per week through 11 educational programs sponsored by five colleges.

Middleton Gymnasium, opened in 1980, offers patrons five racquetball courts, saunas, weight rooms, and Nautilus equipment.

Also located on post are a health clinic, dental clinic, a new, 61,000 square foot commissary, Kidd Softball Field, Kramer Softball Field, Murray Soccer Field, the Davila Combined Arms Range, and the Neberman Multi-purpose Indoor Range. Given the restricted German terrain, the two ranges were built to allow for sub-caliber firing and indoor qualification.

The firing range facilities, coupled with the Stinger air defense training facility, the battle simulation center, and various other training simulators on the kaserne, helped make Clay Kaserne one of the best equipped in Germany.

Currently, 2AD (-) is in the process of fulfilling its final mission -- inactivation. Due to the restructuring of the U.S. Army, 2AD has been ordered off the active duty roles, ending more than 50 years of continuous service.

Lucius D. Clay Kaserne is scheduled to be turned over to the German government during the last quarter of Fiscal Year 92. Discussion continues about the future use of the installation.
---
Coast Guard LORAN-C Station, Sylt
---
Related Links:
US Army Fire Department in Bremerhaven 07 May 1945 - 30 June 1993 Interesting history with some photos of the Fire Department operated by the Army, manned by German civilians in Bremerhaven.
6913th Radio Squadron (Mobile) - Arlen Trapp's great site dedicated to USAF Security Service units stationed in Bremerhaven from 1951 to 1968. Check out the photo pages - wonderful pics of the Bremerhaven kasernes
NSGA Bremerhaven, Germany - Karl "Kris" Kristiansen's wonderful web site dedicated to the Naval Security Group Activity that served in Bremerhaven from 1953 to 1972. LOTS of great photos of Bremerhaven installations and surrounding area.
Weser and Rhine River Patrols - Andrew Baggs' very interesting web site presenting the US Navy's units stationed along the main rivers of Germany
US Navy in Germany - A Yahoo Group (you have to register) hosted by veterans of the US Navy in Germany for former members. Several photos of US Navy patrol craft used in Germany.