Seventh United States Army
"Pyramid of Power"
US Army, Europe
Looking for more information from military/civilian personnel assigned to or associated with the U.S. Army in Germany from 1945 to 1989. If you have any stories or thoughts on the subject, please contact me

.
---
---
History
"The Big Picture" was a US Army Public Affairs television series in the 1950s and 60s covering a wide range of subjects, telling the Army's story in history and in current events.
---
1945 - 1946
(Source: USAREUR Information Bulletin No. 6, July 1953)
SEVENTH ARMY AFTER WORLD WAR II

With "Unconditional Surrender" peace came once again to war-torn Europe. Nazi leaders were rounded up, tried, and convicted at Nuernberg. Art treasures looted by the Nazis from the countries they had temporarily enslaved were recovered and returned to their rightful owners. Seventh Army also began its occupation of Wuerttemberg, the Western Military District of the US Zone.

During this period its headquarters was located at Heidelberg under Major General Wade H Haislip. Lieutenant General Geoffrey Keyes succeeded him in September 1945. Death came to General Patch, who had returned to the United States, on 21 November 1945, the eve of his 56th birthday.


The "Constab"
Certain units of the Third and Seventh Armies had been designated District Constabularies and were to act as a security force in Germany after the Armies were inactivated. The "Constab," whose troops wore "The Cirde C" with lightning bolt patch, brightly striped helmets, golden neck scarves, yellow gloves, Sam Browne belts, and shining boots with yellow laces, were named by the Germans the "Blitz Polizei" (Lightning Police). To them was given either direct responsibility for action taken, or responsibility for cooperation, in practically every activity affecting the US Occupation Zone. Successful operation of the Constabulary was due to the efficiency, high state of training and discipline, and spirit of cooperation with other law enforcement agencies which characterized its officers and men.

Inactivation of the Seventh Army
With the Constabulary well organized, Seventh Army was inactivated in a colorful ceremony at Heidelberg on 31 March 1946. Lieutenant General Keyes presented a US flag and the Seventh Army's battle flag to General Joseph T McNarney, then Commanding General of US Forces, European Theater (USFET). The flags, symbolic of inactivation, were to be sent to Washington until another call to duty.

Although Seventh Army was reactivated for ten months (11 June 46 to 15 March 47) at Atlanta, Georgia, under Lieutenant General Oscar W Griswold, it was to, wait four years before being called upon again to perform duties of international importance.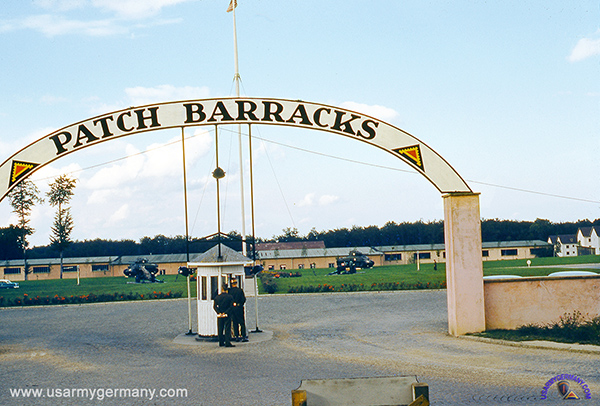 Patch Barracks in Vaihingen was the home of Headquarters Seventh Army
from 1950 to 1966 (Webmaster's collection)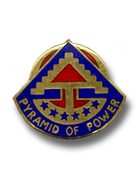 Seventh Army DI
1950 - 1953
Seventh Army Meets the Threat of Communism
World events moved swiftly during those four short years, bringing a new challenge to all freedom-loving nations. Europe, threatened by the ever-increasing strength of a potential aggressor, was forced to rearm in self-defense.

Fulfilling its obligation to the NATO forces, the United States chose for duty overseas the Seventh Army, the same Army that had contributed so much toward liberating the peoples of Europe in World War II. On 24 November 1950 at Stuttgart-Vaihingen, Germany, General Thomas T Handy, Commander-in-Chief, EUCOM, presented the Seventh Army flag to Lieutenant General Manton S Eddy and opened a new chapter in the life of the history-making Seventh.

Seventh Army Expands
At the beginning of 1951, the new Seventh Army's initial year of operation, two fundamentally perplexing problems confronted General Eddy and his staff.

First, the size of his army would have to be increased four-fold in order to afford any effective opposition to possible foreign aggression. An increase of this proportion would necessarily entail an organizational problem of staggering complexities. The new additions to the Seventh Army, most of whom were products of the national conscription, had for the most part been exposed to little more than basic training, and not all were fully oriented as to the reason for their being in Germany.

One hundred thousand of these men would arrive in the command within a year. They would have to be housed, fed, trained, and issued the equipment necessary for training. In early 1951 few of these requirements could be readily met.

The second and more delicate of the problems concerned the association between these 100,000 strangers and the people of Western Germany. Fortunately the absolute necessity for friendly relations between the German citizenry and the American soldiers was fully recognized by the American commander and his staff.

Germany had suffered extensively from the war; its people were weary of violence and desired only to return to a peaceful existence. Now, however, the greatest influx of soldiers since the war was about to take place. The possibly adverse effect of this peaceful invasion on the German state of mind was of major concern to Seventh Army leaders. The conduct of the individual soldiers would largely determine the attitude of the Germans toward them and would, to a great extent, add to or detract from the success of the over-all US mission in Germany.

A fortunate combination of top-level organizational skill and outstanding cooperation among the men themselves efficiently solved both problems as the Seventh Army expanded from 44,000 men and two divisions to 170,000 men and five divisions. At the same time the tide of German public opinion seemed definitely to be turning toward fuller cooperation with the Western nations. Today West Germany has become a potentially powerful and an undeniably important ally.

Realistic Training for Defense
General Eddy, who adopted a training policy of "less spit and polish and more soldiering," saw the year's training activities climaxed in October 1951 with the vast "Exercise Combine." This exercise involved more than 90,000 men, including troops from the French I and II Corps and smaller British units.

Two years of constant revision and improvement in emergency operation plans, frequent practice alerts, and unceasing surveillance of the Eastern zonal boundaries had kept the new Seventh Army prepared for any emergency. By the end of 1952 General Eddy was able to announce that the transition of the Army from occupation status to one of combat readiness was nearly complete.

The Seventh Changes Commanders
On 12 August 1952, the man largely responsible for the successful rebirth of the Seventh Army, General Eddy, assumed command of USAREUR. His successor was Lieutenant General Charles L Bolte. When General Eddy retired from his USAREUR command in April 1953, General Bolte once again replaced him. Lt General William M Hoge, former commander of the IX Corps in Korea and the 4th Army in the United States, assumed command of the Seventh Army.

The Seventh Army Today
Today the Seventh Army is composed of two operational corps: the V Corps with the 1st and 4th Infantry Divisions and the 2nd Armored Division; and the VII Corps with the 28th and 43rd Infantry Divisions. In addition, the 2nd, 6th, and 14th Armored Cavalry Regiments afford valuable front line attacking power and watchfulness on the strategic frontiers. The Army Headquarters is located at Stuffgart-Vaihingen, Germany.

The perplexing problems of a few years ago are now woven into the Seventh Army's history. As the Seventh has continued to grow in size and prestige, the people of Western Germany seem to be increasingly aware of the important role if plays in Western -- and West German -- defense. Today the Seventh Army stands as a pyramid of fighting strength, a combat ready restraining force for any potential Communist aggression in Western Europe and the major fighting arm of NATO.
---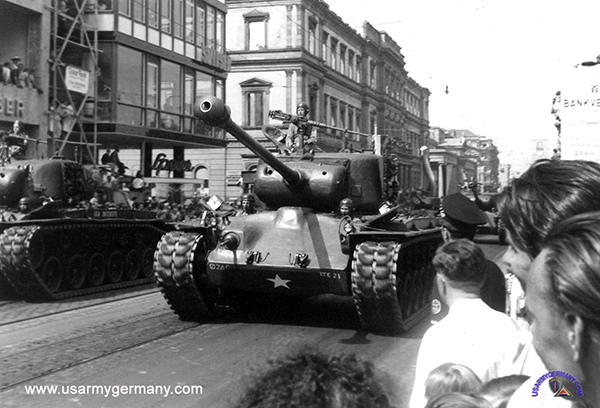 M-26 Pershing medium tanks of the 2nd ACR (James Fitzpatrick)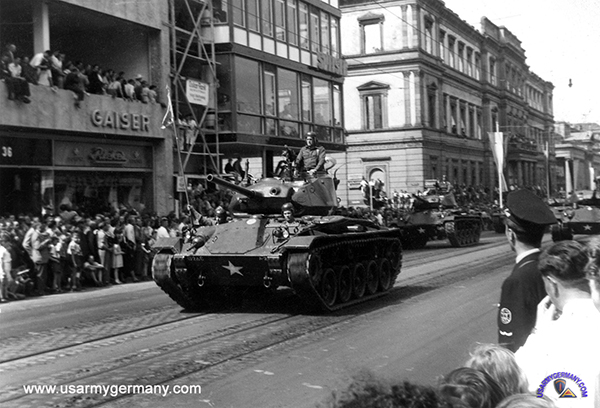 M-24 Chaffee light tanks of the 2nd ACR (James Fitzpatrick)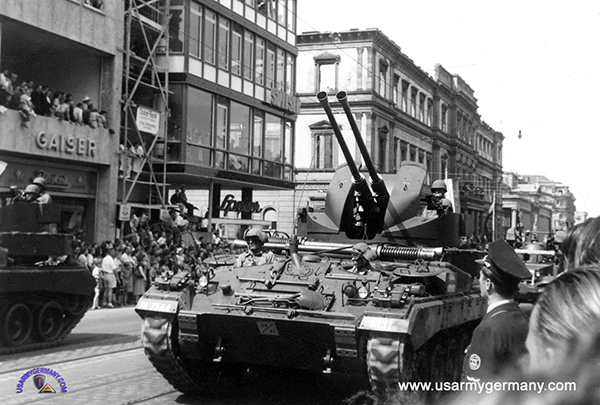 M-19 Multiple Gun Motor Carriage of the 73rd AAA Bn (James Fitzpatrick)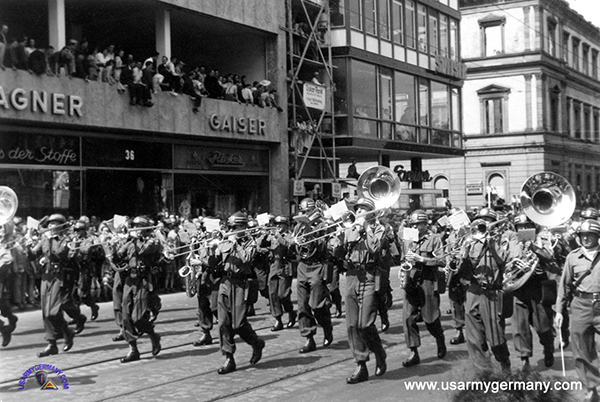 One of the two Constabulary bands participating in the Independence Day parade in 1951
July 4, 1951
(Source: STARS & STRIPES, July 6, 1951)
In the largest Independence Day parade held in EUCOM in 1951, elements of the 7th Army passed in review before Lt Gen Manton S. Eddy, 7th Army commanding general, in Stuttgart. 7th Army officials stated that over 6,000 men and 500 military vehicles participated in the parade.

Over 50,000 Germans turned out to see the parade as elements of the 1st Infantry Division, US Constabulary and other 7th Army units marched passed a reviewing stand with numerous senior European Command, Allied military and local German civilian officials.

Units participating in the parade: 16th Infantry Regiment; 2nd Armored Cavalry Regiment; 371st Infantry Battalion; 70th Field Artillery Battalion; 519th Field Artillery Battalion; 32nd Field Artillery Battalion; 73rd Anti-Aircraft Artillery Battalion; 97th Signal Battalion; 54th Engineer Battalion (Combat); and the 82nd and 83rd Constabulary Bands.
---
1953
---
1953 - 1954
(Source: Chapter 1, HQ USAREUR Annual Historical Report, 1953-54)
7th Army
a. Organizational Structure on 1 January 1953.


At the beginning of 1953, Seventh Army was made up of Headquarters, Seventh Army; two corps, V Corps and VII Corps; and five subordinate supporting commands. The latter group included Seventh Army Artillery; Seventh Army Engineer Command; Special Troops, Seventh Army; Seventh Army Troops; and Detached Troops, Seventh Army.
b. Composition of Headquarters, Seventh Army.

| | | |
| --- | --- | --- |
| | | Headquarters, Seventh Army, as organized at the beginning of 1953, consisted of the office of the commanding general, the chief of staff and seven offices or sections responsible directly to him, the general staff, and the special staff. Directly under the chief of staff were the secretary of the general staff, the deputy chief of staff for plans, the headquarters commandant, the inspector general section, the comptroller's section, the public information section, and the troop information and education section. |
c.
Organizational Changes between 1 January 1953 and 30 June 1954.

Approximately two hundred organizational changes were made within Seventh Army during the 18-month period, but most of these had no significant effect upon the structure of the army. Some were adjustments made to adapt the organization to the available force or to conform with the new strength authorizations or revised tables of organization and equipment (T/O&E's). Falling in this category was a major reorganization, effective 1 October 1953, that resulted in the inactivation of 6 quartermaster service companies, 1 refrigerator company, 5 transportation companies, 1 signal company, 1 ordnance reclamation and classification company, and several service or support detachments.

Several units were assigned to Seventh Army during the period. The
42d Field Artillery Group
was activated and assigned to Seventh Army effective 2 January 1953. The group consisted at the time of only the headquarters and headquarters battery, which provided the command structure for the 280mm artillery battalions subsequently assigned to Seventh Army upon their arrival in the theater. Two other significant additions to Seventh Army were the
19th Armored Cavalry Group
(later redesignated as the 19th Armored Group) which was attached to V Corps, and the
10th Special Forces Group (Airborne)
. The armor unit was activated 2 January 1953; the assignment of the 10th Special Forces Group was effective 21 November.

Only two important changes were made within Headquarters, Seventh Army. In April 1954 the chief of staff abolished the position of the deputy chief of staff for plans, and established in its place the office of deputy chief of staff for operations. The Assistant Chief of Staff, G3, was directed to assume the planning responsibilities. The other significant change was the creation of the Army aviation section as a section of the special staff. Prior to 11 Marsh 1954, when the change became effective, this activity had been a part of the office of the Assistant Chief of Staff, G3.
d.
Redesignation of Two National Guard Divisions.

Another change, and one that was primarily of historical interest, was the redesignation of two of Seventh Army's infantry divisions. Both were National Guard divisions which, with six others, had been called to active duty at the beginning of the Korean emergency. Public Law 461 of the 82d Congress required that the colors and designations of all National Guard divisions be returned to their respective states not more than five years after their call to active duty. Accordingly, the Department of the Army advised USAREUR in March 1954 that the two divisions would be returned to state control in June. One of the divisions, the
28th Infantry Division
, was from Pennsylvania; the
43d Infantry Division
was from Connecticut, Rhode Island, and Vermont. With the exception of those individuals who had remained voluntarily on active duty, the original members of these units at the time they were called to active duty had been returned to civilian life long ago, and the change involved no movement of troops. According to the Department of the Army plan, the two Seventh Army divisions were transferred to the zone of interior without equipment or personnel. To replace them, the Department of the Army transferred, also without personnel or equipment, two old and historic Regular Army divisions from the United States to Germany. The
9th Infantry Division
was transferred from Fort Dix, Mew Jersey, where it had been a training division since July 1947. It was reorganised with the men and equipment previously assigned to Pennsylvania's 28th Infantry Division. The
5th Infantry Division
, which had been inactive since September 1953, was reorganized with the men and equipment from the 43d Division. As far as practicable, the two divisions were made up from units that had been assigned to them during World War II.
---
1954
(Source: Seventh Army Annual History)
---
1954 - 1955
(Source: Chapter 1, HQ USAREUR Annual Historical Report, 1954-55)
7th ARMY
a.
Mission
.

Seventh Army's most important mission was to maintain USAREUR's principal combat force in a state of immediate readiness for combat. In the event of hostilities, this
tactical force
, consisting of 5 divisions, 3 armored cavalry regiments, 14 antiaircraft artillery battalions, corps and army artillery units, and other supporting forces, would have the combat mission of defending a 300-mile border. With this mission, CINCUSAREUR assigned to Seventh Army full responsibility for the military security of the border separating the U.S. Zone of Germany from the Russian Zones of Germany and Austria, and from Czechoslovakia, and the secondary mission of providing a security screen along the border to detect and report evidence of impending movement of hostile forage into the U.S. Zone of Germany.

In addition, the commanding general of Seventh Army had such specific missions as commanding Seventh Army and attached forces, and being prepared to assume command of the area commands, and the technical service depots and maintenance facilities in Germany; being prepared to assume responsibility for movement control of all U.S. highway and rail traffic in the U.S. Zone of Germany, and coordinating movements to and within the French Zone of Germany, and between these areas and COMZ; being prepared to execute plans for the evacuation of civilians and other noncombatants, materiel, and military agencies from the U.S. Zone of Germany; and conducting destruction and demolition according to plan.

Planning missions included the preparation and maintenance of plans for current Seventh Army operations and for emergency and war plans.
| | | |
| --- | --- | --- |
| | | Some of the intelligence missions were to maintain and disseminate current intelligence information with specific emphasis on early warning of the imminence of hostilities, and ensure appropriate counterintelligence measures; to plan and direct the activities of Seventh Army intelligence and counterintelligence agencies with specific emphasis on intelligence related to the physical security of the border separating the U.S, Zone of Germany from the Russian Zones of Germany and Austria, and from Czechoslovakia; and to maintain liaison and to coordinate with the Assistant Chief of Staff, G2, and component elements, designated U.S. nonmilitary intelligence and other agencies, NATO intelligence agencies, and foreign intelligence agencies within his sphere of responsibility. |

The logistical and administrative missions of Seventh Army were to provide equipment and logistical support necessary for its current operations and to maintain a continuous state of combat readiness; to support its own tactical operations in the event of hostilities or certain emergencies, provide common-user items to U.S. Air Force and U.S. Navy elements in its area of operations, and be responsible for supply and maintenance support of all U.S. Army forces in Germany; to be prepared to assume responsibility for all civil affairs and military government operations in its area of operations; to conduct budget, fiscal, and management activities in support of current operations and in preparation for war or emergency requirements; to provide chemical supply and field maintenance support to the area commands; and to provide engineer maintenance and spare part support to the area commands, and to provide engineer supply support, other than repair and utility support, to units and activities in the area commands.
b.
Organization
.

(1) Structure on 1 July 1954. At the beginning of FY 1955, Seventh Army consisted of Headquarters, Seventh Army; two corps, V and VII Corps; and the following five subordinate supporting commands: Seventh Army Artillery; Seventh Army Engineer Command; Special Troops Seventh Army; Seventh Army Troops; and Detached Troops, Seventh Army.

(2) Changes. The most significant change affecting Seventh Army's organization during FY 1955 was the addition of six field artillery rocket batteries[1], one 280-mm gun battalion[2], and a guided missile battalion[3]. These units, each capable of delivering either atomic or conventional warheads, substantially increased Seventh Army's combat capability. Seventh Army assigned three "Honest John" rocket batteries to each corps to strengthen the corps artillery. The "Corporal" guided missile battalion was assigned to Seventh Army Artillery.

The 280-mm gun battalion that reached Europe during FY 1955 was the sixth unit of that type to be assigned to Seventh Army. During the spring of 1955, Seventh Army assigned one battalion to each corps[4], the other four 280-mm battalions remained attached to the
42d Field Artillery Group
, which was assigned to Seventh Army artillery[4].

Another change within Seventh Army's artillery units was the conversion of 4 of its 14 antiaircraft battalions to Skysweeper weapons[7], a change that made necessary slight reorganizations of these battalions.
Webmaster Notes:
[1] FA Btry (762mm Rkt): 1st (Kitzingen); 3rd (Ansbach); 6th (Schwäbisch Gmünd); 7th (Darmstadt); 84th (Hanau); 85th ().
The 85th FA Btry does not appear in the 1955-57 Station Lists I have, but does get mentioned in the 35th FA Gp Yearbook for 1954.
[2] 216th FA Gun Bn (280mm)
[3] 259th FA Msl Bn (Corporal)
[4] V Corps: 216th FA Bn; VII Corps: 867th FA Bn; 42nd FA Gp: 59th, 264th; 265th & 868th FA Bns

There were, in addition, many small organizational changes and other changes resulting from a Department of the Army order to
return all reserve component units to reserve component control
in the United States. This program, initiated during FY 1954 with the release of two National Guard divisions, affected 73 Seventh Army. units, wetly of company or battalion size, during pY 1955. These units were approaching the statutory limitations for active federal service, having been inducted into active federal duty during the expansion program after the outbreak of the Korean War. All units released were replaced by Regular Army units of the same kind, with all changes made less personnel and equipment.

(3) Composition of Seventh Army Headquarters. Headquarters, Seventh Army, consisted of the office of the commanding general, the chief of staff, the four general staff offices, the special staff, and a group of seven offices that were in neither the general nor the special staff but were responsible directly to the chief of staff. In the latter group were: Secretary of the General Staff; Special Liaison Office; Headquarters Commandant; Inspector General Section; Comptroller Section; the Public Information Section and the Troop Information and Education Section. Only two changes were made to this structure during the year. The TI&E Section was placed with the special staff, and the Special Services Section of the special staff was eliminated as a staff section and incorporated in G1.
---
(Source: Email from Paul Seibold)
I recently acquired a US Army Class A uniform with the depicted left-shoulder patch. Though formerly stationed with USAREUR, I'm surprised to learn that "Seven Steps to Hell" was the 7th Army motto. The "Germany" script above the 7th Army patch is also new to me.

The uniform blouse is of the standard green four-button type with Specialist 4 rank, Engineer branch pin and maroon-on-white "Bridge Builders" crest on each shoulder tab.

I'd be grateful for any information about these distinctive insignia.
Paul Seibold

Who knows when the "Germany" tab was worn and if it was limited to certain units? Any information would be helpful.
(Source: Email from Don Rocheleau)
The Answer

I would like to respond to Paul Seibold inquiry about the Seventh Army 'Seven Steps To Hell' patch with the Germany script above.

I was stationed at Camp Pieri near Wiesbaden, Germany from 1957 to 1959. My duty was operations clerk for the 4th Chemical Company, Seventh Army. I have the same patches on my Class A uniform which I still have. The reason Paul cannot find any information about the patches is that they were not authorized to be put on a uniform. They were called "short timers patch". A German citizen we called "Quick Eric" would come on post every evening and sell souvenir jackets, patches, etc. from the back of his V.W. station wagon. And that is where the Seven Steps To Hell patch came from. Officially we could not wear them, but when we received our orders to start clearing post prior to our return to the States, and became "short timers," the officers and NCO's would not bother us if we put them on our uniform. Sort of a 'badge of honor,' I guess.

Although we were told, once we left post, don't get stopped because we were on our own then. I never had a problem. The eighteen months I spent in Wiesbaden were some of the best of my life. What wonderful memories I have had writing this.

---
(Source: Author's collection)
RESPONSE TO INQUIRY
(Source: Email from James N. Vandenberg, RA, AICP LCDR, CEC, USN (Seabees), USEUCOM Staff Facilities Planner / Humanitarian Assistance Engineer)
I am currently tasked with doing space planning and allocation for EUCOM. In this capacity, I am surveying all of the buildings to see current conditions.
The photo on the website under 7th Army HQ - 1954 and states: "This building on Patch barracks is identified as the Headquarters Building for Seventh Army in 1954. The picture stems from a photo album of an unidentified member of Wire Operations Company, 97th Signal Battalion." "Can anybody provide details?"
I can.
That building (Bldg #2307)is on the west side of "Washington Square" the parade ground which now has two flag poles, one US and one German. The building completed a renovation on 01 Oct 2008 which completely gutted the building down to the bare walls and floors. Prior to the renovation it was the US Army Garrison - Stuttgart Community Services building housing the library, chapel meeting rooms, SATO-Travel, USO, Red Cross and Provost Marshals Office on the first deck.
It has been renovated all except the fourth floor which is still under design/work to create a EUCOM wide conference facility. But the renovation includes putting in two elevators and air conditioning / heating throughout the whole building, with of course, new windows, wiring and communications. Into the building is still the Provost Marshals Office, but now the fire department and other undetermined tenants - as we are reviewing who needs to be in this new building.
There is another photo of the building from 1942 on the Vaihingen list of photos with a Nazi flagpole and trees in front. It is from a series of B/W post card views of "Kurmarker Kaserne" which is what the Germans still call it. The difference, which I noted when looking at the demolition inside is the 1942 photos shows an arched porch or loggia on the left side (south). Inside the Provost Marshals Office you can see the arches. They filled in the arches with walls and stuccoed over them so they are not visible on the exterior anymore, but they can be seen on the inside.
Hope this helps.
---
(Source: Email from Tom Cohoon)
I served as a Warrant Officer at
Seventh Army Signal Section
from May 1952 to Jan 1953. Thence as Personnel Officer, 40th Signal Bn. until March 1955.
Some of the personalities staffing the Seventh Army Signal Section were:

Signal Officer: Col. Wm. Pence;

Deputy Sig O: LTC Bob McKithan;
Other Staff Officers:

LTC Halvor T. Darracott,

Majors Bob Wheat, Tommy Thompson;

Captains Welsh, Tom Branigan & others.

WOJG Tom Cohoon & SFC Willy.

HQ, BOQ, Family Qtrs. & Officers Club were all located at Vaihingen. 301st Sig Gp , 97th Sig Bn & others were at Böblingen.

Wait time for family Qtrs: 9 months! I finagled a transfer to 40th Sig Bn in Karlsruhe where there was less wait time.

Bn CO was LTC Kelleher; XO was Maj George Houston; Adj: Cpt Val Fumich; HQ Co CO: John Clements. Some others Bn Officers were Capts. Joe Ely, Ben DiNardo, Dallas Tunning, Ed Otterholt, Joe Rankin. Lts. Cal Rushing, Daly, Gray Kenney, Tom Shuman, et al. WOs Patrick, Laddie Bell & Tom Cohoon. C Company was at Baumholder under command of Joe Rankin, a black Officer.

D Co was at Kaiserslautern under command of Ed Otterholt. Months at the time in the field are among my unpleasant memories of the Bn
I have some photos of little value - mostly social functions & personalities.
Tom Cohoon
---
(Source: author's collection)
---
1957
OPERATION BIG SWITCH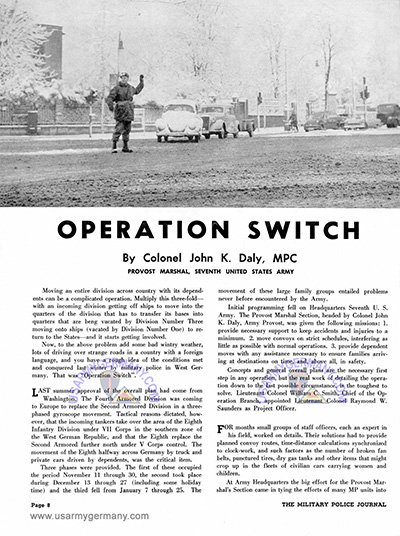 (Click on the above image to view the entire article)
(Source: MILITARY POLICE Journal, May 1958)
Article describes the important role of the Military Police in supporting this massive three-phased Gyroscope movement in the late 1957/early 1958 time frame when the 8th Infantry Division and the incoming (Gyroscope) 4th Armored Division switch home stations in Germany.
---
1958
(Source: STARS & STRIPES, February 5, 1958)
There are 11 field hospitals (five surgical and six evacuation hospitals) within the 7th Army command:
| | | |
| --- | --- | --- |
| UNIT DESIGNATION | DUTY STATION | HIGHER HQS |
| 2nd Evac Hosp (SMBL) | Bad Kreuznach | 31st Med Gp |
| 7th Evac Hosp (SMB) | Darmstadt | 31st Med Gp |
| 8th Evac Hosp (SMBL) | Landstuhl | 30th Med Gp |
| 15th Evac Hosp (SMBL) | Münchweiler | 30th Med Gp |
| 58th Evac Hosp (SMBL) | Idar Oberstein | 31st Med Gp |
| 128th Evac Hosp (SML) | Ludwigsburg | 30th Med Gp |
| 4th Surg Hosp (MBL) | Ludwigsburg | 30th Med Gp |
| 5th Surg Hosp (MBL) | Heidelberg | 31st Med Gp |
| 31st Surg Hosp (MBL) | Hoechst | 31st Med Gp |
| 32nd Surg Hosp (MBL) | Würzburg | 31st Med Gp |
| 46th Surg Hosp (MBL) | Landstuhl | 30th Med Gp |
| | | |
There are currently 160,000 persons in 7th Army.
---
(Source: Email from Richard Falknor, HQ 7th Army, 1959-1960)
I was the editor of the Sentinel from fall 1959 through September 1960 -- I may still have the Christmas 1959 number. If so, I'll try to scan in a few pages. Though I was only an E-5, my boss was Lt. Col Sandy [Sanford P.] Sussell who got me the "Green Hornet" for my work which, of course, was really built upon the work of those who had gone before as well as those who worked with me.

Most of my friends in the information section spent time off post (Cafe Mozart in downtown Stuttgart) or lived "on the economy" or both. Even those of us who had studied other modern languages extensively (five years of French for me), did our best to get by in German. The Sentinel then employed a German printer in Vaihingen. Fortunately their linotype operator had been a (literate) POW in the US and thus saved us many embarrassments.

Enlisted headquarters company was one-third graduate students and two-thirds cooks and truck drivers, but everyone seemed to get along.

The Sentinel was really part of a cluster of Patch Barracks PIO activities with drafted journalists, a Troop Information information roadshow with equally capable folks, and the weekly itself. Apart from the inexorable USAREUR and Seventh Army alerts and absolutely unwordly dress requirements (an NCO of the Day running around tape-measuring enlisted men and an OD doing the same to officers), we largely had a kind of young professional life - - - as long as we took care to meet our deadlines and to outwork any Germans on the kaserne.

I couldn't believe I would find any entries when I "googled" Seventh Army Sentinel. But I found entries for two former editors, one a playwright today who must have been at Patch Barracks much later than the 1950s, and another a president of the New York Jets, the latter apparently at Patch between 1952-1954.
Richard Falknor
---
(Source: Email from Robert Vitali)
I'm hoping someone can help me find some information. My father tells me he was in the 7th Army in the early 1960's ('61-'64 I believe) stationed in Germany (near Stuttgart). He told me of a 7th Army 20th anniversary parade he was in celebrating the formation of the 7th Army's birth in WWII Europe campaign. He said it was at Neckar Stadium. The only place I can find a "Neckar" stadium is in Mannheim, Germany.

At any rate, I'm looking to see if anyone has record of this event and perhaps even photos. This sounds strange but I would really like to have photos of it and I think my father would as well though he would never attempt looking for them. He has asked a buddy of his to take pictures since my father walked in the parade, but the guy never did.
Robert Vitali
---
(Source: USAREUR Annual Historical Report, 1956-57)
Seventh Army Restationing Plan, 1957

Because of the over-all weakness of NATO ground forces in Central Europe, in the past Seventh Army combat units had not been positioned in locations affording the greatest military advantage along the most likely axes of a Soviet attack. With the build-up of the West German army and the pentomic reorganization of US divisions underway, an excellent opportunity was afforded to correct weaknesses in unit deployment and at the same time to effect economies in operating costs. To this end Seventh Army, in January 1957, developed a restationing plan formally known as the Mid-Range Concept and informally designated as SEVENTH HEAVEN or 7H.

Basically, the plan provided for the withdrawal of major US combat forces from lower Bavaria to positions north of the Danube River. The vacated facilities would be released to the control of the new West German Army, which would permit the development of a German corps to assume the operational tasks south of the Danube. Units gyroscoping from the United States would be immediately moved to their ultimate stations if possible. With the current replacement of the French II Corps by an equivalent German corps, two West German army corps would be on the flanks of the US forces concentrated in the most vulnerable sector along the Kassel-Frankfurt axis.

The restationing plan was subsequently explained to COMFOURATAF and generally approved by CINCENT and SACEUR; in January 1957, CINCUSAREUR presented it to the Department of the Army, the American Ambassador at Bonn, and to the German Federal Minister of Defense. The Chief of Staff, US Army, agreed to the desirability of withdrawing forces to positions north of the Danube and considered the time propitious for such a change. At the same time he expressed some concern over the complexity of the plan, particularly with respect to the number of divisions scheduled for relocation and the cost involved. Any Army funds required to support such a relocation plan would have to be justified, a major problem in face of current budgetary limitations. Because of the international implications, budgetary aspects, and similar considerations, it might be necessary to settle for something less than the optimum plan to relocate the Seventh Army forces. One solution would be to move the units stationed in Bavaria to positions north of the Danube and to reduce other moves to a minimum. Although this would be less desirable from an operational point of view, a more simple plan of this type would improve the combat posture and would be more feasible from the standpoints of cost and coordination.

To USAREUR the restationing plan was feasible only if the Federal Republic of Germany would provide the necessary funds -- approximately $180 million -- for the essential facilities; US expenditures for the troop movements could be absorbed over a two-year period. The German Ministry of Defense, while concurring in the plan, could not say whether the Federal Republic would finance it or not. In any event the West German Army would desire to station one or two divisions north of the Danube for political and military reasons. At the close of the reporting period the matter was under study, but it seemed unlikely that the Federal Republic would approve the plan until after the West German elections in September 1957.

Meanwhile, Seventh Army was to prepare a simpler plan involving a slight withdrawal of the 4th Armored Division westward and southward and the 8th Infantry Division westward. For the time being the Seventh Army units were to reorganize under the pentomic concept in their present locations.
---
(Source: USAREUR Annual Historical Report, 1957-58)
Relocation of Troop Stations
(1) Double Switch
The troop relocation plan
Double Switch
was to be implemented in conjunction with the gyroscope move of the 2nd Armored Division. The plan provided for moving the
8th Infantry Division
into the former area of the 2nd Armored Division and stationing the replacement
4th Armored Division
in the VII Corps area in order to provide an armored division for each of the two US corps. The sum of $1.5 million was made available to Seventh Army to finance the triple shift as well as additional construction needed for the armored units.
Double Switch
was completed by 28 January 1958 with an expenditure of only $800,000 , because Seventh Army was able to make some savings.
(2) Seventh Heaven
Seventh Heaven
was a restationing plan according to which the US forces in Germany were to be placed in a better tactical position by being concentrated north of the Danube River. In February 1958, USAREUR forwarded its completed restationing plan to the West German Ministry of Defense for consideration. Exclusive of real estate, the project was estimated to cost the equivalent of $200 million.
In April 1958, the USAREUR position pertaining to
Seventh Heaven
negotiations with the Federal Republic of Germany was further clarified. Tactical integrity of units was to be maintained at all times, and moves would not begin before construction was 100-percent complete. Minimum standards of acceptance were provision of required barracks, dependent housing, and allied facilities to enable relocation of one tactical division at a time. The deployment schedule for USAREUR units was contingent upon a "time frame" to be established by negotiations with the Federal Republic of Germany.
In their counterproposal of 14 May 1958, the Germans insisted on a release of 15,000 troop spaces south of the Danube by 31 December 1958 as a condition for approval of any restationing plan. Their terms contained no offers of suitable caserns, buildings, or other structures and no commitment for providing dependent housing. Negotiations were to be resumed as soon as possible.
---
(Source: USAREUR Annual Historical Report, 1958-59)
1959
Seventh Army was responsible for a 175-mile front along the borders of West Germany and the Warsaw Pact countries of East Germany and Czechoslovakia.

In the event of hostilities, US Army forces under CENTAG would have been reinforced with up to three additional corps.
---
---
1960
(Source: USAREUR Annual Historical Report, 1958-59)
A transcript (15 pages) of a briefing held by Lt Gen Garrison Davidson, Seventh Army CG, for CINUSAREUR (Gen Bruce Clark) in December 1960.
In the briefing, Lt Gen Davidson deplores the state of training in Seventh Army and its resulting negative impact on the morale of the 7A officer corps.
To read the transcript (PDF format),
click here
.
---
1963
---
1964
(Source: Email from Jack Dawes, 7th Army AG Prining Plant, Vaihingen, 1964-1965)
I was a Pressman in the AG Printing Plant, Hq. 7th Army, Patch Barracks, from 1964 to May 1965. Have a couple photos of me inside, on a Collator, and an outside photo of me and two buddies, in Class A uniforms. We made dog tags on a Addressograph-Multigraph machine, for our Hq. personnel. Printing for all sections there.

When Charles DeGaulle evicted our NATO Troops out of France, 1964, our Printing Plant inherited a printing press from a US Army unit in France. Our electrical wiring was not able to hookup to the bigger 25" Offset Press. So, the US Army furnished a generator outside to run the equipment. If the heating was not turned on, Grave Shift could not work. Printing Ink would be too solid to use in a press.

Our Shop was a complete Printing Plant. Inside: Office, Darkroom, for negatives. Platemaking room for presses. No Copy Machines in those days. Used Xerox paper plates, and Aluminum Plates.

Pressroom, Multilith Offset Presses, small 11X17" size. Big press, was a 25" wide, Offset Press. Paper Cutter, Bindery Collator for Army printing needs, stapled for distribution.

Booklets for maneuvers, etc. Some of the Printing had photos in them.

When we were alerted for Field Duty, we had a 2 1/2 ton truck, with a paper cutter in it, and would lift a Multilith into an expandable large van. A generator was hooked up for working. We had paper stored in the building. In those days, the mid Sixties, no shredders.

Had burning detail, had to burn all classified material, and prep department material.

About 25 personnel were assigned in the Printing Plant. 1 Officer, and two Sr. NCO`s. 3 German Civilians.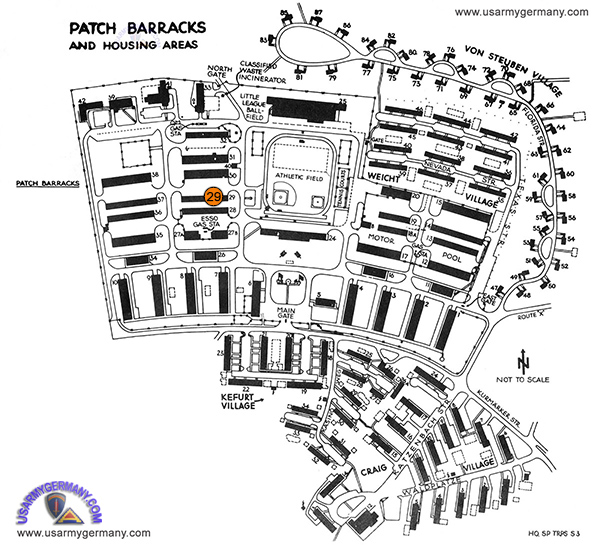 Patch Barracks, mid-1960s
I can locate the Shop on a Map. The AG Printing Plant, was on Row # 29 (above), across from the Athletic Field parking lot. At the end of the building. Once, I tried goggle maps, honed in on the spot. Looked different then.

Visited there again in 1993. Shop was gone by then.
---

---
Lt Gen Manton S. Eddy
Aug 1950 - Aug 1952
(Source: Welcome to Vaihingen/Germany, Headquarters United States Seventh Army, booklet issued during FTX Combine, Author's collection)

LTG Eddy
CG, Seventh Army Welcome Booklet
FTX Combine


Seventh Army Special Troops issued this booklet to participants of a conference held at Patch Barracks in October 1951. This exercise, involving more than 90,000 men, including troops from the French I and II Corps and smaller British units, was the largest maneuver to be held by the American Army in Europe since the end of the war.

(Source: TIME Magazine Archives)

Monday, Dec. 04, 1950
On orders from Washington, Lieut. General Manton S. Eddy, U.S. Army commander in Europe, last week reactivated the Seventh Army with himself as commanding general and headquarters in Stuttgart. This marked the end of the U.S. troops' role in Germany as an occupation force and the beginning of a fighting force to stand against Communist aggression. Eddy's command will consist at first of the 1st Infantry Division and an armored constabulary division, and will soon absorb most of the 87,000 U.S. troops in Germany. Purposes of the move were 1) to show French and Germans that the U.S. means to defend West Germany, and 2) to provide a cadre for the absorption of more U.S. divisions when they can be released from Korea.
---
(Source: Email from Eduard "Eddie" Witzmann, Canada)
Your historical, informative Web-Site allows many of us "Old Timers" to return to the days of our youth and reminisce. . .

It is most importantly a "Feel Good" site, in these troublesome times of war and terrorism, as the 733 guestbook entries confirm. [Have read them all.]

Perhaps, I may add another perspective view of interest to your guestbook readers.

Born in Frankfurt in 1938, I was 7 years old in 1945, with four brothers. Surviving the war-years itself was a manumental struggle for the civilian german population.

Our mother, along with millions of others, continued that struggle for survival in the postwar years, mostly without the benefit of men.

Caring for five young children as best she could in a devastated, demolished and demoralized city. It was the American initiatives of the Marshal Plan, Red Cross, CARE, etc. that carried us through those years.

My generation of Germans owes the American people, especially those early, post-war "ambassadors" in G.I. uniforms, a heartfelt thanks.

Out of the ashes of that time frew a german/american firendship, respect and alliance that has lasted more than five decades. I am grateful to America.

Personally, growing up in post-war Frankfurt allowed me lasting contacts and friendships with American civilian and military personnel that has enriched my life.

Living one block from the I.G. Farben Buidling in 1946-52, allowed for a close affinity and insight to Americans and America . . . The land of peanut butter and Hershey bars, Bazooka bubble gum and comic books, made a great impression on this eight year old. Selling flowers door to door, shining shoes at the P.X. WAC Circle and Gibbs Kaserne, provided clean, new clothes, a full stomach and a new second language.

Balancing school work and this much more interesting shoe-shine venture, did present some real challenges, but looking back on this time, it was all part of a valuable education.

Most of my contact was with members of the 322nd Signal Battalion at Gibbs in Frankfurt to 1952, then Cambrai-Fritsch Kaserne in Darnstadt. A finer group of enlisted men and officers one could not wish for.

Thank you for allowing me to participate and comment on your site.
Eduard "Eddie" Witzmann



Eddie and Pfc Stutz, 1951 at Gibbs Barracks.

---
Lt Gen Charles L Bolte
Aug 1952 - Mar 1953

---
Lt Gen William H. Hoge
Mar 1953 - Sep 1953
In March 1953, Gen J. Lawton Collins, Army Chief of Staff, asked Hoge to take command of the Seventh Army in Germany, the major American ground component in NATO.

In September 1953, Hoge received his fouth star upon becoming Commander-in-Chief of US Army, Europe in Heidelberg. On 1 Feb 1955, Gen Hoge was replaced by Gen Anthony C. McAuliffe as CINCUSAREUR and COMCENTAG.

Gen Hoge retired on 31 January 1955.
---
(Source: private collection, Walter Elkins)
Gift to Gen Hoge, CG 7th Army, from his staff upon his promotion to CINCUSAREUR in September 1953.

Group caricature picture drawn by Farrington in 1953.

There are five groups of signatures at the bottom of the picture (A through E). I tried to decipher them with the help of the Officers Roster that I have for Headquarters Seventh Army from the same period. Corrections are welcome!



| | | | | | |
| --- | --- | --- | --- | --- | --- |
| A | Einar B. Gjelsteen | C | Raleigh Hendrix | E | R. A. Shagrin? |
| | William L. Wilson? | | George A. Rehm | | John L. ? |
| | Albert S. Britt | | Weston A. McCormac | | ? |
| | ? A. Chester | | William W. O'Connor | | Dewey? E. Brown |
| | Lewis A. Riggins | | Alvin G. Viney | | |
| | William P. Ponce | | ? | | |
| | | | Raymond M. Barton | | |
| | | | | | |
| B | John L. Walker | D | Frances M. Greene | | |
| | ? D. Lott? | | Howard C.? Dillert | | |
| | William P. Connally | | Howard H. Simmons | | |
| | Edward J. DeMara | | Merle S. Hotchkiss | | |
| | Thomas A. McFall? | | Howard E. Bottomley | | |
| | Robert R.? Chaffee | | | | |
| | | | | | |

---
Lt Gen Anthony C. McAuliffe
Sep 1953 - 1955
(Source: private collection)
General Anthony McAuliffe, CG, Seventh US Army

Lt. General Anthony C. McAuliffe was transferred to Europe and placed in command of the 7th Army in Stuttgart in 1953. He received a further promotion to four-star general in 1955, and was named commander in chief of the U.S. Army in Europe later that same year. Gen McAuliffe retired from the Army in 1956.

The following photos apparently belonged to General McAuliffe and were taken from a scrap book that was sold on the Interenet recently. McAuliffe commanded the 101st Airborne Division and other troops at Bastogne during the Battle of the Bulge (WW 2). He became an instant American hero when he replied with "Nuts" to a request to surrender by the commander of the surrounding German forces.



LG Anthony McAuliffe
CG, 7th Army






1. LG McAuliffe, wife and daughter on way to change of command ceremony, 1953

2. German villa used by US Army as general's quarters?

3. Entrance to estate?



4. Christmas bazaar

5. Christmas bazaar

6. Rhine River Patrol

7. Rhine River Patrol







1. Special train operated by Seventh Army


2. Special train operated by US Constabulary



This photo of the Seventh Army train was included in the General's scrap book. It probably dates from the 1953-54 period. The photo of the US Constabulary train probably dates from the 1950-51 period. Both trains appear to be one and the same.

Can anybody provide details on this train that was used by the commanding general of Seventh Army in the 1950s?

---
---
(Source: Email from René Höjris, Danish author)
René Höjris, who has written biographies on Winston Churchill and Michael Schumacher (of Formula 1 fame), has written a book - in english - on General Anthony "Nuts" McAuliffe.

The very interesting book also includes information and photos of the General during his assignments in Stuttgart and Heidelberg as CG, 7th Army and CINCUSAREUR in the mid 1950s.

The book should go to the printers in late May 2004 and be on sale by June 6, 2004.

For more details on the book, contact the author or the publisher.




---
Lt Gen John C. Oakes
1962
(Source: Email from Sue Oakes Keith, daughter of Lt Gen Oakes, former CG Seventh Army)
My father, John Cogswell Oakes, was Commanding General Seventh Army in 1962.

I have found your website very interesting. I have some photos which I am trying to organize if you would like them. One is included: the caption on the photo reads "Nine Former Seventh Army Commanders taken 14 Nov 1968 at Campbell Barracks, USAREUR and Seventh Army Headquarters, Heidelberg, as part of Seventh Army Recognition Day Activities. The former commanders were honored by Gen James H. Polk, USAREUR and Seventh Army Commander in Chief, for "past contributions to our present effectiveness."

The Commanders (L to R): Gen Haislip, Gen Bolte, Gen McAuliffe, Gen Clarke, Gen Eddleman, Gen Harris, LTG Farrell, LTG Oakes, LTG Quinn. Gen Polk is right front

Sue Oakes Keith

---
(Source: Walter Elkins)
| | | | |
| --- | --- | --- | --- |
| | | | |
| 1. 7th Army Main - near Bad Kreuznach, Signal vans, 1957 | 2. 7th Army Advance - near Darmstadt, 1957 | 3. 7th Army Rear - Baumholder, March 1958 | |
| 4. 7th Army Advance - Darmstadt, March 1958 | | | |

---
Seventh Army NCO Academy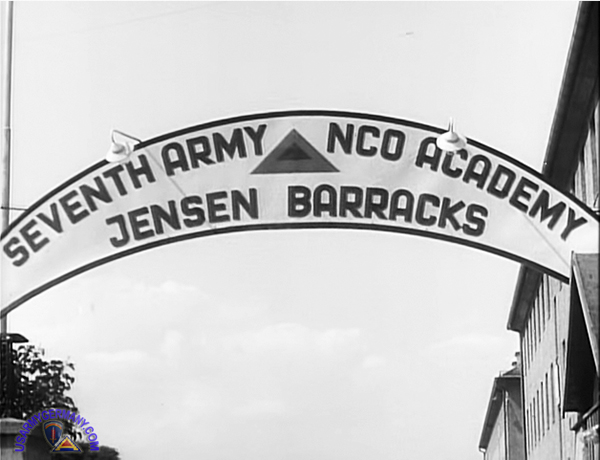 Sign over entrance to Jensen Barracks, Munich, early 1950s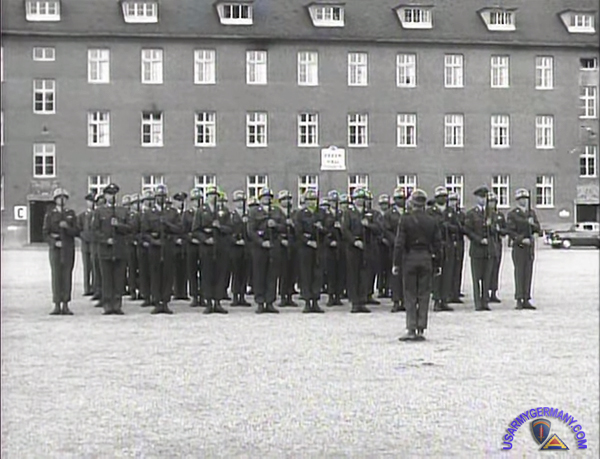 Academy students, Seventh Army NCO Academy, Munich, early 1950s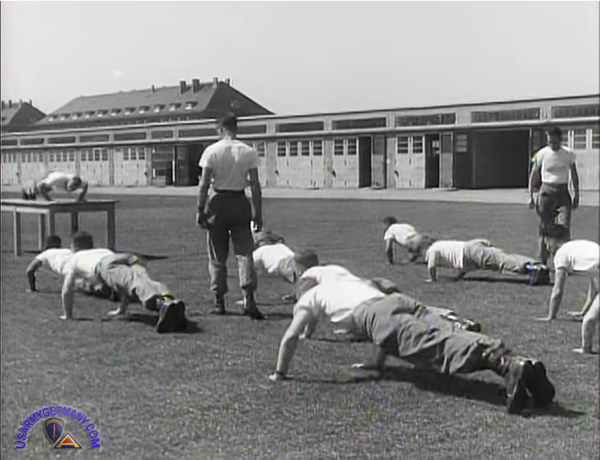 The Army Dozen - physical fitness training is also on the schedule at the
Seventh Army NCO Academy, Munich, early 1950s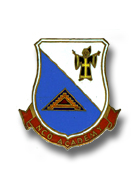 Seventh Army NCO Academy DI
---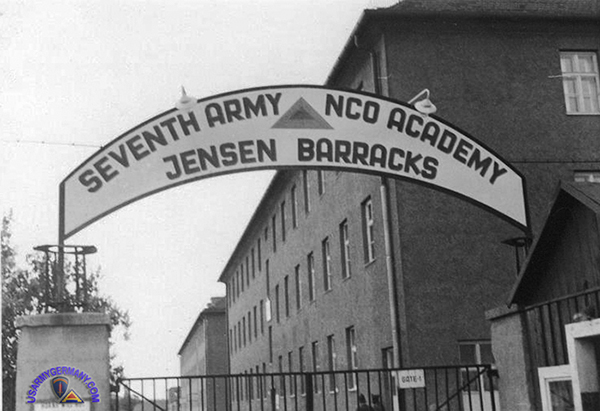 Sign over main gate at Jensen Barracks, Munich, 1953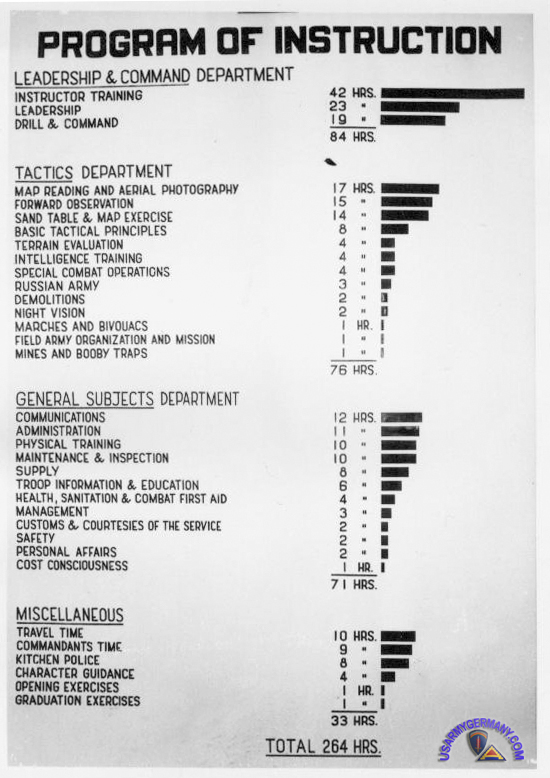 List of classes & activities that had to be completed at the 7th NCO Academy in 1953
1949
(Source: STARS & STRIPES, Oct 17, 1949)
Constabulary NCO Academy moves to Munich

The US Contabulary NCO Academy recently moved from Sonthofen to Jensen Barracks, Munich. The NCO Academy, under the direction of the 2nd Constab Bde, will open officially on Oct 17.

Non-commissioned and commissioned officer instructiors, selected from units of the command, make up the bulk of the faculty under the direction of Col Maynard D. Pederson of the 2nd Constan Bde. Faculty members from field units will be rotated.

A program for 10 classes has been drawn. Class 1 already reported on Oct 15; the class will open the 17th and end Nov 23. Like all other classes planned, Class 1 has 150 students. Two classes will be in process at once after Class 2 starts on Nov 5.

All NCOs of the first three grades and selected personnel of Grades 4 and 5 are eligible to attend.
---
1953
(Source: Email from Mel Hall, son of Leon Hall, former member of the 411th Chemical Co, Karlsruhe)
My father, Leon Hall, graduated from the Seventh Army NCO Academy in Munich in 1953.

Click here to view Mel's email and photos of Leon Hall as a member of the 411th Chemcial Company (Smoke Generator) at Gerszewski Barracks, Knielingen).
| | | | |
| --- | --- | --- | --- |
| | | | |
| 1. Peden Hall | 2. Jensen Barracks | 3. Jensen Barracks? | |
| 3. Graduating class | | | |
---
1956
(Source: Seventh Army NCO-Academy, Photo Class Book, 1956-57, by Hanns-Joachim Starczewski, photographer of the NCOA Munich)
The Seventh Army NCO-Academy is located in Munich at Jensen Barracks and Stetten Barracks.

Because of a shortage of trained noncommissioned officers in the United States Constabulary, Lt Gen I.D. White, then Commanding General of the United States Constabulary, directed Lt Gen Bruce C. Clarke, the Commanding General, 2nd Constabulary Brigade, Jensen Barracks, to open a school for the purpose of training noncommissioned officers. The main purpose of the school being to instill a spirit of willingness in the noncommissioned officer to accept responsibility.

The task of activating the Academy was not easy and Gen Clarke was faced with the selection of a location for the physical plant. A vacant kaserne in Regensburg could be easily modified, but was not centrally located to provide close supervision by the Commandant and didn't afford adequate transportation or recreational facilities. An area of Dachau required excessive cost for rehabilitation.

Its present location in Jensen Barracks, former home of the 2nd Constabulary Brigade, and Stetten Kaserne, former home of the 508th MP Bn, was a compromise solution. Thus, on 17 October 1949, the United States Constabulary NCO Academy was established and began operation.
This Academy operated under the Commanding General, 2nd Constabulary Brigade, until 1 November 1951, when it was redesignated as the Seventh Army NCO Academy. By the end of October 1951, the US Constabulary NCO Academy had graduated 34 classes, totalling 4,609 students, from its six-week course of instruction.

At the time the Seventh Army took over the operation of the Academy, the troop strength in the theater had expanded considerably, and was in the process of further expansion. For this reason, the Academy was ordered to expand to five companies with a capacity of 960 students, in order that approximately 10% of the enlisted personnel of each unit served could attend the Academy yearly. The Academy's mission remained unchanged, except that it now served all Seventh Army non-divisional units. In August 1953, the government's program to curtail expenses caused the Seventh Army NCO Academy to reduce in size annd scope. The NCO Academy cut back to three companies with a capacity of 660 students and to a five-week course. Over 28,000 noncommissioned officers successfully completed its course of instruction.

The five-week course of instruction at the Academy is given to the students in platoon-size units, except certain subjects in Instructor Training, and Forward Observation. The latter subject is taught to half platoon-size groups, while some instruction in Instructor Training is given to groups not exceeding 15 men.

The School Faculty is composed of the Commandant, Assistant Commandant, Commander of Troops (who is the Student Battalion Commander), Operations Officer, Academic Department Directors, and instructors assigned to Academic Departments as directed by the Assistant Commandant. The Academic Departments are: The Leadershp Detpartment and the Tactics and Management Department.

The Student Battalion furnished your billets and messing facilities, accomplished necessary administration and, in general, provided for your welfare while you attended the NCO Academy. The student companies were controlled, as far as practical, by you and your fellow-students.

Among the recreational facilities that were available for your use was a post exchange, library, snack bar, theater, bowling alley, small-bore rifle range and EM Club.

This is a brief history of the largest NCO Leadership School in the US Army. A school designed to help you in the many problems which will arise throughout your Army career.
| | | | |
| --- | --- | --- | --- |
| | | | |
| 1. Reception at the Munich Bahnhof | 2. Opening exercise in the Assembly Hall | 3. Opening exercise in the Assembly Hall | |
| 4. NCOA students, 1956/57 | 5. NCOA students, 1956/57 | 6. NCOA students, 1956/57 | |
| 7. Class room | | | |
LEADERSHIP DEPARTMENT
The Leadership Department provided you with a sound and logical concept of the fundamentals of Leadership. Since you will spend a large portion of your time instructing others, if was imperative that you be trained in the proper methods. To accomplish this, the following subjects were fought by the Leadership & Command Department:

Instructor Training 50 hours

Leadership 11 hours

General Subjects 26 hours

Total number of 87 hours
You found the Leadership Department organized into the Leadership Section, Methods of Instruction Section and the General Subjects Section. The Leadership Section gave you 11 hours on basic leadership subjects, which included; the Introduction to the Study of Leadership, the Roles of a Leader, Solution of Leaders' Problems, Leader-Subordinate Relations.
The Methods of Instruction Section presented and supervised 50 hours of conferences, demonstrations, and practical work. This course fought you how to prepare for and present effective instruction. The emphasis during these hours was placed on "Learning by Doing".
The General Subjects Section taught interior guard and informal guard mount as set down in FM-26-5, and the importance of and how to conduct the Army's physical fitness test. Time also was allotted for instruction in the proper wearing of the uniform, insignia, badges, decorations and service ribbons, and customs and courtesies of the service, the Soviet Army, the Roles of a Leader, Troop Information and Education.
TACTICS AND MANAGEMENT DEPARTMENT
Under the Tactics and Management Department you received 129 hours of instruction. The instruction covered many subjects and was based on the individual, the squad and the platoon. The individual is you; the squad and the platoon is where you will work. Remember those basic points and you will find your job as a soldier and leader much easier.
Your map reading course covered conventional signs, the UTM Grid System, reading and writing coordinates, military symbols, orientation and traveling by map. The use of contour lines, scales, distances, ground forms and aerial photo interpretation.
The forward observation training you received applies to morfar fire as well as artillery. You were given the easiest method of moving the effect of artillery fire on a target as quickly as possible.
The Administration, Management and Supply courses familiarized you with the everyday administrative forms, procedures and problems.
Other subjects given by the Tactics and Management Department include night vision, principles of defense and attack, capabilities and limitations of weapons, terrain evaluation, operation orders, intelligence, communications, preventive maintenance inspections, and on overnight bivouac.

Map Reading 11

Practical Map Exercises 24

Forward Observation 13

Basic Tactical Principles 30

Administration 3

Supply and Management 11

Maintenance and Inspection 4

Intelligence Training 9

Overnight bivouac 24

Night Vision 2

Total number of 131 hours

---
(Source: US Constabulary NCO Academy Course Schedule (Class 33, Co. B, Pltn. 3), 1951)
---
Newspaper articles
(Source: Seventh Army Sentinel, Dec 21 1951. Published by HQ 7th Army.)
Webmaster Note: This newspaper began as the Lightning Bolt published by the US Constabulary and was then renamed when HQ US Constabulary was reorganized and redesignated as HQ Seventh Army in November 1950. That is why this issue is designatred as Vol. 6, No. 51.

If anybody has additional issues (1950s, 60s) of the 7th Army SENTINEL please contact me
Click on thumbnails to read the papers

---
Related Links
Questions and Answers about CARS - On-line information provided by the US Army Center of Military History
3d Armored Division Cold War Order of Battle - page on the 3rd Armd Div Association web site provides information on many unit redesignations for battalions attached/assigned to the 3rd AD during the Cold War
Infantry Regiments and Armored Infantry Battalions - very informative web site hosted by Penn State University; prepared by MSG Jose R. Ramirez Jr., Senior ROTC Instructor at PSU.
Eyes Behind The Lines: US Army Long-Range Reconnaissance and Surveillance Units

- online copy of an historical manuscript (Occasional Paper #10) by MAJ James F. Gebhardt published by the Combat Studies Institute Press at Fort Leavenworth, KS and available on the Command and General Staff College web site (http://www-cgsc.army.mil/). (Chapter 2: USAREUR Long-Range Reconnaissance Patrols, 1957-68, pp. 5-27)