If you do NOT see the Table of Contents frame to the left of this page, then
Click here to open 'USArmyGermany' frameset
Army Ordnance Depots (Com Z)
Communications Zone
Looking for more information from military/civilian personnel assigned to or associated with the U.S. Army in Germany from 1945 to 1989. If you have any stories or thoughts on the subject, please contact me

.
---
---
Braconne Ordnance Depot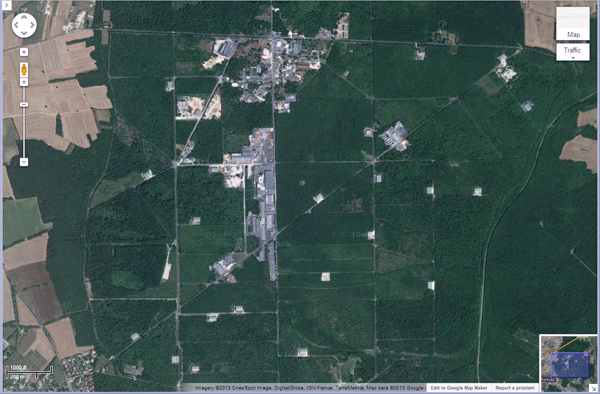 Top: Recent satellite view (GOOGLE); Below: Braconne Ordnance Depot, 1959 (IGN website)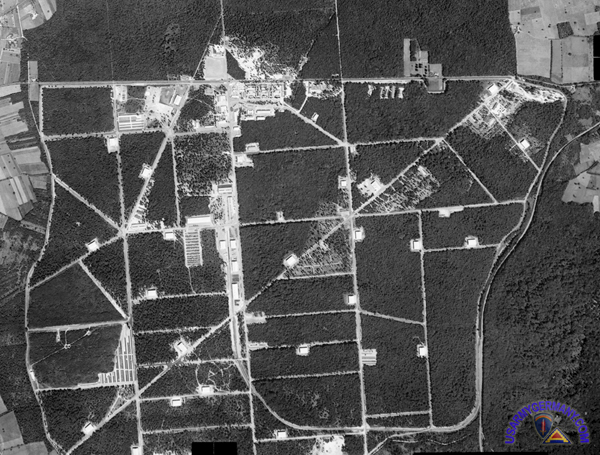 Click on above image for a higher resolution image with annotations
1960
(Source: Email from Douglas Wilson)

Doug Wilson at Braconne Depot

I was browsing the site about Comz. I was stationed in Braconne from Jun 1960 to Jun 1962. I have some pictures I would be willing to share.

I am including an article and a picture of the Bussac Broncos Football team in 1960. These guys came from several different posts in Southern France. There are also three pages of names that I hand wrote back then. I helped the statistician and had this list. I had forgotten about it until I was rummaging around yesterday. I hope you can read my writing back then. This is a list of their last names and home towns. I was TDY to Bussac for the football season.


Click on image for larger resolution
| | | | |
| --- | --- | --- | --- |
| | | | |
| 1. Looking towards gate | 2. Old Hqs building | 3. New Hqs Building | |
| 4. Pre-fab depot buildings | 5. Pre-fab depot buildings | 6. Fire station | |
| 7. Commissary, PX | 8. Depot chapel | 9. Service Club | |
| 10. Transportation Motor Pool | 11. TMP | 12. Emergency wrecker | |
| 13. Emergency wrecker | 14. Pass Bus | 15. Donald Daniels | |
If you have more information on the history or organization of the Braconne Ordnance Depot, please contact me

.

---
Captieux Ordnance Depot
1953
(Source: Email from William Smith, C Co, 83rd Engr Const Bn)
In May 1953 I finished basic training at Ft Belvoir, Va. June 1953.

I arrived at Landes de Busac, France, A Co. 83rd Engineers, several weeks later. I was permanently assigned to C Co 83rd Engineers at Captieux Ammo Depot near Captieux, Fr., an 2,700 acre facility. Capt Clark was CO when I arrived.

While at C A D I drove a Jeep for my platoon leader, unill his discharge, then in the Mess Hall as cook.

Our unit built roads throughout the depot as well as pilates to stack ammo on. We worked 12 hour shifts, 7 days a week.

I stayed at the facility until November 1954 when my tour of duty was completed .

At that time there was one ordnance company, a medical group and a large detachment of Polish Nationals (Labor Service) who preformed guard duty on post as well as in the depot.

The camp is still there and can be seen on Google Earth. There is a camera at the entrance to view the main street. Apparently the facility is now occupied by the French Military. The outline of the ammo depot is also visable on Google Earth.
---
1960
(Source: Military Construction Appropriations for 1963, Subcommittee on Appropriations, House of Representatives, Second Session, Part I, 1962)
Captieux Sub-Post (Dec 1960)
Ammunition Depot Mission: to receive, store, issue and maintain Ordnance Class V supplies of Theater Reserve Stocks.

Personnel Strength: 28 Officers, 429 Enlisted, 18 Civilians

Leased Land: 23,342 acres
If you have more information on the history or organization of the Captieux Ordnance Depot, please contact me

.

---
Fontenet Ordnance Depot
(Source: Nick Del Prete, webmaster of the 'Fontenet, France' website)
UNITS ASSIGNED TO FONTENET

9th Finance Disbursing Section
28th Engineer Detachment
29th MP Detachment (early 50's) @ Caserne Voyer Saint Jean d'Angely
29th Signal Bn Cons Company B (Aug 1954)
37th Ordnance Company (601st Ord Bn Aug 1954)
77th Engineer Battalion
83rd Engineer Battalion, CE Headquarters, Unit, (CE = Construction Engineers).
88th Engineer Service Company or Detachment
106th Transportation Battalion
175th Ordnance Disposal Detachment
193rd Medical Detachment (Aug 1954)
228th Signal Company (1963)
313th Signal Company Detachment 7
313th Service Company
349th Medical General Dispensary
362nd Signal Battalion
500th Military Police Detachment
503rd Military Police Detachment
524th MP Bn Company B – Detachment 6 (Aug 1954)
547th Ordnance Company Field Maintenance
548th Engineer/Dump Truck Company
552nd Military Police Detachment (Criminal Investigation Detachment)
563rd Ord Co (601st Ord Bn Aug 1954)
595th Heavy Truck Company
597th Engineer Company Heavy Equipment
601st Ordnance Battalion Company D
601st Ordnance Battalion Headquarters Company
3983rd USA Garrison (USGA)
3988th USA Storage Site
7838th Ord AVP (1950) (became 37th Ord Co 1953)
7850th AU Headquarters & Service Co.
7850th AU Storage Company
7850th AU Supply Company
7966th Eucom Detachment (1951)
4085th Polish Labor Service (Polish Security Guards)

If anyone has information on any of these units or knows of a unit that should be added to the above list, please contact the usarmygermany.com webmaster or Nick Del Prete (fodvet601@gmail.com).
---
1955
(Source: STARS & STRIPES, Jan 28, 1955)
Fontenet Ord Depot 's primary mission is providing fifth echelon repair on ordnance equipment, to include everything from tanks to padlocks. This mission is in direct support of Com Z. It includes subassemblies, chassis and body parts, and the disassembly and rebuild of general purpose and combat vehicles.

However, between 1950 and January 1955, the depot was heavily involved with the MDAP mission under which the facility provided for storage and extensive rebuild of over 5,000 WWII-era vehicles destined for NATO countries.

After the end of WWII, the US Army collected a large number of excess WWII vehicles at points throughout Europe for storage. With the build up of allied forces under NATO in the early 1950s, it became necessary to process these vehicles to prepare them for delivery to the armoed forces of these countries. Under MDAP, which started in Nov 1950, the Fontenet depot would receive orders from an allied country and then perform maintenance and rebuild work on the desired vehicles. An inspector from the country would then check the vehicles before they were shipped to the designated country.

After the phase out of the MDAP mission, Fontenet depot will now increase its work force and revert back to its original mission.

MDAP .... Mutual Defense Assistance Program
---
(Source: STARS & STRIPES, Sept 1, 1955)
Units located at Fontenet (incomplete list) at this time:


Hq, Hq & Svc Co, 601st Ord Bn (Armt Rebuild)


CompanyD, 601st Ord Bn (Armt Rebuild)


Storage Co, 7850 AU

Armt .... Armament
---
(Source: Email from John Trouve)
Reading your request for information on the 106th Transport Battalion operations in France between 1959-1963, I may have just a few basic information to contribute on the US Army depot at Fontenet during those years.

I was a civilian employee of the Post Engineer's office at Fontenet US Army depot from late 1960 to mid-1963 and, following that, of the Post Engineer's office at the Saumur US Army Signal depot until early-1965.

During my time, a unit of the 77th Engineers Batallion under the command of Colonel Griess and the 595th Transport Company (Heavy Lift) were posted at Fontenet.

At the height of the cold war, USAREUR designated the Fontenet depot as a Vehicles and Mobile Equipment Restoration Center. This included armored cars, trucks, tanks, field guns, engineers machinery, and just about everything else on wheels.

Fontenet was probably selected for its ideal strategic location:

a) - Directly situated on COMZ road network, but not too close of the Atlantic coastal fringe.

b) - Far away enough from the potential front lines in the East.

c) - Yet in proximity of a port (LaRochelle), from which spare parts shipments could be received directly from the States.

In addition to existing warehouses, the US Army had planned this formidable project to include several large factory buildings which were to be serviced by an industrial steam-generation plant and a railway spur linked to the French mainline railway network. Only the railway spur and the steam-generation plant were completed and, although all three of the gigantic furnaces were installed, only one was commissioned but was never put into service.

As we know, the project was abandoned when the then French president DeGaulle became errr… for the sake of good manners, let us say "uncooperative" with NATO.

I'm only guessing here, but the hypothetical role of a Heavy Lift Transport Co at Fontenet (the 595th at that time) "might" have been to move both damaged and restored vehicles between the on-post railway terminal and the planned workshops.

Regrettably, that's all I can contribute to your opus and I have no photographs from either Fontenet or Saumur.

---
Nancy General Depot
1951 - 1966
History of the US Army General Depot Nancy

The US Army General Depot Nancy (

) was activated on 24 September 1951 as the USAREUR Communications Zone, Advance Section Ordnance Depot. It was first occupied by the 109th Ordnance Medium Maintenance Company under the administrative supervision of the ADSEC Commanding General and technically supervised by the Chief of Ordnance, USAREUR, through the Commanding Officer, 7847 Ordnance Supply Group, Mannheim, Germany.

Its status at activation was that of a Class II activity at a Class I installation. On 1 December 1952 the status of the installation changed to the present Class I status.

Complete reorganization of the Depot, effective 20 April 1953, made the 7839th 0rdnance Depot Detachment responsible for the operations of the Stock Control Division, Post Motor Pool, Depot Property, Security, Post Engineer and other miscellaneous services assigned to the Depot. This unit established and operated the major portion of the depot activities untill the arrival of the 80th Ordnance Company.

During the latter quarter of calendar year 1953, the depot assumed a portion of its current distribution mission. This mission was subsequently increased to include major items, tires, tubes, batteries, and other Ordnance Class II and IV material.

The establishment of the Depot was not widely publicized. The original occupants were billeted in tents, in the midst of what was then an undeveloped forest and a sea of mud. Supplies for storage were received at a rate which greatly exceeded the capacity of the personnel to store properly. Materials, of necessity, were stored in open storage areas with little or no protection from the elements.

The railspur was placed into operation effective 23 March 1953.

During the calendar year 1955 supplies were rewarehoused into permanent storage facilities as these facilities became available. The construction of operational facilities was emphasized during the early stages of construction and as a result, the availability of troop and support facilities was delayed.

The official designation of "Nancy Ordnance Depot" was changed on 1 November 1956, to read: "US ARMY ORDNANCE DEPOT NANCY" - Under GO #71, dated 12 June 1958, the official designation was changed to "US ARMY GENERAL DEPOT NANCY (Provisional)," effective 16 June 1958, and under GO #144, effective 1 November 1958, the official designation became "US ARMY GENERAL DEPOT NANCY."

On 1 April 1960, under COMZ GO #71, the support facilities were withdrawn from the Depot, and made a responsibility of separate Command known as the US Army Toul Post.

On 1 May 1960, the USA Toul General Depot was merged with the USA Nancy General Depot. The machine record (Stock Management) facilities, the receiving and shipping activities were consolidated at the Nancy location, the Toul location becoming primarily a Storage Site with adequate Maintenance in Storage facilities, and as an Engineer Equipment repair facility.

Three months later, on 1 August 1960, the Metz General Depot was merged with the Nancy General Depot, with the headquarters of this complex being located at Nancy. The mission operations at Metz will remain intact at Metz and will be known as Woippy Storage Site.

On 10 October 1961, under COMZ GO #177, the Woippy Storage Site was transferred from the US Army General Depot, Nancy command to the command of the US Army General Depot, Verdun.
---
(Source: US Army, General Depot, Nancy Facilities, APO 679 - probably a command briefing document)
LOCATION AND DESCRIPTION

1. Official Designation: United States Army General Depot, Nancy, APO 679.



2. Headquarters Location:

a. Site: The United States Army General Depot, Nancy is located in a forest know as "Foret de Haye", 7 miles west of the city of Nancy, on the National Road N-4 (Paris-Nancy-Strasbourg). The Depot covers an area of 1297 acres, and has several satellites designated as:



Toul Depot Activity: 15 miles west of Nancy and 3 miles north of the City of Toul, with an area of 572 acres, including Lamarch Caserne, storage site, situated on the West Toul City border.



Chalons Depot Activity: Approximately 123 miles west of Nancy and 7 miles of the city of Chalons on Marne, with a satellite known as Sommesous Activity.



Chenevieres Depot Activity: 28 miles south-east of Nancy and 14 miles south-east of Luneville, between Luneville and Baccarat.



Fresnes St Mames: 40 miles south of Nancy and 15 miles south-west of city of Vesoul.



b. Railroads: One of the main gates of France, Nancy is situated on the principal crossroads and railway lines on route from Belgium and Luxembourg to Switzerland and Italy, and is on the direct route from France to Germany. As there is no RTO available in Nancy, the nearest RTO is located at Metz, France. However, travel by rail can be arranged almost at will by the Transportation Officer USAGDN.



c. Airports: Airport facilities are available for military aircraft at Toul-Rosieres Air Base, a major US AIR FORCE Installation about 20 miles north-east from the Depot Headquarters. A French Military Airport, with facilities limited to light aircraft only, is located at the south-east sector of the city of Nancy, approximately 15 miles from the Depot. No civilian commercial airline facilities are available. On the south perimeter of the Depot there is an aircraft strip suitable for small aircraft opweations, i.e. L-19, L-20 and helicopter aircraft. Pilots should be first checked out on this strip before attempting to use it.



d. Automobile: When traveling to Nancy by highway routes there are many historic and picturesque sites to be observed. The best route to use when motoring from Paris, is route N-4, from Luxembourg N-53 and N-57 and from Karlsruhe, Germany via Strasbourg N-4.
I. DEPOT MISSION: Distribution
Receive; Store; Maintain in Storage; Issue; Ordnance, Engineer, Signal, Chemical, Quartermaster Class I, Class II and IV and Class III supplies.

T.C. fixed wing aircraft repair parts.

Classification of returned materiel Ordnance, Engineer and T.C.

II. DEPOT MISSION: Maintenance
Depot Maintenance - Engineer and Ordnance Maintenance Major and Secondary Items.

Modification Work Order to include Guided Missiles Components.

III. ADMINISTRATIVE & LOGISTICAL SUPPORT ON AN AREA BASIS:
Ordnance Field Maintenance, Quartermaster Field Maintenance, Commissary, Jeanne d'Arc medical and dental care, Dependent Elementary and High School Housing, Post Engineer, Transportation, Property Disposal, Accident Investigation, Patrol of Highways, P.I.O., Transient Billets, Special Services.
---
(Source: Email from Doran Ditlow)
I spent from Oct. 1954 to May 1957 at NOD. I started as a private E-2 and left as SPC-2 E-5. I worked as a Fuel and Electrical System and Wheel Vehicle Repairman in the base motorpool.

I have a few black and white photo's of the base if you are interested. I spent my first winter there in a large warehouse as they were putting floors in the temporary barracks and didn't get them done before winter. The whole 109th Ordnance Co was in this warehouse. It was heated with several coal burning round stoves which had pipes extending through the roof, about 30 feet high. It was cold and miserable.

Later we had permanent poured concrete barracks, I think three stories high. I was in the 109th Ordnance Co. for a short time and then we became the Maintenance Co. of the 7839th Army Unit.

NOD was APO 204, NY, NY all the time I was stationed there.

In the storage part of the depot were Jeeps.

ADDITIONAL INFORMATION
When I first arrived at NOD the only military designations I was aware of was 109th Ord Co, 80th ( Ord ?) Co and 112th maybe storage company? I know after we were designated 7839th AU there was Maintenance Co which was where I spent all my time, Storage Co which looked after equipment in storage, and Headquarters Co, of course they took care of the paperwork.

PERSONAL RECOLLECTIONS
Two and One-Half Years in The Life of Doran A. Ditlow or Thirty Months in US Army, Europe

In mid October, 1954 I boarded the USNS Geiger in New York Harbor. The Geiger was a troop ship bound for Bremerhaven, Germany via Southampton, England where she disembarked a large contingent of US Airmen. The rest of us were US Army troops who went from Bremerhaven to the replacement depot at Zweibrucken, Germany.

I was assigned to the 109th Ordnance Co. Park, located at Nancy Ordnance Depot, near Nancy, France. The 109th was housed in a large warehouse heated very poorly by several small pot belly stoves. There was coal soot on everything, including the bunks. Someone had come up with the idea of covering each bunk with a pup-tent shelter-half. It was put on top of the blankets and at least they were kept clean. It was cold and miserable, water would freeze in a canteen next to your bunk. The climate was not nearly as cold there as where I came from in Michigan and rarely was the ground covered with snow. What we had was rain and clay mud, lots of both. The reason for the warehouse was the wooden floors in the pre-fab barracks we were supposed to be in were being replaced with poured concrete and didn't get done before cold weather.

I had completed a course in automotive fuel and electrical system repair at Aberdeen Proving Ground, Maryland and was awarded the primary MOS (military occupational specialty) of 634.1. I was assigned to the NOD Motorpool second echelon shop. I replaced most any component of a vehicle electrical or fuel system. We had Jeeps, 3/4 ton weapons carriers, 2-1/2 ton trucks, 5 ton semi-tractors, 5 ton wreckers, staff cars, school buses, some large Faegol Twin-Coach buses which were converted to amblulances. We also had a few small ambulances and three World War II semi tractors, in the motorpool.

The shop was run by an SFC Hubbard, I don't recall the officer in charge, but later we had a Second Lieutenant Andrew Matika for shop officer. He was later promoted to First Lieutenant. SFC Hubbard had a second SGT to assist him, but I forgot his name. Lt. Matika was fresh from OCS when he took over the shop, he was a nice person to work for. Later, LT. Matika was also company commander of Maintenance Co. of 7839AU which was the unit's new designation in Dec. 1954 when the 109th ORD Co. was released from Federal Service. The 109th was a National Guard Co. from Alabama which was activated in early 1950's for the Korean War. CPL Hart was in charge of fuel and electrical system repair at the shop. There was also a PFC Harrold in the C&I division (Carburetion and Ignition) as it was called.

We had an old truck body set on the ground which was used as a work area for battery charging and filling new batteries with acid as we received them dry. PFC Harrold had fallen off the roof of the battery shack when filling the gas tank of the engine which ran the battery charger and was hobbling on a crutch with a leg in a cast when I arrived. The shop was reorganized on a bay system, there were 5 or 6 bays in the shop and each one was given a different area of the vehicle to work on. The shop was a pretty good place to work, just about like a civilian job, we worked 8 hours a day and unless you had company duty you were free to go to town, the EM club, USO, Snack-bar, movies at night. (You haven't lived until you have seen a John Wayne movie with French Subtitles! Like "Attention, Messieurs!" as John hauled out his six-shooter.) CPL Hart was promoted to SGT, married a French woman, re-enlisted, took leave time and we never saw him again.

I was re-assigned to the bay which repaired drive-trains. We packed wheel bearings, replaced drive shafts, brakes and adjusted clutches. I worked for an SP-3 Walton W. "Bill" East. We also helped other bays if one got behind, we did whatever we could to help out. I recall replacing radiators for the bay next to us, they did cooling system repair. We had no major problems in the shop, except one period the GI's got really ticked off at the officers and NCO's, I think it was because we couldn't get all the repair parts we needed. One specific item I recall was brake fluid. The guys who worked in the storage part of the Depot had it by the gallon and we couldn't get enough to repair motorpool vehicles. Somehow we worked a deal with the storage guys and got brake fluid we needed. The only power the workers had was the ability to hang a "deadline" tag on a vehicle and no one could drive it. We had a good percentage of the motorpool vehicles "deadlined" before the problems all got solved. Someone made up a small cloth flag with a drawing of a donkey on it and the words "Lt Matika's Mule Barn, Why don't you ride our ass too? Everyone else does." Eventually it all got straightened out and we got parts again.

This was at the time when the Army instituted the Specialist Ratings. I don't recall any promotion to NCO in the time I spent at NOD, except for SGT Hart. There were lots of NCO's when I arrived at NOD, made it a real pain because there weren't enough PVT's and PFC's to pull KP, fire guard, latrine orderly etc. Seemed like I was always on company duty. Later it was the opposite, no CPL's, a few Staff SGT's and quite a few SFC's. By late 1955 we had a bunch of Pvt's, Pfc's and Sp-3's.

I complained to Lt. Matika about not working under my MOS and he arranged for me to go to the Ordnance School in Fuessen, Germany in the summer of 1955. I was promoted to PFC before I went. The school was really nice, almost like a vacation. The school was in an old German Army barracks, still had racks in the walls for rifles and a concrete fence around the post with three strands of barbed wire on insulators on top of the wall. I learned about mechanical parts of Jeeps, trucks, etc. I don't even recall pulling any company duty at the school.

While I was at school, the concrete floors in the pre-fab barracks were finished and when I returned I moved into one of them, no more warehouse. These were quite nice, had maybe 30 to 50 men in each one, just one long room, 20 ft wide and 50 ft long as a guess, and they had oil-fired furnaces, no more soot. I was promoted to SP-3 and continued to work for Bill East in the Shop. Bill got a small dog collar someplace and short piece of dog chain which he attached to the collar. He had a pretend dog in the collar and took it to work with us every day, chaining the dog to a leg of a work bench.

Bill got out of the Army on a hardship discharge and I was promoted to Bay-Chief. Lt. Matika said when Bill left the dog had to go, too! I had three or four men working for me, Tom Lee, Richard Paisley, Tom Hatfield, Tagalong Howard (Tag was probably best mechanic in the shop, called Tag because his brother was stationed at NOD, and where his brother was, Tag was). Coleman, Reeves and Mazzaresi also worked in bay I was in at one time or another. Other soldiers working in the shop were CPL Bianco, SGT Haas, Hindle, Erickson, a black CPL Huey, who ran the grease rack and others I have forgotten. CPL Bianco was a special case, only one I recall in my three years in Army, he was Enlisted Reserve and they let him carry his rank on active duty for two years. I don't recall whether he was made into a SP-4 when we went to Spec. Ratings, I don't think he was.

I was a CPL in Michigan National Guard when I enlisted and was told I couldn't go on active duty through the Guard. I did keep my NG serial number, and was promoted to PVT E-2 as of my enlistment date in regular Army. Other names I recall: SFC Odell, First SGT Kulikauskas (We called him SGT KK), MSGT French, SP-2 Reece.

During this time, 1955-1957 we had more French Nationals working for us, they worked in the mess hall, shop, and other places. No more KP, it was great! When I was promoted to SP-2, however, I had to pull CQ, Charge of Quarters, check guys on pass in and out and take bed-check, try and stay awake all night. I and SP-2 Reece, who was promoted to SP-2 when I was, were made co-barracks SGT's. Would have been great but the position called for an NCO. Unfortunately the Army didn't see any need for an NCO, but we had no authority and the officers and NCO's we did have, wouldn't back us up so everybody laughed when we tried to get anything done.

The GI's still did the mechanical work in the shop but some of the labor was done by the French, parts cleaning, sweeping. There was a nice older Frenchman, probably 40 or 50 years old who handed out tools from the toolroom, stuff we didn't have in our own boxes. His name was Jean Stein and he lived in Nancy. We also had French drivers in the motorpool. Sometimes you would find an empty wine bottle in a truck cab, a fact of life in France.

Sometime in 1956 we moved into new three story barracks buildings. They were poured concrete and quite nice, didn't have to go outside to get to latrine like we used to.

During November or December 1954 I was on some company detail and at the end of the day I was told to report to the orderly room. Turned out Bob Hope was giving performance for troops in Paris and I was selected to go, we took a large bus load of troops from NOD. I got picked because I wasn't around and someone asked for volunteers without saying what for. Guess they thought it would be good joke on me. We saw the show and someone in group I got attached to found out Bob was putting on another show right after the one we saw, this one for 180th (I think.) anniversary of the Marine Corps. This person found out where show was to be and we took a taxi to the theater. We caught Bob Hope as he was going into building and all shook hands with him. Some of the guys got his autograph. On the way back to NOD the GI driving the bus had to stop for a light and swung in towards the curb as he stopped to make a little more room for cars going the other direction. There was a French Gendarme standing on the curb facing the street, he had on a really long billed cap and the bus mirror struck the bill of his hat and knocked it off. Boy, was he mad!! He made the driver open the door and stepped up into the bus and really gave him a good chewing out. I wish I knew what the Gendarme said, of course it was all French!! We were allowed to leave and the rest of the trip back to NOD was uneventful.

The rest of my stay at NOD was more or less uneventful and in May of 1957 I was sent to US on the USNS Geiger, the same ship I went over on. As a first three grader I pulled no duty and the weather was ok so was a good trip. I went by troop train to Fort Sheridan, Illinois where I was discharged to the Ready Reserve for the rest of my eight year obligation.
| | | | |
| --- | --- | --- | --- |
| | | | |
| 4. Consolidated Mess KB) | 5. Depot water tower | 6. 109th Ord Co barracks | |
| 7. Winter in Nancy | 8. Bill East (left) | 9. | |
| 10. Schwegel (right) | 11. Tag-Along Howard | 12. Tom Lee | |
| 13. John Baker | 14. Walton (Bill) East | 15. Tom Hatfield | |
| 16. Jerry Horton | 17. Doran Ditlow, 1957 | 18. Potbellied stove, 1955 | |
| 19. | 20. | 21. 2nd Echelon Maint Shop | |
---
(Source: STARS & STRIPES, November 6 1955)
A large construction program has been underway almost from the time when the Nancy Ordnance Depot was formed in Nov 1951.

In the early days, much of the storage for equipment was outside. Roads were unpaved and personnel performed the various depot activities often in ankle-deep mud. Troops were housed in tarpaper shacks - better known as winterized tents. Depot administrative activities were perfomed in Butler buildings.

Phase Two of the construction project, soon to be completed, has seen contractors pave roads, build brick office buildings and administrative facilities. Nerve center of the depot will be the new stock control building being built near depot headquarters (near the main gate). It should be completed by December. The new building replaces several Butler buildings where the stock control activities are currently being perfomed. (The electric accounting machines used for stock control automation will also be moved into the new builing when it is ready. They are currently housed in the headquarters building.)

Phase Three, already underway, is the construction of more permanent troop barracks, a motion picture theater and a bowling alley.

The first storage warehouses were completed late in 1953. By late 1955, most of the equipment stored at the depot was being stored in warehouses or permanent sheds or were on skids and covered with tarps ready to be moved into new shelters as soon as they were completed.

A new wing is also being added to the headquarters building and a new commissary will be added. Currently, military personnel and dependents have to catch a ride on a deuce-and-a-half for the trip to Toul-Rosiere AB, the nearest commissary (a 46-mile round trip).

One of the main new buildings already completed is the bin warehouse in the depot's maintenance and storage area. It stretches along the railhead for almost a quarter-mile.

Large hangar-like sheds, having a single span and open on all four sides, are used for storing large pieces, crated items and certain vehicles that cannot be weatherized and placed on hardstands. Once these type of sheds are filled, they are neatly sealed with canvas which is wrapped around the sides from the roof to the concrete base.

The depot should be receiving its own diesel switch engine soon. In the meantime, trucks on railroad sheels pull freight cars to the railhead.

Additional buildings to be completed by December:


three 216-man barracks


a 1,000-man mess hall


a new main gate


a T&I building


a cinemascope movie theater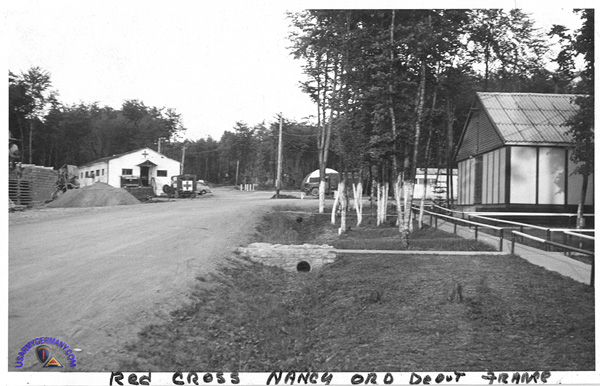 If anybody who can help identify some of these buildings or has input on the Nancy Depot in the 1950-60s, please contact the

webmaster





1. Motor park

2. Barracks

3. Barracks

4. Pre-fab depot buildings

5. Winter in Nancy

6. Winter in Nancy

7. New construction

8. Service Club

9. Military Bus Stop

10. Bulletin Board

11. Troop Commander sign

12. Wrecker

13. Dependents with POV

14. Train Station - where?


---
(Source: Letter from Jean Kauffmann, France)
I was employed at Nancy General Depot for 11 years, from 1953 to 1956.

Initially, I worked as a statistical draftsman (1953-56) and then as manager/advisor in the Plans and Engineering office (1958-67).

I found your study on NOD and GDN interesting. I think that I was the draftsman who drew the map (of the Nancy depot) that you show on your website. This period was a pleasant time

for me

and I kept some very good souvenirs of this time.

If you need some information that I can give to you, it will be a pleasure for me to answer. I am now retired but I still remain in "touch" with US Army history by reconditioning old WW II vehicles with which we commemorate the liberation of France, especially in the Provence, on the 15th of August in Cavalaire.

LEFT: French language insert in the Nancy Depot newspaper
---
(Source: Email from Claude Montigneaut, France)
Please find attached some pix of the NANCY ORDNANCE DEPOT today. If you could use them ... Let me know if you are looking for something else. It would be a pleasure to help. I live in NANCY.

I am a license plate collector (U.S. FORCES / CDN FORCES IN FRANCE & GERMANY during the Cold War till nowadays).

You manage an outstanding website.
| | | | |
| --- | --- | --- | --- |
| | | | |
| 4. (KB) | 5. (KB) | 6. (KB) | |
| 7. (KB) | 8.(KB) | 9. (KB) | |
| 10. (KB) | 11. (KB) | 12. (KB) | |
| 13. (KB) | 14. (KB) | 15. (KB) | |
| 16. (KB) | 17. (KB) | 18. (KB) | |
| 19. (KB) | 20. (KB) | | |
---
1964
(Source: Email from Tom Emard)
In 1964 I enlisted in the US Army in Indianapolis. the Viet Vietnam war was in full swing and young guys were getting drafted right after high school. When I left Indianapolis I got a bus load of men from Chicago who were drafted and sent to Indiana on their way to Fort Knox, Kentucky for basic training. Several of the men were from the rough side of Chicago and looked like a group of bikers from a movie. Some of them had "ducktail" haircuts and the famous "jelly rolls" slicked down with Vaseline!

After I left Fort Knox I went to postal school at Fort Ben Harrison. After training for six weeks I left for Fort Dix NJ and found one of the worst snow storms in twenty years. I was station at Fort Dix for about a month before I left on the W.O. Darby troop ship. It took about two weeks to arrive in Bremerhaven where I got a train to Nancy, France.

I arrived at the Nancy Ordnance depot in January 1965. I was assigned to the postal unit for APO 679. When I reported for duty I was assigned a parcel post "window" in the main postal center. The unit was made up of about 30 enlisted men and a Commanding Officer who was a Captain. The postal unit carried all the mail for eastern France. Our trucks hauled mail from Metz railway to Nancy every night. About three times a year we got mail off some boats that filled four box cars full. It was back breaking work and we often "enlisted" the help of other companies.

The buildings were mostly framed except for the post theatre and the gymnasium as well as the EM Club and post headquarters. Our main headquarters for COMZ was in Orleans but later moved to Germany.

In the late part of 1965 I moved to Toul Ammunition Depot for about seven months. The depot was moving all the ordnance to Germany. In the fall of 1996 I was a E-5 Sergeant at Verdun, France with the 24th APU. My commanding officer and base unit moved to Zweibrucken, Germany.

In 1966 I was promoted to Sp-4 and worked making money orders. Early in the year there was a court marshal from a mail theft. When I was called to testify I was scared to death. When the trial was over one of the officers actually told me he was surprised I knew so many army regulations about postal operations. After the trial I was given a temporary rank of E-5 so I could take over the operations in Toul.

We served about a dozen other APO's for the Army and also the nearby Air Force base. Later in 1966 I left for Verdun, France at APO 122. By this time I had seen most of eastern France and enjoyed the work. Mail was so important to the men that we never missed a train from Paris or Frankfort, Germany while I was stationed there. The last winter I was stationed in Verdun we didn't have enough trucks to haul all the Christmas mail to Metz. We had mail stacked twenty feet high in our warehouse.

The men started to get concerned about the Christmas packages sent parcel post to the United States by Christmas. One morning I called the parcel post clerk into my office. I said, "Frankie (SP-4 Frank Pravato) when the Colonel's wife comes in today, mention that her packages may not make it to New York by Christmas." The next morning I got a call from the post commander! He said, "Sergeant, what do you need to get that mail out of the warehouse and onto a train?" I related the story about the trucks. The next night a small convoy arrive at the APO.

Both the depot at Nancy and Toul were closed in 1966 except for a few guards. The 574th Transportation Company moved hundreds of trucks to Germany with weapons and ammo. Before I left Nancy I got a "tour" of the bunkers and buildings that shipped weapons. There were crates of rocket launchers and brand new M-14 rifles by the thousands. I was also told that there were enough weapons for every service man in Europe. The actual depot portion of the base was guarded with the Polish guard and guard dogs behind high fencing 24 hours a day. I hope you enjoy stepping back in time!

---
Related Links: