If you do NOT see the Table of Contents frame to the left of this page, then
Click here to open 'USArmyGermany' frameset
10th Special Forces Group (Abn)
US Army, Europe
Looking for more information from military/civilian personnel assigned to or associated with the U.S. Army in Germany from 1945 to 1989. If you have any stories or thoughts on the subject, please contact me

.
---
---
History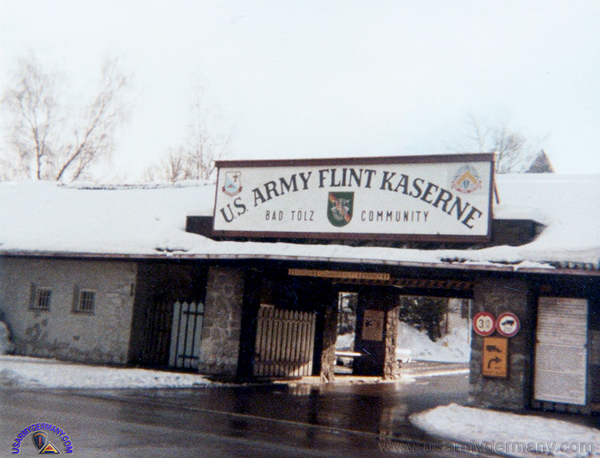 Entrance to Flint Kaserne, Bad Tölz, 1984 (Charles Everett)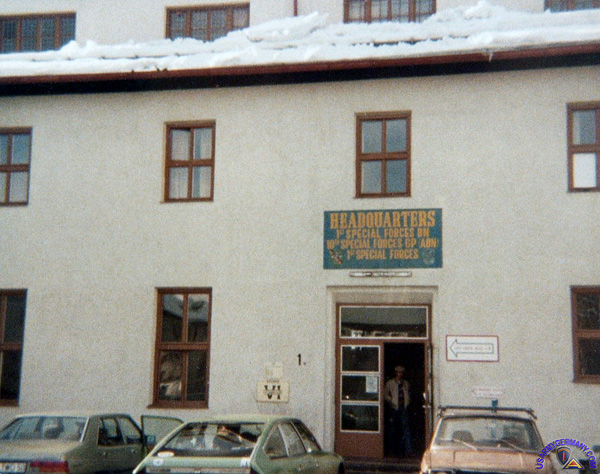 Headquarters Building, 1st SF Bn, 10th SF Group (ABN), Bad Tölz, 1977 (Charles Everett)
1953 - present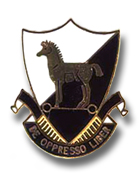 10th Special Forces Group (ABN) beret crest
(Source: United States Army Special Forces Command (Airborne) website)
The History of the 10th Special Forces Group (Airborne)

The Early Years

Present for duty on that day 19 June 1952, were seven enlisted men, one warrant officer, and these initial arrivals were former OSS Ranger, and Airborne soldiers as well as Lodge Bill soldiers (Lodge Bill soldiers were East European or stateless volunteers in the US Army).

The US Army created the 10th Special Forces Group to conduct partisan warfare behind Red Army lines in the event of a Soviet invasion of Europe. From the very start, the Army planned to employ the Group in Europe. But the 1953 Berlin/East German crisis prompted a rapid move of the entire unit to Germany. On 10 November 1953, the 10th Special Forces Group was split in half. One half deployed to Bad Tolz and Lenggries, Germany as the 10th Special Forces. The remaining troops formed the new 77th Special Forces Group at Fort Bragg, North Carolina.

LODGE BILL TROOPS and CPT LARRY THORNE

Based on the unit mission and the identities of the soldiers, an aura of secrecy surrounded the 10th Special Forces group in the early days. A certain breed of men stayed, and subsequently attracted more of his own kind. One group of men who found places in Special Forces that suited their temperaments and special abilities were the so-called "Lodge Bill" troops. Many of the "Lodge Bill" men still had families behind the Iron Curtain. A few of the more notable Lodge Bill soldiers were SGT Paul Erman, a refugee from Poland; Stefan Mazer, a Czech and veteran of the Marquis and the French Foreign Legion; Henry "Frenchy" Szarck, a Pole and veteran of sour armies; Peter Astalos, served in the Romanian and German Armies during WWII, and Martin Urich, who participated in the largest tank battle of the war: Kursk.
SSI worn by 10th SFG
in the 1950s SSI worn by 10th SFG
in the 1960s

One of Special Forces' more illustrious soldiers was Larry Thorne. He entered the Finish Army in 1938. About a year later, he began a six-year period of continuous combat against the Soviets during World War II. After various assignments with front line infantry units, he volunteered for commando activities behind the Soviet lines. Lieutenant Thorne's most daring exploits occurred in 1942 as he conducted numerous deep penetration missions. On one, he personally led a small group of men behind Soviet lines, ambushing and destroying a Soviet convoy, killing over 300 of the enemy, and returning without sustaining a single casualty.

In June 1944, Thorne's unit was thrown into the front line as the last force available. They conducted a counter-attack against a battalion size spearhead of an enemy breakthrough operation. This action occurred only hours after his unit had returned from a mission behind Soviet lines. The Finnish commander of the threatened sector described CPT Thorne's boldness; "My plan was to provide CPT Thorne with some artillery and mortar support which probably would have delayed the start of his counterattack about an hour. However, CPT Thorne's plan was to attack immediately, before the Soviets had a chance to dig in. CPT Thorne counterattacked in daylight through dense forest surprising the Soviets and resulting not only in destruction of a Soviet battalion but in saving the desperate situation." CPT Thorne repeatedly exposed himself to extreme hazards; his leadership and heroism made him a national hero in Finland and earned him the Mannerheim Cross, Finland's highest military award (equivalent to our Medal of Honor) in July 1944.

CPT Thorne joined the American Army after WWII, volunteered for Special Forces duty and joined the 77th SFG(A). Later he transferred to the 10th SFG(A). He was a HALO parachutist, SCUBA diver, mountaineer and skier. In 1962, as a captain, he led his Special Forces Detachment onto the highest mountain in Iran to recover the bodies of an American air crew lost in a plane crash and secure the classified material they transported. After unsuccessful attempts by others, his detachment's success was largely attributed to CPT Thorne's superb leadership. He volunteered twice for Vietnam. On 18 October 1965, while on his second tour with the Studies and Observation Group (SOG), he failed to return from a reconnaissance mission deep behind enemy lines, and was subsequently declared Missing in Action (MIA).
THE 1950'S: 10th GROUP BUILDS ITS IDENTITY AND ORGANIZATION

During August 1956, six Special Forces Operational "A" Detachments of the 10th Special Forces Group (Airborne) stationed at Flint Kaserne in Bad Toelz, West Germany, were relocated to West Berlin under the 7761 Army Unit (also known subsequently as 39th SFOD) and embedded within Headquarters and Headquarters Company, 6th Infantry Regiment, Regimental Headquarters. Their mission was "stay behind" Unconventional Warfare.

Each team at that time was comprised of one Master Sergeant and five team members. Overall Officer in charge of the group was a major, assisted by a Captain. On 1 September 1956, the group moved officially to the top floor of building 1000B at McNair Barracks, West Berlin, under the name of Security Platoon, Regimental Headquarters, 6th Infantry Regiment, APO 09742.

In April 1958, the unit found its final home in Building 904, Section 2, at Andrews Barracks, West Berlin, and was assigned to HHQ Company, US Army Garrison Berlin with a new name Detachment "A" (Det A). In April 1962, Detachment "A" was separated from the Garrison and became Detachment "A", Berlin Brigade, US ARMY Europe (USAREUR), which it remained until its deactivation on 30 December 1984.

In 1955, Special Forces received its first publicity, two articles in the New York Times announcing the existence of a US Amy "liberation" force designed to fight behind enemy lines. The Times correspondent noted the distinct "foreign" nature of the Special Forces, as many of its volunteers were refugees from Eastern Europe. Photographs showed 10th Special Forces troops wearing berets with their faces blacked out in the photos to conceal their identity. Notwithstanding such sensationalism, the articles provided a relatively accurate description of the 10th Special Forces Group's soldiers.

As the 10th Group became established in Germany, a new item of headgear, the green beret, appeared in rapidly increasing numbers. The Group Commander, Colonel William E. Ekman, authorized the wear of the beret and it became Group policy in 1954. By 1955, every Special Forces soldier in Germany was wearing the Green Beret as a permanent part of his uniform. Department of the Army did not, however, recognize the headgear.

Captain Roger Pezzelle designed the silver Trojan Horse badge for wear on the beret. It remained the unofficial badge until 1962, when the Department of the Army authorized the official Distinguished Unit Insignia and green cloth "flash" which are wom today.

Differences in mission, organization, manning, and modus operandi set the 10th Special Forces apart from conventional Army units. Notable differences in other external symbols began to appear. The 10th Group soldiers carried the mountain rucksack rather than the standard field pack. Likewise, the men soon did away with spit-shined jump boots, opting instead for mountain boots, which was a more practical field boot for the European climate. Mountain boots became a trademark of the 10th Special Forces Group.

The original "A" Detachment was called an FA Team and consisted of 15 men. Each FA Team was designed to advise and support a regiment of up to 1,500 partisans. An FB Team (equivalent to the current ODB or Company Headquarters) commanded two or more FA Teams. An FC Team ar ODC (Battalion Headquarters) was designed to command and control FA and FB teams including Guerrilla Warfare (GW) area commands operating in a single country. The Group Headquarters, called the FD Team, was designed to command and control the entire Group when employed in two or more countries. The fact that this original organization has changed very little over the many years is indeed a tribute to those who devised the first Tables of Organization and Equipment (TO&E), which were largely taken from the OSS-OG structure.

THE 1960'S: COLD WAR YEARS

As time passed, the Group Commander and staff made visits to England, Turkey, France, Norway, Italy, Greece, Iran and Spain. As a result, me idea of conducting exchange training with foreign soldiers evolved and was received with great enthusiasm. Soon, "A" Detachments trained routinely with Western European and Middle Eastern armies. Men of the 10th Special Forces Group trained with airborne, commando, ranger, raider, militia and clandestine organizations in England, France, Norway, Germany, Greece, Spain, Italy, Turkey, Pakistan, Iran, Jordan, and Saudi Arabia. "A" Detachments worked across cultural and linguistic borders, learning how to subsist on native food and establishing and maintaining rapport with the host nation forces. Today this program is an extensive and key part of the Group's training and spans countries from Turkey to Estonia. In Africa, the 10th Special Forces served without fanfare, often wearing no identification patches, berets or other insignia, sometimes even operating in civilian clothes. This deliberate low profle should not obscure the story of those missions. In the summer of 1960, the Commanding Officer of the 10th Special Forces Group, Colonel "Iron" Mike Paulick, received orders to support evacuation efforts in the Congo. A wave of violence against the remaining whites in the former Belgian colony developed following its independence on July 1, 1960. There was no hint in the news media that the 10th would be involved. COL Penick called on LT Fontaine. LT Fontaine had a remarkable record. A Belgian by birth he worked for the British Special Operations Executive (SOE was the British counterpart to the US OSS) during WWII and parachuted behind Nazi lines into France because he spoke French better than English. He later held a commission in the Belgian Army and had served with that Army in the Congo. COL Paulick ordered LT Fontaine to put together a team and get ready to go. LT Fontaine's choices were: Vladimir Sobiachevsky, a Russian; Georg Yosich, who had worked with partisans in Korea; Pop Grant; Charles "Snake" Hoskins, who later won the Medal of Honor posthumously; and Stefan Mazak, the tough Czech and ex-French Foreign Legionnaire.

US Ambassador Timberlake ordered a small unit to Leopoldville in the Congo to help save American and European lives. This team consisted of three helicopters, three light single engine airplanes, an Air Force radio expert, and the SF element from Bad Toelz. A meeting with Ambassador Timberlake and Belgian paratroopers took place and the mission was defined. At the larger airfields, Belgian paratroopers would be in charge. The SF team would control operations on the smaller airfields. The mission was to evacuate as many Europeans and Americans as possible and move them to Leopoldville for large scale evacuation. Despite enemy contact resulting in a few holes in their aircraft, the mission was accomplished. In fact, nine days following their arrival, the SF team evacuated 239 refugees without a single casualty. Stefan Mazak exposed himself to hostile forces again and again during this operation, only to be killed in action later during a classified operation with SOG in Vietnam.

THE VIETNAM ERA

As the 1960s continued, counter-insurgency, rather than unconventional warfare, became the primary mission for SF. Although the 10th SFG(A) was not directly involved in Southeast Asia, most of the Group's soldiers, by normal rotation, served with SF units in SE Asia. One such soldier was SGT Brian L. Buker who posthumously received the Medal of Honor. During these years the US European Command gave 10th SFG(A) responsibility for a large amount of new geography. In addition to Europe, it's area of responsibility grew to include North Africa, the Middle East and Southwest Asia, as far east as Pakistan. Two battalions, or C Detachments as they were called at the time, remained responsible for the East European GW role. The third C Detachment trained for foreign internal defense and counterinsurgency missions. Besides the normal SF training, this C Detachment gathered intelligence and started language training in Arabic, Urdu, Farsi, Greek, Turkish and Pushto. In Jordan, MAJ Joe Callahan and his B Detachment established and ran Jordan's first airborne school. The mission was a complete success. An enthusiastic King Hussein attended the graduation parachute drop.

In 1963, a group supported by Egyptian President Nasser overthrew the Royalist government of the Kingdom of Yemen. A new socialist government was installed under President AI Saint as a puppet state of Egypt and USSR. The son of the old King Mohammed AI-Badr fled to the hills to fight a guerrilla war, supported by King Faisal of Saudi Arabia. Company C, 10th SFG(A) commanded by MAJ William Hinton deployed to Saudi Arabia and trained 350 selected officers and NCOs of this guerrilla force in the basics of insurgency and counterinsurgency.

One B Detachment and three A Detachments later traveled to Iran and trained with the Iranian Special Forces (ISF). The ISF was at that time actually only an airborne battalion. An A Detachment also trained Kurdish tribesman in the mountains of Iran.

CPT Mike Boos and his detachment went to the hills and deserts of Pakistan to train with the Baluch Regiment of Special Warfare Warriors. CPT Steve Snowden and his A Team trained the nucleus of the Turkish Special Forces, including airborne qualification, SF tradecraft and SCUBA operations for selected officers. They constructed a training apparatus for the airborne course, conducted classroom instruction for 350 officers and NCOs and presented training on operations for land, operations in water and operations in the air.

POST-VIETNAM: INTO THE 1970'S - THE "LEAN YEARS"

Special Forces, as with all armed forces, was severely affected by the end of the Vietnam conflict, including force cuts and reduction in overseas deployments and basing. In September 1968, the 10th Special Forces Group, minus the 1st Battalion, was re-stationed to Fort Devens, Massachusetts. The Group survived the lean years and was not dropped from the rolls, as were the 1st, 3rd, 6th, and 8th SFGs, but Fort Devens was a far cry from Flint Kaserne in the Alps of Bavaria. Nevertheless, Colonel Vernon Greene, the Commander of the 10th and Sergeant Major Arthur Senkewich maintained standards by deploying detachments back to Europe for joint and combined training with our allies.

The 1st Battalion remained in Bad Toelz, Germany, until July 1991, when the battalion relocated to Panzer Kaserne in Boeblingen, near Stuttgart, Germany, where it remains today. The Bad Tolz area of southern Germany is still one of the best SF training environments in the world with ideal terrain as well as a staunchly supportive local population. The 10th SFG(A) continues to maintain the relationship which was developed over the years with its Bavarian friends.

The "lean years" of the 1970's saw an absolute decrease in the number/frequency of operational deployments for 10th SFG(A) - in fact they all but ceased completely. During this time, however, the 10th SFG(A) maintained its training edge through continuous deployments into the European theater to train with NATO allies, and to do unilateral training on environmental skills. These deployments and the annual FLINTLOCK Exercise became the central points of every ODA's training program. Of course, those events were complimented by language training, as well as environmental training that was possible in and around our home at Fort Devens. In addition to our Bavarian friends maintained by 1st Battalion, 10th Group was able to build an "underground" of sorts in the New England area which would reap benefits for the duration of our time in Massachusetts.

THE 1980's: REAGAN YEARS

Throughout the 1980's, 10th Special Forces Group Detachments from the 1st Battalion, in Germany, and from the 2d and 3d Battalions al Fort Devens, participated in Joint Combined Exchange Training (JCET) with West European armies, learning and sharing training techniques. During 1987, thirty JCETs were conducted with Norway, Denmark, Spain, Italy, Belgium, Federal Republic of Germany, United Kingdom, Portugal, Canada, France, Luxembourg, Netherlands, and Greece. The overall operational tempo for the 10th SFG(A) decidedly picked up in this decade, as compared to the previous one.

From 11 May 1983 through 25 October 1985, the 10th Special Forces Group deployed seventeen separate mobile training teams (MTT) to support the Lebanese Army (LAF). Their mission was to advise and assist the Lebanese Army Training Centers. The 10th Special Forces MTT and the Lebanese Army developed a training program for over 5,000 officers, NCOs and soldiers. Training sites at Beirut and Adma provided for basic training; Safra was used for unit training; Wata AI Jawz was used for unit combined arms live fire; and Haef Jumayyid were used for urban live fire training. Training programs for NCO combat leaders, basic training for over 900 LAF conscripts, long range reconnaissance training for the Lebanese Rangers and advance unit training and maintenance for Mechanized Units was also conducted. Despite the chaotic situation in Lebanon, the training programs conducted by the 10th Special Forces Group for the LAF were extremely successful. The complete deterioration of the situation, as well as the entry of the Syrian Army into Lebanon, brought the training operation to a premature end.

As a precursor of things to come, on 2 June 1985, an MTT from the 1st Battalion, Bad Toelz, Germany deployed to Somalia for four months to conduct disaster relief operations.

From 8 May 1986 through 23 December 1986, Company C, 3d Battalion, 10th Special Forces Group, trained the nucleus of the Nigerian Airborne. Initially parachute riggers were trained to pack the parachutes, followed by Airborne cadre selection and training, and then the 10th Group soldiers observed this cadre as they trained the remainder of the Nigerian Army. Mission accomplished, the Nigerian Airborne School was established. In conjunction with the Airborne MTT, one detachment trained the Nigerian Army in riverine operations, maintenance, tactics and patrolling.

The 10th Special Forces Group's individual and detachment training for 1988 significantly enhanced the capability to execute the full spectrum of Special Forces missions. By direction of the Group Commander, the Group focused on the total spectrum of military and paramilitary operations in enemy held, politically sensitive territory. This training included: GW, subversion, target interdiction, offensive actions, and intelligence reporting. 10th SFG held the reputation among all of Special Forces as the primary experts in Unconventional Warfare.

The Group participated in 1st SOCOM'a EDRE/ARTEP evaluation exercise CASINO GAMBIT 1-88 and JCRX FLINTLOCK '88. These exercises constituted extreme challenges for the entire Group and provided true tests of overall combat readiness. Summer of 1988 found the Group in an intensive individual and collective training posture highlighted by JCET participation in Belgium, Denmark, West Germany and Italy.

Fall of 1988 found the soldiers of the 10th Group in a diverse training posture. The 3d Battalion conducted a 6-week Guerrilla Warfare exercise in the White Mountain National Forest, while 2d Battalion executed an eleven-week formal cross-training program in MOS 18C and 18E skills. First Battalion conducted FTX Alpine Friendship in the Bavarian foothills continuing to hone its combat skills. During the period 1989-1990, Operational Detachments conducted realistic joint training exercises in Norway, Denmark, France, Canada, Luxembourg, Italy, Spain, Netherlands, and the United Kingdom.

In October 1989, the Group Command Sergeant Major, CSM George Moskaluk, and one composite operational A detachment, briefed the Soviet Defense Minister, General Dimitriy Yazov, Soviet Ambassador Udy Dubinin and a delegation of 30 other Soviet military officers. The 10th Special Forces soldiers briefed the Soviet delegation on the organization, equipment, and capabilities of an A detachment. The team conducted the entire briefng in Russian, Polish, Czechoslovakian, and German. Local, national, and Soviet television and newspapers reported extensively on this event. This visit signified the shifting operational focus of the Group as the Cold War melted away. This shift, however was interrupted by events in the Middle East. (Click here for more on the history of the 10th SFG(A) and its participation in the Persian Gulf War. SOURCE: www.soc.mil)

---
(Source: Headquarters SACOM and Munich District, Telephone Directory, 10 April 1954)
Directory of units stationed at Flint Kaserne in 1954. List is interesting as it provides some detail on organization of the 10th SF Group during this early period.

Click on thumbnail for larger image.

---
(Source: Reprint of 10th SF Group (Abn) Yearbook, 1956)
1956 Yearbook

In 1953, the 10th Special Forces Group Airborne received overseas orders and sailed on 11 November 1953, Colonel Aaron Bank Commanding, for Europe aboard the US Army Transport General A.W. Greely. The unit arrived in Bremerhaven, Germany, 21 November, and immediately departed by train for Bad Tölz, Germany.

Early in 1954 training began and in the spring of the year all operational teams participated in Field Exercise 54-1. On 1 December 1954, Col. Aaron Bank, often called the the founder of Special Forces, was transferred to the office of G-3, Seventh Army, and on 21 December 1954, Col William E. Ekman, an experienced airborne commander, assumed command of the Group.

In 1955 operational teams participated in the second and third cycles of Field Exercise 54-2. During this year a greatly accelerated program of intramural and regional sports competition was enthusiastically received by members of the command.

1955 came to a close and in early 1956 orders were received reducing the strength of the Group. Reorganization was completed in January and plans were made for many of the original members of the Group to return to the United States in July. Those remaining, in keeping with the high training standards established, will depart for Field Exercise 56-1, 23 April 1956.
(See the Bad Tölz Page for some photos of Flint Kaserne from the mid 1950s.)

---
(Source: USAREUR Annual Historical Report, 1966)
Special Warfare

a. Relocation.
Among the units that would have to relocate from France before the 1 April 1967 deadline were two elements associated with unconventional warfare -- the Support Operations Task Force, Europe (SOTFE), and the 557th Quartermaster (QM) Company. SOTFE was USEUCOM's unconventional warfare planning staff in peacetime, which would assume wartime operational control over USAREUR's 10th Special Forces Group (SFG) in implementation of USCINCEUR unconventional warfare plans. The 557th, a USACOMZEUR unit that was capable of rigging equipment for airdrop, had the dual mission of supporting USAREUR's airborne and aerial resupply operations and USEUCOM's wartime unconventional warfare operations by rigging for airdrop the guerrilla supplies required for SOTFE's unconventional warfare plans.
577th QM Co Pocket Patch

USAREUR considered transferring one company of the 10th SFG from the Federal Republic to Camp Passalacqua, in Italy, and stationing with it one platoon of the 557th to support its airdrop operations. When the Italian Government refused, for political reasons, to authorize the stationing of a Special Forces unit in that country, USAREUR decided to move the entire 557th QM Company to Mainz. There, the company would be in a central location close to the Wiesbaden and Rhein-Main Air Bases to support airborne operations, and also fairly close to Sembach, the home station of the 7th Air Commando Squadron, the primary air-delivery unit supporting SOTFE.

USAREUR had first recommended relocating SOTFE at McGraw Kaserne in Munich, near the 10th SFG. In August a SOTFE survey revealed that Panzer Kaserne in Boeblingen, near USEUCOM headquarters at Stuttgart, would be more suitable because SOTFE's working relations with the USEUCOM planning, operations, and intelligence staffs required daily contacts. Accordingly, in mid-October USCINCEUR directed the SOTFE beadquarters to move to Panzer Kaserne between 2 and 15 January 1967.
b. Readiness.
Like all other USAREUR elements, the 10th Special Forces Group was affected significantly by the personnel drawdown. Thus, by the first week of June the Group had reduced all 9 of its authorized "B" detachments to zero strength, and had eliminated 5 of its 36 authorized "A" detachments.

Since Special Forces personnel require a high degree of proficiency in a variety of unique skills, the 10th SFG was unable to overcome the effects of personnel reductions as rapidly as other units. By 31 December -- by that time USAREUR'a assigned enlisted strength was higher than it had been before the drawdown -- the 10th SFG had made little progress. Two "A" detachments remained at zero strength, and three were in caretaker status with strengths of two to five enlisted men. All "B" detachments were in caretaker status, commanded by E-8 and E-9 noncommissioned officers; their total strengths varied between 6 and to enlisted men. (Normally "A" detachments, commanded by captains, had 12 personnel, and "B" detachments, commanded by majors, had 23.) All "C" detachments had officers commanding them and were considered operational, although none was at full strength.

In terms of readiness, 3 "A" detachments had a REDCON of 2; 7 "A" and 3 "C" detachments had REDCON 3, and the remaining detachments had REDCON 4. There was no prospect of significant improvement in the foreseeable future.

c. Training and Exercises.
(1) Spacial Training. In addition to routine training and operations, the 10th Special Forces Group trained its own personnel in such specialized skills as mountain climbing, parachuting, SCUBA diving, and foreign languages. It also furnished teams under the military assistance program to teach unconventional warfare skills to members of foreign armed forces. Two such teams went to Austria, and one team spent six weeks in Greece.

At its home station the group trained 71 members of the British Army in mountain climbing, survival, demolition, and escape and evasion techniques. It also exchanged unconventional warfare training with the Royal Danish Army and sent personnel to a 10-day training course given by the German Army Mountain School.

Other unusual training activities included two 12-week sessions of medical on-the-job training at the Munich U.S. Army Hospital attended by nine medical specialists of the 10th SFG. Finally, in June, 44 Special Forces personnel participated in amphibious infiltration and exfiltration training along the Italian coast near Leghorn (Webmaster Note: Livorno) together with the crew of a U. S. Navy submarine.

(2) Unconventional Warfare Exercises. Elements of the 10th Special Forces Group participated in three joint and combined unconventional warfare exercises in 1966. The first of these, DARK CLOAK, was a SOTFE-directed joint unconventional warfare CPX that took place from 1 to 21 February. USEUCOM, USAREUR, the 10th SFG, USACOMZEUR, USAFE, the 7th Air Commando Squadron, USNAVEUR, and the Sixth Fleet participated from home stations.

The exercise play practiced coordination between SOTFE, USEUCOM, and the Joint Task Force (JTF) and its component commands.

Exercise GREEN HEATHER was an Anglo-American unconventional warfare exercise conducted from 29 April to 17 May in the vicinity of Brecon, Wales. Company B of the 10th Special Forces Group and a detachment from the 275th Signal Company participated with elenents of the British Army.

The exercise tested joint operations, communications, and coordination of unconventional warfare techniques.

From 6 to 22 September elements of the 10th SFG, supported by the 7th Air Commando Squadron, participated with F.R.G. units in Exercise HAY MOUNT. The U.S. elements furnished unconventional warfare elements, and German units provided both guerrilla and territorial defense forces for the exercise, which tested infiltration techniques, communications between infiltrators and their operational base, aerial resupply, and guerrilla snd counterguerrilla operations.

---
MISCELLANEOUS UNIT INFORMATION

Detachment identification:
A-Teams are numbered as ODA-### (Example: ODA-015). This stands for - Operational Detachment Alpha, with the first number represent the group, the second and third representing battalion and team designation. ODAs ending in "4" designate a HALO group and ending in a "5" designate a Combat Diver/SCUBA team.

(Source: Email from Richard Hayze)


ODA numbering actually goes as follows:
1st number = Group (0=10thSFG, 1=1stSFG, 3=3rd SFG, 5=5thSFG, 7=7thSFG, 9=19thSFG, and 2=20thSFG)
2nd number = ODB (SF Company) with 1=A Co 1st Bn, 2=B Co 1st Bn, 3=C Co 1st Bn, 4=A Co 2nd Bn, etc, through 9=C Co 3rd Bn.
3rd number = actual team number in each company (from 1 to 6)
For example:
ODA-015 = A-5, A Co, 1st Bn, 10th SFG
ODA-756 = A-6, B Co, 2nd Bn, 7th SFG
ODA-593 = A-3, C Co, 3rd Bn, 5th SFG

---
VARIOUS ADDITIONAL DUIs
ADDITIONAL 10th SF GP ITEMS
1st Bn, 10th SF Beret

Orig. Beret Badge




Service Det, 2nd Bn

HALO Team

(1)

Trojan Parachute Club
(1) HALO = High Altitude Low Opening


The patch you identify as the HALO team patch for Bad Tolz is actually the patch for the sport parachute club at Bad Tolz. John Raybon -- who actually ran the club during my time there -- later died in a UH-1 crash in El Salvador. (Source: Richard Hayse, SFODAs 9 and 7, 1976-1978)

(Source: Email from Richard Hayse, SFODA-9 and 7, 1976-1978)
The pin you identify as SADM(?) was in fact the unofficial team patch for
SFODA-7
, the SADM team at Bad Toelz. I was the team medic and designed the patch and had them made in Augsburg at a tailor shop in 1977. The shape is that of a SADM, the black/red/gold stripes of the German flag found on the 1/10th beret flash, the lightening bolts from the SF SSI, the dagger is the SS dagger for the SS
Junkerschule
(officer's school) originally at Bad Toelz with the nuclear symbol in the hilt, and the Alpha-Beta-Gamma symbols are for the three types of radiation released from a nuclear explosion. I still have two of the original patches and was surprised to find that an enamel pin had been made from the design.
SFODA-7 at that time was made up of CPT Flavin, 1LT Matherly, MSG Brakeman, SFC Johnson, SFC Geiger, SSG Hayse, SFC Camus, SFC Pruett, SSG Hering, SSG McCann, SSG Moore and SSG Detrick.
F. Richard Hayse

---
Jump School
(Source: author's collection)
| | | | |
| --- | --- | --- | --- |
| | Photos are from a box of 35mm slides taken by an unidentified officer assigned to HQ 7th Army, 1954-1957 | This officer attended the Jump School at Bad Toelz in March 1956 | |
| 1. Jump Scholl cadre, 1956 (KB) | 2. Airborne Class, 10th SF Gp, 22 March 1956 (KB) | 3. The "tower" (KB) | |
| 4. Bad Tölz BOQ (KB) | 5. Several officers in discussion (KB) | 6. Waiting for the beginning of a ceremony? (KB) | |
| 7. Col Ellis Wilhoyt, CO USAREUR Engr School (KB) | | | |

---
The 10th SFG(A) HALO Story
(Source: Email from Dale Sungy, ODA-8 10th SFG(A), 1968-1969)
Jeff Fuller and I have been working on a history of 10th SFG(A) HALO ops (see link below). FYI, I still have our POI from one of our Greek MTTs showing the classes and instructor assignments.



One of the things I am hoping for is to give the ODA-8 team credit for the soldiers and pioneers they were. I don't want their legacy to be lost.



Jeff has also put together a 10th SFG HALO album on Shutterfly. I recently received some pictures from Reuben Siverling that are not yet on the Shutterfly site.
Click here to read the Unit history of the 10th SFG(A) HALO and ODB-8 prepared by Jeff Fuller and Dale Sungy.

---
Related Links:
10th Special Forces Group (Abn) website -
7th Special Operations Squadron - site hosted by the 7th SOS Society
Special Forces Detachment "A" - website for the SF vets stationed in Berlin
10th Special Forces Group (Abn) - Memories of a Special Forces Soldier - Terry Dahling's very interesting recollections of his tour with the 10th in Bad Tölz in the early 1960s.