If you do NOT see the Table of Contents frame to the left of this page, then
Click here to open 'USArmyGermany' frameset
3rd Ordnance Battalion
59th Ordnance Brigade
Looking for more information from military/civilian personnel assigned to or associated with the U.S. Army in Germany from 1945 to 1989. If you have any stories or thoughts on the subject, please contact me

.
---
History (1977-1991)

3rd Ord Bn

4th Ord Co

9th Ord Co

41st Ord Co

110th MP Co

164th MP Co

330th Ord Co

563rd Ord Co
255th Ord Det

579th Ord Co




Patch worn ... - 1982

Patch worn 1982 -



---
3rd Ordnance Battalion
1977 - 1991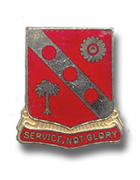 3rd Ordnance Bn DUI
(Source: 59th COURIER, June 1981)
3rd Ordnance Battalion: one-of-a-kind mission, one-of-a-kind soldiers

In brief, a report on the organic companies of the 3rd Ordnance Battalion:

The Headquarters and Headquarters Company is located at Taukkunen Barracks, headquarters for the Worms military community, and its 62 members enjoy easy access to a commissary, movie theatre, a large NCO club, and of course, the historic city of Worms, home of the protestant reformation.

The 4th Ordnance Company is the battalion's largest unit with well over 250 personnel working at the Miesau Army depot servicing Nike Hercules and Improved Hawk (I-Hawk) missile systems for the 32nd Army Air Defense Command.

The 41st Ordnance Company in Vogelweh has the only mission of its kind in the Army: it receives, stores, issues and most importantly, performs maintenance on a wide array of missiles, providing general support. It is the only Army unit with such a wide-ranging mission. A major feature of the 41st is its Dedicated Delivery Service program, where defective missile parts are exchanged on the spot for working machinery. The 41st is headquartered at Rhine Ordnance Barracks and is a part of the Kaiserslautern Military Community. The 41st maintains two storage depots, one in Weilerbach, near Kaiserslautern, and one in Fischbach (near the French border) where large reserves of Pershing, Improved Hawk and Nike Hercules missile systems are stored and maintained.

The 563rd Ordnance Company in Wiesbaden is not a country club unit, though, as it is headquartered on a Kaserne adjacent to a golf course. The 563rd, during working hours, stores and maintains ten different systems, including the new Stinger missile. 563rd soldiers also learn to operate propellant draining kits in order to remedy explosive missile leaks. The 563rd, last year's honor company within the battalion, competes actively In Wiesbaden military community sports, especially basketball and golf.

The 579th Ordnance Company in Neu-Ulm has all the benefits of being close to a military community that other 3rd Ordnance Battallion units have, including television and radio service. Neu-Ulm, along the historic Danube, has a cathedral with the highest spire in the world, about a ten minute drive from Nelson Barracks, headquarters for the company.

The 212 soldiers in the unit provide general support and back-up direct support for the Pershing 1A missile system, repairing, storing and issuing both missiles and their important parts. The unit has an Essential Repair Parts Stockage list for both the missile systems and generators used by the 56th Field Artillery Brigade.

579th soldiers are active in their community. During the past year, the company fielded teams in bowling, baseball, basketbal, softball, and volleyball. Soldiers of the 579th also participate in tennis, handball, racketball and boxing. The unit recently started up a Volksmarch club and has several trap shooters in it.

Neu-Ulm, next to the ancient walled trading city of Ulm, draws many big name entertainers during the course of a year, including such figures as Fleetwood Mac and Manfred Mann in the past. The concerts are popularly attended by Neu-Ulm, and presumably, 579th soldiers.
---
(Source: 59th COURIER, November 1982)
3rd Ordnance Bn; changes abound

By Bill Turner

On Nov. 1 the 3rd Ordnance Battalion was reassigned to the 32nd Army Air Defense Command. Two of its subordinate units will remain with the 59th Ordnance Brigade.

The Headquarters and Headquarters Company and 4th Ordnance Company transferred the 32nd Army Air Defense Command (AADCOM). The 41st and 563rd Ordnance Companies became members of Special Troops Battalion. None of the units, though, relocated.

The 3rd Ord was filled with firsts and onlies. Along with its wide ranging mission and myriad of Military Operational Specialties (MOS) it was, to say the least, a fascinating unit.

To begin with, it was the only battalion in the U.S. Army with general support and some direct support maintenance for many missile systems the Army uses in the North Atlantic Treaty Organization (NATO), such as Hawk, Nike-Hercules, Pershing, Chapparal, Redeye, Stinger, Lance, Tow, Dragon, and Forward Area Alerting Radar (FAAR).

It had a very complicated general support mission. It repaired, maintained, stored, renovated and issued missiles to direct support units in USAREUR. When the 59th underwent a reorganization in 1977, the newly activated 3rd Ord received four units. These units were separate, fully functioning units that had been around for years. The 4th and 41st Ordnance Companies were part of the 72nd Ordnance Battalion. The 563rd and 579th Ord Cos. were separate companies that reported directly to the Brigade. The 579th has since transferred to the 56th Field Artillery Brigade.

The Headquarters and Headquarters Company is on Taukkunen Barracks in Worms. The Barracks' 100-year history has housed German, French, and U.S. armies. Worms also has a hardy history of its own.

The 4th Ord at the Miesau Army Depot near Kaiserslautern services Nike-Hercules and Improved Hawk missiles for the 32nd AADCOM. It is part of the Zweibrucken Military Community and its members have close access to all the benefits at Kaiserslautern as well.

The 41st Ordnance Company in Vogelweh performs ammunition storage, issue, and maintenance functions on a wide variety of missiles.

The 3rd Ord Bn. could indeed hold its own against any unit in the Army in terms of novelty and interest. But the true heroes of this story are the members of the unit, those who made it all happen. They took a complicated mission and ran it smoothly, with a quality of excellence that was its trademark.
---
(Source: US Army Air Defense Artillery School website)
ADA Magazine, Summer 1983

The Summer 1983 Issue of ADA Magazine featured a special 15-page section on the 32nd Army Air Defense Command, compiled and edited by ADA Magazine associate editor, Brian R. Kilgallen.

One of the articles reported on how the 3rd Ordnance Battalion's supply and maintenance procedures were making life easier for air defenders in Europe.
---
1983
(Source: BANNER (USMCA Worms newspaper), September 1983)
Army's biggest battalion - Worms' smallest company

There is something about 3rd Ordnance that is just a little bit different from the rest of us soldiers here in Worms. Sometimes the differences are hard to pinpoint, like a snappier salute, shinier boots or maybe a lower, military tip of the hat. And sometimes the differences are more obvious like their morning formations and their 6:00 a.m. phyiscal training program.

Whatever the differences are, 3rd Ord. remains somewhat mysterious (although not secretive) to most of the Worms community.

When the Banner asked 3rd Ordnance's company (HHC) commander, 2nd Lt. John Green to speculate on these differences, Green's response was instantaneous and decisive.

"Well, for one thing we're combat oriented and everyone else here in Worms is staff oriented,' Green said. "We're headquarters for all of 3rd Ordnance Battalion in the Federal Republic of Germany."

Stretching from the Luxembourg border to the Czechoslavokian border, 3rd Ord. professes to be the largest battalion by composition in the United States Army with approximately 1,400 soldiers and 14 companies.

Of the 1,400 soldiers only about 69 are stationed here in Worms. According to Green, half of the 69 are usually on TDY. Ironically, while 3rd Ord. may be the largest battalion in the Army, it is one of the smallest companies on post.

Where's the equipment
Third Ordnance is said to deal with Army equipment, but there are few large pieces of Army equipment here in Worms.

"As headquarters, we direct the supply and maintenance efforts for air defense missile systems in 32d AADCOM. We provide technical contact teams to fix the equipment on site," Green explained.

The Battalion provides command and control to Direct and General Support Missile Companies supporting all 32d Army Air Defense Command.

"Combat readiness, of course, becomes an essential part of our mission;" Green added.

First Sergeant
According to the company 1st Sgt. Willie Miller, with such a small company to command he has the 'luxury' of formations.

"It's the Army way, and it's a great benefit to the troops,' Miller said. "With morning formations I can have one-to-one contact with everyone. Any questions can be answered before the duty day begins. Everyone knows exactly what's expected of them."

Physical fitness is also done early in the morning. Roll call for P.T. is 05:55 and not a minute later, according to Miller.

"We place a big emphasis on physical readiness," Green added. "Even before the Army's new regulations on P.T., we were running three to five miles several times a week. Our success rates are above 90 percent on P.7. tests."

What the troops say
To get the 'unofficial' word, the Banner interviewed three of 3rd Ordnance's enlisted members. Sp5 Greg Ward in warehouse supply, Sp4 Normajean Cefarelli in administration and PFC Jeff Stegner a radio operator had some interesting comments.

"I think we are a little different from everyone else in some ways," Ward said. "I like it that way most of the time. Like formations for instances. Most people might not enjoy it, but I think it's a good way to get all the information you need. Top knows what's happening."

Stegner agreed. "In our company you've got to have your facts straight. With formations there's no excuse for not having your facts right."

"I think we're fortunate in away," Cefarelli added. "We get to talk to Top all the time. A young soldier needs that extra guidance."

Do they really like P.T.9
(some surprising answers)
"I'm glad we got the kind of P.T. that we do," Ward said. "I don't think most people would put out the effort if they were't forced to."

"Well, don't ask me about P.T. right after I do it, or I might have a different opinion. But I think it's a good idea, too;" Cefarelli commented. "Sometimes it's sorta fun. We sing loud in the morning when we're running. Top says we aren't singing loud enough, but we know that we're waking up a lot of people on post at 6:00 a.m. That's sorta fun."

"I don't mind the P.T.;" Stegner added. "I want to be in good shape if I have to go to combat. And I want to know that the guy next to me is in good enough shape to protect himself and me."

There are eight women in 3rd Ord. Company and according to Cefarelll they have no problems keeping up with the men. Their motivation does not fall short, either.

"Even though we don't have combat MOS', it's possible that we could get caught in the middle, if something happen,' Cefarelti said.

What makes them different?
"I don't think we avoid anyone else from another company or vice-versa," Cefarelli said. "We're just such a small company. We stay in building 5828. And we stay with people in 5828. Maybe we're not different, just separate."

"It's a second family over there," Stegner added with a small laugh.

"Our jobs sorts keep us away from everyone else on post,' Ward added. "It's almost like we're isolated. And we just don't have that much time to socialize."

"That's right," Cefarelli agreed. "I'd say we're probably more strict on accountability, too. The company wants to know where everyone is at all times. You won't see very many of us floating around."

"Another thing, we might be too close to the M P station for everyone else on post," Stegner joked. "But that doesn't stop us."

"I think we can just relate better to people in our own company;" Cefarelli said. "It's almost like we don't have anything in common with anyone else."

The differences at the top
"Our NCO are different from most NCOs, too," Cefarelli added. "On holidays, special events or sometimes just for no particular reason at all, they'll invite some single soldiers over to spend the day with their families."

"It cuts down on homesickness," Stegner agreed.

"Top's pretty good, too. He's always got time to talk to you," Cefarelli said. "He won't tell you what to do, but he'll give you a list of your options. And he tries to stop trouble before it happens."

"Even the new commander, LTC John travois, seems to be really concerned about us," Cefarelli added.
---
(Source: "Move 'em out!. A look at the chemical removal operation," 59th COURIER Special Edition)
Chemical Retrograde

In 1986, former President Ronald Reagan and German Chancellor Helmut Kohl agreed to move all the chemical weapons out of the Federal Republic of Germany. The mission was to be completed by 1992. However, at a summit held in 1989, Chancellor Kohl and President Bush nmade the decision to have the removal of all chemical weapons complete by the end of 1990.

The 100,000 artillery shells, 155mm and 203mm rounds, stored at the Clausen Army Depot were mounted on specially built wooden pallets. They would be placed in vapor-proof Secondary Steel Containers, blocked, braced, and sealed prior to being loaded into MILVANs for the transport to Johnston Atoll in the Pacific where they would be destroyed.

On June 26 1990, members of the 330th Ord Company - previously responsible for the storage of these warheads - began the upload operation. Soldiers from the 110th MP Company continued their everyday mission of site security.

On July 26 1990, the first of 28 convoys (tractor-trailers operated by the 76th Transportation Company, 37th TRANSCOM) transporting the chemical munitions began their trip from the Clausen Army Depot to the Reserved Storage Activity, Miesau. At the railhead in Miesau, the MILVANs were loaded onto munitions rail cars and moved by train to the North Sea seaport of Nordenham.

At Nordenham, the MILVANs were then transfered to one of two US Navy ships assigned to transport the warheads to Johnston Atoll.
| | | | |
| --- | --- | --- | --- |
| | | | |
| 1. Inside one of the chemical bunkers (KB) | 2. SSC containers are readied for uploading of chemical munitions outside of one of the bunkers (KB) | 3. 76th Trans Co convoy leaves the Clausen depot (KB) | |
---
(Source: 59th COURIER, December 1990)
3d Ord prepares for inactivation

By Terri Ferguson

The 59th Ordnance Brigade and Pirmasens Military Community will say good-bye to the 3d Ordnance Battalion during a farewell ceremony on Dec. 20 1990.

Prior to the historical chemical retrograde, the battalion had eight subordinate units. On Oct 1 1990, the 3d Ordnance Battalion received official orders for inactivation. As a result, four of the battalion's units were permanently reassigned to the 197th Ordnance Battalion. These units were the 9th Ordnance Company located in Miesau; the 164th Military Police Company located in Miesau; the 563d Ordnance Company located in Wiesbaden; the 41st Ordnance Company located in Kasierslautern and its detachment at the Fischbach Army Depot.

The soldiers from the remaining units effectively worked themselves out of a jobwith the completion of the chemical removal operation. The battalion headquarters, the 330th Ordnance Company, the 110th Military Police Company, the 98th Chemical Detachment and the 763d Medical Detachment are scheduled to be completely inactivated
on Feb 15, 1991. Soldiers from these units will be reassigned as mission requirements permit, a skeleton crew will remain at each unit until Feb. 15.

According to LTC F.E. Hamilton, 3d Ordnance Battalion commander, approximately 98 percent of the remaining soldiers either have orders in hand or know where they are going. He also emphasized every attempt has been made to either stabilize soldiers and their families or to get them assigned to a location of their choosing. As of Dec 6, 1990, approximately 70 soldiers will be reassigned within the brigade, 210 will rotate back to the United States or to another foreign country.

Approximately 170 families have also been effected by the inactivation. After the Department of the Army Stop Loss program is lifted, all soldiers will proceed as scheduled. At the present time, the soldiers of the 3d Ordnance Battalion are busy preparing equipment to be turned over to other units within USAREUR. Much of the battalion's equipment has been or will be transferred to units deploying to Saudi Arabia. Some of the equipment includes chemical suits, chemical masks, decontamination equipment, tents and other items essential to operations in the desert.

The farewell ceremony will begin at 10:00 a.m. in front of the 59th Ordnance Brigade Headquarters on Husterhoeh Kaserne in Pirmasens. The battalion colors will be taken to the United States after the ceremony where the battalion will be officially inactivated
ORGANIZATION (1990):
| | | |
| --- | --- | --- |
| UNIT DESIGNATION | DUTY STATION | COMMENTS |
| HHD, 3rd Ord Bn | Münchweiler | |
| 9th Ord Co | Miesau | |
| 164th MP Co | Miesau | |
| 330th Ord Co | Münchweiler | |
| 110th MP Co | Münchweiler | |
| 563rd Ord Co | Wiesbaden | |
| 41st Ord Co | Kaiserslautern | |
| 98th Chem Det | | |
| 763rd Med Det | | |
If you have more information on the history or organization of the 3rd Ord Bn, please contact me

.

---
563rd Ordnance Company
1970
(Source: STARS & STRIPES, April 24, 1970)
The 563rd Ordnance Company (Msl Maint) arrived at Wiesbaden in April 1970. (Home station is Camp Pieri.)

The company is assigned to the Advanced Weapons Support Command (AWSCOM) and has the mission of providing maintenance support for Chaparral-Vulcan air defense battalions in USAREUR.
---
1970-72
255th Ordnance Detachment
(Source: Email from Gene Colonna)
I was on your site and have been searching information on my old unit, when I google it, it only says 255th Ordnance Detachment inactivated March 1973. Also on Redstone Arsenal's year by year events it does not mention my unit or its deployment.

Here is what I can remember: The 255th Ordnance Detachment GS was organized in March 1970 at Redstone Arsenal. The unit trained up and deployed to Peden Barracks, Wertheim, Germany in late June 1970.

The unit was a detachment of the 563d Ordnance Company located in Wiesbaden, the company deployed from Redstone Arsenal in March 1970 to Wiesbaden. Our higher headquarters was the Advance Weapons Support Command.

First Commander was Captain James W. Boddie from the Columbus, Ga Area, March 1970 until July 1971 (I believe his father was a retired General Officer.) NCOIC SFC Green later became a Master Sergeant Operations Sergeant SFC Donald Butcher (retired in the Fort Bliss area) Operations Chief WO4 Hebert or Hubert Manlove (retired in Huntsville, Al area).

The 255th Ordance Detachment provided General Support to 7 Direct Support units for the Vulcan and Chaparral Air Defense Systems. We were a self contained 53 man detachment as we had our on general maintenance mechanics, generator mechanics, cooks, adminstrative, supply personnel. The ordnance soldiers were 27F Light Air Defense electrical repairman and some equipment calibration soldiers were I believe a 35 series MOS.

I was in that unit from its activation until my honorable discharge on 8 January 1972. I remember a few names and know how to reach one former original unit member. I was intrested in finding any other history and possibly the unit manning name list of the original unit members that formed at Redstone Arsenal or deployed to Wertheim.

---
Related Links: