If you do NOT see the Table of Contents frame to the left of this page, then
Click here to open 'USArmyGermany' frameset
28th Transportation Battalion
37th Transportation Group
Looking for more information from military/civilian personnel assigned to or associated with the U.S. Army in Germany from 1945 to 1989. If you have any stories or thoughts on the subject, please contact me

.
---
History (19..-19..)

Related Links




Patch worn from 1951 to ..
---
SUBORDINATE UNITS
| | | | | | | |
| --- | --- | --- | --- | --- | --- | --- |
| SUBORD UNIT | STATION | CTRY | | SUBORD UNIT | STATION | CTRY |
| | Maison Fort | FR | | 109th Trans Co | Mannheim | GE |
| | Mannheim | GE | | | Mannheim | GE |
| 66th Trans Co | Kaiserslautern | GE | | | Mannheim | GE |
| 68th Trans Co | Ingrandes | FR | | 501st Trans Co | Kaiserslautern | GE |
| | Bremerhaven | GE | | | Mannheim | GE |
| | Giessen | GE | | | Ingrandes / Mannheim | FR |
Battalion History
1949 - present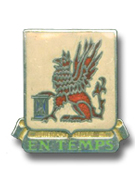 28th Transportation Bn DUI
(Sources: 28th Transportation Battalion, a unit history compiled by the Transportation Historian, Fort Eustis, Virginia; online copy at Biggs Library and Information Center; 37th Transportation Highway Transport Division, Germany, 1952. Yearbook 1952)
1952
ORGANIZATION (1952):
| | | |
| --- | --- | --- |
| UNIT DESIGNATION | DUTY STATION | COMMENTS |
| HHD, 28th Trans Trk Bn | Turley Bks, Mannheim | |
| 66th Trans Hvy Trk Co | Mannheim [1] | |
| 69th Trans Hvy Trk Co | Mannheim [1] | |
| 89th Trans Hvy Trk Co | Mannheim [1] | |
| 388th Trans Trk Co | Mannheim [1] | |
[1] STATION LIST, Dec 1952
1958
ORGANIZATION (1958) [2]:
| | | |
| --- | --- | --- |
| UNIT DESIGNATION | DUTY STATION | COMMENTS |
| HHD, 28th Trans Trk Bn | Turley Bks, Mannheim [3] | |
| 68th Trans Co (Med Trk) (26' S&P) | Ludwigsburg [2] | |
| 69th Trans Co (Med Trk) (26' S&P) | Turley Bks, Mannheim [3] | |
| 501st Trans Co (Lt Trk) | Ludwigsburg [2] | |
[2] Source: The Transportation Movement System in USAREUR - 1958; STATION LIST, April 1957
[3] Source: Email from Bryan Hackett, 69th Trans Co.
---
1980
(Source: Email from Mike Taylor)
I was searching the Internet for my old units and came across this site.

I was stationed at Spinelli Barracks from 1980 to 1983. At the time, the battalion consisted of the 40th Trans Co., 109th Trans Co. (POL), the 377th Trans Co. (HET's), and the 150th Trans Co. The battalion also operated Trailer Transfer Post TTGulf (later to redesignated 260 Trans Det).

I initially was assigned to the 109th under a Captain Roach. I was later reassigned to the 150th Trans Co. (Cpt. Key) and served as the detachment Commander as a young 1st LT.

Before leaving Germany, I worked on the S-2/3 staff (Maj Foye) at Battalion headquarters.

The funniest thing I can remember while there was the change of command between LTC Shellenbarger and LTC Swartz. Immediately after the flag exchange from one to the other, soldiers from the 40th Trans. Co. barracks blasted the music "Another One Bites the Dust". It was all taken in good spirits for an excellent out going commander.
If you have more information on the history or organization of the 28th Transportation Bn, please contact me

.

---
1st Transportation Company
1960
(Source: Email from Lee Young)
I was with the 1st Transportation Co. at Maison Fort, Orleans, France, APO 58 from May 1960 thru Jan 1963.

I enlisted in 1960 when I was actually 15 years old. Recruiters knew a lot of tricks then. I joined 1st Trans in May and had just turned 16. The 1st was a refrigerated co. and was changing to cargo. We had about a week of training in M52 semis which was mostly learning to back.

There were truck terminals from southern France to Germany. We mostly would run to Ingrandes and turn around or Vitry La François where we would sometimes spend the night or turn around.

Each T.T. (trailer transfer point) had a dispatch, maintenance and tire shop. Trucks were governed at just over 50 mph which was just fast enough to get beside a bouncing betty and get hung up. We would often take the governor line from carb. Seals were easy to come by. We had a good safety record though. I only recall one serious wreck. The guy was killed in a turnover. I can't recall his name but I know he had a good friend named Yoakum.

I left there in Jan. 1963 and came back to Camp Des Loges, France in Oct 63. For a year or so I drove from the motor pool at Bel Manoir mostly for school runs and field trips for students at PAHS. Later I drove shuttle bus at CDL motor pool where we ran hourly scheduled runs from CDL to the Etoile in Paris. We would carry French workers, dependants and G.I.'s. back and forth from Paris with stops at metros, Bel Manoir, SHAPE and housing areas in between. I can't recall if they were 24 hrs. or 6 am til midnight.

The first time I flew over on a M.A.T.S. PROP. Airplane, returned on the ship Upshur and second time over and back on the Patch.

Some of the guys I served with were Turner, Todd, Drew, Adkins, Locke, Conatser, Ron Rebella, Wally King and Patrick Ryan. Have some good memories of France.

I would love to see posts from some of the guys.
---
1964
(Source: Email from Dan Luparello)
The 1st Transportation Company was part of the 28th Transportation Bn in May 1964 when I joined the unit in Fuerth, Germany. The 28th was based in Mannheim under the command of Ernest J Hinojosa, LtC.

The 1st Trans Co had been relocated to Furth (outside Nurnberg) into the William O. Darby Kaserne from Orleans, France in early 1964. In France it was part of COMZ. When it relocated to Furth, it became part of USAEUR. I don't remember if the 28th was also relocated out of France, but it probably was, along with the 37th Trans Group.

Captain James Bodie was company commander, followed within 6 months by Lt Philip Wills, and shortly after by Capt Frank S Besson III. Captain Besson's father was General Frank S Besson Jr, first commander of the Army Materiel Command. Top NCO was E-7 George Lanier.

During the 2 years that I was associated with the unit as a platoon leader, all of the heavy trucks in the battalion wrere changed from the old M51's to new cab-over International Harvesters.

We moved mostly PX goods to support the Army and Air Force Exchange headquarters and warehouse in Nurnberg, relocating units in and out of the harbor at Bremerhaven, and relocating Honest John missles around Germany.

Re: the last task....one of our drivers, a young 19 year old PFC dropped an HJ off his trailer late one evening when he was sideswiped by a German civilian just as he was beginning to enter under a curved and narrow railway overpass. 2 AM in the morning, the local Polizei evacuated @ 100 civilians from their homes near the overpass. They would not believe any of the company officers that the missile was unarmed, and insisted that a field grade officer with ordnance credentials inspect the device before they would let everyone go back to their homes.

I seem to remember that the 1st Trans Co traced its WWII history to a unit with the same numerical designation that was a part of the "Red Ball Express" ??

I do not see the 1st listed as one of the 28th's units..... this is surely an oversight....I do remember the 501st, the 68th, and the 69th. Perhaps, the 1st was added to the 28th when the French relocation of COMZ happened?

---
40th Transportation Company
1957
(Source: Email from Everett Coppock, 62nd Trans Co & 40th Trans Co, 1956-59)
Some information about the 40th Transportation Company (POL), Mannheim:

I was transferred from the 62nd Trans Co (Hvy) in Karlsruhe to the 40th in February 1957 and stayed with the 40th until September 1959.

We had a 1st Sgt by the name of William A. Horton. My Pltn Sgt was SFC Byers. I will have to take some time to remember some of the other names as it has been awhile.

Out job was to haul fuel from Pforzheim (south and north) to the British Zone in and around Hannover. During field training with (combat) divisions we went all over Germany.

We (also) hauled fuel for the PX gas stations and the different kasernes on TDY duty.

Two platoons were out and one was back at the company area in Mannheim.

Had a lot of fun and saw a lot of Germany during this tour in Europe.

Hope this helps. If you find anybody who served with the 62nd Trans please let me know.
---
1963
(Source: Email from James DeClerck, 377th Trans Co & 40th Trans Co, 1963-64)
Thanks for your note. My original comments about the 40th Transportation Company were a response to a note from Mr. John R. Sitten, a Captain at the time I knew him in 1963/1964 when he was a member of the 15th QM Bn. His comments are included in the 15th QM Bn section. My comments are intended to correct some of the 40th Transportation Company place and personnel names and to add some incremental information.

At the time I was assigned to the 40th, the Company was subordinate to the 15th QM Bn, and had a general support mission in support of 7th Army.

During 1963/64 the headquarters of the 181st Transportation Bn was also located at Turley Barracks, along with some of their subordinate units: 342nd Transportation Company and 41st Transportation Company. Also at Turley Barracks was an MP unit, a U. S. Army Claims Office, an EM Club, and an exchange. The 181st's heavy truck company, the 377th Transportation Company, was located at Coleman Barracks in nearby Sandhofen.

Click here for Jim's original email about the 40th Trans Co.

---
69th Transportation Company
1958
(Source: Email from Bryan Hackett)
I noticed you have the 69th Trans Co. listed on the 53rd Trans Bn page.

The 69th was in the 29th Trans Bn. I was with the 69th Trans Co. in 1958/59, at Turley Barracks , Mannheim.
---
1974
(Source: Email from Tom Pickett, 69th Transportation Company, 1974-1976)
Love your site on transportation. I joined the Army in 1974 and got out in 1976.

After basic they sent me to Spinelli Barracks (Mannheim) where I was a clerk in the 69th Transportation Company. We had 49 International 2000D tractors and hauled everything.

After about four months of the 69th Transportation Company they deactivated it and changed our company to the 40th Transportation Company, took our lovely 2000D tractors away and gave us 49 tactical M818s with 49 5000 gallon tankers of which we exclusively carried JP4. We were the only tactical company at Spinelli at this time.

Our CO was Charles R. Wernoski (excuse the spelling), he was a great CO. He certainly knew about transportation companies and trucks.

Today (Nov 2007), there are 6 companies with over 300 tractors stationed at Spinelli Barracks. However, the place is deserted, they are all in Iraq.

---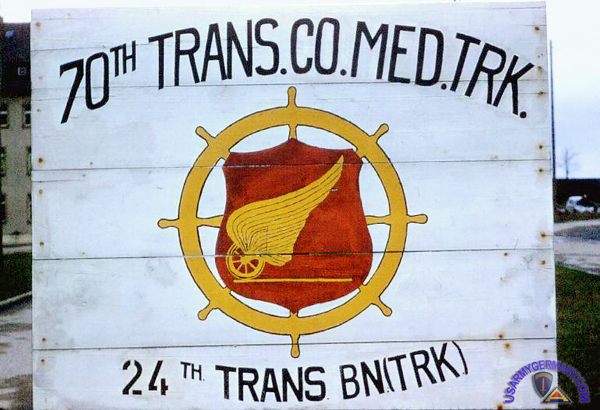 Company sign at Krabbenloch Kaserne
70th Transportation Company
1954 - 1955 (24th Trans Trk Bn)
(Source: Email from Bill Yehle, 109th and 70th Transportation Companies at Krabbenloch Kaserne, 1954-1955)
I volunteered for the draft, and was inducted in my home town of Milwaukee Wisconsin, on Friday October 2, 1953. After my physical, they put me on a train to Ft. Leonard Wood Missouri. Once there, I was indoctrinated and given my eight weeks of infantry basic training in Battery C - 93rd AFA Bn. ~ 6th Armored Division.

After that, from 12/21/1953 to 2/12/1954, I did another eight weeks in the truck drivers school at Ft. Riley Kansas. I came out of there as a heavy vehicle driver with an MOS of 1931.

1. Bill Yehle on board the USS Harry Taylor

Next I was assigned to a construction engineer company at what then was called Camp Carson in Colorado Springs, Colorado. There I drove a warrant officer around in a jeep for a while until our company was sent up into the mountains to Camp Hale, to resurface the roads. While there, I used a 3/4 ton weapons carrier and drove the surveyors around. I got sick of that in short order, and wanted to go to Germany where two of my grandparents came from. I went to the personnel office and tried to get on a levy to go to Germany. They said nope, no truck drivers needed over there right now, but how would you like to go to the Far East? I thought anyplace would be better than Camp Hale, so I signed up for that. I got the Yellow Fever and all the other shots I needed to go to the Far East and next thing I knew my orders came. Ludwigsburg Germany! I was elated! I guessed that the army figured, "This guy wants to go to the Far East, so we'll send him to Germany". Somehow, I just couldn't believe that they were doing me a favor and giving me what I really wanted.

I left for Germany in about May of 1954, had a 2 week delay in route that I spent at home, then on to Camp Kilmer New Jersey where I sat and waited a couple of more weeks for my ship to come in. While waiting, I took a couple of trips to New York City. When I finally got on the ship the USS Harry Taylor, it took us fourteen days to get to Bremerhaven Germany.

2. POL truck of the 109th Trans Co

I was bussed from there to Zweibrucken and from there I took the train to Ludwigsburg and Krabbenloch Kaserne. At first, I was assigned to the 109th Transportation Company and I drove a 5 ton M-52 tractor, and hauled gasoline tank trailers. We would go to the gas dump, not too far from Ludwigsburg, fill our tank trailer and then drive to the various U.S. army kasernes in the area to replenish their gas stations fuel supplies. I did this for a few months and then I was transferred to the 70th Transportation Company, also at Krabbenloch Kaserne. There I still drove a M-52 tractor but the 70th hauled stake and platform trailers. Usually we drove in convoys with the S&P trailers, where when hauling gas we were always alone. Each job had it's benefits and drawbacks compared to the other.

3. Main Gate, Krabbenloch Kaserne, Ludwigsburg, 1955
At one point I was assigned TDY to the 69th Trans Co in Mannheim, and we convoyed to France and set up a tent city in a field near the town of La Rochelle on the Bay of Biscay. The object of that, was that the army was doing a study to see if it was more efficient to disperse supplies brought in by a ship, by truck or rail. We were of course the truck part of the study. As I said before, we had set up a tent city near the water where there was a dock. The truck drivers would drive their trucks down to a marshalling yard at the dock, leave them there, and hop a duce-and-a-half shuttle truck back to their tent. The ships would unload the supplies into LST's and DUKW's, and they would bring the cargo in to the dock and then cranes would lift the load out of the watercraft and drop it onto our trucks. The truck drivers would wait in the tent city until a message was sent up from the marshalling yard that their truck was loaded and ready to go. This operation went on 24 hours a day. When a truck was loaded, be it noon or midnight, we'd be called down to our truck, be handed a strip map of where our load was going, and away we'd go. Talk about getting lost, I think I was lost more than I wasn't, especially at night. Eventually we'd get where we were going, get unloaded, drive back to the marshalling yard and it would all start over. That was quite an experience.
| | | | |
| --- | --- | --- | --- |
| 4. 109th Trans Co billets, Krabbenloch Ksn | 5. Tents on Bay of Biscay | | |
| 6. Driver and truck, 69th Trans Co | 7. DUKWs land on Bay of Biscay beach | 8. LCM | |
| 9. Maintenance | 10. Convoy | 11. Company day room | |
| 12. Military casualty | 13. Commercial casualty | 14. Civilian casualty | |
| | | | |
Another time we were camped near Kassel Germany and were hauling cargo through the Eastern Zone and into West Berlin. We were a little nervous on that job. We were always wondering what the Russian soldiers were going to do. There was never an incident though, that I heard of. The area where we were camped had been a Luftwaffe air base during WWII. There wasn't much left of any of the structures. There had been some underground hangers that were only partially destroyed and a building still standing that looked as if it might have been an officers club. The bar was still intact, and there were paintings on the walls in the bar room. If I remember correctly, the paintings depicted ladies in various stages of undress. When we weren't driving we used to explore the building and hangers.

Other times, our convoy duty would take us to Dachau, and on one occasion we got there on a Saturday and had Sunday to sightsee. The WWII German concentration camp at Dachau was something to see. The building with the gas chamber and buildings with the ovens where they tried to cremate the remains of the gassed people were still standing. The whole area was set up as a memorial. The bodies of the gassed people were eventually too numerous to cremate so they just dug pits and buried them. There was one sign that said "Grave of Thousands Unknown". Prior to my service in Germany in 1954 and 1955 WWII was just something I had heard about. Seeing all this really opened my eyes.

On a lighter note, directly across the street from the gate at Krabbenloch Kaserne was a gasthaus that had worked out an agreement with the U.S. soldiers. We weren't permitted to bring alcoholic beverages on post. There was a beer hall for the enlisted men, but nothing stronger was served. So if we wanted something more potent, we'd call that gasthaus across the street and order a schnitzel with pickles. One of the barmaids would bring our order across the street to the gate and the G.I. would meet her there. What she'd bring was a schnitzel all right, but wrapped up with it came a bottle of cognac. While I was there, I never heard of anyone getting caught doing that either.

There were other underhanded goings on too, only of a more serious note. One of the guys felt he needed more money, so while he was on guard duty and walking the perimeter of the Kaserne at night, he tried to sell a spare tire off of one of the trucks to a "Comrade" who just happened to be walking around outside of the fence. He had the deal all set up and was delivering the tire to "Comrade" when he found out that "Comrade" was actually an M.P. in disguise. We never saw that guy again.
| | | |
| --- | --- | --- |
| 15. Company clerk and company commander arm wrestling at "picnic" | | On one occasion, we truck drivers were given a picnic, I guess you could call it, for driving so many thousand miles without an accident. They set up a beer tent on the parade ground and we all had all the beer we wanted. Everyone had a good time including the officers. There were a lot of big heads the following morning, but it was a good chance for the enlisted men to get to know the officers and sergeants better. It made for an all around better working relationship. |
In August of 1955 my orders for rotation back to the "Land of The Round Doorknob" (the USA) came in, and I was sent to Rein Main airbase in Frankfort. After what seemed like a month of waiting around, which anyone ever associated with the army knows all about, they put me on a MATS plane and flew me back to an airport in New York (name forgotten). Then it was a train to Ft. Sheridan Illinois and finally separation on August 29, 1955. I had to spend six more years in the inactive reserve before I finally was sent my discharge papers. Finis.

---
150th Transportation Company
1967
(Source: Email from Dan Rosenfeld)
I was assigned to the 150th Transportation Company from 11/1967 to 06/1970. For about half of that time I was Company Clerk, and the other half I was a driver.

During my tenure, the 150th was part of the 28th Trans Bn, and resided across the road from BFV, in...uh.....Taylor Barracks? (memory is hazy, as for a while I was part of MTT at ...uh....Turley.)

I joined the unit shortly after it had been reassigned from Nice, France, folllowing the expulsion of US Forces from France. At the time I was a member, the 28th Trans bn had:


68th Trans Company


69th Trans Company


150th Trans Company


595th Trans Company


598th Trans Company


MTT (TTG)

All were IHC units, with the exception of the 595 (and MTT of course) who was tank transporters (25 ton).

Didn't see any pictures of our trucks, which were

IHC 1200's

with 205 Cummins.

I saw the pictures of the coffee van and wondered if it was the same one that my friend, Tony Grabowski, ran into the ditch on the Frankfurt-Nurnberg Autobahn in 1969. Looked like it.

Several years ago, the company I had worked for as a Sales Manager for over 20 years was bought out and subsequently closed. Since that time I have been an OTR owner/operator. Interesting that at my age I only needed two days of refresher training to test for and get my CDL. I only had 50,000 miles with the Army, and I now put on over 150,000 per year.

At various times during the Vietnam war, USAREUR forces were levied for personnel to fill out units in RVN. During the TET offensive, most of the 28th Bn., those who had sufficient time remaining before ETS, were sent there.

Why I never went was strictly due to the luck of the draw. I came down on orders once to go, but they had my MOS incorrect, and by the time it was corrected at Bn. level, I was too short to go for a full tour. At one point, however, our company strength was down to about 65 people, including mechanics and clerks. With people constantly on RON runs, it got rather ghostly around the barracks. As a result, some company formations were rather thin affairs, consisting of a few people standing around the First Sergeant's desk.

Later in my tour, I was ordered to Stuttgart to supervise a small detail sent TDY for the retirement ceremonies of Gen. Lyman Lemnitzer, who was ending 50 years of active duty. One of the attendees was a very young congressman named Donald Rumsfeld, ageed 37.

---
377th Transportation Company (Heavy Truck)
181st TRANSPORTATION BATTALION
1960
(Source: Email from Chuck Hicks)
I served in the

377th Transportation Company

from July of 1960 until May of 1962 as 2nd Platoon Leader. During this entire time the unit was based at Coleman Barracks near the village of Sandhofen , in the suburbs of Mannheim.

In the early part of my tour the unit was part of a battalion located in the city of Worms, but, at a date which escapes me, the unit was reassigned to the 181st Battalion in Manheim; however, I also forgot the name of the barracks in which the 181st headquartered.

It is my understanding that the base which became Coleman Barracks was an air base of the Luftwaffe during WWII and during my time there Coleman was home to a unit which performed depot-level maintenance on Army fixed-wing and rotary-wing aircraft.

Upon my arrival in 1960 the staff consisted of Capt. Bill Holley (company comdr); 1st Lt. John St. John; and CWO Pinzon, 2nd Lt. Charles Hicks (myself), 1st Sergeant Clifford, and Spec. Anderson (company clerk).

The 377th had 16 Tank Transporters. In addition to frequent convoys hauling tanks and personnel carriers to Baumholder, Vilseck, and Graf the company participated in a NATO exercise named "Winter Shield II" in the January/February 1961 time frame. During this exercise the company was based in the vicinity of Fuerth, West Germany.

I was on base (Coleman Barracks) in the year 2000 and went to the building where the company was housed and my wife took a photo of me standing outside my office but didn't get to go inside. If I can find the pics they may show a Bldg number. But at least the building was standing.
---
28th TRANSPORTATION BATTALION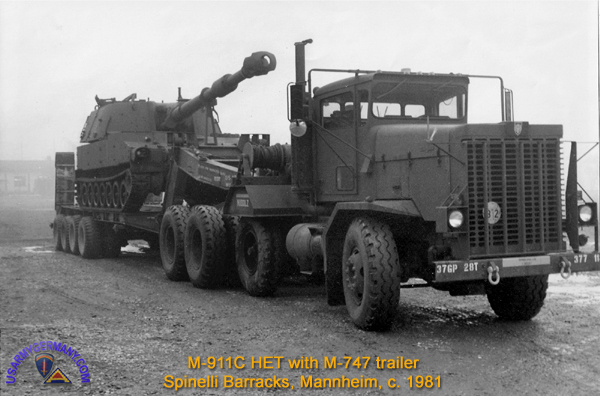 377th Transportation Company (David DeLancey)
1981
(Source: Email from David J. DeLancey, 1981-1983)
I was sad to not see anyone with memories of the 377th at Spinelli Barracks. I was there for a short time 1981-1983. I was in the 1st Platoon truck # 113 when the unit had the M-911C HET with the M-747 "Dragon Wagon" trailer.

I think the most vivid memories I have is the long convoys we use to be involved in. We were the only unit in West Germany along with the CLG who had the HET. We went everywhere in convoy, and the mandatory speed limit was 37 miles per hour with a 42 mile per hour catch up speed. The truck master and Ops Sergeant had the key for the tachograph charts and were changed every week. If you were caught for speeding you could loose miles, and some pay as well as rank.

We seemed to go to Fulda quite a bit to get the 11th ACR's tanks and bring them to Graf. This was a 2 to 3 day trip and usually the guys from the 11th were never there to sign for the tanks when we arrived at Graf. The CC "Convoy Commander" would get pissed off at the tankers and find an open field where we could "combat offload" the M-60's. This was done by unchaining the tank and unchaining the ramps leaving them in the up position we would go as fast as we could in reverse and slam on the brakes where the tanks would roll off the trailer and eventually to a stop in the field somewhere.

One of the more fun places to go as a HET driver was to Mainz Army Depot. It was here that the German Civilian mechanics would have a chance to test rebuilt tanks on a kind of race track built for tanks. We would off load in the center of the track and watch the tanks drive around and around while the CC was tidying up paper work for the return trip home.

It was almost a sure thing that somewhere along the 'Bahn (Autobahn) a German National would have an encounter with one of our HET's and most of the time would loose because of bad judgment on their part.

There was several times where we would stop for a break at a Tankstelle and get a schnitzel sandwich or a Bratwurst mit Broetchen. Occasionally a driver would get a box of Mon Cheri chocolates with liquor in them and would be half way drunk by the time we got to our destination.

During the refitting of the armored forces in Germany with new M-1's we were tasked with the CLG to haul all M-60's to Mainz or Kaiserslaurtern Army Depots. I distinctly remember falling under the command of the CLG commander. We were going to Kitzingen then to Mainz and back to Kitzingen all week. Coincidentally there was a Volksfest on the Airfield at Kitzingen so we over indulged. The following morning we were on our way to Mainz as the convoy rolled on it kept getting slower and slower. It seemed as if our CLG in charge had fallen asleep behind the wheel of his M-880 escort vehicle.

I could go on and on but I will stop for now. I have attached a photo of my M-911 who I was partnered up with PFC Phyllis Moulton of Louisiana this young lady was one of the best HET drivers I had ever seen.

Chain of Command:


78th TC CO Fred G. Watson


1SG Franzen


1st Platoon Sergeant, SFC Houle


1st Squad Leader, Charles "Chuck" Meese
---
1983
(Source: Email from Ronald L. Everhart, 1983-1986)
I came to the 377th Trans in the years 1983-1986 having just been directly appointed to WO-1. I attended the basic warrant officer course at APG, Maryland immediately before deploying to Germany. With me came my wife and two kids.

We got satisfactory govt quarters almost imediately due to the dilligence of my BMO for the 28th Trans BN, CWO-3 Ron Ross. We became very good friends.

I also became the very best of friends with my company commander, Capt Mike Mamer and with his wife, Capt Roseanne Mamer as well as did my wife Judy...

The next three years we trained with and commanded the best collection of soldiers I've seen before or since in my varied 20 year carreer. This great assignment was also made possible by the fine leadership of LTC Tom Schwartz..

I was subsequently promoted to CWO-2 Before moving on to the Warrant Officer Advanced Course and other assignments ending with Desert Storm 1991.

---
595th Transportation Company (Heavy Truck)
1967
(Source: Email from Charles Seland, 595th Transportation Company, 1967-1969)
Interesting and entertaining recollections of a young Lieutenant serving as a platoon leader, and later company commander, in a heavy equipment transportation unit at Turley Barracks in Mannheim in the late 1960s.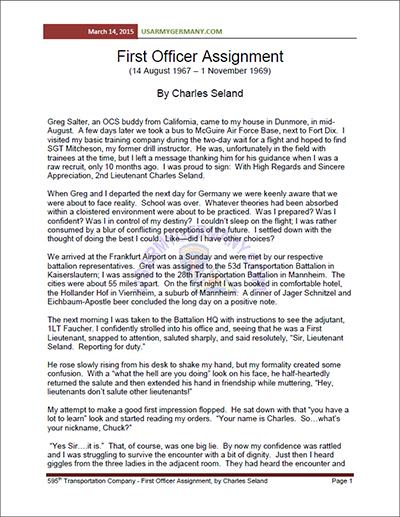 | | | | |
| --- | --- | --- | --- |
| 1. A HET on fire near K-town | 2. Decorated for good-will visits to German villages | 3. Awards ceremony | |
| 4. The Selands and 1SG Bolt | | | |

---
598th Transportation Company (Medium Truck)
1978
(Source: Email from Connie Dana, former CO of the 598th Transportation Company, 1978-1980)
You left off my unit. I commanded the

598th Trans Medium Truck Company

, low boy trailers, 1978/1980 under LTC Camp and LTC Shell. My Husband, Tom Dana, COL, Ret commanded the HET Co 377 during that time.

There were about a dozen female officers there. We called ourselves "Camp's Angels!" I served with 2LT Kathy Gainey who recently retired LTG; she literally had a stellar career.

Many of Camp's Angels are still in touch. I keep up with: Kathy Gainey, Anne Moen. Ann Morrison Stebbins, Dianne Fisher, Donna Simpkins, Dianna Smith. Lost touch other women officers. Would be great to set up reunion.

COL Camp is in Texas as are we.

All 6 companies of the 28th Trans Bn were at Spinelli Barracks in Mannheim. 28th Trans Bn had 40th Trans Co and 109th Trans Co, both Med Truck POL. There were two regular S&P Medium truck Companies (68th and 150th). The 377th Trans Co was heavy lift and the 598th was Medium Truck with low boy trailers.

We were part of the 37 Trans Transportation Group which had three U.S. Bns and one German Labor Force Bn.

When we arrived in 1977 COL Smiley was commanding the Group followed by COL Baron. We were all theatre support.

We had the most congenial group of officers I have had the privilege to serve with in my 20 years.

We were in Mannheim a few years ago and there are no US Forces at Spinelli. So much has closed since the mid to late 80s. Best years of my career. Fun times.

---
Related Links: