If you do NOT see the Table of Contents frame to the left of this page, then
Click here to open 'USArmyGermany' frameset
53rd Transportation Battalion
37th Transportation Group
Looking for more information from military/civilian personnel assigned to or associated with the U.S. Army in Germany from 1945 to 1989. If you have any stories or thoughts on the subject, please contact me

.
---
History

Related Links




Patch worn from 1951 to ...
---
SUBORDINATE UNITS
| | | | | | | |
| --- | --- | --- | --- | --- | --- | --- |
| SUBORD UNIT | STATION | CTRY | | SUBORD UNIT | STATION | CTRY |
| 41st Trans Co | Kaiserslautern | GE | | 89th Trans Co | Kaiserslautern | GE |
| | Kaiserslautern | GE | | 150th Trans Co | Mannheim | GE |
| | Mannheim | GE | | 486th Trans Co | Kaiserslautern | GE |
| | Toul | FR | | 501st Trans Co | Mannheim | GE |
| | Kaiserslautern | GE | | 520th Trans Co | Kaiserslautern | GE |
| | Kaiserslautern | GE | | 595th Trans Co | Kaiserslautern | GE |
| 85th Trans Co? | Kaiserslautern | GE | | 3583rd Trans Co | Miesau | GE |
Battalion History
1951 - 1995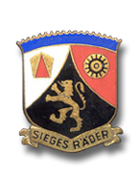 53rd Transportation Bn DUI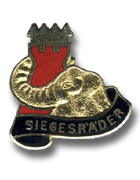 53rd Transportation Bn DUI (approved April 27, 1966)
(Sources: 53rd Transportation Battalion, a unit history compiled by the Transportation Historian, Fort Eustis, Virginia; online copy at Biggs Library and Information Center; 37th Transportation Highway Transport Division, Germany, 1952. Yearbook 1952)
In September 1951, the 53rd Transportation Truck Battalion was deployed to Europe as part of the build up of US Forces in the defense of Western Europe. The Battalion was initially headquartered in Kaufbeuren but then moved to Kleber Kaserne, Kaiserslautern in Nov 1952. Kaiserslautern would serve as home station for HQ 53rd Trans Bn for over four decades until it was inactivated in 1995.

At Kaiserslautern, the 53rd was attached to the 37th THTD (Transportation Highway Transport Division) which was located at Mannheim. The 37th THTD was responsible for the line haul support mission for the Theater and the 53rd was one of five transportation battalions performing the line haul mission under the 37th THTD in 1952. The 53rd Trans Bn was give responsibility for the easternmost leg of the line of communications that stretched from the ports of northern France to Kaiserslautern, Germany (map). The battalion picked up trailers from the neighbor battalion to the west (28th Trans Bn) at Vitry-Le-Francois and delivered the cargo to the 6966th CL Gp located at Kaiserslautern.
| | | | |
| --- | --- | --- | --- |
| | | | The medium truck companies of the 53rd were equipped with the M52, 5-ton tractor and the M124 (should this actually be the M127, Semi-trailer, Cargo, 12-ton?) |
ORGANIZATION (1952):
| | | |
| --- | --- | --- |
| UNIT DESIGNATION | DUTY STATION | COMMENTS |
| HHD, 53rd Trans Trk Bn | Kleber Ksn, Kaiserslautern | moved to K-town in Nov 1952? |
| 41st Trans Trk Co | Kaiserslautern [1] | |
| 83rd Trans Hvy Trk Co | Kaiserslautern [1] | |
| 486th Trans Trk Co | Kaiserslautern [1] | |
| 3583rd Trans Trk Co | Miesau [1] | |
[1] STATION LIST, Dec 1952
The 66th Trans Co (Medium Truck) (Cargo) was added to the battalion on 1 May 1956.

On 10 May 1956, the 89th Trans Co (Med Trk) (Cgo) was transferred to the 53rd

Two years later, on 11 June 1958, the battalion received a light truck company (equipped with 2½-ton trucks), the 520th.




Battalion sign outside of HQs on Kleber Kaserne, 1952
ORGANIZATION (1958) [2]:
| | | |
| --- | --- | --- |
| UNIT DESIGNATION | DUTY STATION | COMMENTS |
| HHD, 53rd Trans Trk Bn | Kapaun Bks, Kaiserslautern | |
| 66th Trans Co (Med Trk) (Cgo) | Kaiserslautern [3] | |
| 83rd Trans Co (Med Trk) (Cgo) | Kaiserslautern [3] | |
| 89th Trans Co (Med Trk) (Cgo) | Kaiserslautern [3] | |
| 520th Trans Co (Lt Trk) | Kaiserslautern [3] | |
[2] Source: The Transportation Movement System in USAREUR - 1958
[3] STATION LIST, June 1959
On 2 March 1959, three additional units were added to the 53rd Trans Bn:


Mannheim Truck Terminal


69th Trans Co (Med Trk) (Cgo)


501st Trans Co (Lt Trk)

On 19 June 1959, the Battalion was redesignated as the 53rd Transportation Battalion (Truck).

In Feb 1961, the 595th Trans Co (Hv Trk) was added to the Battalion.

In August of the same year, the Mannheim Truck Terminal was redesignated as Detachment 7. [4]

On 26 Nov 1963, the 150th Trans Co (Med Trk) (Cgo) was attached to the 53rd.

With this latest addition, the Battalion reportedly became the largest US Army truck battalion in Germany.
ORGANIZATION (1963):
| | | |
| --- | --- | --- |
| UNIT DESIGNATION | DUTY STATION | COMMENTS |
| HHD, 53rd Trans Bn | Kapaun Bks, Kaiserslautern | |
| 66th Trans Co (Med Trk) (Cgo) | Kapaun Bks, Kaiserslautern [5] | TO/E 55-018D |
| 69th Trans Co (Med Trk) (Cgo) | Turley Bks, Mannheim [5] | TO/E 55-018D |
| 83rd Trans Co (Med Trk) (Reefer) | Kapaun Bks, Kaiserslautern [5] | TO/E 55-018D |
| 89th Trans Co (Med Trk) (Cgo) | Kapaun Bks, Kaiserslautern [5] | TO/E 55-018D |
| 150th Trans Co (Med Trk) (Cgo) | Mannheim [5] | TO/E 55-018D |
| 501st Trans Co (Lt Trk) | Turley Bks, Mannheim [5] | TO/E 55-017E |
| 520th Trans Co (Lt Trk) | Kaiserslautern [5] | TO/E 55-017E [6] |
| 595th Trans Co (Hv Trk) (Cgo) | Kaiserslautern [5] | TO/E 55-028D |
| Kaiserslautern Truck Terminal | Kapaun Bks, Kaiserslautern | |
| Mannheim Truck Terminal | Turley Bks, Mannheim | |
[4] Per STATION LIST, Dec 1963, there were eight Truck Terminals (TO/E 55-011D) at this time:


Det 1, Bremerhaven, Germany, APO 69


Det 2, Kassel, Germany, APO 171


Det 3, Maison Fort, France, APO 58


Det 4, Vatry (Vitry-Le-Francois), France, APO 325


Det 5, Metz, France, APO 216


Det 6, Kaiserslautern, Germany, APO 227


Det 7, Mannheim, Germany, APO 166


Det 8, Ingrandes, France, APO 258

These detachments were attached directly to HHC, 37th Trans Comd

[5] STATION LIST, Dec 1963
[6] This unit is not listed in the Dec 1963 STATION LIST; probably either inactivated or returned to the States
On 7 May 1964, the battalions under the 37th Transportation Command were reorganized; the 53rd Trans Bn lost four transportation companies and one truck terminal (all transferred to the 28th Trans Bn) and gained one transportation company (76th Trans Co, Zweibruecken).


83rd Trans Co - IHC 2000D with refrigeration trailer
ORGANIZATION (1964):
| | | |
| --- | --- | --- |
| UNIT DESIGNATION | DUTY STATION | COMMENTS |
| HHD, 53rd Trans Bn | Kapaun Bks, Kaiserslautern | TO/E 55-016E |
| 66th Trans Co (Med Trk) (Cgo) | Kapaun Bks, Kaiserslautern [7] | TO/E 55-018E |
| 76th Trans Co (Med Trk) (Cgo) | Kreuzberg Ksn, Zweibruecken [7] | TO/E 55-018E |
| 83rd Trans Co (Med Trk) (Reefer) | Kapaun Bks, Kaiserslautern [7] | TO/E 55-018E |
| 89th Trans Co (Med Trk) (Cgo) | Kapaun Bks, Kaiserslautern [7] | TO/E 55-018E |
| Kaiserslautern Truck Terminal (Det 6) | Kapaun Bks, Kaiserslautern | TO/E 55-011D |
[7] STATION LIST, Dec 1963
In 1965, the 53rd Trans Bn turned in its M52 tractors and replaced them with the commercial International Harvester 205H tractor.

In 1966-67, the US Army moved all of its units and equipment out of France (FRELOC) and a realigment of the Line of Communications ensued - Giessen to Bremerhaven. The 53rd Trans Bn picked up two additional units:
501st Trans Co (Lt Trk), Azbill Bks, Ruesselsheim, Germany, APO 09057 (TO/E 55-017F)
85th Trans Co (Reefer) (?) (not listed in STATION LIST 1966 or 1967)

Between 1971-1972, the battalions of the 37th Trans Comd received newer models of the International Harvester tractors, the 4070 and 2000D. Apparently, the 2000D models only went to the 106th Trans Bn.


IHC 4070 of the 6966th CSC
Sometime around 1975, the Battalion picked up another company, the 109th Trans Co (Med Trk)(POL) which was stationed at Coleman Barracks, Mannheim-Sandhofen. The unit was equipped with M52 tractors and 5000-gallon tankers. (This assigment could have been short-lived - other sources show the 109th assigned to the 28th Trans Bn in the early 1980s?)
ORGANIZATION (1982):
| | | |
| --- | --- | --- |
| UNIT DESIGNATION | DUTY STATION | COMMENTS |
| HHD, 53rd Trans Bn | Kleber Ksn, Kaiserslautern | |
| 66th Trans Co | Kleber Ksn, Kaiserslautern | |
| 76th Trans Co | Husterhoeh Ksn, Pirmasens | |
| 89th Trans Co | Kleber Ksn, Kaiserslautern | only truck company in Europe with the primary mission of transporting by highway 59th Ord Bde Special Weapons under the Nuclear Surety Program |
| 501st Trans Co | Kleber Ksn, Kaiserslautern | |
---
1960
(Source: 53rd Transportation Battalion. Yearbook 1960)
If you have more information on the history or organization of the 53rd Transportation Bn, please contact me

.
---
(Source: Email from Hans J. Roeper, HHD, 53rd Trans Bn, 1966-67 - see also Hans' email on the 72nd Trans Co)
Here is my short story about my stay with the 53rd Trans Bn: After FRELOC (the withdrawal of all US military forces from France) I was transferred to the HHD, 53rd Transportation Battalion, located in Kaiserslautern. Even though I had been trained as a truck driver, I ended up being a draftsman for the battalion HQ at Kapaun Barracks, and served in that capacity from April 1966 to September 1967, when I returned to CONUS for discharge.

I worked with two other draftsmen, one of them a Specialist Dupree, who was very skilled when sober, and who also played in a Country & Western band off post. The three of us did all sorts of projects, and especially the newly authorized battalion crest had to be painted on a multitude of items. It was a great assignment!

Some of the individuals I remember are: LTC Louis A. Tyree (Bn Cmdr); SGM Lowery; and from HHD 1LT Kennedy; 1LT Compisi; 2LT Crutchfield

Attached are a few photos taken during that time.




HHD, 53rd Trans BN
Kaiserslautern






1. Awards ceremony at Kapaun Ksn (KB)


2. The Coffee Van (KB)


3. New 53rd Bn sign (KB)




4. PFC Seibel and Hans Roeper (KB)


5. Lt Compisi (KB)


6. S&S article (KB)



---
(Source: Email from Alain Dailloux, France)
REO of 84th Trans Co


I am French and am very interested in the trucks used by the 37th GP.

About 6966 Memories, what is the M546 ??? I don't know that vehicle. But, I think that the first HET of the 6966 was the M523E2 tractor with the M524E2 flatbed trailer. And I think that was before 1975, but which year ? I would like to know.

Attached is a photo of a REO used by the 84th Trans Co.
---
1969
(Source: Email from Terry Cochran, 83rd Trans Co, 1968-69 & S-3 53rd Trans Bn, 1969-70)
Hi, I was a young officer w/ the 83rd Trans Co in 1968-69 and then was the 53rd Trans Bn S-3 in 1969-70.

By that time, the 76th Trans Co had moved to Pirmasens, the 501st Trans Co was back in Mannheim, and we had only 1 platoon of the 85th (QM Company (Depot)) attached to the 83rd Trans Co. -- located, I believe, at Pulaski Barracks, with the civilian truck outfit.

The late 1960's saw the U.S. military stretched to it "limited war" extremes, with the ever-expanding needs in Southeast Asia placed atop ongoing requirements to block Soviet moves in Europe. I don't know how likely it was that Russian tanks would come streaming through the Fulda Gap, but we still had to be ready for them, just in case.

In Transportation Corps units, this meant working with probably the youngest GI's of any era, both before and after. Thankfully, we had veteran warrant officers in maintenance and veteran NCO's on troop duty -- but the troops themselves came straight out of high school and most of the officers came straight out of college. After limited training stateside, we were all pressed into service in Germany. We were hard-working and willing, but very inexperienced.

We had 19-year-olds driving semi's and 22-year-olds organizing them. In the 53rd Trans Bn, for example, we typically had an LTC for a CO, but no other field grade officers. A senior CPT served as XO, with 1LT's filling the staff roles. Whenever possible, there were other CPT's to command most of the companies. Although troop levels remained fairly high, the number of officers in the Bn fluctuated wildly. In the 83rd Trans Co in 1968-69, for example, we had a period of time with 5 officers serving there (for the 83rd plus its attached 85th QM platoon) -- but then also several months when we had only a CPT as CO and myself as a ILT, the only other commissioned officer there.

Serving as 53rd Trans Bn S-3 in 1969-70, we saw the 5 truck companies fully employed on a regular basis. The 83rd Trans Co hauled reefers throughout Germany, Belgium and Holland, the other 3 medium truck companies hauled every other kind of goods possible, and the 501st routinely ran its deuce-and-a-halfs into Berlin to keep that road open. It was kind of bizarre to run a truck-driving school to put young kids out on the autobahns with heavy loads -- and yes, we did have our fair share of accidents -- but we got the job done. I did a study once of our workload and found some amazing statistics. At the time, the big triumph of the truck units had been the hasty withdrawal of U.S. units from France in 1967. By any objective measure, however, the 53rd did even more work in the following year, recording far higher ton-mile totals than ever before.

The other interesting aspect of our work there was the relationship we started with the Bundeswehr unit down the road from us. I spoke a little German and my top S-3 NCO was fluent in it, so we spearheaded the drive to get our two units to get to know each other. It was fascinating to talk with the senior Bundeswehr NCO's, in particular, since many of them had served as young Wehrmacht troops at the end of WWII. It's my understanding that a series of annual events continued for about 25 years, until the 53rd pulled out of K-town.

We served in a huge American ghetto there -- probably the biggest one in Europe -- but we had many opportunities to visit our neighbors and to travel throughout Germany and the rest of Europe. And at 4 marks to the dollar, even a young 2LT could have a grand time!
---
2008
(Source: Email from MAJ Peter Chen, Exec Officer, 53rd Joint Movement Control Battalion)
Greetings from 53rd Trans Bn in Afghanistan! I am the battalion executive officer. As you may already know, the 53rd Trans Bn was deactivated at Kleber Kasern around 1995.

I was in the 39th Movement Control Battalion from 1999-2001, and the 53rd was already gone when I was there, although the DUI was still on the HQ building. Our current CSM was a 88M in the 1980s, and he was assigned to the 53rd. The battalion was reactivated I think around 2001 or so, as a movement control battalion at Fort McPhearson, GA. The battalion served in Kuwait in the early part of the Iraq War. Last year the battalion moved from McPhearson to Fort Eustis, VA. The 3rd Army Patch was changed to the 7th Trans Group Patch, and once again changed again last December to the 10th Mountain Division patch.

Currently we are serving in Afghanistan under the 101st Airborne Division. We also received several attached none-transportation units, as the finance and HR units have no battalion HQ to report to.

Currently, we have none of our organic movement control teams (MCTs) with us. The nature of the Army today is tailored (or thrown together for the glass half empty people) task forces for specific missions. In other words, I don't expect to see the whole battalion in one place before I retire. Each MCT is commanded by a captain or lieutenant with 19-24 troops. We have 5 MCTs, a cargo transfer company, an OD Co. (ammo), QM Co. (riggers), HR Detachment (HR + post office), and a Finance Co. We also have a Chemical company that is going to be used as truck company. They are undergoing training and reorganizing. We even have a few Air Force types that helps with our aircraft coordination too. We are currently located at Bagram Airbase, Afghanistan. But we have units all over the country.

I don't know about the current status of the "old" truck companies under the 53rd. I know that 41st Trans Co. was at Grafenwoehr when I left in 2003. The Command Sergeant Major and I are the only people with any memory of Kleber Kasern. I had a lot of fond memories of Germany. I came into the service in 1989, and so I barely caught a glimpse of the Cold War military. We have a very young group here (I am sort of an old guy at 37), and I think it will be nice for the Soldiers to see that there were Soldiers behind the color and DUI, not just something the Army wants us to hang on the wall.

By the way, we have a slide show on Youtube. Just Google "53rd Transportation Battalion" and you will see it.

---
66th Transportation Company (Med Trk)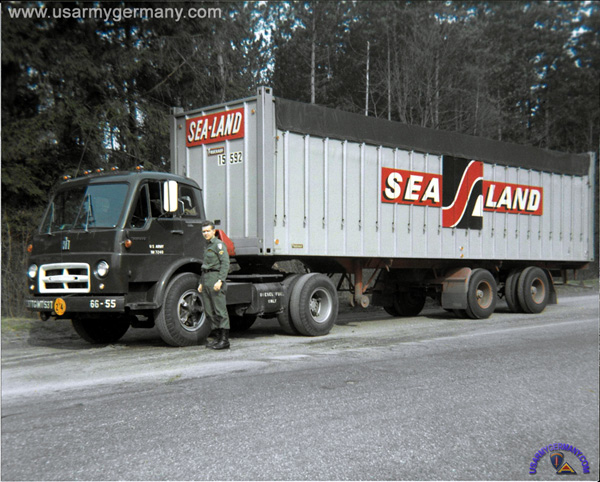 Jack Walters, driving the new IHC-DCO 205H tractor, at a rest stop, c. 1966 (Jack Walters)

1968
(Source: Email from Charles E. Long, 66th Trans Co, 1968-69)
I ran across the 53rd Bn web site to day and wanted to say Thank-You for bringing back some old memories.

I did notice you have no pictures of the IHC-DCO 205H tractors so, I have attached a few to this memo for your use if needed. I drove for the 66th TC for 19 months (1968-69) before being transferred to VietNam.

In one of the photographs the 2 people standing in front of the 66th sign is myself, Sp4 Charles Long and Sp4 Coy McNeil. Coy and I meet occasionally still. I went on to become an Automotive Engineer and Coy still loves being behind the wheel.



66th Trans Co
Kaiserslautern






1. Motor pool, Kapaun Bks (KB)


2. IHC-DCO 205H (KB)


3. IHC-DCO 205H (KB)




4. Company Sign, Kapaun Bks (KB)









---
(Source: Email from Charles "George" Hilton, 66th Trans Co, 1968-1970; HHD 1970-71)
Regarding the e

mail from Terry Cochran, 83rd Trans Co, 1968-69 & S-3 53rd Trans Bn, 1969-70. I was in the 66th TC from 1968 to 1970 when I became the Bn. Co's driver.

We did have another field grade officer, Major Cox was Bn. XO until my ETS in Sept. 1971. In Bn. S-3 we also had Capt. Fred Freeman and another Cpt. who was a super guy, but his name escapes me. I first drove for LTC Abercrombie and then LTC Weaver..

I guess you could say we were a happy go lucky bunch. My first 1st Sgt. was James Pinder, then Clarence T. Smith, 1st Platoon was SSG John Edwards (I was 1st Platoon, driving 66-20). We also had SSG Bailey, Shiver, Markham, Wunderlich and a few othes I can't put a name to right now. Jackie Palmer ran Safety Patrol for the Bn.

We had some good mechanics in the 66th and we also had a few wrecks, but only 1 serious one I can remember. The driver got hit head on by an M-Series and as we had cab-overs, you can imagine who came off the worst.

The main mission of the 66th was sea containers which we mostly shuttled from Rotterdam and sometimes Antwerp. We also filled in time by hauling ammo to Graf, Vilseck, Hohenfels, etc. We sometimes got drafted to haul reefers for the 83rd and sometimes just normal cargo runs from KAD. Saturdays we usually made a run up to Giessen to bring down supplies.

Once in a while on a Sunday we took a bus to Frankfurt, got the train to Bremerhaven to drive back the Kaiser M-715. Very few made it all the way. Starting about Seesan, where our coffee van was located, you would see abandoned M-715s and between there and K-Town you had 1/2 of the 53rd Bn. hitch hiking home. I did it twice.

We had a few guys that didn't like Germany. How could you not? No field duty -- like wallowing in the mud outflanking the enemy. We were plain & simple truckers who worked about a 5 1/2 day week. You could take 3 days passes to Amsterdam & Paris, etc. How could you not like it. BUT, the hardest part of being in Germany was finding a girl that shaved her armpits and if you went to France they didn't shave their legs either !!

My 3 years with the 66th & the 53rd were probably the best years of my life. I wish I could do them over again, but this time for a lot longer..............

P.S.. At a military surplus trade show 2 years ago, I met the 66th C.O. who had moved the 66th from France to K-town. Can't remember his name, but he left the 66th exactly 1 year before I arrived. But it was still great to mention some names we both knew.
---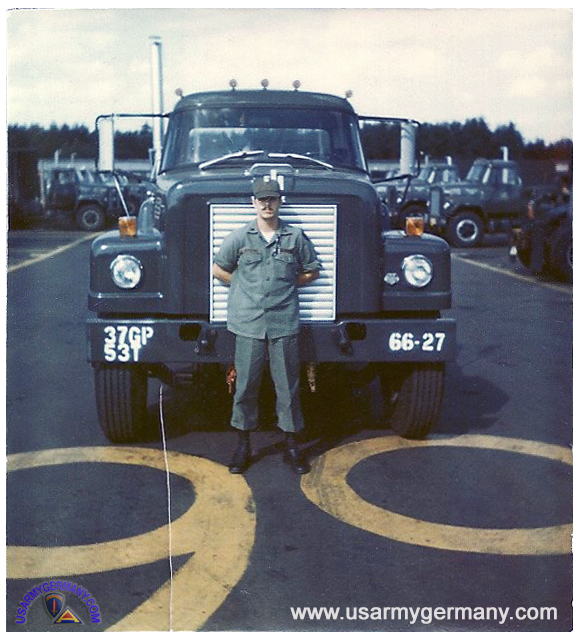 Steve Nicholson in front of his truck, 66-27
1971
(Source: Email from Stephen Nicholson)
I served in the United States Army 1971-1974 with the 66th Transportation Company. Stationed at Kapaun Barracks, Kaiserslautern, Germany. I was a specialist 4th class when I left Germany. Sergeant Armstrong was my platoon leader.

We drove the old International cab overs with the Cummings diesel. They were replaced with the International with the Detroit diesels. This picture (above) was taken in 1972 at Kapaun Barracks 66 Trans Motor Pool in Kaiserslautern, Germany. I forgot my new truck number was 66-27. My old one was 66-38. Larry Tatum was 66-42. I drove almost a 100,000 accident free miles in truck #66-38.

We pulled our combat mission while stationed there. We hauled U.S. Mail, Hazardous Cargo Qualified Explosives, POL Fuel, Commissary Goods, Reefers for frozen goods. Took a 3 truck convoy with flat beds with lead and trail jeeps to Oberammergau, Germany to pick up 3 tanks. Oberammergau was next to the Swiss Alps. Was also in a convoy with 21 trucks from the 66th Trans to Berlin that included 2 fuel tankers and 2 wreckers.

The 83rd was the reefer company. 89th was right next door to my barracks to my left and headquarters was on the right. I still have my dress greens uniform in my attic with my Tascom Patch. I had problems finding a patch so I sent an e-mail to the 66th several years ago. Forgot the lieutenants name, but he was glad to meet an old 66th trans driver and send me there unit patch. It wasn't Tascom. Anyways I found a dress Tascom patch for my uniform.

(Webmaster note: Steve also provided some great information for the "Annotated Installation Map, early 1970s." See above.)

ADDITIONAL INFORMATION
I saw the updated info on the 66th website. Checking out what the other drivers were saying about the trucks is correct.

So my old truck #66-38 was a IHC-DCO 205H and the new ones we got in 1972 were IHC 2000D, if you want to put that in for a correction.

I goggled Kansas street Kaiserslautern, Germany and it shows a better map of K-Town. If you go out the front gate and follow Kansas street you'll see there is another Kansas street on your left. That building was the officers club. If you stay on the main Kansas street going straight on the corner of Washington square and Kansas to your right is the parade field. To the right of the field on Illinois street was the commissary.

Some more info for you: 66th Trans performed their combat mission over there. We also had all the mail runs -- 07:00 mail runs to Zweibruecken, Ramstein, Heidelberg. We had the 1600 to Stuttgart. We also hauled exsplosives, fuel tankers, Commissary goods including rerfers with frozen food. If I think of anything else I'll send you an e-mail.

---
72nd Transportation Company (Lt Trk)
1958 - 1962
(Source: Email from Hans J. Roeper, 72nd Trans Co, 1964-67)
I happened to find this great website and was looking for the first unit I was assigned to after basic training at Ft Leonard Wood, MO, but for some reason found very little about the 72nd Transportation Company. That gave me the idea to write an article about my time with the unit. I had received my AIT in Combat Engineering, and after completion of the course was shipped out on the USNS Rose, with an assignment to Wildflecken, Germany. However, shortly before arrival in Bremerhaven all the Germans on board without US citizenship were given different orders, supposedly because we were still German nationals, and thus subject to the draft into the Bundeswehr.

According to your website the 72nd Trans Co was located in Ingrandes, and was subordinate to the 106th Transportation Battalion. But when I arrived at my new unit in October 1964, it was housed in Toul (France), still part of the 37th Transportation Group in Orleans, but now part of the 53rd Transportation Battalion. I have no idea when these changes occurred.

The 72nd was a light truck company, consisting of M35 deuce and a halves. The barracks was a former hospital, called Jeanne d'Arc, on a hill overlooking the N4 Route Nationale, which went from St Dizier to Nancy. The building was shared by the 574th and 84th Transportation companies (both with M52 tractors), and included among other offices a messhall, barber shops, small PX, and other necessities all under one big roof. The only thing outside the building was the motor pool.

The troops were housed in large open bays, and only the higher NCOs had smaller rooms. I did not even have a civilian driver's license when I arrived, and was trained to handle the big 2½-ton trucks by driving around the motor pool a few times. Too soon for me I was turned loose to deliver and pick up cargo all over France and Germany. I remember one trip I made to Munich, pulling a brand new 1 ½ ton trailer, and carrying another one in the truck's cargo bed, bows and stakes all in place, when I got lost trying to find the delivery depot. I drove through an underpass and heard this big noise from the back of the truck. I had misjudged the clearance of the underpass, and the bows of the trailer on top of the truck had hit the ceiling of the tunnel. There were pieces of wood all over the place, but when I delivered the cargo, nobody even noticed the damage. Eventually I became quite comfortable with the old truck.
Most of the time it was fun being on the road and away from the company area. The drivers of the 72nd could be seen everywhere, in convoys, pulling radar trailers to and from Bremerhaven, or alone, delivering whatever was needed by the military units stationed in Europe. I can remember only one short exercise, during which we camped out overnight in the woods around Toul. Not too bad for being in France during the cold war.

I don't remember too many names anymore. There was the First Sergeant Joe Walker, one of the finest soldiers I have ever met, and the CO Capt Hungerford(?). The truck master was a heavy set MSgt Saylor. There were a few German nationals in the outfit, and most of us became friends. I am still in touch with 2 of them, now living in Oregon.

When the French wanted the US military out of their country, it was time to shuffle personnel around, and I believe the 72nd Trans Co was eventually deactivated. I can't seem to find anything about the unit on the internet. In December 1965 I was transferred to the 574th Trans Co, commanded by Lt Ecker. I had to qualify on the heavier M52 Tractors and the new International DCO, but never drove them again, since I was transferred to the 53rd Transportation Battalion in Kaiserslautern, where I was employed as a draftsman until my discharge in Sep 1967.

The last thing I remember before leaving Toul and France was a parade in which I participated as color guard. I believe it was held when the last units left Jeanne d'Arc. All that is left of the 72nd Transportation Company are a few pictures, which I will post with this story.



72nd Trans Co
Toul, France






1. On the road in Germany (KB)


2. On the road in France (KB)


3. (KB)




4. Bremerhaven (KB)


5. Bremerhaven (KB)


6. Barracks room, Toul (KB)




7. Jeanne d' Arc Hosp, Toul (KB)


8. Sign at entrance to hospital (KB)


9. 1st Sgt Walker and Cpl Rpyal (KB)




10. Hans and his new car (KB)


11. (KB)


12. (KB)




---
76th Transportation Company
(Source: Email from Kevin McGrath, 76th Trans Co, 1980-81)
I ran across your page on the history of the 53rd Trans Bn. I did want to let you know of a couple of errors I noticed. I was assigned to the 76th from 1980-1981 in Pirmasens.

You mentioned the 109th being at Coleman Barracks and that is an absolute fact, but they were, at least in the 6 yrs I was in Germany, assigned to the 28th Trans Bn in Mannheim. I know you mentioned it but sounded like you were looking for clarification.

The biggest mistake though is mentioning that the 89th was the only unit authorized to haul the 59th ord missions. That is absolutely false. The 76th also was tasked with that mission. I spent many a morning loading at Weilerbach depot for delivery to some remote mtn AAA or missile site. We were also required to have a Nuclear Surety clearance for hauling the big ones.

I was only in the 76th from Jan 80 thru Dec 81, but returned to Germany 9 months later and was in touch with a lot of the old friends.

The 76th was stationed on Husterhohe Kaserne in Pirmasens. We were one of the very few units on that post that were not a part of th 59th Ord.

Our main mission was support of USAMMCE (United States Army Medical Materiel Center, Europe, I believe) and whoever it was in charge of the C Rations. They were stored in the numerous cave surrounding Pirmasens. We had scheduled weekly runs to all hospitals and then the runs to Hohenfels, Vilseck etc. with the C-Rats.

As I mentioned we also delivered from Weilerbach Army Depot with the Nike/Hercs and such, we also had the occasional Nuke run which were really interesting. Beyond that our mission as most of the 37th was General Cargo delivery mostly from Ramstein.

I was in the First Platoon both years, and sometime in early 1983 I believe it was, our Platoon hit 1 million accident free miles. It took years and a alot of different drivers but I don't think too many other platoons managed that feat. I was not there for the start or the end of it, but did make it in between.

I hope this helps a little, again thanks for you efforts in keeping this going. I am going to email a friend of mine who retired from the Army just a few years back. I believe he was in what was left of 37th Gp. Maybe he can fill in some of the later stuff.
---
(Source: Email from Debby S. Goforth, Debby Haynes in the Army)
I read with interest Kevin McGrath's recollection of the work he performed in the 76th. I also was stationed with the 76th in Pirmasens; from 1977 to 1979.

He is correct when he says many of us had special clearances to haul certain ordnance or parts of ordnance. Sometimes the German drivers contracted to us would also participate.

I remember our convoys were occasionally accompanied by helicopter escort.

I remember other drivers in my company; Linda Greer and Nancy Brim were my two best friends who also spent alot of time on the road like myself.

Your website is a fantastic find!

---
83rd Transportation Company
1958 - 1962
(Source: Email from Wes Montgomery, 83rd Transportation Company, Kaiserslautern, 1958-62)

Wes with company guidon in front of 83rd Trans Co headquarters, Kapaun Bks, Kaiserslautern, 1960

I was assigned to the 83rd Transportation Company, of the 53rd Transportation Battalion, which was located in Kaiserslautern, Germany. The 53rd was under the 37th Transportation Command, which was under COMMZ. The COMMZ Command and the 37th Command were located in France.

While assigned to the 83rd, my first duties were that as a mechanic. After a year or so, I became the Company Commanderís jeep driver. At the same time I was the Jeep Driver, I also was the Company Armorer and Mail Clerk.

Late in 1959, I was assigned to drive Over The Road Tractors and Trailers. I would drive the rigs to all parts of Germany and France. I did not care too much for the driving, so I went back to being a mechanic.

This time, I was assigned to the Kaiserslautern Truck Terminal (KTT). KTT was still part of the 53rd Trans. Bn. I was supposed to rotate back to the states in late 1962, but because the Berlin Wall went up, I was extended another six months in Germany. I did make one trip into Berlin by convoy, and was able to visit the Russian Zone in East Germany, and East Berlin.
---
(Source: Email from Rydel Edwards, 83rd Trans Co & 66th Trans Co)
My time at 83rd and 66th Trans Companies wasn't all that eventful. I arrived at Kapaun Barracks in Vogelweh from 21st Replacement Co in Frankfurt by train, and was met by a SP/4 that was picking up four of us. Four guys and duffel bags in an M-151 jeep was rather cramped to say the least.

Though my last name is Edwards, my ancestry is mainly German, and speaking enough of the language to get by comfortably, the first thing I wanted to do was get on a bus and go to town and get a German beer I'd heard so much about at my previous duty station, 513th Trans at Ft. Lewis Wa. Much to my dismay, that wasn't possible until after I'd gone through an orientation conducted by a German lady married to an American. I was restricted to post for about two weeks until the orientation was completed. The orientation consisted of about an hour in a classroom, a short bus ride into Kaiserslautern, a walk around town, and into a few stores to explain pricing, monetary exchange rate (DM 2.50 to the dollar then) and a bus ride back to Vogelweh. All of about four hours. After reporting to the orderly room with a pre-printed note from the lady, the clerk gave me a list of off limits establishments, and told me to report to my platoon Sgt.

Yours truly had CQ runner (I was a SP/4 then) so no German beer for yours truly that night. The next night, I got that fabled beer, along with a shot of the most vile tasting substance I'd ever tasted. Ratzeputz! The guys I went into town said it was somewhat of an initiation rite into the 83rd Trans Co.
Although I'd hauled everything from fuel to trash at FT. Lewis, and been through bus school there, I wasn't able to drive in Germany until going through the Drivers Academy and gotten the "shotgun" time with CLG (Civilian Labor Group) behind me. More waiting as the next class wasn't due to start for another 3 weeks, enough time to get the required shotgun miles done, I think the Academy was 2 or 3 weeks. I finally got a Trk assigned to me, 83-7, the one under the refrigerated trailer (reefer) in picture #1, and hit the road. Going through the Academy was a good thing as it prepared me for the differences of driving between the States and Europe.

I pulled reefers until about Feb or March of 1975 as my wife had come over in Dec, and was carrying our son, who was due in May. A slot for a wrecker operator in 53rd Bn Maint came open, and I got that so I'd be home every night to be there before and after Timothy was born. (Attached pic #2 of 83-78 is said wrecker, a 73 American Motors-General M816A1 5-ton 6x6 ) Looking back, that was my favorite of all the vehicles, wheeled and tracked I'd qualified on and operated.

During my time at BN Maint, the 83rd was deactivated, and all the 2000d Internationals were turned over to the CLGs. I was asked if I wanted 66th or 89th, and I chose the 66th Trans Co as I'd made a number of friends there, more than I'd made with guys in 89th. I stayed on the wrecker for a couple more months, then went back on the road in 3rd Pltn of 66th.

During my time in the 66th, I was promoted to SP/5, went to Bremerhaven more times than I could count, made some lifelong friends, was assigned to a Transtar 4070 cabover with a V-12 Detroit that would do at least 115 MPH (I lost the miles for that day.) I learned some valuable leadership skills, a lot about myself in the process, and even more about the Army, While in 66th, I had the pleasure of taking loads into Holland, Belgium, and all over Germany. It was mostly mail, but other types of freight came up that broke the monotony of toting the mail to and from Rhine Main and Ramstein.

I left 66th in Sept of 1979 with about 89,000 miles. I still drive truck, and have put about 3.5 million miles behind me. My interest in military vehicles is still strong, as I currently have a 1971 M-35A2 Deuce and a half, that pulls a M105A2 ton a half trailer behind, both of which I've restored to new condition.

The pic of me leaning on the Transtar was taken by SFC Antonio Reyes, the potrait type was taken by an unknown German photographer for the company picture board. The rest of the pics were taken by me.
| | | | |
| --- | --- | --- | --- |
| 1. Truck 83-7 (KB) | 2. Wrecker 83-78 (KB) | 3. Transtar 4070 cabover, 66-34 (KB) | |
| 4. Transtar 4070, 66-34 (KB) | | | |

---
Related Links: