If you do NOT see the Table of Contents frame to the left of this page, then
Click here to open 'USArmyGermany' frameset
60th Ordnance Group
21st Support Command
Looking for more information from military/civilian personnel assigned to or associated with the U.S. Army in Germany from 1945 to 1989. If you have any stories or thoughts on the subject, please contact me

.
---
Group History

Page 2

84th Ord Bn

191st Ord Bn

196th Ord Bn

Related Links



6901st CSC (Area)
6951st CSC (Ord & Gd)
6952nd CSC (Ord & Gd)
6953rd CSC (Ord & Gd)
6956th CSC (Ord & Gd)

---
Group History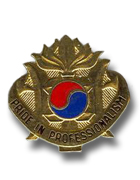 60th Ord Gp DUI
(Source: 60th Ordnance Group Command Data Book, July 1980 via Joseph Perchetti, 39th Ord Gp, a CAPSTONE unit of the 21st SUPCOM)
HISTORY

On 21 December 1972, the 60th Ordnance Group was once again called to active service in Zweibruecken, Federal Republic of Germany and assigned to the United States Theater Army Support Command Europe. At the time of activation, the 60th Ordnance Group consisted of the following units:
ORGANIZATION (1988):
| | | |
| --- | --- | --- |
| UNIT DESIGNATION | DUTY STATION | COMMENTS |
| HHC, 60th Ord Gp | Kreuzberg Ksn, Zweibrücken | |
| Miesau Army Depot | Miesau | |
| 15th Ord Bn | Darmstadt | |
| 84th Ord Bn | Kaiserslautern | |
| 101st Ord Bn | Heilbronn | |
| 168th Ord Det (EODCC) | Mannheim | |
| 512th Ord Det (EODCC) | Oberammergau | |
| 6956th LS Ammo & Guard Cen | Kaiserslautern | |
In February 1974, the 512th Ordnance Detachment was relocated to Vilseck.

The 84th Ordnance Battalion together with the 6956th LS Ammo and Guard Center was relocated to Muenchweiler during January 1976.

On 1 May 1974 by direction of the United States Army, Europe (USAREUR) in accordance with General Order No. 62, dated 23 April 1974, United States Army Materiel Management Agency, Europe (USAMMAE) assumed command and control of the 60th Ordnance Group.

On 1 July 1976, as a result of inactivation of HQ, USAMMAE under Project MODLOG, the 60th Ordnance Group was reassigned directly under HQ, USAREUR for command and control by HQ, USAREUR General Order No. 5028, dated 30 June 1976.

On 1 December 1976, the 60th Ordnance Group was reassigned from HQ, USAREUR, to HQ, 21st Support Command.

During 1977 the 60th Ordnance Group underwent a major reorganization. In February 1977 the Special Weapons Units (23d ORD CO, 28th ORD CO, 545th ORD CO, 9th MP DET, 51st MP DET), were transferred to the 59th Ordnance Brigade. The Direct Support Battalions were reassigned to the Corps, effective 1 June 1977; the 15th Ordnance Battalion to V Corps and effective 1 October the 101st Ordnance Battalion to VII Corps.

On 1 August 1978 the Ammunition Detachment Bremerhaven was activated.

Effective 1 October 1979 the Inventory Control Function was transferred to the 200th Theater Army Materiel Management Center.

On 25 January 1980 the 763d Medical Detachment Muenchweiler, was brought under control of the 84th Ordnance Battalion Muenchweiler.

MISSION
1. Exercise command, administrative, technical, logistical, and operational control over all assigned and attached units.

2. Serves as Assistant Chief of Staff, Ammunition, 21st Support Command.

3. Exercise special courts-martial jurisdiction.

4. Perform those functions associated with the S-1, S-2/3 and S-4 staff activities, to include control of mission and functional assignments by the S-2/3 activity.

5. Provide a Command Safety Program IAW AR 385-10 to include the Explosive Safety Program prescribed in UR 385-11, Change 1.

6. Establishes explosive safety limits and licenses for ammunition storage sites in Rear Combat Zone (RCZ)/Communication Zone (COMMZ).

7. Provides technical assistance and review of matters concerning restricted area agreements, annual restricted area inspections, and negotiations for all theater ammunition and missile storage sites.

8. Provides technical assistance to theater on license and explosive safety matters as requested by USAREUR.

9. Manages the Nuclear and Chemical Surety Programs for 21st SUPCOM IAW AR 50-5, UR 50-100, and EUCOM Dir 60-10.

10. Exercises command and control of all EOD detachments in the Federal Republic of Germany. Provides training and inspection support for all theater EOD units. Manages the Explosive Ordnance Disposal Program for 21st SUPCOM.

11. Provide technical assistance and inspections of all 60th Ordnance Group units nuclear, biological, and chemical defense programs.

12. Develops and maintains Quality Assurance, Ammunition Surveillance Program (QAASP) for stocks received, stored, maintained,and issued in RCZ/COMMZ, including Unit Basic Loads (UBL).

13. Plans, coordinates, and supervises security requirements to include personnel and documents security, intelligence training and the physical security of Class V stocks within the 21st SUPCOM area.

14. Programs for resources required to manage peacetime stockage objective and execute wartime management concept. Perform resource management functions as outlined in AR 5-2, except finance and accounting.

15. Acts as Material Management Center for Class V material for 21st SUPCOM. Performs the command RCZ/COMMZ Class V commodity management, such as supply management; requirements determination; renovation direction; disposal directions; care and preservation direction; distribution management; inventory management and control; excess reporting control; local purchase or component fabrication; budget programming; provisioning; reporting; and transportation coordination for Class V material with TICP [200th TAMMC (Theater Army Material Management Center)] and other USAREUR commands to include components and ammunition packing material.

16. Manage the RCZ/COMMZ suspension/restriction and malfunction report programs for conventional, chemical ammunition, and high density guided missiles in the 21st SUPCOM areas. (Dragon/Redeye/Chaparral/Shillelagh.)

17. Exercise demilitarization control of excess Class V material at direction of 200th TAMMC.

18. Implements maintenance programs as directed by 200th TAMMC.

19. Manages storage space use within RCZ/COMMZ.

20. Is responsible for the Standard USAREUR Munitions System (SUMS).

21. Provides functional supervision, management, and preparation of engineer construction projects for theater ammunition and missile storage projects. Develops construction projects to support mission requirements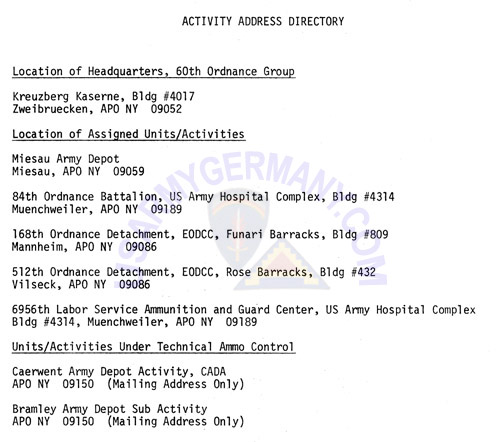 | | | | |
| --- | --- | --- | --- |
| 1. HQ Staff, 1980 (KB) | 2. 60th Ord Gp Org, 1980 (KB) | 3. Location Map, 1980 (KB) | |
| | | | |
---
(Source: Email from Joseph N. Perchetti, HHC, 39th Ord Gp)
I was previously the 1SG, HHC 39th Ord Gp. I have some unclassified documents that I received from the 60th during 1980-81.
The 39th was a
CAPSTONE
unit for the 21st. Under
OPLAN
4102 we were to come in "early" up north (NORTHAG). The 60th was the same
MTOE
as I recollect, thus training w/ them was an
intelligent
idea. We were in
Zweibrucken
@
Kreutzberg
Kaserne,
March 1981 for
WINTEX
.

ADDITIONAL INFORMATION

The 39th Ord Gp's mission was
C2
(command & control) and of various battalions and companies (AC,
NG
, &
RC
). We were the "Northern Group" in
OPLAN
4102 as I recollect. Appreciate that my role (First Sergeant) did not deal directly with the operational end of the unit's mission. Also, there is a
HHC
, 38th
Ord
Gp
.
The 39th was located @ Camp Kilmer, New Jersey. We had AC, NG, & RC units in our wartime trace but USAR peace time was an entirely different mission. This is common now but very unique in 1980!

The 39th Gp provided C2 to geographic units in whatever 2 star command you were located. We wore the 78th Div (TNG) patch, a drill sergeant unit. Our subordinate units were the 338th Maint Bn, 469th Eng Bn, 3/42nd FA Bn, 411th Chem Co & the 348th MP Det (CID).
---
(Source: Support Sentinel, April 24, 1984)
Ammo operations hit computer age

By Rheta Phillips

On Jan 26, 1984, a very nondescript data processing installation -- known as 60th Ord Gp's DPI MO56 -- arrived in Zweibruecken. This relocation enriched and facilitated the Standard Army Ammunition System Level 3, SAAS-3, considerably.

In spite of its unimpressive appearance, DPI MO56 plays a vital role in ammunition management for the entire rear combat and communication zones.

SAAS started in 1972 when the Army withdrew Class V ammunition from the Standard Army Intermediate Level Supply System and established ammunition as a separate elment of the logistics system. In 1973, it was fielded in increments starting as SAAS Level 1.

Level 1 applies to centralized theater management, Level 3 to corps-level management and Level 4 to ammo storage points. Level 2 functions (Webmaster: meant for field army-level management) were incorporated into the other levels when the field army concept was eliminated.

DPI MO56 began SAAS-3 operations in February 1983, with operational control at 9th Logistics Center and management control at the 60th Ord Gp.
---
(Source: Support Sentinel, Sept 25, 1984)
60th Ord provides the fire power for realism in maneuver exercise

By Capt Mike G. Mullins and SFC Ronald Fisher
60th Ord Gp Materiel Office, Zweibruecken

Ammunition issue and supply to fighting units are the keys to success in a military exercise.

The 60th Ord Gp, the largest ammunition supplier in Europe, provides the fire power CONUS units must have to exercise tactical realism during REFORGER exercises.

After picking up their prepositioned vehicles (Webmaster: see the CEGE Page for details on the POMCUS process), the units move into marshalling areas for their initial orientation. Members of the 60th Ord Gp present the Class V (ammunition) portion of the briefing, which includes ammo storage locations, issue procedures and safety requirements. The 60th also proivdes escorts to accompany each unit to its ammunition supply point.

Parking their vehicles in a holding area, the unit assembles in the ASP office for a second briefing. Among other things, ammo personnel brief them on exact storage locations, safety and traffic patterns to ensure rapid movement through the ASP.

Unit basic upload is the most tactical phase of the transition to combat readiness. How quickly a unit uploads directly relates to how quickly it moves into battle. After the ASP orientation, German civilian support group crews team up with the unit and escort them to the magazines where their ammunition has been stored.

Working as long as necessary and as fast as possible, the CSG workers get the unit loaded and back on the road. To preclude damage to actual basic loads, training substitutes for artillery, tank and mortar ammunition are issued along with sand-filled boxes to simulate wartime materiel. The boxes match in size, weight and quantity items the unit would actually draw in war.

All units follow actual upload procedures for physical uploading to ensure that even the smallest combat support detachment knows where its ammunition is stored and how to go about drawing it.

Less than three days after CONUS units arrive in Europe, they have received their combat and support vehicles and their ammunition. Safety ammo handling personnel from the 60th are present at the marshalling areas to provide technical assistance as the unit breaks out its basic load items and uploads its tanks, armored personnel carriers and other combat vehicles.

At the same time, ammo handlers issue small arms ammunition and pyrotechnics to the individual soldiers. Within 12 hours after arrival in the marshalling area, all vehicles and personnel are fully armed.

At the end of the exercises, the units stop at field download sites operated by teams from the 84th Ord Bn, a subordinate unit of the 60th. Teams handling the ammunition turn-in will deploy with sufficient rations, equipment, vehicles and other supplies to survive in a field environment for two weeks.

Ammunition turned in, counted, segregated, inspected and repacked for later use will realize tremendous savings to the government.
---
(Source: Kreuzberg Past and Present, by Sp4 Charles Powers and Monika Kropf, Zweibrücken Sun, March 15, 1988
Article provides good information on the mission and organization of the 60th Ord Gp in 1988. See article.
---
In 1986, the Group was supporting more than 450 customer units.
---
(Source: Zweibrücken Sun, Jan 15, 1989)
The 60th Ordnance Group, with its headquarters located just outside the gates of Kreuzberg Kaserne (Webmaster Note: at this time, Gp headquarters was located at the old D Btry, 2nd Bn, 56th ADA site) is unique in that it is the only conventional ammunition group in the Army.

Controlling two-thirds of the conventional ammunition stocks in USAREUR, the 60th Ord Gp consists of three ordnance battalions, two Explosive Ordnance Detachment Control Centers, (a Civilian Support Center) and the largest ammunition storage, maintenance and distribution center in West Germany - Miesau Army Depot.

The Group's mission is to receive, store, secure, transport and issue ammunition in the read combat and communications zones.

About three-quarters of the personnel assigned to the 60th Ord Gp are local nations.
ORGANIZATION (1988):
| | | |
| --- | --- | --- |
| UNIT DESIGNATION | DUTY STATION | COMMENTS |
| HHC, 60th Ord Gp | Kreuzberg Ksn, Zweibrücken | |
| 84th Ord Bn | USAH Münchweiler | |
| 191st Ord Bn | Mannheim | |
| 196th Ord Bn | Mönchengladbach | |
| Miesau Army Depot | Miesau | |
| 168th Ord Det (EODCC) | Mannheim | |
| 512th Ord Det (EODCC) | Rose Bks, Vilseck | |
| 6901st CSC (Area) | Kreuzberg Ksn, Zweibrücken | |
---
(Source: Zweibrücken Sun, Mar 1, 1991)
There are 690 earth-covered storage magazines at Mieau Army Depot and Weilerbach Ammo Storage Area.

A permanent work force of 527 local nationals and 469 civilian support personnel are employed at Miesau.
---
(Source: USAREUR Safety Division, 1980s or early 1990s)
List of CIVILIAN SUPPORT Units assigned to 60th Ord Gp:

60th Ordnance Group:

6901st Civilian Support Company (Ordnance and Guard), Zweibrücken

84th Ordnance Battalion:


6956th Civilian Support Company (Ordnance and Guard), Münchweiler


2050th Civilian Support Group (Guard), Karlsruhe


2051st Civilian Support Group (Ordnance), Germersheim


2052nd General Support Group (Guard)


2053rd Civilian Support Group (Ordnance), Dahn

191st Ordnance Battalion:


6951st Civilian Support Company (Ordnance and Guard), Mannheim


2041st Civilian Support Group (Ordnance), Mannheim


2048th Civilian Support Group (Ordnance and Guard), Kirchheimbolanden


2049th Civilian Support Group (Guard), Mannheim


2054th Civilian Support Group (Ordnance and Guard), Bad Kreuznach


2055th Civilian Support Group (Ordnance), Baumholder


4013th Civilian Support Group (Guard), Lebach-Saarlouis

Miesau Army Depot:


6952nd Civilian Support Company (Ordnance and Guard), Miesau


2042nd Civilian Support Group (Ordnance), Miesau


7418th Civilian Support Group (Ordnance), Miesau


4099th Civilian Support Group (Guard), Kaiserslautern

196th Ordnance Battalion:


6953rd Civilian Support Company (Ordnance and Guard), Mönchengladbach


2047th Civilian Support Group (Ordnance), Bremerhaven


2056th Civilian Support Group (Ordnance and Guard), Twisteden
If you have more information on the history or organization of the 60th Ord Gp, please contact me

.

---
196th Ordnance Battalion
(Source: Traveler, March 1989)
The 196th Ordnance Battalion is located at Windberg Barracks, Grefrath, and is comprised of two ordnance companies:


89th Ord Co, Bremerhaven


148th Ord Co, Twisteden


---
Related Links:
Ammo sites in Saarland - great page on the ammunition storage sites operated by the 60th Ord Gp in the Saarland. Page is hosted on the German website - LostPlaces.de