If you do NOT see the Table of Contents frame to the left of this page, then
Click here to open 'USArmyGermany' frameset
8th Maintenance Battalion
3rd Support Command
Looking for more information from military/civilian personnel assigned to or associated with the U.S. Army in Germany from 1945 to 1989. If you have any stories or thoughts on the subject, please contact me

.
---
---
8th Ordnance Battalion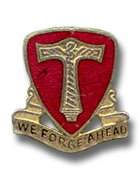 8th Ordnance Bn DUI
(Source: Seventh Army Annual Historical Report, 1954)

ORGANIZATION (as of 30 June 1954):
| | | |
| --- | --- | --- |
| UNIT DESIGNATION | DUTY STATION | COMMENTS |
| HHD, 8th Ord Bn | Griesheim Ord Depot | |
| 88th Ord Co (Hv Maint) | Sandhofen [1] | |
| 517th Ord Co (Hv Maint) | Karlsruhe [1] | |
| 507th Ord Co (Hv Autmv Maint) | Griesheim Ord Depot | |
| 881st Ord Co (Hv Autmv Maint) | Hanau [1] | |
| | | |
[1] STATION LIST, 15 August 1953
At this time, the 8th Ord Bn was part of the 51st Ord Group.
If you have more information on the history or organization of the 8th Ord Bn or the 8th Maint Bn, please contact me

.
---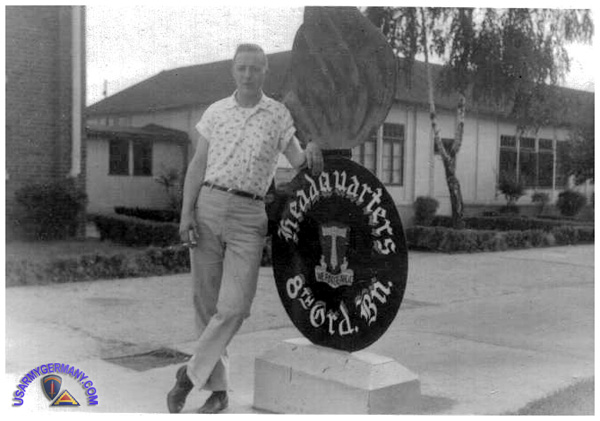 Sp4 Larry Meisinger, S2 clerk in HHD, Sept 1960
(Building in backround is 33rd Ord Co barracks, Quartermaster Kaserne, Hanau)
1960
(Source: Email from Dave Tisdale, 8th Ord Bn, Dec 1959 - Dec 1963)
I was in the 8th Ordnance Battalion from Dec 1959 until Dec 1963. First with HHD then 507th Ord Co.

Long story - rotated back to the States and went to helicopter flight school - Viet Nam, etc...

While at Quartermaster Kaserne, Major Edmund J. O'Callaghan was the Bn CO, promoted to LTC and kept the command of the 8th Ord Bn.

Below are some pictures from the 8th Ord Bn (Quartermaster Kaserne) circa 1960-1963. Maybe these will fill in a few holes for you in putting together the 8th Bn history... (Most of these individuals were there upon my arrival on 1 Dec 1959 and were gone late 1962 - early 1963.)



MAJ Edmund J. ("EJ") O'Callaghan (Bn CO) - promoted to LTC

1st Lt James L. Lorder Jr - Adjutant/CO HHD (No Picture)

1at Lt Norton - S2 - (No Picture)

CPT Walter Burke - S3

CPT Reginald Dean - S4

CW3 Joseph Bell - Personnel Officer

SGT Charles Norcross - Personnel Sgt

SGM George Maughan - Sgt Major

PFC Dave Tisdale - Sgt Major's Clerk

SP4 Larry Meisinger - S2 Clerk (photo above - in background is barracks of 33rd Ord Co - they moved to Hanau Post - HHD moved in...
| | | |
| --- | --- | --- |
| MAJ Edmund O'Callaghan, Bn CO | CAPT Walter Burke, S3 | |
| CAPT Reginald Dean, S4 | CW3 Joseph Bell, Pers Officer | |
| SGT Charles Norcross, Pers Sgt | SGT MAJ George Maughan | |
| PFC Dave Tisdale | | |
---
1966
(Source: Email from Al Dromeshauser)
I was stationed at Pioneer Kaserene from Sept. 1966 to Feb 1969.

During that time I was in the 88th HEM Co and then the 543rd HEM Co. which was part of the 8th Maint. Bn / 2nd Support Brig.

The 8th Maint. Bn also included the 881st LEM Co. 507th HEM Co. the 296th CC&S along with the HQ Battalion Headquarters Company.

Our units all worked out of the Grossauheim Kaserne in Grossauheim.
---
1977
(Source: Email from Charles Causey)
The 8th Maintenance Battalion. I was assigned to the 71st Ordnance Company, 8th Maintenance Battalion between June1977 - June1980, and then HHD 8th MT BN from Oct 1981 - Oct 1984.

I wish I knew more of the history. I can give you the units and the location.

The battalion headquarters, HHD barracks, and the maintenance shops were all located on Grossauheim Kaserne (Hanau). The companies were located on Pioneer Kaserne, Wolfgang.

8th Maintenance Bn:


HHD


81st Mt Co


88th Mt Bn


881st Mt Bn


71st Ord Co (Missile Maintenance)
There was also a German Labor Unit attached to the 8th and stationed on Grossauheim. I can't remember the unit's number.
The 8th, in 2000, was still located in Grossauheim.
---
MISCELLANEOUS INFORMATION

(Source: STARS & STRIPES, Aug 24, 1952)
Lt Col Rudolph J. Maxa is CO of the 8th Ord Bn.

The 304th Ord Hv Maint Co (Hanau) is a subordinate unit of the 8th Ord Bn at this time.

(Source: STARS & STRIPES, May 28, 1953)
The Dept. of the Army has approved the new crest for the 8th Ordnance Battalion.

Mission of the Battalion:
To provide heavy ordnance maintenance support to units of the 7th Army.

Current Organization of the Battalion:



HHD, 8th Ord Bn, Griesheim



88th Ord HM Co, Hanau



148th Ord R&C Co, Griesheim



304th Ord HM Co, Hanau



460th Ord Rcy Co, Hanau



507th Ord HAM Co, Griesheim



881st Ord HAM Co, Hanau

HM ... Heavy Maintenance
HAM ... Heavy Automotive Maintenance
R&C ... Reclamation and Classification
Rcy ... Recovery

---
8th Maintenance Battalion
1965 - present
(Source: STARS & STRIPES, August 17, 1965)
8th Ordnance Bn reorganized under COSTAR
On August 16 1965, the 8th Ord Bn was officially redesignated as 8th Maintenance Battalion (General Support) as part of the reorganization under COSTAR. Bn commander is Lt Col James R. Gober.

The 8th Maint Bn remains stationed at the Quartermaster Service Center at Grossauheim.

Organizational changes that were made to facilitate the new battalion structure under COSTAR included:



attachment of Co B, 504th Signal Bn



assumption of maintenance operations of 587th Engr Co, 11th Chem Co and Co B, 14th QM Bn

Prior to COSTAR, ordnance general support in the V Corps area was accomplished by the 88th, 507th, 543rd and 81st Ord Companies (all subordinate units of the 8th Ord Bn).

Under COSTAR, the following additional changes have been made:



881st Ord Co has become part of the 85th Maint Bn



personnel and equipment from Co B, 504th Sig Bn have been merged into the 881st Light Equip Maint Co



the 88th, 507th and 543rd Ord Companies have been redesignates as Heavy Equip Maint companies.
---
(Source: Email from Vince Sweat)
I was in the 8th Maintenance Bn from Nov 1965 to Nov 1967. My last assignment was CO of the 507th Heavy Equipment Maintenance Company.

Shortly before I arrived in Germany in 1965, as I understand it, there was a reorganization of the battalion so that it included several branches of the army, not just ordnance. I was an engineering officer and was assigned at first to a platoon leaders slot in the Engineering Equipment Platoon of the 507th. There were 3 heavy equipment maintenance companies, one light equipment maintenance company (worked on signal and chemical and ?) and the

296th

Collection, Classification and Salvage Company.

The Battalion HQ's was located near Gross Krotzenberg on the Gross Auheim Kaserne. Lt. Col. Jack Siewert was the Battalion CO most of the time that I was there. He seems to be pretty knowledgable about the battalion history at that time.

I've wondered if the 507th HEM in the 8th Maintenance Bn is the same 507th Maintenance Co that made the news early in the war in Iraq when an element of the company made a wrong turn and was captured, including Jessica Lynch.

We still get together with 6-8 couples every couple of years now. We were all in the 8th Maintenance Bn at the same time.
---
(Source: STARS & STRIPES, Sept 8, 1966)
Recently, the QM Service Center at Grossauheim was officially renamed as Grossauheim Kaserne.

The Grossauheim Kaserne installation falls under the Vogelsberg District.

Installation Coordinator for the installation is Lt Col Jack R. Stewert, commander of the 8th Maint Bn.
---
1967
(Source: Email from Phil S Medeiros)
I was assigned to the 8th Maintenance Bn from 1967 to 1970.

The units comprising the Bn at that time were:

ORGANIZATION (1968):
| | | |
| --- | --- | --- |
| UNIT DESIGNATION | DUTY STATION | COMMENTS |
| HHD, 8th Maint Bn | Grossauhaim Ksn, Hanau | |
| 88th Maint Co (HEM) | Pioneer Ksn, Hanau | |
| 507th Maint Co (HEM) | Grossauhaim Ksn, Hanau | |
| 543rd Maint Co (HEM) | Pioneer Ksn, Hanau | |
| 881st Maint Co (LEM) | Hessen Homburg Ksn, Hanau | |
| 296th Maint Co (CC&S) | Hutier Ksn, Hanau | |
| | | |
Our Battalion Commander when I arrived was LTC William Hilley. I believe Col Hilley died shortly after being assigned as Maintenance Officer at West Point following his tour in Viet Nam. The XO was Major Karagenas (spelling) who later became a General Officer. I saw him on CBS-TV with Dan Rather once many years after I left the Army. He was explaining the destruction of chemical ordnance to Mr. Rather.
I was originally assigned as a platoon leader (2nd LT) in the Armament Platoon, 88th Maint Co. Promoted to Shop Officer of the 881 LEM. I finished as the CO of the 543 HEM.

We were originally in the 2nd Support Brigade, but later became part of V Corps Support Command (COSCOM).

Maybe I can remember more details if tweaked.
Phil Medeiros
---
1979
(Source: STARS & STRIPES, March 3, 1979)
8th Maint Bn, 3rd SUPCOM, operates the Corps Exchange Point at Grossauheim (near Hanau). The 10-acre parking lot that comprises the exchange point is filled with everything from jeep differentials to 750-horsepower Chrysler diesel engines used in M-60 series tanks. The exchange point is run by a small group of personnel on call around the clock, seven days a week.

Broken parts are brought in by (direct support maintenance?) units in trucks (or stake-and-platform trailers). With 20-ton cranes, yellow workhorse tugs and forklifts, the trucks/trailers are emptied and then - from the other end of the lot - crews refill the same trucks/trailers with new or rebuilt parts that have been pulled from 8th Maint Bn stocks. The primary units supported by this exchange point are 3rd Armd Div, 8th Inf Div and 11th ACR.

The units stocks contain more than 230 different items. The point's inventory is turned over around eight times a year.

More than 30 of the items in stock at the 8th Maint Bn are repaired in Grossauheim. (In 1977, the battalion was able to "produce" 10,300 parts.) Parts that the battalion cannot repair are shipped to Tank Automotove Command, Missile Command or Communications-Electronics Command in CONUS or the Mainz Army Depot (the Army's reconditioning center in Europe) in Germany for rebuild.

8th Maint Bn has a strength of 1,500 troops. The battalion is commanded by Lt Col Michael A. Cody.

One of the repair units at Grossauheim is a electronics maintenance platoon (repairs radar, radio and searchlight parts) staffed by 60 repair personnel from the 19th Maint Co and 70 personnel from the 881st Maint Co.

---
19th Maintenance Company (Heavy Equipment)(GS)
(Source: Email from Allen Engler)
I was stationed in Hanau from November 1975 to 1979. It was in the 19th Maintenance Company, 8th Maintenance Battalion. You list it as 19th Ordinance Company, but I can tell you that it was 19th Maintenance Company in the time I was part of it. (Webmaster note: that has been fixed.)

We lived on Pioneer Kaserne and worked on Grossauheim Kaserne.

I ran a computer (NCR 500) that handled Class 9 repair parts.

If I can provide any other specific information, please let me know.

ADDITIONAL INFORMATION
The NCR 500 computer system was a two semi van system connected by a wooden hutch. The theory was the the vans were mobile and could be moved to the field. The actual truth was that the computers and key punch machines were so sensitive that the vans were never moved. One van contained two key-punch machines and about 20 trays of magnetic ledgers. Each ledger was tied to an NSN and repair part and kept track of inventory on hand in the Class 9 warehouse that was located next door. The other van contained the computer itself which consisted of a CPU, Card Reader, Ledger Reader/printer and a card punch machine.
A ledger would be "dipped" into the reader and the magnetic strips would be read, punched cards read and annotations typed on the ledger. The computer operator's job was to dip the load the cards and dip the ledgers and insure that the process worked OK. It took a whole eight hour shift to run one cycle. I spent most of my time working the night shift and operating the computer. So, during the day people would punch the cards and offset the ledgers to be run, they would finish about the end of the day and then I would come in in the evening.
Here is an explanation I found online:
Process: when a unit serviced by the battalion needs a part they select a card with the (stock) number of the item needed from the pre-supplied stock of punch cards, fill in the quantity needed and the date and submit it to the supply activity. The cards already supplied to each unit have the unit's code number and other necessary information on them. Each request run through the system is then recorded on a stock control ledger card. Each ledger record contains the vital information about the stock item requisitioned both on magnetic strips printed on the back and in readable print on the front. The magnetic strips are read by the machine, the readable portion is used by human operators. The ledger cards replace the five manually prepared forms used by the old system. The net result will be a release order for the item to be sent to the supply point.
Yes, it happened exactly as you stated it. To back up a step, a unit with a Class 9 account would bring in hand-written requisitions (written on the face of the punch-card). Those would be edited by the editing section and then passed to the Key-punch operators. They would punch the card (the keypunch machine allowed them to read the hand written stuff as they punched it in - some parts of that were automated). Then those punched cards would go to people who would "offset" the ledgers for that particular card. The ledgers were in large trays - maybe 1000 to a tray. When the ledgers were offset, the pile of cards would be set on the ledger tray. The computer operator would come in at night and take those trays and cards and run them through the NCR 500 which would post them to the ledger and generate other punched cards which would go to the warehouse the next morning to tell those workers to pull parts off the shelf

---
33rd Ordnance Company (Recovery & Classification)
(Source: Email from Charles (Chuck) Wilson, 33rd Ord Co (R&C), 1959-64)
I was with the 8th Bn for 5 years, from 1959-1964. I was with the 33rd Ord Co (R&C) (Recovery and Classification).

The 8th Ord Bn was comprised of the 33rd, the 507th Ord Co (LM), the 881st Ord Co (LM), and the 88th Ord Co (HM). The Bn HQs was at the Grossauheim Kasern, along with the shops for the 33rd, 88th and 507th.

| | | |
| --- | --- | --- |
| M123 Truck Tractor | | The 33rd was responsible for most all of the recovery and transport of armor vehicles for the surrounding areas. I drove an M-123 Tank Transporter, and hauled track vehicles from maneuver/operations/unit sites, bringing them back to the 88th for repair and/or hauling them to the Mainz Ord Depot. (Mainz trips were the major thing I did.) We would get called out at any time we were needed, snow etc. didn't stop the recovery. |
Additionally, the 33rd maintained and operated a collection and classification site, with hundreds of vehicles and trailers etc. in the yard. We operated like a civilian junk-yard, supplying parts to all 7th Army units. We, obviously, had parts available from the retired/junk vehicles that would be difficult to get through supply channels in a timely basis. When they were completely cannibalized, we hauled them off for the junk pile.

The 88th was always busy and we hauled the tracks in and out from their shops.

The 507th repaired motor vehicles and small arms, and I don't remember them ever having a slow moment either.

I don't recall where the 881st was assigned, but it wasn't with us at Grossauheim. The 33rd and the 507th were billeted at the Grossauheim Kasern and I believe the 8th Bn and 88th were billeted at Pioneer Kasern.

As a Battalion, we went everywhere to support field operations and maneuvers. I remember many cold and miserable times at Baumholder and Wildflecken, to mention a couple.

On the personal side, I married a girl from GrossKrotzenburg, the next town over, and made the Army a career. I retired in the grade of First Sergeant E-8 and my final assignment was Chief of Branch CMF 63, at the Military Personnel Center (Milpercen) outside Washington DC. I grew-up in Utica NY and have now retired in Martinsburg WV. Don't know how I ended-up here, but I love it. Loved Hanau/Grosskrotzenburg/Grossauheim area and enjoyed many times along the banks of the Main River.

---
53rd Heavy Maintenance Supply Company
1987
(Source: Email from Shawn W. Dulmage)
I was assigned to the 53rd HMSC from 1987-1991. Our barracks were on Pioneer Kaserne but our work assignment was on Grossauheim Kaserne.
I know that the unit was assigned to at least 4 REFORGER exercises, maybe more. The Platoon that I was assigned to, Equipment Storage Platoon (ESP), was also involved in Operation Desert Shield/Storm. We assisted units being shipped from Europe to Saudi Arabia at Rhein Main Air Force Base. We prepared their vehicles and equipment for loading on Air Force transport planes. Several of the soldiers volunteered for duty during Desert Shield/Storm.

The first REFORGER that I was involved with was in 1987, up in the British Sector of West Germany. Then there was one in Darmstadt. I do not know where the other 2 were located.

My squad also built a mud pit at the Rod and Gun Club for mud racing. The 53rd HMSC was the only unit of its type in all of Europe. We mainly were a depot for all units in Europe. When the HUMMV's were being issued to units in Europe, we would store the old Army Jeeps. We also had an ORF Platoon (Operational Readiness Float).

We were a direct support unit for 11th ACR in their protective mission of the Fulda Pass. Part of our mission was to provide a reloading station for their armored vehicles (M60 tanks and 155mm and 8in howitzers).

We also turned in all defective coded equipment to DRMO. When the jeep was replaced by the HUMMER we would crush the jeeps that were inoperative by running them over with a D-8 or D-9 Dozer and then turn them in to the DRMO, they would then auction them off as scrap metal.


---
56th Repair Parts Supply Company

---
88th Ordnance Company (HM)
1955
(Source: Email from Roger R. Anctil)
I did serve in the Army in Germany from May 1955 till August 1956. I was assigned to the 88th Ordnance CO HM. , and our barracks were in Pioneer Kaserne, Hanau. I'd love to get more information about your site, and also to submit pictures that I took while stationed there.
---
(Source: Email from Michael Dunleavy, 88th Ord Co, 1958-59)
I served with the 88th Ordnance Company, Pioneer Kaserne, Hanau, Germany in 1958-59. I was 19-20 years of age at the time.

As I recall our Company Commander had a Christmas party for us on Christmas Day, 1958. I still have a copy of the pamphlet that was given to us, which shows the Christmas menu and also the names of all the soldiers in the Company (see below). I believe I was on guard duty on that Christmas Eve and we had a stabbing back in the barracks and also one lad who died on the shower floor as a result of drinking too much alcohol.

As I recall they had a truck horn attached to an air pump and this is how they woke you up in the morning. Enough noise to raise the dead. This horn would disappear on occasion and we would all have to stand in formation for an hour or so, until somebody returned it. They never could find the horn and they eventually chained the new one to a radiator. I believe that one disappeared as well.
Enclosed are the names of the men who served with the 88th and possibly where a few of them lived, etc.
1st Lt. Lee E. Gilbreth, (possibly West Point graduate)
1st Lt. Thomas C. Moyer, (possibly graduate of Perdue University)
2nd Lt. Paul T. Johns, (graduate University of Notre Dame)
CWO W 2 JosephW. Crosby
CWO W 2 Hugo S Mann
First Sergeant, Leon Kubic, (Chicago ?)
Master Sergants: Arvenek K. Brown, James T. Gant, Charles Gojmerac, Francis X. Symon, Wayne B. Tedrow
Sergeants First Class: William G. Burke,(possibly Boston area), William H. Claycomb, Alfred C. Cleveland, Boyce J Collins, Thomas P. Holden, George P. Hughes, Edward J. Nash, Ivan M. Paugh, Arles D. Pierce, Allen W. VanHorn, Willard Webb, Dan C. Tanner
Sergants: Floyd D. Choate, Frank W. Hammond, Jothom B. King, William T. Lang, Michael J. Reilly
Corporals: Eugene Robieson
Specialist Fith Class; Eugene M Alberson, James R. Anderson, Woodrow Batton, Kennith L.Blankinship, Frank J. Bolton, Ole E. Christensen Jr., James M. Davis Jr., Ivan G. Egbert, Joseph P. Frame, Francis V. Frazier, Robert M. Harlan, Robert J. Hedrick, Richard J. Hennessy, Charles E. Hughes, Earl M. Jones, William H. Kiser, John D. Layne, Garland M. McGhee, Carl H. Mitchell, Lawrence A. Mrachek, Richard N. Perry, Leland Raddatz, Peter Ranson, Harry Rebeck, (Chicago), Samuel Ross Jr., Edward W. Rothrock, Rudolph J. Scheiter, Jim A. Smith, Edward F. Staszak, Linwood J. Stewart, Joe Taylor, Rogers G. Tucker, Clyde J. Westfall, Frank E. Wilson Sr.
Specialists Fourth Class: Elmer L. Anderson, Pat A. Ballard, (West Virginia), Donald R. Barry, James E. Battles, Arthur J. Blatt, Frank R. Clark, Richard M. Daniel, Gordon R. Davis, James D. Donnelly, Michael J. Dunleavy,(Pennsylvania), Thomas G. Ellis JR., Keith E. Fitzgerald, Ernst O. Herget, William H. Howard, Royce E. Jensen, Melvin D. Jensen, Dwain E. Kieckhafer, Charles E. Knotts, William G. Knox, Orlando H. Krizenbeck, Donald H. Lee, David C. Lombardo, (New York), Loristan M Lovely, Henry C. Maire Jr., Larry A. Marks, Charles R. Martin, Judd J. McCay, Jerry W. Mc Govern, (Pittsburgh), Marvin A. Michels, William R. Mills, George A. Moon, Ronald F. Mudgett, Kenneth D. Nash,(Mid-West), Gary H. Orcutt, Russel S. Ranney, Michael J. Ricci, Robert Salazar, Ralph O. Schmitt, (Milwaukee), Jack R. Shockley, Garland E. Steuber, Zeb V. Stewart Jr., Charles A. Simpson, Thomas D. Winn, Joachim K. Zeise
Private First Class: Luther R. Atkins, Robert C. Barber, Dale Baumgardner, Kermit T. Burger, (Virginia?), James J Chalker, (Texas?), John C. Colbert,(New England States), Ronald E. Cochran, Ray B. Cox, Edward A.Dailey, Richard D'Antico, Richard Draeger, Charles R.Ellis, Daniel Ferchau, John Ferrante Jr., Thomas G Garrison, Charles F. Glenn, Billy E. Gary, Jarvis V. Gunter,(Utah?), Alfred N. Hasenack, (Midwest), William H. Harmon, (Oaklahoma?), Sylvester Hastie, Ronald H. Jacobs, Richard Kairis, Carle J. Kelle, Joseph C. Kilgariff, (Philadelphia area), Dennis V. Knutson, Kenneth R. Koch, (New England States?), Eugene G. Lagier, Charles E. Malcoll, Eddie Maeklin, Lloyd N. McNutt, (Chester, Pennsylvania?), Richard Mitchell, George Myers, Hideo Nishimoto, John Pluchino, Theodore R. Reese, Terry R. Ritchey, (New England States?), William D. Rollins, Michael R. Rybasack, Ronald W. Schaub,(Pennsylvania), Herbert B. Steadman, James L. Toebe, Raul Vasques,(California?), William E. Waldron,( New York State?), James A Weekley, Robert L. Whaley,
Privates: Gene E. Albright,(Pennsylvania), Bobbie G. Arnett, Harry E. Malcomb, Roger R. Bilodeau, Glenn E. Blodgett, James J. Brown, Raymond Calvert, David F. Caples, (New York?), James T. Covell, Larry I.Decker, (Chocago?), Larry DeLoa, Edward K. Dougherty,(Pittsburgh), Frank G. Dumas, Lajos Dzsula, Ronald E. Gregory, (Kentucky?), Bennie B. Houser, WilliamO. Jackson, Charles W. Janulis, (Chicago), James B. Jones, Joseph S. Kowalko, Thomas J. Lukamen, Herold L. Lunsford, Robert E. Lusk, Arthur R. Marquez, Bobby H. Mitchell, Ray D. Myers,(Pennsylvania?), Morris W. Norman,(Oaklahoma?), Richard A. Smith, Charles E. Stark,(New York State?), Charles E. Walker, Joel A. Williams
Recruits: William N. Hill Jr., Darryl J. Laboduk, Raymond D. Patzer

---
296th Maint Company (Collection, Classification & Salvage)
(Source: STARS & STRIPES, July 15, 1968)
The 296th Maintenance Company (Collection, Classification & Salvage) operates one of the largest "junk yards" (cannibalization yard) in Europe. With Headquarters and billets at Hutier Kaserne, Hanau, the company's cannibalization yard is located at Grossauheim. TO/E of the company is 29-139F65.

The Grossauheim cannibalization yard is one of three operated by the US Army in Germany: the others are located in Kaiserslautern (operated by the 508th CC&S Co, Pulaski Bks) and at Nellingen (538th CC&S Co, Nellingen Bks).

The 296th has about 1,000 wrecked or "non-repairable" wheeled vehicles on hand at the salvage yard -- ¼-ton jeeps, 2½-ton and 5-ton trucks, trailers of all sizes and cranes, bulldozers, generators and compressors. The 296th salvage yard does not accept tracked vehicles, communications-electronics equipment, cryptographic materials, missiles, planes, medical equipment, office machinery or ammunition.

The Salvage Section uses a wrecker to pull the damaged vehicles from the yard into a shop for the disassembly process. Hoods, doors, wheels, starters, generators, transmissions, speedometers, anything that can be reused is removed. Some of the lesser damaged vehicles and major parts are sent to rebuild centers for repairs.

The remaining salvaged items are made available to motor pools for repair parts. Each month the 296th generates a stockage list of vehicles available for cannibalization. The list is distributed to Seventh Army Support Command; Kaiserslautern Army Depot; 8th, 19th, 85th and 122nd Maintenance Battalions; 1st, 2nd and 3rd Support Brigades; and the 3rd Armored Division.

A motor sergeant requiring a repair part must first go through his Direct Support Unit. The DSU can either supply the part, if on hand, or make up a requisition from the 296th's stockage list. If the part is not on the list the motor sergeant can still visit the cannibalization yard and search for the part. (If still not found, the requisition is returned to the DSU where it is then processed through the Army's regular supply channels for new equipment.)

The company has 320 line items in stock and has filled over 4,500 requisitions so far in 1968. Their policy is to "fill or kill" the requisition as soon as it is received. (Requisitions are not held to fill at a later date.)

The 296th CC&S Co was formed in September 1965 (starting with one officer and one NCO). Initially, the unit accepted and stockpiled any excess military equipment. Since Oct 1966, the company only accepts "unserviceable" or "uneconomically repairable" Army controlled items.

The Shop Section has 153 enlisted mechanics. Some work at night to fill requests for repair parts from REFORGER units that are pre-positioning vehicles and equipment prior to their return to the US. The REFORGER Project has top priority for the company.
---
(Source: Email from Ewing O. Lawson, Jr.)
I was assigned to the 8th Maint Bn from June 1966 - Nov 1969. My first job was the engine rebuild shop of the 88th HEM. Our CO was 1LT Wayne Guenther. After one year I was sent by LTC Hilley, the Bn Co, to be the shop officer of the

296th

Collection, Classification and Salvage Co. All of the 8th Maint Bn units operated from Grossauheim Kaserne. The billets were located at various kasernes all over Hanau.

LTC Hilley was replaced by LTC Skelton as BnCO and CPT Wayne Guenther assumed the position as Bn Material Officer replacing MAJ Karigenes. The CO of the 296th CC&S was reassigned. I was appointed CO as a CPT. It was the best command I ever had.

There were only three CC&S units in Germany and the

296th

was the largest. Our mission was to literally strip vehicles and other equipment that had been declared unserviceable "Code H" and put serviceable items back into the supply system. We had no customers or units to support, we had an area. When I was reassigned to RVN in November, 1969, I was replaced by CPT William A. Hines.

When I arrived in RSV I was automatically sent to the depot at Long Bien where I was assigned to the CC&S Company, which later was attached to the 79th Maintenance Bn.

My 2 1/2 years in Germany and the 8th Maintenance Bn had been a challenge. The

296th

made the Overseas Weekly several times in 1969 because of the mission increase given us by the newly assigned Bn Material Officer. He was a MAJOR and I cannot recall his name. He gave me and the

296th

a set time to work ourselves out of our mission. I am proud to say now that it was done.

As with all units of the 8th, we had a shortage of NCO's. The 1SG, 1SG Christian, suggested we get NCO's from other companies in the BN. These were NCO's that the other companies did not want, they were considered undesireables. We obtained about 15 NCO's and the 1SG briefed them. We gave them a lot of latitude in their jobs and they helped the company pass all unit inspections i.e. CMMI, ORT, and AGI. We had been last in the battalion during the previous year, but came out highest in the unit that year. It could not have been done without those NCO's nobody wanted.
MAJ (Ret) Ewing O. Lawson, Jr
---
(Source: Email from Paul Beeman, 296th Svc Co & 81st Maint Co, 1975-1978)
I was a member of the 8th Maint. Bn. I started out in the

296th

Svc. Co. Hanau, Germany Pioneer Kaserne in October 1975. Our work site was at GrossAuheim Kasern. At that time, the company was comprised of 4 platoons: AK (office workers & shipping), Evac. (trucking, 5-ton tractors w/flatbeds, 5-ton wreckers, HETs [heavy equipment transporters, i.e. tank haulers], 2 M88 Tank retrievers [non functional most of the time], and a few deuce and a halves -- 21/2 ton cargo trucks), Commo or Signal I'm not sure what they were called (they handled communications equipment from walkie talkies to full blown radio trailers and radar equipment), and HQ.

Our mission (as I recall) was that we were a warehouse/ depot for equipment from jeeps to tanks and engineer equipment, and all kinds of commo gear, that we would hold until the powers that be could figure out what to do with it. Some stuff would get scrapped, some reissued, and some sent out to get rebuilt/ remanufactured for reissue.
I was a 62F20 Crane operator in the shipping section, and the Cannibalization lot (junk yard) (the largest one in Germany at that time) from 10/75-5/78.

Sometime in 1976, we changed to be the 81st Maint. Co., and our mission changed somewhat. We added a section that was to rebuild multi-fuel 21/2 ton trucks. I don't know how well that worked out, because I don't remember ever seeing any shipped out.

Also later in 1976 or early in 77, we became part of 3rd SUPCOM under V Corps. All that meant was we had to change our shoulder patch.

The company was a strange place. It seemed to me that we got an awful lot of burnt out NCOs and other rejects sent to us. I believe this was because we had absolutely no Field Mission. There is no way that you could take a junk yard to the field with you. We did go to Wildflecken on an annual basis to refresh our alleged combat skills. This Unit so affected me Militarily that I knew I could never go on with a carrier, because the 81st in no way resembled the real Army!!! I believe that's why some of our NCO's kept extending their tours and staying. Some as long as 6 years when I rotated out.

All in all, I had a good time, strange, but good.

---
507th Ordnance Company
Griesheim Ordnance Depot
1953
(Source: Email from Nicholas F. D'Agrosa, 507th Ord Co 1953-1954)
I was assigned as the Company Clerk in the above unit from the end of Dec 1953 to the end of Dec 1954. The unit was stationed in Griesheim, Germany, just outside Frankfurt Germany.
I remember the Company Commander, Fred Long, the Executive Officer, Lt Winey, 1st Sergeant Creacy, and some of the other enlisted men.
We were billeted right there in the Griesheim Depot. Most of us were billeted 2 to a room. We had our own mess and our own cooks. Most, maybe not all, ate better than we did at home. The cooks went out almost everyday, bought fresh milk and fresh food and were superb cooks. There were basically only farms in that area so we ate well. These cooks were so good that they made the "K" or "C" rations, that we had to have once a month, somehow reasonably eatable.
I went to school in Bad Tolz, Germany for training as a company clerk and was assigned an MOS of 1815. (Much to my later regret when the Reserves twice sent me recall notices in spite of the fact that I was now married and had a child.)
I also remember that we went to Wildflecken firing range for training about 2 or 3 times.
Can't think of any other details on my assignment in the 507th except that towards the end of 1954 we were transferred to Hanau, Germany.
Would like to get a list of the personnel I served with. Unfortunately I don't remember full names even though I typed them up at least once every day. Would need full names to locate them if they are still alive as I am in my 80's and we were all close in age.
---
1954
(Source: Orientation Pamphlet, 507th Ordnance Company (HAM), 1954)

(Webmaster Note: HAM stands for Heavy Automotive Maintenance)
PURPOSE
The purpose of this brochure is to brief visitors on the operation of the 507th Ordnance Company (HAM).


ORGANIZATION
The 507th Ordnance Company (HAM) T/O & E 9-197 is one of five (5) maintenance companies attached to the 8th Ordnance Battalion.


MISSION
The mission of the 507th Ordnance Company (HAM) is to provide heavy ordnance maintenance support for wheeled vehicles and trailers to designated 7th Army Units.





COMPANY JOB ASSIGNMENTS:
| | | |
| --- | --- | --- |
| Company Commander | Capt Fred L. Long, Jr. | |
| Executive Officer | 1st Lt Stanley F. Stockwell | |
| Service Section Leader | 2nd Lt Virgil A. Wright, Jr. | |
| Automotive Platoon Leader | CWO Oliver M. DeMun | |
| Supply Section Leader | WOJG Lester E. Douglas | |
| Company Supply Officer | 1st Lt Ross F. Hawkins, Jr. | |
| First Sergeatnt | M/Sgt Coy E. Creacy | |
TO & E AUTHORIZED TROOP STRENGTH:
| | | |
| --- | --- | --- |
| 1 | Captain | |
| 2 | Lieutenants | |
| 2 | Warrant Officers | |
| 4 | M/Sgts | |
| 8 | SFCs | |
| 37 | Sgts | |
| 78 | Cpls | |
| 47 | PFCs | |
| 5 | Pvts | |
| 184 | Total | |
GENERAL INFORMATION:
The 507th is a Heavy Automotive Maintenance Company performing 3rd and 4th echelon maintenance on wheeled vehicles. It rebuilds major and sub-assemblies as well as major items and plans to intensify its program of rebuilding major and sub-assemblies in the near future.

The company is commodity loaded at the present time for the repair of M-38 ¼-ton trucks, M-37 ¾-ton trucks, M-43 ambulances, M-100 ¼-ton trailers, M-101 ¾-ton trailers and M-10 ammunition trailers.
| | | | |
| --- | --- | --- | --- |
| M-38, Truck, ¼-ton, 4x4 | M-37, Truck, ¾-ton, 4x4 | M-43, Ambulance, ¾-ton, 4x4 | |
The company's customers at the present time are the:

701st Ord Maint Bn (1st Inf Div)

704th Ord Maint Bn (4th Inf Div)

124th Armd Ord Maint Bn (2nd Armd Div)

80th Ord Bn

85th Ord Bn

71st Ord Bn

10th Ord Co (DS)

14th Ord Co (DS)

15th Ord Co (DS)

42nd Ord Co (DS)

48th Ord Co (DS)

537th Ord Co (DS)

531st Ord Co (DS)

557th Ord Co (DS)

Co A, 2nd Armd Div (sic)

Co C, 2nd Armd Div (sic)
As a HAM company it is only 50 percent mobile, but may fight as an infantry unit when required to do so.
The company at the present time works on a 44 hour week, 36 hours a week devoted to the primary mission of heavy automotive support. The remaining 8 hours a week are required for the tactical training which keeps the unit in its present state of combat readiness.
BRIEF UNIT HISTORY
The 507th Ordnance Company (HAM) was reactivated 19 September 1950 at Fort Bragg, North Carolina with Capt Robert L. Crawford in command. Cadre for the infant organization was composed of Regular Army personnel from the 881st Ord Co (HAM). Until 12 September 1951, when the unit was alerted for overseas shipment, its time was taken up by extensive field training.

At ten O'clock in the morning of 17 December 1951, the company arrived at the Griesheim Ordnance Depot.

The company since its arrival at Griesheim has been "Forging Ahead" with the 8th Ordnance Battaion.

Since its reactivation, the 507th has had four company commanders. The present CO, Capt Long, assumed command on 28 December 1953.
---
(Source: Email from Nicholas "Nick" D'Agrosa)
I was a member of the
507th Ord Co (HAM)
from Dec 1954 - Jan1955 when stationed in Griesheim, Germany.
I was Company Clerk during this time and remember many first names and mostly last names (not sure if that is because of my age or because it was so long ago) but would like to know if I could get a list of the other members at any time during 1954.
You asked if the Griesheim I am referring to "is an old factory near Hoechst (Frankfurt)." Yes, the 507th Ordnance (HAM) was in a converted factory -- we called it a compound. It was right next to a Displaced Persons Camp. Griesheim is only a few miles from the Traffic Circle and the Bahnhof in Frankfurt. If you turned right coming out of the compound (opposite of the direction to Frankfurt) there was a bridge less than 1/4 mile down the road. I believe the bridge was called the Schwanheim Bridge.
The compound included a mess hall and billets. It did not include a PX or a theater. I can't remember the TO&E but believe our unit consisted of 2 officers, 4 warrant officers and approximately 175 enlisted men. We had our own armourer and supply sergeant (and the best cooks in the Army). There were no other units working or located at the compound.
Found what I believe is the name of the factory in Griesheim where the 507th was stationed. It's name was "Griesheim Chemische Fabrik" during WWII.
The 507th was a Separate Unit that I believe was part of the 8th Ordnance Battalion. I'm sure most members will remember Capt. Long, Company Commander; 1st Lt Winey, Executive Officer; and 1st Sergeant Creacy.
I also remember that late in 1954 we were transferred to, I'm quite certain, the Hanau Army Base. There should be some record of the 507th in their records.
Have been doing a good deal of research on Frankfurt, Griesheim, the Hauptbahnhof in Frankfurt am Main and even Stars and Stripes but so far nothing of importance or of immediate help to my info on the 507th.
That's all I remember now but I'm sure more things will come to mind as I think about those long ago days.
---
Pioneer Kaserne, Hanau
(Source: Email from Dave Gettman, son of CWO-2 Henry Gettman, 507th Ord Co, 1955-56)
My dad, then CWO-2 Henry Gettman, was assigned to the 507th Ord Co (HAM) from May 1955 to July 1956, as Automotive Maintenance & Repair Officer/Asst Service Section Leader, when his previous unit, the 2nd Armored Cavalry Regiment, where he was Battalion Motors Officer with HHC, 1st Bn, returned to the U.S. under Operation Gyroscope.
---
1956
(Source Email from Thomas Smith)
I joined the 507th Ord. Co. (HAM) in January, 1956 and rotated back to the USA in August, 1957.

At that time the company was located in the Pioneer Kaserne near Hanau. A short time later, we were moved to a small Kaserne, southeast of Hanau, near Gross-Auheim. The Wolfgang Gasthaus was across the street front of the main gate.

We were housed in a new red brick barracks. The 507th was on the upper floor and the 33rd Ord. Co. (R & C) was housed on the first floor. The 8th Ord. Bn. Hq. was located across the street in front of the barracks.

We set up our shops in an old "steam engine repair shop". To the north of us was a Quartermaster warehouse. In July, 1957, it burned down.

My CO was Capt. Pittoccia (sp?) and the XO was Lt. Ferderer.

Prior to that, I had been with another unit that my job was mostly TDY assignments. They were from the German/France border, east to Berlin and from Koln to Bad Tolz in the south.

Being stationed there, I was able (with car) to travel throughout Europe. My thoughts were that I would never, ever return to Europe. Never was I so wrong. I have since made six return trips, yet never back to the Hanau area.

I would love to send you photographs but the box that I shipped back to the States with all my "junk" did not make it. It's been about fifty three (53) years so I must give up hope. Ha Ha.
---
1967
(Source: Email from John Richard Brewer)
I was in 507th HEM Co in 8th Maint Bn, 1967 to 1968; Lt John Brewer, OrdC. My first commanding officer was Vince Sweat.

When I made Captain in 1968 I was transferred to 2nd Spt Bde in Hanau, which became V COSCOM in Frankfurt. I was working at the IG Farben Building for my last year there before leaving the Army in December 1969. The elevators in the IG Farben Building are something to especially remember.

The company's work area was at Grossauheim Kaserne. As I recall, the enlisted billets were also at Grossauheim Kaserne. That Kaserne had originally been (I believe) a railroad overhaul facility. The repair operation for the military (a 4th echelon General Support repair for large vehicles like tanks, engineer equipment, trucks, etc) was inside the factory (which would have held a locomotive easily) and the old administrative offices had become partially barracks and partly other things (like the small arms repair platoon.) When I was there I think it included repair of artillery computers - which were as I now know, amazingly primitive. The TI handheld computers were still a decade in the future.

I also do not remember much about the other two GS companies at the Kaserne. One may have been canvas and leather repair.

The 507th provided General Support to units like the 14th Armored Cavalry Squadron located in Fulda to defend the Fulda Gap.

2nd Support Brigade HQ was located in Hanau, as were the officers quarters. Officer promotions at that time were one year as 2nd Lt to 1st and then one year as 1st Lt to Captain. Captain was obviously the second year attendance bar.

I was out of ROTC, so I originally had a two year commitment. But the Army had pulled 90% of the experienced Officers and NCO's out and sent them to Nam. When I completed Maintenance Officer school, they offered five of us 18 months in Europe before going to Nam, but we had to extend to a three year tour with no guaranteed discharge at the end (Voluntary Indefinite.) I'm still glad I took the deal. I really enjoyed Europe and Germany.

Resurrecting memories from half a century ago is a bit of a trip. Some are clear and some almost nonexistent. Some of the latter become more clear as I write them.

My son had been born in January of 1967 at Aberdeen Proving Grounds and I got to know him. The Army in it's wisdom left me in Germany until December 1969 and then discharged me at the end of 36 months.

ADDITIONAL INFORMATION
Most of the work area was in a single large building which always appeared to me to have been a locomotive overhaul building. It had a large work area on the north side, and a smaller work area on the south. Tanks and such were worked on in the large area, and my platoon did rebuild of parts and M151's on the South side. The mess hall was also incorporated in that building on the south side. Step outside on the south side, turn east, and cross the road from the main gate, and there were what had originally been admin buildings. The U.S. put the enlisted people in some of the rooms and also Bn Hq operated over there.

The 507th was authorized about 300 men, with (guessing now) about 16 officers, half warrants. When I showed up Vince Sweat was the only commissioned officer left, and I'll never forget what he said when he saw me. "Thank God! A second lieutenant." (Not something a very green second lieutenant hears very often.) May of '67 I think.

They had put me, my wife, and my four month old son in quarters at Fliegerhorst Kaserne, a WW II grass strip airfield just north of Hanau. I had always guessed the Wermacht flew fighters from there to go after bombers.

I was quickly assigned to give PT every morning at 6:00 AM to the company - and when I started doing that I was stage shy. After six months I was so used to standing in front of large groups that since then public speaking has been one of my strong points. <grin>

OH, and I said the 507th provided GS support to the 14th ACR in Fulda. When I went there they were still talking about when Elvis Presley had been a tank driver there six years earlier.

---
1969
(Source: STARS & STRIPES, June 28, 1969)
The 507th Heavy Equipment Maintenance Co, Hanau, supports V Corps artillery units by repairing and rebuilding their tracked vehicles. CO of this 8th Maint Bn unit is Capt Gilbert J. Ferguson.

---
881st Ordnance Company (GAS) / 881st LEM Co
1967
(Source: Email from Doug Mitchell)
I served in the 881st LEM CO Hanau 1967-1969.

The 8th comprised of the following
-- 881st LEM (lite equipment maintenance) we repaired the following canvas,gas mask,power generators,welding,metal-working and electronics repair. Also in the 8th
-- 88TH HEM (HEAVY EQUIPMENT MAINTENANCE)
-- 507th HEM
-- 543th HEM
And the 296th CCS (COLLECTION CLASSIFICATION AND SALVAGE)

The 8th was part of the 2nd Support BDG -- shortly before I rotated back to the states Nov/69 the 8th became part of 5th Corps.

DOUG MITCHELL SP/5 44E20 Machinist
---
(Source : STARS & STRIPES, Sept 14, 1968)
The 881st Light Equipment Maintenance Company, a subordinate unit of the 8th Maint Bn, provides general support maintenance (third and fourth echelon) and provides overflow backup support by performing direct support maintenance which is beyond the capacity of Seventh Army divisional or non-divisional direct support maintenance battalions.

Light equipment that can be repaired by the company includes radios, special electronic devices, wire, quartermaster items, chemical equipment, engineer technical equipment and instruments.

One of the special pieces of equipment that the unit uses (there are only three of its kind in USAREUR) is the M-14 Leakage Tester. This machine can find any small leak that might cause a protective mask to be defective.

In January 1968, the 881st was one of the first units in USAREUR to implement a new IBM punch-card system designed to keep track of all phases of maintenance handled in the company's various shops.
---
1971
(Source: Email from Roger D. Hammers)
I served with the 881st Maintenance (L.E.M.) Co., 8th Maintenance Bn., V COSCOM, V Corps... from 2/1971 to 7/1974.

When I first arrived... the 881st was billeted at Hessen-Homburg Kaserne in Hanau... until we moved to Grossauheim Kaserne in Sept., 1972.

I just want to let you know how much I appreciate the existence of your website... it tells the story that not too many people know about or care about in this day and age (or back then for that matter).

The aerial photos of Hanau and the various Kasernes are a kick to see... and I treasure them... (although if you had asked me in 1974 if I ever wanted to see them again... my answer would have been quite different!)

Please know that you are doing many, many former GI's a great service... and I offer you my heartfelt THANKS for a job well-done!

---
Related Links:
18th Corps Support Battalion (former 8th Maint Bn) - official web site