If you do NOT see the Table of Contents frame to the left of this page, then
Click here to open 'USArmyGermany' frameset
| | | |
| --- | --- | --- |
| | PASSAU MOTOR POOL | REGENSBURG AIRFIELD |
| | | |
| | | |
| | | |
| | REGENSBURG ARMY HOSP | |
For additions, corrections, or suggestions please contact the webmaster
---
| | |
| --- | --- |
| MAPS | |
Installation Maps
Looking for installation maps and information on US Army kasernes in and around Regensburg, Landshut, Passau, Deggendorf, Straubing. If you have any, please contact the webmaster.
---
1954

Topographical maps (AMS Series M841 - Sheets 6938 & , 7038 / 1:25 000) of Regensburg and surrounding area.




---
1960s

Topographical maps of Regensburg and surrounding area.

Legend:
1. Fort Skelly
2. Raffler Kaserne
3. Leopold Kaserne and Pioneer Kaserne
4. (US kaserne?)

Need help in identifying/verifying the location of the various US Army kasernes in Regensburg - please contact me if you know where the facilities were located.

Click on the thumbnail to view a larger format of the same map.

NOTES:
Georg Bauer, Germany, reports that Pioneer Kaserne was located on Landshuterstrasse, and that Picture #13 does show part of the Housing Area


Don Henderson, stationed there from 1960 to 62 with the 508th MP Bn, provided the following input:
#1 on map is Leopold Kaserne (mostly German Troops)
#2 Ft Skelly (all US Troops)
#3 Raffler Kaserne (German troops and 508th motor pool)
#4 Pioneer Kaserne - PX, EM Club, Officers Club and BOQ.

Ft Skelly was located just off of Landshuterstrasse.

Michael Ehrenreich, Germany, provides some more details:
here you get adresses of Regensburg Casernes, taken from Bundeswehr adress list, January 1989:

RAFFLER Kaserne: Bajuwarenstrasse 2 (= northward)
PRINZ LEOPOLD Kaserne: Zeissstrasse 4 (seems it was collocated with PIONIER
Ksn., Daimlerstrasse)
BAJUWAREN Kaserne: Bajuwarenstrasse 1 (=southward)
NIBELUNGEN Kaserne: Carl-Maria-von-Weber-Strasse 5

so on your topo map 50.000 -- Prinz Leopold can be identified as Nr. 3, Nibelungen as Nr. 1, and Bajuwaren Nr. 2.
Nr. 4 are the oldest kasernes, so called
INFANTERIE Kaserne (built around 1890/1900) - northward
KAVALLERIE Kaserne (completed 1915) - southward
Additional information (in German): Wikipedia article

---
PHOTOS
Click on thumbnail to view larger image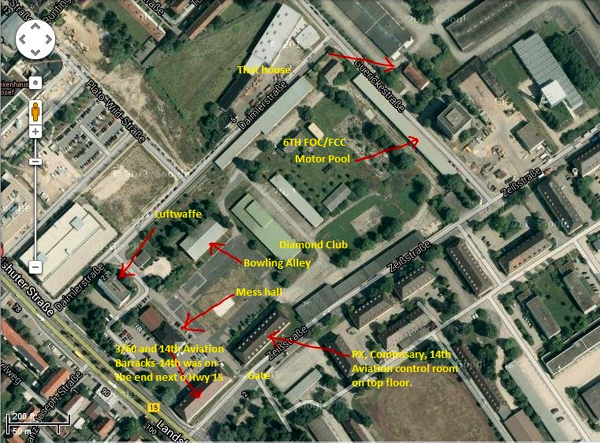 Layout of Pioneer Kaserne, Regensburg, 1960s/70s (GOOGLE Maps)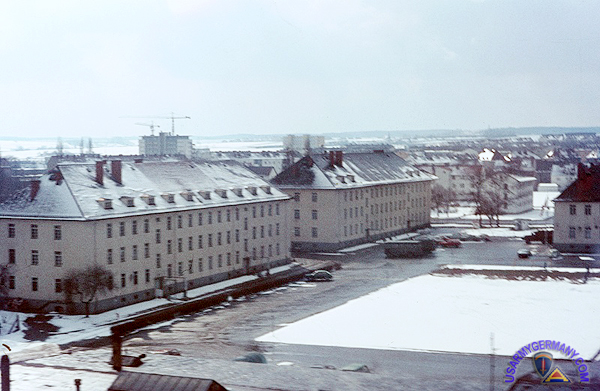 Aerial view of Pioneer Kaserne, Regensburg, early 1970s
| | | | |
| --- | --- | --- | --- |
| 1. Pioneer Kaserne, Bowling alley | 2. Pioneer Kaserne, Service club (a) | 3. Pioneer Kaserne, Diamond Club (a) | 4. Pioneer Kaserne, POL filling station |
| 5. Pioneer Kaserne, Motor pool | 6. Pioneer Kaserne, Motor pool | 7. Pioneer Kaserne, former Motor pool, 2006 | 8. Pioneer Kaserne, Local national performs maintenance on a playground (b) |
| | | |
| --- | --- | --- |
| 9. Main gate - entrance to US part of Pioneer Ksn | | |
| | | | |
| --- | --- | --- | --- |
| 10. Service club and gym | 11. | 12. | |
| 13. Main gate secured | 14. Maintenance shops | 15. Kaserne layout | |
| 16. Pioneer Ksn | 17. Pioneer Kaserne main gate | 18. | 19. |
| 20. | 21. | 22. | 23. |
| 24. | 25. | 26. Markings still in English on maintenance doors | |
| | | | |
| | | | |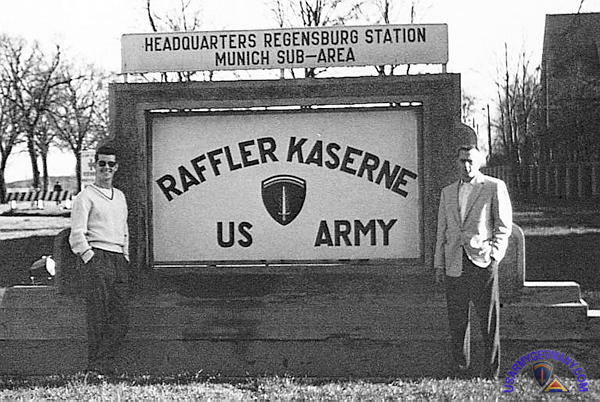 Sign in front of main gate, Raffler Kaserne, 1957 (Jim Westwick, on right)
| | | | |
| --- | --- | --- | --- |
| 1. Fort Skelly?, late 1950s | 2. Main gate area | 3. | 4. Rocker Club |
| 5. Motor pools | 6. Motor park | 7. Fort Skelly | 8. Mess hall |
| | | | |
| | | | |
| --- | --- | --- | --- |
| 9. Looking towards HQs Bldg | 10. Motor pools | 11. Motor pools | |
| 12. Exact location unknown | 13. Exact loaction unknown | | |
| | | | |
| | | | |
| | | | |
| --- | --- | --- | --- |
| 1. RATT Rig near Leopold Kaserne main gate | 2. Leopold Kaserne | 3. Across the street from Leopold Ksn | 4. Barracks bldg |
| 5. APO 205 in background | 6. Shop area | 7. Shop area | 8. Shop area |
| 9. Post chapel | | | |
| | | | |
| | | | |

St. Emmeram Palace, Regensburg, served as Headquarters for Third US Army
(only briefly) and then XII Corps during the early Occupation period (BING)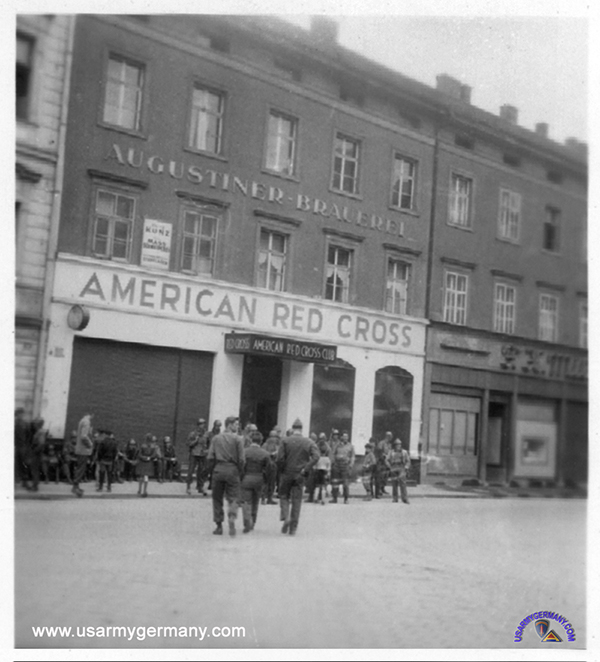 American Red Cross club in downtown Regensburg, 1945 (Webmaster's collection)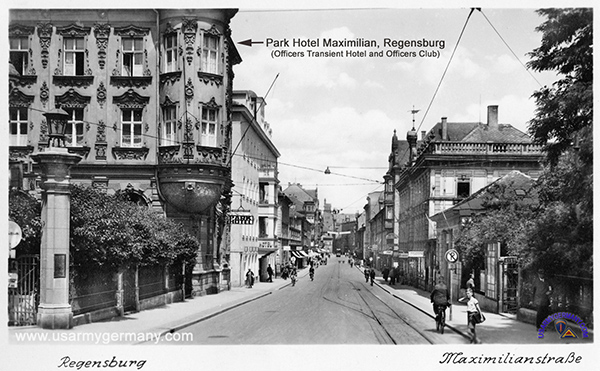 Officers Transient Hotel and Officers Club, Regensburg, early 1950s
| | | | |
| --- | --- | --- | --- |
| 1. Tower, Straubing Army Air Base, 1946 | 2. Straubing Army Air Base Main Gate, 1946 | 3. Barracks on Straubing Army Air Base, 1946 | 4. 396th Fighter Squadron Barracks, Straubing, 1946 |
| 5. Officers Mess, Straubing Army Air Base, 1946 | 6. EM Mess, Straubing Army Air Base, 1946 | 7. Straubing American Red Cross Club, 1946 | 8. Mansfield Ksn Main Gate, 1953 |
| 9. Guard House next to Main Gate, 1953 | 10. Mansfield Ksn Officers Club, 1953 | 11. Post Chapel, 1953 | 12. Bachelor Officers Quarters, 1953 |
| 13. Dependent Quarters, 1953 | 14. Main street on post, 1953 | 15. Service Club, 1953 | 16. Headquarters Building, 1953 |
| 17. Hq Co, 1st Bn Building, 1953 | 18. Co A and B Barracks, 1953 | 19. Aviation Section Hangar, 1953 | 20. Regimental aviation, 1953 |
| | | | |
| | | | |
| --- | --- | --- | --- |
| 21. View from Trp C tunnel | 22. | | |
| 23. | 24. QM area | 25. Static display area | 26. |
| 27. AN/USD-1 drone | 28. Airmobile demonstration | 29. Airmobile demonstration | 30. Static display |
| | | | |
| | | | |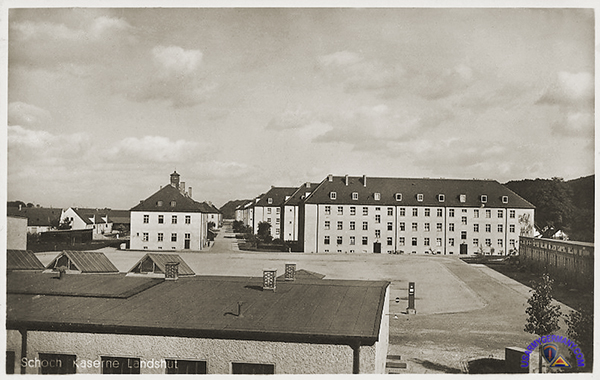 Schoch Kaserne, Landshut, pre-WWII (German postcard)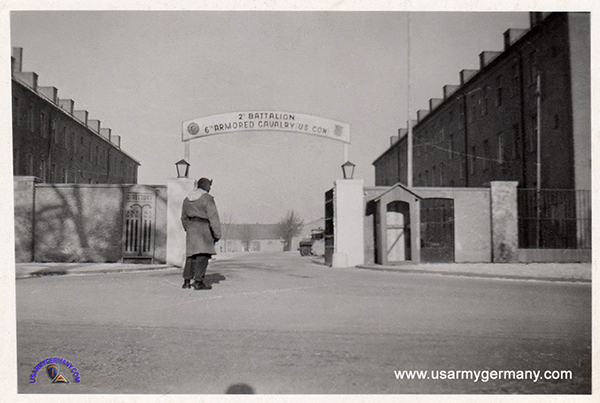 Main gate, Pinder Kaserne, Landshut, 1950 (Webmaster's collection)
| | | | |
| --- | --- | --- | --- |
| 1. Building with the small clock tower was the mess hall | 2. 7th FA Battalion billets | 3. Motor pool | 4. 7th FA Svc Btry formation |
| 5. Sub-post vehicles | 6. Construction Engineers | 7. Red Cross Club | |
| 8. Directional signs, 1953 | | | |
| | | | |
| | | | |
| | | | |
| --- | --- | --- | --- |
| | | | |
| | | | |
| A. Donau Kaserne | | | |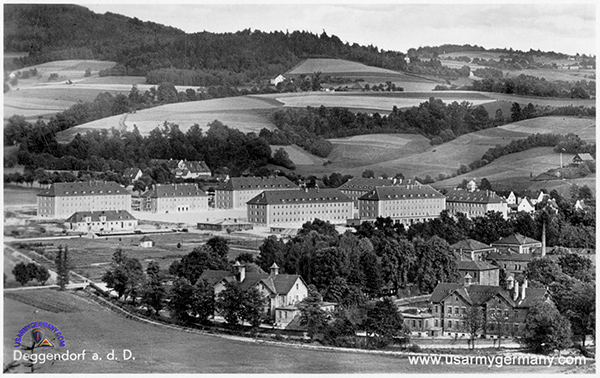 Fort May (Panzerjäger Kaserne), Deggendorf, pre-WWII (German postcard)

(home to various US Constabulary units until 1950/51)
---
Regensburg Military Post - Histories, Misc. Information
Research Request
1. Aerial & ground photos of kasernes & housing areas
Requester: Webmaster
Subject: Looking for period photos of the US Army installations (including dependent housing areas, schools, shopping centers, service (gas) stations & miscellaneous storage or maintenance facilities used by EES/AAFES, Quartermaster, Ordnance, Signal and Transportation units/activities) in and around Regensburg, Landshut, Straubing, Deggendorf and Passau from 1945 to 1980s.
Contact: webmaster
2. Installation Maps
Requester: Webmaster
Subject: Need installation maps for the following kasernes and housing areas: Regensburg, Landshut, Straubing, Deggendorf, Passau.
Contact: webmaster
| | | |
| --- | --- | --- |
| | | |
| Your request for the layout of Bajuwaren (Raffler) Kaserne is best that I can remember of how far Raffler went to the south. The MP's and Air Force were located in that area. We didn't get along with them that well, so we stayed to our side of the Kaserne. The Consolidated Mess and Post Office was as about as far as we wandered into that area. | These following pictures are from my friend, Ed Bauer, taken in the winter of 2007. He is too young to remember much about Raffler and Pioneer before everything changed. For awhile he thought that Pioneer was Raffler until I described where it was located. So be did some checking around and finally got it straightened out. | |
CORRECTIONS & ADDITIONS:
REGENSBURG KASERNES Section
(Source: Email from Bill Miller, Pioneer Kaserne, Regensburg, 1964-Jan 1966)
(a)
Photo 8 & 9
show different angles of the Diamond Club. Pioneer Kaserne did not have gym facilities, we had to use the German's Leopold Kaserne across the street if we wanted to use gym facilities. Larry Swaboda, brother of the LA Angels' baseball player, Ron Swaboda, used the facilities frequently with a few of the other men in my unit. Most preferred to exercise in the Diamond Club.
(b)
Photo 13
The building on the left housed USAR Personnel, BOQ, administrative offices, and the PX. The building on the right housed the Seventh Army unit of Battery A, 6th Missile Battalion, 61st Artillery from 1964 until they pulled out, whenever that was. The photo is taken with the bowling alley behind the photographer and shows the main gate on Daimlerstrasse. The Army family housing is not in the photo but would be accessed by turning right as you left the Kaserne and one block west across Landshuterstrasse.
Missing from the photos is the building that housed the Mess Hall and Army/Air Force motion picture theater (formerly the Officer's Club.)
Comment about the helicopters at Fort Skelly. The 11th Cavalry would bring in their helicopters before they went on maneuvers and leave them idle for four to six hours before they moved out. Unfortunately their tanks would also sit around idling for the same time... the weary did not get any sleep.

PIONEER KASERNE Comments
(Source: Mason Frichette, Pioneer Ksn, Oct 1968-July 1970)
I happened across your site concerning Regensburg Installations (US installations in Germany). Under Corrections and Additions (b) it states that "The building on the right housed the Seventh Army unit of Battery A, 6th Missile Battalion, 61st Artillery from 1964 until they pulled out, whenever that was."

I was stationed in Regensburg from October 1968 until July 1970 with B Battery, 6th Missile Battalion, 60th Artillery. It was definitely "B" and 60th, not A and 61st. I think A Battery was in Amberg; other 6/60 batteries were in Hohenfels and Grafenwöhr.

Concerning B/6/60. I'm not saying it wasn't A Battery before I got there, only that during the time I was in.

(Source: Email from Clarence Leist)


6th FOC/FCC motor pool
My wife and I were in Regensburg in September. I have a picture of the 6th FOC/FCC B-3/60 Barracks the gate and the building which contained the PX; the fishing license office; commissary; school; and the 14th Aviation control room and day room. The building with the heart on the fence was the local den inequity.

I also have a picture of the 14th Aviation motor pool under weeds if you want to post it. I used to back a deuce and a half in there with about an inch to spare on each mirror. This particular building was in the back of Pioneer Kaserne.

We'd sit on the wall at the far end and shoot pop bottle rockets at the hookers working the street in front of their place of business. The was the grey building with the wrought iron pink heart I sent.

See also Clarence's comments on his assignment to the 14th ATC at Regensburg and his tour with "C" Battery, 2/57th ADA at Hohenfels.
| | | | |
| --- | --- | --- | --- |
| 4. Commissary building | 5. Connors | 6. Deuce-and-a-half | 7. Fuel truck |
| 8. View from motor pool | 9. Vistor returns to Schw. Hall | | |
---
(Source: Email from Gerald E. Ross )
I was the "garrison commander" at USAG Regensburg Garrison from mid-1964 until I ended my 2 years active duty in May 1965.

Re: Photo 13 in the Regensburg photo section above, the playground being built by local workers was my initiative. The 11th Armored Cav. had rotated back to Ft. Meade to prepare for deployment in VietNam. I was originally an artillery officer assigned to How Btry in the 11th AC, but because I had less than 12 months service left, regulations provided that I should not be transferred; thus the exalted title of Garrison Commander. Anyway, my task was to keep up as many services as possible for the 200 or so troops left in Regensburg after the 11th AC left and supervise preparation of the buildings at Ft. Skelly and Raffler Kaserne for return to the German government, including the anti-aircraft company that occupied the building on the right in the rear of the picture.

We had a problem with the small garrison. We had about 25 or so children in grades 1-6 and the parents did not like the idea of busing them to the nearest dependent school, which I believe was in Hohenfels, a good two hour ride on a bus each way. I convinced the Army school officials to let me build two classrooms for grades 1-3 and 4-6 in the building on the left, which also served as my HQ. We had about a dozen NCO's, all experienced men, and at least 200 civilian employees so had no problem with doing the work necessary to prepare a school. Anyway, we built the school, including the playground you see.

We had to coordinate helicopter landings with school play times because the same spot served both functions!I Also installed a movie theater in the old officers club and made the Diamond Club a combined Officer/NCO/EM club. I was able to keep the bowling alley open by forming a league with the neighboring Bundeswehr 4th PanzerGrenadier Division.

I had quite a year and learned a great deal about dealing with the Army bureaucracy to get what my people needed and wanted. Then I left the Army for law school and have been practicing law in New York City since 1967. I would love to hear from anyone who was in Regensburg during those days. I returned there on a family trip last summer and found that Pioneer Kaserne is now some sort of military hospital for the German Army. Otherwise it looked much the same as it did in 1964. The building on the left had been the BOQ when the 11th AC was there, with a closed of hallway on the ground floor for women. We made the women's quarters my NCO quarters for single NCO's and got them QM furniture, which was much appreciated. We also had the school, a tiny PX, my office and I am not quite sure what else, probably a couple floors of empty rooms.

The NCO's who were assigned to the garrison when I was the "commander" whom I remember were:


MSG Pete Kempenich


SSGT Walter (?) Klein - Sgt Klein had married a local lady and I believe planned to retire in Regensburg


SSGT Dickerson - SGT Dickerson also married a local lady.


SGT Tyler


SGT Natashay or Natashon - he ran the motor pool


SGT Cox


SGT Clifford Byce

Capt. Tom Seale was the CO of the anti-aircraft battery. I was also able to recruit an Air Force radar unit to use our facilities so we had a few more soldiers to take care of. Capt. Tim Kreig was an intelligence officer assigned to Regensburg in 1964. I have no idea what he actually did. I am probably wrong on the precise ranks and I may have forgotten. These were all experienced men and just did their jobs with no fuss and always made me look like I knew what I was doing.

We also had a full clerical staff of civilian employees, all of whom had been hired by the Army right after the war. They were superb. One of them, whose name I have forgotten (I think Vera, but don't hold me to it) actually witnessed the SS hang the local bishop and mayor when they wanted to surrender the city to the Americans in April 1945. She also had a tragic experience – she was raped by a GI and had a child. Our librarian was a Czech refugee from the Soviets. Her family had been wiped out and she walked west for at least a year until she was picked up by a US Unit and wound up in Regensburg. Our civilian motor pool supervisor was a Jehovah's Witness who had survived one of the concentration camps and was rescued by the US Army. Many of our civilian employees had stories like that – they were an amazing testament to the human capacity to survive terrible tragedy and trauma.

One of our "fun" projects was building soccer fields in the surrounding villages. As is often the case, the administrative apparatus was about two steps behind the tactical units, so we had enough people to support the 3rd Squadron, 11th AC and just the missile battery and radar unit so we had people, equipment and time. Thus the "fussball" field effort. A local burgomeister would call us and we would dispatch a road grader, bulldozer etc and create a soccer field. We enjoyed lots of chicken dinners at village festivals as a result and the Army got lots of good PR.

My commanding officer was Lt Col Fred Vinson, and his XO was a Major Krug, at Mansfield Kaserne in Straubing. Basically, as long as I kept him out of trouble he left me alone. One of our better projects was dealing with about 50 wrecked personal cars left behind by the 11th AC troops when the left for the US. The Army Regs spelled out a convoluted process to find and notify the owners, which would have taken months. The vehicles had been stripped of anything valuable and were just junk. Col Vinson was bugging me to get rid of them. My NCO's and I made a deal with the local junkyard to take the cars, make them disappear within a day, in return for about 50 cases of beer. We were clear that no money was to change hands. The mission was accomplished in the early hours one Saturday morning.The colonel called me a couple days later and the conversation went like this:
"Ross, what have you done about the cars"
"Col. what cars?"
"Ross – those cars on xx strasse left behind by the troops")
"Col. what cars?" etc. etcc.
"Ross dammit, I am asking you a question"
"Col., listen carefully sir, I just inspected that road and didn't see any cars."
"Oh – thank you Lieutenant -- dismissed."



I guess any statute of limitations has long since passed, so that story can now be told.

ADDITIONAL INFORMATION:
I was reading Mr. Biscan's message and recall a few details differently.

We were still using Raffler Kaserne in 1964 and I am reminded that the dependent school was there until the 11th A/C left Germany. It was that closing that led to my project to build a school for the little children. It is possible that it had been divided in two and shared with the Bundeswehr, but I just don't remember. He is correct about the return of Ft. Skelly in 1965, right about the time I left the Army. I wonder if the German Gov't repaired the bomb damage to the roof of the HQ building (One of the 1953 photographs shows the HQ building and you will notice that half the roof does not match the other half – part had been damaged in a raid and the bifurcated roof was a "quick and dirty" repair.

One rather touching Ft. Skelly story: The entire 11th A/C Regiment was out on winter maneuvers in November 1963, about two months after I arrived. We returned to base on November 22, 1963 (I was stuck in a little village of Vilshofen with a damaged personnel carrier, waiting for a wrecker and mechanic to get us up and running again). When we got back to town we of course learned that President Kennedy had been assassinated.

The next morning, all of the tanks were lined up in front of the Ft. Skelly HQ and the troops were formed up on the parade ground in full dress uniforms. A message from the secretary of defense was read and then a 21 gun salute was fired. Apparently this has been done every time a president dies in office. There was a massive outpouring of sympathy from everyone it seemed in Germany.





I just read your e-mail. I did see those photos. I could not recognize Pioneer from the web site, but the images you just sent are much clearer and I think I spotted Pioneer Kaserne on the center left. There is a wooden tower about four stories high which was built for drying fire hoses. I can see it in the picture and it was still standing last year.

Ft. Skelly looked just like it always did but I can't see the damaged roof, which is why I asked whether the German gov't had fixed it properly. My guess is they did at some point. The HQ building is along the short side on the lower right, the barracks are lined up on the right hand side of the parade ground and the motor pools were along the left. The land there is elevated above the parade ground but that is hard to see in the picture. My predecessor, plus the MP's were at the opposite end of the parade ground from the HQ in the little building that shows in the photo. Behind all that was family housing and an ammo dump.

---
HISTORIES & MISC. INFORMATION
HISTORY OF THE REGENSBURG INSTALLATIONS

Source: Email from Egolf Biscan, webmaster of Luftfahrtgeschichte Regensburg (translated by Walter Elkins).
As far as I know, the Leopold Kaserne was the first to be returned to the German government (in the 1950s, for use by the newly formed Bundeswehr). I lived in the area and used to play in the Leopold Kaserne gym as a young boy. (Egolf's father worked for the US Army as a local national civilian.)

The Raffler Kaserne was returned to the Germans around 1959. The American Dependents School that was located there continued to be operated by the Americans for several years afterwards. In 1970, the Raffler Kaserne was divided into two separate sections by constructing a road right through it. The western section continued to be known as Raffler Kaserne. The much larger eastern section became the Bajuwaren Kaserne (as it is known still today).

I believe Fort Skelly was returned to the Germans around 1965 and renamed as Nibelungen Kaserne. I am not quite sure about the date.

The Pioneer Kaserne continued to be used by the Americans for quite some time. I believe that the last unit was moved to Hohenfels about 5 ro 6 years ago.

Besides the kasernes, there was also an army airfield behind the Raffler Kaerne that he visited frequently. He also remembers seeing L-19's, as well as helicopters, land at Fort Skelly. His greatest memories are of the annual July 4th fire works at Fort Skelly.
INFORMATION REQUEST

As part of his research on the early post-WWII days of civilian aviation in the Regensburg area, Mr. Biscan is looking for information on Capt. Joseph S. Wolfinger who served as commander of the Regensburg Army Airfield (Messerschmittflugplatz) in the 1953 timeframe. Capt Wolfinger is credited with having played an important role in helping the Germans in the formation of the Regensburg Light Air Sporting Club (a glider organization). He originally gave the local population permission to use the airfield for their model airplane club and later for glider flights. For more information, click here.

If you have information on Capt Wolfinger or the early days of Army Aviation in the Regensburg area, please contact Mr. Egolf Biscan or myself.
---
(Source: Christmas Menu 1955, issued by the Raffler Kaserne Consolidated Mess, via William Beumer)
Units (stationed at Raffler Ksn) listed on the Christmas Menu 1955:
Headquarters & Headquarters Company, 237th Engineer Battalion (Combat)
Company "B", 237th Engineer Battalion (Combat)
Detachment 2, 616th Aircraft Control & Warning Squadron
26th Station Hospital
7822nd Army Unit (Regensburg)
1st Platoon, Company "C", 793rd Military Police Battalion
547th Army Postal Unit
---
250th STATION HOSPITAL
(Source: Photo - Author's private collection; Information: European Medical Support Archives, USAREUR Military History Office website)
1945
The 250th Sta Hosp arrived at Le Havre, France, on May 20, 1945 and was moved to Regensburg on June 14 1945 where it was ordered to set up operations as part of the Third Army in Germany.

In Regensburg, the 250th took over two modern hospital plants known as the Männerkrankenhaus and the Frauenkrankenhaus in the Prüfeninger Strasse. Both had been constructed in the late 1920s and were operated by the Catholic "Order of the Barmherziger Brüder." During WWII, the hospitals were taken over by the German Army and operated as surgical hospitals.

Both plants had remained undamaged during the war and were requisitioned by the US Army. The Frauenkrankenhasu was returned to the Germans in late 1945 or 1946. (Webmaster note: The Männerkrankenhaus remianed in the hands of the Army and served as the Regensburg Army hospital well into the 1950s.

Originally, the 250th Sta Hosp operated a 750-bed station hospital (only for the first year), but the size of the hospital was reduced over time to a 150-bed facility. To conserve manpower, all of the medical units stationed in the city of Regensburg were moved into the hospital. (This report was dated November 1947.)
---
1950
(Source: STARS & STRIPES, Dec 10, 1950)
The 26th Station Hospital was recently activated to provide medical care for US personnel in the Regensburg, Straubing and Passau areas. The new hospital is located in the same facility as the former 10th Field Hospital which it replaces (inactivated). The former commander of the 10th is now the commander of the 26th Sta Hosp.

Operating personnel will consist of 13 officers and 42 EM.

The hospital will operate a 75-bed facility plus two dispensaries, one - located at the hospital - will serve for dependent care, the other one will be located at Raffler Kaserne (and serve as a troop clinic?).
---
LANDSHUT INSTALLATION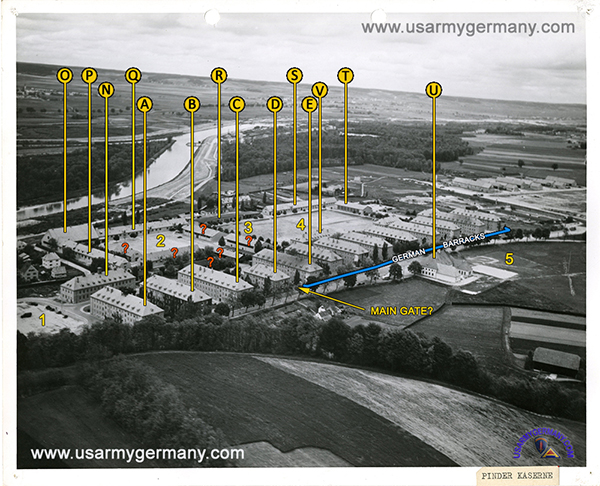 1958
(Source: Email from Gary Magruder)
I was a US Army dependent living in Landshut July 1958 - Sept 1962.

I can tell you that the small building labelled with the 2nd question mark from the right was a coal storage hut. The coal serviced a physical plant operation that was located in the several-story deep sub-basement of the building labelled "E". From 1958-1962, the US Army Military Police unit was located at the Main Gate end of that building. The US Army Post Office was located at the other end of the building on the 1st floor (my father, Capt. James C. Magruder (AG Corps) was the Postmaster while stationed there).

The Physical Plant (heating and power production) was operated by German civilians. Daredevil dependents like myself would challenge our courage by sneaking into the coal storage building, climb down the coal piles to the point where small coal cars on a small set of tracks were located to transfer coal beneath the street above and into the furnace/powerplant area under Building "E".

There's an identical coal storage building in the picture at the far end of the parade field just to the right of building "T". In my time, just beyond that building was the fenced boundary of the German military base. The "T" building shown was no longer there in 1958, replacd by a fairly good sized movie theatre.

Oh, the "U" building was mostly used as the Officer's Club, while the closest wing of the building served as the post chapel, as well as occasional playhouse for amateur theatre productions.

I never considered the (kaserne) setup as a "shared" facility. They (the German Army) had their own guarded entry gate further to the east of the US main gate. As I recall their gate on Niedermayer Strasse (though the road passing by the main gates in those days was called Schonbrunn Strasse) was maybe 300 yards from the US gate.

To the left of the German gate they had at least one of the barracks buildings in the photo, and behind that was a concrete wall separating the two camps. At the far end of that building the boundary became a standard 8' wire fence that ran east aways until aligned with the east side of that second coal storage building I mentioned in the photo, and then went left (or north, I guess) along side the coal building, the future theater's parking lot and theater.

Beyond the theater was an East-West road that Pinder Kaserne's 11th Armored Cav vehicles (tanks, personnel carriers, trucks, jeeps) would use to get to their motor pool. We kids were confused about whether the US troops were entering the German camp (or a "shared camp) or maybe they just made a left turn soon after passing the theatre building and stayed on Pinder Kaserne property. (The Isar River was probably only 200-300 yards to the left past the back of the theatre.)

To this day, I (and my friends) wondered why the coal storage building was on the American side of the fence (?). It definitely solely served the German facility, because it too had an underground coal transport "train" that went south under the boundary fence toward a German army's building with its own basement power/heating plant. It took ALOT of nerve for us American kids to sneak very far down THAT track !!!

---
PASSAU INSTALLATION
1948
(Source: STARS & STRIPES, Feb 8, 1948)
The 1190th Labor Supervision Co, commanded by Capt Robert Iman, is located at Passau.
---
1952
(Source: STARS & STRIPES, Feb 24, 1952)
Two peices of commercial property have been derequisitioned and returned to German ownership.

The first was a hotel (unnamed in the article) that was formerly used by the International Refugee Organization.

The other property was a former Army motor pool which was adjacent to the Wentan Industries manufacturing plant. (The release of this property will allow Wentan Industries to expand by hiring an additonal 250 employees.)

Can anyone provide details on the motor pool mentioned in this article?
---
(Source: STARS & STRIPES, Sept 14, 1952)
The Passauer Wolf Hotel in Passau was returned to its German owners during a recent formal derequisitioning ceremony held in that city. Lt Col Frederick C. Skillman, Jr., CO of the Straubing Subpost presided over the ceremony.

Who has information on the Passauer Wolf hotel and what it was used for by the US Army during the Occupation period?
---
1954
(Source: STARS & STRIPES, May 2, 1954)
The VII Corps CG, Maj Gen Henry I. Hodes, recently visited the Passau Detachment of Company B, 485th Engr Cbt Bn.

(Webmaster note: according to a Feb 1955 article in the S&S, the unit was still in Passau in 1955 but now part of Co B, 237th Engr Cbt Bn.)

Who knows where in Passau the Detachment was located?
---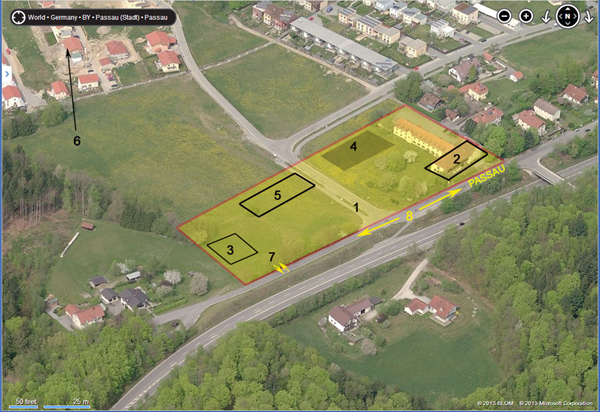 Approximate layout of former Passau-Kohlbruck Airstrip (BING) (annotations)
1956
(Source: Email from Bill Beumer, Passau Det, Co B, 237th Engr Bn)
It's been awhile since I last looked at the 237th Engr Bn. page on the site. See where someone wanted to know the location of B Co's Detachment in Passau. Went to Google Earth and got a picture. It was located west of town. Have drawn an outline where it was located and how in was laid out in the 1956-57 time frame. As best as I can remember. Has been 57 years and a lot of water under the bridge since than. Still a few familiar landmarks so made it easier to location.

I believe it had been some sort of small German Airfield during WW2. When we were in town and would get a Taxi to go back to camp we would tell the driver to take us to the Flugplatz. They all knew where we wanted to go. Wish I had been more interested in the history of the base.

Hope this will be of some help....Regards....Sp3 Bill Beumer formerly of 237th Engr,Bn.(C) B Co. HQ platoon, Passau, Germany

Webmaster note: The Flugplatz (airfield) was established in the early 1930s at Kohlbruck, for use by small motorized aircraft and gliders. I have found no records on the use of the airtsrip during WWII.

The webmaster assumes that the airstrip was used by the US Army soon after the war as troops occupied Passau.

In 1950, a German flying club (gliders) was formed in Passau and - it is assumed - the club was given permission to use the airfield.

In 1956, a new airfield - adjacent to the old airfield - was constructed for use by the Germans.

At some point, the original airfield was returned to the local government and torn down. Apparently, the new airfield was also soon torn down (early 1960s) to make way for construction of a new German kaserne.

---
Related Links:
Pioneer Kaserne (Regensburg) Facebook Page


368th Fighter Group Tribute (includes information and images from their stay at Straubing Army Air Base in 1945/46)
Mansfield Kaserne, 11th ACR Photo Album, 1959-62
11th Armored Cavalry Regiment, Page 1 - Straubing, Landshut and Regensburg from 1957 to 1964. (Page 3 - Fulda Gap from 1972 to 1994)
Aviation Company, 11th ACR - a web site dedicated to the soldiers of Aviation Company, 11th Armored Cavalry, Straubing, Germany, and their families and friends.
Army Aviation in Regensburg - a page (German language) by Egolf Biscan who is documenting the aviation history of Regensburg.