If you do NOT see the Table of Contents frame to the left of this page, then
Click here to open 'USArmyGermany' frameset
570th US Army Artillery Group
59th Ordnance Brigade
Looking for more information from military/civilian personnel assigned to or associated with the U.S. Army in Germany from 1945 to 1989. If you have any stories or thoughts on the subject, please contact me

.
---
| | | | | | | |
| --- | --- | --- | --- | --- | --- | --- |
| CUSTODIAL DET | SUPPORTED UNIT | CTRY | | CUSTODIAL DET | SUPPORTED UNIT | CTRY |
| | I UK Corps, I BE Corps | | | | I UK Corps | UK |
| | I UK Corps, I BE Corps | | | | I UK Corps | UK |
| | I BE Corps Arty | BE | | | I UK Corps | UK |
| 9th USAFAD | I UK Corps | UK | | | | |
| | I UK Corps | UK | | | | |
---
History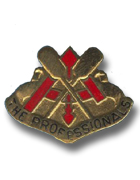 570th US Army Artillery Group DI
(Source: A Look Back ... at the 59th Ordnance Brigade. Final issue of the 59th COURIER, the command newspaper, published in 1992.)
570th US Army Artillery Group
The 570th U.S. Army Artillery Group was organized in May 1922 as the 570th Field Artillery Battalion under the 218th Brigade in the Organized Reserves. In March 1944, the battalion was allocated to the Army of the United States, and activated in April 1944, at Fort Jackson, S.C.

The unit deployed to the Pacific Theater and participated in combat operations for which it earned the Asiatic-Pacific battle streamer.

In July 1947, the battalion was redesignated the 946th Field Artillery Battalion and allotted to the Organized Reserves.

In August 1955, following the Korean conflict, the 570th was redesignated the 570th Field Artillery Missile Battalion and activated as a Corporal Missile unit at Fort Bliss, Texas, in September 1955.

In February 1964, the battalion headquarters was redesignated as Headquarters and Headquarters Detachment, 570th U.S. Army Artillery Group, the rest of the battalion's subordinate units were disbanded, and the new group headquarters was activated at Fort Sill, Okla.

In July 1964, the group arrived in Germany and the headquarters was established in Muenster-Handorf.

The 570th was inactivated on 15 June 1992.

27th Ordnance Company
The 27th Ordnance Company was constituted in the Army of the United States in February 1943, as the 176th Ordnance Depot Company.

The company was activated in April 1943, at Fort Lewis, Wash. The 176th deployed to the European Theater and received credit for five campaigns during World War II. The company was awarded a Meritorious Unit Commendation for action in the European Theater.

In January 1962, the 176th Ordnance Depot Company was redesignated as the 27th Ordnance Company (Special Ammunition) (General Support) and allotted to the regular Army. In March, the 27th was activated at Sandia Base, N.M., and the following year the company was assigned to the 5th U.S. Army Artillery Group in Germany.

In July 1988, the 27th Ordnance Company, located in Bueren, was assigned to the 570th U.S. Army Artillery Group. The 27th Ordnance Company was inactivated in June 1992.

26th U.S. Army Field Artillery Detachment
The 26th U.S. Army Field Artillery Detachment was constituted in the regular Army, February 1951, as the 26th Field Artillery Counter-mortar Radar Detachment. The unit activated at Fort Sill, Okla. in March 1951 and deployed to Korea, where it received the Republic of Korea Presidential Unit Citation. In October 1951, the unit deactivated in Korea.

The detachment was redesignated the 26th U.S. Army Artillery Detachment in May 1958, and activated a month later at Fort Sill, Okla. The detachment was assigned to Special Weapons Support Command in June 1960, and assigned to the 5th U.S. Army Artillery Group, located in Germany, in November 1963.

The 26th U.S. Army Missile Detachment inactivated in Germany, February 1967, only to be activated again in Germany in November 1976. In March 1988, the unit was reorganized and renamed the 26th U.S. Army Field Artillery Detachment.

During this reorganization the unit was assigned to the 570th USAAG and moved from Paderborn to Sennelager. The 26th inactivated in Sennelager in May 1992.

4th U.S. Army Field Artillery Detachment
The 4th U.S. Army Field Artillery Detachment was activated in September 1962 at Fort Sill, Okla, It was originally designated the 4th U.S. Army Missile Detachment and assigned to the 5th U.S. Army Artillery Group.

In January 1963, the 4th Missile Detachment, along with other units of the 5th USAAG, left for Germany and arrived in Bremerhaven in February 1963.

In September 1970, the 4th Missile Detachment was redesignated the 4th U.S. Army Artillery Detachment. In October 1978, the 4th was reassigned to the 570th USAAG.

The unit was inactivated in June 1992.

69th U.S. Army Field Artillery Detachment
The 69th U.S. Army Field Artillery Detachment was constituted in April 1963 in the regular Army as the 69th U.S. Army Missile Detachment. It was activated in September 1963 in Menden, Germany.

It was then reorganized and redesignated as the 69th U.S. Army Field Artillery Detachment in June 1970 and assigned to the 570th USAAG.

The unit was inactivated in May 1992.

583rd Ordnance Company
The 583rd Ordnance Company was activated in May 1940 as Company C, 100th Ordnance Battalion at Camp Sutton, NC. The unit departed the United States in February 1944 and served in five European campaigns during World War II. Company C was redesignated as the 583rd Ordnance Ammunition Company in April 1950.

In January 1953, the company was redesignated as the 583rd Ordnance Company and reorganized as an ammunition depot. The company was inactivated in December 1954.

In January 1959, the 583rd was activated in Dahn, Germany and assigned to the U.S. Army Communications Zone. It was later assigned to the Advanced Weapons Support Command, headquartered in Pirmasens.

Effective Dec. 1, 1964, the 583rd Ordnance Company was assigned to the Special Ammunition Support Command, and it was further assigned to the 570th U.S. Army Artillery Group. The 583rd Ordnance Company was inactivated in May 1991.

---
Headquarters/Headquarters Det, 570th USAAG
(Source: Email from Michael Wood, son of Tommie Wood, S-3, 570th Arty Gp, 1967-70)
I was indeed a pleasure to find your website as it brought back many memories. It is not that I was in the ADA although I would, in the 1970's, serve in the Army in Mainz with the 4-69th Armor, but my father was Maj Tommie Wood, S-3, 570th ADA in June of 1967.
Do not know if you are interested in this sort of thing, but our family arrived in Greven, Germany in January 1967. The 570th had arrived in Handorf in November 1966. We made our way to Greven because housing being built in Handorf and not yet been completed, so temporary housing was found in Greven. Eventually 44 American families would be living in Greven with no PX, Commissary, Dispensary, or Schools, think the Army referred to it as a "remote tour". Coincidentally, about three hundred yards from our little community was Dutch Air Force Family Housing, I assume serving the Dutch Airmen who manned the Nike sites. Sometime in early 1968 housing opened up in Handorf as well as a small PX and commissary. Our family then made the move to Handorf. A three room school house for grades K-8 was also opened.
Despite being the son of a Nike Officer for 18 years, the only time I ever saw a Nike Herc up close and personal was by accident. One day in the summer of 1968, while bored out of my mind and riding around on my bike I managed to find a small road which seemed to lead to nowhere, or so I thought. As I turned a bend In the road I suddenly found myself looking at four or five Nike Herc's that were out of their bunkers and pointing toward the clouds. I think I was close enough to the nearest Nike, I could have hit it with a rock. I was dumbstruck, impressed, and awed by the sight. I also figured out I had better depart the area before they turned the dogs loose.
We left Handorf in 1970, and my dad headed for Vietnam.
---
(Source: Email from Owen Clough)
I served as a chaplain's assistant from July 1967 to November 1968. I was a draftee and made E5 in the summer of 1968.

I noticed that the list of officers on the website for 1967 did not include my boss, LTC Mayer, the Catholic chaplain.

It was an easy tour since the chaplain had his own driver and was on the road to all of the missile detachments for 3 days a week for three weeks a month. I had a lot of time on my hands since there was minimal paperwork to do. I learned to play the guitar.

The accommodations at Handorf were great and I had my own room. A lot of my friends were college graduates, like me, who were drafted after college.

We were supported by the British and they often drank at the NCO club. Once we had a unauthorized NATO drinking contest and we won having drunk 15 beers each over a 2 hour period. The next day was not fun.

I have some photos of myself next to the building that housed the chapel.

---
583rd Ordnance Company
1967
(Source: Email from Roger Allbee)
I was doing some research and found this interesting site as well as the pictures of the Telgte Storage Site.

I came to the 583rd Ordnance Company in 1967 as a young 2nd Lt storage officer and left in 1970 as the Operations Officer Captain.

The experience, in looking back, was wonderful. We had a great group of men, and our association with the British 8th Regt RCT was wonderful.

I wish I had taken advantage of more opportunities while in Germany....but it was a rewarding experience.

---
4th US Army Artillery Detachment
Supported Command:
I BE Corps Artillery
(link)
The 4th US Army Missile Detachment supported the Belgian 14th Arty Bn and 20th Arty Bn. Also, I have found mention of at least one ADM company under I BE Corps engineers in the 1975 timeframe. This unit could have been supported by the 4th Arty Det.
(Source: Letter from Marc Fontaine, Belgium)
Among the things Marc sent me from his days with the 3rd Belgian Artillery Battalion (3A) were two pages of unit history of the 4th USAFAD and 1st Bn, 333rd FA (LANCE) (partnership unit of the 3A). The histories are in French so I will try to summarize as best as possible.

The 4th Missile Detachment US Army was activated on May 3 1962 and became operational on Sept 12 1962.

On Sept 12 1970, the 4th MSL Det was redesignated as the 4th US Army Field Artillery Detachment. During this period, the detachment was responsible for warhead custodial support of several Belgian nuclear-capable artillery units: 6A, 14A and 20A battalions, which were located at three different installations in the Soest-Werl region.

In 1978, 3A (now a LANCE unit) was transferred from Spich to Werl. This eliminated the need for the 33rd USAFAD which had supported the 3A at Spich. The 33rd USAFAD was inactivated and the 4th assumed the mission of the 33rd. From this point on, the

4th supported four Belgian battalions:

3A, 6A, 17RA and 20A.

The detachment had a personnel strength of 93 (officers, NCOs and EMs). It was attached to the 570th USAAG.
---
1969
(Source: Email from Jeff Hill)
When I was there it was the 4th USA Missile Detachment, and was part of the 5th USA Artillery Group, which reported to the 548th Group, thence to SASCOM. It was renamed the 4th USAFAD a month or so after I left (I left in mid-August, 1970). I guess we were a "missile" detachment because we had Honest John rockets, but they were just large, rocket propelled field artillery. We also had 8" howitzer support, definitely field artillery. Some of the other units in the 5th group were ADA, Nike Hercules. One was in Körbecke, close to Soest and the Möhne See, supporting the Luftwaffe. Overall there were 5 or 6 detachments in 5th Group, and an Ordnance company based in Büren. About half were FA, half ADA.

When I arrived my CO was Cpt. Leonard P. Phister, ADA. He was a shake-n-bake officer picked up as an E5 and run through a short course in the early days of the Viet Nam conflict. His duffle bag still had his rank of SP5 stenciled on it. He was a bit stiff, but a straight shooter. He was the only commander I ever worked for who took the time to sincerely thank me for doing a good job. When he left the unit was taken over by Lt. Paul S. Muther, FA, ROTC with a Harvard psychology degree. He came to the unit from the 33rd USA Missle Det in Dellbruck (outside Cologne). (I may have misspelled Dellbruck. I think I'm missing an umlaut or something. It doesn't look right.)

As noted above, at that time we reported through to SASCOM, and I don't think any of us had any direct knowledge of a 59th Ordnance Brigade.

Like most of the custodial detachments, we were attached to a NATO unit, in our case the Belgian First Corps Artillery, composed of the 14th and 20th Artillery Bns. I can't recall which was the Honest John unit and which was the 8" unit.

There were about 30 of us in the 4th, plus another 4-5 from STRATCOM attached to us to manage the HF-SSB radio and the "Tropo", microwave radiophone with line-of-sight or bounce-off-the-troposphere comms to some other unit from a 150 foot tower. We had our own barracks across the street from the Belgian Kaserne (Houthulst Kaserne), and were colocated with several other Belgian units including a helicopter squadron (The Blue Bees, recon), a Hawk unit (never saw a missile, but bought a car from one of them), and an ordnance/maintenance unit of some sort.

I always thought that the weapons depot was pretty lightly defended when I was there, considering what it held. When I came back on a nostalgia visit in 1995 after the place had closed down, found that I must not have been alone in my thoughts. They had considerably beefed up the defenses, an armored gun tower, concrete firing pits around the depot, armored HQ building at the depot with gun slots under all the windows, etc.

Typical of the Army, we had a hole in one of the fences around the depot, but it was OK and we never got dinged on an inspection because it was budgeted to be fixed in a future NATO budget slice. The hole in the fence was OK because the paperwork was OK. :-(

The Belgians had an odd mix of equipment, some very old, some very modern. For light trucks, for example, they had what appeared to be brand new Mercedes Unimogs. For Jeep class vehicles they had old, overhauled WWII US Jeeps and Land Rover Minervas. The trucks designated to carry special artillery rounds to firing positions in time of war were re-hab WWII deuce and a 1/2, with a box on the back to carry components and enable assembly in a warm, dry surrounding...sort of like a heavy duty military camper conversion. If we needed a truck and driver from them to go somewhere and pick something up, we often got a brand new MAN Diesel 5-ton equivalent. They had the standard Honest John 5-ton truck launcher and support trucks. The 8" howitzers were older SP units, the M55. I'm sure they got rid of the M55s and went to the M110 eventually, as the 55's were as big as a house. The Honest Johns were eventually replaced with Lance systems. I assume the Belgians also acquired some 155 SPs, because I've seen mention of 155 warheads there after I left.

The 4th was still using M14s then (M16s came a couple months after I left), and the Belgians were using the FN FAL. We never trained with the Belgian weapons, which was first-class dumb. In case of war, all our supply and support was to be through them. If your M14 broke (it was a fine weapon, don't get me wrong), guess what, you were going to get a FAL to replace it, or maybe one of their nice 9mm submachine guns. Of course, we spent precious little time with our own weapons - most of us were much more proficient with a mop.

We did not socialize much (at all) with the Belgians. Typically one was posted to our barracks with a Unimog or VW bus at all times as a driver, and one of them looked me up in Colorado a couple years after In got out of the army. It was a shame, because they are really decent people, and I've made some good friends over the internet by donating some pictures to their web site. Belgium is also a beautiful country. There was a Canadian unit across town (they left shortly after I did, and were replaced by a British unit). We socialized a lot more with them, used their Maple Leaf Store (PX equivalent) and their medical facilities.

We also spent exactly zero time learning even a few words of Flemish or French to communicate with them, which could have had really serious mission impact in a tough situation. Luckily, all young Flemish Belgians at that time listened to English language radio stations (Radio Luxemburg featured Wolf Man Jack) and studied English in school. Some of the Waloons did too.

Nor did we spend any time learning their badges of rank - as a SP4 I just waved to the Belgian Colonel and said "Hi!" They all saluted me when I drove on their post in uniform because I had my own car and low-ranking Belgian soldiers weren't permitted cars. No one seemed to mind. Like I said, nice people. Ordinary human courtesy was just fine. I guess their Colonel would have reamed a Belgian who just waved, though.

Curiously, the most frequent question I have been asked by the Belgians who have contacted me like you did, through their web site, was whether or not we actually had any weapons in the igloos. A significant number of them were convinced that we were just a decoy unit, that the USA was never going to really give any special weapons to the Belgian Army, and there weren't enough Americans there for it to be the real thing.

For all the little custody units like the 4th that were scattered all over NATO, we were largely invisible. In the 35 years since leaving the Army, I've met many former soldiers but only once have I met someone from a SASCOM unit. Our obscurity can best be summed up by my experience at the Gutleut Kaserne in Frankfurt, the XXXX Replacement Bn that all EMs went through when they first arrived in Germany. We would spend several days there while they verified our orders, checked to be sure we were who we said we were, arranged travel, etc. Twice, maybe three times a day there would be a formation with hundreds of soldiers lined up and a guy at the front calling off names and destinations when our orders came in. Same guy every formation, he must have known where every military post in Germany was by then. On my day, he called out, "One man to....uh....Werl!" He then bent over to the guy standing next to him, forgetting to cover the mike, and asked, "Where the fuck is Werl?". He then called my name and told me to report to a sergeant by the bahnhof. I was sure I was headed for the end of the Earth.

What did you do in the Army, and where? I assume you were a career soldier. Who else would put so much effort into a web site. I was in and out, no desire to stay. Went on to graduate school, have been in the computer business for a long time.
---
1986
(Source: Email from John G. Hodgson)
I was stationed in Werl with the 4th USAFAD from Feb. 1986 until September 1988. My team (5) worked with artillery elements of the 20th (?) Beligian Artillery Regiment (Flemish) based in Soest using special weapon systems for the the 155mm howitzer. I would like to hear from anyone who served in the unit when I was there (jhodgson@students.wisc.edu). The Fourth was based in Werl from its arrival in Germany during the early 60's and I think the last American soldiers left in 1993 and the flag was lowered one final time. This was a former Luftwaffe Kaserne and one of the bases that German Paratroops used for the invasion of Holland in 1940. I think we were one of the only units who had to deal with multiple languages-Flemish (Dutch) speakers and French (Wallone). Some good stories there. Anyway, I can't imagine a better place or way to spend the end of the Cold War. Still a "Professional"
John G. Hodgson

---
9th US Army Artillery Detachment
Supported Command:
26 Field Regiment
(link)

---
15th US Army Field Artillery Detachment
Supported Command:
xxx
(link) (1961-1966)
In the early 1960s, the 15th MSL Detachment supported a French HONEST JOHN artillery unit in Villingen, Germany.
Supported Command:
45 Medium Regiment
(link) (1969-1988)
1973
(Source: Email from John Dullahan, Det Cmdr, 15th USAFAD, 1973-76)
15th USAFAD, 1973 to 1976.

After Cpt. (Chuck) Lamb left, I was the detachment commander from August 1974 to April 1976. While the enlisted personnel were housed in the 15th USAFAD building, the officers, one capt. and two lieutenants (Joe Norberg and Charlie Hollister at that time) lived in 45 Medium officer's mess. It was quite an experience for the US officers. Every morning a mess orderly woke us with a hot cup of tea, ties and jackets were worn at evening meals, and there was an active social calender with frequent "dining ins." Despite John Calhoun's comments, I made lasting friendships among the British officers and, to bridge the cultural and discipline differences, I did my best to promote US/British interoperability. I was a member of, and later captained, the regimental cross-country team and was well integrated into life in the mess and the regiment.
When new British Army lieutenants (subalterns) arrived in the mess, there was a tradition of changing identities and creating elaborate false scenarios - just to have fun at the expense of the new arrivals. One mess member might pretend to be the regimental commander (borrowing the appropriate uniform), another might pretend to be a gay chaplain (and make advances), or the new arrival might be put in charge of a "prisoner," who would invariably "escape." All participants (except the new subaltern), took pains to conceal their mirth while enjoying the new arrival's plight. These elaborate plots occasionally backfired - such as the time the new subaltern was tougher and faster than expected, tackled the escaping "prisoner" (actually a lieutenant) and roughed him up for real.
Arriving US lieutenants were subjected to the same treatment, and Lt. Joe Norberg took it particularly hard, with the deception beginning as soon as Joe arrived in Paderborn. While wearing a British captain's uniform, and complete with a Land Rover and British driver, I picked up Joe, explained that I was the British liaison officer assigned to facilitate his integration into the mess (an Irish brogue buttressed the deception), but would first bring him to the 15th USAFAD building to meet the detachment commander. Joe saluted smartly to the presumed detachment commander, a SP4 in my uniform and at my desk (I forget his name), who really got into the act. He gave Joe a dismissive salute and reprimanded him for having long hair and a sloppy uniform (Joe actually had an appropriate haircut and neat uniform). Joe was crestfallen at getting off on the wrong foot with the det. commander, and looked around for a friendly face, but everyone in the 15th USAFAD was in on the act and gave him no relief - and he hadn't even arrived in the mess, where more elaborate high jinks were planned.
Later in the mess, "there was drink taken," lots of high jinks, and numerous real and erroneous toasts proposed: to the Queen, the US President, fictitious fallen heroes etc, but Joe's drinks were spiked, leaving him with only the haziest recollection of the evening's proceedings.
Finally, Joe was driven to his quarters, which were actually the British schoolteacher's accommodations, and given a room. The next morning, with the mother of all hangovers, and in his skimpy underwear, Joe wandered down the hall looking for the "loo." The schoolteachers were also in on the act. Their polite "good mornings" and the complete absence of any recognizable face from the proceeding day and night, rendered Joe into a most disoriented state of mind.
Later, when he got into uniform, Joe went to the detachment to report in - again. I was at my desk in the proper uniform, had lots to do, and wanted to give Joe a proper welcome and get on with my work. However, I had played the role of the British officer so well (the uniform had fitted perfectly) that Joe was convinced the deception was continuing, and refused to report to me until he saw my ID.
Joe never fully forgave the SP4, and when Joe returned to the US, we met at Ft. Sill where I was attending the advanced course. He had married one of the British schoolteachers, and although relatively cordial, he never completely forgave me either.
Well, my excuse was that we had to do something to take our minds off the innumerable regulations within regulations and the unceasing inspection cycles of the 59th Ordnance Brigade and higher headquarters.
---
1974
(Source: Email from John C. Calhoun, 15th USAFAD, 1974-75)
I served with the 15th USAFAD which was part of the 570th Artillery Group, 59th Ordnance Brigade (SASCOM).

The 15th USAFAD was operationally attached to NORTHAG - BAOR - 1st British Corps - 1st Division - Division Artillery - 45 (pronounced FOUR FIVE) Medium Regiment Royal Artillery. This unit was stationed at Barker Barracks (the Germans called it Panzer Kaserne) in Paderborn, FRG. It supported M109A1 and M110 self propelled howitzers on the Northern Plain & Harz Mountains "AO."

Also on the kaserne was the Queens Royal Irish Hussars, a Chieftain Tank armour unit. Tenant units were a medical clinic and REME workshoppes. I was stationed there in 1974 & 1975.

The commanding officer (OC to our British partners) was a Cpt Dullaghan. It was interesting as he was a conscript, native of Ireland, who attended OCS after Vietnam. He was particularly disliked (behind his back) by the British because of his ancestory. This artillery unit did two Northern Ireland six month tours while I was there. Our unit was approximately 31 men - 1 captain; 2 lieutenants, one E-7 first sergeant; one E-4 admin clerk; one E-6 supply sergeant; one E-4 supply clerk; one E-6 Crypto sgt.; one E-4 Crypto clerk; one E-7 mess sergeant; one E-5 cook; one E-4 cook; one E-3 cook; 3 sets of Artillery MOS teams made up of one E-6 sergeant; an E-5 sergeant; two E-4 specialists and two E-3 batterymen. (One Artillery Team supported each firing battery in the 45.)

The firing batteries in the 45 were:


34 SERINGAPATAM BATTERY (8 INCH M110)


52 NIAGRA BATTERY (155 M109A1)


170 IMJIN BATTERY (155 M109A1)

* 170 Battery was one of the few foreign military units to win the US Presidential Unit Citation (in Korea). They had a special ceremony every year celebrating this award on St. George's Day.

Today, the 45 and 34 have had their colours retired. 52 and 170 have been amalgamated into other units. All these units changed throughout the 1980's until their re-alignment in the early 1990's.

I understand that the 15th (now the 15th Artillery Detachment) was brought back in the late 1990's and serves in Germany but is part of our American corps stationed there.

The 570th Artillery Group was headquartered in Münster on a British kaserne. I knew of the following detachments (besides the 15th USAFAD) in the 570th in 1974:


1st USAFAD stationed in Wesel and supporting the Dutch.


22nd USAFAD stationed in Sennelager 12 miles from Paderborn and supporting the British 39 Regiment RA.


69th USAFAD supported the British Missile (part 8 inch part Honest John).

The 5th Artillery Group was located near Paderborn in Büren (20 minutes away) and was really much closer to us than the 570th. The 5th supported Belgian units.

As you know these were all custodial units. The 15th and 22nd USAFAD were so close to each other that we shared a common custodial site which relieved much of the guard duty burden which became acute when the last draftees left the Army in 1974. Because of the lack of security clearances some draftees had to involuntarily extend and I know of some who violated rules so they had their clearances pulled and were eligible to be sent home.

Oh yeah, I was the Group S-4's little secret. I didn't have a TO&E position. It was my job to around to different units prior to and after IG inspections "to help them out." As you know we had sensitive missions and keeping track of sensistive property and information was closesly looked at.

Later, after finishing college, I commanded my own unit in the 9th Infantry Division.
---
(Source: Email from Ruppert F. Stanley)
My first duty station was the 15th USAFAD, Paderborn Germany, Barker Barracks, 45 Field Reg. I was stationed there Nov. 1975. The unit eventual was moved to Bergen Hohne and later returned as the 26th USAFAD at Barker Barracks.

For the short time as 26th USAFAD in Barker, we were later moved to 39 Field Reg. where 22nd USAFAD was deactivated.

I also was stationed with the 4th USAFAD and 19th USAFAD. Also, my Army stint included 72nd Bde Peden Barracks; assigned to C 3/35th Btry and later battalion special weapons NCO.

So yes the 22nd USA Msl Det was in Sennelager.

If I can be any help to you in your efforts to enlighten the curious of the long gone elite then, please feel free to contact me.
---
1977
(Source: Email from Gary Blackhurst, 15th USAFAD, 1977-80)
I visited your webpage today and see where you wanted any info on 59th Ord Bde units. I was assigned to 15th USAFAD in March 1977 and served there until March 1980. I served as the 8" System Maintenance / Assembly Team Leader with Property Book Officer and Supply Officer as additional duties (Not bad for a new lieutenant). I later became the Security Officer / Det XO.

The Det was stationed with its supported artillery regiment, 45 Field Regiment, Royal Artillery. 45 Regiment was also known as the Yorkshire Regiment, aka 'The Yorkshire Gunners'. 45 was stationed at Barker Barracks in Paderborn, GE as stated on your site.

There were actually 3 American detachments in Paderborn. 26th Detachment was formed from 22nd Detachment to support 24 Field Regiment, RA. The 22nd supported 39 Field Regiment. Sometime in late 1978 the 45 and the 15th were transferred to the NATO Base at Bergen-Hohne. Bergen-Hohne was just south of the infamous Bergen-Belsen work camp from WWII. Along with 45, there was a 105mm self propelled (Abbot) field artillery regiment (don't remember the number); a Hussars (Chieftain) armor regiment; a Dutch armor (Leopard) regiment; and others I just don't recall.

The 26th Det moved from Sennelager into our buildings on Barker Barracks when we vacated. The 26th CO was 1LT (P) Harold 'Skip' Pierce. The 15th CO was CPT Joe Norberg, who left for FT Sill after the move north. 1LT Charlie Hollister was the interim CO until CPT Harold 'Hal' Gorman arrived late in 1978. 1LT Hollister departed later that year to CONUS and civilian life.

I departed in March 1978 to CONUS and joined the NG. In retrospect, this assignment was a cherry. To get any better, you would have had to join the USO. I served with some of the best soldiers, NCOs and officers in the Army at the 15th and it provided me a wealth of 'war stories'.
15th USAFAD Organizational Information:
15th US Army Field Artillery Detachment; also designated 15th USAAD (FA): US Army Artillery Detachment (Field Artillery) APO 09078
Station: Paderborn (Barker Barracks), GE, restationed 1978 to Bergen-Hohne, GE
Subunit of 59th Ordnance Group, Special Ammunition Support Command (SASCOM); later 59th Ordnance Brigade (SASCOM)
Supported 45 (Yorkshire) Field Regiment, Royal Artillery, British Army of the Rhine (BOAR), 1st BR Division, 1st BR Corps


Det HQs

Commander - CPT Joseph Norberg, replaced by CPT Harold (Hal) Gorman (NJ)
Security Officer / Det XO - 1LT Charles Hollister (WA - now SLC, UT)
First Sergeant - 1SGT Speicher (?) - DEROS'd April 77 - replaced by acting 1SGT - SFC Bobby Henson for about 4 months.
First Sergeant - 1SGT Hatcher (FL) - arrived August 77 (?)
Admin Clerks - Spec 4 Micheal Asbury; also later PFC Best
Security NCOs - SSG Goff, Spec 5 Aldridge (?) - replaced by SFC Lawrance Alejado (HI) and Spec 4 Stanley Basurto (NM)
Supply NCO - SSG Jimmie Jenkins (GA)Supply Clerk - PFC Best, replaced by PFC Delbert White (WV)
Generator Mechanic - PFC Hyman
Dining Facility Supervisor - SFC Spencer (for about a month), SFC Berger
First Cook - SSG DeLaet
Assistant Cook - ?


155MM Maintenance / Assembly Team

Team Leader - 2LT Sam Acree (Maud, OK) later replaced by 2LT Don Leffingwell (MO?)
Team Sergeant - (?)
Team members (2 Teams of 5 soldiers each)
SGT Holland


8 Inch Maintenance / Assembly Team

Team Leader - 2LT Gary Blackhurst (WV) (I replaced 1LT Mike Adnot - DEROS'd April 77); I was replaced by 2LT Roger (?) when I DEROS'd.
Team Sergeant - SFC Bobby Henson
Team members (2 Teams of 5 soldiers each) - Soldiers I remember SSG Bloom; SGT Burnette; SGT Barnes; Spec 4 Sellers; PFC Maurice MacGruder (Tupelo, MS); PFC Brian Kingsley (Cincinnati, OH)

---
22nd US Army Artillery Detachment
Supported Command:
39 Field Regiment
(link)
1967
(Source: Email from Dan Medina)
I was with the 22nd US Army Missile Detachment from December 1967 through mid 1969. I was wondering how I could get the list of my fellow patriots that were assigned there when I was. Lots of old memories I'd like to share. Kinda curious how they made out.

I do remember that in 1969 the 39th (Missile Regiment) split into another regiment and was stationed on the other side of Paderborn. I was closer to Sennelager. That was my first assignment, as I was 17 when I arrived there. My brother went the other direction and deployed to Viet Nam in 1967 from Ft Carson Co. Since he went I wasn't allowed to until he returned (thank God).

I left for Viet Nam in 1970 and was assigned to the 173rd Abn Bde, and ETA'd in May of 1972.

You know, I was a green horn then, a Cherry Boy, a Newbie. I didn't pay a lot of attention to the details of military life. Mine was to just make sure I didn't get into trouble.
Okay, got to admit I got ringered a whole lot but such is life. Since I just ran out of martini juice, so I'm going to sit and attempt to pass along memories of the 22nd with hopes that it might inspire others to do the same about their units and time in service. SPILL THEIR GUTS ABOUT THEIR LIFE AND TIMES YA KNOW?!

I arrived in Germany in 1967, (coincidently 1 year before my wife was born) I believe Bremerhaven (really not too sure there). They processed me and asked if I would be interested in changing my PMOS. Well hell what did I know about an MOS? I was a 32D20 ( freekin funny how that sticks in your mind huh?) sure whatever I can do to make our country safer. So, they made me some kind of thing that defies description. (I honesty I don't remember what my PMOS was at that point. Probably a safety valve of the brain electing to save me the suffering of knowing I was worthless to the common good of the proletariat).

All joking aside. I was sent onward on a train with a guy named Michael Shuster. Darned nice guy. Funny and relaxed, nice to be around. And I believe another named SHARP. Man I thought this is cool. A private car. just three guys riding along until someone says you have to depart. I mean I never had the mature obligation or whatever they instilled in an adult to make this journey.

Needless to say I was a little overwhelmed with the huge weight that was called responsibility. We arrived at Sennelager Bahnhof and there was a Sgt E5 to meet us. I'll try to remember his name; thin tall black E5 with a thin mustache. I can still see his face. What's funny is I can't remember how we got to the barracks. but I remember him showing us to our bunks. It was late, maybe 2200, or later. No one else was around. Later I remembered how it was when the "New guys" got there.

What I remember then was that we were housed in what was before a horse stable. Everything was indoors and you could tell it was well kept. Tile floors and all. What were once feed stalls were now enclosed to resemble shelves or counter tops. I mean at first I didn't know that I was living in a horse barn until someone later told me about the "appointments". Cobblestoned streets and pathways from the CQ to the mess hall. Description: I'm thinking since this was my very first "Home Away From Home" I remember it more than any other. That was more than 40 years ago. Man that makes me feel old. Just the part about the time difference. I still can do what I need to do, be what I need to be if the push comes again. More so than the crybabies of today.

Getting back to the 22nd. The barracks and facility that housed the Americans apart from the British 39th was actually in what I would consider to be the northwest? corner of the regimental unit. There was a fountain down the way, to the east about a hundred yards. I remember it because that was the first time I thought the entire wrath of the British military was going to draw and quarter my ass. Don't mess with the Sargent Major's daughter. She was pretty and I was only 17 at the time.

Nothing behind our barracks, I remember jumping the back wall to sneak into into town (Sennelager) but it was still a ways, maybe a mile or two. I am pretty sure it was. I also remember walking home the mess sergeants wife that way, but that's another story. Hey Gotta go. Need to do some real time work.

---
26th US Army Artillery Detachment
Supported Command:
27 & 47 GW Regiment
(link)
(link)
1979
(Source: Email from Larry Finer)
I was an assistant S-3 with the 570th USAAG from 1979-80, then I was a Team Commander with the 26th USAFAD (United States Army Artillery Detachment) 1980-83. We were stationed in Paderborn with the 27th FA Regt (UK), but when we were deployed, we were to support the 25th FA Regt (UK).
---
1987
(Source: Email from Alan Griggs)
CPT Mark W. Moseley took command October 1987 at Barker Barracks in Paderborn. The previous commander and detachment sergeant had both been relieved for cause due to deficiencies noted in the Nuclear Weapons Technical Inspection (NWTI). At that time, the unit was rock bottom in most categories. His mission was to restore confidence in ourselves and lead us back up the ladder. This he accomplished, in part by micro-managing, and in large part by example.

After about two months he backed off, and told everyone he believed his mission was over and it was up to us to continue the improvement. We did not want to fail him (or ourselves) and we didn't. Over the next 7 quarterly inspections conducted by 570th USAAG, we took top honors 6 times.

March 1988 saw the 26th move to Sennelager (Dempsey Barracks) and consolidate with the 22nd USAFAD, and another USAFAD (I can't remember which one). In the process, the 26th USAFAD expanded from a 36-man detachment to over 80 personnel.

It was about this time we received 1SG Jerry McMinn as our First Sergeant. By this time, we had gotten just a little big for our britches, and a good many decided to ignore him. That was a mistake corrected the first day. After overseeing a 1300 hr formation of only 15 or so soldiers, he put the word out that our 1600 hr formation would be different. Those failing to make formation would be given the option of working for him for two hours or the commander for two weeks (Art 15). Needless to say, formation was 100%.

1SG McMinn and CPT Moseley were a perfect team. Through their efforts, we reached new heights in accomplishments and confidence. This is not to say it was business all the time. CPT Moseley was a practical joker of the first order and proudly included the 570th USAAG Commander amongst his victims.

Overall, I must say my tour under these two was interesting and fulfilling on the professional and personal level. I departed the 26th USAFAD in early July 1989. I understand CPT Moseley made Major and left the military for a civilian life in the Dallas area. First Sergeant McMinn retired and was living in Colorado as late as 2003.

---
69th US Army Artillery Detachment
Supported Command:
1SSM (Canadian) (link) & 50 Missile Regiment
(link)
1962
(Source: Email from Jay Wilcox, originally sent to Dick Murphy in June 2001)
It was great to hear from you. I've been trying to find old Canadian and German friends, but I've had little luck so far. I haven't attempted to find members of the 69th (Arty Det), as I made the assumption that the size and duration of the unit would make it a real long shot. I have considered trying to find a few of the guys using phone searches, but haven't tried that yet. So far I have only heard from Bruce McClellan, who was there from 1967-1970 serving with the RCHA, and Pastor Groth, who is the pastor of the historic church in Deilinghofen. I've left messages at three Canadian Army sites and one Deilinghofen site and sent about ten e-mails, but little luck so far.

I'm afraid I didn't know either of the men you mentioned. Major Stephens was the head of the unit when I was there and Sgt. Jackson was the first sergeant when I left. The orders for Capt. Lynn had just arrived before I left, and he probably arrived within a couple weeks after I left there. If I remember correctly his orders said he was an Airborne Ranger.

I was one of the first two men to be sent to the 69th. Bob Vance of Kansas City and I arrived in Germany together on New Year's Eve, 1962. About January 4, 1963, we arrived in Hemer by train, however the building the 69th was to be located in was not completed yet, so Bob and I were taken to Luedensheid for one night and then to Sennelager for six weeks. When the building was completed in mid-February, we finally arrived in Deilinghofen. In the meantime three others had arrived; the commander, Capt. Stephens (promoted in 1964), Sgt. Ford (the original first sergeant) and Sgt. Larry Salzman (the supply sergeant). For more than six months the unit was not activated and Bob and I lived in that building by ourselves. We had no duties, so we read paperbacks almost every day and about every six weeks we cleaned the building.

About ten days after we arrived Capt. Stephens made arrangements for us to eat at the Canadian mess, where we met some members of the 1SSM. They took us to their favorite gasthof, up the hill in Apricke. We soon knew about 15 Canadians and several Germans. We went to the Canadian theatre a few times a week and usually watched two or three hockey games per week. After movies or games we tended to go up to Apricke and drink with our friends four nights per week. I quickly got to know the members of the local German hockey team, ECD. The players thought it would be a great idea to make me the honorary assistant hockey coach as the team had a Canadian coach, Sgt. Harry Craig. Bob and I soon became fairly well known in Apricke, Deilinghofen and in Fort MacLeod.

In the fall of 1963 the unit was activated and the rest of the guys arrived. We talked to the guys the night they arrived and told them which bars to go if they wanted to be roudy and/or hang out with Canadians and those who wanted to meet the locals were invited to join us in Apricke. That plan worked nicely and we never had problems.

One night in November (about a month after the men had arrived) we were awakened about an hour after lights-out, and we were told to quickly get dressed and get into formation outside. We were then given the news that President Kennedy had been shot and had died. It was a very sad time, but the Germans loved Kennedy and they shared in our sadness. At Christmas-time the ECD club members invited every member of the 69th to their homes for Christmas eve, and about 1/4 of the guys accepted the invitation. It was an incredible gesture by the people of Deilinghofen to invite men who they had never met and who spoke no German into their homes for Christmas. It was the most special Christmas of my life.

Shortly after the men arrived we began talking sports and realized we had a lot of basketball talent and I began booking the gym and scheduling games with Canadian, US and German basketball teams. I coached and played and we had two small college stars, Bob Vance and Andy Cockrell, in addition to some good former high school players. I invited a tall German friend, Charlie, and a Canadian friend, Gordy Priest, to join the team. We played a lot of games and had a great record that winter. In February I created the NATO Invitational Basketball Tournament, a unit-level tournament for teams from NATO units stationed in Germany. We had 16 teams from Canada, England, Wales, Belgium and the US the first year. A great British team stationed in northern Germany won that first tournament and the 69th placed a close 3rd. The games were broadcast on the Canadian Army radio station and the tournament was a great success.

That winter I continued my association with the ECD hockey team and began traveling with the team on most of their weekend road trips to places like Hannover, Hamburg and Liege, Belgium. We had a great team that winter and even played some of the teams in the Bundesleague (the top national league) and played Munich from the southern division in the playoffs. ECD did not win the German third level national championship, but came close.

In the spring of 1964 our thoughts turned to softball. We were invited to join the Canadian Corporals softball league. Shortly after that we decided to form a committee to oversee all the Canadian Corporals sports leagues so that we would always have quality continuity from season to season. The Canadians elected me to head the organization. It was the best job I ever had in my life.

Our softball team played with great enthusiasm, but lacked the talent the basketball team had been blessed with. We had a fair amount of decent position players, but never landed a decent pitcher. Our only pitcher was a crazy guy named Toeller from West Virginia. I remember going to the train depot in Hemer to meet new arriving troops several times that summer, and the first question out of my mouth was always, "Can you pitch?" No one ever answered yes. Early that summer, however, a great natural athlete did arrive. His name was Tyrone Dixon and he was from Baltimore. He was a handsome young black man with a perfect smile, a totally sweet disposition and enormous talent at every sport he tried. We made up a story that he had played for the Baltimore Orioles before being drafted and told the story to all the Canadians and they bought it. Tyrone was totally embarassed, but we had a lot of fun with it. Everyone kept asking him for his autograph. That summer we became great friends with the corporals of the PPCLI and whenever we did not have a league game on Sundays we would invite them over to play a non-counting game and then they would invite us over to their mess.

On July 3, 1964, we got together with the Canadians for a huge party in the hockey arena to celebrate Canada's Dominion Day (now Canada Day) and our Independence Day. The party lasted until 4 a.m. In August the PPCLI celebrated the 50th anniversary of their unit. They considered us their best friends and our entire unit was given the day off to attend their trooping of the colors and we were all given front row seats (seated behind us were several generals of other NATO armies and other dignitaries). The PPCLI sister unit from Scotland came, the Black Watch band played, and hundreds of troops paraded and I believe about 5,000 people attended. Nine parties followed and we drank until the middle of the night. It was the only world-class social event of my lifetime.

I used my leave time for several great trips while I was in Germany. Easter weekend of 1963 I went to Paris with a whole busload of Canadians for four days and amazingly funny things happened during that trip. My most famous moment was unknowlingly peeing on a tree in President Charles DeGaulle's yard. During the fall of that year I went on a three-day beer glass buying trip to Brussels, Amsterdam, Rotterdam and Bremerhaven with a couple Canadian friends. Early in 1964 I took a trip to Bad Homburg to play in the casino there and then went on to Munich for a few days. My all-time favorite, however, was Stockholm. I was fortunate enough to take three trips to Sweden and spent more than a month of leave-time there. I also spent some time in Hamburg and Copenhagen.

In October of 1964 it was time to return home. I really didn't want to leave, but I had a good job waiting for me at home and knew I should go back to it. My two years in Deilinghofen were the happiest, most successful and most special years of my life. Life has never again been so sweet.

I still have a great appreciation for Canadians and a great love for their country. Usually in the summer I get to Vancouver 6-10 weekends and once in a while I get to Victoria. Vancouver is a sensational city and I've spent so much time there it almost seems like a second home. About five years ago I joined a walking club up there.

I love the Internet, and in April I stumbled across a website dedicated to the old ECD hockey team in Deilinghofen. The team still exists today, but now it is EIS Iserlohn and it plays in the German national league.

After thinking about it for a few weeks, in May I decided to try and find some of my old German and Canadian friends. As I said earlier, I have had little success so far, but I do have reason to believe it will happen eventually. The message I received from Bruce McClellan was the first time in about 30 years I've heard from anyone who had been in Deilinghofen and my message from Pastor Groth was the first time I've heard from anyone in Deilinghofen in 35 years. Your message is the first time I've heard from anyone from the 69th in about 30 years, so it was also a really wonderful surprise.

I know you've found the artillery site, but I'll give you a few others you may not have found in case you are interested. The PPCLI site is http://www.ppcli.com/ and Bruce McClellan has an excellent Canadian Army site, http://www.geocities.com/Heartland/Cottage/9732/ which has several messages from guys who served with the 1SSM and RCHA. If you are interested in Deilinghofen, the super-site there is: http://www.centernet.de/Pastoerchen/Deillink.htm and it is a wonderful source of information created by Pastor Groth.

Dick, it was really great to hear from you. I hope your time with the 69th was as enjoyable as mine, and I would really enjoy hearing from you about your memories of your time there. It is my understanding that the 1SSM was disbanded in 1969 and the RCHA later moved further south in Germany. Was the 69th disbanded at that time and were you one of the final troops?
(Source: Email from Jay Wilcox, to the Webmaster, August 2004)
ADDENDUM:

Thank you for your message. Dick Murphy sent me a link to the appropriate part of your website a couple weeks ago and I really enjoyed it and I forwarded it on to a couple friends who were there at that time. I deeply admire all the work you have put into the site and it is wonderful to know that the history of all those who served will live on on the Internet.

Yes, I would definitely consider it an honor to have any of the information I sent to Dick be a part of your wonderful website. I actually sent that message to Dick in June of 2001, so I had fun re-reading it again when I received it from you. One important date included in that message is just slightly incorrect. I have located a 1963 calendar on the Internet and found that Bob Vance and I arrived in Hemer on the evening of January 3, 1963, not January 4.

It might interest you to know that a couple months after I sent that message to Dick in 2001 I was able to find four of the men I served with in the 69th and found some information about several others. Tyrone Dixon (who served two tours with the 69th), Bill Toler and Sgt. Davis were living in Lawton, OK and First Sergeant Jessie D. Jackson was living in Princeton, WV. I found no one else until the past eight months. I have since located three of my best German friends from those years plus "Duck" Goyeau, a former member of the 1 SSM who was the first Canadian I met in Germany and I also found Charlie Brooks, my old roommate in the 69th. He now teaches high school in North Carolina but he did return to Germany after leaving the Army and spent 25 years teaching in the Iserlohn area.

If you need any more information about the first two years of the 69th I would be glad to help so please feel free to contact me at any time. Dick Murphy is the ultimate source of information about the unit during the late 60s and he has been in contact with many others who served with the unit during the 70s, 80s and early 90s. A couple years ago he wrote a history of the unit. Charlie Brooks would also be a good source of information because he lived in Iserlohn during those years and knew many of the people who served with the 69th over a long period of time.

Dick and Charlie and I are all good sources for information about the years the unit was located in Fort MacLeod in Deilinghofen, but Charlie probably knows more about the years after the unit moved to Menden than anyone else.
---
1967
(Source: Email from Dick Murphy)
I reported to the 69th USA Missile Detachment on May 31, 1967. At that time, the unit was located on Fort Prince of Wales in Deilinghofen. Prince of Wales housed not only the 69th, and its supported unit, the 1st Canadian Surface to Surface Missile (SSM) Battery, but also the First Regiment, Royal Canadian Horse Artillery (1RCHA). The 69th was one of a number of subordinate units of the 570th USA Artillery Group in Munster (Handorf), W. Germany. Other subordinate units of the 570th at the time included the 1st Missile Det in Wesel, the 22d Det in Sennelager, and the 81st Det in Dülmen. The 583d Ordnance Company was co-located with 570th. I served under two different 570th Group Commanders: LTCs Donald J. Gray and Bailey B. Smith. They in turn reported to 514th Arty Group in Mönchengladbach. The 514th was an O-6 level (Brigade) command, and we had two commanders during this period: COLs Robert Blake (a West Pointer, Class of Jan '43), and Robert Parks. The Commander, 514th reported to the Commander, Special Ammunition Support Command (SASCOM) in Frankfurt. Colonel Leverne Blount commanded SASCOM for most of my time with the 69th. Colonel Gilbert K. Anderson was his Deputy. Gray (1951), Parks (1944), and Blount (1943) were West Point graduates.

In 1967 the 69th supported both the Canadian 1SSM Btry, and the UK 50th Missile Regiment, in Menden. Two Honest John Teams supported the Canadians, while the British support consisted of two Honest John and two 8" Teams. The storage site was fully operational and located a few kilometers away, on the back road to Menden. There were approximately 50 personnel assigned to the unit, including 5 single side band (SSB) radio personnel who were attached. A good percentage (50% perhaps) of the first term soldiers were draftees, and a number of them had college degrees. The NCOs were seasoned and experienced, and at least a half-dozen of them had fought in the Korean War. In 1967, no one in the 69th had yet served in Viet Nam, but in 1968 a young Corporal arrived wearing the 1st Cavalry Division patch on his right shoulder. By the time I left in 1969, this young Corporal was still the only one in the unit with experience in Viet Nam, although nearly everyone departing the unit was either separating or was on their way to Viet Nam.

Single soldiers lived in the 69th's Headquarters Building, while most married personnel occupied British housing in Menden. Single officers lived on the Camp in Building 9, the Canadian BOQ. Dependent school-aged children attended Summern Elementary School, or the Canadian High School. In 1968, 1SSM Btry relocated from Prince of Wales to Fort Qu'Apppelle in Iserlohn. Simultaneously, the 1SSM and 69th single officers relocated to the Lord Strathcona's Horse (LdSH) Officer's Mess in Iserlohn.

During this period of the late 60's, personnel rotation through the 69th was heavy and turnover was high due to the war in Viet Nam. The average tour for officers was less than 2 years, with enlisted tours being slightly longer. Except for draftees on 2 year tours, most soldiers were ultimately sent to Viet Nam. Promotion came quickly in those days - a Second Lieutenant made First Lieutenant in one year, Captain in just two. It was not uncommon for a draftee to make SGT E-5 in 18-20 months, while several RA soldiers made E-6 in less than 3 years. Stripes were so plentiful that on more than one occasion, as the Commander, I was forced to promote some soldiers who I felt weren't quite ready for promotion. As the Group SGM (we didn't have CSMs then) told me, "If you don't use it (the promotion), you lose it." I objected several times but the Group Commander overruled me every time.

From my perspective, life seemed good for soldiers in the 69th. Inspections came in spurts, and providing you passed, you were pretty much left alone. The training day consisted of some Technical Training, military classes, and of course there was the inevitable guard duty at the Site. Shifts of 3, all night, with the next day off. For the officers and E-6s and above, there was EMAS duty with a required 5 minute response time to certain message traffic. The 69th's "Beverage Bar" was a popular social spot for soldiers - U.S. and Canadian - primarily due to the cheap beer and good burgers and fries. In addition, the Beverage Bar made a lot of money for the unit, most of which went back into renovations for the Day Room. Around payday, soldiers had a tendency to head downtown to spend their money. I don't recall the names of the popular spots then, but the favorite Gasthaus was the "Fasstaube" in downtown Hemer that was noted for a particular schnitzel - the name of which slips my mind.

Food in the Mess Hall was good. I had two Mess Sergeants: Sp5 Worley, and later SSG Piccone. Both were excellent, and I never heard anyone complain about the chow. We also had civilian KPs (German), so there was no KP duty for the men.

Relations with the Canadians and the Brits were strong. While I was there we began to train with them more often, and on several occasions we deployed to the field (Hohne) with the SSM Battery. Because of the distance to Menden and the 50th, we spent less time with the Brits than was the case later, particularly after the Canadians moved south to Lahr and Baden Baden in 1970. Nevertheless, relations with both units were good, and a fair bit of joint training was done with both 1SSM and the 50th. Years later, (1980 I believe) the 69th moved from Prince of Wales to Menden to co-locate with 50th.

In those days, sports were popular, particularly baseball and basketball, although a few tried to skate with the Canadians, with only limited success. Both the theater and the Hockey Rink at neighboring Camp McLeod were popular with our soldiers.

Mail and finance support was provided by the 570th HQ in Munster, while rations and PX items were picked up in Kassel. We made daily runs to Munster for mail, and twice weekly to Kassel for PX supplies. Payday was the old fashioned pay line, with soldiers filing through, getting paid in cash (U.S.), although there was a DM fund that could be used to buy DMs. The exchange rate was consistently 4 DM to the dollar, and never fluctuated more than a penny or two, until the dollar was "floated" (by the U.S. Treasury) in late '68. I was the Pay Officer nearly every month for two years and only once do I remember the rate being other than 4:1. The small PX we operated at the 69th was popular with the Canadians. as well as with our own personnel. Popular items were parts for U.S. autos, cigarettes, and stereo equipment. Some time after I left there was bit of a scandal involving the "mark up" of stereo components, and one of the U.S. officers was court martialed. He survived, was sent to Viet Nam in 1971, and got out upon his return.

I left the 69th in February of 1969, enroute to Viet Nam. I stayed in touch with some of the soldiers with whom I served, including some of the Canadians. In fact I married a Canadian schoolteacher, and we just celebrated our 34th wedding anniversary last month. One of the soldiers, Rich Gehner, returned to the 69th twice, serving finally as Detachment Sergeant in the 80's. A number of others I ran into over the years, mostly at Fort Sill where I spent three separate tours following my return from Viet Nam. In 1992, in one of the last ceremonies I witnessed on the Old Post Quadrangle at Fort Sill before my own retirement, was the inactivation ceremony of all of the SASCOM Goups, and the casing of their colors, including the 570th Artillery Group, symbolizing the inactivation of the 69th.
---
Roster of senior leaders:
570th ARTILLERY GROUP, Handorf, Germany, June 1967
| | | | |
| --- | --- | --- | --- |
| | 1. | LTC Donald J. Gray | Commander |
| | 2. | MAJ H.H. Brandt | Executive Officer |
| | 3. | CPT Sam Gerace | S-1 Section |
| | 4. | CW4 R. Houston | S-1 Section |
| | 5. | CPT R.Lembo | S-2 Section |
| | 6. | MSG Dorrough | S-2 Section |
| | 7. | MAJ Tommie Woods | S-3 Section |
| | 8. | CPT Larry Needs | S-3 Section |
| | 9. | MAJ W. Piff | 583rd Ord Co |
| | 10. | CPT Karl Savatiel | 1st USA MSL Det, Wesel |
| | 11. | CPT Steve Gamble | 22nd USA MSL Det, Sennelager |
| | 12. | CPT Charles Crump | 69th USA MSL Det, Deilinghofen |
| | 13. | CPT Dewey Burris | 81st USA MSL Det, Dülmen |
570th ARTILLERY GROUP, Handorf, Germany
, January 1969
| | | | |
| --- | --- | --- | --- |
| | 1. | LTC Bailey B. Smith | Commander |
| | 2. | MAJ Tommie Woods | Executive Officer |
| | 3. | 1LT D. Johnson | S-1 Section |
| | 4. | 1LT Mike Connolly | S-2 Section |
| | 5. | 1LT Jack Hoban | S-3 Section |
| | 6. | MAJ W. Piff | 583rd Ord Co |
| | 7. | 1LT S. Kissler | 1st USA MSL Det, Wesel |
| | 8. | 1LT Jim Kane | 22nd USA MSL Det, Sennelager |
| | 9. | 1LT Dick Murphy | 69th USA MSL Det, Deilinghofen |
| | 10. | CPT F. Muller | 81st USA MSL Det, Dülmen |
The 1969 organization shows the effect the Viet Nam war had on the Captain population in USAREUR. Whereas in 1967, most positions authorized a Captain had one, by 1969 most were filled by Lieutenants. By that time, the only Captains to be found in Europe were those who had already completed a Viet Nam tour (as Fritz Muller, commander of the 81st had). To meet the demand for company-level commanders in Viet Nam, branch assignment officers put Artillery officers on orders to Viet Nam as soon as they reached the promotion point to Captain.
---
Roster: 69th US Army Missile Detachment, Deilinghofen, 1962-65
Personnel Roster 1962-1965 - Thanks to Jay Wilcox and Tyrone Dixon. This roster is not complete - please submit corrections or additional names if you know of former members from this period
| | | | |
| --- | --- | --- | --- |
| | Maj Stephens | SGT Leosadas | JessieJacobs |
| | Lt Alling | Bob Vance | Bennett |
| | SSG Reuben Wilson | Jay Wilcox | William Toeller |
| | SGT Ford (1SG) | Tyrone Dixon | Smokey Patrosky (Cook) |
| | SGT Jackson (1SG) | Jim Moriarity | Powell |
| | SGT Larry Salzman (Supply Sgt) | Charlie Brooks | Miner |
| | SGT Kiese | Russ Lawrence (Head Cook) | Harlow |
| | SGT Harry Moore | Andy Cockrell | |
| | SGT Tarver | George Martineau | |
| | SGT Lee | Wray | |
Roster: 69th US Army Missile Detachment, Fort Prince of Wales (Camp 1), Deilinghofen, 1966-69
Personnel Roster 1966-1969 - Thanks to Dick Murphy and other members of the 69th. This roster is not complete - please submit corrections or additional names if you know of former members from this period
DET COMMANDERS:
| | | | |
| --- | --- | --- | --- |
| | 1. | CPT (MAJ) John Stephens | 1962-1964 |
| | 2. | CPT Jon V. Lynn | 1964-1966 |
| | 3. | CPT Charles V. Crump | 1966-1967 |
| | 4. | CPT Charles R. Lamb | 1967-1968 |
| | 5. | 1LT Richard L. Murphy | 1968-1969 |
| | 6. | 1LT John D. Farrington | 1969 |
| | 7. | CPT William Grosmayer | 1969-1970 |
| | 8. | CPT Gary Potter | unknown period |
SUPPORTED COMMANDERS:
| | | | |
| --- | --- | --- | --- |
| | 1. | LTC GB Simpson, RA | 50 Missile Regiment, UK; 1966-1969 |
| | 2. | MAJ JE Crosman, CD | 1SSM Btry, RCA; 1966-1969 |
Others assigned to the Det (1966-69):
| | | | |
| --- | --- | --- | --- |
| | CPT Karl Bankert | SSG Gross | Sp4 Rico |
| | LT Woody Wise | SSG Chadwick (Commo) | Sp4 Kurtz |
| | LT Joe Hampl | SSG Henry | Sp4 Gaines (Supply) |
| | LT Bill Brown | SGT Mordue (later SSG) | Sp4 Grosclaude |
| | LT Steve Best | SSG Darley | Sp4 Andrew (later Lt) |
| | LT Roger Kindermann | SGT Berna | Sp4 Jackie McIntyre |
| | SFC Curtis (Det Sgt) | SGT Dixon | Sp4 Gary Sautner |
| | SFC Robert M. Parker (Det Sgt) | SGT Preston Mathis (later CWO) | Sp4 McElhinney |
| | SFC Jimmy Gooch | SGT Melton | Sp4 Bruce Kirk |
| | SFC (E6) Bob Krakowski | SGT Jerry Boller | Sp4 Sanders |
| | SSG Golden | SGT Brock | Sp4 Trent |
| | *SSG Johnny Godfrey | SGT Stith | Sp4 Jenkins |
| | SSG Henry Crawford | Sp5 (later E8) Norm Andrew | Sp4 Coffey |
| | SSG Al Toney | Sp5 Bockman (Det Clerk) | Sp4 Bobby Miske |
| | SSG Phillip Green | Sp5 Jones (Cook) | Sp4 Freeman |
| | SSG Padula | Sp5 Clarence Moore | Sp4 Hall |
| | SSG Shipley | Sp5 Richard Gehner (returned as 1SG) | Sp4 Stabler |
| | SSG Piccone (Mess Sgt) | **Sp5 Richard Martinez (later 1SG) | Sp4 Edmonds |
| | SSG Spadoni | Sp5 (later SSG) Worley (Mess Sgt) | PFC White |
| | SSG Jim Thomas | Sp4 Blizzard | PFC Obel |
* KIA RVN, 18 July 1970; Panel 8W, Row 28, Viet Nam Memorial
** Died at Fort Sill c 1989 while leading his soldiers in a PT formation
---
1974
(Source: Email from Richard Brown)
In 1974-75, I was the Detachment Commander, 69th USA Field Artillery Detachment. Our parent HQ was the 570th Artillery Group in Münster. At that time, we were housed at Deilinghofen, next door to O Battery (The Rocket Troop), 2d Field Regiment. Our only affiliation with 2d Field Regt was that we were on the same installation. Our detachment supported both 24 and 50 Missile Regiments, in Dortmund and Hemer respectively. Both 24 and 50 Missile Regts were equipped with Honest John rocket at that time.

At the time I was the Det Cdr, we had all the Honest John warhead assets of the I (British) Corps. The Det had six custodial/assembly teams, three that went with 24 Missile Regt (one per battery) and three for the three batteries in 50 Missile Regt.

The Honest John rocket is a general support artillery weapon. We had consolidated all the assets in one location for technical operations training. Training was a challenge. The most critical mission we had was security of the warhead storage site as well as maintaining proficiency on the command and control system and the associated comms. In a wartime configuration, I went with the Det HQ to the Brit 4th Div HQ and provided a "Non-Strategic Nuclear Command and Control" function for the Division. The subordinate detachments were "task organized" to support each division's organization for combat, hence, I had assets from the 15th and 22d Detachments. I also picked-up an Atomic Demolition Munitions squad from 5th (US) Corps in Hanau.
---
1980s
During the 1980s, the 69th USA Field Artillery Detachment was located at Northumberland Barracks in Menden, Germany. Billeted in Block (bldg.) 11, the detachment's mission was to provide warhead custodial support for the British 50 Missile Regiment which was equipped with the LANCE missile system.

The 9th USAFAD was also located at the post (but not sure if in the same building.) I have very little detail on the 9th except that it apparently supported a British heavy regiment equipped with nuclear capable 8-inch SP howitzers.

The 69th was organized as follows: a detachment headquarters section and four LANCE maintenance & addembly teams, one for each of the 50 MSL firing batteries (each battery had three launchers). In total, five officers, 21 NOC's and 72 EM's.
---
(Source: Email from Greg "Mark" Borgeson)
I was a CA with the

69th USAFAD

in Menden from 1987-90. I was there when the Wall came down. We were on alert for several days while Washington decided what was going to happen.

We did lots of training, a few weeks in the field annually and of course guard duty at the site. We had three platoons with an additional platoon of the HQ slackers... I think we had one Volkwagen van and a couple of Deuces. The 50th Missile was our only customer and they supplied all of our transport. Can you say Bedford? In a sleeping bag?

After reading the other info on your site about the past not much had really changed. Daily trips to Muenster and a few trips to Giessen weekly for PX and getting out of another class on the sucking chest wound. We did a quarterly cycle of training so in the 2.5 years I was there I sat through the same classes 10 times.

Guard was rotated between the three platoons on a weekly basis. Guardmount was too early for a hung over PFC. I made it but there were a couple of times that there was a no smoking sign on my body armor. I might have blown up. There were random "piss tests" each month. Not a very effective measure since I never got busted. Oh well. Man, I wanted that go home early card but I never got it. Today I am glad but the dumb kid wasn't happy about it.

I was the RTO for 2nd platoon and I held the dubious honor of having been promoted to E3 three times. 1SG Anderson, SSG Robert Whipple, SFC Rice, and SGT Sanchez were all there when I was on post. Captain Ward Hawley was commander when I left but I don't remember the other CO. He was a huge guy but he left soon after I got there. My last platoon leader was LT Rainey. A good guy.

Some guys I served with were John Kemp, Phil Napier (Hi Phil! Sorry about the boots. I was an ass and you suffered for it.), "JJ" Johnson, Calvin Johnson, SPC Brogdon, Vincent Rampello (Who could forget him? Huh, Chief?), "Gunny" Lane, and Jorge Acosta, Todd Austin, Spec Hand and PFC Jack.

We had a mess hall but the Mess Daddy had lots of trouble getting us to eat there. The food wasn't bad but we all left as soon as possible to head out into the economy. They had beer. So did the Brits at their NAFFI store in the same building as our barracks. We had ration cards for booze at the NAFFI and they had all the good stuff so we almost never shopped at the PX in the basement. I only took passes while I was in so I could get out with terminal leave sooner. Honestly, while the Army taught me many good things, I hated it and I wanted out. I owe Captain Hawley a big "Thanks" for not pitching me out in the last few months of my tour. I deserved a discharge for some of the stuff I did but he saw I was a dumb kid and he helped me despite myself. As a side note, I was the only PFC (sometimes E2) who had his own room in the barracks. I was a total pain in the ass but that made me less of a problem for them... In hindsight I regret many of my actions and words while I was there.

On the positive side my father was living in Dusseldorf during my tour so I got to see him several time a month. That time with him was good for both of us.

I'm back home here in the Northwest after some time in Texas and Florida. Life is much better here, a bit slower too. I have a wife and a couple of the cutest kids on the planet and I am working as a telephone technician.

I was glad to see that Herman had made the barracks into housing. There was a big web site about the remodel but it might be gone now. I remember Papa's bar too. There was a german (and off limits too) biker bar in Menden that played lots of Deep Purple. Several times I took some guys and we went to Dusseldorf to drink. New years eve of 1989 was a rough one and we almost wound up in Berlin. The train back from Dusseldorf kept going to the border and we had to stay awake to make a connection.

If you have other contact with folks from my time in the 69th please feel free to give them my email address.

---
I (BR) Corps - Warhead Custodial Detachments & Supported Formations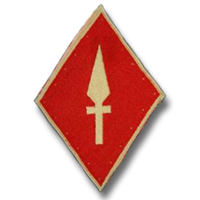 I (BR) Corps Formation Insignia
Personal recollections submitted by former members of the US Army warhead custodial detachments can be found in the corresponding USAAG sections on Page 1!

Personal recollections submitted by former members of British nuclear-capable outfits can be found in the corresponding unit sections on this page!
---
I (BR) Corps - Unit History and General Information
| | | | | |
| --- | --- | --- | --- | --- |
| BRITISH UNIT | HIGHER HQS | HOME STATION | USAFAD | |
| 24 Missile Regt RA | | Paderborn, 1972 Dormund | 15th Msl Det | |
| 27 Guided Weapons Regt RA | I BR Corps | Dortmund | 26th Msl Det | |
| 39 Missile Regt RA | | Sennelager | 22nd Msl Det | |
| 45 Medium Regt RA | 1st Division | Paderborn | 15th Msl Det | |
| 47 Guided Weapons Regt RA | I BR Corps | Dortmund | 26th Msl Det | |
| 50 Missile Regt RA | I BR Corps | Menden | 69th Msl Det | |
| | | | | |
| 8 Regt RCT | BAOR | Münster | 570th USAAG | |
(Source: Klaus Stark)
Klaus Start has been doing some research on the British Royal Artillery units that were assigned to BAOR (British Army on the Rhine) in NORTHAG and were nuclear-capable.

The weapons systems ranged from HONEST JOHN rockets, and CORPORAL and LANCE missiles to the various tube artillery systems.
---
(Sources: "The British Army in Germany (BAOR and After): An Organizational History, 1947-2004," by Graham E Watson and Richard A Rinaldi, 2005; "War Wihout Battles, Canada's NATO Brigade in Germany, 1951-1993," by Sean M. Maloney, 1997)
1959-1964
The first nuclear-capable artillery units to be assigned to the British Army of the Rhine (BAOR) were two army group-level CORPORAL missile regiments and three divisional artillery regiments with a mix of HONEST JOHN rockets and towed 8inch howitzers (soon replaced by the M-55 self-propelled howitzers).




27th Missile Regiment RA (Corporal) located at Dortmund



47th Missile Regiment RA (Corporal) located at Dortmund



24th Missile Regiment RA (HJ/8in) located at Nienburg (moved to Paderborn in 1962)



39th Missile Regiment RA (HJ/8in) located at Sennelager



50th Missile Regiment RA (HJ/8in) located at Menden

In addition to the British artillery, there was also an HONEST JOHN equipped missile battery (1 SSM Btry) of the 4th Canadian Infantry Brigade Group, attached to BAOR.

The SASCOM support structure for BAOR artillery in those early years was composed of the following:




552nd Arty Group (also in control of MSL detachments that supported GE, BE & NL artillery)



162nd Ordnance Company (operated the "temporary" corps-level storage site at Lüdenscheid)



22nd Missile Detachment (operated the SAS at Sennelager)



26th Missile Detachment (operated the SAS at Dortmund)



69th Missile Detachment (operated the SAS at Hemer)

So far, so good!

Now to the questions:
1. In the 1959-1962 time frame, it appears that the "temporary" corps-level storage site at Lüdenscheid was the only one of its type in the NORTHAG region. So, it must have supported all of the active SAS sites (BR, GE, BE, NL) at that time. True?

2. In the 1963/1964 time frame, several "permanent" corps-level storage sites were constructed in the NORTHAG Region: Münster (Telgte), Sögel (Werlte) and Büren (Haarener Wald). The 162nd Ord Co (as well as 552nd Arty Gp) moved to the Sögel site in 1963/1964 where it continued to provide support to the BAOR artillery units (as well as NL units). True?

3. The 22nd Missile Detachment provided warhead custodial services at the SAS site in Sennelager and supported two British artillery regiments 24 MSL Regt RA & 39 MSL Regt RA. However, initially (1961-1962) 24 MSL Regt was located in Nienburg. The 32nd MSL Detachment was located at Nienburg at that time and supported a German artillery unit. Did the 32nd also support the 24 MSL Regt during its first two years in Nienburg?

4. 69th Missile Detachment only arrived in Germany in 1963. It provided support to 50 MSL Regt and the 1 SSM Battery (Canada). Which MSL detachment provided warhead custodial support to the 50th Regt and 1st SSM Btry before the arrival of the 69th MSL Det?
---
24 Missile Regiment RA (BAOR) - 1960/61 to 1977?
(Source: 24th Missile Regiment MSN Group at http://groups.msn.com/24thMissileRegtRA/welcome.msnw)
In 1956, the 24 Medium Regiment Royal Artillery moved from Carlisle to Luneburg, Germany and then to Nienburg (Assaye Bks), Germany.

In June 1960 the Regiment was redesignated as 24th Missile Regiment RA.
In 1960 the Regiment began its conversion to a nuclear role with Honest John. This was completed by 1961.

Initial organization of 24th Msl Regt RA:
Hq Bty
2 Bty (8" gun)
34 Bty (8" gun)
51 Msl Bty (Honest John)
76 Msl Bty (Honest John)

The 24th Missile Regiment moved to Paderborn (Barker Bks) in 1962 and then to Dortmund in 1972.

In Jul 1972 - 2 Bty transferred to JLRRA
Nov 1972 - 19 Bty transferred from 39th Regt and 34 Bty transferred to 45th Regt

In February 1977, 24 Missile Regiment disbanded in Dortmund
In Feb 1977 - 51 Bty transferred to 50th Msl Regt; 76 Bty transferred to 26th Regt; in Mar 1977, 19 Bty transferred to 50th Msl Regt
| | |
| --- | --- |
| 15th US Army Missile Detachment | |
The 24th Missile Regiment was supported by the 15th US Army Missile Detachment.

Constituted 14 December 1960 in the Regular Army as the 15th United States Army Missile Detachment
Activated 11 February 1961 at Fort Sill, Oklahoma
Inactivated 15 September 1966 in Germany

Reactivated 1 May 1969 in Germany
Reorganized and redesignated 12 September 1970 as the 15th United States Army Artillery Detachment
Inactivated 15 October 1988 in Germany
---
(Source: Email from John C. Calhoun, 15th USAFAD, 1974-75)
Moved John's email to the 15th USAFAD section on the main 59th Ord Bde Page -- link
---
27 Guided Weapons Regiment RA (BAOR)
(Source: 27 Missile Regiment)
September 1957 saw the 27 Heavy Anti Aircraft Regiment (previously stationed in Hong Kong) in Oswestry, Shropshire being retitled as 27th Guided Weapons Regiment Royal Artillery. 137 Bty were placed into suspended animation at this time.

The unit became the first GW regiment in the British army and were equipped with the Corporal missile. After a short time the regiment moved yet again to Crookham just outside Aldershot and remained there until 1961 when they were moved to Napier Barracks Dortmund in BAOR to become 27 Army Missile Regiment in support of NORTHAG.

The regiment remained in Napier Barracks until the end of 1966. During this time rumours were abound as to the regiments next tour of duty. The missiles and all American equipment were handed back and for a short and little documented time the regiment took on it's anti aircraft role again with the L40/70 Bofors and was known as 27 Light Air Defence Regiment although this title was short lived. A regimental muster parade was called at the gymnasium and on display were two 5.5 guns. This is your new equipment we were told and in January 1967 the regiment moved to Devizes in Wiltshire where it took its role as 27 Medium Regiment as part of 3rd Division and the Strategic Reserve. During this period the regiment gained a further Battery this being 132 Battery (The Bengal Rocket Troop).

January 1969 saw the regiment return to BAOR in support of 4th Armoured Division. This time to a small town called Lippstadt. The regiment was equipped with the American M109 Self propelled Howitzer. 27 Regiment spent 17 years in Lippstadt and during that time carried out many roles including four tours of Northern Ireland and sadly losing four outstanding members of the regiment during the 1971 tour.

132 Bty left the regiment after returning from Ireland in 1971 and was replaced by 56 Olpherts Bty who became the Heavy Battery of the Regiment equipped with the M110 8" tracked howitzer. There were other changes whilst in BAOR and the regiment gained a fourth battery which was 21 AD Bty armed with the Blowpipe air defence system.

56 Olpherts Bty also left to form the 39 Heavy Regiment and 49 Inkerman Bty became the regiments third M109 sub unit. To add to all this upheaval, 21 AD Bty were also posted to Gutersloh to become part of 47 Regiment.
(Source: Annual Historical Summary, USAREUR & Seventh Army, 1 Jan to 31 Dec 1966)
British Inactivation of Corporal

Early in 1966, USAREUR learned that Great Britain planned to inactivate its 27th (sic) Artillery Regiment (Corporal) -- the last Corporal unit in Europe -- on 31 December, and the British subsequently expressed interest in the Lance system as a replacement.

In the interim the British Army on the Rhine (BAOR) would equip two medium artillery regiments with 155mm self-propelled howtitzers.

By the end of the year plans for the return of the remaining Corporal warheads to the United States were complete. USAREUR intended to inactivate its 26th Missile Detachment early in 1967 and use the Dortmund storage site to meet other programmed requirements.
---
39 Missile Regiment RA (BAOR)
(Source: The Royal Regiment of Artillery website at http://www.army.mod.uk/royalartillery/index.htm)
By February 1960, the 39th Heavy Regiment had re-organised in Dempsey Barracks, Sennelager to become one of the Corps Artillery's three Nuclear Regiments, with two 'Honest John' Rocket Batteries and two towed 8" M115 Howitzer Batteries. This was to become home for the next 35 years.

Initial organization of 39th Hvy Regt RA:


Hq Bty


75? Bty (8" gun)


171? Bty (8" gun)


19 Msl Bty (Honest John)


36 Msl Bty (Honest John)

In Apr 1964, the unit was redesignated 39th Missile Regiment RA

Following a period of some stability, it was announced in 1967 that 75 Battery was to be placed in suspended animation. In an unusual parade the Battery drove 200 yards out of Dempsey Barracks, turned around, replaced vehicle identification marks and drove back into camp as H Battery, Royal Artillery.

In Mar 1971, the unit was redesignated as 39th Medium Regiment RA
A further re-organisation in 1972, as 39 Medium Regiment equipped with the 155mm M 109 and 203 mm M 110, saw 132 Battery and 176 Battery joining H Battery. Nov 1972 - M109 (132, 176); M110 (H Bty)

In Jan 1977, another redesignation to 39th Field Regiment RA

In 1981, the Regiment changed role once again, to become a General Support Regiment equipped entirely with the M 110. This change of role also involved a change of organisation.

In Apr 1982, it became the 39th Heavy Regiment RA

In April 1982, 39 Heavy Regiment was joined by 56 Battery, 34 Battery and 76 Battery. H Battery was placed into suspended animation and 132 Battery and 176 Battery departed for the Royal School of Artillery, Larkhill.

Some five years later, 132 Battery and 176 Battery rejoined the Regiment in the conventional M 110 Field Gunnery role and 56 Battery converted to a special weapons battery, equipped with M 109.
| | |
| --- | --- |
| 22nd US Army Missile Detachment | |
The 39th (Missile) Regiment was supported by the 22nd US Army Missile Detachment. (Webmaster Note: I need confirmation on this. STATION LIST for 16 April 1962 places the 22nd USA Msl Det in Sennelager, so I am fairly confident that this is correct.)
---
45 Medium Regiment RA (BAOR)
---
47 Guided Weapons Regiment RA (BAOR)
(Source: 47 Missile Regiment)
The 47th Regiment RA was re-equipped with the Corporal Guided Weapon in 1957 and moved to Dortmund (Napier Bks), Germany.

In Mar 1957, the 47th Regiment was redesignated as 47th Guided Weapons Regiment Royal Artillery.

Initial organization of 47th Regt RA:


Hq Bty


3 Bty (Corporal)


4 Bty (Corporal)

In Apr 1964, the regiment was redesignated 47th Missile Regiment Royal Artillery.

In 1965, the Regiment was again re-equipped, this time with the 105mm Pack Howitzer.
---
(Source: Email from

David Vickers

)
I have been reading the history of these two regiments on your web site. In the story of 27 Regiment it is stated that the regiment became the first GW regiment in the British Army in Sept 1957. However 47 (GW) Regiment was formed in March 1957 so surely 47 was the first GW regiment. Also the order of battle for both regiments omits the attached Signals Squadrons. 256 Signal Squadron for 47 Regiment and 257 Signal Squadron for 27 Regiment.

These two squadrons merged together with 1 Arty Bde Signal Troop to form 257 Signal Squadron (Arty Bde) in about 1964.

I was posted into 256 Signal Squadron in 1962 and remember well the exercises and guard duties on the missile compound.





I can only talk about 256 Signal Squadron, although, apart from the equipment used, the two squadrons were probably very similar in organisation etc.

The administrative organisation of the squadron was:
HQ Troop
Radio Troop
Radio Relay Troop

Technical support was embedded in the operational troops.





The graphic on the left shows the operational organisation for 47 Regiment RA. The signal support for 27 Regiment RA was probably similar.
(1) This detachment was tasked with passing nuclear fire missions to Regiment and Brigade
(2) Administration of 27 and 47 Regiments RA
(3)

1 Arty Bde was more or less just an administrative unit covering 27/47 RA as they were the only regiments in the Bde and they operated directly to 1 BR Corps in the field.
---
50 Missile Regiment RA (BAOR)
(Source: 50th Missile Regiment website at http://members.aol.com/missilereg/)
In November 1959 the 50th Medium Regiment RA moved to Northumberland Barracks in Menden, West Germany.

On the 12 August 1960 the Regiment was re-named the 50th Missile Regiment R.A. The Regiment's 4 Batteries were 15 Battery, 21 Gibralter Battery, 33 Heavy Battery and 78 Heavy Battery.

In September 1960 the Regiment was re-equipped, 15 and 21 Btys with Honest John Rockets and 33 and 78 Btys with 8in Guns.

Initial organization of 50th Msl Regt RA:


Hq Bty


15 Msl Bty (Honest John)


21 Msl Bty (Honest John)


33 Bty (8" gun)


78 Bty (8" gun)

In 1972 the organisation was changed to three Missile Batteries.

In 1976 the Regiment converted to the Lance Tactical Nuclear Missile System. Shortly after the demise of Honest John in 1976, the Regiment amalgamated with 24th Missile Regiment (1977) and reverted to four Missile Batteries. All four batteries were equipped with the Lance System.

A further re-organisation in 1985 saw the disbandment of 51 Missile Battery which left the Regiment with three Missile Batteries (19, 36 and 15 Msl Bty) of four launcher sections.

The Missile Battery's moved independantly for live firings in the Outer Hebrides every year and other training took place in many countries in Western Europe. The Regiment had a close affiliation with 150 Raketenartillerie Battalion of the West German Army stationed on the Rhine at Wesel
---
50 MSL Regt Shield 50 MSL Regt Shield

Colours of the Regiment's subordinate units:
19 Missile Battery R.A.
36 Missile Battery R.A.
15 Missile Battery R.A.
Headquarters Battery
R.E.M.E. Workshop

In the center of the plaque (below) are the scrolled initials of the Royal Artillery Regiment with the Queen's Crown above.

---
| | |
| --- | --- |
| 69th US Army Missile Detachment | |
The 50th Missile Regiment was supported by the 69th US Army Missile Detachment.

The 69th U.S. Army Field Artillery Detachment was constituted in April 1963 in the regular Army as the 69th U.S. Army Missile Detachment. It was activated in September 1963 in Menden, Germany.

It was then reorganized and redesignated as the 69th U.S. Army Field Artillery Detachment in June 1970 and assigned to the 570th USAAG.

The unit was inactivated in May 1992.
---
1st Surface-to-Surface Missile Battery, RCA (4 CIBG)
(Sources: Canadian Nuclear Weapons: The Untold Story of Canada's Cold War Arsenal by John Clearwater. Toronto / Oxford, 1998; Klaus Stark and Rick Anders, Germany)
The Canadian Army was equipped with the HONEST JOHN rocket system in Europe between 1964 and 1970. It was the only nuclear capable weapon system used by the Canadian Army.

Similar to other elements of the NATO forces in central Europe, 4 CIBG (4th Canadian Infantry Brigade) - assigned to BAOR - operated under the NATO strategy outlined by NATO Document MC 14/2. The Brigade deployed one HONEST JOHN battery (official designation: 1 SSM, RCA) with four launchers. Its mission was to use its nuclear capabilities to prevent the Canadian Brigade from being overrun if conventional weapons failed to contain Soviet forces in the event of an attack by the Soviets.

1 SSM, RCA was formed on 15 September 1960 in Canada, trained on the HONEST JOHN in Canada and at Fort Sill, Okl. and then delpoyed to Germany on 8 December 1961 where it was initially stationed at Fort Prince of Wales in Deilinghofen, Germany, about 4 km from Hemer. In the autumn of 1968, the battaery moved to new quarters at Fort Qu'Appelle, Iserlohn, Germany. Operationally, 1 SSM, RCA was under direct control of HQ 4 CIBG.

The Battery became "nuclear certified" in September 1964.

A team of the 69th Arty Det provided custodial support. In the initial phase, the team consisted of one captain, one sergeant and three EM's. The author, John Clearwater, assumes that there were 16 W-31s assigned to the Canadian battery, 4 warheads per launcher. The warheads were stored at the Hemer SAS (special ammo storage?) site about 20 minutes from the kaserne housing the 1 SSM. Apparently, the nuclear warheads of two other units (probably British and most likely NATO units also supported by the 69th Arty Det) were stored at the same site, totalling about 48 W-31 warheads. The security force for the SAS consisted of British, Canadian and US troops.

With the reorganization of the Canadian military in 1967-68, 1 SSM, RCA was reduced on 30 April 1968 to 2 launchers. On 19 September 1969, the Canadian government announced that the Canadian Brigade would drop the HONEST JOHN nuclear role in 1970 as part of a new defense posture introduced by Pierre Trudeau, the new Canadian prime minister..

1 SSM, RCA had its final Nuclear Surety Inspection on 11-15 May 1970. It was given a "satisfactory" rating with no deficiencies found. The unit participated in its last field exercise, "Exercise Gravy Train," in May 1970 and had its final parade on 1 June 1970. The unit was disbanded on 1 July 1970.
| | |
| --- | --- |
| 69th US Army Missile Detachment | |
(Sources: Canadian Nuclear Weapons: The Untold Story of Canada's Cold War Arsenal by John Clearwater. Toronto / Oxford, 1998; Klaus Stark and Rick Anders, Germany)
1 SSM Bty, RCA was supported by the 69th US Army Missile Detachment.

The 69th US Army Missile Warhead Support Detachment, also known as the 69th USA Msl (Whd Spt) (HJ), was stationed at Hemer, Germany. Under the command of the 514th US Army Missile Group, it was responsible for all HONEST JOHN warheads assigned to Canada in Germany. The 69th also supported the British Army 50 Missile Regiment, which also used the HONEST JOHN, at the same site.

The 69th was organized under the US Army Special Ammunition Support Command (SASCOM) at Heidelberg, and fell under the operational control of the 514th US Army Artillery (Missile) Group commanded by COL Wilson at Mönchengladbach. In this capacity, the 69th operated safe and secure "igloos" for storgae of nuclear warheads at or near Hemer, Germany.
---
British/Canadian HONEST JOHN Units and their US Army Support Detachments
1 SSM

(?)

Formation Patch
---
8 Regiment RCT (BAOR) - 1964 to 1988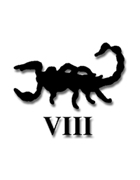 8 Regiment RCT
(Source: Email from Jimmy Aspinall, 8 RCT Regt)
I served with 8 Regt from 1979 - 1985, 1989 - 1992 and finally from 1995 - 1998. My first 2 tours where in Munster, Germany and the latter in Catterick, North Yorkshire, England where the regiment remains to this day. I can remember a few US Army guys from my time, however I have forgotten their names now and they have probably forgotten me.
I organise the 8 Regt reunion each year in a town called Wigan (my home) which is located between Liverpool and Manchester in the North West of England. This year is the 5th time we have come together and it is a fantastic event. I think everyone who served in 8 Regt during the Munster days will know me due to the fact I organise this event, however I am not sure if I will be able to put names to faces if they were to make contact with me over the phone and tell me who they are.
I see you are after some information on 8 Regt and its Squadrons. I would be delighted to assist you with any request you have and put you in touch with any old comrades you may want to make contact with again.
Jimmy Aspinall
8 TRANSPORT REGIMENT RLC
REGIMENTAL HISTORY

8 Transport Column, Royal Army Service Corps, was formed in Nelson Barracks, Munster in 1964 and assumed the role of the carriage of 1 (BR) Corps special weapons, a task previously carried out by the Royal Artillery. Initially, two RASC companies (5 and 13 Companies) carried weapons and provided transport support to 570th US Army Artillery Group, the US custodians. Protection was provided by a dedicated mechanised infantry battalion and the whole organisation was given the title Weapons Support Group (WSG). In 1965 the WSG was joined by 604 Signals Troop which came under command of the Regiment. On the formation of the Royal Corps of Transport (RCT) on 15 July 1965, the unit was re-titled as 8 Transport Regiment RCT and moved to Portsmouth Barracks, Munster, in 1968. The Regiment at that time consisted of 5 Squadron RCT, 13 Squadron RCT, 604 Signals Troop The Royal Signals and 8 Transport Regiment RCT Workshop REME. In 1970, 27 Squadron RCT joined the Regiment, moving to Munster from Bielefeld.

In 1981 the Regiment was expanded to incorporate ten platoons, composing of RCT and Royal Pioneer Corps (RPC) soldiers in the infantry role. Six of the platoons were found by the RPC, the remaining four by the RCT. In 1986 a further reorganisation witnessed the disbandment of the RCT close support troops and the reorganisation of the remaining RPC manpower into four defence platoons.

The Regiment's unique task of special weapons movement came to a conclusion on 15 March 1988. It was marked by a Regimental parade which not only commemorated the re-roling of the Regiment from its special weapons task, but also marked the disbandment of 604 Signals Troop and the removal from the Regimental ORBAT of the RPC close support platoons.

Since 1988 the Regiment's role has been that of providing conventional artillery ammunition transport support. On 01 February 1989 12 Squadron RCT became the fourth squadron in the Regiment's ORBAT. 5 Squadron RCT continued its support to 570th US Artillery Group until 1992, by which time all the artillery group's personnel had departed from Germany. In the meantime, 27 Squadron RCT had been disbanded.

12 Squadron RCT deployed to the Gulf on Op GRANBY from 20 October 1990 until 05 May 1991 while 13 Squadron deployed to Northern Ireland on Op BANNER from 04 December 1990 until 20 May 1991.

On 05 April 1993, upon the formation of the Royal Logistic Corps, the Regiment was re-titled to 8 Artillery Support Regiment The Royal Logistic Corps. 12 Squadron deployed to Northern Ireland later in the year on Op BANNER, returning to Munster on 20 April 1994.

During the summer of 1994, under the continuing "Options for Change" process, 8 Artillery Support Regiment RLC moved to its current location at Marne Barracks, Catterick (the former RAF Catterick). The Regiment provided support to the 3 MLRS equipped regiments of the Royal Artillery, which were also in the process of re-deploying to the United Kingdom.

The Regiment when it formed up in Marne Barracks consisted of 5 (HQ) Squadron RLC, 12 Artillery Support Squadron RLC, 13 Artillery Support Squadron RLC and 8 Artillery Support Regiment RLC Workshop REME. In time of war the Regiment would be joined by 17 Artillery Support Regiment RLC from 7 Transport RLC in Bielefeld. 12, 13 and 17 Squadrons provided second line transport support to 1st Artillery Brigade (5, 32 and 39 Regiments Royal Artillery).

In October 1996 13 Artillery Support Squadron once again deployed as the roulement transport squadron in Northern Ireland as part of Op BANNER. The Squadron returned to Catterick on 17 April 1997. Six months later, on 04 October 1997, 12 Artillery Support Squadron departed on Op LODESTAR in Bosnia, serving with 4 (UK) Logistic Regiment RLC. 12 Squadron returned to Catterick on 24 March 1998.

On 01 April 1998 as part of the Commander-in-Chief's Review of the LAND Command Logistic ORBATs the Regiment was once again re-titled to become 8 Transport Regiment The Royal Logistic Corps. 12 and 13 Squadrons were similarly re-titled to become transport squadrons.

The Regiment is in the process of adapting to the continuing changes taking place in the British Army. On 01 September 1998, after almost ten years in the Regiment, 12 Transport Squadron departed to Gutersloh, Germany, where they were re-roled into the AS90 artillery support role, coming under command of 1 GS Regiment RLC. Their place, both in Catterick and on the Regimental ORBAT, has been assumed by 3 Tank Transporter Squadron RLC following their re-deployment from Sennelager, Germany.

With the completion of recent changes, 8 Transport Regiment RLC currently consists of 5 (HQ) Squadron RLC, 3 Tank Transporter Squadron RLC and 13 Transport Squadron RLC. If deployed on operations in support of 1 (UK) Artillery Brigade the Regiment would require augmentation by 2 additional DROPS squadrons.

With effect 1 April 1999 the Regiment was placed under command of 102 Logistic Brigade, thereby shifting the Regiment's focus to third line CSS operations. However, the Regiment will continue to have an operational and training commitment to provide the second line logistic support to the MLRS regiments of 1st Artillery Brigade when required.
---
(Source: British Army: Transport & Logistics, by Robert Swan and Geoff Fletcher, Shepperton, Surrey, 1991; research done by Rick Anders, Germany)
On 9 August 1962, an agreement was signed between the UK and the USA that stipulated the conditions under which the US would supply nuclear warheads for Royal Artillery systems assigned to BAOR. This agreement (known as the 'Heidelberg Agreement') established the 'two-key' procedure that would ensure that no nuclear weapon could be launched either accidentally or without proper authorization from both governments.

8 Regiment RCT (Royal Corps of Transport) was formed in 1964 and was responsible for providing transportation support and security for all of the tactical nuclear warheads allocated to the artillery units within BAOR. The Nuclear Convoy Escort Battalion, an infantry unit, was attached to the Regiment to provide security.

In 1981, the infantry battalion was disbanded and the security role was reassigned to 8 Regt, with six platoons of Royal Pioneer Corps and four of RCT assuming the responsiblity for all aspects of security during movement of the "special weapons."

In June 1988, the SW role of 8 Regt came to an end when a large number of the nuclear warheads were transported back to the US for destruction as part of the disarmament program. The Royal Artillery regiments left with a nuclear role assumed the responsibility of collecting and transporting the remaining nuclear warheads for themselves.

8 Regt headquarters was at one time located at Nelson Barracks, Münster, but later moved to Portsmouth Barracks.

Some units assigned to the Regiment in the 1970s, 1980s:


5 SW Squadron RCT


13 SW Squadron RCT


27 SW Squadron RCT

5 SW Sqn RCT had a unique role - in peacetime it provided administrative and transport support to the US custodial detachments and NAIRA (nuclear accident & incident response & assessment) in Nordrhein-Westfalen. Whenever US Army Chinooks (CH-47) airlifted nuclear warheads, NAIRA teams would deploy along the projected flight path in case of an accident. Using RATT rigs, the teams would be in constant contact with the Chinooks.

In a wartime situation, the 570th Arty Gp would send nuclear weapons liaison officers to both I Corps Main headquarters and I Corps Rear, and courier officers to the two SW forward storage sites to which all British-allocated warheads are outloaded. One of these storage sites is commanded by the CO (commanding officer) of 5 Sqn, the other by the CO of 56 SW Battery RA. Each storage site has a US Army Field Artillery detachment assigned which is responsible for handling the warheads and shells and issuing them to the user units after they have been armed. The 583rd Ord Co (of the 570th USAAG) is responsible for the storage site that holds the warheads for 50 Missile Regt RA, BAOR's sole Lance tactical missile unit.

Additional notes on the British storage sites:


We do not yet have an operator for it, but the one at Dortmund-Brackel (

) is mentioned several times in the 1960s, and it was connected by telephone cable to Block 22 of Napier Barracks.

The site near Holzen in the Neheimer Forst (

) (location ID'd by Angus Mathie) was tied to Fort Prince of Wales in Deilinghofen. (Webmaster note: did this SAS also serve the early British units in Menden?)

The VLM Münster ("Münster-Nord Stockpile Site") in the Schirlheide (

) (Webmaster note: also known as "SAS Telgte") near Ostbevern consisted of nine bunkers.

Sennelager-Süd (

) was said to be connected to Block 13 of Dempsey Bks in 1960, but then to Normandy Bks in 1962. Unfortunately neither British designations nor NATO site numbers appear in the files that Rick is studying at the German Bundesarchiv.
Can anybody provide additional details on the unit history, organization and mission of 8 Regiment RCT, its subordinate units, its predecessor organizations and the collaboration between 8 Regt RCT and the 570th USAAG?
---
(Source: Email from Angus Mathie, 6 Arty Sp Sqn)
This link (added as Google Maps link to
SAS Neheimer Forst
mentioned above) will show you the location of the now demolished WSA in the Neheim Forst. I knew where it was because I commanded 3 separate Site Guards (known in the British Army as Op BEGGAR) there between 1984 and 1989.


It was pretty small site (2 weapon bunkers) and I have no idea what number it was. I don't know anything about the US guys but there used to be about 3 of them in the inner part of the site controlling access – access was incredibly strict. Site Guards took two weeks out of your life – a week of training and a week on the site. They came around about once a year and were shared around most British Army units on a roster. The Guard was 3 platoons of 30. One platoon (the
On Site Force
or OSF) was in the site itself with 4 soldiers on SAT (Security Alert Team), basically sitting with helmets and webbing on and weapons loaded on immediate notice to move. Next was the BAF (
Backup Alert Force
), a full section of eight at, I think, 5 minutes NTM. I was in an artillery support transport squadron at the time (6 Arty Sp Sqn RCT) so the OSF was commanded by my Troop Staff Sergeant and I commanded the Augmentation Force (AF) based in a building at the front gate of the site, basically another platoon of 30 men at, I think 10 minutes notice to reinforce the perimeter of the site. A third platoon of 30 (the
Reserve Force
or RF) commanded by a Captain (the Sqn Ops Offr) was based back in barracks (in Duisburg) at, I think 6 hrs notice to reinforce us.
The week basically consisted of total boredom punctuated by crash outs initiated either by me, or by the US guys in the site – it was always an impressive sight to see 60 heavily armed men bomb bursting around the area when the klaxon went. We had a real fright on one of my weeks at Neheim when the DO at 50 Msl Regt rang up and gave the real attack codeword instead of the practice one. This meant that we crashed out as per usual, on the highest of alerts and the RF crashed out from Duisburg to reinforce us, although we weren't informed by Menden that this had occurred. As a result after sitting in the woods around the site for a couple of hours I received a report of 'armed men skirmishing up the access track' from the control tower. We nearly had the most enormous blue on blue – it was the RF coming to our aid!
It was partly fun – a chance to do some infantry stuff, guard special weapons and carry lots of live ammo but mainly a real bore. The novelty always wore off quickly after the klaxon had gone quiet. Still, it used to get my adrenaline going!
---
(Source: Email from Mik Howarth, 13 Sqn)
I served with 13 SQN RCT (Royal Corps of Transport) at Portsmouth Barracks in Munster, Germany from August 1980-September 1981. I was a Driver ... 570th USAAG and I think the other american unit was the 583rd Ordnance Company. They had a floor below my accomodation and I can remember a guy who I shared a beer with a few times. His name was Fisher and another guy's name, although I did not really know him, just his name stood out, was Mascola.

We used to outload a site in Munster and it was nukes and main motor assemblies. We used to have one Brit and one American in the cab when we did our exercise training. 8 Regt moved back to Catterick North Yorthshire England some years ago. And the RCT is now known as the RLC. ROYAL LOGISTICS CORPS is an amalgamation of the likes of Transport, Catering corps, Ordanace corps, etc.
As I remember it, there were the 27, 5 and 13 SQN - seperated by blocks with each having their own OC. The 570th shared the block I lived in and had their own floor in our block.

We did not support the Royal Artillery nuclear-capable units. The only thing in common with the artillery and the transport was the history of the LANYARD, a piece of brade worn around the shoulder. The Transport had a dark blue one and the Artillery had a white one, this symbolises cowardice in battle. The Artillery retreated and left their Guns and Transport soldiers manned them and beat the enemy back. I am unsure which conflict this was in but Blue symbolised Bravery something the Transport regiments are fiercely proud of. The LANYARD was attached to the firing mechanism to keep hands away from the breach...

Nukes on exercise and on live outloads of the site were guarded by American troops; we just transported them to firing positions. Never to the wartime firing positions as we would only know of them in event of an alert state Red (your Def Con 1, as I understand).

13 Squadron was organized as 1x HQ troop; 1x Support troop; 1x NCE Troop (Nuclear convoy escort); 1x C&D Troop (the actual warhead and main motor assembly carriers).

Hope this is of some help
---
(Source: Email from Mike Egan)
I found your request for information about 8 Regt RCT on the Waggoners Web site here in UK.

I served in the Regiment 1980 to 1983 as a Warrent Officer and commanded 'Communications Troop' dealing with all the Regimental communications. I worked alongside both the incumbent Royal Signals Troop (604 Signals) and our American Counterparts at Handorf Storage Site. I was responsible for all incomming units site guard communications.

During my tenure at 8 Regt I was involved in the handover of the Weapons Support Group (WSG) from the Infantry units to two Royal Pioneer Companies who took over the Regiments Guard Duties. Additionally I set up, what was then a 'new communicatins network for the Regiment.

I retired from the army in 1985 but continued working for the Ministry Of Defence in East Yorkshire training the people of the Combat Support Services in the field of Telecommunications.

I still have contact with many people who served in 8 Regt since 1980 including one individual who spent many years working as Quartermaster US Forces and would have a wealth of information if he is willing to give it. Also local to where I live is one of the Lt Colonels who commanded the Regt in Early 1980, I also can access 5 Sqns Commander of the same period, Both these Officers are now retired Brigadiers.

I would remind you that 8 Regt was the largest regiment in the British Army during the Eighties and was made up of people from 27 other Corps in addition to the RCT.
---
(Source: Email from Ernie Wise)
I served with 8 Regiment RCT from 1983-87 and worked closely with the 570 USAAG and the 583 Ord Bn. Knew a few of the guys personally as some of the SNCOs stayed in our Sgts Mess. I actually got retired from the army after 25 years in 1996 and still live in Münster.



All squadrons of 8 Regt RCT were located at Portsmouth Bks. (Which incidentally is an housing estate now, using the old barrack blocks as contained apartments and new apartments built. The gymnasium is now the sports hall of a school which has been newly built within the 'camp' perimeter).


In peacetime, all the weapons were held in a central area near to the town of Westbeven some 10 kms from Portsmouth Bks.

In 'war,'

27 Sqn (WHA)

and

13 Sqn (ASP)

would be responsible to guard their own stocks. Each Squadron had an Infantry Company to act as guard. (Incidently, WHA = Weapon Handling Area and ASP = Ammunition Supply Point.)

As far as I can remember, the USCOs were from the 583rd Ord Company. The CO (of the 583rd) in my time at 8 Regiment was called Maj Stewart. The particular Custodial Officer for my Troop was called CW3 Willis.

As for the organization of the squadrons, the Sqn ORBAT was as follows:
HQ Troop
Sqn Comd
2IC (Second in command)
Recce Officer
SSM (Squadron Sergeant Major)
SQMS (Squadron Quartermaster Sergeant)
Sqn Radio Sgt
Workshop SSgt

Recovery Mechanic




SHA 1 (Stock Holding Area = the Special Weapons)

Tp Comd

Tp SSgt

4x Lance Sections (each Section 6x vehicles)

1x CALM (1) Section (A crane section of 6 Cranes) . . . mainly used at FFSXPs for transfer duties (Field Storage Site Exchange Point)

1x CE Platoon (Close Escort for the weapons)

1x Inf Section (Outer perimeter protection)

Workshop Section

1 x Custodial Officer (CW3 or Above)

18 x Custodial Agent (Other Ranks)

(1) Crane Atlas Loading Mounted (An Atlas crane mounted on a Bedford truck)


NOTES:
1.
Each Squadron had 2 SHAs.

2.
Of the four vehicles section in the SHAs 2 sections were designated to carry the Special Weapons and 2 sections carried the MMAs (Main Missile Assemblies)
3.
Incidently the Tp Comds once deployed would become the SHA Commander with up to 135 officers and other ranks under his command. His rank was a full lieutenant.
4.
The two Pioneers companies were 70 Coy RPC and 144 Coy RPC:
5 Sqn in the Regiment was the Headquarters Squadron (we used to refer to them as the Handbag Squadron). They provided the cooks, bottle washers, posties, QM staff etc.
There were also a Radio Troop belonging to the Royal Signals which provided the High Frequency Detachment.

There were also 2 Companies of the Royal Pioneer Corps who provided the outer perimeter protection. (Already mentioned in the ORBAT).

The weapons were so 'sensitive' that it was deemed necessary to provide an infantry battalion to provide protection for them. However, due to the fairly fast turnaround of battalions carrying out 'emergency tours' in Northern Ireland during the troubles there, the Royal Pioneer Corps (RPC) took the place of a regular British infantry battalion in the early 1980s to relieve pressure on the infantry and thereby releasing more battalions for Northern Ireland duties. The RPC where perfect for the job as there were trained to guard static installments for example Headquarters, ammo dumps, railway sidings, etc.
---
Warhead Custodial Units (US Army)
| | |
| --- | --- |
| 26th US Army Missile Detachment | |
The 27th and 47th Guided Weapons Regiment were supported by the 26th US Army Missile Detachment.

According to USAREUR Cir 10-5, dated 20 July 1959, the 26th U.S. Missile Detachment is stationed at Dortmund and is a "USAREUR Assigned Unit" reporting directly to Headquarters, US Army, Europe.

The 26th US Army Msl Det is assigned to SASCOM in June 1960.

In November 1963, the 26th MSL Det is (further) assigned to the 5th Artillery Group.

In February 1967, the 26th US MSL Det is inactivated in Germany.

In March 1988, 26th USA Msl Det is reorganized & redesignated as 26th USAFAD and moved from Paderborn to Sennelager.
(Source: Email from John Walker, with the R.E.M.E., served as a radar technician specializing in the 'Corporal' nuclear missile system; attached to 47 Regt, Royal Artillery located in Napier Barracks, Dortmund, Germany.)
27 Regt R.A. and 47 Regt R.A. shared common occupation of Napier Barracks, and were both supported by the 26th US Army Missile Detachment. Their barracks and offices were located just inside the main gate.

The only American name I can remember from that era is Les Grace, a civilian cypher clerk from Roaring Spring, Pennsylvania.
John Walker
Related Links:
27th Regiment RA - shows photos of the CORPORAL (Broken LINK)
47th Regiment Royal Artillery (Broken LINK)
John Walker's R.E.M.E. Pages - personal recollections on his service with 47th Regiment in Dortmund - great photos of the British CORPORAL unit (Broken LINK)
| | | | |
| --- | --- | --- | --- |
| | | Royal Artillery Association - great site with lots of historical information on the Royal Artillery regiments of the British Army. | |
| | | British Army Units 1945 on - very interesting webiste with a large section on Royal Artillery units including those that served with BAOR. | |
| | | 50 Missile Club RA - a reunion group of 50 Msl Regt veterans. | |
| | | Waggoners - web site maintained by the Royal Army Service Corps & The Royal Corps of Transport Association. | |

---
I (BE) Corps - Warhead Custodial Detachments & Supported Formations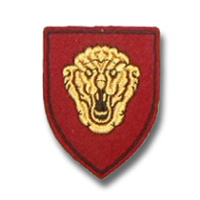 I BE Corps Formation Insignia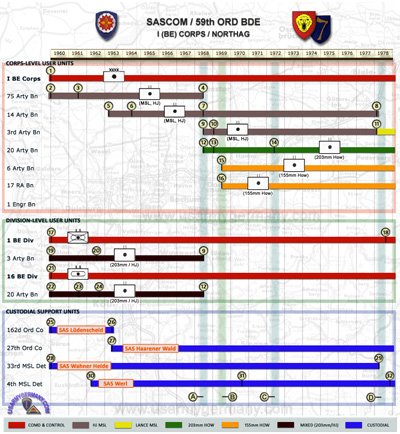 I (BE) Corps Nuclear Artillery Timeline (1960-1978)
(1978-1992
as well as National SW support units
will be added at a later date
)
Anyone interested or who has knowledge of the Belgian I Corps
Nuclear-capable artillery or support units -
please
contact me

I (Belgium) Corps, NORTHAG - Nuclear-Capable Artillery, Engineer and Support Units:

Unit History/General Information

3 Artillery Battalion (3A)

6 Artillery Battalion (6A)


14 Artillery Battalion (14A)


17 Horse Artillery Battalion (17RA)


20 Artillery Battalion (20A)

75 Artillery Battalion (75A)

ADM Platoon, 1 Engineer Battalion / ADM Company, 1st Engineer Battalion


ADM Platoon, 6 Engineer Battalion

Support Units (Logistics and Security)

Warhead Custodial Units (US Army)
---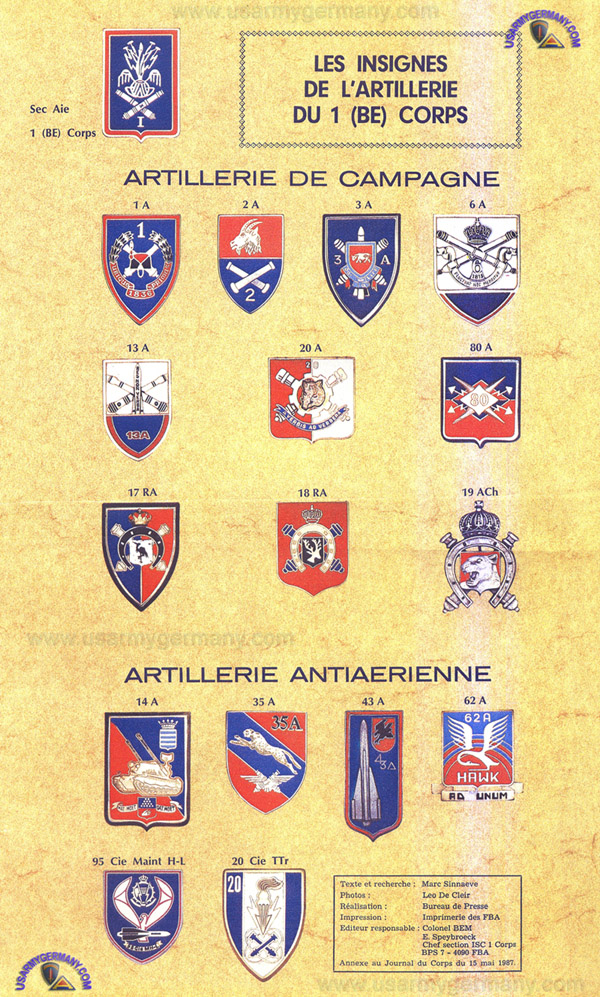 Inisgnia of the Corps Artillery units of I BE Corps
(Source: Journal du Corps, May 15 1987, via Marc Fontaine, Belgium)
I (BE) Corps - Unit History and General Information
(Source: Information provided by Jürgen Dreifke; other sources - Armies of NATO's Central Front, Isby & Kamps; Die Armeen der NATO-Staaten, Wiener; "Museum of the Belgian Forces in Germany" web site)
In the late 1950s, the Belgian Army gained nuclear capability with the introduction of the Honest John surface-to-surface missile and, later, with dual-capable tube artillery (203mm). Apparently, there were plans in the early 1960s to equip one Belgian artillery battalion with the SERGEANT missile, but these plans were later cancelled - probably for budgetary reasons (Overview Page, Field Artillery section).

By the mid-1960s, Belgian nuclear artillery within I (BE) Corps was comprised of four units:
| | | |
| --- | --- | --- |
| UNIT DESIGNATION | DUTY STATION | COMMENTS |
| 3 Arty Bn (3A) | Köln-Dellbrück | divisional, HJ and 203mm How |
| 14 Arty Bn (14A) | Werl | corps, Honest John |
| 20 Arty Bn (20A) | Werl | divisional, HJ and 203mm How |
| 75 Arty Bn (75A) | Köln-Dellbrück | corps, Honest John |
| | | |
At this time, I BE Corps consisted of two divisions: the 1st Infantry Division (Bensberg, Germany) and the 16th Armored Division (Neheim-Hüsten, Germany). The 20 Arty Bn (designated "20ème Régiment d'Artillerie" in French or "20de Artillerieregiment" in Flemish) was the nuclear-capable, direct support artillery battalion assigned to the 16th Armd Div. Thus, 3 Arty Bn was most likely assigned to the 1st Inf Div and supported it with its nuclear capability. Each of these mixed artillery battalions appear to have consisted of a headquarters battery, a battery of Honest John rockets (two launchers) and a battery of M-115 (203mm) towed howitzers (four howitzers) [1].

The Artillery Command of I (BE) Corps was located at Quartier Klerken in Köln-Ossendorf and included two Honest John battalions, 14 Arty Bn and 75 Arty Bn. These corps-level missile battalions appear to have been composed of a headquarters battery and two firing batteries of two 762mm HJ launchers each. [2]

In 1969, I (BE) Corps underwent a major reorganization that also affected the nuclear-capable artillery units. 20 Arty Bn and 3 Arty Bn came under corps control. 20A's HJ Battery was transferred to the 3A, and 3A's 203mm battery was moved to the 20A. Thus, 3A became a pure missile battalion and 20A a 203mm howizter battalion, both under the command of I BE Corps. 75A at Dellbrück was inactivated at the same time.
Also in 1969, the dual-capable (conventional and nuclear warheads) self propelled howitzer M-109 (155mm) was introduced replacing the M-44's in two Belgian artillery battalions: the 17 Arty Bn at Altenrath and 6 Arty Bn at Soest. Both units were placed under Corps Artillery command.

By the end of the 1960s, I (BE) Corps Artillery included three nuclear-capable artillery units [3]:
| | | |
| --- | --- | --- |
| UNIT DESIGNATION | DUTY STATION | COMMENTS |
| 3 Arty Bn (3A) | Köln-Dellbrück | corps, Honest John |
| 6 Arty Bn (6A) | Soest | corps, 155mm |
| 14 Arty Bn (14A) | Werl | corps, Honest John |
| 17 Arty Bn (17A) | Altenrath | corps, 155mm |
| 20 Arty Bn (20A) | Werl | corps, M-55 (203mm) |
| | | |
The 1970s brought about more changes. In Dec 1972, the 13 Arty Bn was formed as a logistical unit at Büren, Germany. This unit provided security at the Haarener Wald special weapons depot (north of Büren) and nuclear warhead transportation support. (The US Army's 27th Ordnance Company provided warhead custodial support for the nuclear weapons stockpiled at the depot.) One of the subordinate units of 13A was the Belgian 30 Transportation Company. It provided the warhead transportation support.

Another unit located at Büren was the Dutch 435 (NL) Infantry Company. This unit provided physical security services at the depot and might have been attached to 13A. (Confirmation or corrections would be much appreciated!)

(Some of my research findings indicate that there was a predecessor unit, the Gemengde Groepering, that was formed in 1969 and was responsible for similar support at Büren prior to 13A. (Any details on this unit would be very helpful!)

Also in 1972, 20A in Werl replaced their M-55's with the M-110 203mm dual-capable, self-propelled howitzers.

Besides nuclear-capable artillery, I (BE) Corps appears to have had an ADM company within the 1st (BE) Engineer Battalion, at least after 1973. Previously part of the 16th Armd Div, the 1st Engr Bn was reassigned to I (BE) Corps at that time as part of an overall reorganization of engineering assets. As part of the new mission under corps, an ADM company was added to the battalion. [4]

In 1978, due to the rising costs of forward deployment and the procurement and maintenance of modern weapons (e.g. the LANCE missile), a significant reduction of Belgian units in Germany was implemented. The 1st Inf Div HQ and two brigades were pulled back to Belgium. Several changes within Corps artillery were also made at this time. 14A lost their Honest John rockets and became an anti-aircraft outfit. 3A replaced their Honest John rockets for the new Lance missiles. It is reported that 3A was the only non-US Lance unit in Europe that was dual-capable - having the ability to fire conventional as well as nuclear warheads. During these changes 6A (M-109), 17A (M-109) and 20A (M-110) remained unchanged.

By the end of the 1970s, I (BE) Corps Artillery included the following nuclear-capable artillery units:
| | | |
| --- | --- | --- |
| UNIT DESIGNATION | DUTY STATION | COMMENTS |
| 3 Arty Bn (3A) | Köln-Dellbrück | corps, Lance |
| 6 Arty Bn (6A) | Soest | corps, M-109 (155mm) |
| 17 Arty Bn (17A) | Altenrath | corps, M-109 (155mm) |
| 20 Arty Bn (20A) | Werl | corps, M-110 (203mm) |
| | | |
In the mid-1980s, the Belgian Army replaced many of the first model M-109's in its forward deployed artillery battalions with the newer M-109A2. This included the two nuclear-capable corps artillery battalions: 6A and 17A.

Also, an ordnance company, the 73rd Arty Co, was formed in Soest in 1986 to provide special weapons ammunition support to divisional 155mm units. This separate unit came under command of the 13A in 1990.

With the fall of the Berlin Wall in 1989, the Belgian Army in Germany underwent a significant drawdown similar to USAREUR. Major budget cuts that were imposed with the new strategic realities in Western Europe forced a major restructuring of the Belgian Army and the withdrawal of many units from Germany. This included the elimination of the nuclear role of the army's artillery units and the inactivation or reorganization of the nuclear-capable units.
[1] The M115 8in (203 mm) howitzer, which was replaced by the M110 self-propelled howitzer, was a towed weapon developed prior to World War II as a heavy artillery weapon. The weapon used NATO-standard 203mm ammunition. In NATO service, its primary mission was to fire nuclear rounds.
[2] Wiener, in his 4th edition of Die Armeen der NATO-Staaten, states that each missile battalion at corps consisted of two batteries. However, that information was correct for the early 1970s. Did it also pertain to the organization in the mid-1960s?
[3] According to Dreifke, there also existed - until the 1980s - a nuclear-capable reserve unit, the 72A in Elsenborn, Belgium which was configured as a heavy artillery battalion equipped with M-115 towed howitzers.
[4] Source: History of the 1st Engineers, Belgium web page - http://mitglied.lycos.de/pclaeys/Historiek.htm.
---
(Source: Historique de l'Artillerie de Corps, published by the Belgian I Corps, early 1960s)
A unit history of the I BE Corps Artillery from the Occupation Period to 1962. The booklet includes information relating to the formation of various nuclear-capable artillery units assigned to the artillery command.

The booklet is written in French and Flemish. Will post some of the information relating to the units once I have had a chance to translate the relevant sections.
BELGIAN NUCLEAR-CAPABLE ARTILLERY UNITS , 1962
| | | | |
| --- | --- | --- | --- |
| Corps Arty, Weiden | 1 Arty Gp, Dellbrück | 14A, Dellbrück | 73A, Dellbrück |
| 75A, Dellbrück | | | |
---
(Source: Insignia courtesy Christophe Cobbaut, Pocket Badges of the Belgian Army)
BELGIAN NUCLEAR-CAPABLE ARTILLERY & ENGINEER UNITS
| | | | |
| --- | --- | --- | --- |
| 3A, Werl | 13A, Büren | 14A, Werl | 20A, Werl |
| 75A, Dellbrück | 1st Engr Bn | 6th Engr Bn | |
---
MISCELLANEOUS INFORMATION

14th Artillery Battalion (Honest John) in Werl, Germany
20th Artillery Battalion (M-110 & Honest John?) in Werl, Germany

1 January 1963 sees the 14th Artillery Battalion in Dellbrück (Germany). It is equipped with Honest-John missiles. In 1964 the battalion moves to Werl.

The battalion was equipped with 8" (203 mm) howitzers and Honest John (ground-to-ground) rockets.

On 16 February 1978 the last Honest-John missile is fired. In May, the battalion moves to Spich near Cologne and is equipped with the high tech 35mm gun GEPARD weapon system.

SAS at Wahnerheide used by Belgian forces?

---
(Source: La Belgique et les armes nucl

é

aires, by Andr

é

Dumoulin and Quentin Michel, 2005)
List of land-based nuclear weapons used by the Belgian Army and Air Force:
| | | | |
| --- | --- | --- | --- |
| WEAPON TYPE | NUC. WARHEAD | PROBABLE HOME STATIONS | TIMEFRAME |
| Atomic demolition munition (ADM) | W-54, W-45 | Kassel later Westhoven, Germany | 1964 - 1986 |
| Honest John surface-to-surface rocket | W-31 | Delbrück, Germany | 1959 - 1978 |
| M-109 (155mm) self-propelled howitzer | W-48 | Altenrath and Soest, Germany | 1967 - 1992 |
| M-2 (203mm) towed howitzer | W-33 | Germany | 1960 - 1962 |
| M-55 (203mm) self-propelled howitzer | W-33 | Werl, Germany | 1962 - 1972 |
| M-110 (203mm) self-propelled howitzer | W-33, W-79 | Werl, Germany | 1972 - 1992 |
| Lance surface-to-surface missile | W-70 | Werl, Germany | 1978 - 1992 |
| Nike-Hercules surface-to-air missile | W-31 | Elsenborn and Bierset, Xanten, Blankenheim, Thum, Grefrath, Düren, Euskirchen, Kaster, Kapellen | 1962 - 1988 |
| | | | |
---
3rd Artillery Battalion (3ème Régiment d'Artillerie)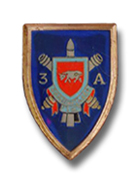 3rd Artillery Battalion Crest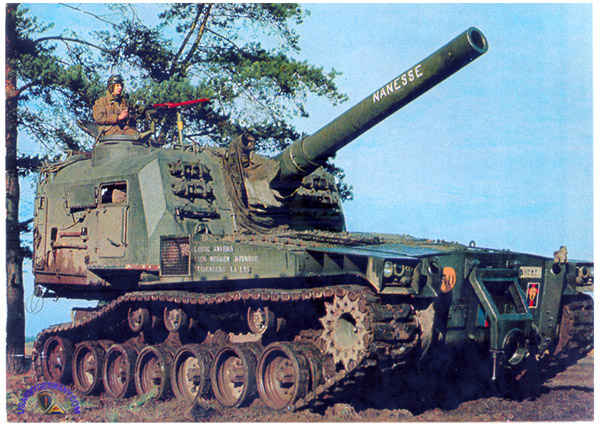 Belgian M-55 self-propelled howitzer


Insignia identifies this SP howitzer as belonging to 1st BE Division

(Source: Letter from Marc Fontaine, Belgium - served with 3A between 1958-1978)
1960 - 1978
3A Unit History

The 3rd Artillery Battalion, under Division Artillery of the 1st Belgian Division since September 1951, was reorganized in 1960 and became the division's nuclear-capable artillery battalion. The battalion was equipped with 8 inch howitzers and 762mm rockets.

With the reorganization, the battalion was comprised of:
a headquarters & service battery
one towed 8-inch howitzer battery ("A" Btry)
one Honest John rocket battery ("B" Btry)

(Webmaster note: similar to the 20th Artillery Bn, the 3rd was probably equipped at this time with the M2 towed howitzer and 18-ton M62 prime mover)

The 3rd was relocated from Spich, Germany to a new home station at Siegen on Aug 25 1960.

On Jan 23 1963, another relocation: the battalion moved to Quartier Moorslede, Delbrück (near Köln).

A security platoon was added to the battalion in Jan 1965: the 4th MP/S Platoon.
On Feb 11 1968, a reorganization of artillery assets led to a swap of batteries between the 3rd and 20th Artillery battalions: the battalion's howitzer battery was transferred to the 20th Artillery Bn and in exchange, received the 20th's HJ battery (which became the battalion's new "A" Battery. The 3rd Artillery Battalion was now a pure HJ Rocket Battalion.

Since 1968, the 33rd Missile Detachment (US Army) was the warhead custodial unit supporting the 3rd Artillery. (The 33rd was redesignated as 33rd Filed Artillery Detachment in 1970.)

In 1969, I (BE) Corps underwent a major reorganization that also affected the nuclear-capable artillery units. 3rd Artillery Battalion was transferred from 1st Division to I BE) Corps Artillery.

Starting in 1977, the Honest John rockets in the Belgian Army were replaced by the new Lance missile system. 3rd Artillery completes its exchange of HJ rockets with the Lance missiles in February 1978. The new organization of the battalion includes "A" and "B" batteries equipped with the Lance missiles.

The battalion is now supported by the 4th US Army Field Artillery Detachment for the warhead custodial mission.

On June 28 1978, the 3rd Artillery moves once again, this time to Quartier Houthulst in Werl.

(At this point, the unit history cited above ends. Additional historical information would be helpful.)
---
(Source: Centre Liegeois d'Histoire et d'Archeologie Militaires)
Found an article (http://www.ifrance.com/CLHAM/050260.htm) with some history of the 3ème Régiment d'Artillerie which, in May 1986, was located at Werl, Germany. The page is a brief unit history written on occasion of the unit's 150 anniversary.

Between 1946 ans 1978, the 3A (3rd Artillery) was stationed successively at
Hasselt (Bel.)
Euskirchen (Sept. 1946 – Nov. 1948)
Liège (Bel.)
Lüdenscheid (27. Sept 1951 – 27. April 1957)
Spich (1. Feb. 1957 -- Aug. 1960)
Siegen (2 . Aug. 1960 – 23. Jan. 1963)
Köln-Dellbrück ( 23 Jan. 1963 – 28. Juni 1978 )
Werl (28. Juni 1978 – 1990)
(The dates were taken from the station lists on the web site of the Museum of Belgium Forces in Germany - see Related Links.)

During that period, the unit was equipped with the 25-pound cannon, Honest John rocket, the 155mm and 8in howitzers, and finally, the LANCE missile.
---
14th Artillery Battalion (14ème Régiment d'Artillerie)
Warhead Custodial Support:
4th US Army Missile Detachment
(link)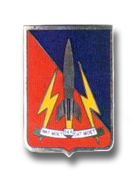 14th Artillery Battalion Crest
---
20th Artillery Battalion (20ème Régiment d'Artillerie)
Warhead Custodial Support:
4th US Army Missile Detachment
(link)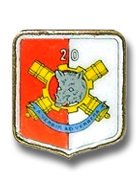 20th Artillery Battalion Crest
(Source: Belgian website dedicated to veterans of the 20th Belgian Artillery Battalion)
1959 - 1967
In 1959, two Belgian divisions were reorganized as "LANDCENT divisions" and given nuclear capabilities.

Under Division Artillery command, the 20th Artillery Battalion was reorganized that year as a mixed battalion equipped with Honest John rockets and 8-inch howitzers. With a complement of 27 officers and 330 NCOs and enlisted men, the battalion consisted of a headquatters and service battery, one HJ battery and one 8" HOW battery.
The 8" HOW battery (two firing sections?), designated "B" Battery and formed on 1 Nov 1960, is intially equipped with the M2 towed howitzer (prime mover is the 18-ton M62) that can fire both conventional and nuclear shells. The M2's are soon (Nov 1963) replaced by the self-propelled M55 howitzers.

In August 1961, a third platoon (called 3rd Pltn MPS) consisting of 48 men (divided into 4 sections) was added to the battalion as a security force to protect the nuclear batteries. The platoon was disolved again in 1965.

Around the time when the artillery battalion was being reorganized it was moved from Belgium to Westhoven, near Cologne (Köln) in Germany. On Sept 12 1962, the battalion was moved again, this time to Werl, Germany.

Initial warhead custodial support (nuclear warheads remain under US control) was provided by the 33rd US Artillery Detachment at Spich, but in September (1962) that role was transferred to the newly arrived 4th Arty Det in Werl.

1968 - 19..
In 1968, the Belgian Army underwent a restructuring of the ground forces which included the consolidation of all nuclear capable artillery battalions under Artillery Corps command. The divisional 3rd Artillery and 20th Artillery battalions were placed under the Artillery Corps. This also led to a reorganization of the battalions. The HJ battery of the 20th was transferred to the 3rd Artillery Bn in Jan 1969.

The 20th now consisted of two M55 batteries.

On April 20 1975, the M55 SP howitzers were replaced by the M110A1 SP howitzer.

Between 1984-1986, the M110A1's were upgraded to the A2 model.
---
75th Artillery Battalion (75ème Régiment d'Artillerie)
(Source: Email from Willy "Bill" Junes)
I was in the Belgian Army back in 1964 and stationed in Germany with the 75th Artillery (Battalion) of the Belgian Forces. The warhead custodial support of our Honest John rockets was provided by the 33rd Missile Detachment, US Army (at least in 1964). We were located in Köln-Dellbrück; Bergischgladbachstrasse - the name of the barracks was "Quartier Moorslede."

The 75th was composed by two "batteries"; one administration and the other "field" (firing). We went several times to a place named "(Bergen-)Hohne" (major training area) for night shooting exercises (located near Bergen Belsen, the former SS concentration camp) and occupied by the British army until 1958/59.

The silhouette of an Honest John rocket on its trailer rises out of the morning darkness as another day of "deterrence" begins in the I BE Corps sector

The 75th Artillery Battalion was assigned to I Belgian Corps Artillery (I think they were located in Spich). As mentioned before, we were equipped with the Honest John rockets with special big trucks from which we fired the rockets in Hohne.

The 3rd Artillery (Battalion) was also located at the same barracks. They were equipped with 155mm howitzers. This unit was also part of I Belgian Corps in Germany. They would go with us to Höhne on firing exercises but were not supported by the 33rd Det.

Another unit at Quartier Moorslede was 15th Ordnance - a kind of big PX....

While I was in Delbrück, the commanding officer of the 33rd MSL Det was a Captain by the name of CRESCY. His 1st Lt was Lt Rhobacker - I had a marvelous time with your compatriots.
I heard about the 4th MSL detachment (warhead custodial detachment that arrived in Germany in Jan 1963 to provide support to I Belgian Corps) but I thought the 33rd MSL Det was replaced by the 4th. Anyway I could be wrong about it. In any case, the 4th MSL Det was located in Werl.
---
(Source: Email from Willy Junes)
The following information regarding the unit history of the 75th Artillery Battalion was provided by Lt Col Roger Lothaire, Belgian Artillery School, via Col. Jean-Pierre HAUSMAN, Chargé de mission:

The 75th Bn Aie was formed on April 20 1959. That battalion was located at Köln-Dellbrück and was the first Belgian artillery unit to be equipped with the new 762mm Honest John rockets with nuclear capability. The battalion was composed of a headquarters battery and a firing battery.

THe equipment was officially handed over to the battalion on October 1, 1959. King Boudouin of Belgium presented Lt Col Gravy, the commanding officer of the 75th, with the unit colors (organizational flag) in a ceremony held on April 1 (1960). The colors were new and had no lineage. The flag and crest of the battalion were designed by unit members.

On August 20 1959, the battalion was assigned to the 1st Artillery Group. The Group was composed of the following artillery battalions:


71st Artillery Bn (155mm & 8in, towed)


72nd Artillery Bn (155mm & 8in, towed)


73rd Artillery Bn (155mm & 8in, towed)


74th Artillery Bn (155mm & 8in, towed)


75th Artillery Bn (Honest John)

This group was considered as the corps artillery of the 1 BE Corps.

All tests where passed succesfully by the battalion.

In July 61 this bataillon received new equipment that would be used to create a second firing battery, the 3rd Battery.

Battalion commanders:


Lt Col Gravy, April 20 1959 to September 1 1960


Lt Col Masset, October 3 1960 to October 15 1962


Lt Col Wibin, October 16 1962 to ?? ( I guess 1964 )


Lt Col Bem FRANKIGNOUL, from 1964 - to ??

The battalion was inactivated on March 3 1969. The unit's colors were transferred to the Royal Army Museum on February 19 1969.

---
(Source: Email from Pol Degosserie, Belgium)
In 1962, I was transferred from 1(BE) Headquarters (1Cie ESR-LRP) in KOLN-WEIDEN to the 75th FA Bn in DELLBRUCK.

In 1963, the 14th FA Bn was formed in DELLBRUCK and, after the training period finished, was were moved to KOLN-PORZ. A little later the batalion moved to WERL where the 20th FA Bn was also to be located soon. The 75th remained in DELLBRUCK.

Both the 75th and 14th were equipped with Honest John rockets (1Bty/Bn with 4 launchers)

The 3rd and 20th were equipped with 8" M55 (1 battery with 4 Howitzers) and HJ 762mm (1 battery with 2 launchers).

In 1966, I came back to 80th FA Battery (Webmaster: was this a target acquisition unit?). I was in charge of a FLASH Platoon in the field, but when in garrison at DELLBRUCK spent most of my time with logistical duties.

The US Army's 33rd FA Det was attached to the 3rd FA Bn (LANCE) in SPICH. Most of the logistical problems were handled by my services. I received support from 3rd FA Bn to enable a fast service to the 33rd Det.

A good friend of mine was Sgt-Major SANTOS of the 33rd ... he later moved to BUREN. I would like to contact him if possible. The Det Sgt for the 33rd FA Det was E8 WARREN....a real gentleman! The Mess Chief was SP6 PRAYOR... I also remember 2 Officers....Lt PETERS (WP) and SCHWARZENBURG....
Pol DEGOSSERIE
RSM of 74th Res FA Bn
ADDITIONAL INFORMATION:
1 (BE) Corps had nine 8" M55 (Big MAMA) SPs.........4 at the 3th FA Bn; 4 at the 20th FA; a 9th howitzer was used for spares and was located at the Ord Depot in Probsteierwald near Aachen. We had lots of technical problems -- mostly with the periscopes and azote pression.....

The 155mm M44 was in used in the 20th FA Bn in year 1957 and a little later. Then the divisional artillery units (17,18 and 19th FA SP Bn) were converted to "mixed" battalions with 2 batteries of 105mm SP M7 and 1 battery of 155mm SP M44. These were later replaced by the M108 and M109 respectively.
The 75th HJ Bn was responsible for training new personal like me during the formation of the second HJ Bn. In the beginning, everybody spoke about a 78th HJ Bn, speaking French. But in 1963, the Belgian DOD transferred many graduates (Officers and NCOs) coming from the Field Arty School in Brasschaat (near Antwerp) to the new unit. They were mostly Flemish speaking while at the 75th HJ we spoke French.

In 1963, after finishing training in Dellbruck, the 14th HJ moved to Porz (near Cologne on the Rhine River, Quartier NIEUWPOORT) with all its equipment. It now became the second Belgian HJ Bn. Incidently, we took over the facilities of the 20th FA Bn which had previously moved to Werl. As of the end of 1963, we were at full OT with our soldiers speaking French and Officers and NCOs speaking both Flemisch and French.

In 1964, we (the 14th FA Bn) also moved to Werl, joining the 20th 8" FA Bn at Quartier HOUTHULST.
The 80th Arty was originally a Target Acquisition Bn with one Hw/Hq Battery and two Target Acquisition Batteries. Acquisition was performed came using three methods:

Radar (AN/MPQ-10A)

Sound Ranging (GR-8)

Flash

Radar and Sound Ranging were eventually abandoned. Only one Bty remained.....It was responsible for supporting all of the units from 1 (BE) Corps & NATO, to establish new (?) after Nuclear destruction. We used about 60 Men in two Topo platoons. A 3rd Platoon (Flash Platoon) was in charge of Acquisition of Targets.


The 80th FA Bty was used by 1 (BE) Corps to test the ability of all (BE) Firing Units (Conventional Ammunitions or Nuclear "Spotting Rounds").
Measuring the right impacts was done with 4 POs (Observation Post) intersecting into an LB (Long Base). We used the BCM 65 aiming in Direction and the Director N°7 to measure the vertical angles. Precision was within as little as 5 Meters in X and Y...about 10 Meters in Height. Recordings of Observations were logged on a circular drawing board M5. Later we used electronic calculators. Calculations were made with mechanical computer BRUNSWIGA and natural functions. As a Platoon leader, I followed with the "Arty Slide Rule" to control the output calculations!

With HJ Rockets, we worked on another scale on the drawing board M5. My observers watch the Burst (Direction and Inclination) of the Head with the Director N°7 and the Engine flying farther with the BCM65
The 2 Topo Platoons were responsible for controlling all the Topo activities of the tested unit at 2 Levels:

Firing Positions and

Forward Observers positions
---
1st BE Engineer Battalion
On 1 July 1973, the divisional engineer units in I (BE) Corps were reorganized and formed a new 1st Engr Bn under I (BE) Corps. ADM assets were merged to form the ADM Company under the new 1st Engr Bn.

In the early 1970s, ADM Cie (Webmaster note: ADM Company), 1e Bataillon du Genie, was located at Westhoven, Germany.
---
6th BE Engineer Battalion
(Source: Email from Roland Van Holderbeke, ADM Pltn, 1st BE Engr Bn)
Roland Van Holderbek, 1985

Surfing on the Internet I found your website. Maybe I can help with some more details and explanations.

I was a member of the first ADM Platoon formed in the Belgian Army. The platoon was formed in 1964 as a part of the 6th BE Engineer Battalion, which was stationed in KASSEL (NOORDVAART KAZERNE) in Western-Germany.

Soon after the activation, the platoon left Kassel to take up station near its US control and support unit, the 22nd US Detachment in SENNELAGER (near Paderborn, Western-Germany). The new home station for the platoon was in the "ANTWERP BARRACKS" of the Britisch Army. The 22nd US Det was located at "DEMPSEY BARRACKS", a few km away, together with a Brittish Artillery Battalion.

My function at that time was deputy platoon leader and chief of signals for the platoon. My rank was 1st Sergeant. I was in Sennelager until the platoon returned to his battallion at the end of 1966. The platoon leader at that time was 1st Lt MAES Roger for a short time. He stayed with the Staff of the Battalion in Kassel. Lt Gen MAES Roger later (in the 1990's) became the Chief of Staff of the Belgian Army.

During the big NATO exercises, we had the support of a special US Engr ADM company from Mannheim.
My control officer in the 22nd US Det was 1st Lt Joseph HIGGINS (I hope I wrote the name correct). If my information is good, this 1 Lt died later as a major in Lebanon where he was killed by terrorists. The CSM of the 22nd US Det was Mr ANDERSON (as fas as I can remember). The training was hard, alerts were held all the time, but I learned a lot during that period.

In 1966, the Belgian Army underwent some reorganization and ADM Platoons were assigned to both of the Belgian Divisonal engineer battalions; so our sister unit, the 1st BE Engr Bn. received its ADM Platoon. (The 6th Engr Bn was part of the 1 (BE) Division; the 1st Engr Bn. was part of the 16th (BE) Armored Div.)

My ADM platoon returned to KASSEL, the new ADM platoon of the 1 Engr Batt stayed with the its battalion in KOLN-WESTHOVEN. The control and support unit for this platoon was the 33rd US Det in KOLN-DELLBRUCK.

After the return to Kassel, I left the ADM platoon to became deputy signal officer of the 6th BE Engr Bn, but as the ADM Pl was subordinate to the Headquarters Company, I still was occupied with forming the signalers of that platoon as well those of the Bn.

End of 1969 the 6th Engr Bn left Kassel and moved to KOLN-DELLBRUCK. The US support unit was now the 33rd US Detwhich was also located in the same MOORSLEDE KAZERNE.

Later, in 1973, we had a new reorganization - the divisional engineer battalions were taken out of the Division to form together with all Engr units into the Engr Support formation of the 1 (BE) Corps in Germany. As part of this reorganization, the 6th BE Engr Bn lost its ADM Platoon, which was transferred to the 1st Engr Bn to form there a new ADM Company in that Battalion.

The ADM Co stayed in the 1st Engr Bn until the end of the ADM's in the Belgian Army (sometime in the early 1990's ?).

I continued my path in the 6th BE Engr Bn, later I becoming platoon leader of the Signal Platoon, and later in 1976 the Signal Officer of the Bn and also Pltn Leader until 1992 when the battallion was inactivated. I then joined the Staff of the 1 (BE) Corps Engr Section as the S-2 and Signal Officer. All this time, from 1960 until 1994, I served in Germany, with only short interruptions.

I participated with a special BE Company in Desert Shield and Desert Storm in 1991 in support of the 84th US Ordnance Battalion. I was the RSM for that unit (Command Sergeant Major) and received the medal of Honorary Sergeant Major of the Army from the US Army Sergeant Major. Now, I am retired at home in Ghent, Belgium after 47 years of service for my country (1958-2005).
Roland Van Holderbeke

ADDITIONAL INFORMATION
Sennelager and the 22nd US Missile Det
The 22nd also provide support to the 39th (UK) Regiment Royal Artillery.

In 1958 the Regiment deployed on a nine month Emergency Tour to Cyprus to support operations against EOKA, with batteries based in Episkopi, Jophinou and Dhekhlia. On return to the UK, the news was broken that the Regiment was to move to join the British Army of the Rhine (BAOR).

By February 1960, the Regiment had reorganized at Dempsey Barracks, Sennelager to become one of the Corps Artillery's three Nuclear Regiments, equipped with two 'HONEST JOHN' Rocket batteries and two towed 8" M115 Howitzer batteries. This was to become home for the next 35 years.
---
Support Units (Logistics and Security)
(Source: Email from Lieven Blanckaert, Belgian Army)
I discovered your web page while looking for information on my army duty (Legerdienst) for the Belgiam army in Germany in 1986, and there it was: the
73rd Arty Co
. We were the very first group to start the unit; in fact, when we arrived in Soest, there was no unit yet. That came a short time later with a lot of fanfare.
When I was drafted for the ABL
(Armee Belge - Belgisch Leger or Belgian Army) as a private, the height of the cold war had reached somewhat its climax. President Ronald Reagan was setting up his "Star Wars" project, and now since there is more declassified information we know more then ever how close it ever came to the "dooms day" at that particular time.
In 1986, the 73 Arty of the 1st BE Corps was reinstated, as a support unit for special weapons, mostly strategic nuclear weapons but also chemical and biological ammo that was to be fired with a modified M-109A2 howitzer 155mm.
After six weeks of boot camp in Belgium, we received march orders to Soest, Germany. There was no 73 Arty Co yet, and everything was very hush hush about it. We had to train in parade marching every day sometimes even twice a day for the big event, the parade marching was not something I liked. I remember we all had sore feet from hacking with our combat boots on the concrete parade ground to get that chap-chap noise when marching. After weeks of training, the ceremony and the parade finally came to pass and there was a reasonable good party, Belgian Army style with lots of good food and of course plenty of beer…
At first our barracks in the kasern in Soest were nearly empty with only our platoon present when we arrived, but every month more recruits came and slowly it filled up till we were discharged.
I had lived in the states for 6 years previously and was one of the few Belgians around that spoke "American" fluently, and I was somewhat the oldest private around with 27 years of age, I had good map reading and navigation skills, due to my yachting and sailing experiences, also I had a steady hand, controlled my breathing and that made me a good shot. Those skills are appreciated in the Army and they gave me two stripes, a brigadier or corporal status.
The training was extensive, there were maneuvers all the time, it seemed that the army was in a high state of readiness at all times. There was a no-nonsense attitude about it. Our main duties were to guard several of the nuclear ammo depots. Training in the transportation of the nuclear ammunition to the forward howitzers. Training in destroying the nuclear weapons with explosives (to keep them out of enemy hands, most likely a suicide mission in real time we were told). Training as a light infantry (lichte infantrie) soldier, with the FN FAL 7.92mm caliber NATO ammo, the Vingeron 9mm ("grease gun", terrible jamming weapon!), FN GP 9mm sidearm. FN MAG 7.62mm caliber machine gun. LAW disposable anti tank weapon and other anti tank weapons. Handgranades etc. Close combat training. There was also repeated NBC (Nuclear, Biologic and Chemical) training.
Don't let the term "light infantry" fool you, (it had fooled me at first) there was nothing "light" about it, we carried all our weapons and gear so there were no heavy mobile weapons about really. The most heavy and hardest to haul around was the MAG, about 30 pounds by itself, that weapon had a gunner and a feeder. The gunner carried the weapon and the feeder the ammo and a spare barrel. The barrel would heat up red hot during firing that after a while it needed to be replaced to cool off in the soil or snow, to use again for the next box of ammo. I used it several times during training and it is a powerful weapon and kind of fun to shoot with, with the tracers bullets, rather than aiming, you guide the bullets to target.
We learned "guerilla" tactics with the American Army. They played the enemy (Russians) to steal the special weapons from us. For us it was more hide and sneak, digging fox holes, hiding the trucks mostly MAN 4x4 and other vehicles like the Mercedes Benz Unimog with camouflage nets and bushes. Making dummy sites that would give away their position if they went for them. Americans would track us with all they had, helicopters, APC, infantry even tanks. We would usually sneak away during the night. It seemed like they really enjoyed hunting us down. If it would become a real war, the nuclear weapons were American property, we the Belgian Army were only the delivery boys, so they expected the very best, and therefore our training was also very extensive. We had to do it over and over again till even our Belgian superiors got frustrated (that was a while after us). Now I also realize that the Americans knew more about the reality of a nuclear war than we did. Recently it was revealed that if the Russians would have attact at the time the use of Nuclear Tactical Weapons (NTW) would have been a certainty and the only way to keep the Russians put, with their overwhelming amount of rolling equipment.
One day we had the experience to see howitzers fire, the firing explosion really goes through your whole body, I understand what "shell shock" is by that experience. Neighboring trees lost all their leaves from the air expansion. First a shell is loaded in the barrel with a piston, then several bags of explosives, a fire cap is placed and then the gunner pulls the firing cord and kaboom. The front of the thirty ton machine lifted like a rearin stallion. The howitzer has a bulldozer blade on the back so it can "dig in", otherwise it would just slide back several meters every time it fires and loose its position. Our first sergeant or gunny was also a tank commander and he claimed that they could hit a "zakdoek" (handkerchief) with it. They have forward scouts that report every shot back to the gun crew, by computing triangulation they claim the fourth or fifth shot is always a bull's-eye. Reality is that to kill a bridge at 15-20 km distance, it takes more than 10,000 100-pound shells in average, and that is one of the reasons they would have used NTW to take the bridges out with one shot. The linear implosion plutonium weapon had a yield of less that 0.1 kiloton. Detonation by mechanical time-delay or proximity airburst, or contact. Remember this was before the "stealth air planes" and "smart-bombs" came about, those could do the job now more effectively with conventional weapons as proven in the Gulf wars.
By winter time Germany wasn't a fun place to be in a field camp, we had only the basic clothing, compared with the American Army, they had luxury winter gear and even anti-freeze filled boots! ABL gave us long underwear knickers. It was very cold, I remember once it was minus 15 Celsius about the same temperature as in a deep freezer, and we could not make fire to give away our position until the maneuvers were over. We had to sleep with our MAG or FAL wrapped in a cloth against dampness, in our sleeping bag so our body temperature would prevent it from freezing solid and unable to fire. On maneuvers we fired blanks. The weapons were inspected freaquent on cleanliness and readiness. Ususally the Americans would attack at night, too. I told my platoon comrades to use newspapers in their clothing, a trick I also used when motorcycle riding in the winter, cheap but very effective paper is an excelent insulator. Now years later I look at it as a good time, but sometimes I remember the not so good times too, and realize having being so close to it that we were lucky that the "Cold War" stayed Cold or else we would not be here after a nuclear holocaust. Something that still hangs above all our heads like a sword.
---
(Source: Email from Christophe Van Acker, the Netherlands)
Between 1987 and 1991, I was a Dutch corporal (maintenance technician) responsible for the LRS Program (Long Range Security Program) (1) at the Büren site in Germany. The LRSP provided electronic and technical security for the special weapons depot. My job was to train Dutch, Belgian and US personnel on the LRSP, and to repair and service the electrical systems of the LRSP.

I can confirm what you have written about the 13 Arty Bn except that the 435 NL Infantry Company did not stay for the whole time. The Dutch unit alternated security responsibilities at the Haarener Wald depot with three Belgian companies (a unit from Soest, another from Werl and the 1e Jagers Te Paard from Arolsen). Each company would deploy to the depot for three months each year.

Also, the depot comprised, I believe, about 9 bunkers.

In reference to the Büren photos displayed on Dirk Duym's BZD-Kazernes Page:

Left column - 3rd photo down (aerial view of Kwartier Cortemark)
The buildings in the front were used by US personnel. Of the three larger buildings in the back, the one on the left was used by the 13 Arty Bn; the bldgs in the middle and on the right housed the security units (incl. 435 NL Infantry Company) and other units.

Left column - 4th photo down
This photo shows the US buildings and a part of a Belgian building used by the 13A.

Right column - 2nd photo down
The building surrounded by trees was used by the security forces at the depot. This is where the guards stayed and observed. The US personnel were located on the left side of the building and were responsible for observing the inner-area of the site. The Belgian and Dutch security forces occupied the right side of the building and observed the outer area. A closed door separated the Americans from the others.


(1) The Long Range Security Program was developed in response to the rise in terrorist activity in the early 1970's and the resulting need to upgrade security at ammunition and weapons storage areas around the world. The U.S. agreed to finance a long-range security program to upgrade NATO facilities in the early 1980s to improve security at U.S. Army special weapons storage sites. Some of the components: construction of hardened facilities for protection of site security forces; installation of the Intrusion Detection System; and implementation of the Weapons Access Delay System (WADS), an initiative to delay intruders from removing weapons at storage sites.
| | | | |
| --- | --- | --- | --- |
| | | | |
| 1. Mess hall and motor pool (KB) | 2. Motor pool (KB) | 3. Dutch bus (KB) | |
| 4. Dutch trucks and barracks (KB) | | | |
---
Warhead Custodial Units (US Army)
| | |
| --- | --- |
| 33rd US Army Missile Detachment | |
Information provided by Willy "Bill" Junes indicates that there was a 33rd MSL Det located in Dellbrück and tasked with providing warhead custodial support to the Belgian 75th Artillery Battalion, equipped with Honest John rockets. The 75th was assigned to I BE Corps Artillery. If anybody has additional details on the 33rd MSL Det, please contact me

!

The Belgian museum web site (see Related Links below) states that the 75th Artillery Battalion was located at Delbrück from April 1959 to Feb 1969. Not sure if they were equipped with the HJ during the entire period or what happened to them after Feb 1969.



Quartier Moorslede
Delbrück





1. 33rd Msl Det sign (KB)

2. Quartier Moorslede main gate (KB)


3. Members of 33rd Det (KB)




4. M-115 8in (203mm) towed howitzer (KB)
5. M-55 8in self propelled howitzer (KB)
6. Belgian truck (KB)
7. Part of Quartier Moorslede (KB)
8. A motor pool (KB)
---
(Source: Email from George Perez, 33rd USA Missile Det, April 1965 - June 1967)
The 33rd US Army Missile Detachment was located in Köln-Dellbrück, Germany. It was consisted of teams for both the Honest John and 8" Howitzer Artillery and supported by the Belgian Forces.

I was assign there from April 1965 – June 1967 as the Detachment Clerk, MOS 71B20 coming right out of AIT.

After arriving in Germany through Bremerhaven on one of the last troop-ships, I was put on a train bound for the 5th USA Artillery Group in Büren, GE. I stayed there about a week for in-processing then shipped to the 33rd USA Msl Det.

The unit consisted of "Honest John" Teams and an 8" Howitzer Artillery team. The Detachment was commanded by a CPT with two LT positions serving as Team Leaders. The unit had its own supply and cook section and augmented by a signal team. The Detachment Sergeant billet was for an SFC.

The entire Detachment personnel consisted of about 50/50 percent married personnel and single soldiers. Government quarters were provided by the Belgian Forces for those that were authorized housing.

For a young soldier, this was the best assignments I ever had. For those of us stationed at Köln-Dellbrück, we had the whole city of Köln (Cologne) and Dellbrück for our recreation and entertainment. The highlight of the month was the bus trip to the Mainz PX/Commissary for the latest in stereo/albums and rations. Mail was supported daily through the American Embassy in Bonn, Germany.

Enjoyed it so much, that when I returned for my second tour in Germany, I applied for an assignment to SASCOM and was sent to the 294th US Army Artillery Group, Itzehoe, GE. Another great assignment as the Personnel Sergeant for the 294th. The actual Group consisted of about 8 people commanded by a MAJ and had two detachments under the command which consisted of the 75th USA FA Detachment, Itzehoe, GE and the 13th USA FA Detachment in Kellinghusen, GE.s
Related Links:
| | | | |
| --- | --- | --- | --- |
| | | Museum of the Belgian Forces in Germany - very nice web site provides great detail on the history of the Belgian Forces in Germany from 1945 to the present. | |
| | | 20th Artillery Battalion (20A) Association web site - very complete and well designed web site features the Belgian 20th Artillery Battalion. Some good information and pictures of the unit's "nuclear" role from the 1960s-80s. | |
| | | SAS Werl - YouTube movie by Patrice Lem of the SAS in 1993 just after it was closed. The same author has several movies on YouTube showing Quartier Houthulst in Werl. | |
| | | BSD-Kazernes - a page that covers the Belgian installations in Germany during the Cold War. Thi page and many others are on Dirk Duym's great site. | |
| | | BSD-Stöckerbusch - a Multiply Group page for Belgian veterans who served at Stöckerbusch Kaserne and the nearby SAS. Lots of old pictures of Stöckerbusch Kaserne, including the American section. | |

---
Related Links:

| | | | |
| --- | --- | --- | --- |
| | | 583rd Ordnance Company - Lonnie Rotili's website dedicated to the early days of the 583rd Ord Co (Camp Dahn) that served in Germany from 1959 - 1991. | |
| | | 22nd USAFAD - a photo page on the 570th USAAG website - some great images of Sennelager in the early 1980s. | |
| | | | |
| | | | |