U.S. Army School Command, Europe
U.S. Army, Europe
Looking for more information from military/civilian personnel assigned to or associated with the U.S. Army in Germany from 1945 to 1989. If you have any stories or thoughts on the subject, please email me (webmaster).
---
---
Research Request
1. Technical Schools in EUCOM/USAREUR
Requester: Webmaster
Subject: Looking for historical information, documents, photos, installation maps, course descriptions and personal recollections of personnel who served as instructors or in a support role at any of the Technical Schools in Germany or attended as a student one or more courses in the 1940s-1950s.

Contact: webmaster

2. USAREUR School Command
Requester: Webmaster
Subject: Looking for historical information, documents, photos, installation maps, course descriptions and personal recollections of personnel who served as instructors or in a support role at one of the branches of the USAREUR School Command or attended as a student one or more courses in the 1960s-1970s.

Contact: webmaster
---
School History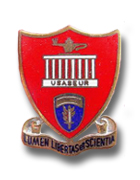 USAREUR School Command DUI
If you have more information on the history or organization of the U.S. Army School Command, Europe, please contact me.

---
1953
(Source: The United States Army in Europe, 1953-1963, by D.J. Hickman)
Chapter 9: Training to Maintain Combat readiness

SCHOOLS
On 1 January 1953, USAREUR operated 10 specialists' schools offering 101 courses, and Seventh Army operated 2 others. Under a policy of providing formal schooling only when proper training at unit level was unavailable, however, two schools were closed in 1954 and three others in early 1955. Thereafter, the chiefs of appropriate USAREUR staff divisions controlled the operation of the USAREUR Engineer School, the Intelligence and Military Police School, the Ordnance School, the Quartermaster-Adjutant General School, and the Signal School.

Seventh Army maintained its NCO Academy at Munich and a tank training center at Vilseck and in early 1955 opened a new aviation training center at the Echterdingen Airfield near Stuttgart. The NCO Academy, originally called the U.S. Constabulary NCO Academy, had been established in 1948 and was the command's largest training school. Its purpose was to develop a sense of responsibility, confidence, leadership, and high personal and professional standards in noncommissioned officers. By 1963 some 64,000 USAREUR NCO's had enrolled at the Academy since it had been absorbed by Seventh Army in 1951; about 52,000 of these had graduated. Failure to demonstrate the necessary leadership ability, to meet the academic standards; and to achieve the required standards in personal appearance and in attention to detail were the principal reasons for the wide margin between student input and graduation.

In 1956, when the schools experienced serious budgetary difficulties, the number of courses was reduced -- in some instances by as much as 50 percent. To offset the anticipated adverse effect on operational readiness, USAREUR placed greater emphasis on unit schools and on-the-job training. To prevent overprogramming, control of the school quota system was passed, from the USAREUR staff division to the schools, and in September 1956 the course at the NCO Academv was revitalized by selecting as students candidates only those men who would actually perform NCO functions upon graduation. A month later the NCO course was consolidated and shortened from five to four weeks to increase the output of school-trained personnel.

In early 1958 USAREUR took control of the U.S. Army Medical Service School from COMZ and the newly established Weapons Assembly School from Seventh Army. Later in the year, the NCO Academy was moved from Munich to better facilities at Bad Toelz. The Ordnance, Engineer, Quartermaster, and Signal Schools were consolidated, and instruction in adjutant general subjects was discontinued. At the same time a special weapons department was added to the Intelligence and Military Police School.

The U.S. Army School Command, Europe, was established at Oberammergau, Germany, on 1 April 1960, to provide centralized control of the major elements of the school system. The five remaining USAREUR schools were assigned to the new command, thus eliminating the operation of schools by USAREUR staff divisions and preparing for subsequent consolidations of elements at fewer locations. One of these schools, the Medical Service School, was phased out entirely in July 1960. The first consolidation occurred on 1 October 1960, when the Weapons Assembly School moved from Pirmasens to Oberammergau and became a department of the Intelligence, Military Police, and Special Weapons School. The number of courses offered by the school system as a whole was reduced from 87 to 48, in order to economize and eliminate courses that were no longer essential. On 1 July 1961, the four remaining schools were organized into the U.S. Army School, Europe, at Oberammergau. Thereafter, the USAREUR school system consisted only of the school at Oberammergau; Seventh Army operated the NCO Academy, the Aviation Training Center, and the Combined Arms School -- the latter having evolved from the old Task Training Center.

In 1962 and 1963 the USAREUR schools, though austerely manned, continued to contribute to the command's operational readiness. They were responsive to command requirements with a minimum expenditure of resources and met the high priority needs for theater schooling. Thirteen new courses were added in 1962, making a total of 61, but in late 1963, because of the gold flow requirements, another reduction was being planned.
---
(Source: Annual Historical Report, HQs USAREUR, 1 Jan 1953-30 Jun 1954, HQ USAREUR 1955)
USAREUR SCHOOLS
It was the policy of Headquarters, USAREUR, during this report period to provide school training at USAREUR level only when the requirement was of such a nature that proper training of personnel could not be conducted at unit level.

Under this policy USAREUR had established, and as of 1 January 1953 was operating in Germany, 10 specialists schools, which offered a total of 101 courses. During 1953 their total combined attendance was 2,845 students. The mission of these schools was to supplement U.S. schools in providing the minimum required number of school-trained specialists; to provide special centralized instruction necessary to meet command requirements; and to qualify unit instructors.

They were located as follows:



the Bandsmen School at Dachau



the Engineer School at Murnau



the Finance School at Friedberg



the Intelligence and Military Police School at Oberammergau



the Medical Training School at Degerndorf



the Ordnance School at Fuessen



the Quartermaster and Adjutant General School at Lenggries



the Signal School at Ansbach



the Troop Information and Education School at Dachau and



the Transportation School at Mannheirn

The following table provides statistical data concerning these schools: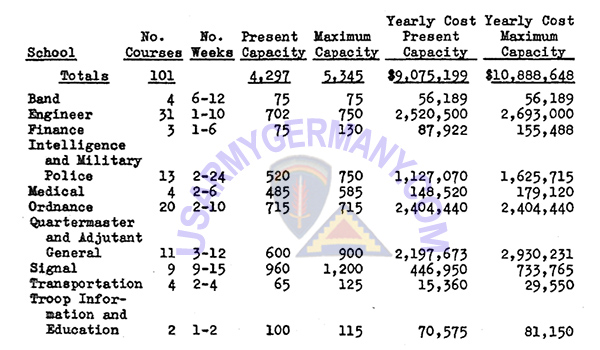 Early in 1954 the need for graduates of the Bandsmen, Finance and Medical Training Schools was so low that these schools were temporarily inactivated.
SEVENTH ARMY SCHOOLS
Seventh Army operated the NCO Academy at Munich; the Tank Training Center at Vilseck; the Chemical, Bacteriological, and Radiological School at Kirchheim-Bolanden; and the Electronic Maintenance School at Karlsruhe.
During 1953 approximately 32,000 trainees graduated from these schools.
---
1965
(Source: Email from Mark Edrich)
I recently found your web site on the US Army Europe and, in particular, the info on the School Command. I can not comment on early history, but some of the data from the 1960s seems incorrect.

I was stationed at Oberammergau from July 1965 to July 1967, at Lenggries from July 1967 to September 1967 and at Bad Toelz from September 1967 to Jan 1968 and have a fair understanding of the organizational structure.

Your School Command information stops circa 1963 and suggests a structure that is not accurate. In particular,
"On 1 July 1961, the four remaining schools were organized into the U.S. Army School, Europe, at Oberammergau. Thereafter, the USAREUR school system consisted only of the school at Oberammergau; Seventh Army operated the NCO Academy, the Aviation Training Center, and the Combined Arms School -- the latter having evolved from the old Task Training Center."
In 1965-68 (the only period where I have first hand knowledge), USASCHEUR included all schools at O'Gau, Murnau, Bad Toelz (including the NCO Academy) and Lenggries.

HQ for USASCHEUR was physiclaly located in O'Gau.

Each school had a Commandant or other titled "head" who reported to the USASCHEUR Commandant in O'Gau. Each Kaserne maintained local facilities and had a local Hq Company, but everything threaded back to O'Gau.

---
U.S. Army School Command, Europe - Briefing
(Source: Command Briefing, US Army School Command, Europe, Oberammergau, Germany, December 1960)
MISSION OF THE SCHOOL COMMAND
The mission of the US Army School Command, Europe, is to:

a. Provide centralized control for the operation and administrative support of the following schools:
| | | | |
| --- | --- | --- | --- |
| | Intelligence | | Military Police |
| | Special Weapons | | Weapons Assembly |
| | Ordnance | | Engineer |
| | Signal | | Quartermaster |
b. Present resident instruction courses as prescribed and approved by USAREUR in the following academic fields:
(1) Intelligence - specialist courses in intelligence subjects peculiar to USAREUR and in specialties in which shortages of trained personnel exist; refresher training in languages peculiar to USAREUR.

(2) Special Weapons - familiarization and specialist courses in nuclear weapons employment for NATO officers, as requested by SACEUR; required refresher training of prefix-5 qualified US Army officers.

(3) Military Police - specialist courses in traffic management.

(4) Weapons Assembly - orientation and specialist courses in forward assembly and pre-fire checkout of nuclear warheads deployed in USAREUR.

(5) Engineer - courses in technical and mechanical engineer specialties in which shortages of trained personnel exist.

(6) Ordnance - courses in automotive maintenance and ordnance supply specialties in which shortages of trained personnel exist.

(7) Quartermaster - courses in supply and food service specialties in which shortages of trained personnel exist; courses relating to quartermaster intra-service responsibilities in USAREUR.

(8) Signal - courses in communication and radiac equipment specialties in which shortages of trained personnel exist.
c. Provide, at the request of USAREUR Headquarters and USAREUR major commands, mobile training teams to conduct non-resident instruction in subject areas included in resident courses of instruction, subject to the restrictions specified by Headquarters USAREUR.
d. Prepare and execute plans for consolidation of the US Army Quartermaster-Signal School, Europe, with the US Army Engineer-Ordnance School, Europe, at Murnau, as directed by USAREUR headquarters.
---
History of Hawkins Barracks
Hawkins Barracks, Oberammergau, Germany, which houses the Intelligence, Military Police, Special Weapons and Weapons Assembly School, was so dedicated on 20 September 1954 in honor of Lt Col Jesse M. Hawkins, who fought gallantly and was killed in this theater during World War II.

It was originally known as Hötzendorf Kaserne, the home station of the 54th Mountain Signal Battalion of the Wehrmacht's 1st Mountain Division.

After the departure of the 1st Mountain Division, Hawkins Barracks was used by the Messerschmitt organization for drafting plans and conducting experimental work on jet aircraft engines. The bulk of the actual work was done in the 22 miles of lighted, air-conditioned caves dug into Laber Mountain directly behind the pistol range.
The equipment for the plant was removed after the war and several partially successful attempts were made, by blasting, to seal tunnel entrances. US personnel were not permitted to enter the cavern.

On 29 April 1945, the 409th Infantry Regiment, 103rd Infantry Division, with elements of the 10th Armored Division attached, occupied the town of Oberammergau. In June 1945, the 6819th Information and Education School occupied the Post.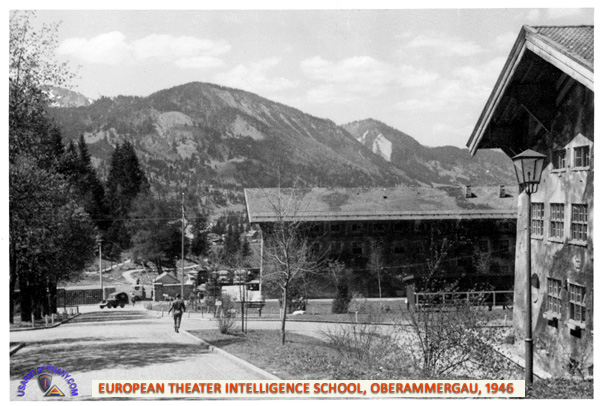 History of Intelligence School
A European Theater Intelligence School was originally established near Dreux, France, in November of 1944. The purpose of that school was to present instruction on German Armed Forces, Political Organization of Nazi Germany and intelligence activities. The school also had a number of demonstration teams which traveled throughout the European Theater and oriented troops on Nazi Germany.

At the same time, from February 1945 until December 1945, there was a US Army Liaison Officers' School in Le Vesinet near Paris, Headquarters, MISETOUSA. This school trained officers and enlisted men in the political and military aspects of the Soviet Union, and prepared Liaison Officers and Intelligence Specialists for the European Theater.

From September to December 1945, there was also a branch of this school in Bad Schwalbach, located ten miles north of Wiesbaden.

On 14 December 1945, three instructors from Bad Schwalbach came to Oberammergau, where, on the 12th of November 1945, a European Theater Intelligence School was established. Late in December 1945 and early January 1946, military and civilian instructors from the school at Dreux arrived in Oberammergau, and the courses of instruction commenced in January 1946.
History of Military Police School
The Military Police School for the European Theater was first established in August 1945 in Romilly sur Seine, France. In May 1946, it moved to Brake, Germany; in September 1946 to Nellingen, Germany. After a short stay of two months in 1948 at Sonthofen, Germany, as a part of the Constabulary School, the Military Police School was finally consolidated with the Intelligence School at Oberammergau in May 1948.

During this period the Military Police School conducted a basic Military Police Course and courses in Criminal Investigation, and an Officers' Refresher Course.

From May 1948 to the present, the school has conducted a variety of Military Police Courses based upon requirements of the European Theater. The present courses are planned to meet the increasing traffic problems of the European Theater.
| | | |
| --- | --- | --- |
| | | An instructor at the MP School demonstrates with the aid of a miniature city how to handle situations likely to arise in a German city during the occupation. Photo is from September 1946. |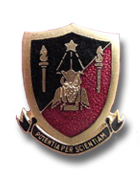 USAREUR Intelligence, Military Police and Special Weapons School DUI

In September of 1952, the Intelligence Division, USAREUR, recommended to the Chief of Staff, USAREUR, that a two week course of instruction be established to cover staff planning and procedures for atomic war. This course was to be established at the US Army Intelligence and Military Police School. The Intelligence Department was given the mission of conducting these classes. The first class was conducted in January 1953, and the last class was conducted in April 1960.

On 30 January 1953, a conference was held at Heidelberg to make preliminary arrangements for the establishment of special weapons courses for NATO commanders and staff officers. These courses were to be of two types: First, a broad orientation course of three or four days duration for Senior Allied commanders and, second, a more detailed course of two weeks to qualify key staff officers for the necessary planning for the tactical use of and defense against atomic weapons. In March of 1953, the courses were established, and both courses are still in existence.

With the establishment of the NATO courses, the Special Weapons Branch, now called School, was activated. In December 1955, the Special Weapons Branch moved into a new building. To further facilitate the NATO program, in June of 1956 simultaneous translation equipment was installed by SHAPE.

The curriculum of the Special Weapons Branch was further increased by addition of a Surface-to-Air-Missile orientation course; this course was first taught in August of 1960, and is for both NATO and US officers.
History of Weapons Assembly School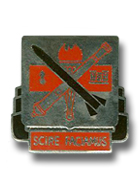 7th Army Weapons Assembly School DUI

The Seventh United States Army Weapons Assembly School, located in Pirmasens, Germany, was organized in July 1957 by direction of the Commanding General, Seventh Army. Mission of the school is to teach uniform forward assembly procedures to personnel of delivery and support units of USAREUR and to familiarize commanders and selected staff personnel with required procedures and standards. A total of eight different courses are conducted, the first course having started in August 1957.

The US Army Weapons Assembly School, Europe, was assigned to the US Army School Command, Europe, on 30 March 1960. The move to Oberammergau, Germany, was in September 1960.
LIST OF COURSES
FOR
WEAPONS ASSEMBLY SCHOOL
Prog
Classes

Input
per
Class

Artillery Commanders' Familiarization (WO-1)

4

19

Engineer Commanders' Familiarization (WO-2)

4

9

Forward Assembly, 8-inch Howitzer (WOE-10)

16

18

Forward Assembly, 280mm Gun (WOE-20)

8

18

Forward Assembly, Honest John Rocket XM57 or XM57E1 (WOE-36)

16

15

Forward Assembly, Corporal Missile (WOE-40)

9

9

Forward Assembly, ADM (WOE-50)

15

12

Forward Assembly, Nike Hercules (WOE-70)

14

12
---
History of Kimbro Kaserne
The Kimbro Kaserne was constructed during the period of 1936-38 by the German Army Construction Office. At the time of its completion it was named the Kemmel Kaserne. The first German unit to occupy the Kaserne was the Heavy Artillery Battalion IV of an Artillery Regiment stationed in Garmisch.

In April of 1945, the 10th Armored Division occupied Murnau and took over the administration of Kemmel Kaserne. In October of 1945, the 7th Infantry Division (NOTE: actually, the 71st Inf Div) took over administration of the kaserne from the 10th Armored Division.

In January of 1947, the Engineer School was moved to Kemmel Kaserne from Butzbach, Germany.

Since 1947, many changes and additions have been made at the Kaserne.

In May of 1957, Kemmel Kaserne was officially redesignated Kimbro Kaserne in honor of Technician Fourth Grade Truman Kimbro, who was posthumously awarded the Congressional Medal of Honor during WW II.

In October 1957, the Ordnance School was moved to Kimbro Kaserne from Füssen.
History of Engineer School
On 10 December 1943, the American Engineer School was established at Wallingford, England, to meet US Army training requirements. Following the invasion of Western Europe the School moved to France, and in September of 1944 was established at Angers; it later moved to Epernay, France.

In April of 1946, the Engineer School moved to Butzbach, Germany. Finally, on 25 January 1947, the School was established in Murnau, a small town on the edge of the Alps in Southern Bavaria.
History of Ordnance School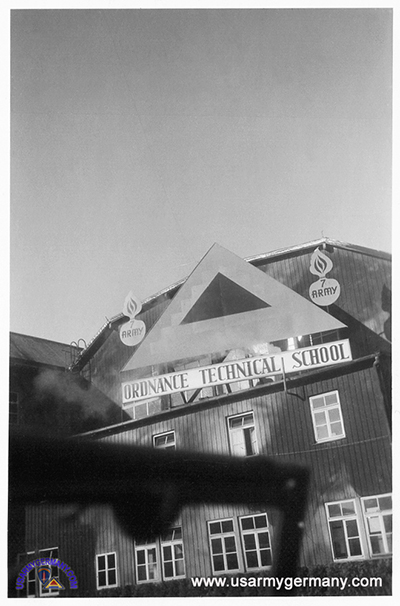 7th Army Ordnance Technical School, Heidenheim, Oct 1945
The School was initially established by the Commanding General, Seventh Army, in July of 1945 in Heidenheim, Germany. The original mission of the School was to rehabilitate ETO combat veterans by training them in technical skills essential to occupation duty. In December 1946, the School was moved to Eschwege, Germany, and redesignated the Eschwege Ordnance Technical Training Center. This, in turn, was changed to the EUCOM Ordnance School.

In May of 1953, the School was moved to Füssen, Germany, and there it occupied an old German kaserne called Burnette Barracks. On 1 January 1957, the School was redesignated the US Army, Europe Ordnance School and during the same period it was moved to Kimbro Kaserne in Murnau.
---
(Source: STARS & STRIPES, Sept 30, 1945)
A huge German factory (Voith) that once turned out 88-mm guns for the Wehrmacht is serving now as the Seventh Army Ordnance Technical School, where soldiers in the occupation zone are brushing up on civilian trades and fitting themselves for new peacetime technical jobs.

The School is open to all American soldiers interested in any of nine phases of technical training.

The nine courses, conducted eight hours a day for five and a half days a week, are in internal combustion engine, diesel engine, general automotive, carburation, ingnition, welding, body and fender, watch-making and machine shop. Students are quartered in a steam-heated school building with modern facilities.
---
History of Prinz Heinrich Kaserne
The Prinz Heinrich Kaserne was named in honor of Crown Prince Heinrich of Bavaria, who was killed in Rumania during World War I, while commanding the Royal Bavarian Mountain Troops.

The Kaserne was built in October 1936. Bavarian Mountain Infantry (mounted) units from this Kaserne served during WW II in Poland, France, and on the Russian front. The Berlin War Academy was the last element of the German Army to man this installation.

In May of 1945, units of the US Army's 10th Armored Division established a Prisoner of War Camp and Displaced Persons Collection Point at the Kaserne. The 10th Armored Division continued these operations until they were replaced by units of the 80th Infantry Division in August 1945.
Later the same year, Prinz Heinrich Kaserne became the home of the 18th Infantry Regiment, 1st US Infantry Division. The 18th Infantry changed Kasernes with the Quartermaster School in January 1951.

Since the arrival of the American Forces, there have been several noteworthy changes in the profile of the Kaserne. In 1950, the present Academic building was converted from a stable and the indoor riding hall was converted to Mess No. 3. The Service Club and three BOQ's were added in 1954. Also in 1954, the last major changes converted the Vet isolation stable to the Post Chapel.
History of Quartermaster School
The Quartermaster School was activated at Camp Bramborough, England, in 1944. In January 1945, the School moved to the Isle of Saint Germain, in the vicinity of Paris, France.

In September 1945, the School moved to Cambrai Kaserne, Darmstadt, Germany. There the European Command Quartermaster School Center was established in October 1945. In April 1950, the Adjutant General Academic Division of the School was established.

The School was moved to Prinz Heinrich Kaserne at Lenggries, Germany, in January 1951.
History of Signal School
The Signal School was activated on 1 November 1945 at Neuendettelsau, Bavaria, to train United States military personnel in the operation and maintenance of communication equipment and systems in the European Theater. In February 1946, the School was moved to Ansbach, Bavaria, where it occupied the Gneisenau Kaserne.

On 15 February 1958, the Signal School moved to Lenggries, Germany, and was consolidated with the Quartermaster School.

(CORRECTION: The date of the move of the Signal School to Lenggries was 15 February 1958, not 1950, as previously reported. A typo on my part. Ken Abernathy, who helped move the Signal School, pointed it out. Thanks, Ken!)

---
Student Handbook, Kimbro Kaserne, Murnau
(Source: Student Handbook, US Army School Europe, Kimbro Kaserne, Revised 19 April 1963)
HISTORY OF KIMBRO KASERNE

Kimbro Kaserne, previously known as Artillery or Kemmel-Kaserne, was constructed by the German Army Construction Office from 1936 to August 1938. It was built to accomodate heavy artillery units. After its completion in August 1938, the Heavy Artillery Battalion IV of the Artillery Regiment stationed at Garmisch moved in and stayed until 25 August 1939. On this day this unit left Murnau and was moved to the border of Poland. An artillery replacement battalion took over the Kaserne and was stationed here until the war was over.
On 29 April 1945 the U. S. 10th Armored Division entered Murnau and assumed the administrative duties. One of the first actions was the move of the Polish prisoners from the Panzerkaserne to the Kemmel-Kaserne.

In October 1945 the administrative responsibilities of the occupation forces were transferred to the U. S. 7th (sic) Infantry Division.

In June 1946 the former prisoners were assigned quarters in town and the 1124th Engineers occupied the Kaserne until January 1947.

On 24 January 1947 the Engineer School was moved from Butzbach, Germany, to Murnau. Since this time many changes and additions to the existing buildings were made and new buildings constructed.

In May 1957 the Kemmel-Kaserne was officially redesignated Kimbro Kaserne in honor of Technician Fourth Grade Truman Kimbro, who was posthumously awarded the Congressional Medal of Honor for gallantry in action during World War II.

In September 1957 the decision was made to combine the US Army Engineer and Ordnance School. Again, many alterations were required to meet the increased requirements. From 1 October throughout the rest of the year the movement of the Ordnance School from Fuessen to Murnau was completed.

Effective 1 July 1962 the Quartermaster Department, located in Lenggries, Germany, was redesignated "Logistics" Department and transferred from Lenggries to Murnau.

On 1 July 1962 the Executive and Career Development Department transferred from Lenggries to Murnau.

The Engineer, Ordnance, Logistics, and Executive and Career Development Departments all fall within the framework of the U. S. Army School, Europe, with Headquarters in Oberammergau.
| | | |
| --- | --- | --- |
| | | . |
---
(Source: Email from Gary Kuhn, DAC ret.)
I arrived at Vilseck in 1984, home of the Seventh Army Combined Arms Training Center, Rose Barracks. Since then many changes have taken place within the organization that at one time was a brigade size element headed by Colonels, now has a Major and we're almost totally civilianized, down to the size of a big company.

I retired in 1995 and have not left here yet. Most of the historical memorabilia has remained in the post headquarters, now occupied by what they call a Base Support Battalion totally outside of our food chain. They work for a new organization called IMA (Installation Management Agency).

Once in awhile certain old things surface around here. As example, a huge wooden 150 pound MOH citation hand carved 5" thick plaque for "Kimbro Kaserne" Honoring Technician 4th Class Kimbro for his WWII bravery. I had the old plaque taken to Wuerzburg to the Army's Base Maintenance Center where German wood craftsmen refurbished the old historical huge plaque (which is like a piece of furniture). It's beautiful.

One of the older German craftsman in Wuerzburg where it was recently refurbished said based on the style of how the lettering was cut out on the face, he estimated the board was crafted in the late '40s, or very early '50's.

---
USAREUR Engineer School
EUCOM Engineer School, Butzbach (1946)
---
USAREUR Engineer School, Murnau (1947 - 1971)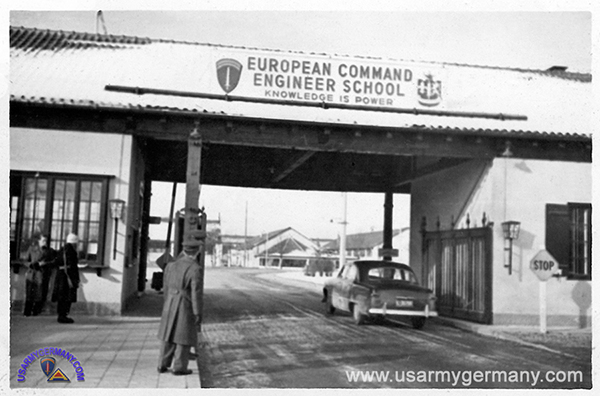 Sign over main gate to USAREUR Engineer School, Murnau, 1950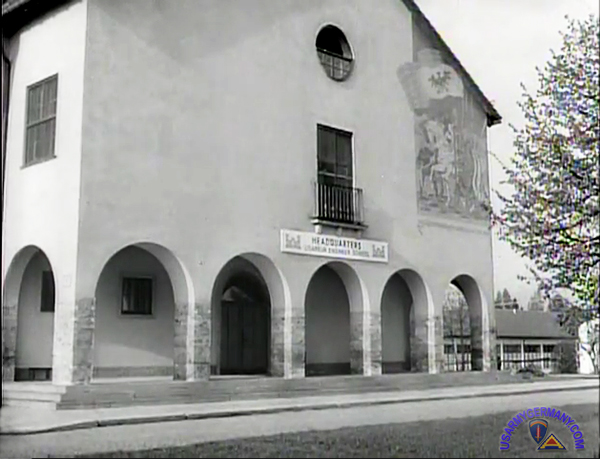 Headquarters USAREUR Engineer School, Murnau, early 1950s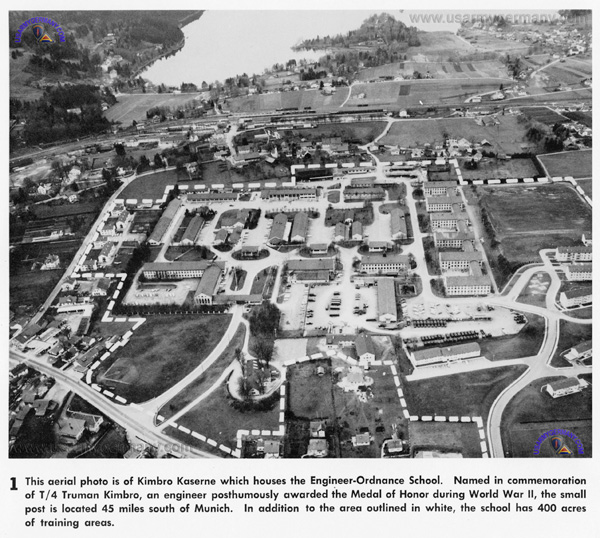 1949
(Source: STARS & STRIPES, March 20, 1949)
Among European Command technical schools, the EUCOM Engineer School in Murnau is somewhat unique: It offers more courses (some 30, varying from eight weeks to one-week courses) than any other school; offers a greater variety of subjects — from mine warfare to cost accounting; and is the only EUCOM school that trains U.S. Army and German civilian personnel under the same roof. (Bilingual Murnau instruction involves a big translation operation. All course materials and key Army training manuals are translated into German and printed at the school.)

Since its arrival at Murnau a year ago January, the center has graduated 2,936 U.S. Army students and 1.401 German civilians.

Commanded by Lt Col S. A. Armogidea, the school has a two-fold mission:



(1) training engineering specialists for the support of combat units;



(2) training specialists for post engineer and engineer depot units.

Combat Engineering
In the combat line, Murnau provides courses on demolition, mine warfare, water purification and bridge carpentering.

Post Engineering
In the post engineer section, the Murnau curriculum reads like a trade school catalog. Approximately 200 EUCOM students are being groomed as draftsmen, electricians, fire fighters, mechanical construction equipment specialists, refrigeration mechanics, utility repairmen, welders, electric motor repairmen, cost accounting, water supply technicians and post engineer managment specialists.
An equal number of German students are being drilled in fire fighting; fire pump maintenance, operating heavy construction equipment, repairing
refrigerators, welding, in post engineering management, cost accounting and as warehousemen and stock record clerks.

In addition to the above courses, the Post Engineer Instruction Team, stationed at Murnau — Maj J. Cushing is team chief — makes periodic training visits to the engineer section of each military post to assist the post engineers in accomplishing their missions. Members of the team are specialists in real estate, supply, engineer equipment maintenance, fire prevention, and such operations as construction, repairs and utilities.
The men pair off with their counterparts in each post engineer organization for three days. They analyze and make suggestions in line with current policy. After four days of this, a critique is held. This service accomplishes much in improving engineer services and correcting deficiencies at post level, and in presenting new post engineer problems to the chief engineer.

Training Areas
Murnau operates three outside training areas near the school. In one area, fire-fighting students practice starting fires and then putting them out. In another area, more trainees are learning to build roads and repair bridges, while across the way combat engineers are learning to blow them up.
---
1952
(Source: STARS & STRIPES, Aug 3, 1952)
The EUCOM Engineer School, celebrating its 10th anniverary (August 4th), embraces 63 buildings and boasts an alumni roll of more than 31,000.

Col Richard L. Jewett is in charge of the schooL

Since its move to Murnau in 1947, the school's student population has also included German civilian post and depot employees who receive training in Amercian engineering procedures, in mechanical construction, in maintenance and in fire fighting. After NATO was established, foreign students from allied countries also have entered the school. Many of these students have returned to their respective homes and are now training their own countrymen.

The courses run an average length of five and one-half weeks and include training in construction procedures, crane and shovel operations, mechanics, cost accounting, rodent control, utilities maintenance, demolitions, and safety.

Complex equipment regularly is taken apart and reassembled by the students.

A large technical library is maintained and in the "exhibition" attic are materials and instruments used by Army engineers in Europe.

Besides training students, the school also has increased German-American amity through aiding in some German community projects such as building athletic fields.
---
1954
(Source: Email from Lester "Les" Luehring)
I was in the Army from 1953 until 1956. In 1954-55, I was teaching Diesel Engineering Repair Courses at a small Engineering school located in Murnau, Germany.

My new wife came over from the States while I was still a Cpl. and we lived on the German economy for a few months until I made Sgt and obtained base housing.

My first son was born in the US Hospital in Munich. I remember driving to Munich in Dec. in a blinding snowstorm with my wife in labor and attempting to find the military hospital without being able to speak the German language. Those were exciting days.

The aerial photo of Kimbro (above) brings back old memories.



Entrance guard gate in lower center.



Main admin bldg to the immediate left and then the px was one of the buildings just behind (above) from the admin bldg.



Far left and far right were married housing. I lived in the one on the far left.



The row of buildings on the nearer right were for enlisted (cadre) housing.



My shop was one of the buildings in center, top someplace (my memory fails me).



I remember an enlisted club on very bottom center, someplace.

I also remember we had to take the bus to Garmish to get groceries at the big commissary there. We coud get cigarettes and coffee and things like that in our base px.

That's about all I can remember. Thanks again.

---
USAREUR Finance School
1947
(Source: Vol. IV, Second Year, OCCUPATION FORCES, IN EUROPE)
On 6 January 1947 the USFET Finance School was opened at the 7752 Finance Center 1) (Watturm Kaserne, Friedberg) and on 17 January the first class in property audit was graduated.

During the period 1 January to 30 June 1947 more than 400 students were enrolled for courses ranging from property audit to the complete finance course of the School.

Colonel Harris was the first commandant.

1) The 7752 Finance Center was established at Friedberg on 15 November 1946 to centralize finance activities which could be released from the office of the Theater Fiscal Director in Frankfurt. It also provided training for persons engaged in finance work. Col. Joseph Harris was the Center's first commandant.
---
1951
(Source: Webmaster's photo collection)
| | | | |
| --- | --- | --- | --- |
| | | | |
| 1. Main gate, Watturm Ksn, 1951 | 2. Looking towards main gate | 3. Watturm Ksn | 4. Watturm Ksn |
---
1952
(Source: STARS & STRIPES, Nov 15 1952)
One of the busiest components of the Finance Center at Friedberg is the USAREUR Finance School, initially activated to train officer and enlisted replacements in disbursing duties when postwar redeployment drained qualified personnel.

Under the current school program, students undergo a 31/2-week course designed to convert an untrained student into a qualified disbursing clerk within the shortest time possible.

A 6-week advanced finance course trains men for duty as principal and chief clerks in the finance corps. In addition to students from USAREUR, others attend from the USAFE, TRUST and USFA commands.

Director of training at the finance school is Lt Col Elbur D. Skeath, who spent three years in the ETO as assistant finance officer of the 44th Infantry Division)

---
USAREUR Intelligence School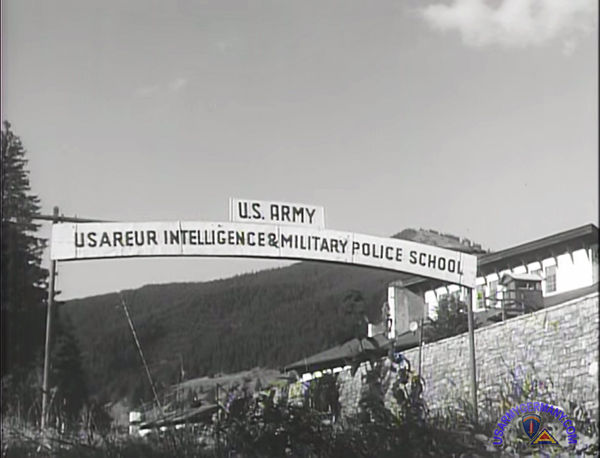 Sign near entrance to USAREUR Intelligence-Military Police School, early 1950s (YouTube)
USAREUR Intelligence School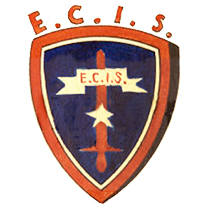 EUCOM Intelligence School Insignia, 1940s
---
USAREUR Intelligence & Military Police
1951
(Source: George Richmond, US Air Force in Austria)
Photos (July 1951) were provided by George Richmond, who served with the Air Force at Tulln AB in the early 1950s. George graduated from an MP course at the USAREUR Intelligence and MP School in 1951.
USAREUR Intelligence & MP School
Oberammergau, Germany



Map of USAREUR Intelligence & MP School


1. View overlooking school complex (78 KB)



2. MP students parade on Graduation Day (78 KB)


3. Cpl George Richmond and buddy enjoy a beer in O'gau (120 KB)

4. Air Police student in front of billets (100) KB

5. Resting during the 12-mile march (110 KB)

6. Early morning view of column of MP School students marching in the mountains (97 KB)

7. O'gau street scene (105 KB)


8. Another street scene (101 KB)


9. View of O'gau around 1950 (62 KB)


10. O'gau town square (68 KB)

11. Aerial view of O'gau (176 KB)

12. Hawkins Bks (144 KB)
---
1953
(Source: MILITARY POLICE Journal, September 1953)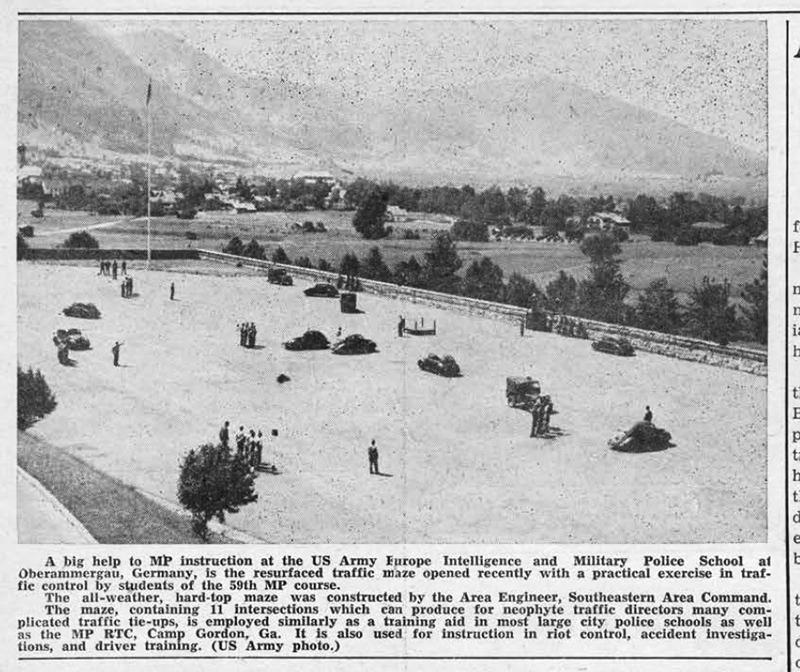 ---
USAREUR Intelligence, Military Police and Special Weapons School
(Source: Email from Bennett Young, 1957-59)
(See also Bennett's email on his tour with the Seventh Army Aerial Recon Support Co)
T
he dates of my attendance at the PI school:

October thru December 1957 and June and July of 1958

.

I also found a few pictures from the IMPSWS, Oberammergau.

Some time ago, I sent you some information and pictures about my service during the late 1950s with the Seventh Army Aerial Reconnaissance Support Company, 7877AU. At that time I said I would send you some additional data about my experiences while attending the Intelligence, Military Police and Special Weapons School (IMPSWS) in Oberammergau. I will now fulfill that promise, just a little late!
I'll also look for any additional picture, but I'm not optimistic about finding any. I do have a friend who was a Captain with the 53rd Transportation Battalion, however, and while I don't think he is even hooked up to the internet, I'll see if I can get him to submit some information as he is a great story teller and we were both stationed at Kapaun Barracks at about the same time.

TDY FOR THE FIRST TIME
In the spring of 1957 I applied to attend the Intelligence, Military Police and Special Weapons School (IMPSWS) in Oberammergau, Germany and took a test to qualify which, as I recall, consisted mostly of map reading. Apparently I did well enough and went off to beautiful Southern Bavaria to see if I couldn't change my MOS to that of a Photo Interpreter. There seemed to be more opportunity for advancement within the company in the PI section and the duty was better.
LIFE AT IMPSWS
The school was located on Hawkins Barracks. The kaserne was formerly the headquarters of a German army mountain unit and the billets were typical Bavarian architecture with cream-colored stucco, outside bracing and wide eaves. The buildings were set into the side of a mountain and overlooked the town of Oberammergau and the iconic sight of Mount Kofel.
All during the time I spent in Germany a nominal amount of money was deducted from our pay in order to have German nationals pull KP for us. These men worked in the mess hall under the supervision of U.S. Army cooks, but at the school we even had women to clean the halls and the latrines for us. All you had to do was make your bunk in the morning. I don't recall anyone complaining about the small additional cost!
We stood no inspections or formations.
We had our weekends free and Garmish was just a short bus ride away, so very often some of us would stay at the U.S. Army run hotels there where, if I'm not mistaken, a room was $1.25 a night. Even a Pfc like me could afford that. Excellent German beer could be had for about one deutschmark (.25¢) if you bought it in town, cheaper in the hotel bar.
Incidentally, we were always paid in Military Payment Certificates (MPCs). The Army did not convert to greenbacks until early 1959, I believe, which left a lot of bar owners in town scrambling to convert their ill-gotten MPCs into deutschmarks when the unannounced switch was made.
THE SCHOOL
Class work was intense and we put in full days, but there was no homework and the instructors were well qualified officers who we all respected. The classrooms were Spartan, but certainly adequate. The curriculum consisted of plotting and identifying targets on the ground and writing reports about the terrain as well as the targets themselves. All off this came fairly easily to me and shortly after returning to SAARSCO I was promoted to E-4, which at the time was a Specialist Third Class.
I really don't know much about what went on elsewhere on the post as much of the instruction was classified, as was some of ours. I do know there was a language school where I'm sure one of the tongues that was taught was Russian.
ADVANCED PI SCHOOL
In the fall of 1957 I returned for the Advanced Photo Interpretation course. These classes were even more concentrated and included some material that was classified Top Secret. I don't think it is any secret now, but at the time we did not want to openly admit that as some of our transport aircraft flew the Berlin corridor they drifted a bit off course and photographed Soviet tanks and other military hardware. We had some spectacularly clear images of tanks and other weaponry.
I'm certain of the dates on this occasion because it was during the time when Sputnik was launched and the U.S. was somewhat surprised and more than a little embarrassed.
I made E-5 shortly after my return, prior to rotating back to the Zone of the Interior in May of 1959.

Well, there are some of my recollections of life in the Bavarian Alps. If you have any questions or requests, please let me know and I'll do what I can to answer them.
I think you are doing a great service by collecting these data and I like your website a lot. Keep up the good work!
IMPSWS
Oberammergau, Germany






1. Orders



2. Class


3. Feldjäger

4. 11th Abn Div HJ unit

5. H-34 takes off from Ogau

---
USAREUR Medical School
EUCOM Medical School, Degerndorf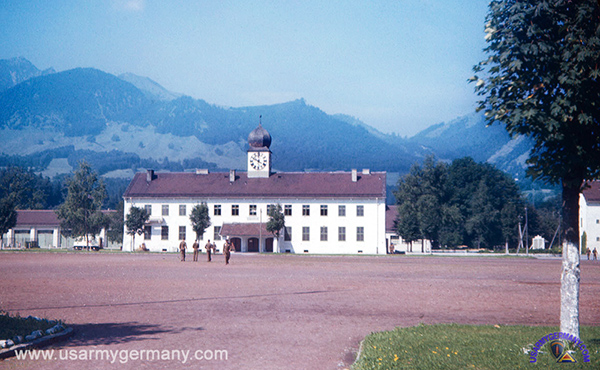 Jäger Kaserne, home of the EUCOM Medical Training Center, early 1950s (Walter Elkins)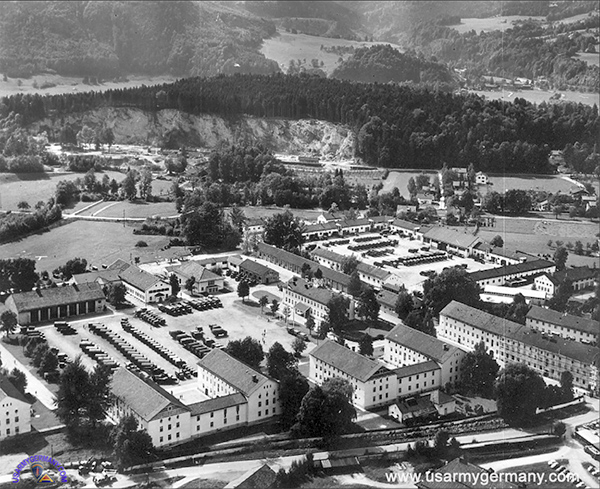 Jäger Kaserne a few years after being turned over to the Bundeswehr (German postcard)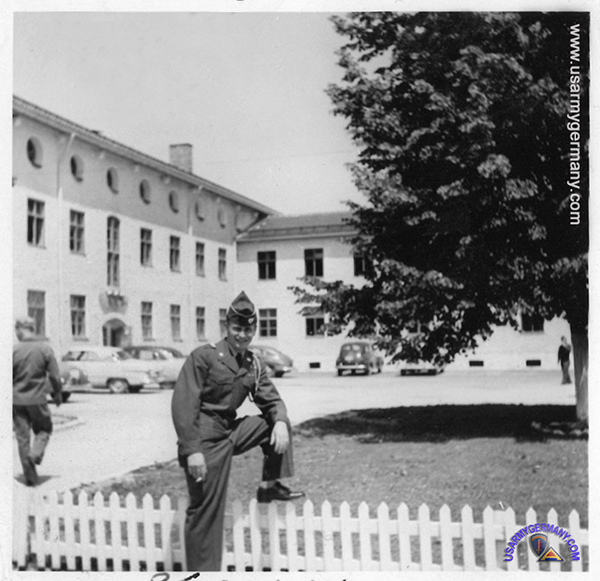 USAREUR Medical Training Center at Degerndorf, 1950s (Webmaster's collection)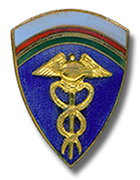 EUCOM Medical School crest
| | | | | |
| --- | --- | --- | --- | --- |
| | STATION | FROM | TO | |
| | Lesum (Bremen) | Oct 1946 | Jun 1947 | |
| | 385th Sta Hosp, Nürnberg | Jun 1947 | (1949) | |
| | Munich | (1949) | | |
| | Bad Cannstatt | | 1951 | |
| | May Kaserne, Degerndorf | 1951 | 1954 | inactivated for a short time in 1954 |
| | Wilson Barracks, Landstuhl | (1956) | | |
| | (incomplete) | | | |
| | | | | |
If you have any information on the location and dates for the EUCOM/USAREUR Medical Training Center, please contct the webmaster.
---
1951
(Source: STARS & STRIPES, October 19, 1951)
This month marks the fifth year of operation of the EUCOM Medical Training School.

Originally activated in Bremen in 1946, the School has been successively located in Bremen, Nürnberg, Munich, Bad Cannstatt, and finally here in Degerndorf at May Kaserne.

When first activated the School was equipped to handle a student body of only 75. Last year, 1,405 men received training at the school and the average student body numbered about 235.

In November 1949, the School supplied a mobile first-aid instruction team which traveled from post to post throughout the US Zone. The team covered more than 5,000 miles in a year and trained 1,946 men in first-aid procedures, including highway patrolmen, medical personnel, and labor service personnel attached to medical units.

The School has also furnished instructors for training troops in the field. In July 1950, a program of instruction for the US Constabulary joint medical-chemical training camp was presented at Nellingen airstrip. More than 500 chemcial and medical personnel received training.
At present, the Medical School under the command of Lt Col Joseph M. Cameron, offers instruction in three courses:



the NCO Course



the Combined Course for Medical and Surgical Technicians and Aid Men



the Nurses Field Service Orientation Course
---
(Source: EUCOM Medical Bulletin, July 1951)
The EUCOM Medical Training Center, located at Degerndorf, Germany, is housed in a kaserne built during the Hitler regime for his crack Alpine troops.

At the present time, the headquarters building is occupied not only by the headquarters of the medical training center but also by the EUCOM Medical Training School and also serves as quarters for nurse-students. Messing facilities are provided in two large, attractive mess halls. The former stables of the kaserne have been transformed into a motor pool with adequate facilities for the proper maintenance of vehicles.

One of the buildings in the kaserne has a fine bowling alley, and another is used as a combined theater and gymnasium. Training facilities include a sand-table room, training-aid rooms, a reference library, and a model ward with a central supply room adjacent to it. The classrooms are improvised from renovation of attics and are serving temporarily until better facilities are provided. Additional construction has been planned, including a dispensary, chapel, theater, service center, a combined post exchange and commissary and a number of large outdoor horseshoe-type classrooms.

The EUCOM Medical Training Center is operated by personnel from T/O&E medical units of the European Command and is under direct command of Maj. Gen. Guy B. Denit, Chief, Medical Division, EUCOM. The Commanding Officer of the center and also the School Commandant is Col. John L. Crawford, MC. Staff and faculty assignments are made compatible with the qualifications of the individuals assigned to the medical units. Guest speakers from the EUCOM Medical Division and other medical installations augment the instructional staff.

An integral part of the center is the EUCOM Medical Training School. The mission of the school, as stated in related directives, is "the training of Medical Service enlisted and officer personnel in the European Command, as directed by higher headquarters, to better perform their assigned medical duties,"

Formerly located in Stuttgart Military Post, adjacent to the 11th Field Hospital, the school moved to its present location on 15 January 1951. Remodeling to improve the existing billets and to provide the
necessary classroom facilities was begun immediately. Two weeks later the 20th combined course for medical and surgical technicians and aidmen began in temporary classrooms.

On 3 February the school moved into its permanent facilities. The third noncommissioned officers' class reported on 5 February.

Present courses conducted by the school include the combined course for medical aidman (MOS 3666) and medical corpsman (MOS 5657), the NCO course, and the nurses' field service orientation course. Other courses given at the school from time to time include the medical inspector's course, the medical assistant's course and the cost accounting course.
Medical School
Degerndorf, Germany






1. Degerndorf



2. Degerndorf

---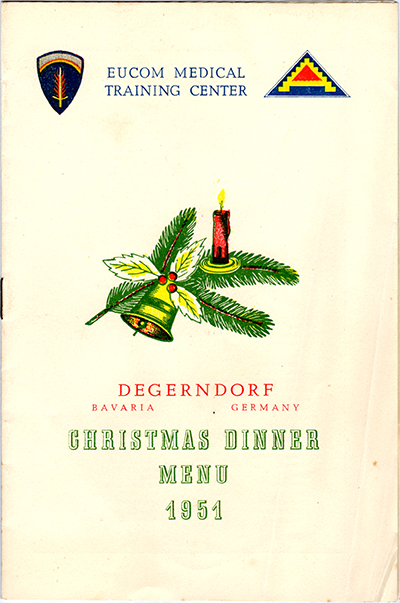 ---
1953
Medical School
Degerndorf, Germany






1. Degerndorf



2. Degerndorf

---
(Source: STARS & STRIPES, June 1, 1953)
The USAREUR Medical Training Center located at Degerndorf in Bavaria is the only medical training facility for US Army medics in Europe.

The students who are sent here from their respective units are attached to the 16th Unit Receiving Center, a composite group of nine medical units commanded by Col James C. Van Valin.

The School's primary mission is to teach the Army way of medicine. To do this 30 instructors teach officers, enlisted men and nurses such diversified subjects as bandaging a lacerated shoulder and giving shots, to motor maintenance, map reading and speech.

The School offers four courses:


a course for medical aidmen (five weeks)


an NCO medical leaders course (six weeks)


a basic medical officers course (four weeks)


a nurses field orientation course (two weeks)

Most unusual of the school's five departments is the military art section — the 20-man 7779th Medical Det (Medical Illustration). In addition to their duties at the center, the section makes all medical training charts, posters and diagrams for forces in Europe, Africa and the Middle East.

Students at the School spend much of their time in a model Army hospital ward and at outdoor demonstrations showing the proper method of setting up messes, latrines, field hospitals and field operation rooms.
---
USAREUR Medical School, Landstuhl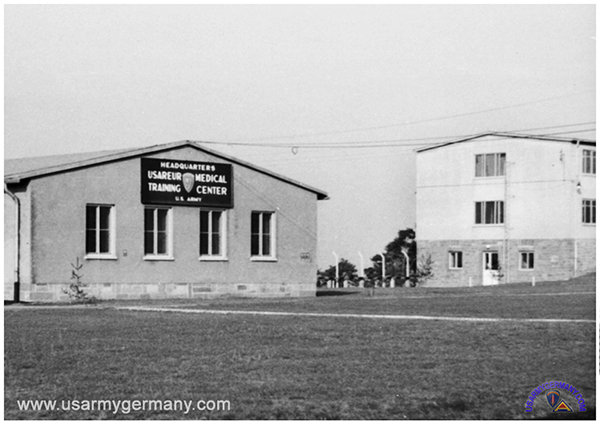 USAREUR Medical Training Center, Wilson Barracks, Landstuhl (Walter Elkins)
---
USAREUR Ordnance School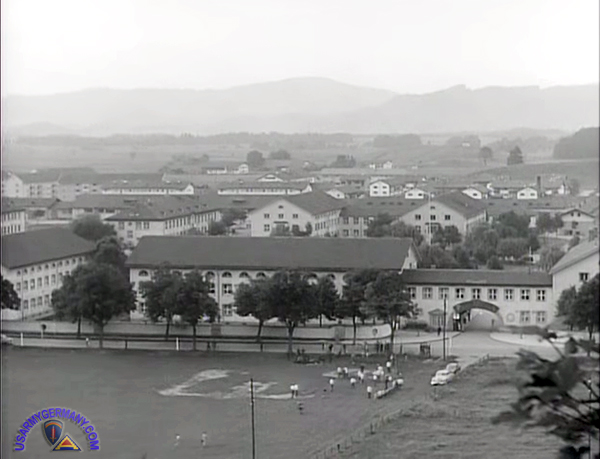 USAREUR Ordnance School, Fuessen (USAREUR Technical Schools - Big Picture)
(Source: USAREUR Ordnance School Student Information Guide, 1955; submitted by Lothar Bardeck)

Lothar served with the 6941st Guard Battalion in Berlin from Nov. 1953 to Sep. 1994. He was a Maint.Sgt. in the Maintenance Section of the battalion's Motor Pool at Roosevelt Bks. He worked closely with the Maint. Division at Andrews Bks. In 1955 he completed the Course in Automotive Electrician for Wheeled Vehicles and Tanks at the Ordnance School in Füssen (with Distinction). In 1961 he completed the Course in Organizational Maintenance Wheel Vehicles at the US Army Engineer-Ordnance School, Europe in Murnau (Honor Graduate). Now, retired from the 6941st, he operates with some former employees of the US Army and Army Veterans the McNair Museum at McNair Barracks in Berlin.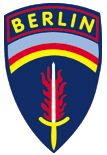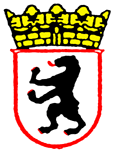 | | | | |
| --- | --- | --- | --- |
| EUCOM Ordnance School | USAREUR Ordnance School | USAREUR Engineer-Ordnance School | |
The Ordnance School was established by the Commanding General, Seventh Army, at Heidenheim, in July 1945. The mission of the school was to utilize the time of battle-weary men who recently had concluded the fierce fighting in Europe and to effect their transition from combat to occupational duty. The school began to outgrow its facilities; the prominence of the school increased continually and due to the critical shortage of trained specialists in Europe the inevitable expansion of the school followed.

The school was moved to Eschwege, Germany, in December 1946, where it was set up in a modern kaserne formerly occupied by a German panzer unit. Here the school had additional classroom and shop space and was better equipped to meet the increasing demands of the theater. Also, its name was changed to the Eschwege Ordnance Technical Training Center, later the EUCOM Ordnance School, and finally the USAREUR Ordnance School. Due to international world tension and the geographic location of Eschwege it caused grave concern to have a techical school of this nature surrounded on three side by the East Zone Border. It was decided to move the school to a more suitable location.

A vacant kaserne in Fuessen, Germany, provided a ready solution to the problem at Eschwege. So the USAREUR Ordnance School moved in May 1953 to its present location, a kaserne once occupied by elite German mountain troops. It was completely rehabilitated and through a combined effort of the Corps of Engineers and Ordnance School personnel, it has modern billets, offices, classrooms and shops comparable to any found in the United States Army.
| | | |
| --- | --- | --- |
| | | Commanded by Lieutenant Colonel Earl T. Wiley Jr., the staff and faculty of the USAREUR Ordnance School is made up of specially selected officers, enlisted men and Department of the Army civilians. Courses of instruction cover all phases of Ordnance training. The most up-to-date methods of instruction are practiced; all current technical instructions applicable are taught, and the most modern training aids and equipment are used. |
| | | School Organization Chart, 1955 |
---
Ordnance School at Eschwege
1947
(Source: Photos provided by Raymond "Ray" Smith)

Ray from Largo, FL who served with the 52nd Ordnance Group and other units in Austria from 1945-49.

Ray graduated from the Ordnance Schools's "Org Mech" course in August 1947

EUCOM Ordnance School, Eschwege - I drew this map using an old (and not very clear) aerial photo of the kaserne from May 1950.

Arrows indicate direction of photo, numbers represent the sequence within the photo gallery.

(As always, please direct any questions or corrections to Walter Elkins )



EUCOM Ord School
Eschwege, Germany


1. Main Gate


2. Looking towards the main gate from within the kaserne


3. Building on eastern corner of parade ground

4. Building on eastern side of parade ground


5. Parade ground, EUCOM Ord School


6. Building on south-eastern corner of parade ground


7. View towards southern end of the kaserne where the maintenance and supply facilities are located

8. Ord school students taking a break?
---
1951
(Source: Email from Eugene Osborn, USAREUR Ordnance School, 1951-1953)
I was assigned to be an instructor at Eschwege from Nov 1951 until March 1953. It enabled me to be a productive soldier and serve my country during a time of much stress.


I started my military life in March 1951 at Ft. Devens. I had basic training at Aberdeen Proving Ground and completed the Army Machinist School at the Allied School in Chicago.

Spent time at Camp Kilmer awaiting shipment to Bremerhaven on a troop ship. Rode a troop train to Sonthofen and saw the devastation remaining from the war.

In an interview preceding my assignment I was told there was no need for machinists in Germany as the Army was hiring Germans to help their economy. Furthermore, since I had some experience in the automotive field, he was quite certain that I would be a good instructor and I was sent to Eschwege.

I spent 1 week reviewing the 12 week course and passed all the tests and was immediately judged to be an instructor. Much later on I did complete an "instructor methods" course. Almost all the permanent personnel at Eschwege were "Regular Army" and the few of us draftees were not treated very well so we kind of tried to outdo the "RAs" by excelling in our assigned jobs. I did find teaching to be rather easy for me and I did very well.

The school's courses included organizational and field automotive maintenance; wrecker and field recovery; fire control; machinist; heavy truck and tracked vehicles.

Normally we had about 1200 students. Regular classes were on Monday, Tuesday, Thursday and Friday. Wednesday was reserved for inspection and secondary training.

My school consisted of 3 shop buildings and a bunch of classrooms. There were written guides fur each and every hour and we usually had about 40 students in each class. Instructors usually were teaching about 6 hours each day.

At first I was assigned to assist in a shop building and later became the lead instructor and basically in charge of that building. I also served as a classroom instructor.

Our students came from all over including Navy and Air Force and some students from NATO countries.

Since our school served many countries we frequently had visitors and had inspections. As part of that routine we had an 'Honor Guard" that welcomed the dignitaries. I was one of the lucky ones selected for this unwelcome extra duty. We really weren't that great but got to 'enjoy' many hours of practice.

Toward the end of my time it was ordained that our 12 week course would be shortened to 8 weeks. Each instructor was assigned sections to rewrite (the manuals) consolidating 3 hours to 2. I did mine and submitted them like everyone else and thought I was done. Unfortunately most of the instructors were better mechanics than writers and the botched result was rejected by higher ups. The captain in charge of our course selected me, gave me a desk in his office and told his secretary to give me anything I wanted and I was to correct all the errors and put it back together in an acceptable form.

I did do just that and in a short time completely rewrote every piece of paper correcting spelling, grammar, technical content and appearance. It was resubmitted and accepted and adopted immediately. I was promoted to corporal and was the first on the post to be promoted as most promotions were being given to soldiers in Korea.

We were right on the border of East and West Germany and could see Russian and East German border patrols. We had "alerts" about once each month and all of us had assignments in case of an invasion. The alerts were always at night so classes were not disturbed and it seemed that all the bars knew when one was coming. Our 1200 students were taken westward in busses and we permanent people had assignments like destroying the equipment, rear guard, etc. We usually ended up camping overnight in the woods and returning back to the kaserne about noon on the next day. God was looking out for us and none of the alerts turned out to be real war.

Toward the end of my time the entire school was getting ready to move away (to Füssen) from the border to safer surroundings.…

Eschwege was kind of isolated and I went to Kassel several times although it was almost totally destroyed. Along the way to Kassel there was an area just off the road that had been an undergruund munitions factory. I was always curious about it because I was told that it was never bombed and actually mysteriously blew up about a week after hostilities ended. I was warned to stay away from that area as it had been filled with poison gas and then sealed. I have never since seen anything about this place. Do you know of it?
---
Ordnance School at Füssen
1954
(Source: Email from Doran Ditlow, 109th Ordnance Co at Nancy Ordnance Depot, 1954-56)
| | | |
| --- | --- | --- |
| | | The Ordnance School (USAREUR) in Fuessen, Germany where I went to Wheel Vehicle Repair school in summer of 1955. (See the remainder of Doran's recollections in the COMZEUR section.) |
---
1957
(Email from Edwin L. Jones)
I was an instructor at the Ordnance School in Fussen, Germany 1957. The school relocated to the Engineer Ordnance School at Murnau in late 1957.

I went in the Army 50 years ago & arrived at Fussen on New Years Eve 12/31/1956 about 11:00 P.M.

---
USAREUR Quartermaster School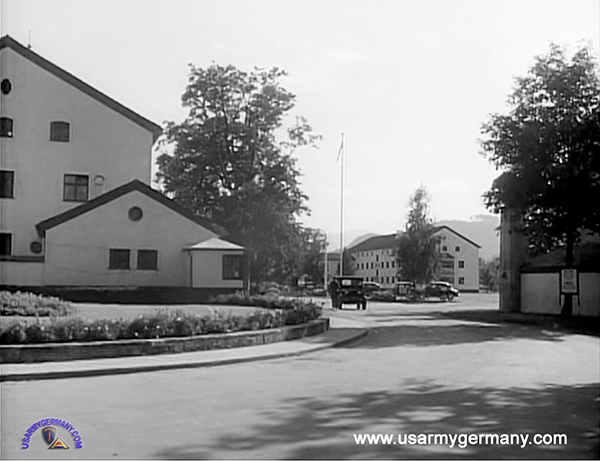 Entrance to the USAREUR Quartermaster School, Lenggries, early 1950s
Headquarters USAREUR Quartermaster School, Lenggries, early 1950s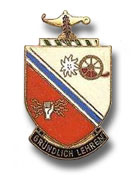 US Army Quartermaster-Signal School Europe DI


Distinctive Unit Insignia warn by School personnel after the merger of the USAREUR Quartermaster and Signal Schools in 1958.
(Source: Armed Forces Day Open House, 17 May 1952; pamphlet distributed during an open house held at the EUCOM Quartermaster School in 1952)
EUCOM Quartermaster School, Prinz Heinrich Kaserne, Lenggries

Col. A.M. Willing, Commanding

The EUCOM Quartermaster School is the hub of the wheel that provides the training of specialists of the Quartermaster Corps stationed in Europe. The EUCOM QM School offers instruction and guidance for selected Officers, Warrant Officers, and Enlisted Personnel in matters of Supply, Administration, Food Service and Food Conservation. The QM School is the home and study hall from which technically trained selected Non-Commissioned Officers, Enlisted Men, and authorized German personnel receive their various recommended specialty classifications.

Prinz Heinrich Kaserne is the workshop and laboratory where dog trainers, administrative specialists, supply techicians, food experts and instructors for labor service units are brought into being. The school is always alert and conscientiously developing new methods of teaching and training doctrines to be absorbed by these qualified techicians.
---
| | | | |
| --- | --- | --- | --- |
| | | | |
| 1. Prinz Heinrich Kaserne seen from the Kogelberg, early 1950s (KB) | 2. Zoomed image of photo #1 (KB) | 3. Quartermaster School headquarters building, Bldg 201 (KB) | |
| 4. Student Company A, Bldg 205, center and on right (KB) | 5. Bldg 213 (KB) | 6. Student Company C, Building 203 (KB) | |
| 6. QM soldiers in front of the PX building (KB) | | | |
---
---
1958

---
USAREUR Signal School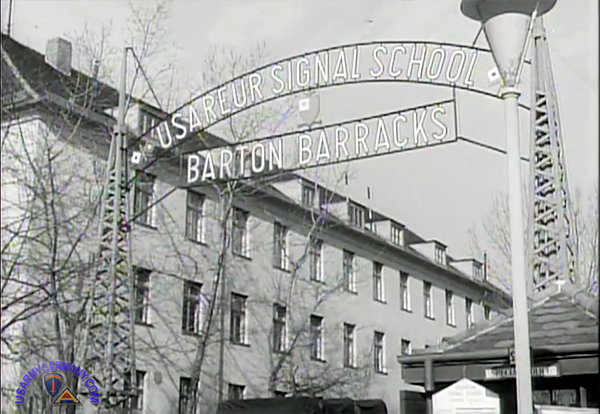 USAREUR Signal School at Barton Barracks, Ansbach, early 1950s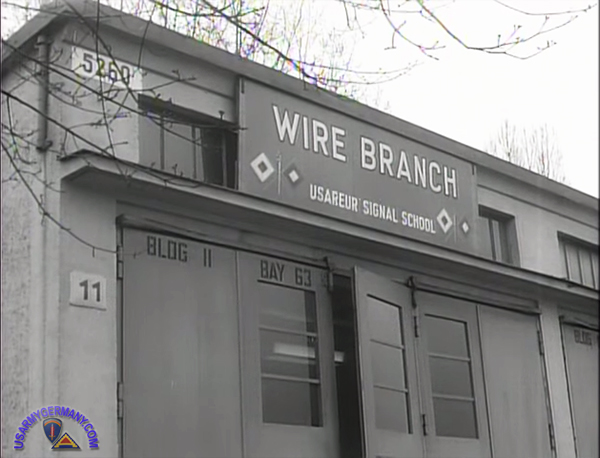 Wire Branch, USAREUR Signal School, Ansbach, early 1950s
| | | | |
| --- | --- | --- | --- |
| 1. Parade field and post chapel | 2. Gneisenau Kaserne | 3. Bldg 13 classrooms | |
(Source: Europe's Signal Schoolhouse, by Capt David E. Hunter-Chester, ARMY COMMUNICATOR, Winter 1986 issue)

Capt. Hunter Chester is currently the commander of Company A, 7th Army Combined Arms Training Center. Before that he was operations/security officer of the C -E Department. He is a Distinguished Military Graduate from the University of Nebraska, with a BA in English and psychology.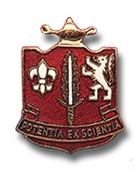 EUCOM Signal School DI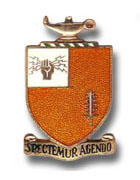 USAREUR Signal School DI

Distinctive Unit Insignia warn by Signal School personnel before the merger of the Quartermaster and Signal Schools in 1958.

1985 was quite a year for 40th anniversaries, marking as it did the anniversary of the end of World War II, the pivotal event of modern history. One such anniversary which may have gone largely unnoticed, not being as dramatic as the meeting of the Americans and Russians at the Elbe, or V-E Day, was the anniversary of the founding of the oldest US Army School in Germany.

On 21 October 1985, Col. Michael H. Crumley, Commander, Seventh Army Combined Arms Training Center, officiated at ceremonies marking the fortieth anniversary of what is now known as the Communications Electronics Department, Seventh Army Combined Arms Training Center (C-E Dept., 7A CATC ).

The Communications-Electronics Department is located at Flint Kaserne in the beautiful, alpine health resort town of Bad Toelz, south of Munich. The school was originally activated, in Germany, on 20 October 1945, but the organization's actual origin can be traced beyond its founding in Germany to the early days of US involvement in World War II.

The entry of the United States into World War II prompted sweeping changes in the Signal Corps, as it did throughout the Army. The Signal Corps expanded at an incredible rate, from a standing strength of approximately 3,935 in June 1939, to 36,396 by June 1941,(1) and 321,862 by May 1945.(2)

In order to meet the geometrically expanding requirement for Signal soldiers, CONUS training centers were rapidly expanded, and training time was severely curtailed. Prior to the limited emergency of September 1939, prompted by Hitler's invasion of Poland, Signal officers received nine months of training in their basic courses, while most enlisted soldiers received ten months of training. By 1941, training for officers had been shortened to one month, and many officers received no specialized training at all. Similarly, training for enlisted soldiers had been shortened to three months, while at least half of them went directly to field units with no technical training.(3) As a result, many units received soldiers who were "unseasoned, half-trained, or worse,"(4) while the individual soldier-communicator who had received the reduced Signal training was characterized as a "one-eyed man in the kingdom of the blind."(5)

Besides having to man the tremendously expanding force structure, Army communications people also had to deal with the revolutionary developments occurring in military communications, including the recent development of radar, a suddenly global military commitment, and the heavier dependence of highly mobile armored forces on reliable radio communications. Yet another communications difficulty was that this was the United States' first extensive experience in coalition warfare.

General Eisenhower, recognizing the urgent need for communications specialists, ordered the establishment of a Signal school in the North African Theater of Operations, in a letter dated 15 February 1943. The school was originally operated by the Signal School Company of the 2624th Signal Service Regiment, with facilities at Oran, North Africa.(6) The mission of this school was much the same as the current school in Bad Toelz; it provided refresher training for Signal soldiers arriving from the United States, new equipment training, and training in Allied methods of communications. The school proved a success and moved with the victorious Allied drive through Italy, until a more or less permanent location for the school was established in Naples, where it remained until the cessation of hostilities.(7)

The school in Naples, having already undergone the first organizational and name changes that would become a characteristic of its history, had come to be known as the 6614th Mediterranean Theater of Operation Signal School Detachment.(8) It was deactivated on 10 October 1945, but just 10 days later it was reactivated, moved to Neuendettelsau, in northern Bavaria, and designated the Theater Signal Corps School. Throughout the next 40 years the school's name and organization continued to change, as commitments and force structure in Europe fluctuated.

The first commandant of the TSCS was Lt. Col. Reuben L. Abramowitz, a career Signal officer who had participated in both the Mexican Punitive Expedition and the American Expeditionary Forces of World War I. Lt. Col. Abramowitz was well-suited to his role as commandant because of his experience as an instructor at West Point, and with the Signal Corps School at Fort Monmouth, New Jersey, during the tremendous World War II build-up.(9) Abramowitz had been working as the head of the Paris Signal Center in late October 1945 when he was directed to "set up a Signal school for the entire European Theater at Neuen Dettelsau (sic) Bavaria."(10) He was given a month to complete this formidable task, made more formidable by the fact that Neuendettelsau, an abandoned Luftwaffe Ammunition Depot largely untouched since the end of the war, still contained over 150,000 tons of live munitions. Abramowitz immediately set to work with a handful of men, including some officers and NCOs from the old school in Naples. Among other things, the cadre hastily constructed student tables out of bomb crates, and when those ran out, chopped down trees from the prodigious forest surrounding the kaserne for lumber. Despite the many difficulties, the school started at the end of the one month dead-line, in December 1945.(11) Out of 150 students enrolled in those first courses, only 4 graduated, due to the redeployment policies in effect at the time.(12) Though the beginning was hectic, a grand and still on-going tradition had been born. It called for providing quality Signal instruction to the soldiers in Europe, despite whatever obstacles.
The facilities at Neuendettelsau were cramped, but the school continued to expand during the following months. A bomb scare in February 1946, however, prompted Abramowitz to search for a new home for the Signal School. He found it just eight miles away, in an abandoned fortress called Gneisanau Kaserne, on a hill overlooking the town of Ansbach.(13)

Gneisanau Kaserne was later renamed Barton Barracks, after David P. Barton, a Signal Corps lieutenant colonel killed in World War 11.(14). The school flourished on Barton Barracks for 12 years, averaging more than 3,000 graduates a year. However, the name and organization of the school continued to change, reflecting changing doctrine and commitments for US forces in Europe as a whole. When the US Forces European Theater became the European Command, the school became the EUCOM Signal School. In 1951, with the build-up of forces in Europe and the formation of US Army Europe, the name became the USAREUR Signal School, and in 1957 the designation was changed to US Army Signal School, Europe.(15)
In 1958 the school again relocated, this time to Prinz Heinrich Kaserne, in the village of Lenggries, south of Munich, where it was combined with the Quartermaster School to become the US Army Quartermaster-Signal School, Europe. As an economy measure, this type of consolidation had taken place among several Army schools in Europe, a trend which continued until July 1961, when all USAREUR schools were combined under the direction of the newly formed US Army School, Europe (USASCHEUR), headquartered at Oberammergau. The Quartermaster and Signal Schools were separated, with the Signal School remaining at Lenggries, as the Signal Department, USASCHEUR. In 1966 the school name was changed again, this time in deference to changing Army terminology, to the Communications-Electronics Department, USASCHEUR. In 1971 the school moved once more, to its present home at Flint Kaserne, Bad Toelz, only six miles from Lenggries.(16)

Though moving days for the school were finally over, it still underwent two name and organizational changes. On 1 July 1971, USASCHEUR was redesignated the USAREUR Combat Support Training Center (USAREURCSTC). In 1974 USAREURCSTC was dissolved and the Communications-Electronics Department became part of the newly established Seventh Army Training Command's Combined Arms Training Center (7A CATC).(17)

Today the C-E Department consists of 10 academic courses, training up to 3,500 students annually. Just as when the school was founded, the courses are not MOS producing, but rather are meant to provide refresher training on items such as medium and low-capacity multichannel systems, VRC-12 series radios, RATT rigs, and other pieces of equipment. The courses also provide transition training on new pieces of equipment introduced into the theater, such as the VINSON secure devices (through a government contracted course), and the new Army teletype, UGC-74. Carrying on the tradition of training Allied as well as American soldiers, the school hosts interoperability training with members of the German Bundeswehr, both in formal classroom settings and during less formal Partnership Program events.

One training objective the school has had since its founding is the grounding of selected young officers in the basics of tactical communications. According to SFC James P. Howell, a former course chief at the school, "Our course teaches the basics of communications in a combat unit -- infantry, armor, ADA, etc. The officer comes out of the basic course a generalist. Our course prepares them to advise that combat arms battalion commander on tactical communications."

SFC Howell also mentioned another important class taught by the department, the Communications Security course. "The COMSEC course explains how to use the various regulations and gives hands-on training with the paperwork. Students also benfit from the experiences of others in the class." The Program of Instruction (POI) for the course was developed by the Signal Center at Fort Gordon and is taught Army-wide at seven different locations.

Though soldiers assigned to the department have rotated frequently over the years, some of the civilian employees have been associated with the school since the 1950s. Mr. Richard Townsend, the department's civilian academic advisor first came through the school in the late 1950s as an enlisted man. "We were a big school back then" he recalls. "We graduated about 6,000 a year."

Mr. Alois Patrzek, a civilian who instructs in the UGC-74 radio teletypewriter course and the radio alignment course, first joined the department in 1959, at Lenggries. He recalls the department teaching subjects on such diverse items as radar and radiac equipment, as well as on many pieces of equipment no longer in the inventory. Asked why the school has lasted so long, he replied, "There's always been a demand."

As the C-E Department approaches its 150,000th graduate, in the 40th year since its establishment on German soil, it remains a bridge to the past, with bright promise for the future. Throughout its many changes of place, name, and organization, the school's focus has remained the same: to train soldier-communicators in the means of effectively providing the voice of command. Today the communications field is exploding with development, due to the introduction of digital, laser, and other new technologies. The US Army, as always, will ride the crest of this communications explosion, and the CE Department, 7A CATC, "Europe's Signal schoolhouse," stands ready to play its role. Lt. Col. Jimmie D. Rawls, the department's current director, put it best: "Our job is to augment the training soldiers have already received. Signal soldiers come here to hone certain skills that may have become rusty over the years. We return those soldiers to the field better able to communicate in support of their mission, and we've been doing it for 40 years."
ENDNOTES


(1). Dulany Torrett, The Signal Corps: The Emergency, United States Army in World War II series, The Technical Services (Washington, D.C.: Office of the Chief of Military History, Department of the Army, 1956). p.204.
(2). Dixie R. Harris, George R. Thompson, The Signal Corps: The Outcome, United States Army in World War ll series, the Technical Services (1966; rpt. Office of the Chief of Military History, Department of the Army, 1968), p.512.
(3). Dixie R. Harris, Pauline M. Oakes, Dulaney Torrett, George R. Thompson, The Signal Corps: The Test, United States Army in World War 11 series, The Technical Services (1957; clot. Office of the Chief of Military History, Department of the Army, 1968), p.51.
(4). Harris, Test, p.55.
(5). Torrett, Emergency, p.210.
(6). Letter from Headquarters, North African Theater of Operations, US Army to Commanding Officer, Mediterranean Base Section, 25 Feb 43, subject: Signal School. AG 352/022 C -C-M.
(7). Monthly Historical Journal, HQ 6614th MTOUSA Signal School Detachment (OVHD), 5 Oct 45, p.2.
(8). Ibid.
(9). "Colonel Abramowitz Dies; Had Long Military Career," Monmouth Messenger, 13 Mar 67.
(10). Reuben C. Abramowitz, "Theater Signal School at Ansbach," Signals, Vol. 1, No. 1, Sep-Oct 46, p.57.
(11). Abramowitz, pp.57-59.
(12). Letter from Lt. Col. Reuben L. Abramowitz to Col. S. P- Fink, 7 Aug 54, concerning early activities at the TSCS.
(13). Abramowitz, p.57.
(14). Unit History, US Army Signal School, Europe, 1957, p.2.
(15). Ibid, p. 1.
(16). Unit History, History of the COMMEL Department, USAREUR Combat Support Training Center, Jan 74.
(17). Information Brochure, Communications Electronics Department, 7A CA TC, p.2.
---
(Source: Training Times, September 1982)
CATC's Communication and Electronics School supports USAREUR in "training the trainers"

by Bob Shipp

Millions of messages pierce the airwaves every day. Most are the routine, everyday kind of calls we all make. Many however, contain the crucial information tying our whole NATO defense plan together.

To keep the information flowing USAREUR depends on its signal soldier experts.

Once a soldier in the communications field leaves AIT he needs near continuous training to keep up with the technological advances in signal equipment and procedure. Maintenance of the mind is as important as equipment maintenance.

Training communicators to better perform their assigned tasks is one of the missions of CATC's Communications-Electronics School in Bad Toelz. The school is a part of 7ATC about which very little is heard. But is one that supports a very large part of the C-E mission in Europe.

"Our courses run from one to five weeks and we train a total of 3,500 students annually from all over USAREUR," said Capt. Garvis W. Toler, director, C-E Department. "These are mainly U.S. troops at the present, but we do have an interoperability course due to start in January. That course will teach both German and American soldiers."

Toler believes the "training the trainer" concept is the best way to increase effectiveness.

"Sometime ago we discovered we were training the operators," he explained. "When those operators returned to their units and tried to implement what they had learned, they came up against NCOs who would say 'this is the way we've always done it, this is the way we're going to continue doing it.'

"The NCO, not having the latest training, would not allow the operator the chance to make effective changes. In some cases it was a case of the operator knowing more about the equipment than the guy who was his supervisor.

"In the training the trainer concept, we train that E5 who is in charge of a team. This multiplies our efforts because he can then return to his unit and train three or four other soldiers in the things he learned here at the school."

None of the C-E School's courses are entirely classroom instruction, and about half of the courses are supervised self-paced.

"The self-paced courses," said Toler, "are supplemented with some form of platform type instruction. We've found that this system works very well."

"In most of the courses we give situational problems and are very heavy on hands-on. The student is actually doing what he would be doing in the field."

Toler says the school has all the equipment needed to have one or, at the most, two people per setup. He added that when a new piece of signal equipment comes out the school can usually acquire it in time to set up courses before it actually hits the field.

"My plans officer gets in touch with the deputy chief of staff for C-E or the Force Modernization people at Heidelberg," said Toler. "He generates the request for the equipment and we can normally get the course started before the equipment is fielded in USAREUR.

"We have one course we've been teaching for about five months and that particular piece of equipment is just now hitting the field," he added.

The C-E School also has Mobile Training Teams. These are teams of instructors that are sent out in response to a request from a unit to train the unit on its own equipment. When teams aren't available, the unit can come to the school.

"We haven't been able to send out many teams due to scheduling problems," explained Toler. "What we have been able to do is offer special courses here.

"When there is a break in the schedule, and there is an identified need in the field, we let a unit send their people to us. We will have a specially tailored course for that unit here which should meet its needs.

"We billet them, feed them, train them, and all the unit has to do is provide transportation."

Input from the field can directly influence the type of courses taught at the school.

"We get requests from the field directly and indirectly," related Toler. "Most of our courses have proponency from the deputy chief of staff for communications-electronics. He will query the field to find out how our courses are affecting the field; what they need to know that we are not teaching them, what we may be spending too much time on, etc,

"Input is then made through 7ATC telling us how our courses can be improved and we try to implement these improvements as soon as possible."

Several courses are offered under refresher training which are geared toward the first line supervisor using the training the trainer concept.

There are two specific areas in which new equipments is involved. One of these is the Vinson Secure Voice System in which net controllers and maintenance personnel are trained.

"This system is a new secure voice system for use with FM radios," explained Toler. "It is a big improvement over the old system.

"It allows you to encrypt your voice traffic. When you're speaking over the radio, nobody can pick you up unless they have the same key in their radio that you have in yours.

"We also have operator and maintenance courses for the new UGC/74 computerized terminal," continued Toler. "The UGC/74 is basically a typewriter. You first type in the message and then send it forward at 1,2011 bits per minute,
which is a lot faster than the older equipment.

"It can also store messages in the computer memory and has an edit function that allows you to make corrections in the message if you make a mistake.

"In addition, it gives you a prompting scheme. When an operator is not familiar with format, it allows him to be queried. It asks for one specific item of information and then, when that item is entered, it asks for another specific item.

"If you make a mistake, like putting a number where a letter should be, it will continue to ask for the same information until you get it right. Everyone can send a perfect message with this terminal."

A Field Radio Alignment Course which will teach new alignment procedures for FM radios is scheduled to begin. "The Vinson System works with the TACFIRE System but they must be aligned.

"This is one of the courses that is in direct response to requests from the field," noted Toler.

These are only a few of the courses offered at the Communications-Electronics School. For more information on these or other courses contact the school at Flint Kaserne in Bad Toelz, 2531-849/754.

"We feel our courses are very good and well worth the investment of a commander to send good soldiers down here," emphasized Toler. "If that soldier then goes back and trains his operators, then that will multiply our effectiveness as a school even more."
---
(Source: Training Times, November 1983)
CATC C-E Department has big mission;
36 staffers train thousands annually

by Frank Cox


Everyone in the U.S. Army is in the communications business; we all have information which we must transmit in writing, through telephones or other electronic means.

The "big three" in the Infantry are: shoot, move and communicate.

Artillerymen could not effectively put steel on target without communicated coordination from forward observers, through fire direction control, to their batteries.

And imagine trying to control an armored unit during tactical maneuvers in combat without a clear communications channel.

Within the U.S. Army, Europe -- the "Hands On Army" -- there is a vital need to keep communicators trained on the latest equipment to insure the highest level of combat readiness is maintained.

That mission is assigned to a 7th Army Training Command element at Bad Toelz: the Combined Arms Training Center Communications - Electronics Department. And to make sure it is meeting communicators' needs within USAREUR the C-E Department recently held a Training Review and Education Board.
The TREE, as it is affectionately called by the Director of the C-E Department, Lt. Col. Jimmie D. Rawls, was conducted Nov. 14 and 15 to gain feedback from the field and identify training needs.

Rawls, a graduate of the Signal Officers Advanced Course and the Command and General Staff College said, "A lot of new equipment is coming into USAREUR. I want this school to be prepared to teach on it. That's one of the reasons we held the TREE; it lets us know what we need to teach."

During the TREE, attendees received an overview of the C-E Department along with a discussion about each of the 10 courses of instruction.

They also discussed issues relating to new equipment scheduled to come on-line within the next year.

Some of the information gained at the TREE will find its way to the U.S. Army Signal School at Fort Gordon, Ga. because two of the attendees -- Maj. Irv LaFleur and MSgt. Wayne Beaty -- were from the Signal Center
Liaison Office, located at Headquarters, 7ATC.

LaFleur, Beaty and the other attendees found out the C-E Department trained 3,696 personnel with its staff of 36 (two officers, eight civilians and 28 NCOs) during Fiscal Year 83.

Rawls said his department -- the oldest of all CATC schools -- has three missions: (1) train USAREUR personnel in C-E skills; (2) train its own cadre and staff to be physically fit, competent, and qualified in common soldier skills; (3) support the community commander.

The courses taught by the department include: SIG 1, a Multichannel Communication Systems Supervisor and Team Chief course:


• SIG 7, Radio/teletypewriter Team Chief course;


• SIG 9, Field Radio Mechanic Supervisor course;


• SIG 29, Tactical Communication Officer and Communication Chief course;


• SIG 33, Combat Telecommunications Center Supervisor course;


• SIG 34, Communications Security Accounting course;


• SIG 35, FM Radio Alignment course;


• UGC 1, Teletypewriter General Support Maintenance course;


• UGC 2, Teletypewriter Direct Support Maintenance course;


• UGC 3, Teletypewriter Operator course.

Rawls also said his department provides Mobile Training Teams who travel within USAREUR to provide technical assistance and update personnel on the latest raping developments, a said more courses were added to the department as new communications systems are fielded.

---
USAREUR Transportation School
EUCOM Transportation Training Center, Hammelburg
1949
(Source: STARS & STRIPES, Dec 7, 1949)
A week-long course in motor transport convoy operations and line-of-communication hauling will be given company grade officers of all EUCOM transportation truck companies at the 7719th EUCOM Transportation Training Center at Hammelburg. (The first course began on Dec 6, 1948.)

The course is designed to give officers on duty with truck companies a better understanding of problems involved in convoy movements.
---
(Source: STARS & STRIPES, Dec 10, 1949)
The EUCOM Transportation Training Center at Lager (Camp) Hammelburg is commanded by Col Joseph H. Grant. The Center has a staff of 93 enlisted men and 37 officers.

The Center provides training to entire units - the training is divided into driver training, maintenance training and officer training. Since its activation on January 8, 1948, 29 transportation units have completed the training course at Hammelburg; six of the units even twice.

Generally, three transportation truck companies - two light and one heavy - go through training at Hammelburg at the same time when the training cycle is in full swing.

Before going to Lager Hammelburg for training, all EUCOM truck units first receive four weeks of basic military training as well as general educational work at the Kitzingen Training Center. That training continues along with the actual transportation training once the units arrive at Hammelburg.

DRIVER TRAINING
Before training begins, each unit goes through an inspection phase in which everything is inspected - the men, their clothing, equipment, vehicles, tools, records, forms. The men are also given tests, including general educational development placement tests and driver aptitude and information tests.

Drivers who fail the driver aptitude and information test are sent to the six-week driver training course which is under the supervision of Capt Fred B. Porter.

Driver training course consists of instructions in basic driving, precision driving, road driving, safety, and day and night convoy driving.

Since the Center began operations in early 1948, 1,141 drivers have been licensed at Lager Hammelburg.

MAINTENANCE TRAINING
Maintenance training is carried out under the direction of Maj Alan M. Farrington.

OFFICER TRAINING
The 88-hour Officer's Couse is directed by Maj Lyle J. Sundet. It is primarily concerned with convoy and logistcs problems but also includes work in records, forms, inspections, maintenance and loads, and proper truck loading.

(Webmaster note: In addition to the units, recruits newly-arrived from the U.S. (and been assigned to transportation truck units) are sent to Hammelburg to undergo training as drivers and maintenance men.)
---
USAREUR Transportation School, Mannheim
1951
(Source: STARS & STRIPES, April 16, 1951)
Hq EUCOM announced on April 15 that EUCOM Hq announced today that the EUCOM Transportation Center at Hammelburg has been deactivated, and a new EUCOM transportation school established at Turley Barracks, Mannheim. (The EUCOM Transportation School began operations at Turley Barracks, Mannheim on April 1, 1951.)

Lt Col John King, CO of the transportation school, said the transportation center had completed its mission of training entire transportation units, and that the new school will train only individual officer and enlisted personnel of transportation, service and actual units.

Courses to be offered include a seven-week highway transport officers course and a six-week motor transport NCO course. In addition, two-week cadre training courses for Transportation Corps units will be presented.

The school also will provide a technical library service system for all transportation units of EUCOM.

The transportstion center at Hammelburg was established on Jan. 8, 1949, and trained more than 900 officers and 5,700 enlisted men from 48 truck companies.
---
1952
(Source: STARS & STRIPES, Jan 27, 1952)
Three new instructors, Maj Winfield S. Williams, WOJG Edgar A. Owen, and WOJG Roscoe E. Bevans, have joined the staff and faculty of the EUCOM Transportation School.

In addition to the newly assigned officers, the staff and faculty of the school includes Lt Col Richard J. Pollard, school commandant, Maj Joseph P. O'Connor, plans and training officer; Maj Franklin E. Duda, supply officer; Capt Leonard V. Swann, Capt Gordon C. Keppard, 1st Lt John L. Carr, 1st Lt William H. Weller and CWO Ralph F. Gerwitz
---
(Source: STARS & STRIPES, May 25, 1952)
14 men recently completed Highway Transport Officers Course No. 6 at the EUCOM Transportation School.

The course covers various types of highway transportation service including the Army maintenance program, publications, forms and reports pertaining to motor vehicles. Also included are classes on the principles of operation, security planning and control of convoys plus field exercises and traffic regulations.
---
1953
(Source: STARS & STRIPES, Aug 28, 1953)
15 men graduated recently from the second officer and civilian documentation class to be held at the USAREUR Transportation School.

The two-week course includes passenger, freight and fiscal procedures, border crossing and clearance requirements, car loadings, tariffs and LCL shipments.

Maj Winfield S. Williams, is currently the acting school commandant.
---
(Source: STARS & STRIPES, Sep 28, 1953)
USAREUR Transportation School closed
The USAREUR Transportation School at Turley Barracks has been closed. In operation since April 1951, the school has graduated more than 1,100 students.

The mission of the Transportation School was to increase the technical and military efficiency of transportation officers, noncommissioned officers and civilian employees.

Orginally, only highway classes were offered. In April of this year the transportation documentation course was added to the school curriculum.

---